For my birthday this year we headed up to JB and let me tell you, the one who was most excited was not me the birthday girl but rather little Sophie as she was looking forward to Legoland Water Park. Makes me wonder whose birthday we were really celebrating here. But hey, I'm up for anything fun as long as the family is happy 🙂
This was our second visit to Legoland Water Park and the first time we went was last year on our wedding anniversary.  I'm seriously beginning to see a pattern here and it's a sure sign that we're 100% parents when kids rule your holiday plans.
It's a good thing we held off going to Legoland when they first opened as we got to enjoy the park without the crazy crowds even though we were there over the long Labour Day weekend. But my friends were quick to point out that it's because the school going kids were still busy studying for their mid-year exams, so lucky lucky us 🙂
Though there are many blogs out there that have done a review on Legoland Water Park, we've because such fans of the theme park that we felt it should be given more attention compared to it's counterpart, the Legoland Resort. And yes these are non-sponsored visits, so I'm telling it as it is… which is what I always do anyway 🙂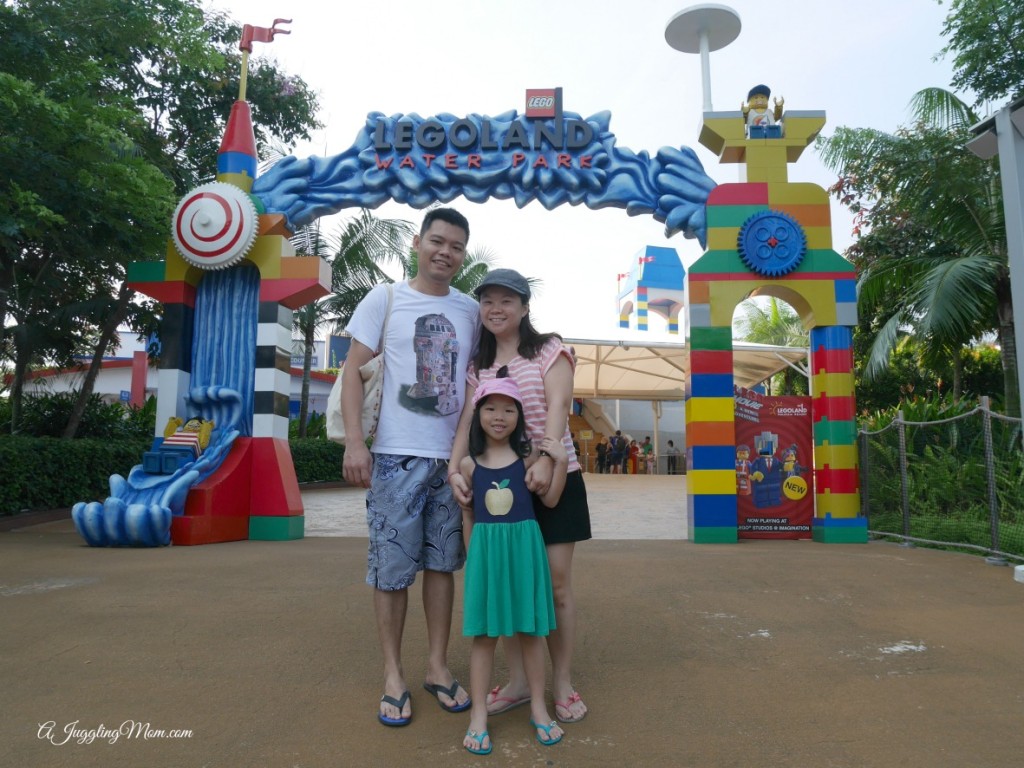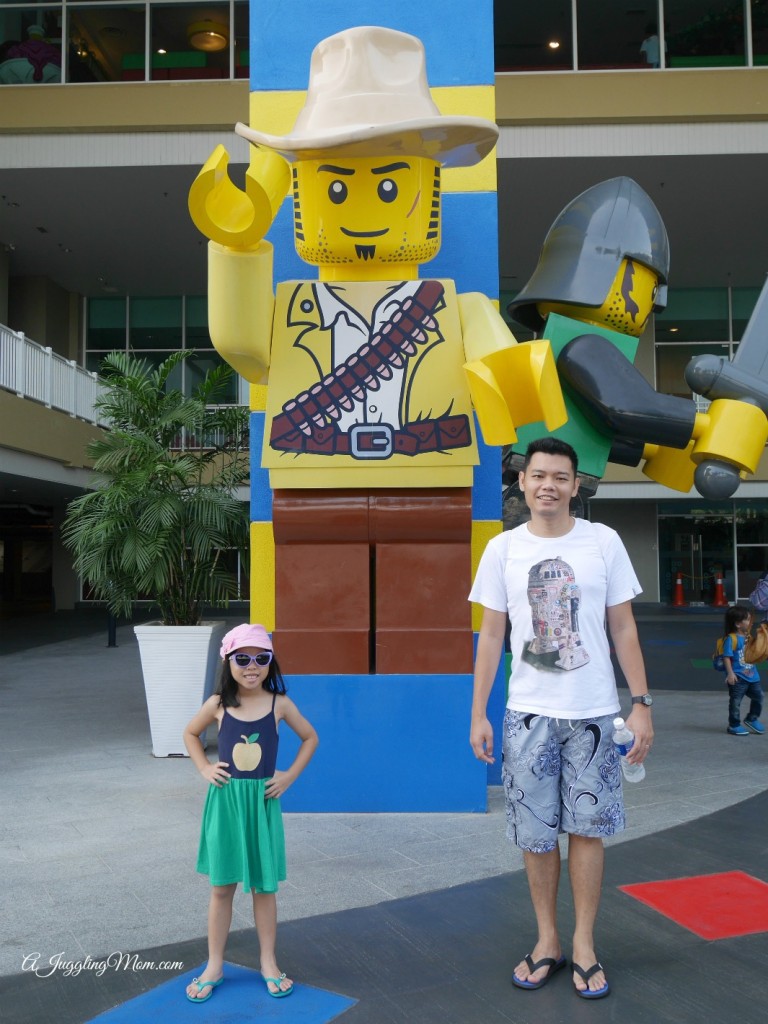 What we liked about Legoland Water Park
Everything is Lego themed! As if I needed to tell you that.
But seriously, a water park is fun enough, but throw in Lego everywhere and you get one awesome water park that Sophie kept exclaiming, "This is my BEST DAY EVER!"
We like how suitable the water park is for water loving young kids like Sophie. We've been to Adventure Cove in Resorts World Sentosa and though Alexis and I had a very enjoyable time we felt it was more suited for older kids to get the best experience out of it since there was a height limit of 122 cm for the more thrilling rides.
On the other hand, Legoland Waterpark offers more child friendly rides since the height limit even for the most thrilling rides is at 107cm.
Upon arriving at the Water Park, you want to head to the locker area to store your belongings. As the sun can be very unforgiving, don't forget to slather on sunblock and grab a bottle of water along with you as it can be rather inconvenient to return to the locker area. Plus don't leave your slippers in the lockers as the ground can be scorching hot especially for the younger ones. We learnt it the painful way as you can literally fry an egg on the ground under the sweltering heat. So you've been warned!
There are more than 20 slides in the water park and we made a beeline for Red Rush slide as it's always one of the more popular family rides that can accommodate up to 6!
Oh yes have I mentioned that when you're in Legoland Water Park, you can expect to get a good leg workout for your thighs, calves and glutes as you'll be climbing up stairs after stairs to take the slides. Plus you'll need to carry your own floats for some of the slides so your upper body wouldn't get neglected too :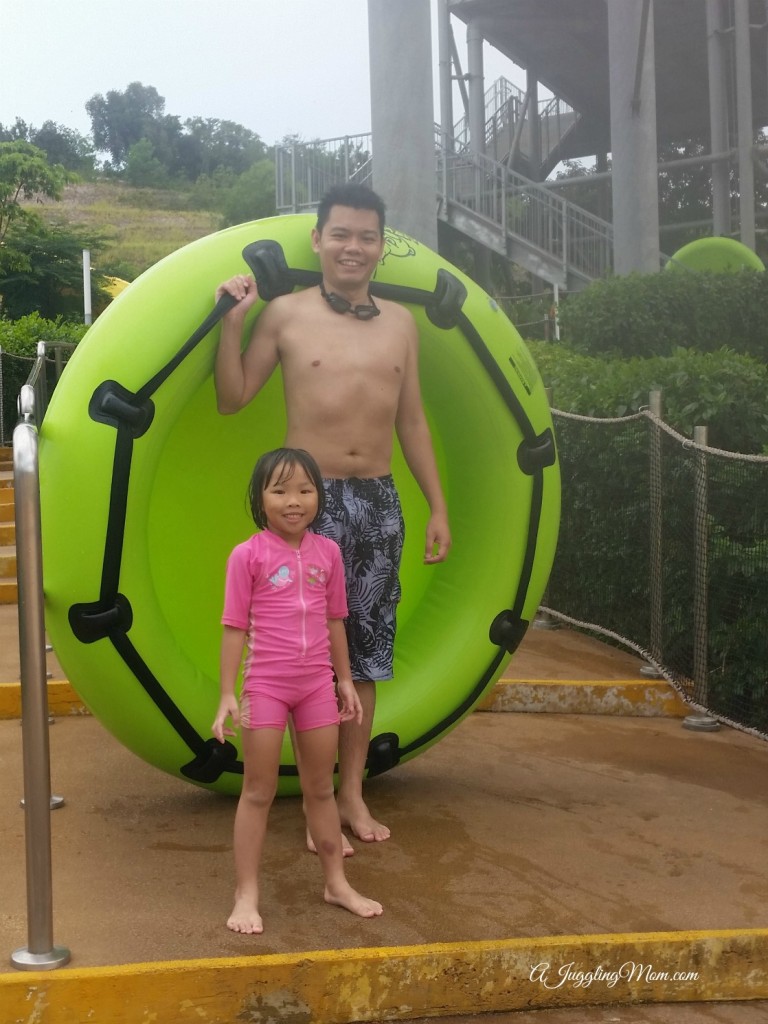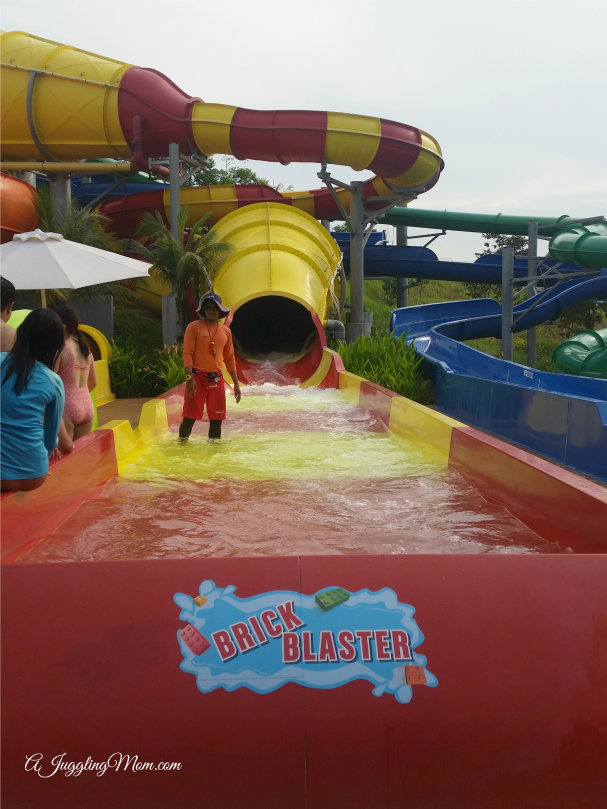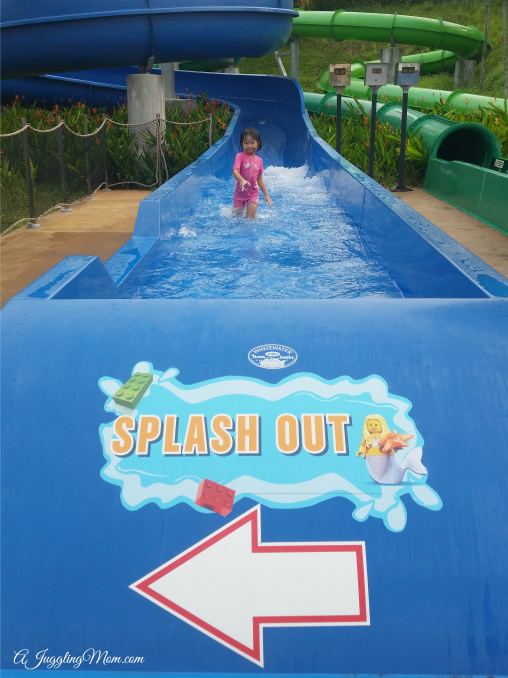 This time, Sophie got adventurous and was brave enough to go on the Slide Racer for the first time after I convinced her that it was just like how she always takes a nose dive at the slides in the playground. For this, you have to lay down on mat and slide face down from 3 storeys high!
It was such an exhilarating slide that she went on it thrice much to my surprise as I was worried she wouldn't like it as the initial part of the slide is covered before the plunge down. I on the other hand contemplated going on it as my adrenaline went into overdrive mode after my first attempt!
The Splash and Swirl was another of our favourite as Sophie and I can go on a double float and I secretly thinks she gets a thrill out of hearing me scream as we plunge down the slide.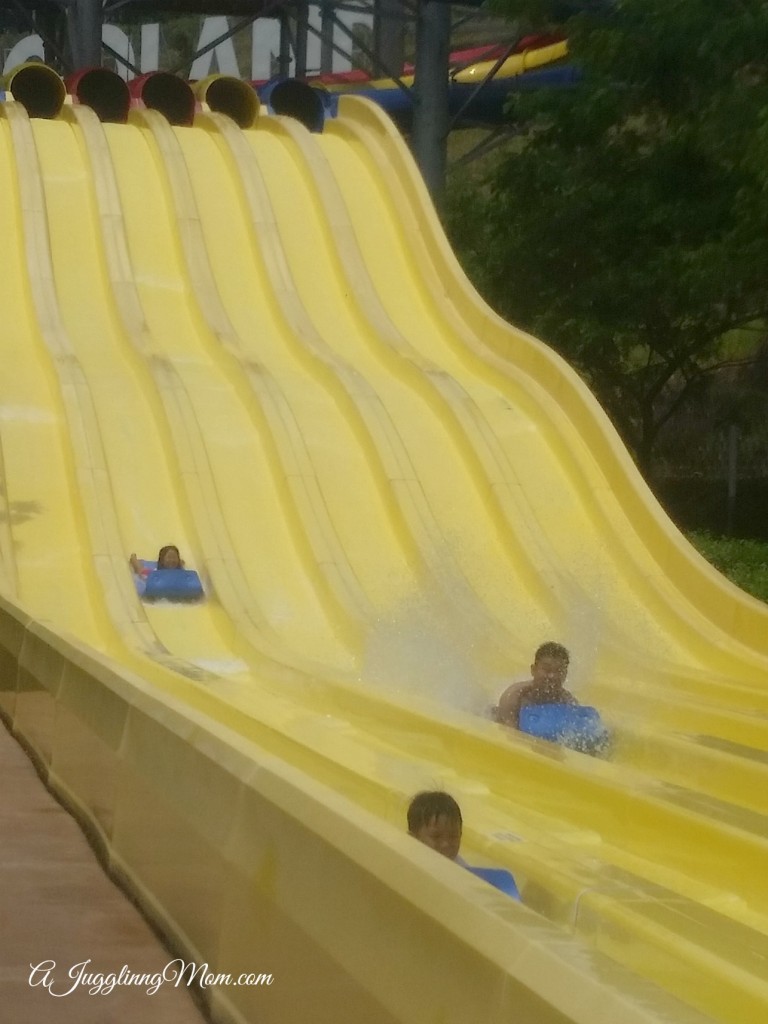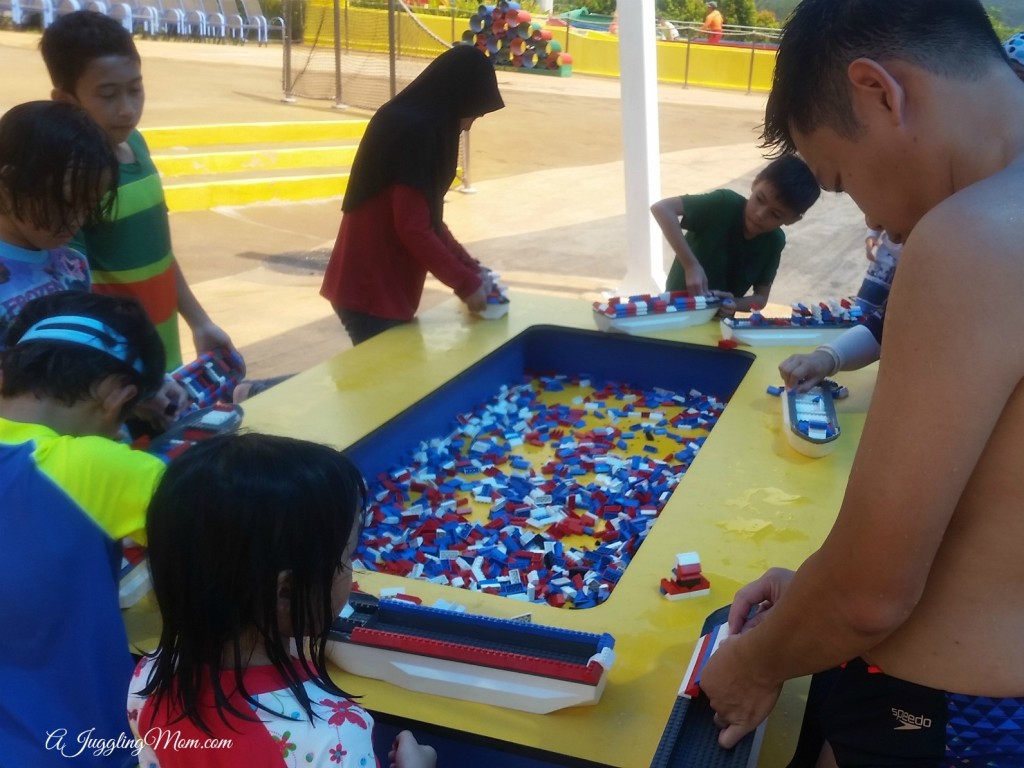 At the foot of the slide, there is a new sheltered area for Build a Boat where the kids can get busy building their boat with Lego bricks if they get tired of the slides. Here they can pit their Lego vessels against other kids as they send it off for a race to reach first place. This was such a hit with the kids and I hope they have more of such interactive Lego activities in future.
Lunch at Beach Grill
We settled our lunch at the Beach Grill and choose a table just next to the wave pool allowing us a view of the swimmer as we sought some respite from the blazing heat. We ordered burgers, fries and finger food like calamari and nuggets and I recalled they also have Nasi Lemak if my memory doesn't fail me.
But my biggest grouse was how inefficient their queue system are or rather a lack of any system as you can only view the menu when you reach the counter which resulted in unnecessary long queues with lots of hangry people. Yes, you got that,  hungry and angry people.
You might have thought this was something so fundamental and after operating for 2 or 3 years they would have gotten it right… But no, anyway end of rant, so yes, be prepared for long queues for your meals…
Moving along to happier thoughts…
Since Sophie has outgrown the Dulpo Splash Safari we skipped it this time and jumped right into the Build a Raft River!
We usually leave the Build a Raft River and the water playground, Joker Soaker to the 2nd half of the day as it's always an uphill challenge to try to peel Sophie away from it once she makes her way in there.
There are a couple of slides inside and really there's no stopping adults from joining in the fun and it's always a thrill to wait for the bucket of water to come splashing down. Marvelous way to cool off in the sweltering heat.
Build a Raft River
We didn't get much success building a strong enough raft to hold Sophie up as she got bigger and heavier but check out what we built the first time we were there. We saw some pretty impressive rafts that resembled a throne! So go all out and grab as many bricks as you can to build your ultimate raft.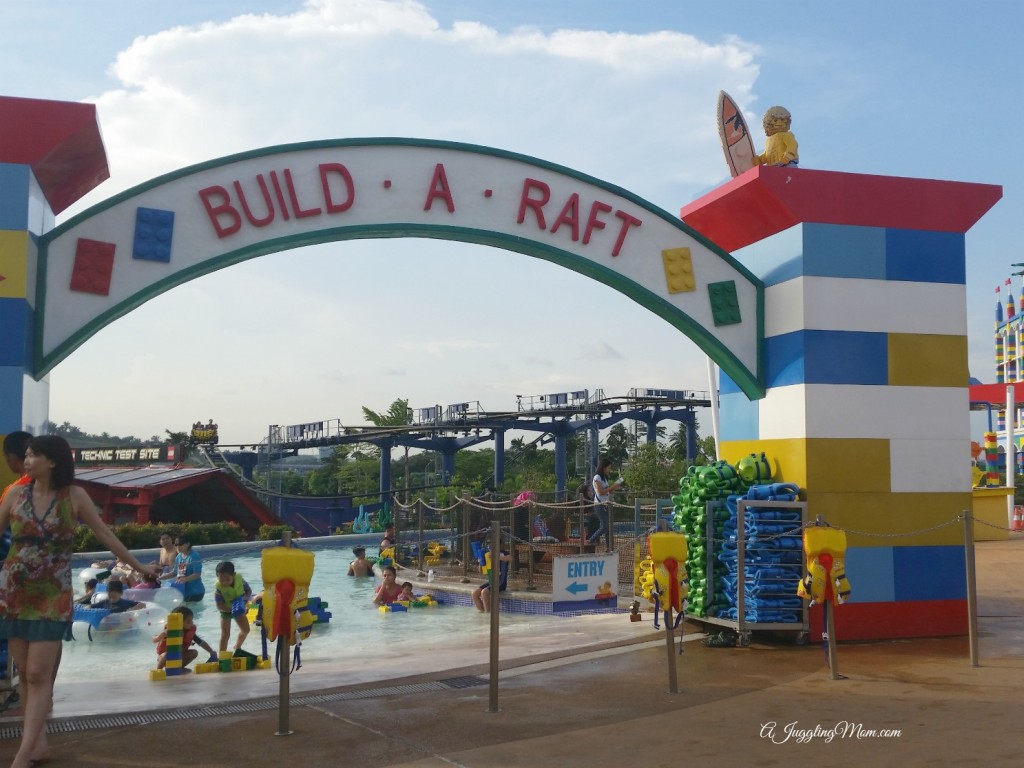 The river has a very gentle current and the best way to enjoy it  is to grab a large float for adults and imagine your overly enthusiastic kids are not with you as you float away without a care in the world. Look out for Lego figures along the way and avoid getting sprayed by jets of water.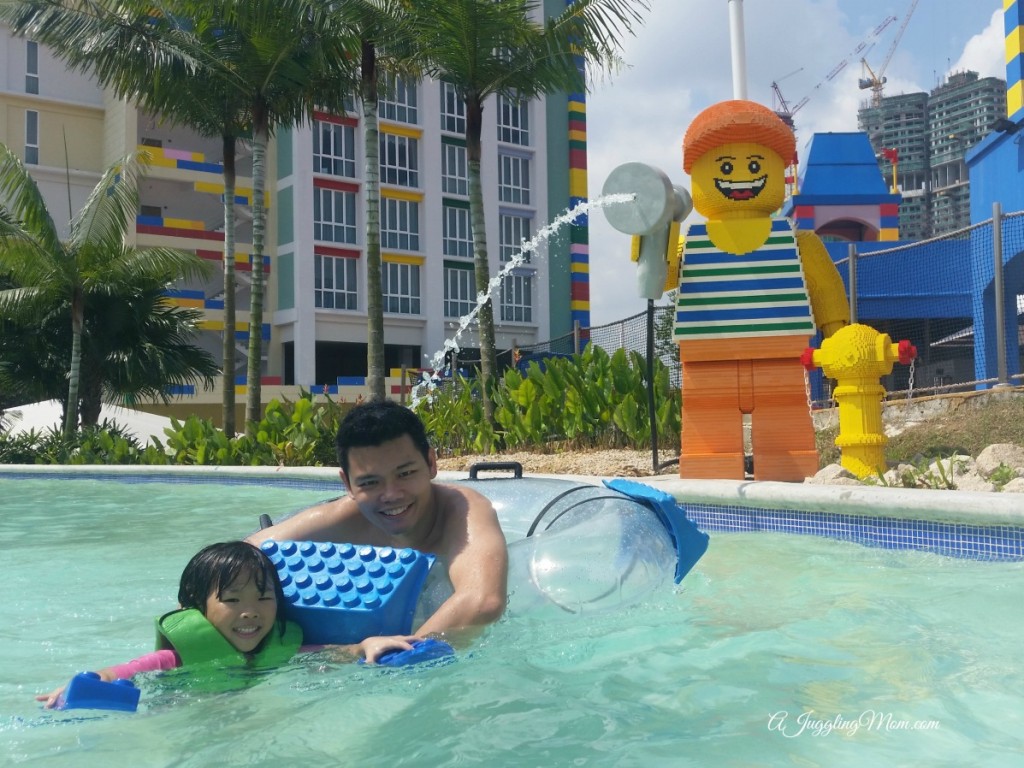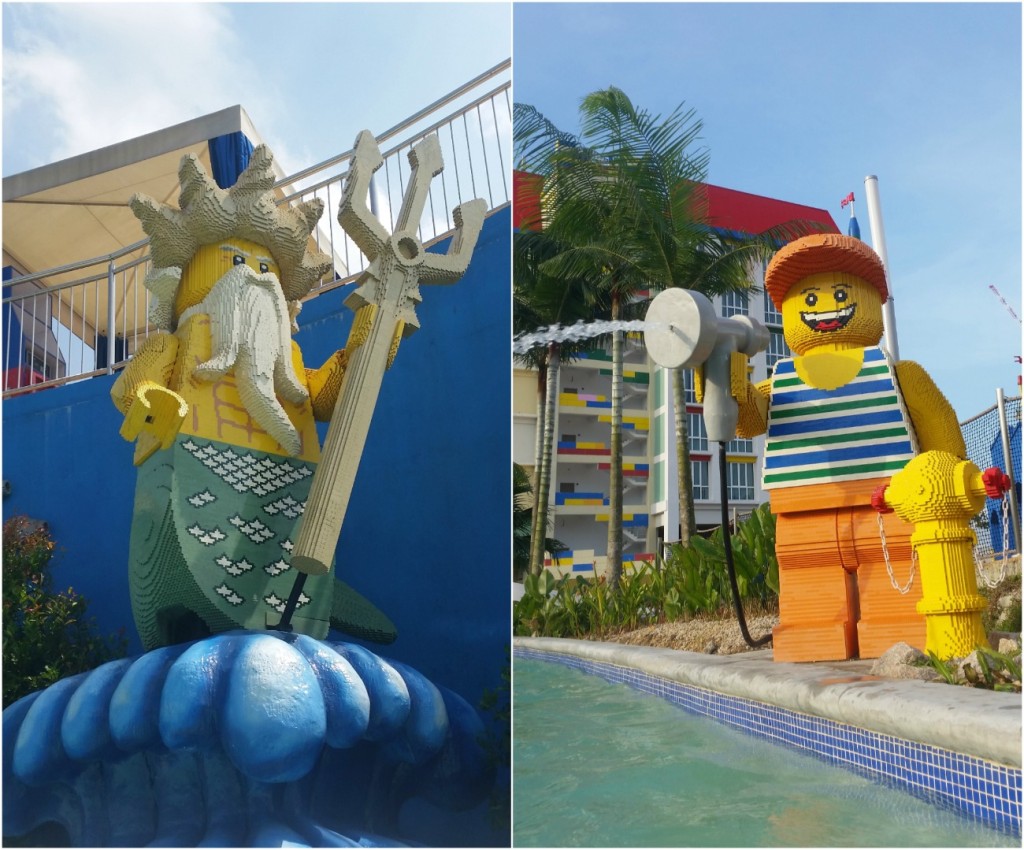 We had such a good splashing time at Legoland Water Park despite getting darker by a shade or two and I'm pretty certain we'll be back very soon again. But maybe  this time for Sophie's birthday instead of my birthday 😛 And the next time we come, we want to make sure we secure that Legoland hotel stay too!
Accommodation at Johor Bahru
We usually stay at Hotel Jen, Puteri Harbour whenever we head up to JB. But this time round, we stayed at the newly opened service apartment, Somerset Medini which was highly recommended by my friends and we enjoyed a very good value for our accommodation. Plus, it's a mere 5 minutes walk to Legoland. Super convenient or what. You can read more about our stay here.
Another hotel that we usually put up at is Doubletree by Hilton. It's a 4 four star hotel conveniently located just under 10 minutes away from malls like City Square and Komtar that are close to the immigration.
For a more comprehensive review of Legoland Water Park, do check out these blogs:
You can also read about our experience at Legoland Resort last Christmas where the theme park was dressed up for their Christmas Holiday Extravaganza.
Legoland Water Park
Legoland Malaysia Resort
No.7 Jalan Legoland
Bandar Medini Iskandar Malaysia
79250 Nusajaya Johor
If you're heading to JB, don't miss these posts where I share some of my shopping finds and places to go cafe hopping across the causeway as well.
Enjoyed reading this post? Do like my 
Facebook page
 to get more family friendly travel updates. You can also follow me on Twitter (@Susankoh) or Instagram (@ajugglingmom) for more travel and parenting posts
Tagged: family friendly, JB, Johor Bahru, Legoland, Legoland Malaysia, Legoland Theme Park, Legoland Water Park, Road trip