During the recent March school holidays, we took a short trip to Johor Bahru and spent a good 4 days there. In our opinion, a hop over the causeway is a more economical holiday option than a local staycation, thanks to the strength of our currency. What's not to like when you have more to eat, buy and spend 🙂 
But the best part? There's always somewhere new to explore in JB and this time we went to check out Austin Heights Water and Adventure Park. 
As the name suggests, the theme park is located at Mount Austin which is about half an hour drive from Doubletree by Hilton, where we stayed on this trip. 
Austin Heights Water and Adventure Park, Johor Bahru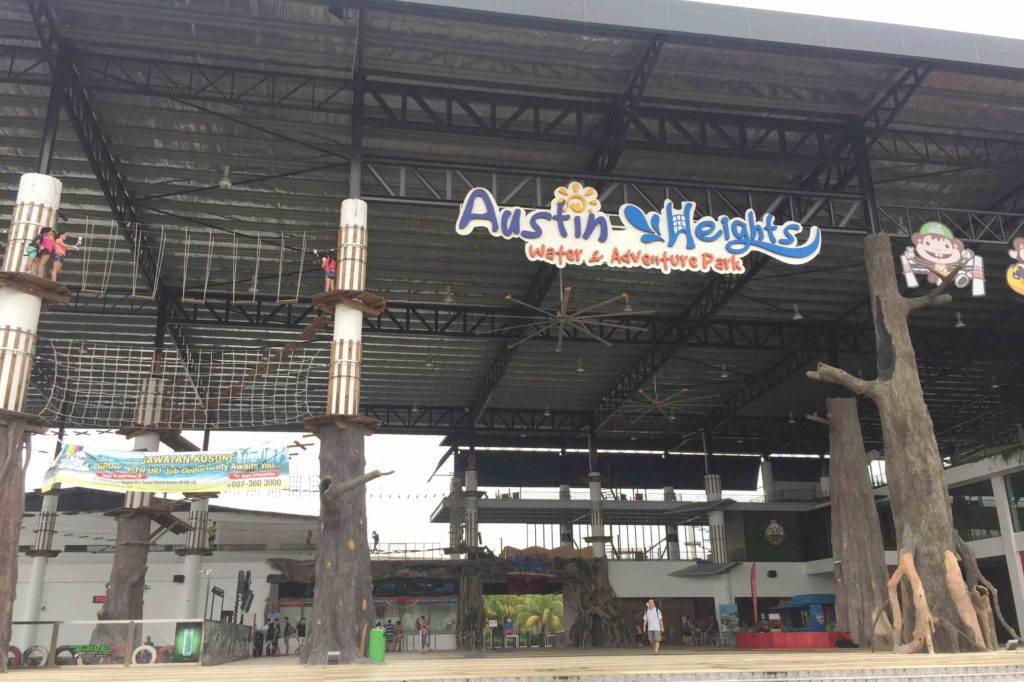 Besides the Water Park, Austin Heights also houses a Forest Adventure Rope Course, Trampoline Park, Ice Skating Rink and Drift Karting all conveniently under one roof. Since we already spent a day at the Legoland Water Park the day before, we gave the water park a skip.
The Forest Adventure Rope Course has an age requirement of 12 years and above and looks suitable for teens who want to challenge themselves and manoeuvre through the rope obstacle course that's above the drift kart area.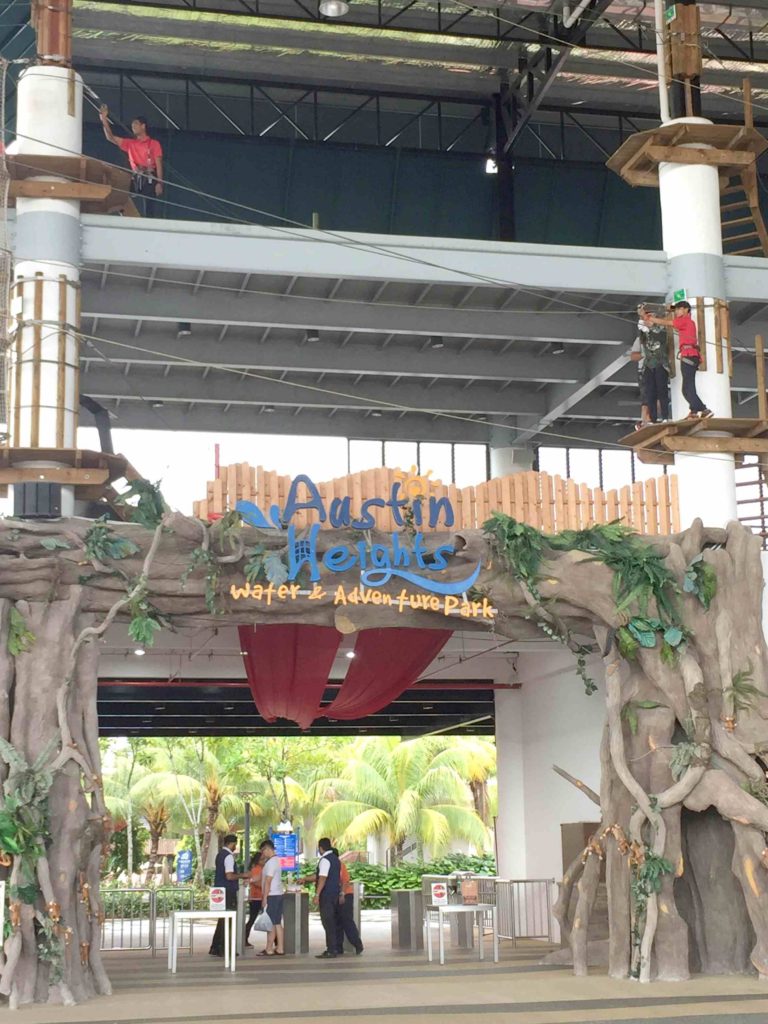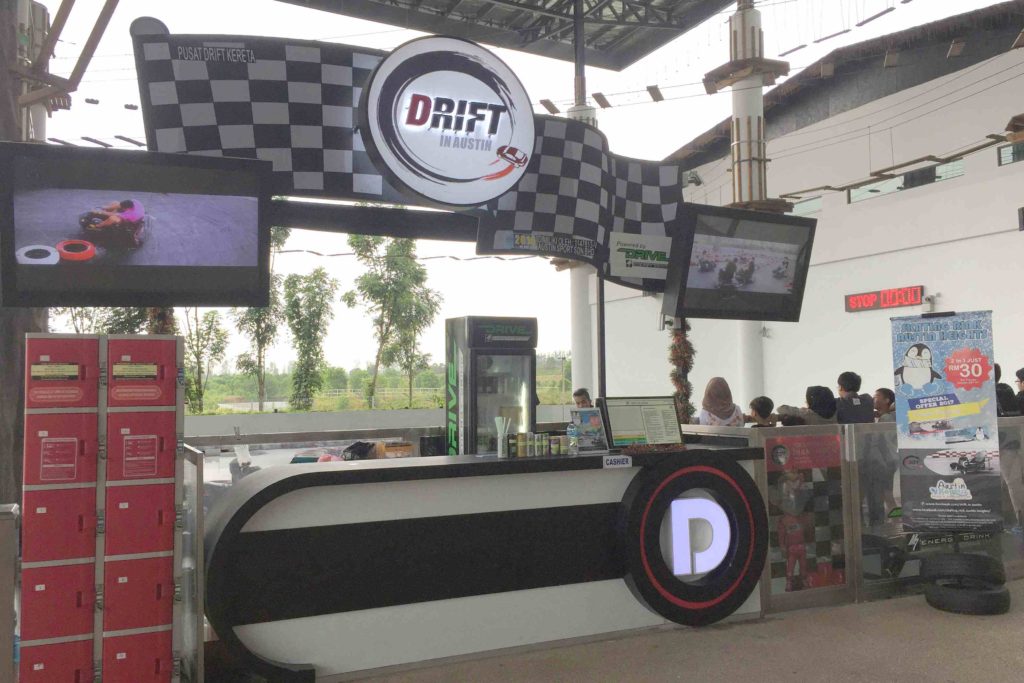 Our activity of choice – DRIFT KARTING. It's Go-Karting where they upped the cool factor with drifting abilities.
After a brief instruction and a round of warm up, we were zooming off. As tempting as it looks to bump the person in front of you, you are not allowed to do that… though I might have done that accidentally a few time.
This was Sophie's first attempt at go karting and she didn't have any problems behind the wheels at all. In fact, she was so serious and intent on overtaking us that she was fully focused on driving and perfecting her drift.
Whereas I on the other hand, swerved too quickly a couple of times and made a 360 degree spin not just once but twice! But it's no biggie as you can easily re-orientate yourself and get back on the track for more action.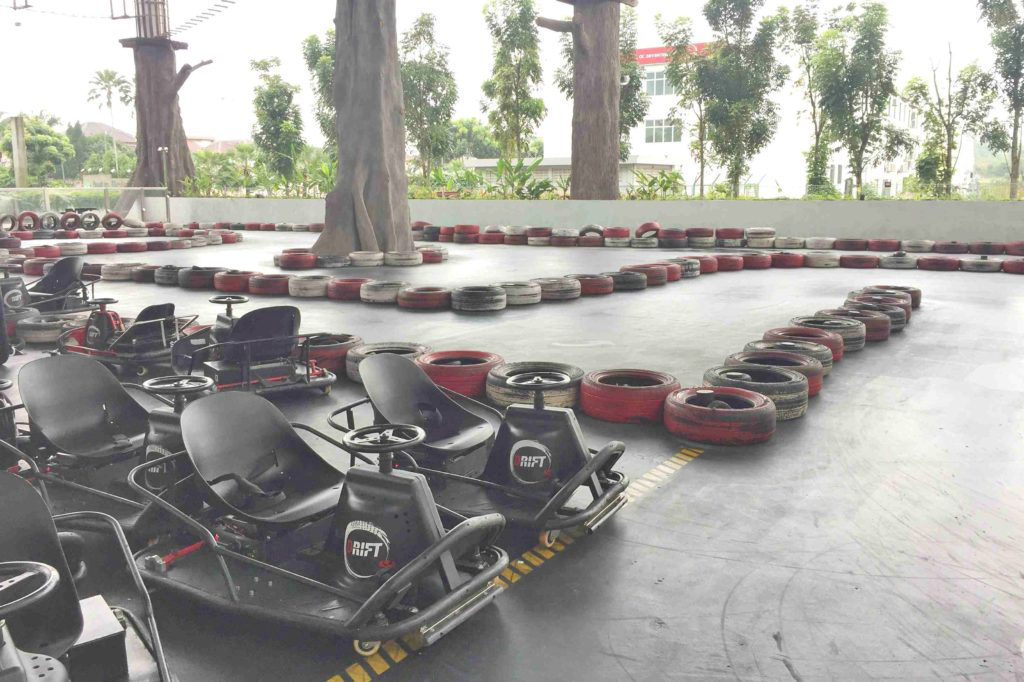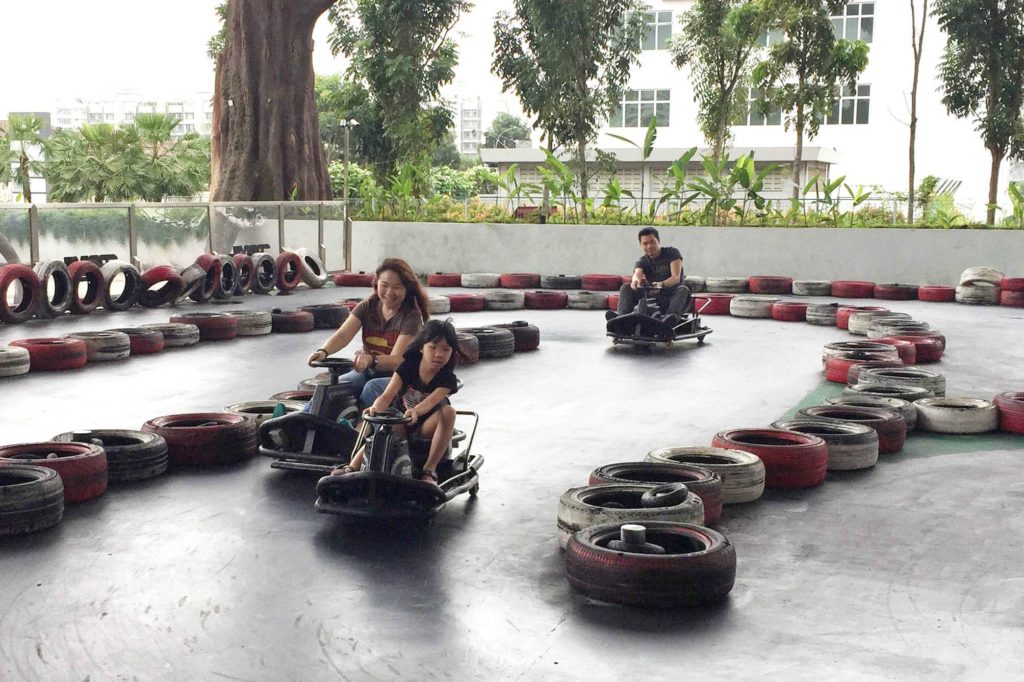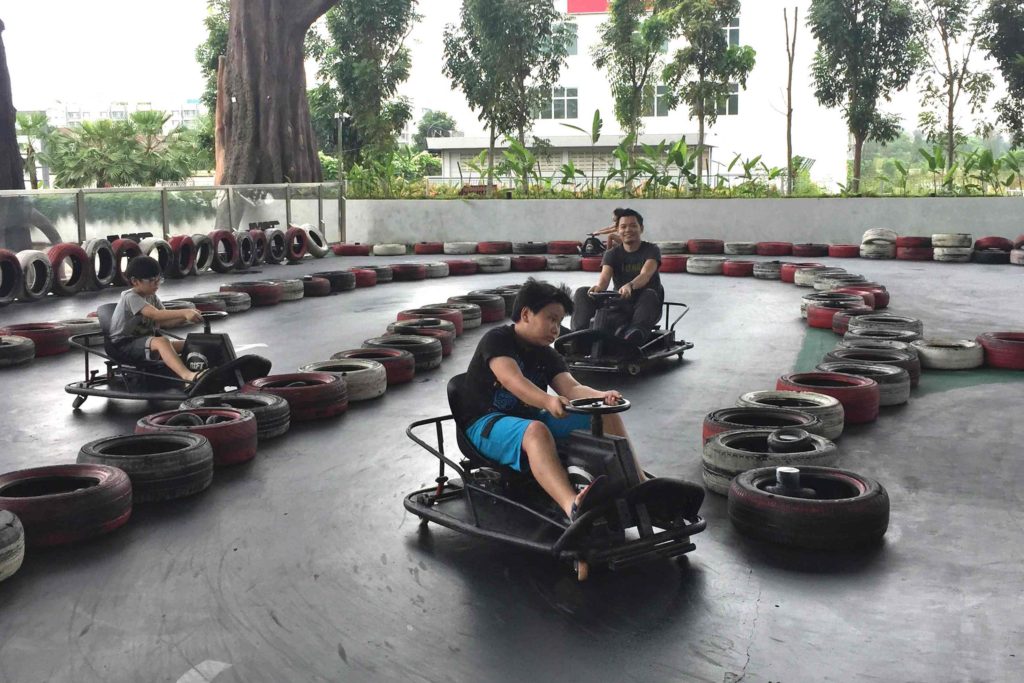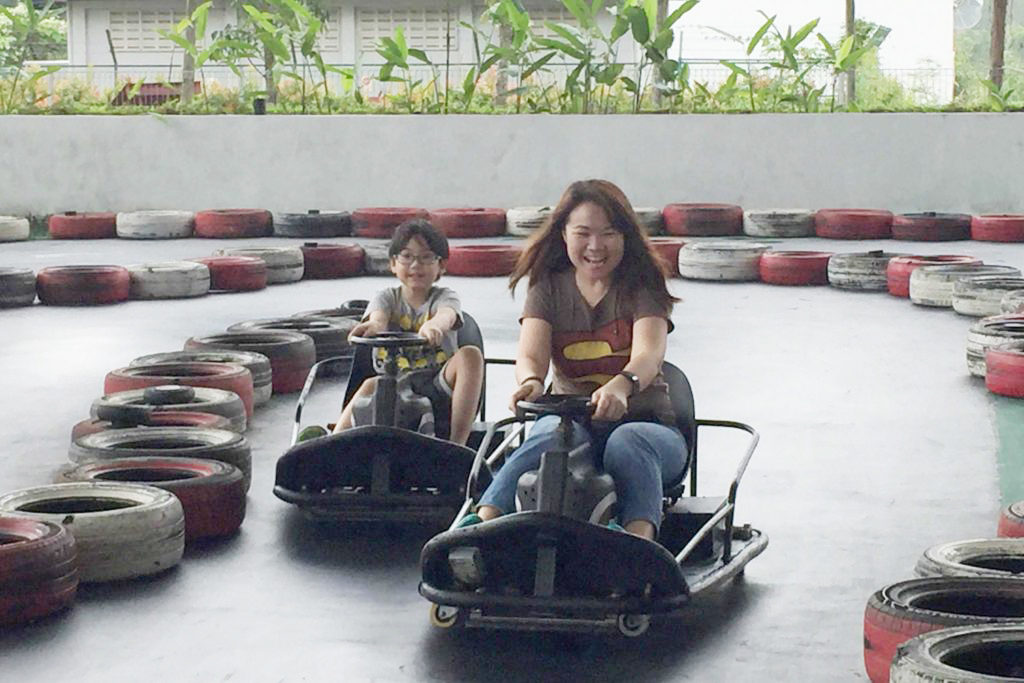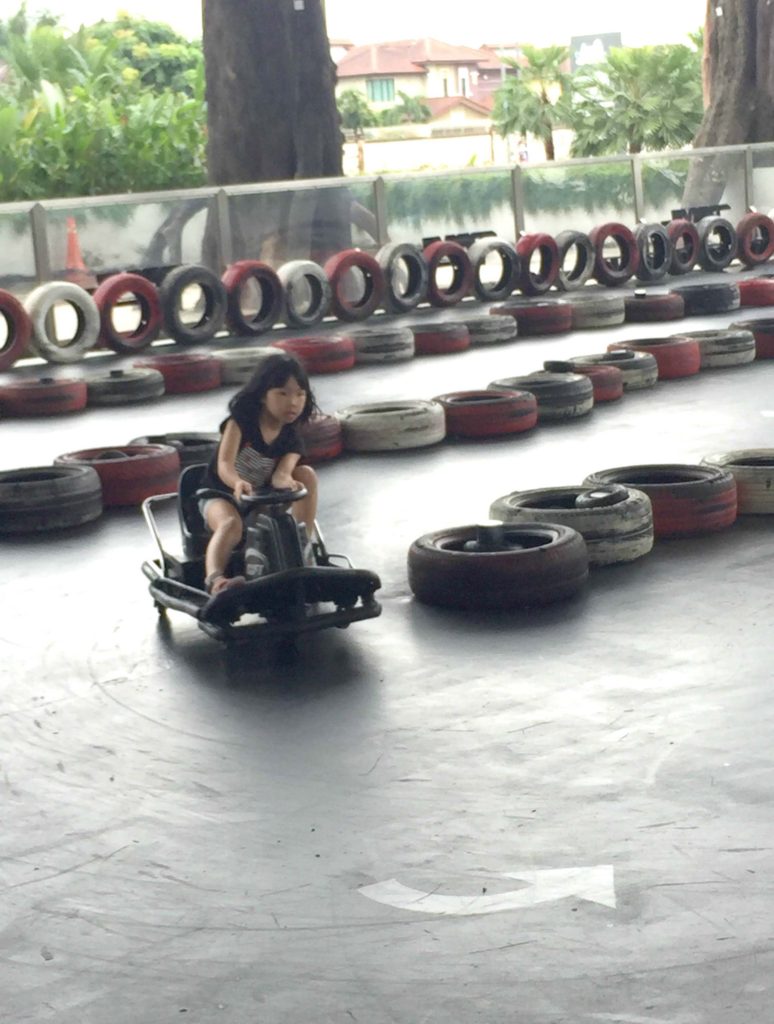 After our 20 minutes of adrenaline pumping karting session ended, we proceeded upstairs to the trampoline park on level 3, Jump Street, for more fun!
Ever since we brought Sophie to Amped Trampoline Park in River Valley, she's been asking us to take her there again, so she's was all ready to jump right in.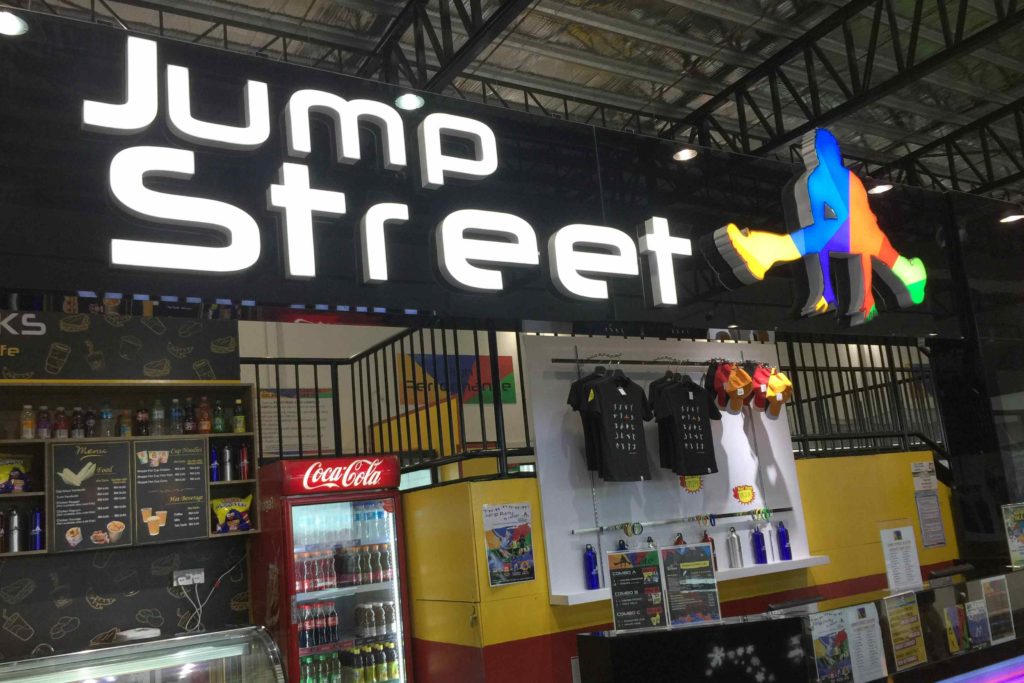 Even though we were there on a Sunday morning, there was hardly anyone. Entrance to the trampoline park is MYR28 for an hour. According to my friend who was also there with us, it's unlimited play time for the same price on a weekday!
They have different sections to jump a foam pit on the other side that's not captured in my photo, so this place is HUGE. The bonus was having it almost all to ourselves, so we got to jump to our heart's content without having to wait for our turn on the trampoline.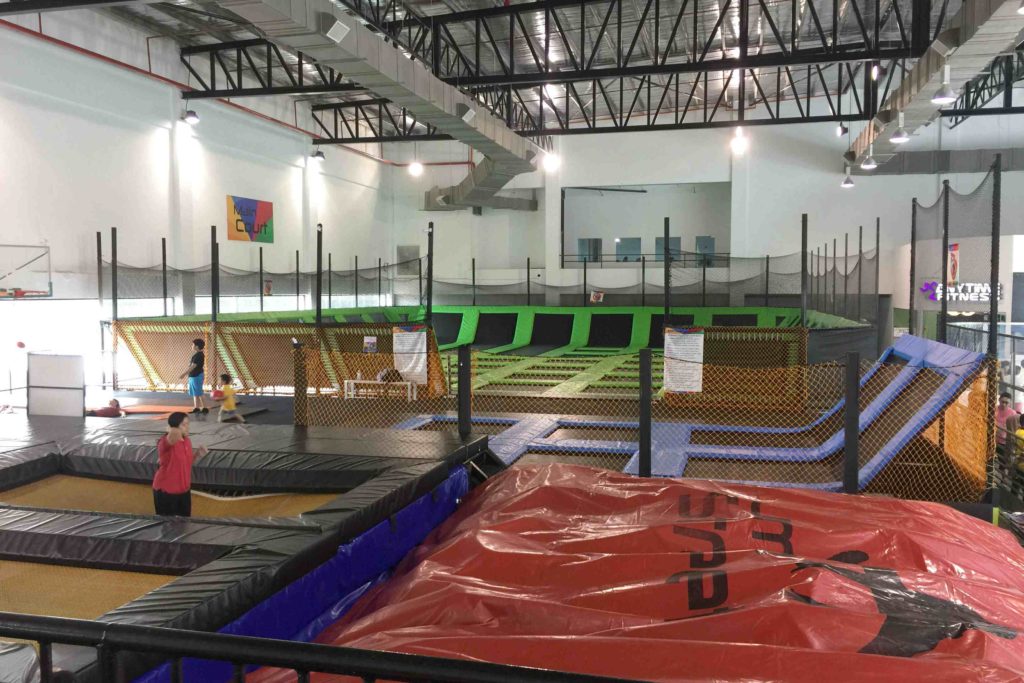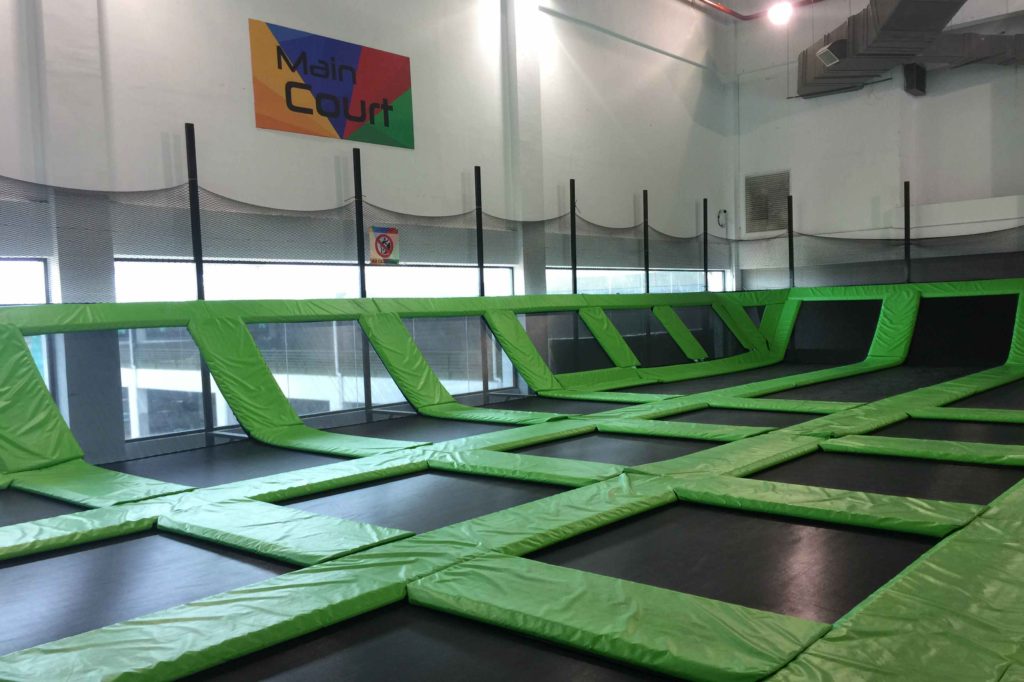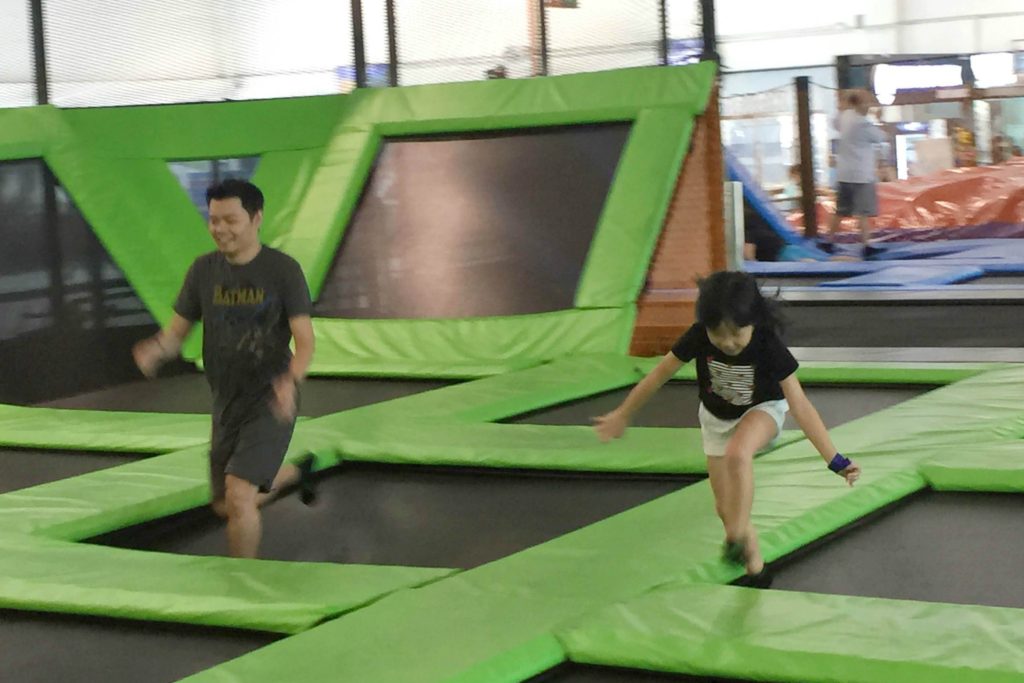 As the place is relatively new, the trampoline park was well maintained and clean. Throughout the one hour, we flipped, bounced, ran, jumped and I even attempted to do some silly stunts which I would never dare to do back home in Singapore. But of course, I fell glamorously all over the place, but thank God no one saw me.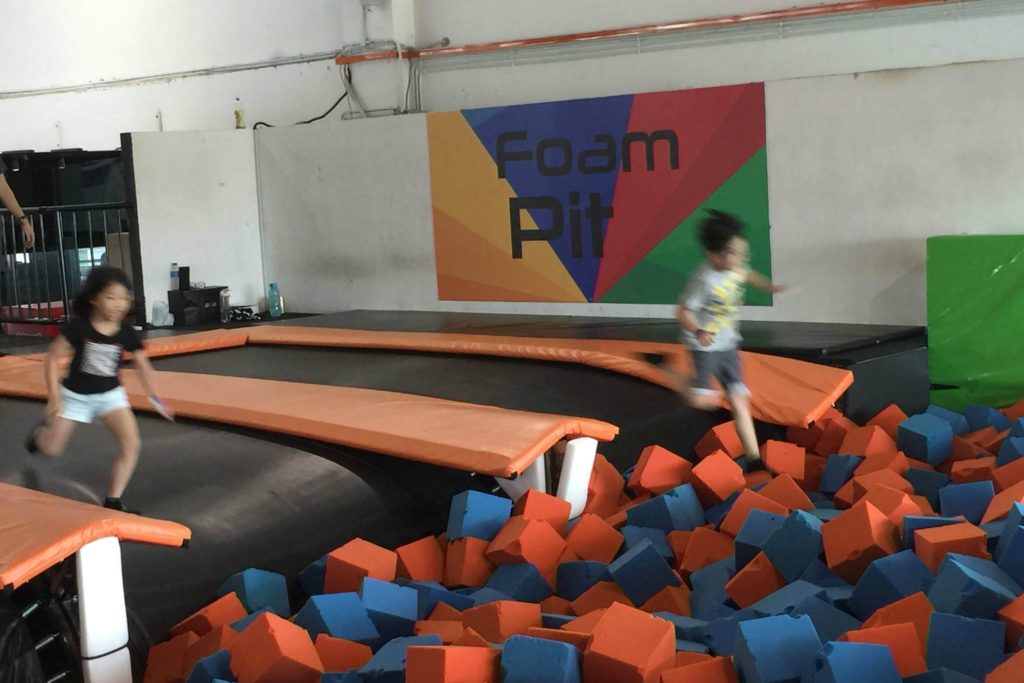 Here's a bird eye's view of the water park from the trampoline park from level 3.
In case you're wondering where's everyone, it was raining that day which explains why it looked so empty. But according to friends who have been there, it's not too crowded even on weekends so I guess that means no waits needed for the different slides.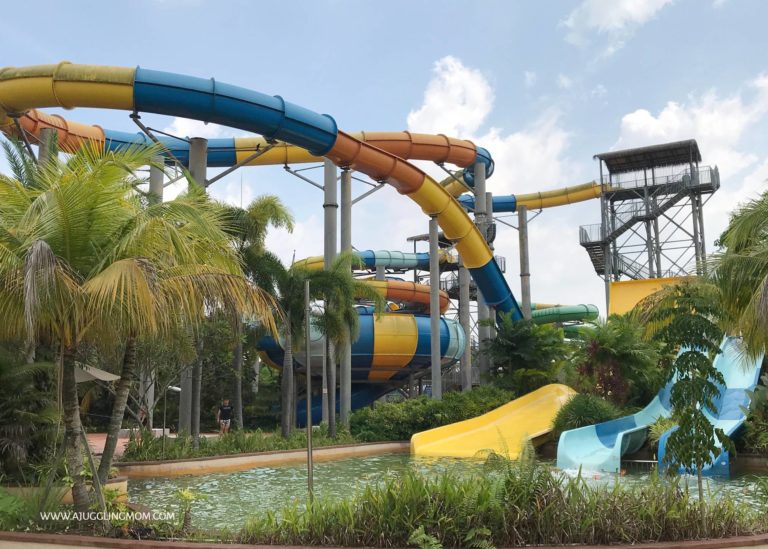 READ ALSO: Austin Heights Water Park in JB
The view of the ice skating rink next to the trampoline park. They have instructors who can give you a lesson or two on skating.  We gave this a miss as it was synthetic ice.
Anytime Fitness is also slanted to open anytime soon. If you ask me, they should just incorporate a bowling alley and karaoke to cater to a wider group of customers.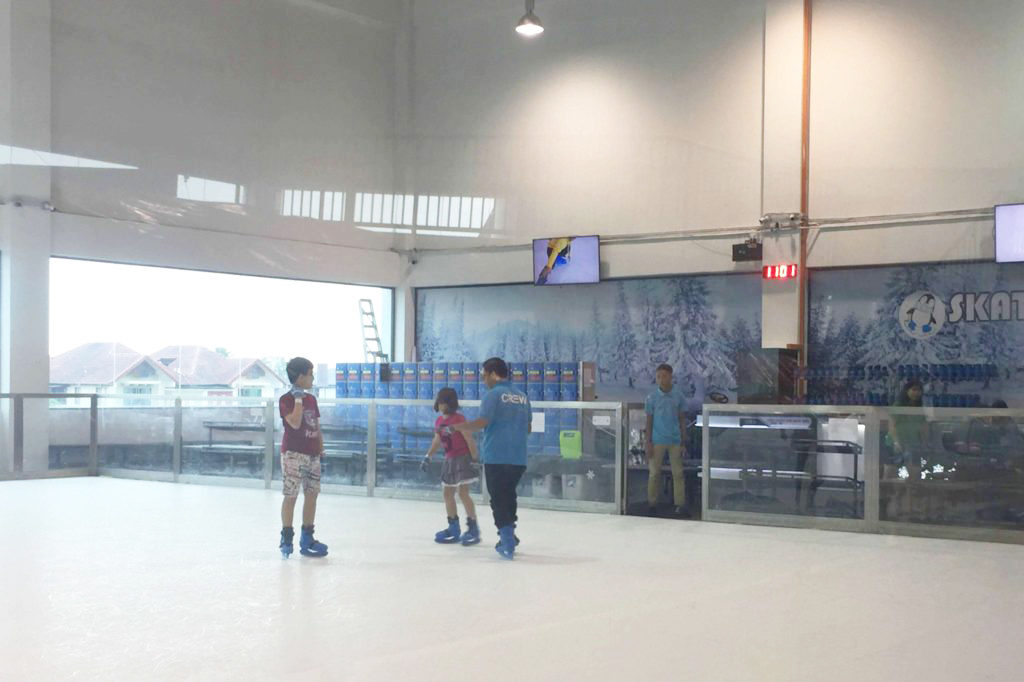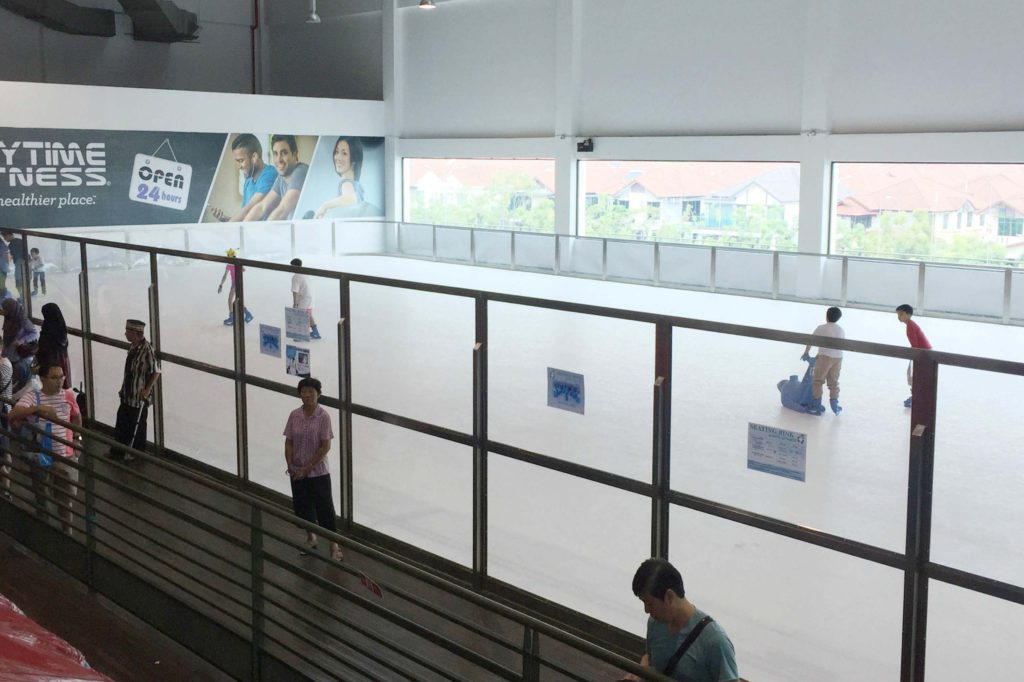 Austin Heights is not to be missed if you"ve got slightly older kids who have outgrown Legoland and Angry Bird Activity Park. In fact, kids 6 years and above will enjoy most of the activities here and it promises to give you a fun time with so many choices of activities under one roof.
I know that we'll definitely be back for the water park once Sophie reaches the height limit. But meanwhile, the drift kart and trampoline park is good enough for us. What made it even more enjoyable was the company of friends who were also there during the school holidays.
Driving to Austin Heights Water & Adventure Park
For those driving, there's ample parking lots available with the open air carpark right in front and it's free. Since we didn't drive, we simply Uber and Grabbed our way around JB. Right beside Austin Heights is the Midori hotel and there are a few restaurants and cafe around there as well.
Austin Heights Water & Adventure Park
No. 71, Jalan Austin Heights 8/1,
Taman Mount Austin, 81100 Johor Bahru,
Johor, Malaysia
Website
If you're heading to JB, don't miss these posts where I share some of my shopping finds and places to go cafe hopping across the causeway as well.
Fun things to do in JB
Where to stay in JB
PSST: Don't miss our best kept secret here -> Singapore to JB in 5 minutes by the KTM Shuttle
Enjoyed reading this post? Do like my Facebook page to get more family friendly travel updates. You can also follow me on Twitter (@Susankoh) or Instagram (@ajugglingmom) for more travel and parenting posts.
Tagged: family friendly, JB, Johor Bahru, Road trip