Over the long Labour Day weekends, we headed to Johor Bahru to celebrate my birthday. Hubby scored himself brownie points when he smugly told me how he's been whisking me away on holidays or staycation for my birthday ever so often. What can I say, I'm very very blessed and am utterly pampered by him 🙂
Having been to JB a few times now with the family, we realised it's not as dangerous as some may make it out to be. Of course, you have to exercise caution and common sense so that you're not making yourself an easy target for crime by like parking in dark and doggy corners in the mall, going to unfamiliar places and taking your own sweet time to load and unload your baggage into the car.
For this trip, we planned to go to Legoland Water Park at Sophie's request because that's what mums always do- put our kids first. It was an excellent choice as we had a splashing good time under the sun.
READ ALSO: Splashing good time at Legoland Water Park, JB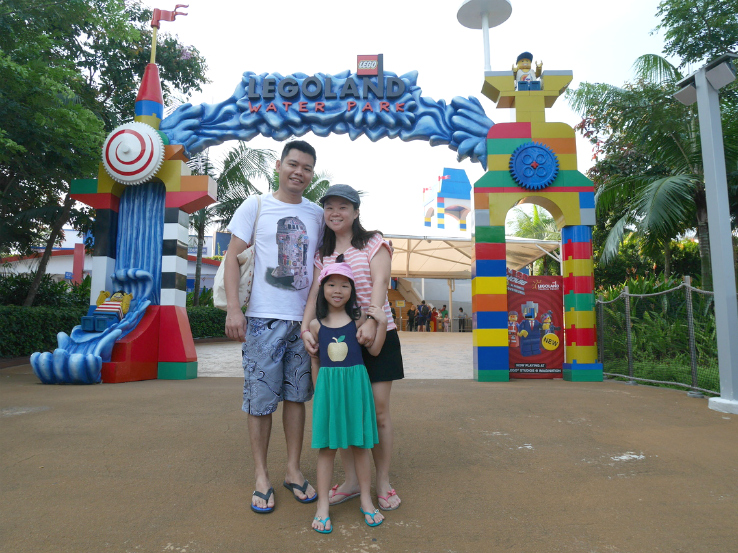 Somerset Medini Iskandar Puteri, Johor
Usually we'll choose to stay at Hotel Jen when we visit Legoland themepark. But this time, we stayed at Somerset Medini Iskandar Puter Service Residence, a relatively new accommodation that opened this year.  A couple of y friends who stayed there recommended it as it is a mere 5 minutes walk away from Legoland and 15 minutes drive from Tuas Second Link.
We arrived at the service apartment around 3pm and proceeded to the 2nd floor for check-in which took longer than expected as they only have one staff at that time and I'm guessing they probably weren't expecting many guests on a Friday afternoon.
We were issued our room keys on the 10th floor but our room was not ready as we found the staff still cleaning away when we tried to enter. The staff was quick to apologise and offered us another room next door to drop our luggage, which is a much bigger 2-bedroom apartment!
Tour of Somerset Medini Iskandar Puteri Service Apartment
I'm sure you're keen to see how it looks, so I peeked into the rooms where 1 of the bedroom had a king size bed that comes with an attached bathroom with a bathtub. And in the other bedroom, they have 2 single beds and there's a common bathroom.
Equipped with 4 seater sofa, dining table for 4 in the living and dining area as well as a kitchen, this is a ideal accommodation especially for larger families. I heard that 3 bedroom accommodation are also available.
And here's what our more humble looking Studio Premier room in Somerset Medini Iskandar Puteri looks like. Modern and contemporary furnishing check. The full length sliding doors at the balcony filled the room with plenty of natural lighting which I liked very much.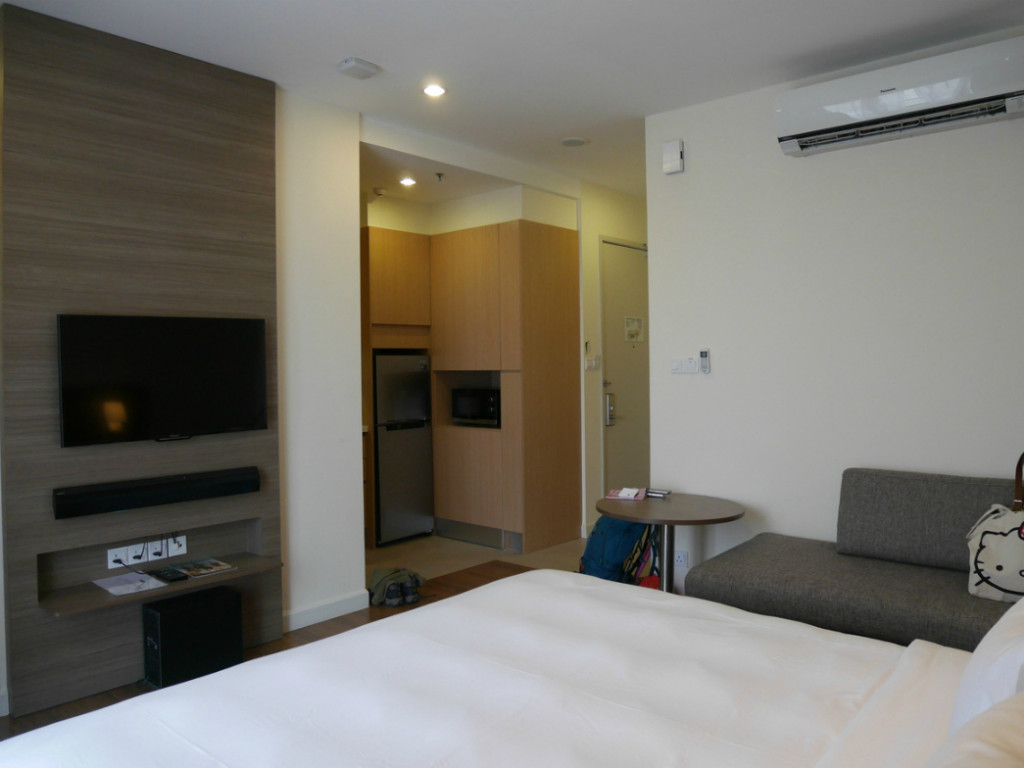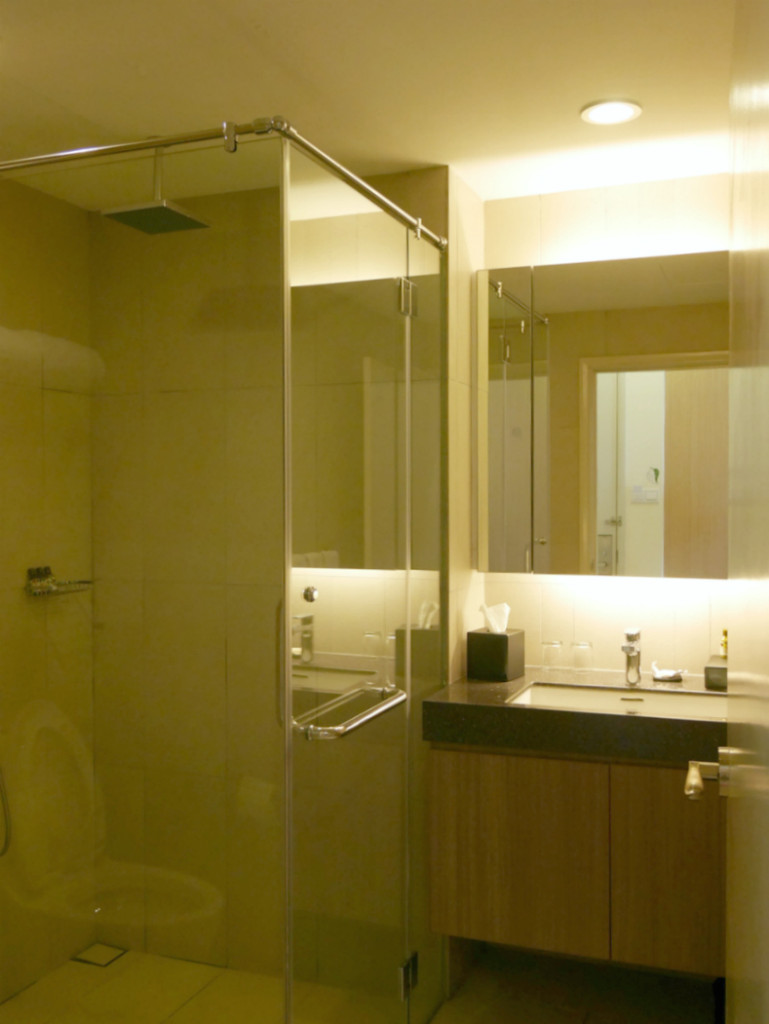 If you prefer not to face the hospital, ask for a room on the higher floor facing Legoland Park.
We had a very comfortable stay in the apartment. The pillows were plush and the mattress was just right. And oh and remembered how I mentioned our room was not ready when we tried to enter. The hotel staff was so apologetic about it and came to our room with a small token to make up for the inconvenience caused.
Sophie found herself with a colouring book and was of course delighted to have another baby (which she really means a soft toy to add to her growing brood!) whom she affectionately named …SOMERSET 🙂

Amenities in Somerset Medini Iskandar Puteri Service Apartment
The service apartment houses the usual hotel amenities, so if you're planning to hit the gym or pool, head to level 1.
There is an infinity swimming pool with a wading area for young kids, a fully equipped gym and even a children's playroom with an under the sea theme complete with TV, Lego table and a mini slide.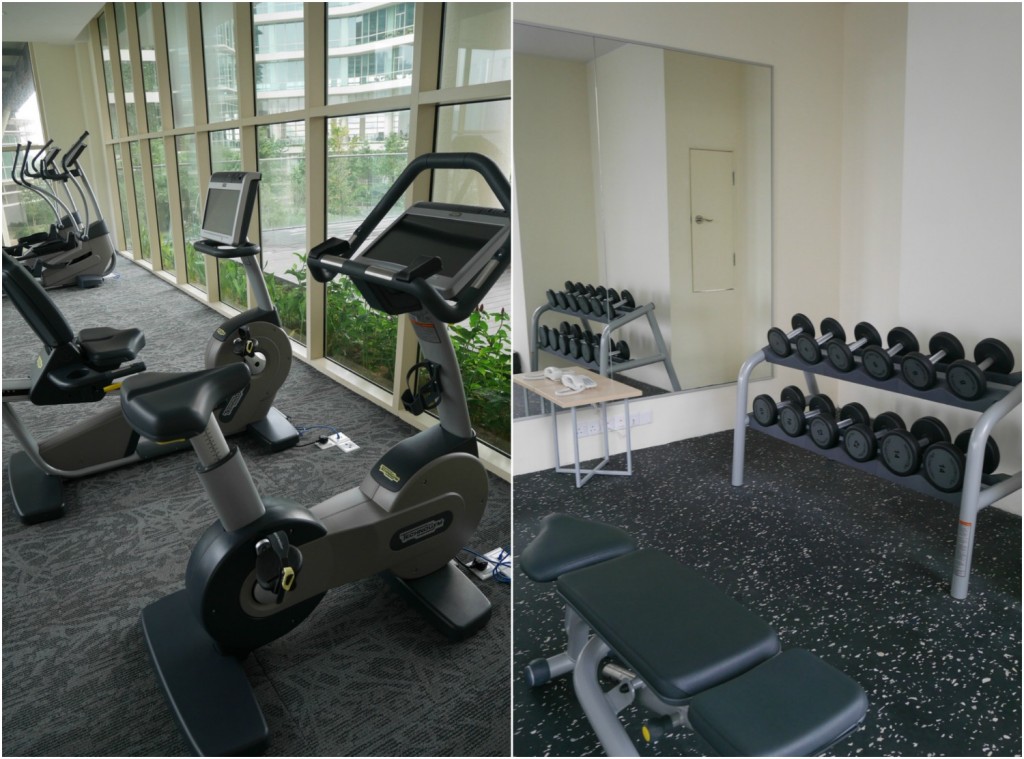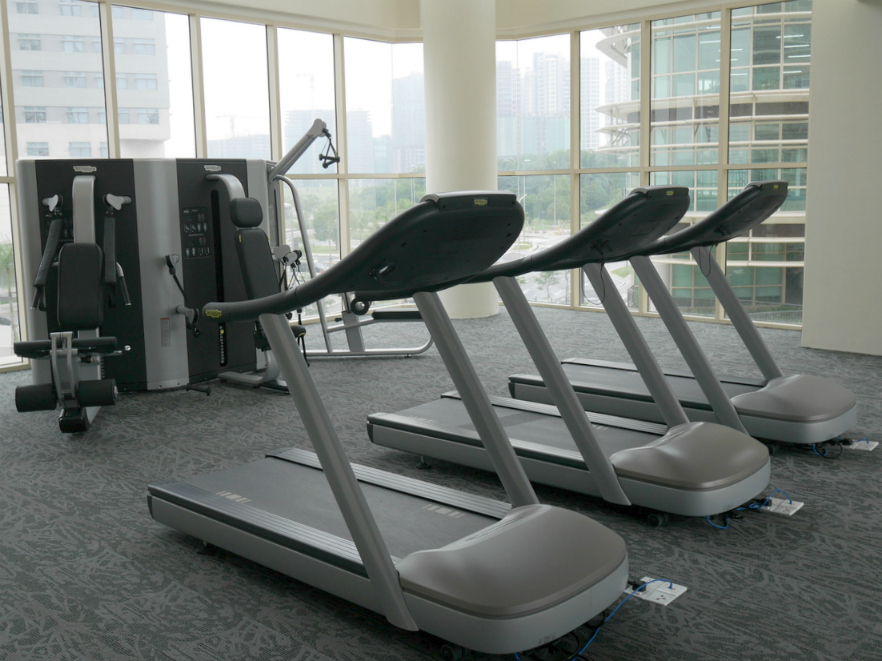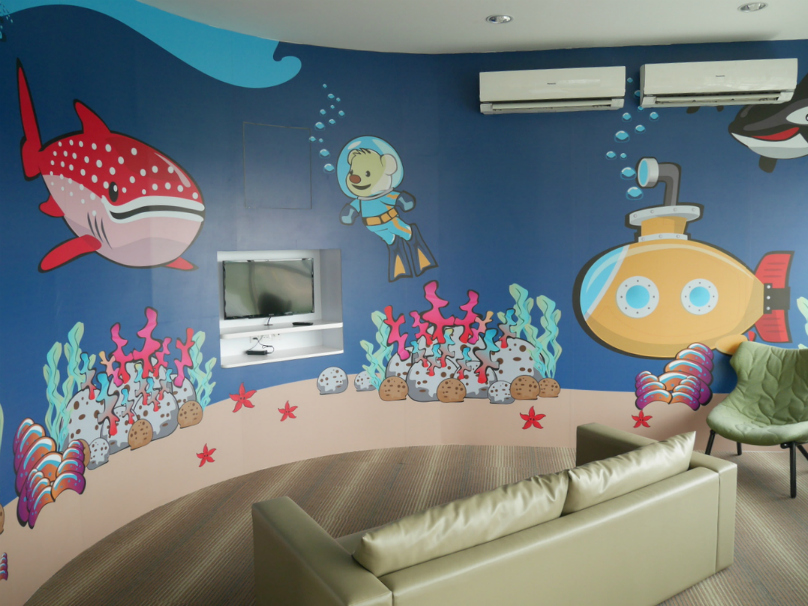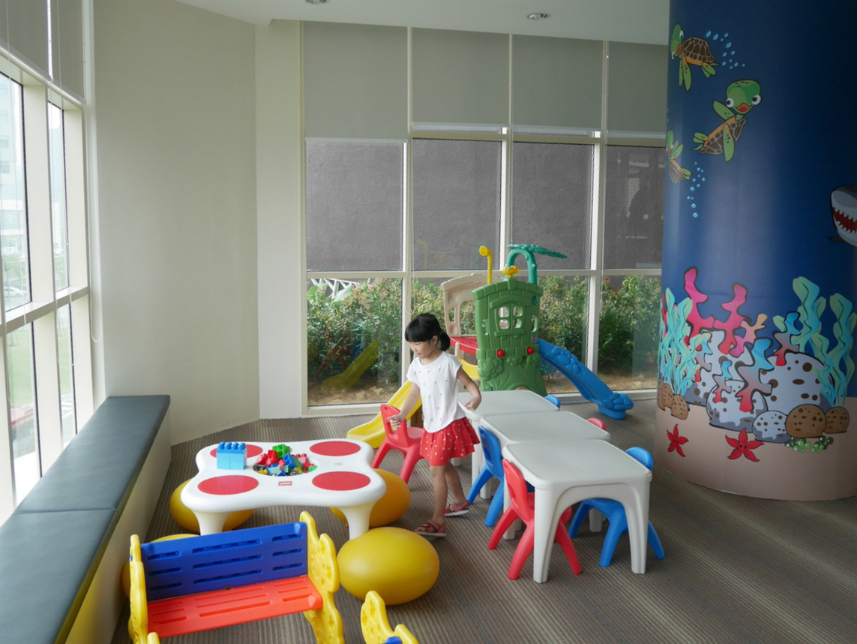 Bright and airy children's indoor playground that's suitable for younger guests and parents can chill out too. The facilities and toys all looked very new and that's the best part of a fairly new establishment.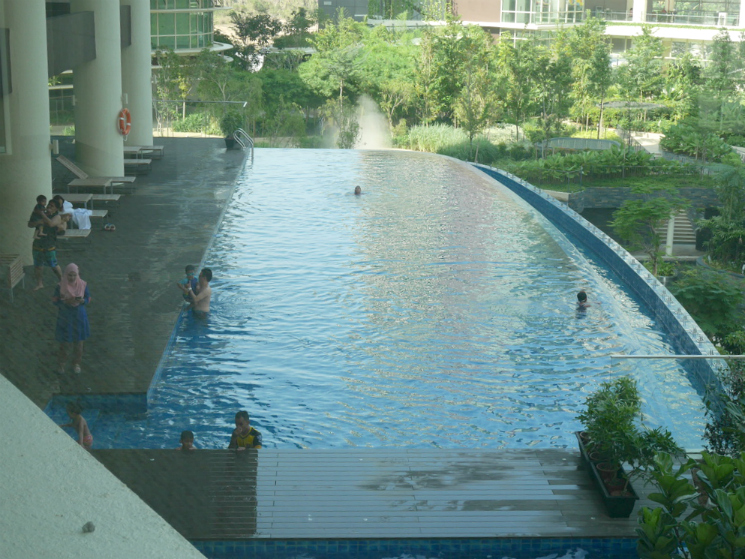 Somerset Medini Iskandar Puteri Dining Options
Our stay came with breakfast served  daily from 6:30am – 10:30am in a function room on level 2. They had a buffet line offering continental choices like mee goreng, chicken porridge, scrambled eggs, hot dogs, potatoe wedges, bread and pastries, fruits, kuehs, sandwiches, cereal and hot beverages. Breakfast is fairly decent but nothing fanciful.
Though the apartment lacks a cafe, restaurant or in-room dining, you can easily head next door to the Mall of Medini for meals. They have fast food joints like Burger King and KFC, local delights like Old Town, Secret Recipe, Chicken Rice Shop as well as Absolute Thai, Shi Lin and also a few conveniences stalls. But do take note that most eateries open from  9am to 10pm.
Of course, if you're prepared to cook, you can always make use of the kitchen facilities and whip up your meals.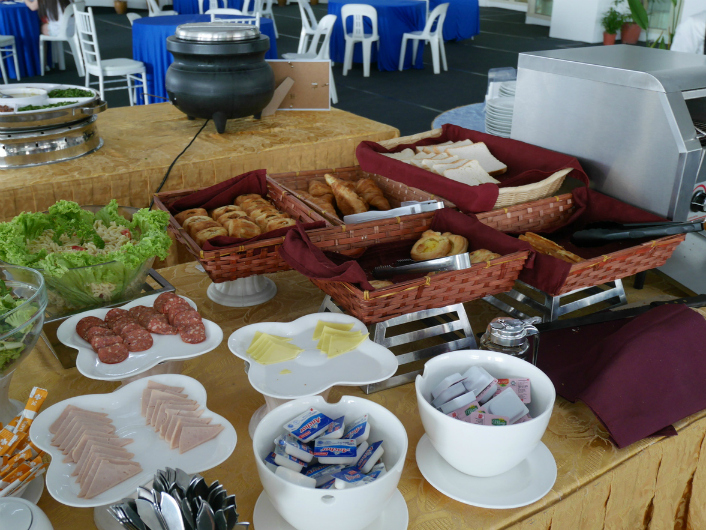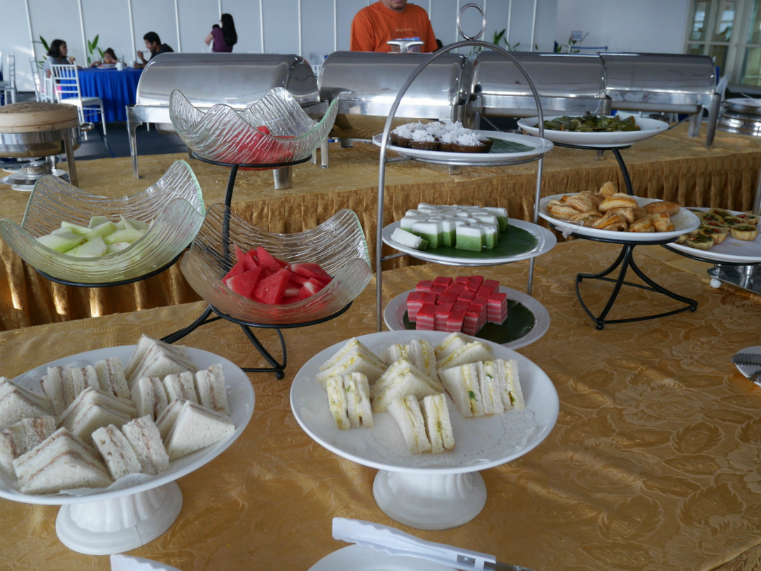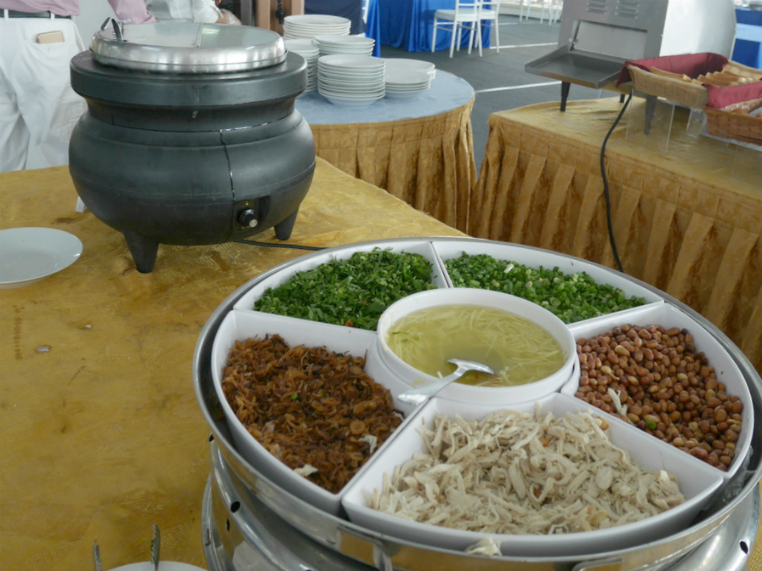 Review of Somerset Medini Iskandar Puteri, Johor
We stayed at Somerset Medini Iskandar Puteri for a night and paid S$100 before heading to Double Tree by Hilton hotel for the next 2 nights. Price wise, Somerset offered very good value for money given the convenience to Legoland as well as from the 2nd Causeway in Tuas. Wi-Fi is complimentary for all guests too.
READ ALSO: Review of Doubletree by Hilton Hotel in Johor Bahru
Being a fairly new establishment,  the staff are generally more eager to leave a pleasant experience for  guests which can be felt from their warm hospitality. Security wise, we felt assured as there was security guards on patrol as well.
To make it more convenient for guests to get around, you can hop on the shuttle bus that takes you to Puteri Harbour for Little Big Club and Thomas Town or AEON Mall Bukit Indah where they have a cinema, Popular, Toys R Us, Watsons, Daiso and a huge supermarket.
Would we return for another stay if we are planning to Legoland? You bet and I hope this review has been useful 🙂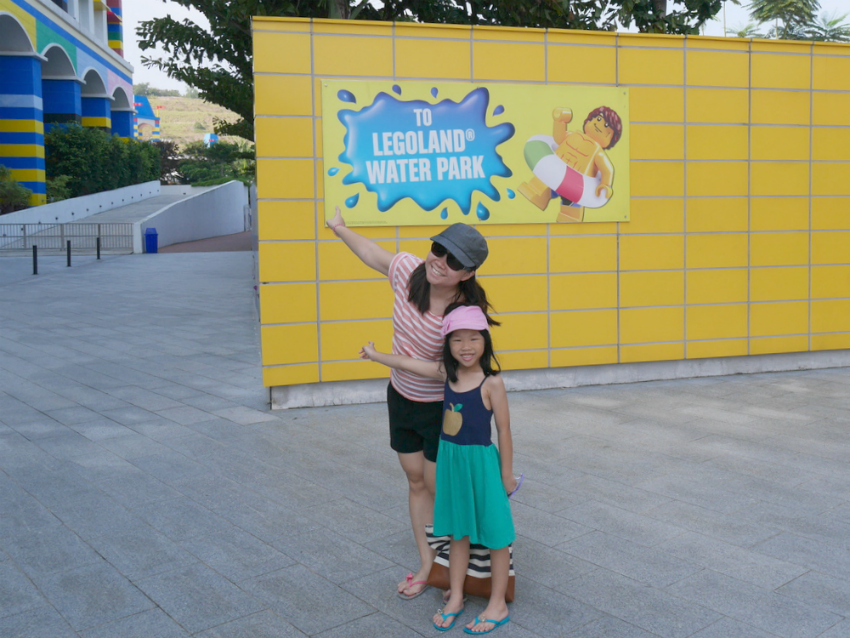 This is our second visit to Legoland Water Park and this time Sophie got to try a new ride, the Lego Slide Racer which made her declare it as the best slide EVER!!!! See I told you, she's one drama queen.
There's so much to love about Legoland Water Park and you've got to read why we're back for more this year.
Somerset Medini Iskandar Puteri, Johor
Address: Lot 5 Jalan Medini Utara 4, Medini Iskandar Malaysia
79200 Nusajaya Johor, Malaysia
If you're heading to JB, then don't miss these posts where I share some of my shopping finds and places to go cafe hopping across the causeway as well.
Enjoyed reading this post? Do like my Facebook page to get more family friendly travel updates. You can also follow me on  Instagram (@ajugglingmom) for more travel and parenting posts.
Tagged: family friendly, JB, Johor Bahru, Legoland, Legoland Malaysia, Legoland Theme Park, Road trip