In my earlier entry about my experience with fibroids, I mentioned that under my gyne's recommendation, I did an open myomectomy operation to have the fibroids removed. My operation was the abdominal or open myomectomy which is similar to a cesarean. But in this instance, instead of a baby, the fibroids or as my gyne would call them, jewels, were taken out.
I hope to be as candid and honest as possible in my documentation of my fibroid operation will give you an idea of what the post operation entails.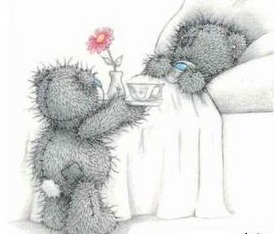 How bad does it hurt?
This question is probably at the fore front of your mind if you have to consider doing an operation to remove the fibroids. I would like to think that I've a pretty high threshold for pain but on a scale from 1 to 10, a myomectomy would easily be a 8 compared to a cesarean at a mere 3.
In my case, because the gyne removed 33 fibroids of varying sizes, there was a lot more "repair work" that had to be done for the multiple incisions made to the uterus. If there is only one fibroid or lesser fibroids, I'm certain that it will be less painful and the recovery will be faster.
But between the two operations that I went through, the pain level for the 2nd op was reduced all thanks to the ON-Q PainBuster. The PainBuster is a pain relief device that delivers continual local anesthetic to the surgical site via a tube for up to 4 days. I'm not sure if all hospitals offers this, but back in 2004 when I did my first op, I could only rely on morphine to get my dose of pain relief!
My stay at the hospital
The first 2 days was a daze as I drifted in and out due to the pain medication. As I loss quite a bit of blood during the surgery, I was given two packets of blood. It didn't help that I also was running a temperature and had a low blood count which rendered me another transfusion for 3 packets of iron.
By the 2nd day, I started on a soft diet but really didn't have much appetite for food. I was immobile for 2 days until they removed the urinary cather. On the 3rd day, they also removed the tube that was draining the blood from my wound. I'm no drama mama, but the process of having that tube (which is about 4-5mm) removed was probably the most painful and agonizing encounter that I nearly fainted!
I didn't help to hear the nurse going "the blood is oozing" as she removed the tube! She had to apply pressure to my wound while calling out to another nurse for assistance! By the time, this whole episode was over, I was perspiring and panting away and could only take comfort in my sleep. By far the MOST traumatic experience after the op.
One thing I was surprised to learn is that during the surgery, air was pumped into my stomach to enable the doctor to see my organs more clearly. As a result, there was excessive air inside my stomach that gave me on and off "shooting" pains that . Now I can laugh and joke about how there was so much interest  from the nurses on the frequency of my flatulence and my desire to pass out some of those nasty gas to ease the discomfort in my tummy.
I was discharged after 6 days and was told to monitor my situation as I had a slight fever and my blood count was still on the low side before I was discharged.
After care
With an abdominal myomectomy, the typical recovery is between four to six weeks before normal activities can be resumed. However with a laparoscopic or hysteroscopic myomectomy, recovery is usually complete within one to three weeks.
I was reminded not make any sudden movements as the wound was still healing. Getting out of bed had to be done on the side of my body so that I don't use my abdominal muscles. A binder was especially useful after the surgery to keep my tummy nicely tucked and secure from sudden sneezing which usually sends me howling in pain 😛 Do have one ready on the day of your op and pass it to your gynae.
Dietary restrictions
As with a cesarean, the old folks made me eat "confinement like" food to get rid of the "wind" in my stomach. So I had lots of ginger and sesame in my food. I was told to load up on meat that was high in iron as well as iron supplements due to the low blood count. I gladly took to my doctors orders and had lots of beef and spinach while avoiding "poisonous" food like seafood, duck, nuts to prevent infection to the wound.
I hope this has answered some of your questions on the post op experience after a myomectomy surgery. I end this post with some questions you may want to pose to your gyne if you have to consider going for an operation.
Questions to ask your Gyne
How long will I be in hospital?

How will I feel immediately after the procedure?

How much pain will I suffer and what are my pain relief options?

How much support will I need at home?

When can I return to work?

What are the short-term/ long-term side effects?

What are the risks in the treatment?

Will I be able to get pregnant and how long must I wait to conceive?
I hope this has been useful. 
For other related posts
Tagged: Fibroid, myomectomy