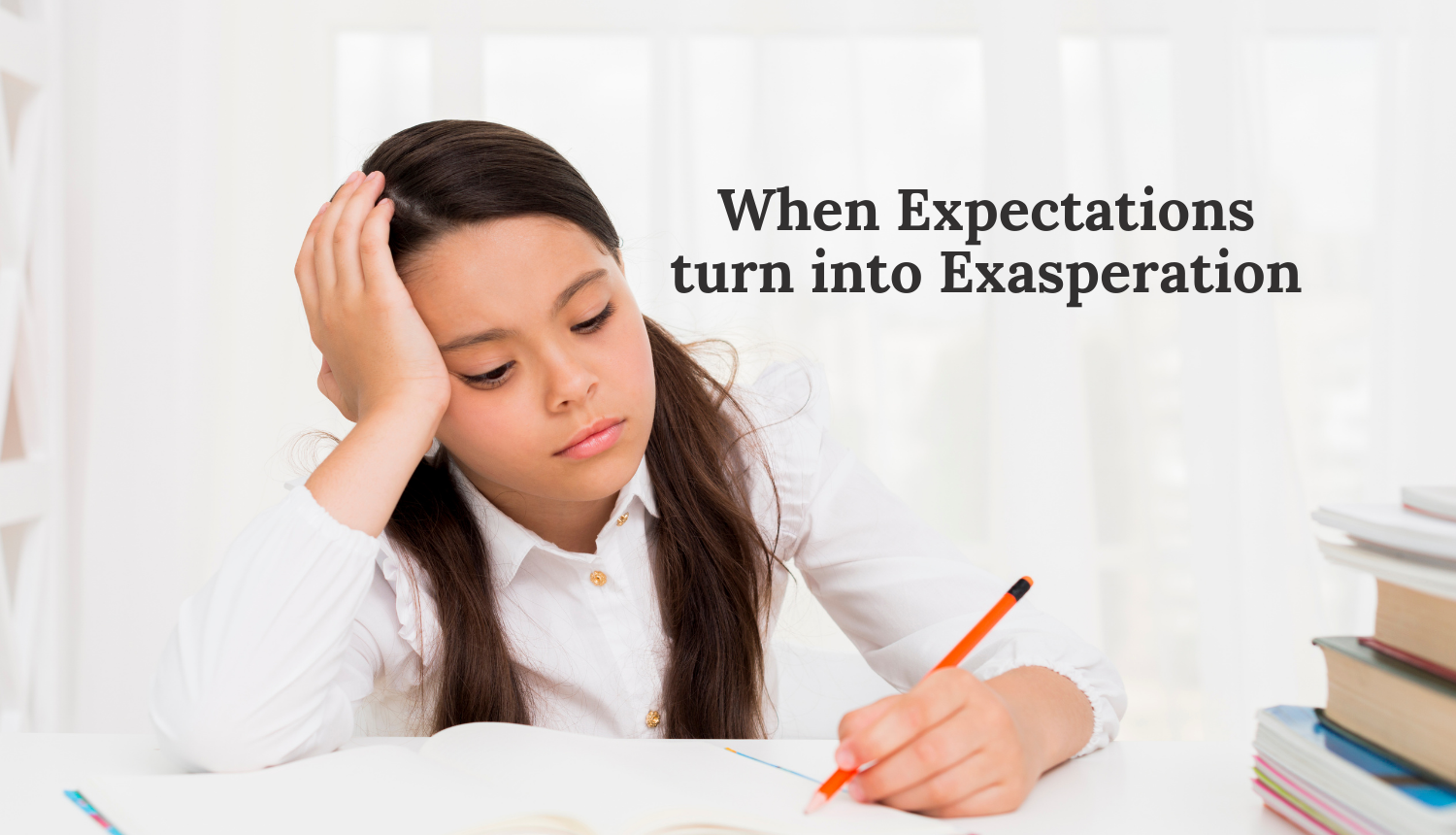 It's the last quarter of 2020. Like many others, I don't know what the year-end has in store for us but one thing is for sure – the end-of-year examinations.
While MOE may have scrapped the mid-year exams for Primary 5 in an effort to move away from an overemphasis of academic results, there's no escaping the year-end examinations that loom closer with each passing day. Yesterday, the Primary 6s celebrated the end of their most important exam in life the PSLE, and next year it will be Sophie's turn.
I think I'm a far cry from being an Asian Tiger Mum who pushes her child to excel academically at all cost. Yet, like all parents, I want my child to do nothing less than her best.
High Stakes Exams. High Stress. 
After all, the stakes for the year-end exams are high. 65% of the academic year's grades to be precise.
So yes, I blow my top if I see sloppy work, careless mistakes, laziness and a couldn't care less attitude from my girl. I would be more forgiving though if she has difficulty grasping a Science concept or when she's stumped by a Maths problem sum (both subjects were my nemeses back in school) and send her off to Daddy for solutions.
However lately, we find our patience increasingly wearing thin. I would fume when I see unanswered questions in past year papers and questioned if she was even trying hard enough. My husband who was in charge of coaching her Maths and Science also blew his top.
"You should know all these by now."

"How can you still make such mistakes?"
In exasperation, I shot the question if she was even trying hard enough. She snapped.
"You can't see my efforts but what makes you think I'm not trying my best?" Sophie fired back in frustration.
Regrettably, in hindsight, we should have known better than to assume the worst of her. Months of HBL was hard on her when learning took a drastically different form. It made us feel like lousy parents when hurtful words were exchanged. For not empathising with the stress she was facing and walking in her shoes.
Be anxious about nothing
Upon deeper reflection, I realised that I was transferring my anxieties onto Sophie. My expectations for her to do well turned to exasperation. Both for my daughter and myself.
It was hard to admit that even as a Christian mum who had good intentions for my child, I was caught under the wave of worldly pressure to measure my child by her achievements and grades.
As I looked deep within myself, a part of us pushing her so hard to excel is so that we as parents can look good too. But while my daughter is my pride, she's not my trophy child to boast about.
READ: The power of life-giving words 
I'm not saying that grades do not matter in her academic pursuits but they cannot define her. And I would never want her to think that we love her any less if she came back with less than stellar results. More importantly, our love for her should and must always be unconditional because we are loved unconditionally by our Heavenly Father.
Does that mean we should not hold any expectations for our children at all? There is a saying, "没有期望就没有失望". Loosely translated as "without expectations, there will be no disappointment".
But I beg to differ. After all, we as children of God are to do our best in everything we do.
"Whatever you do, work at it with all your heart, as working for the Lord."
Quoting Colossians 3:23, "Whatever you do, work at it with all your heart, as working for the Lord". That applies to our children, who are charged to study wholeheartedly for God's glory. That means having a good attitude when they study, planning their time well, and growing their resilience to bounce back from setbacks. Not forgetting to take care of their physical health and emotional well-being.
Recalibrating our expectations
As we enter the height of exams fever, it's inevitable for parents to be stressed. But we can take a step back to see the big picture.
I felt the nudge of the Lord asking me, "Where is your treasure, where is your heart in all these?"
If we are truly convicted that our children are not measured by their grades, our words and actions must match our intentions.
Do I only praise when she does well but withhold affirmation if she failed to match up to my expectations?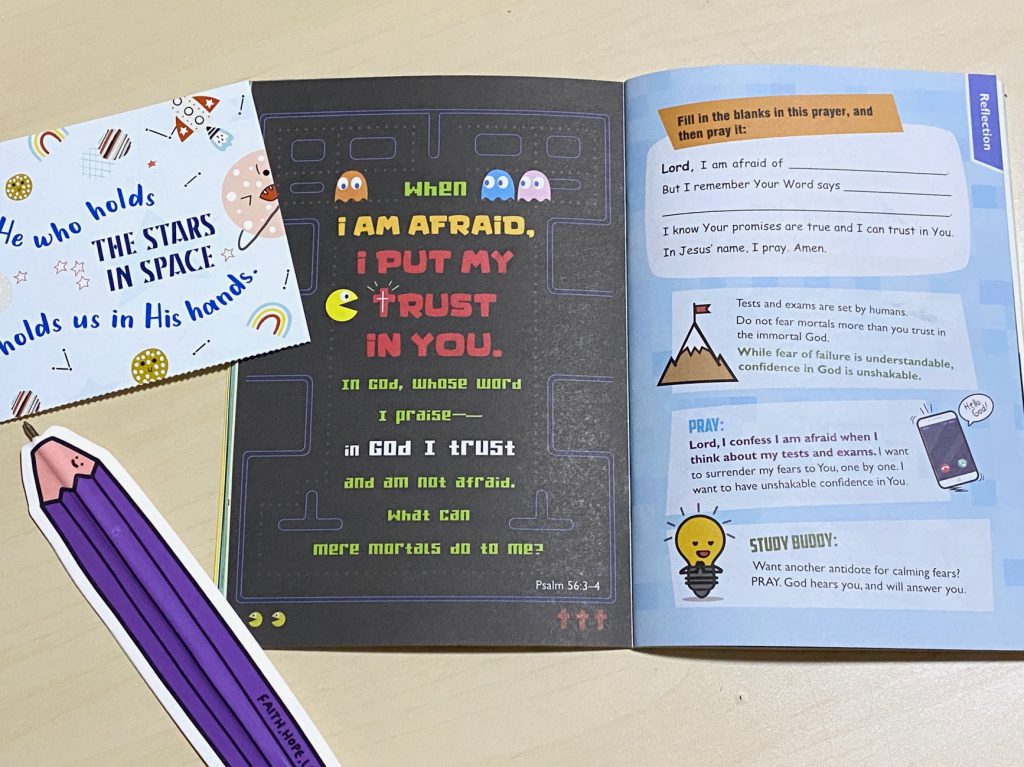 READ: Failing to be a patient mum, again
As I learn to temper my expectations and ask God to put my pride aside to do what's best for Sophie, the tense learning atmosphere began to slowly dissipate.
I am more mindful of what I say and use kinder words to support my child's learning. To encourage her by speaking words of affirmation to show that, "Yes, Mummy believes in you!" As a result, I see her putting in more effort because she's assured she is simply loved for who she is and not what's going to be in her report book.
Parents, let's redirect our exasperations into encouragement instead. Speak positively over our children. Never lose sight that they are our precious gift from our Heavenly Father and trust God with their future.
Resources for Christian parents
These parenting resources have been so useful in helping me to recalibrate my expectations for my child. I pray that you will be encouraged as a parent who is supporting your child for their exams.
Race to Praise – Resources to develop stronger parent-child relationships and instill confidence in children
Tagged: motherhood, Parenting, positive parent, primary school