The highlight for 2015 must certainly be all the vacations we took this year. From our laid back beach holiday in Krabi to shopping and eating heaven, Bangkok. And it was more eating in Penang and Hong Kong where we had a wonderful time in Disneyland.
And for our very very last trip of the year, we headed up to Johor Bahru for Legoland Malaysia!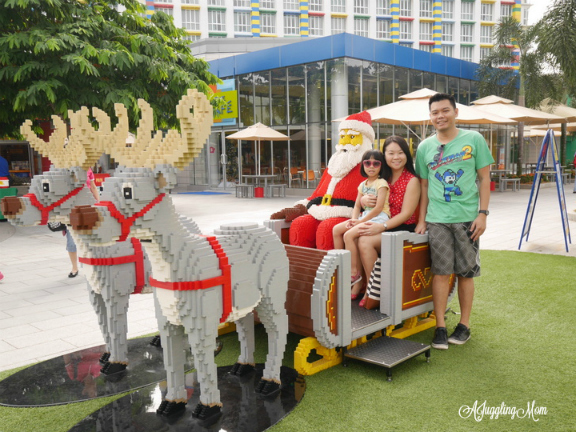 Since it was December, the theme park was dressed up for their Christmas Holiday Extravaganza! Upon entering, we spotted Santa and hitched a ride on his sleigh pulled by his trusty reindeers which are all made of Legos pieces! And thankfully we didn't spoil his ride otherwise he can't finish his delivery of presents.
You definitely wouldn't miss the Lego Christmas tree that's more than 9 meters high and made entirely of Duplo blocks in near the Market Restaurant . What caught my eye were these ginormous drool worthy boxes of Lego at the foot of the Christmas tree. They would not only be a kids dream come true but for adults especially the Lego fans too. If only…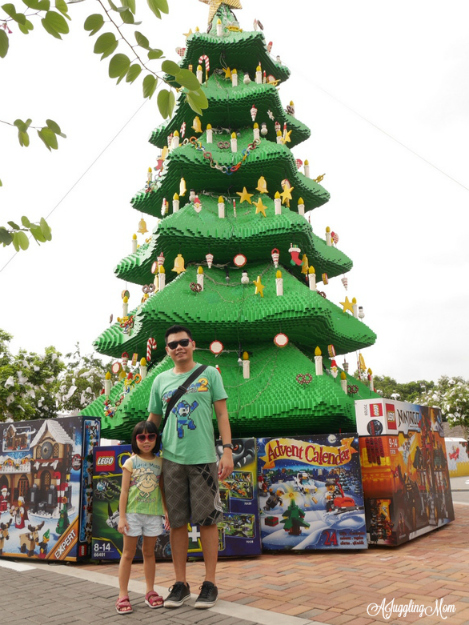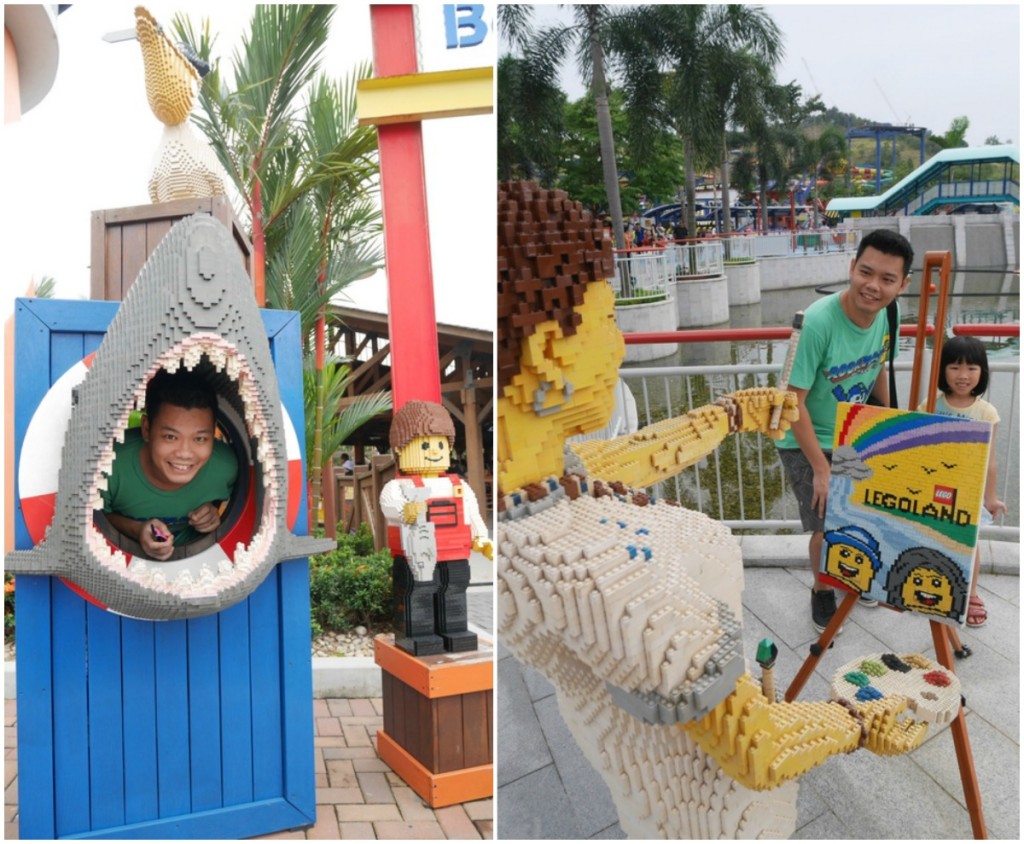 The first area we headed to was Lego City where Sophie drove a car at the Junior Driving School, an aeroplane and a boat at the Boating School. I hopped on as her passenger on two of the rides and the boating experience was really quite fun.
The queues can get quite long for these activities so it's a good idea to come here right after you enter the theme park. We waited 15-20 min for the boating school but it was worthwhile being driven by Sophie!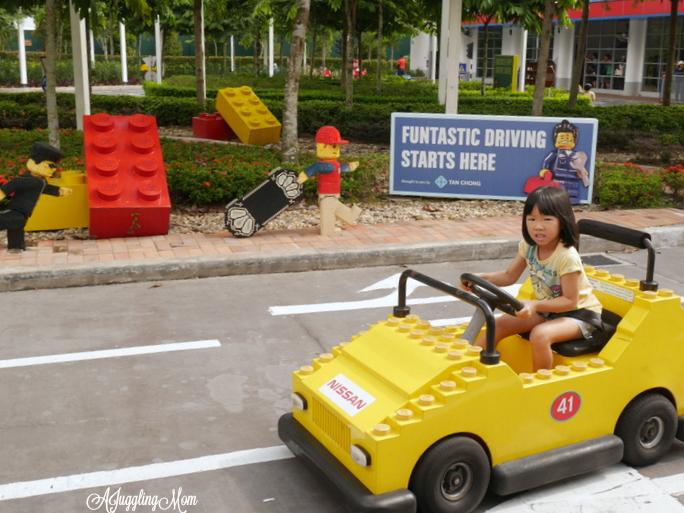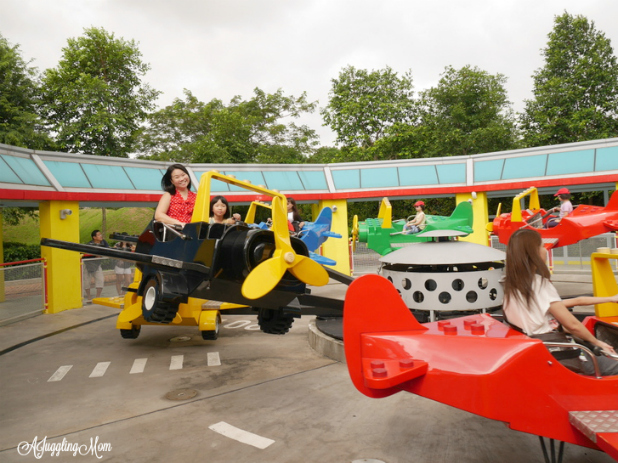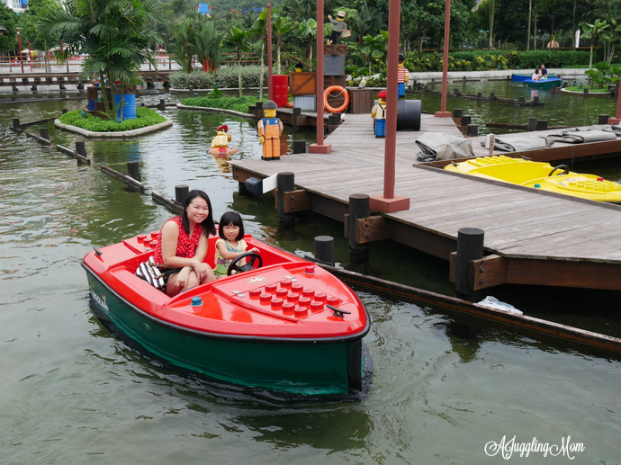 Another parent and child activity that we enjoyed was the Rescue Academy where we had to drive our rescue vehicle to put out the fire.
Here cooperation is required by both parent and child and Sophie was frantically jumping up and down to pump the water to aid Alexis in extinguishing the fire.  She even scolded me for taking photos and ordered me to stop taking photos and go over to help! In the end, we were first place under the command of Tyrant Sophie!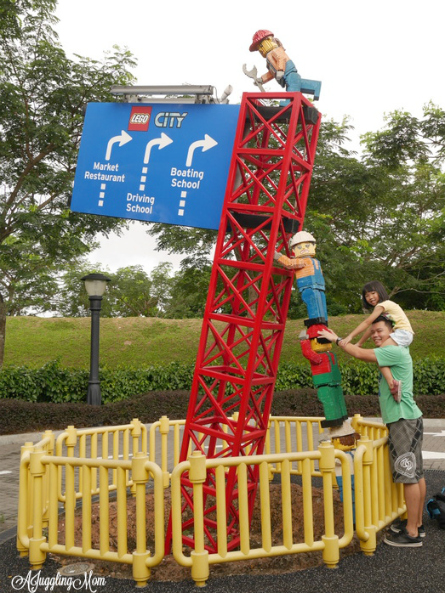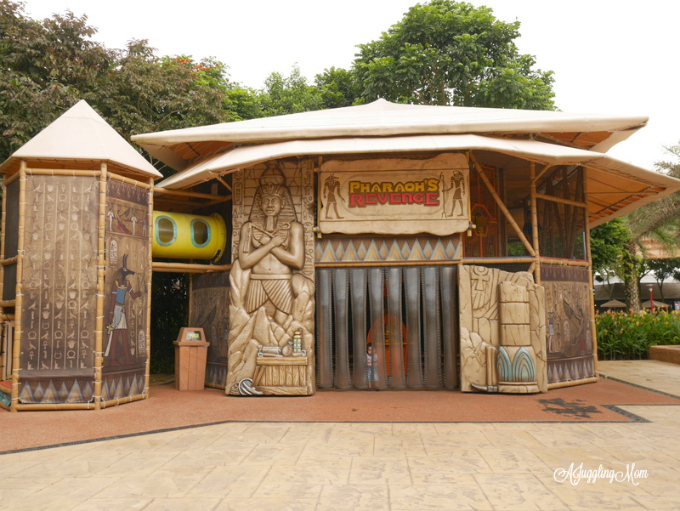 Next, it was off to Land of Adventure where we took the laser blasting ride, Lost Kingdom and Beetle Bounce, a ride which bounces and descends you unexpectedly.
Surprisingly, the latter was one of Sophie's favourite ride since it was the same sort of ride that scared the daylights of her when we were in Disneyland. She was so brave that she even lifted her arms and tried to peel my hands off the handlebar to do the same, but I'm not that crazy.
She got to play inside the indoor playground Pharaoh's Revenge while seeking shelter from the intermittent rain that played hide the seek the whole day with us. A word of advice from my hubs is to leave your kids to their own devices here and not try to climb around with them if you don't wish to hurt your back.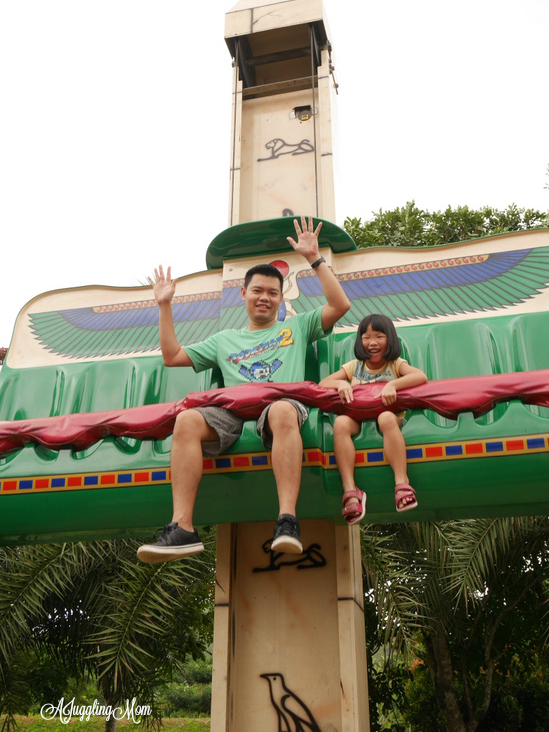 The only thrill in Land of Adventure was the flume ride but Sophie didn't want to go on it and I've learnt not to force her against her will after a bad experience in Disneyland. So she sat out of it and stayed in the Lego Station at the side of the queue and waited for us. Turned out this was one soaking wet ride and we got so drenched, which explains why I saw people taking the ride in their swimsuit. #notkiddingyou
Since Sophie was not keen on the more exciting rides, we took her to the Duplo Playtown and here everything is Sophie sized!Very friendly area even for little kids where they can have a fun time in the playground or hop on board the Duplo Express.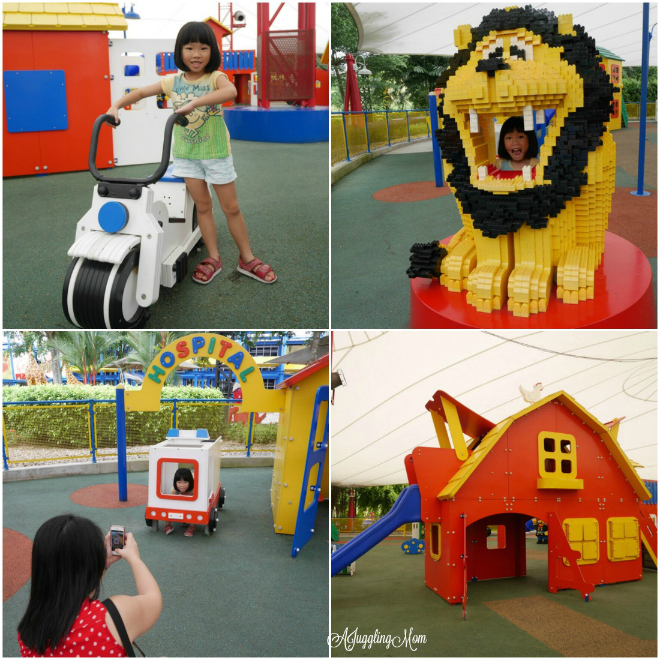 We crossed over to the Lego Studio and caught 3 of the 4 4D shows screening and the special effects from rain, snow and wind were so realistic. In fact, it was so realistic that Sophie decided to put on her raincoat for good measure! I like her sense of humour.
The shows were pretty good especially Clutch Power. And if you want to avoid the full effects, sit at the back rows which we discovered later and avoided the 'rain'.
Lego Kingdom means only one thing, the Dragon roller coaster! Since this was not on Sophie's agenda, she went for the Royal Joust and this ride is just so royally cute! We had some technical issues on the roller coaster and nearly got soaked wet in the rain but I guess that's also part of the fun.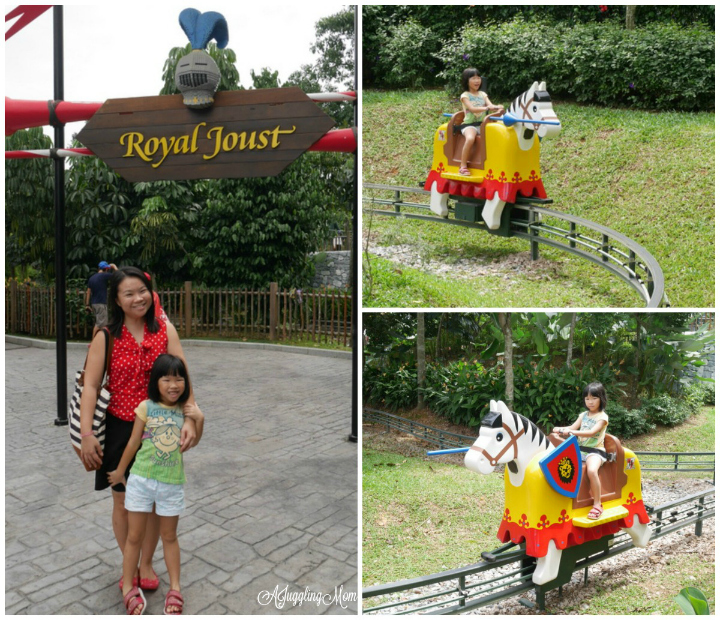 And every visit to the theme park is not complete if you didn't get a photo with the mascots. So here's one with Frankenstein and Ninjago Kai!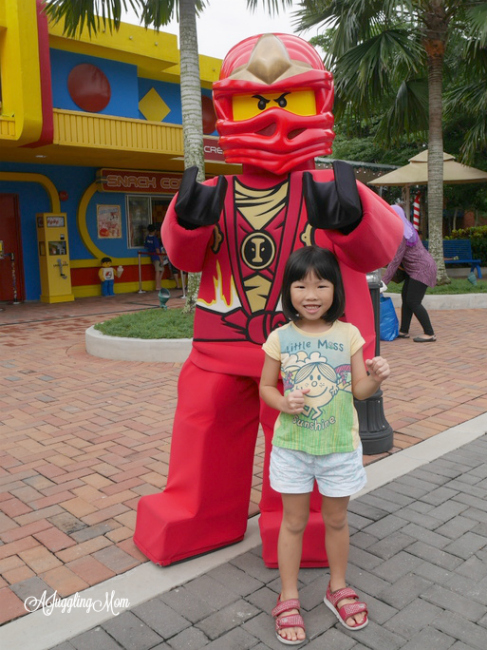 By the way, you must watch the Ninjago Live Show, The Realm of Shadows that's currently showing at the Lego City Stage and will soon be a permanent fixture of the theme park.
This Bunraku-style LEGO Ninjago live interactive show brings you on an adventure with the Ninjagos through a combination of state-of-the-art 4D special effects, mesmerising puppetry and mind-blowing video mapping! The performers who handled the puppets also had very good control and brought the characters to life.
Alexis and I were glued to our seats throughout the whole 20 minutes and were impressed by the show which made the different settings and puppets come to life in a sensory immersive experience.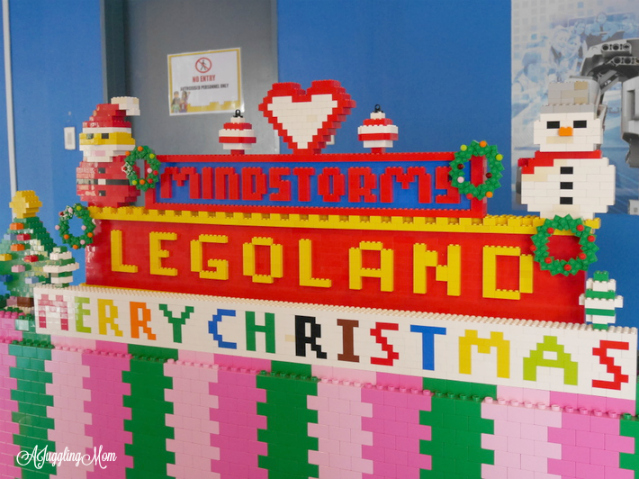 Oh and did you know that just for this holiday season til 3 January 2016, the park's opening hours has been extended by an hour to 7pm!So before we left, we stayed on to catch the Holiday Extravaganza at 6.45pm and to see if we are lucky enough to win something in their special Legoland Advent Calendar lucky draw that happens every evening.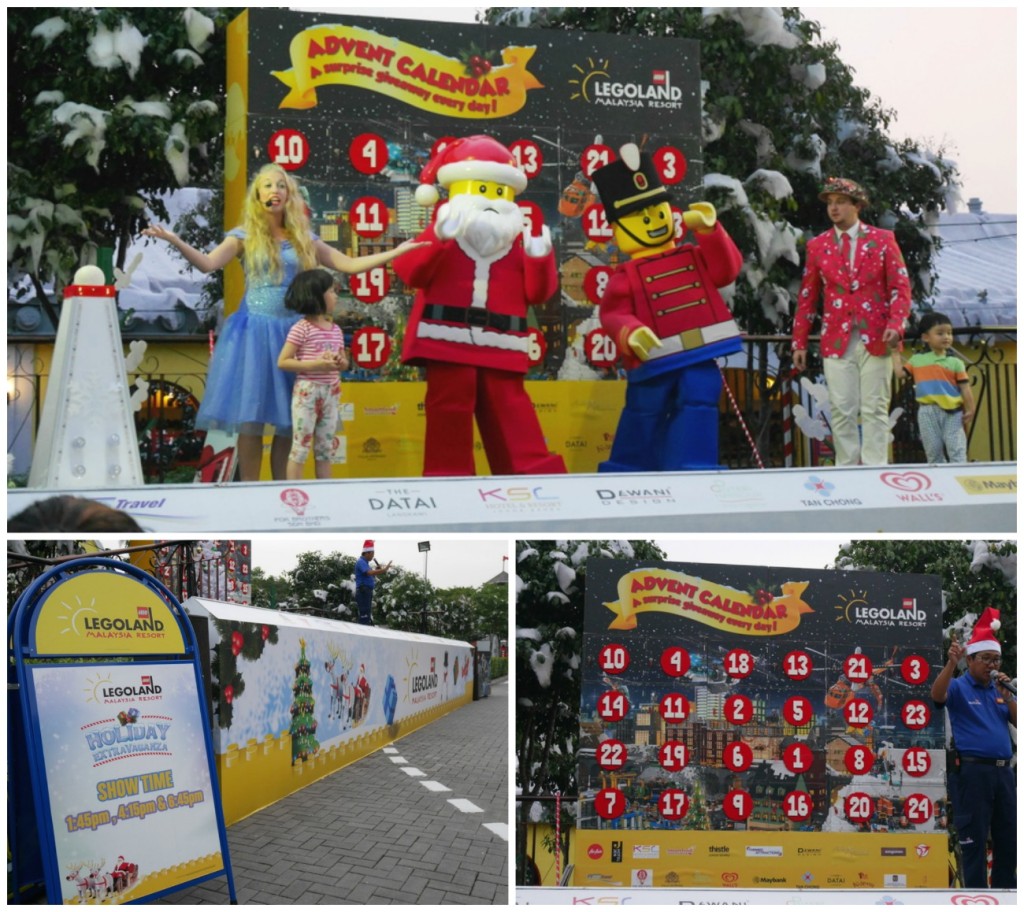 The 2 hosts sang and danced and delighted the audience as we all tried to keep a look out for Santa to light up the Christmas tree. Of course, he's found in the end by the Toy Solider and how lovey the lighted Christmas tree looks against the red evening sky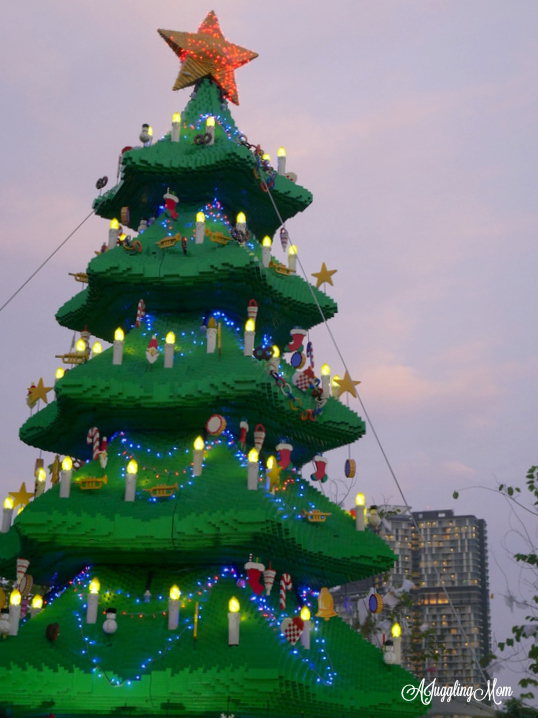 But before we sign out of the park, we had to get our hands on these Christmas themed Lego Baubles and magnets from the Big Shop that will make great gift!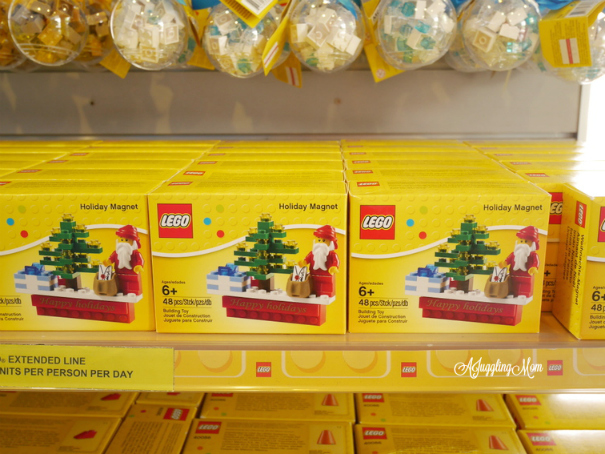 There are only a few days before the Holiday Extravaganza ends and on 31 December, there's going to be musical fireworks to light up the sky!
Weather wise, we did experience intermittent rain so do go prepared with ponchos and your brollys. And if you're wondering about the jam, it took us 1 hour and 15 mins to get from Tuas to Legoland on a Friday morning and surprisingly just 30 mins from JB checkpoint to Singapore on a Sunday late afternoon. It was very unexpectedly and thank God for a safe journey to and fro too 🙂
Hope to come back for their Water Park the next time when the weather is better!
You can read more Legoland Holiday Extravaganza reviews over here, here, and here.
Tagged: christmas, Legoland, Legoland Malaysia, Legoland Theme Park