Whenever we head up to Johor Bahru, our hotel choice is always Doubletree by Hilton Hotel.  This 4-star hotel ticks all the boxes for us as a family friendly hotel for us, which explains why we've been a loyal fan and have even been recommending them to our family and friends.
You may have remembered that in my earlier post, I mentioned that we've gone carless, so a centralised and assessible accommodation is one of our top priorities.
Conveniently located just 10 minutes away from the Customs in JB, Doubletree is in a ideal location even if you're making your way to the hotel on foot. Plus, the hotel is just a stone's throw away to Johor Bahru City Square Mall and Komtar Mall, two of my must visit malls whenever I'm in JB.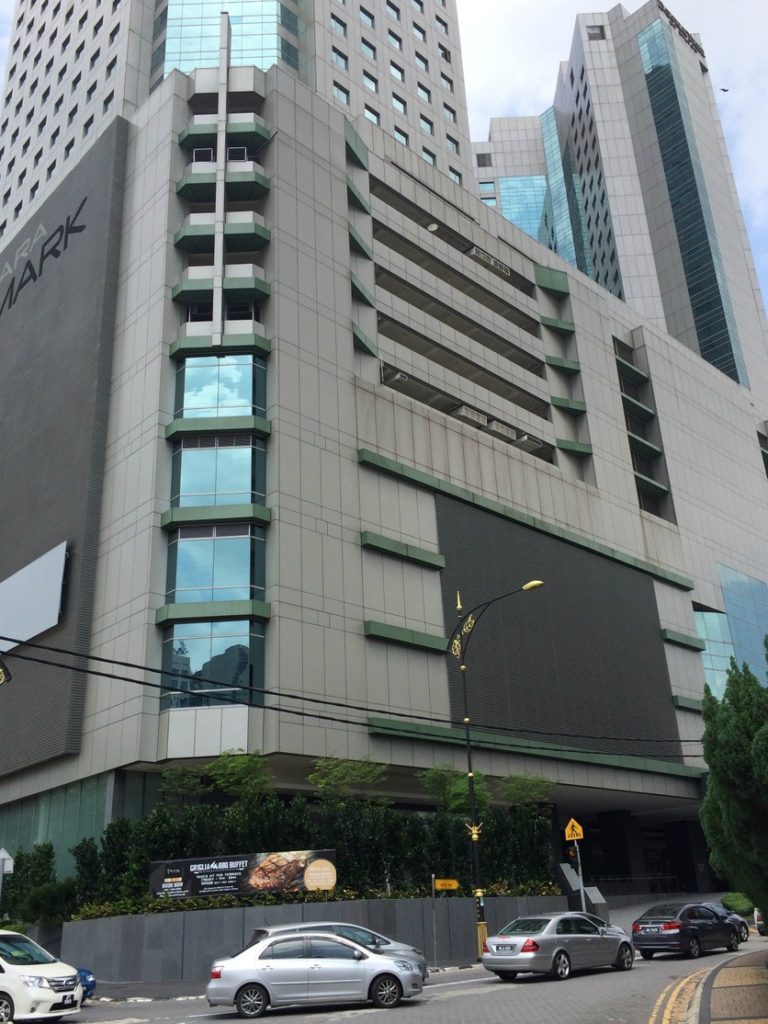 If you're there to shop you wouldn't be disappointed as both malls have lots of options for shopping like Pandini, FOS, Jelly Bunny, Uniqlo, H&M, Popular, Royal Sporting House, Dorothy Perkins and many other brands at more wallet friendly prices.
The two malls also have a wide selection of food choices like Old Town, Papa Rich, Seasons (like our Swensons), Kim Gary Dragon-I (think DTF) , Sushi King and many more to fill your tummies.
For those who are worried about the safety in JB, I'ld say that you need to always exercise caution wherever you are. Always stick to places you're familiar with, avoid leaving your valuables exposed and don't stay out too late especially with kids.
So far, we always feel very safe especially in the two malls that I've mentioned above (City Square and Komtar) and we've also gone further to KSL and Aeon Mall in Bukit Indah, which is closer to Legoland and Little Big Club.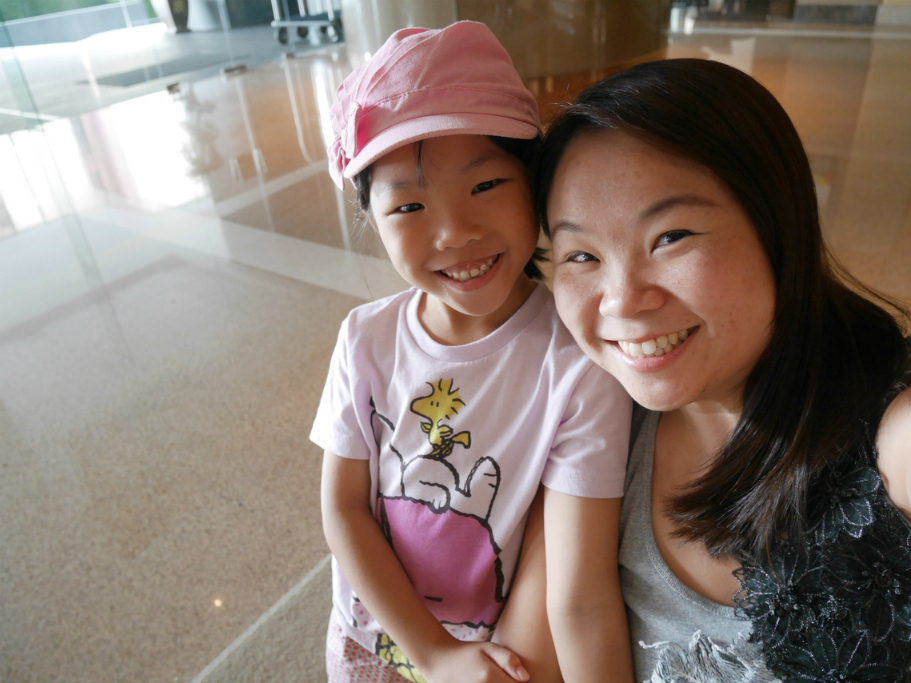 We've always received professional and great service from the staff at Doubletree and we have no complains on all our past stays with them. Upon check in, guests will be delighted by their famous warm chocolate chip cookie which is so comforting and inviting. The best kind of reception that definitely scores with any chocolate fan.
Comfortable Rooms
For our family of 3, we booked the King Deluxe room. The room is tastefully designed with a contemporary and modern look that so inviting. We like that the room is spacious, well-kept and clean. The bed and pillows are comfy and where a good night's rest awaits.
Though they only have bath tubs in the suites (a major disappointment for Sophie), there is a walk-in rain shower with glass feature wall.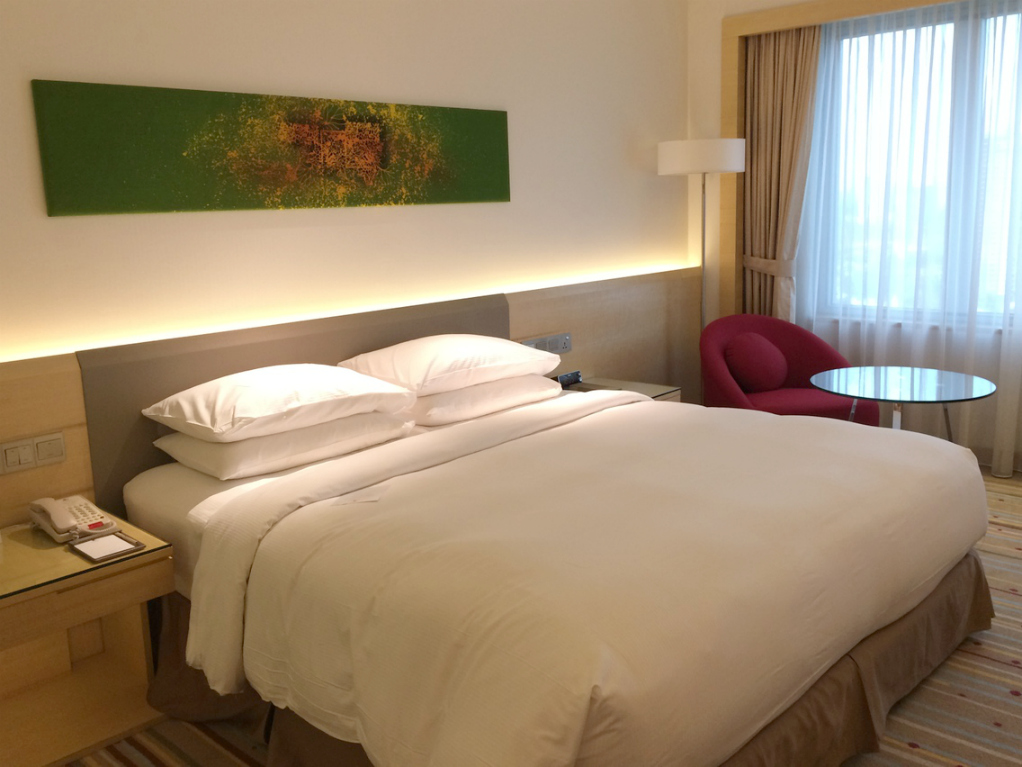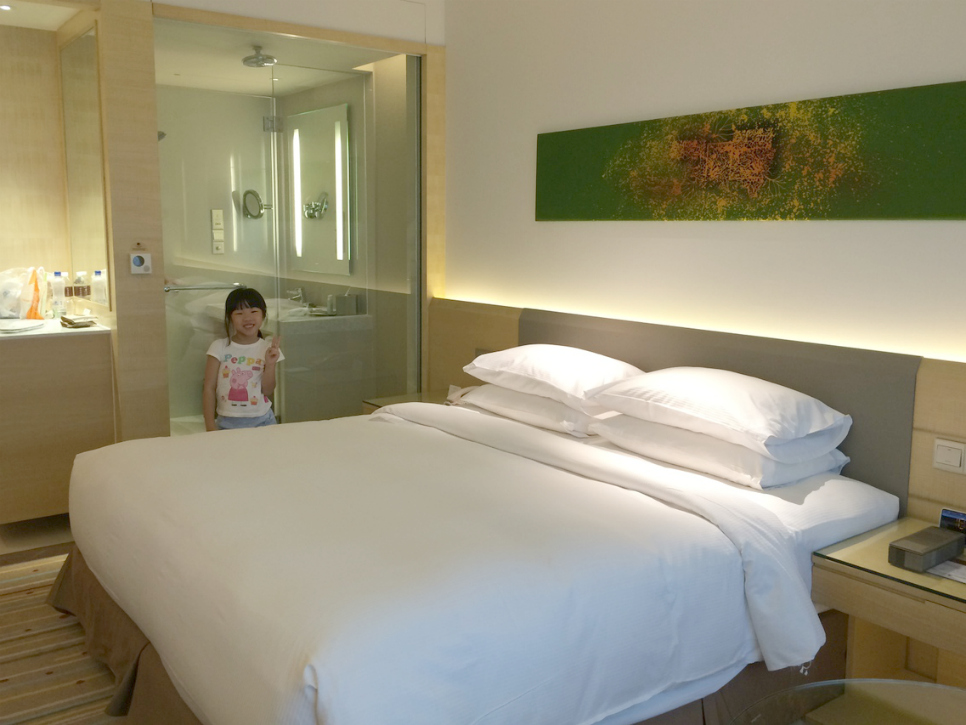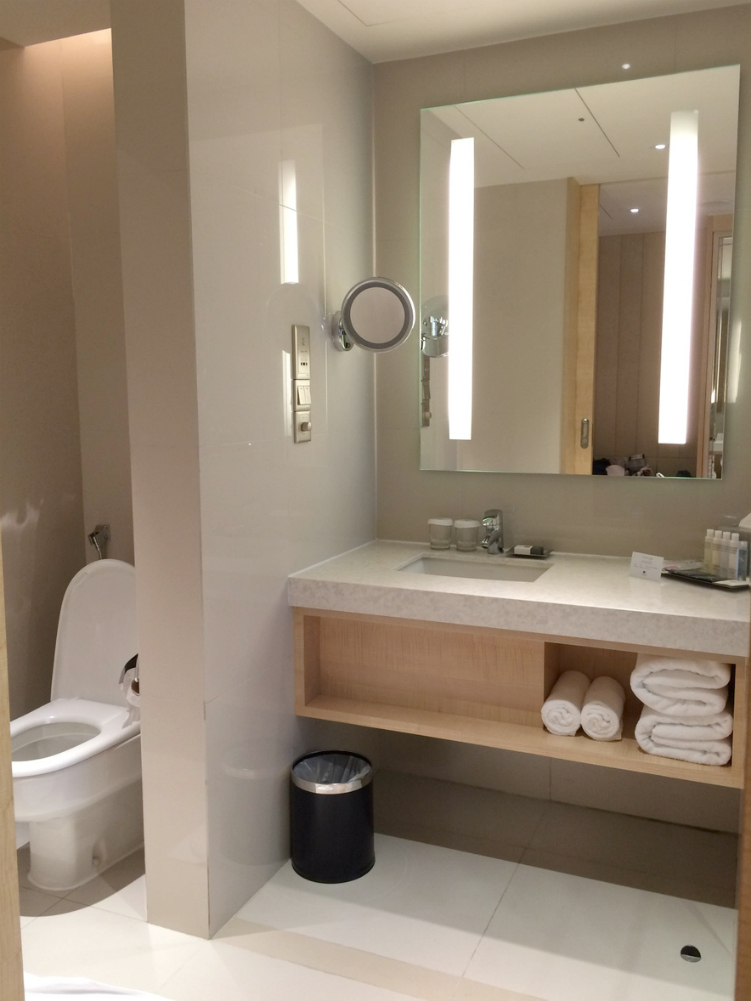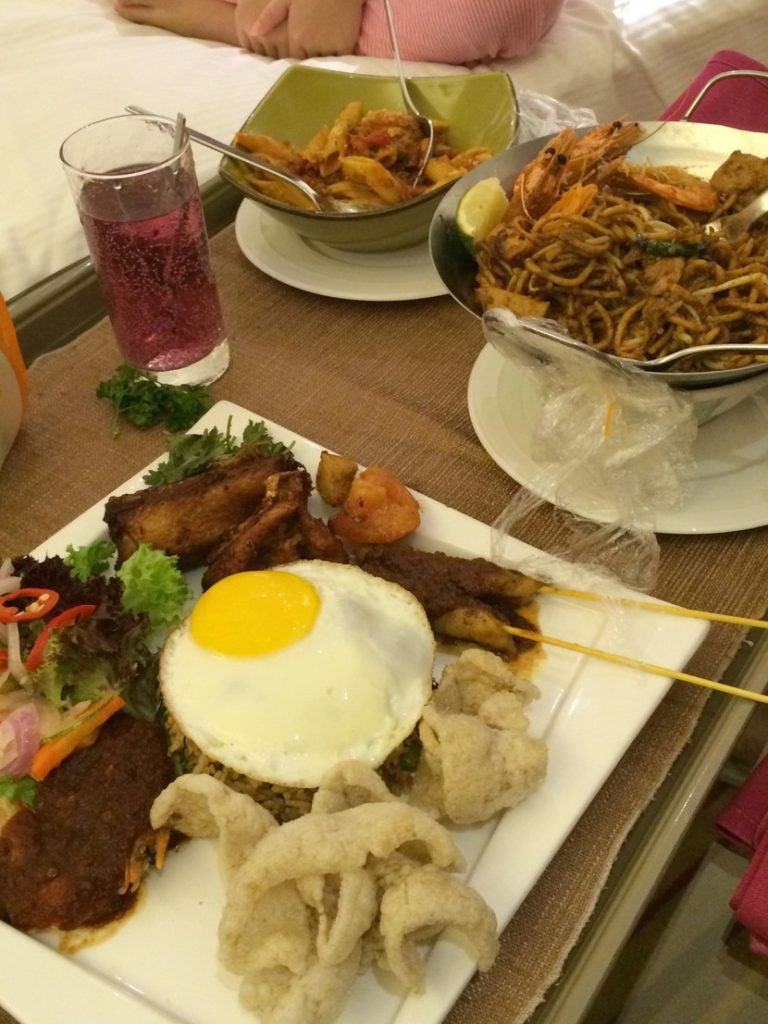 And what's a hotel stay without room service while enjoying a cable movie on the large screen TV? In fact, it's something that Sophie always looks forward to when we go JB as we prefer not to stay out too late for safety reasons.
It's usually not a problem eating in the room as they have a lounge chair and a side table just beside the bed where we can jump right into bed after dinner.
Food options 
On our last visit, we were upgraded and got to experience their executive lounge where we enjoyed pre-dinner cocktails and breakfast. The service staff was very attentive and promptly ushered us to a table before taking our drink orders. We were busy enjoying the food that I didn't take any photos but it was certainly a nice experience and what a way to wow their customers 🙂
On our last day, we had our breakfast at Makan Kitchen on level 1 which offers international cuisine, so there's something that will be right up your alley to fuel your day ahead.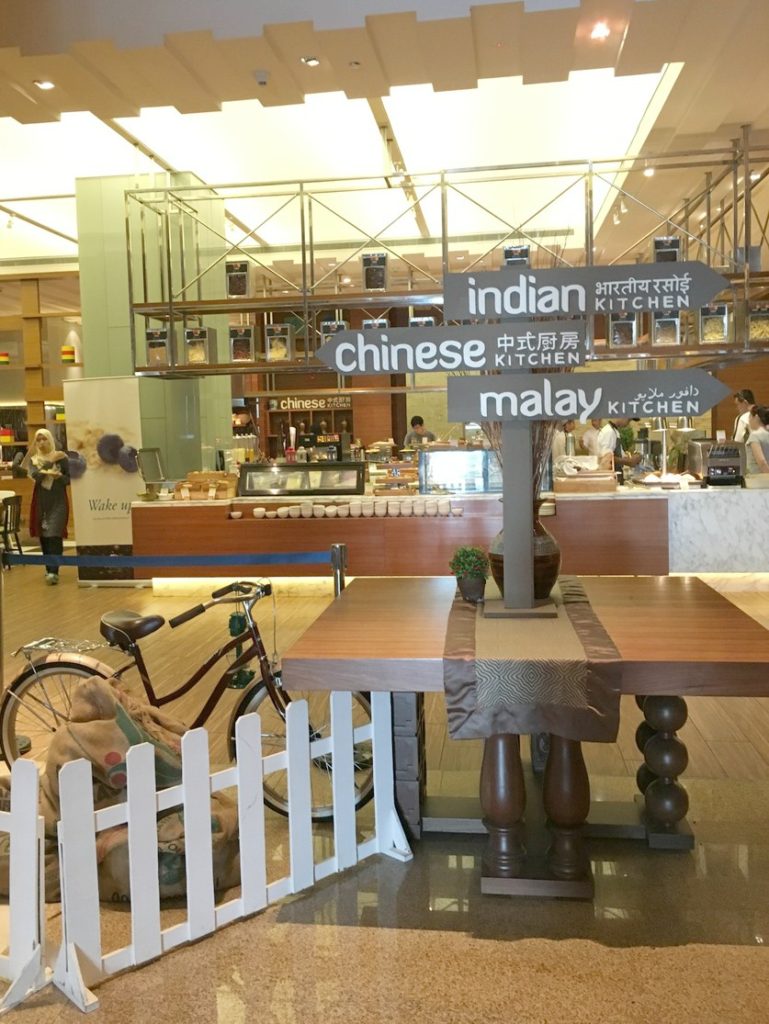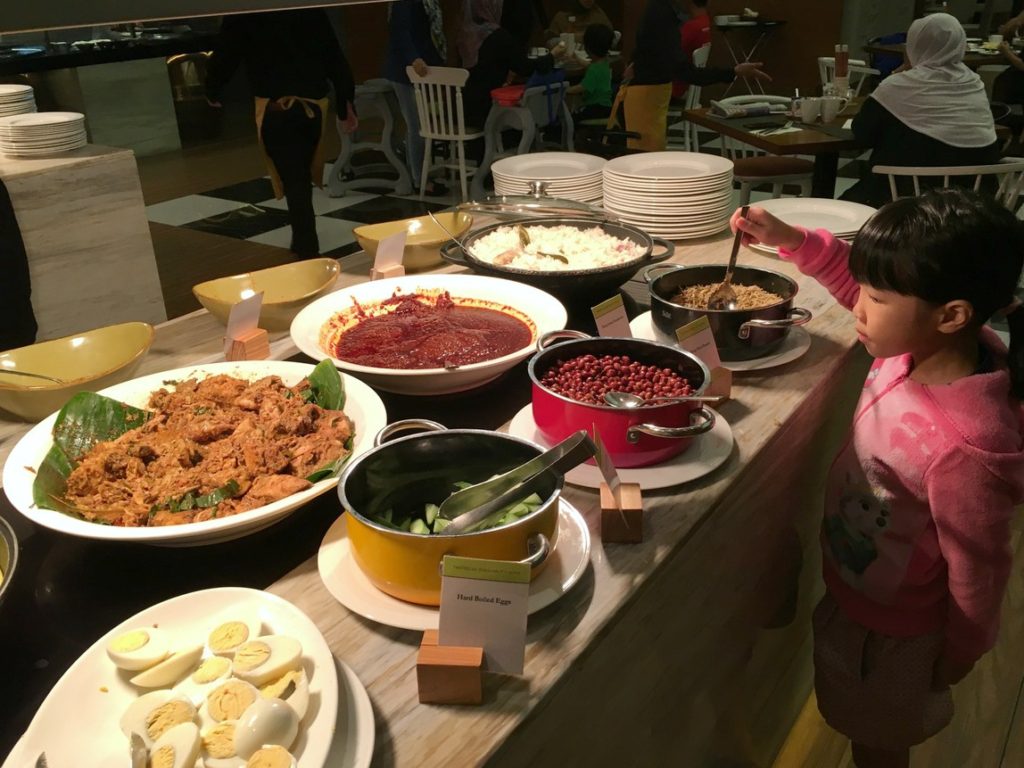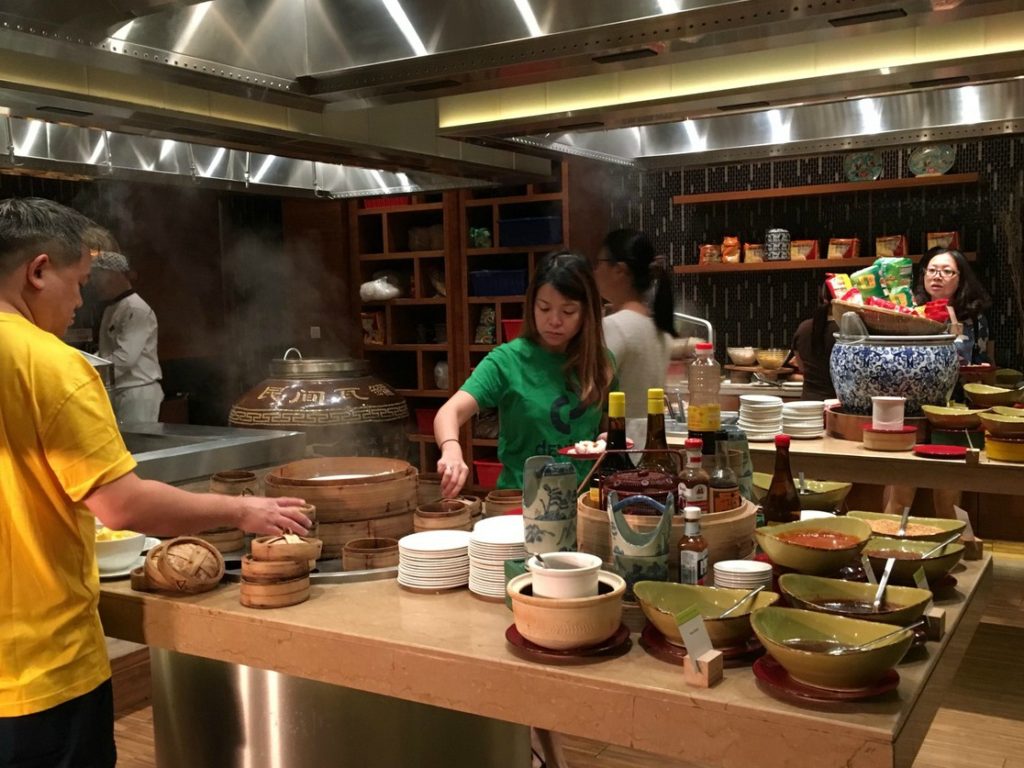 Though they have a wide selection of food to choose from, there were are hits and misses. But it's certainly a fuss free option to opt for the buffet breakfast especially if you're traveling with kids.
Food options near the hotel
However, if you are looking for local options, you can head to Amma, the Indian restaurant across the street for roti prata which is qute popular among the locals.
And if you don't mind walking, you can take a 10 minutes stroll to Hua Mui Coffeeshop at Jalan Trus where you can sink your teeth into charcoal grilled toast with kaya and butter,  soft boil eggs, as well as Nasi Lemak.
Amenities in hotel
If you're like me and have a kid who looks forward to pool time, then head to level 13 where both the swimming pool and gym are at.
There is a small pool for kids at the end of the pool but Sophie is usually more keen to jump into the main pool. The size of the pool is pretty decent but I find that it can get chilly even before the sun sets. So we usually try to get out of the pool before 6pm and soak in the indoor whirlpool before dinner time.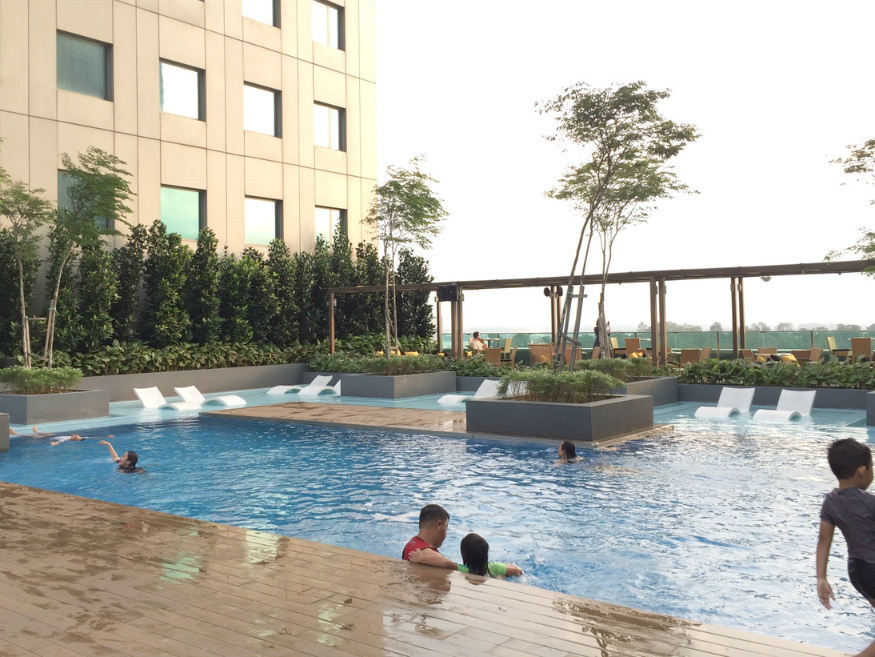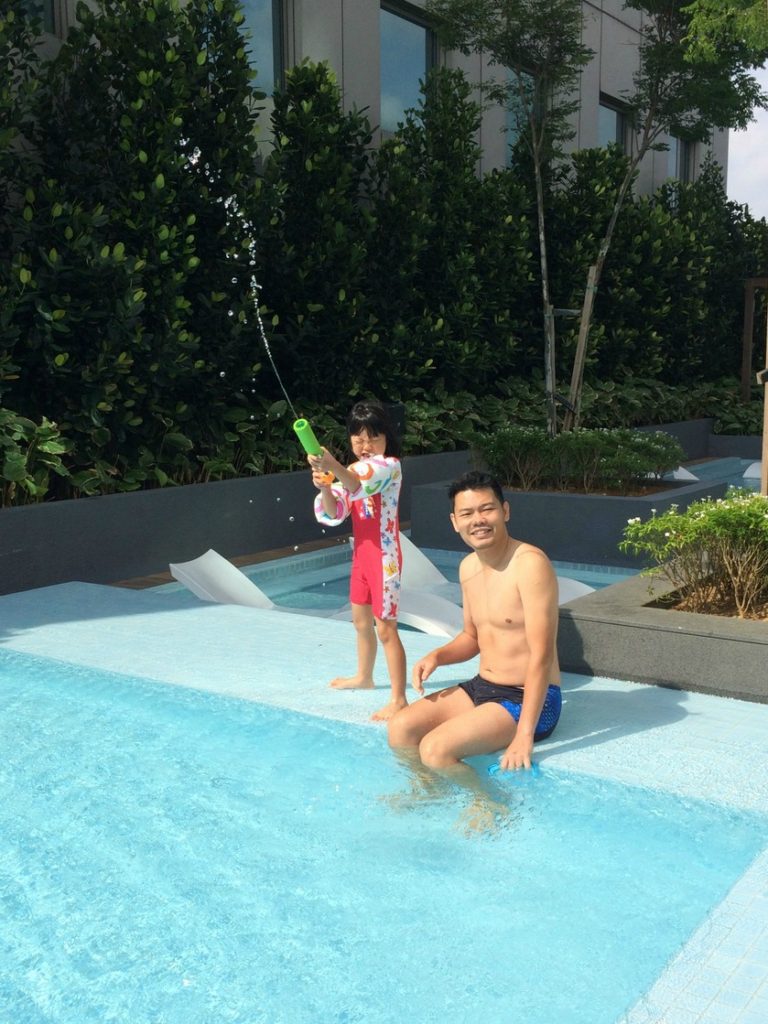 Since I started my workout this year, I've also been going to the gym and have made no exceptions even on my vacations. The hotel has a well equipped gym and I was impressed by their core centric training area where they have equipment that helps you work on your core areas. I just hope that they give some suggestions on how to use these equipment for noobs like me sinec they look pretty fun and I'm sure I could use with  some ab workout after all that eating 🙂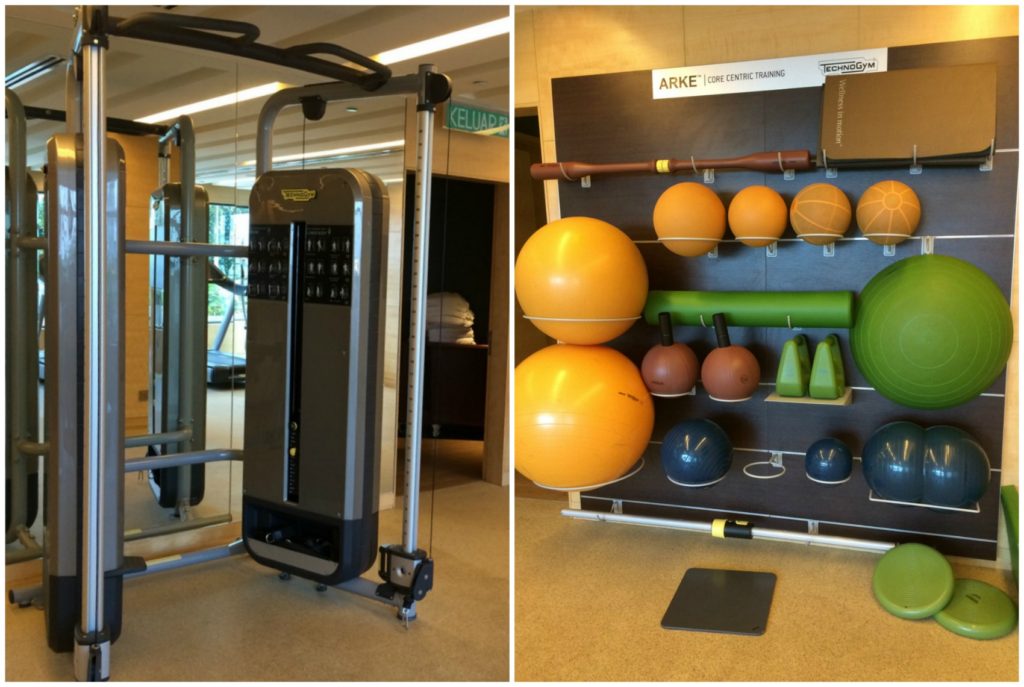 Review of Doubletree by Hilton Johor Bahru
Doubletree by Hilton has always been our hotel of choice when we head up to JB because of their convenient location. We have also tried Puteri Pacific, another 4-star hotel that is just across City Square, but it's a much older hotel where the room are due for refurbishment.
A night stay is usually about S$130, that's why we prefer heading up to JB instead of a staycation in Singapore where prices easily starts from S$200 a night.
Locstion wise, thought it's only a 5-7 minutes walk to Komtar, I usually caution friends that there are roadworks along the main road (which has been going on forever) and you'll have to jay walk to get across. Because of the roadworks, the main road is down to 2 lanes and traffic is usually not too fast. But for those with younger kids, or more than 1 kid, do be extra alert. We usually just hold tight to Sophie and I do my auntie thing to stop traffic while we dash across.
To get to places that are a little further like KSL or AEON Mall Bukit Indah, we usually use Grab taxi as we feel it's safer than the meter taxis since youll have the record of the taxi driver who picked you and you can check your route via google map.
We're always very satified with our stay at Doubletree by Hilton and in fact we'll be back again for another short stay next week.
If you're heading to JB, don't miss these posts where I share some of my shopping finds and places to go cafe hopping across the causeway as well.
Doubletree by Hilton Hotel, Johor Bahru
No. 12 Jalan Ngee Heng, Johor Bahru,
80000, Malaysia
Website
Enjoyed reading this post? Do like my Facebook page to get more family friendly travel updates. You can also follow me on Twitter (@Susankoh) or Instagram (@ajugglingmom) for more travel and parenting posts.
Tagged: Johor Bahru, kids, malaysia, review, travel