The Legoland Water Park has always been our family's favourite water theme park in Johor. Though we are not Legoland annual pass holders, it's not uncommon for us to go there twice a year since we take short trips to JB very often.
For our recent trip to JB during the National Day weekend, we decided to check out Austin Heights Water Park. As the name suggests, Austin Heights Water Park is located at Mount Austin which is a 30 minute drive away from JB Sentral.
I've shared about this water and adventure park where they have a Water Park, Forest Adventure Rope Course, Trampoline Park, Ice Skating Rink and Drift Karting all conveniently under one roof.
So how does it compare to Legoland Water Park and is it worth visiting? Read on to find out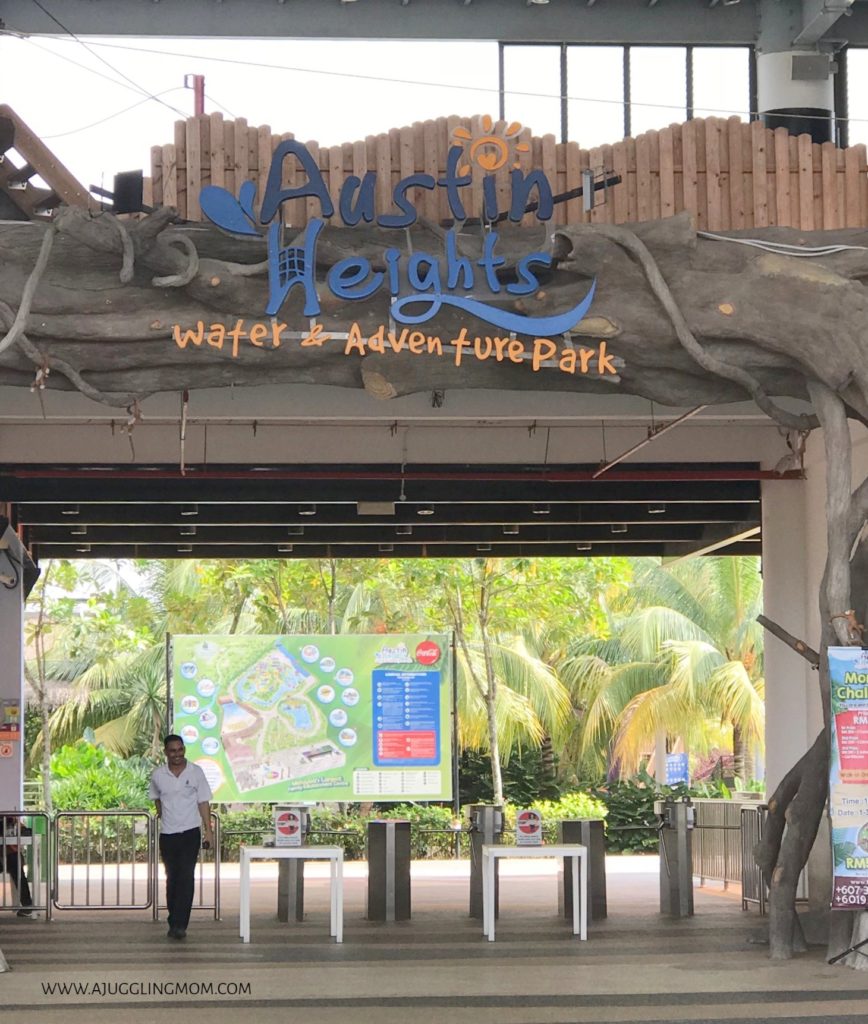 READ ALSO: Review of Legoland Water Park in Johor
Splashing good time in Austin Heights Water Park JB

Once we entered the water park, Sophie made a beeline for the water playground, Splash World. It's always such a thrill to wait in anticipation of the big splash by the bucket of water above the water playground and we did exactly that.
Here kids can look forward to a splashing fun time zipping down the various mini slides. I didn't think much of the mini slides and was caught by surprised at how fast I slid down.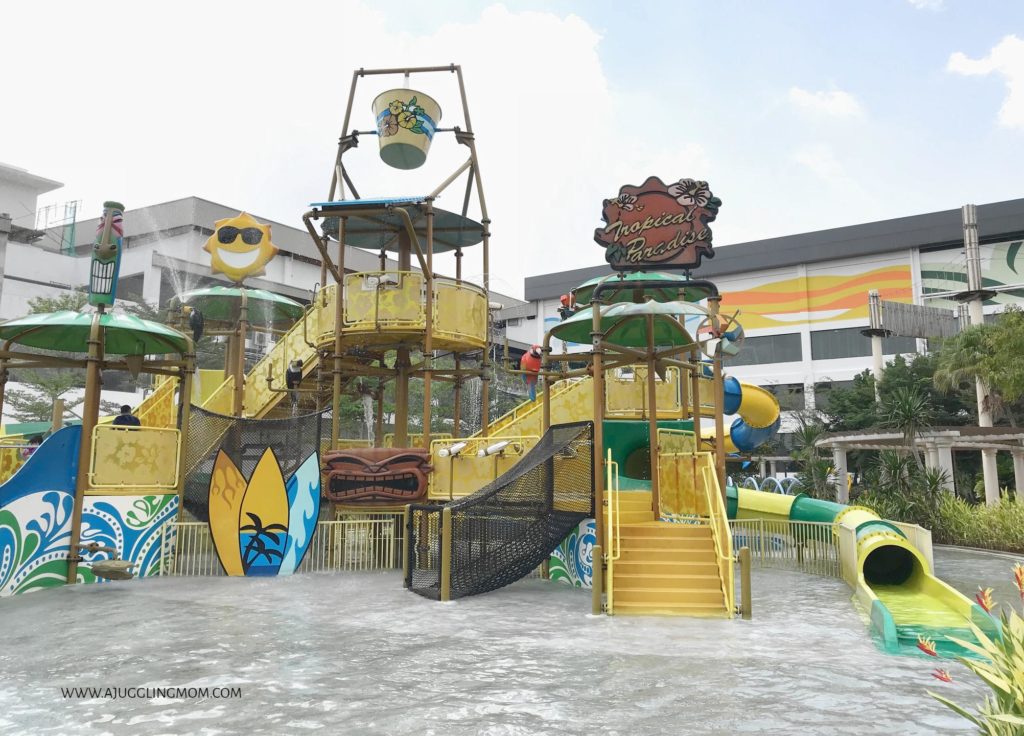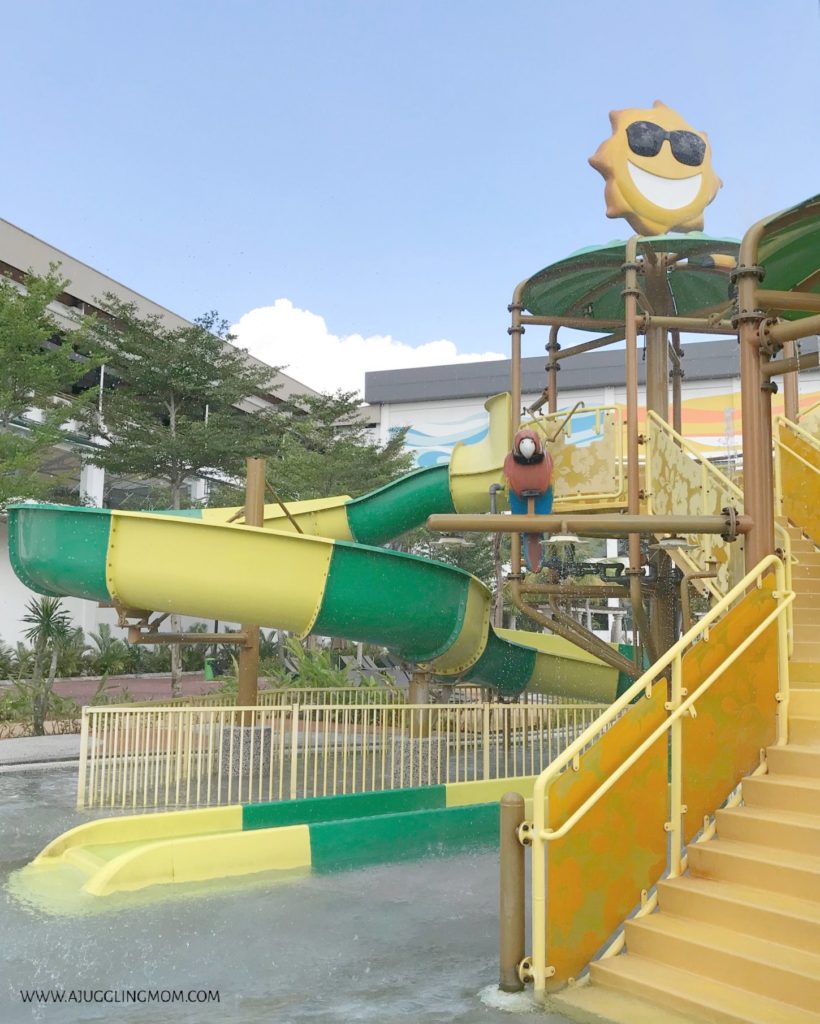 Next we went for a more exhilarating ride, the Supersurf. The height of the slide didn't intimidate Sophie the least bit and she was racing us up the 3 storey slide with her mat.
I have to admit that my legs started to tremble as I climbed higher and higher. But on second thoughts, it could be stairs too.
Once we reached the top, we've reached the point of no return!
After bracing myself, I screamed my way down as I clung on tightly to my mat. I regretted it immediately as I was lying face down and had water in my eyes and mouth. But that didn't stop us from going again and again.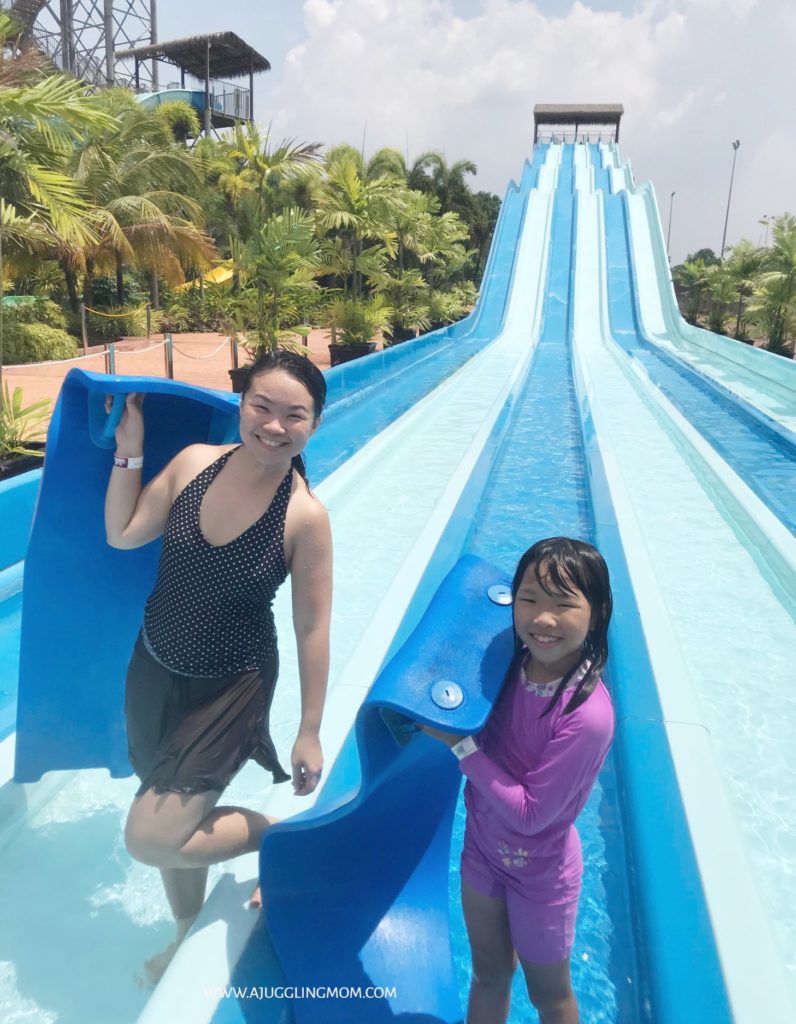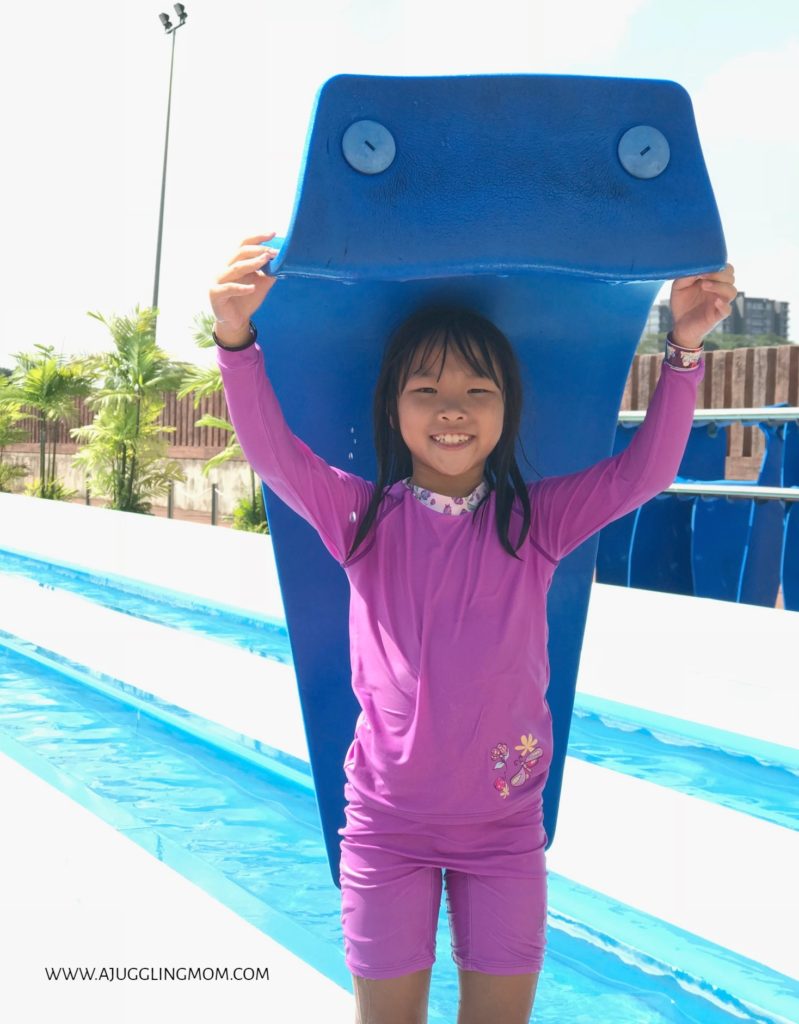 We went on to try the Double Racer Bowl with single and double floats respectively. Once again, I underestimated the slide and started screaming my way down.
After going down the covered slide, we were spun round in the "bowl" before emerging for the big splash.
Since it's a double racer slide, we would compete to see who would slide down first and often get a good laugh if one of our floats overturn.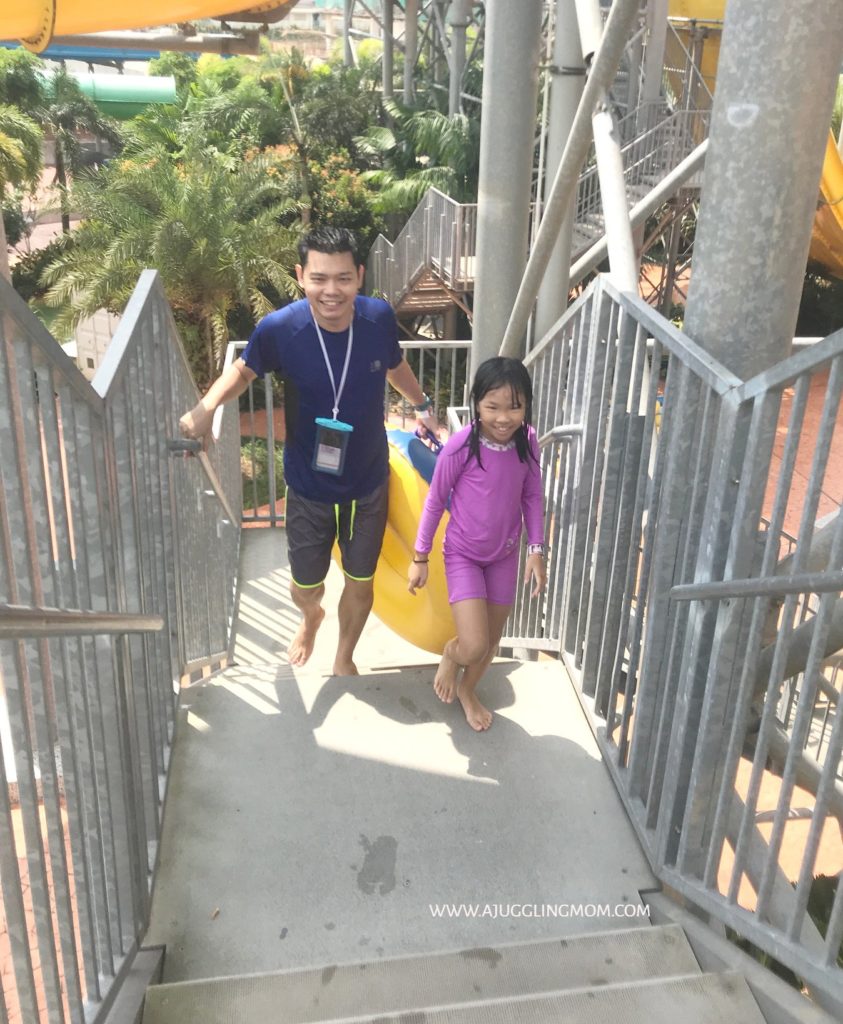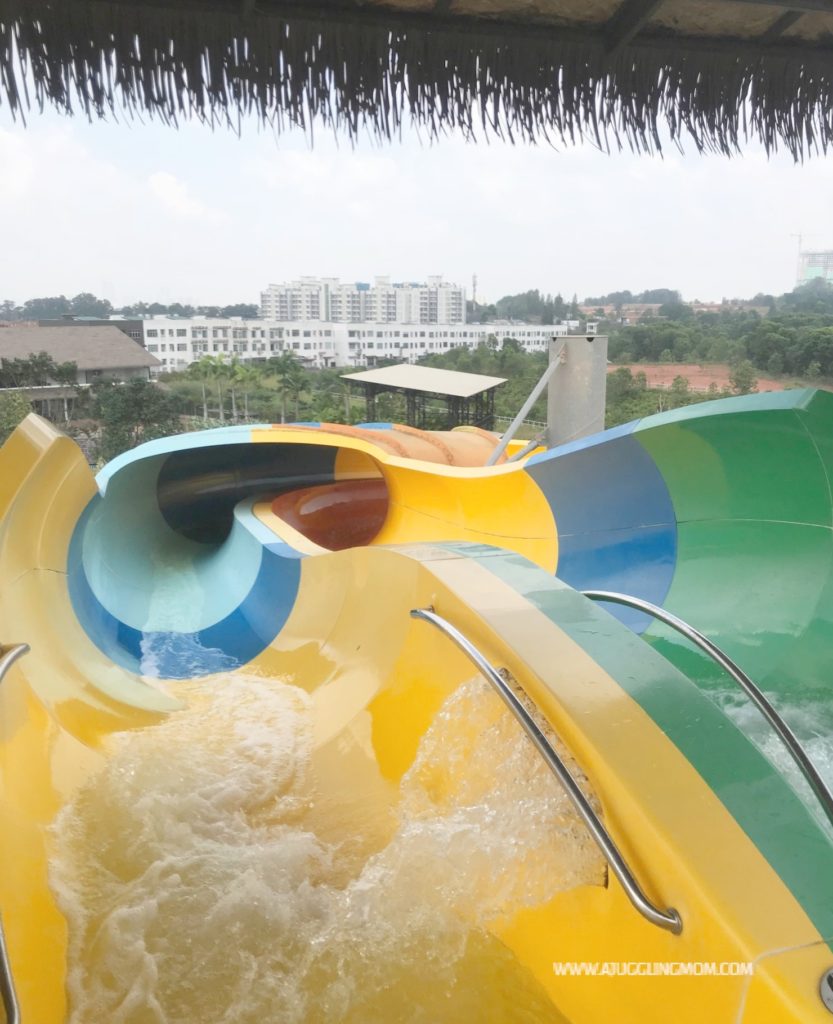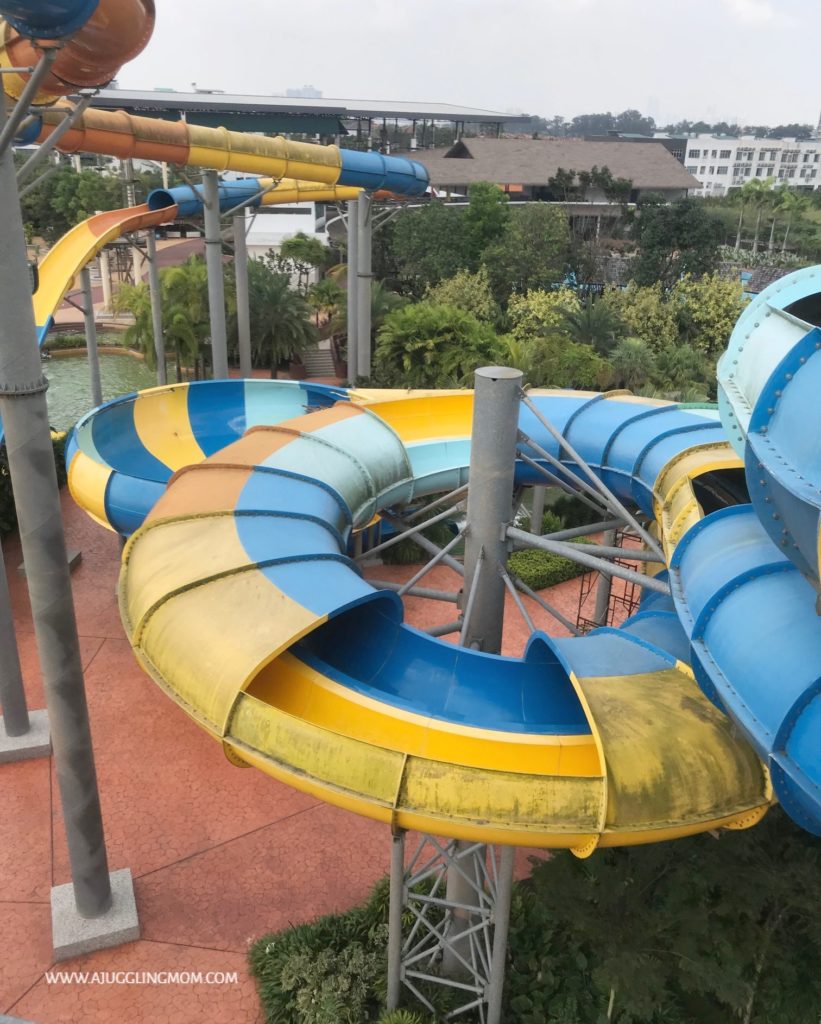 Next was conquering G Force Alley and Uphill Battle – two steep slides where one starts with an almost 90 degrees drop. It was crazy fast and while I was screaming my head off (It's embarrassing that I'm such a screamer), Sophie was laughing from the rush of adrenaline.
The lifeguards were quite cheeky and even pushed us off backwards which made the experience even more thrilling.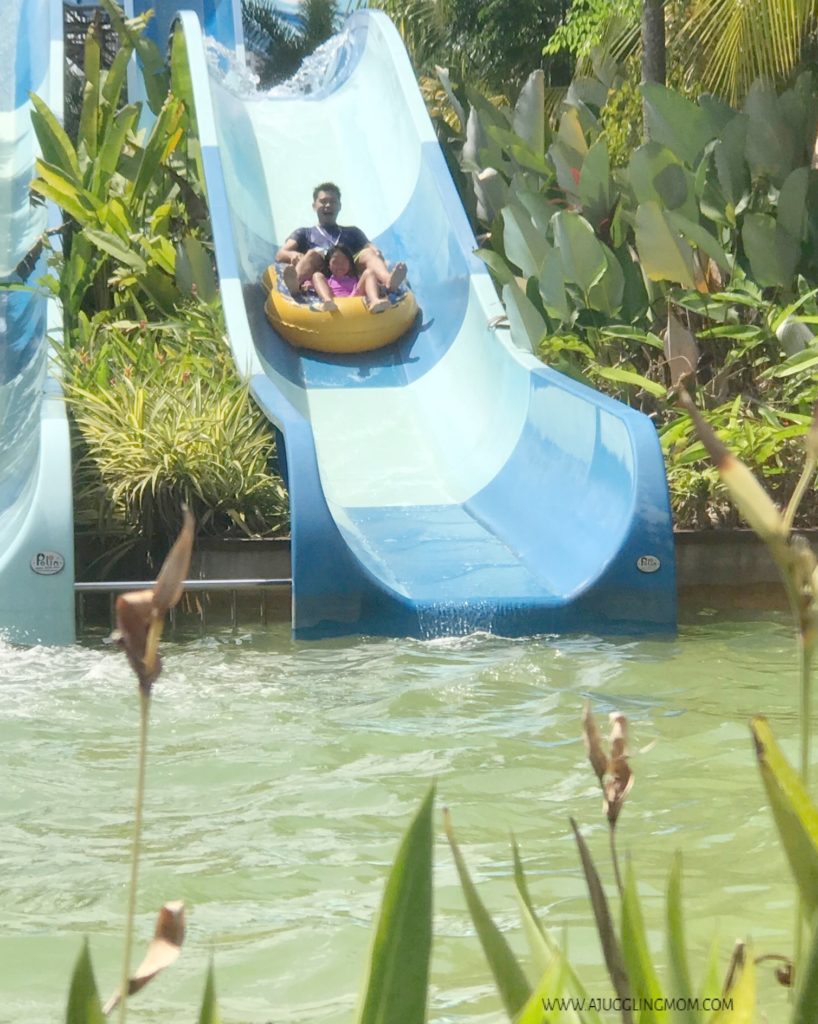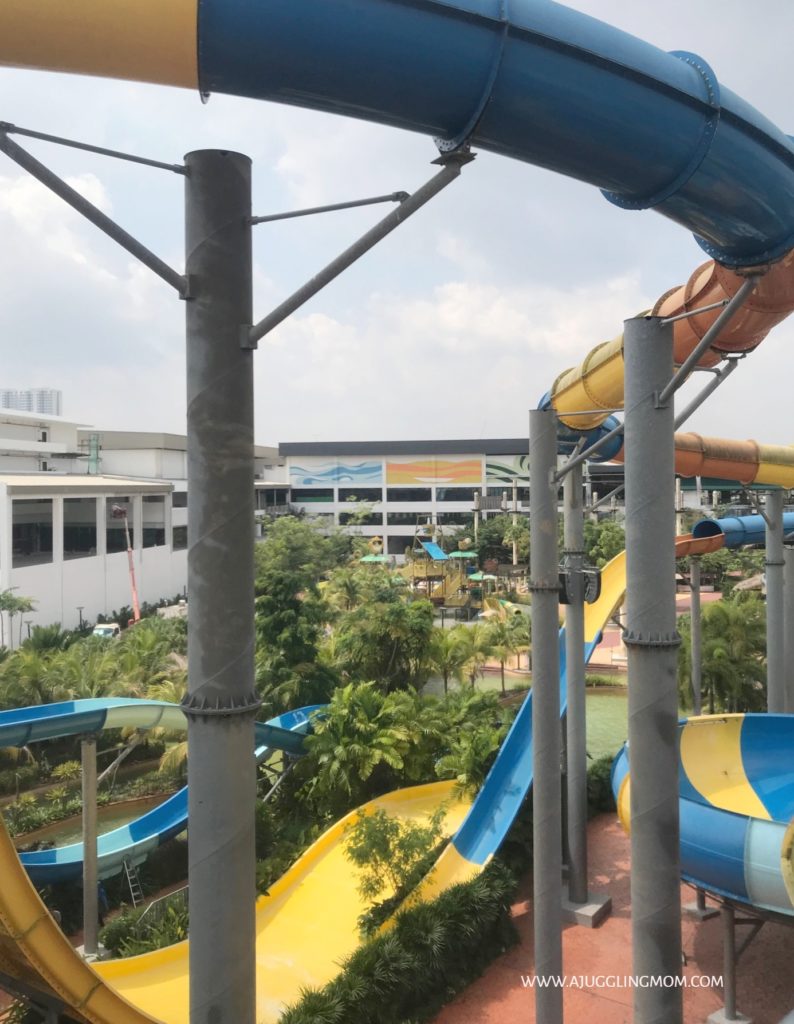 Last was conquering the Yellow Wall and I kid you not when I said I had major regrets agreeing to take this with Alexis once I got to the top of the stairs.
This double float slide sends you into a tunnel slide and before you know it, you'll be rudely greeted with a steep dip which gives the needed momentum to send you straight up the almost vertical yellow wall!
Sophie who sat on this ride out told me afterwards that she could hear my curling screams and concluded that this must be the scariest ride of all. She got that right alright.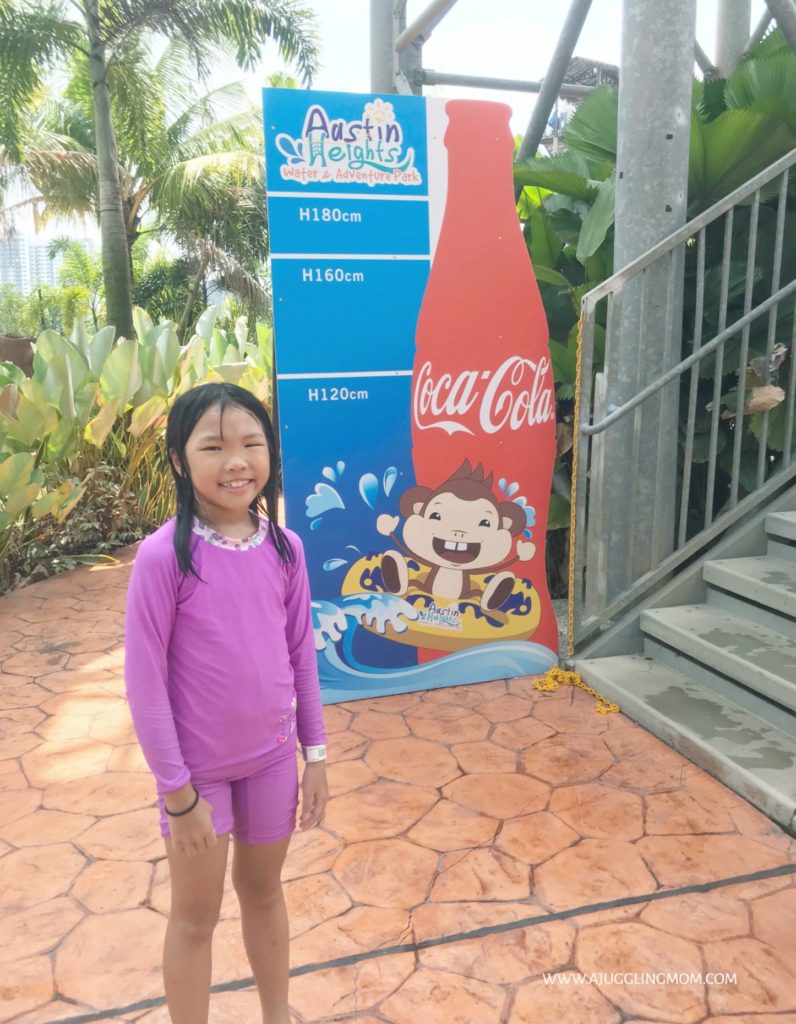 Not wanting to give myself a further heart attack, we rested at the Wave Pool before going for lunch.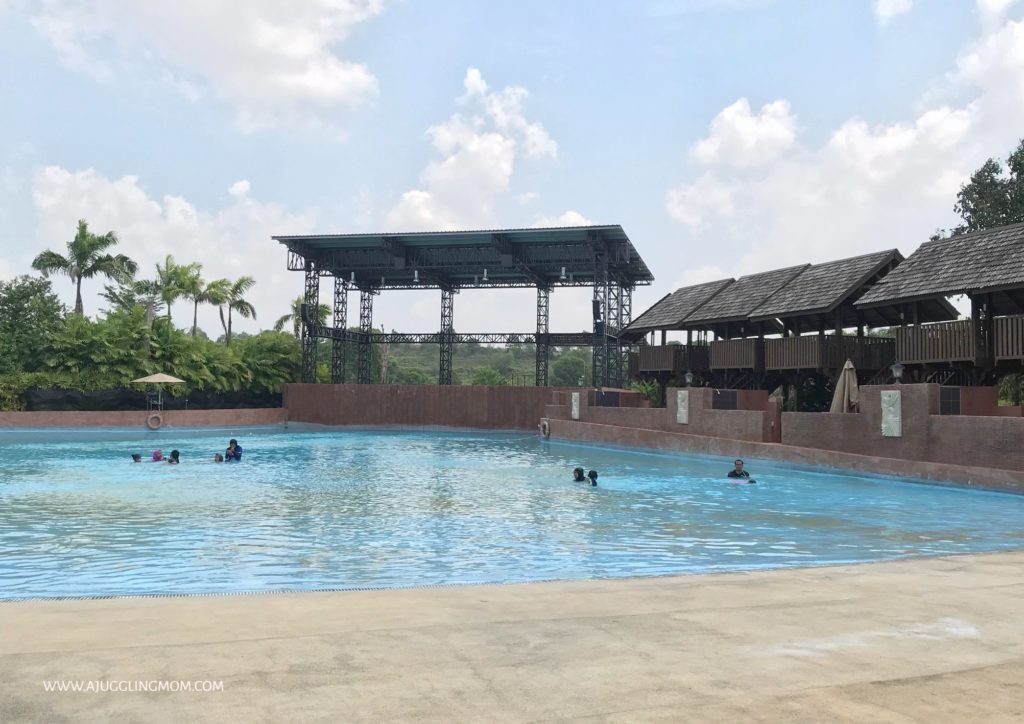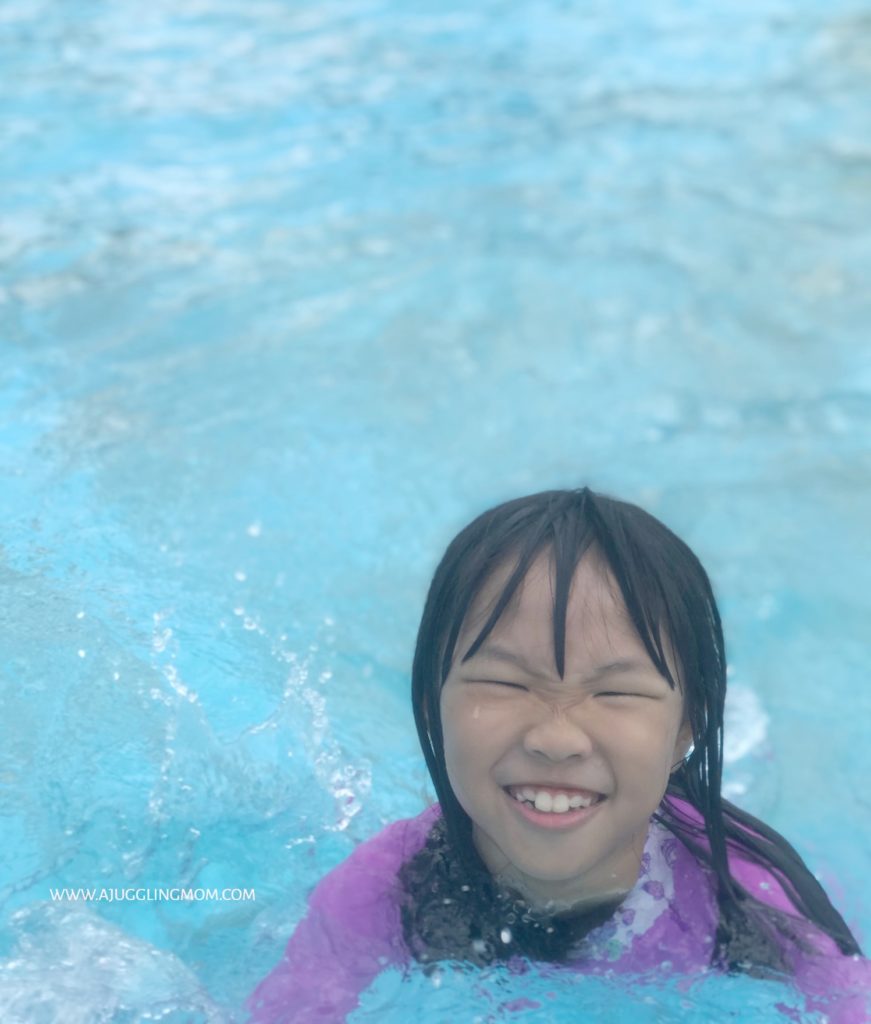 We were famished from the whole morning of action and digged right into lunch. The cafe offered items such as fish and chips, spaghetti, nasi lemak, chicken wings and even had kids meals.
Sophie ordered the popcorn chicken set which came with a can drink for RM 15.95 while my fish and chips meal was RM18.95.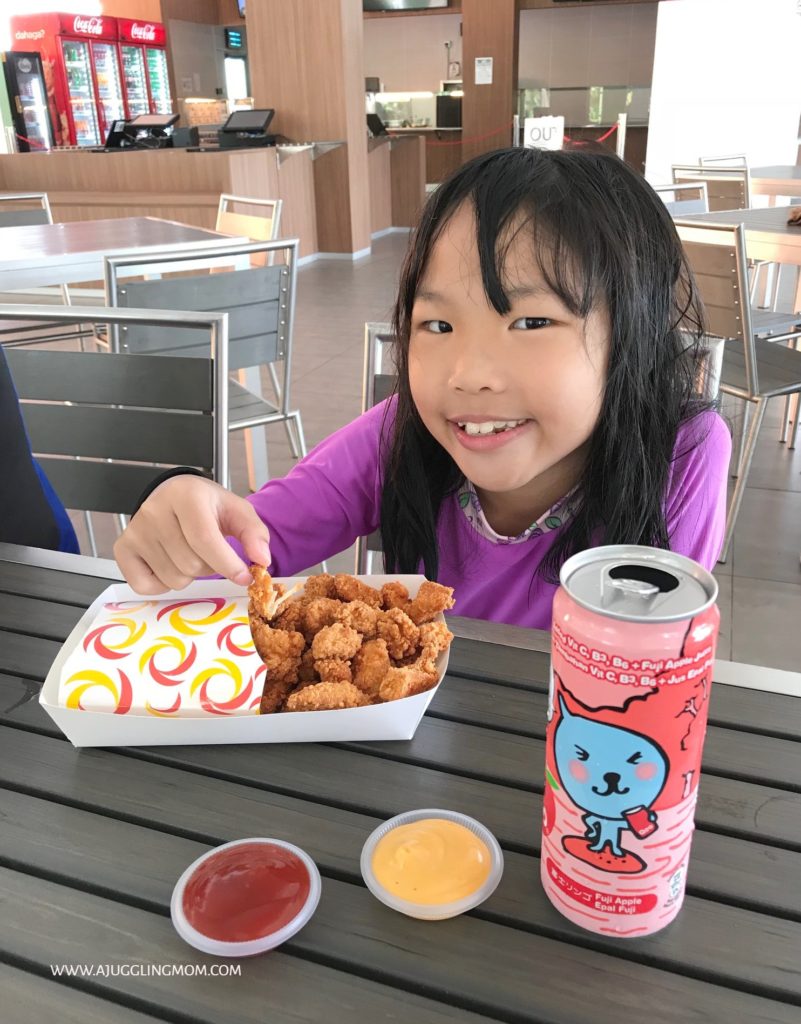 Our review of Austin Heights Water Park
Overall, we liked that Austin Heights Water Park was not as crowded as Legoland Water Park which means a much shorter waiting time. When we were there on a Saturday, the crowd only slowly streamed in after 11am and even then we never had to wait more than 5 mins for any rides.
As Sophie is already 1.25m, she could take most of the rides with the exception of the yellow wall. However, we noticed that they didn't have any life vests for toddlers. Also, while most rides are manned, I noticed that there may not be a lifeguard at the end of some rides. This may be a safety concern if you have younger kids and here's where Legoland Water Park may be more suitable.
READ ALSO: Review of Legoland Water Park in Johor
Their lazy river also pales in comparison to Legoland Water Park without the fun brick element. And for some strange reason, I question why they choose to have the ground in this almost algae like colour which can be a put off.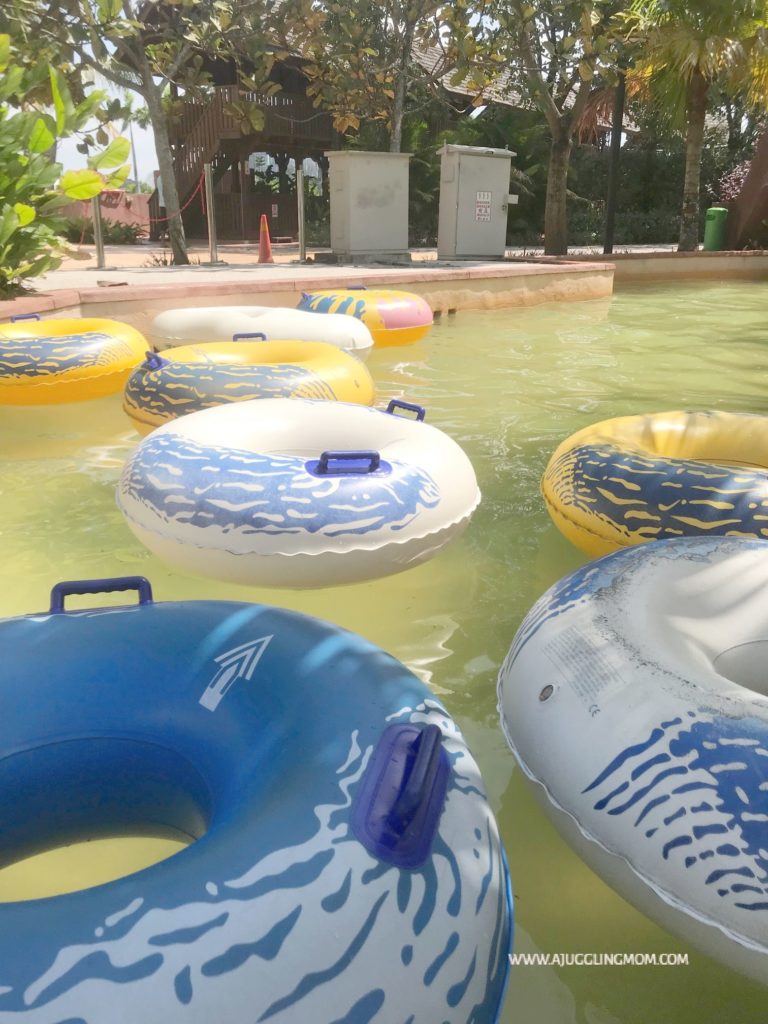 That said, we enjoyed a very good deal when they were having a promotion and paid RM170 for the 3 of us. And for the month of September, they are running a National Day promotion where you enjoy a special rate of RM 61 for 2 pax. Do check their Facebook page for details here.
If you're driving, there's ample parking lots available which are free. Right beside Austin Heights is the Midori hotel and there are a few restaurants and cafe around the area as well.
Austin Heights Water & Adventure Park
No. 71, Jalan Austin Heights 8/1,
Taman Mount Austin, 81100 Johor Bahru,
Johor, Malaysia
If you're heading to JB, don't miss these posts where I share some of my shopping finds and places to go cafe hopping across the causeway as well.
Enjoyed reading this post? Do like my Facebook page to get more family friendly travel updates. You can also follow me on Instagram (@ajugglingmom) for more travel and parenting posts. Follow us on all our travel adventure at #Taystraveldiary
Tagged: family friendly, JB, Johor Bahru, Road trip