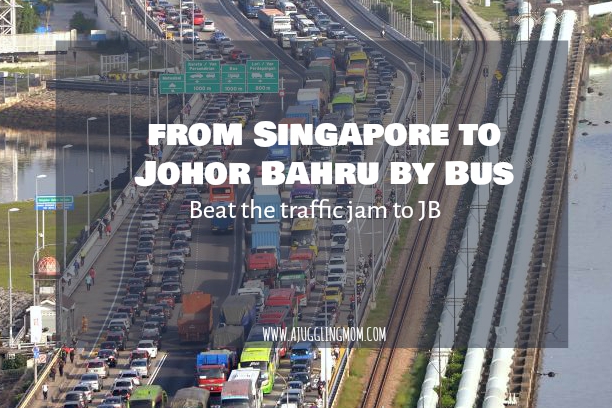 If you're fed up with the frustrating traffic jams when driving up to Johor Bahru, here's another alternative- why not take the bus to JB?
We head up to JB a few times a year simply because we find that it's a more economical "staycation". With our favourable exchange rate, about S$1 to Rm$3, a family can certainly enjoy a fair bit of savings for entertainment and dining. 
READ ALSO: Austin Heights Water and Adventure Park in JB 
On our recent visit to JB, we decided to take the public bus. I had my reservations initially and stared hard at hubby when he suggested that. 
Can we manage with our luggage? 
Are the buses clean?
Will it be very crowded and will we be stuck in a jam with the rest of the cars? 
But surprise, surprise, it was not too shabby a ride.
Taking the bus to JB from Singapore
There are two route you can use to take the bus to JB either from Singapore Woodlands Checkpoint or Tuas Checkpoint. 
We went with Woodlands since we were staying at Doubletree by Hilton, which is close to JB Sentral. 
READ ALSO: Where to stay in JB
At Singapore Woodlands Checkpoint
We took an Uber to Woodlands Checkpoint from our home. Upon arrival, we proceed to the Checkpoint building. We tried our luck to purchase last minute train tickets but the next available ride was half a day later at 4pm.
We made our way up the lift with our luggage which we kept to a minimum since we were only going for 3days. It took us 20 minutes to clear Singapore immigration and this was considered fast since it was still the second Hari Raya weekend.
After that was done, we took a quick toilet break because you don't want to turn blue from holding in your pee while you're in a bus on the causeway.
Here you want to make sure you queue for the right bus. There a separate queue for the SBS bus and CW bus.
The CW bus or Causeway Link bus is a cross-border service operated by Malaysian bus operator and it picks up passengers from Kranji MRT Station, Queen Street, Newton Circus and Jurong to get to Woodlands Checkpoint. For more information, you can read about it here.  
If you didn't take the CW to get to Woodlands Checkpoint, then queue for either Bus No. 160 or 170 as both buses will have to stop at JB Sentral Checkpoint. Bus No. 160 starts from Jurong East Interchange (beside the Jurong East MRT and Bus No. comes from Kranji MRT .
Bus fare: S$1.93 (With EZ-Link card); $2.50 (Cash).
Sophie saw the above poster of prohibited items and joking told me, Sorry no ninjas on the bus allowed.
At JB Sentral Checkpoint
When you arrive at JB Sentral Checkpoint, proceed to the immigration counter to get your passport stamped. For Singaporeans, no immigration card is required for entry into Malaysia. Here it took us another 30 minutes to clear the Malaysian immigration.
TIP: We discovered that the queues tend to be shorter at counters 3,4, 7,8, 11,12 as they have 2 counters to serve one queue. 
Travel time from 

Singapore to JB by bus
So how long did it take us to get from Singapore Woodlands Checkpoint to JB Sentral Checkpoint? A little more than 2 hours. 
And the best part? Buses have their own bus lane so we were zipping by the cars that were stuck in a jam on the causeway. Travel time was minutes and may have been faster if the cars kept the bus lane clear when we were exiting the causeway.
After we exited the immigration, we made sure to get our pre-pad data which allows us to Uber and Grab our way around JB too. We went with DIGI and got 7G of data for 1 week at 20 RM. 
Don't pull your hair out in frustration the next time you get caught in another insane traffic jam to JB. Try the buses or train and don't forget to look for Gong Cha at City Square Mall too!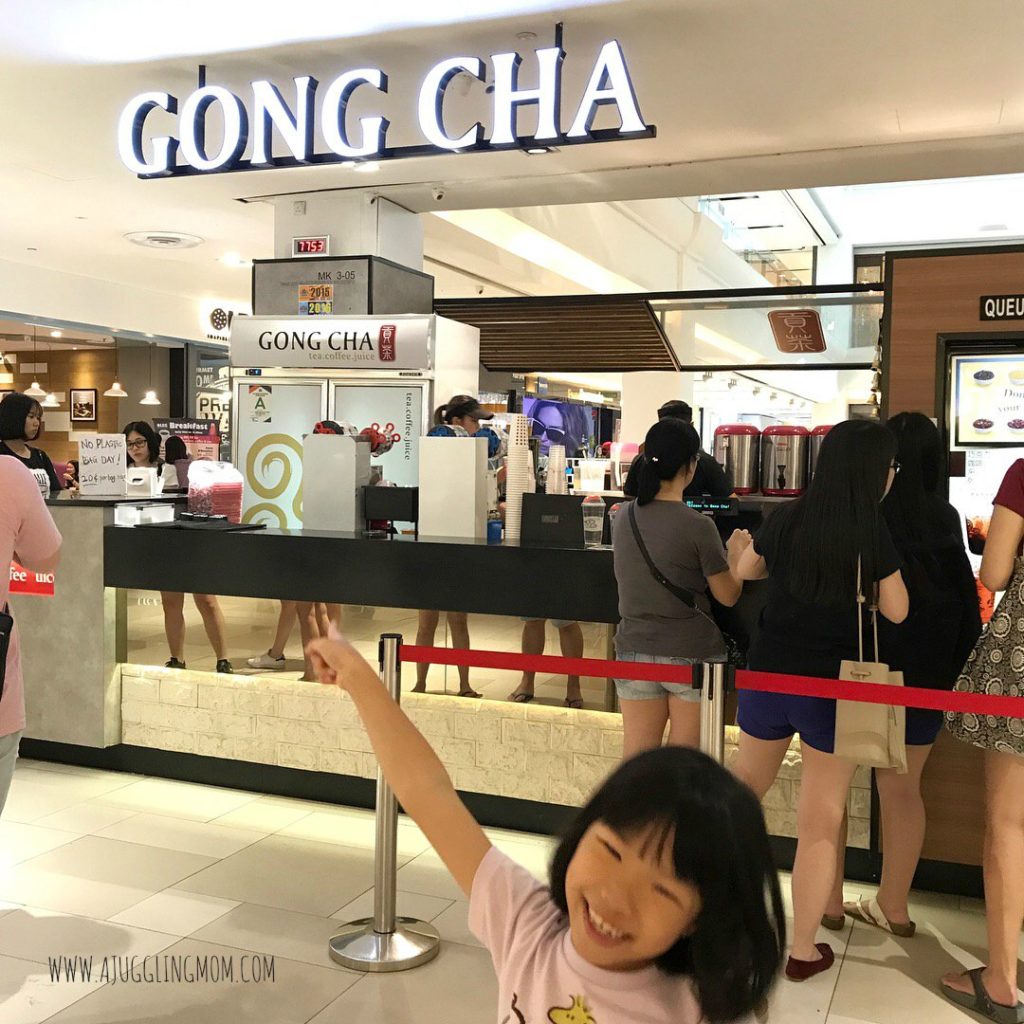 Comparing ticket prices
Here's a quick price comparison between different modes of transport
Tickets for KTM – S$5  from Singapore to JB and 5RM from JB to Singapore.
Tickets for bus – $2 from Singapore to JB
Hired car – $150 return trip from Singapore to JB
If you're heading to JB, don't miss these posts where I share some of my shopping finds and places to go cafe hopping across the causeway as well.
Enjoyed reading this post? Do like my 
Facebook page
 to get more family friendly travel updates. You can also follow me on Twitter (@Susankoh) or Instagram (@ajugglingmom) for more travel and parenting posts.
Tagged: family friendly, JB, Johor Bahru, malaysia, review, Road trip, travel