March was a busy busy month at work for me. Though I made initial plans to take Sophie out during the March school holidays, these got shelved and she had to spend her holiday at both grandmas place.
Thankfully, I did managed to take a day off during the mid-week and we went to the  Lee Kong Chian Natural History Museum. It was really fascinating to learn that we had our very own Natural History Museum to boast of and that ought to deserve a blog post of its own, which I need to get down to soon I promise.
Anyway, Alexis and I felt bad that we didn't get to spend much time with Sophie during the March school holidays and decided to go on a weekend getaway to Johor Bahru over the Good Friday weekend. Unlike  the other trips where we made the mandatory visit to Legoland, we decided to explore the other places in JB this time.
Getting to JB
Since we sold off our car early this year, we got a driver to drive us in and out of JB. This was a contact shared by a friend and the MPV was more than enough for the three of us, including our luggage. We anticipated long jams to JB, since it was a long weekend. But it wasn't too bad as the whole journey took 3 hours from our home to hotel in JB. And when you're not doing the driving, the jam becomes that much more bearable too.
We stayed in two hotels for our 3D2N trip and the first hotel we stayed was the Puteri Pacific, a 4 star hotel with a very convenient location in the city centre, just across City Square.
On the second day, we checked into Doubletree by Hilton and we loved it even more! Besides the warm reception when we checked in, we were delighted to receive their famous chocolate chip cookie. And that my friend is how you impress your guests. The hotel looks spanking new, clean and modern and the pool and gym was up to mark too. Yes, I actually hit the gym during this trip and my PT even reminded me to train for my upcoming run >.<
Shopping and Eating in JB
As the hotel was just across City Square, we headed there after we dropped our luggage since we couldn't check in yet. Ironically, the first thing we ate was the famous Penang Chendol and Asam Laksa from the Penang Road Famous Teochew Chendul on level 3.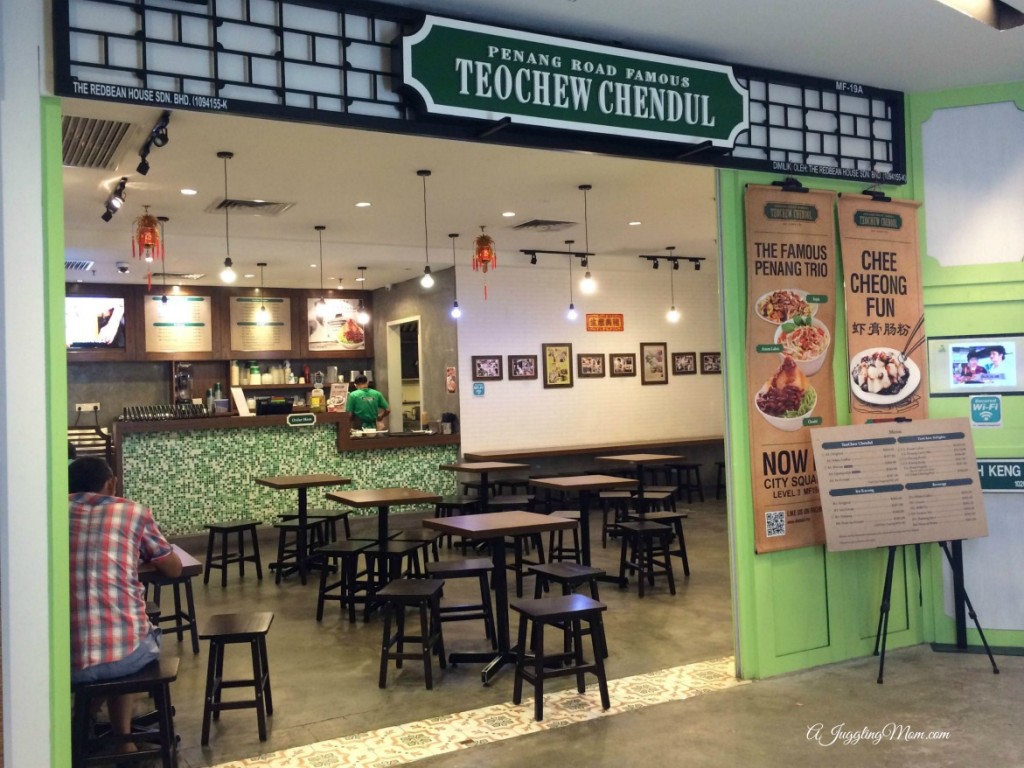 This is the very same stall that I'll hunt down whenever I'm in Penang and on my recent trip there last year, I brought my parents there and they loved it too.
After a satisfying brunch, we did some shopping in City Square and here you can find familiar brands like Cotton On, H&M, Royal Sporting House, Uniqlo, MPH, Popular, etc. And yes, you can even use your local Popular member card to enjoy greater discounts, though I must add that the selection of books was rather disappointing and we bought our books from MPH instead.
With our stronger currency, things naturally seem cheaper here but nevertheless, we're still discerning shoppers and bargain hunters looking for good value and one place that I enjoy shopping at is Padini. I usually get basics like T-shirts, tights, dresses for Sophie and their range of clothes for adults are not too shabby either. Another place I shop for basics is FOS and Sophie chose a Frozen t-shirt that was retailing at S$10.
Lunch was an easy decision and we settled on Dragon-i as Sophie was looking forward to xiao long bao. But this time some of the dishes were more of a miss than hit, but I don't think that will stop us from returning.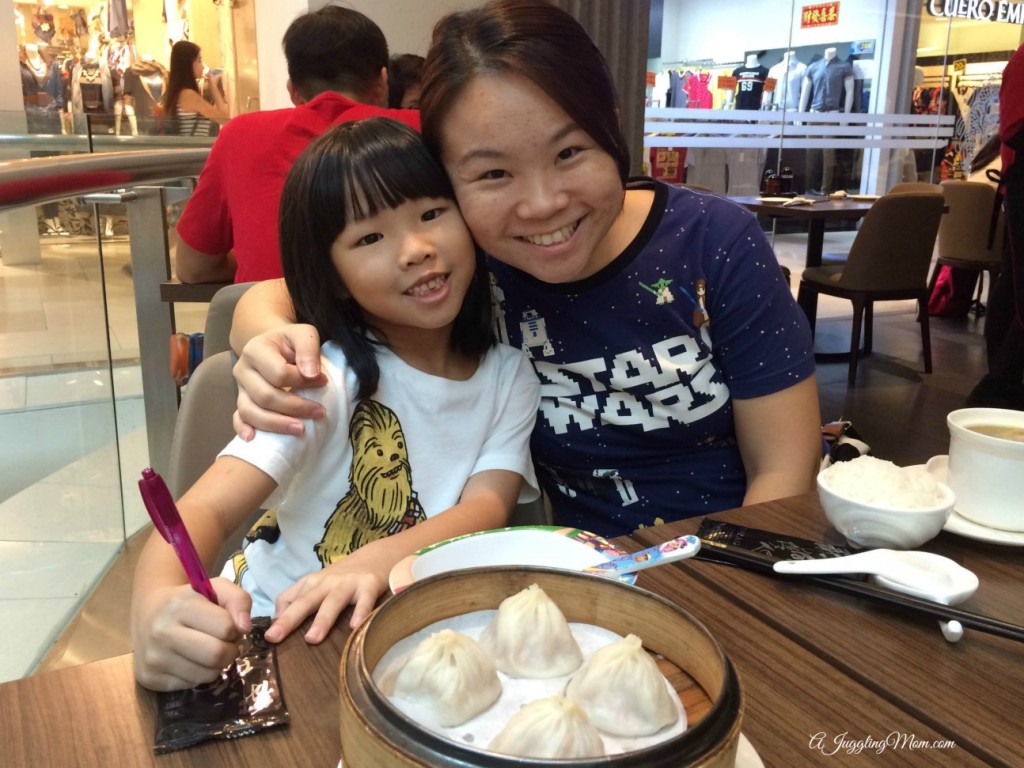 But when it comes to food, there are plenty of  options at City Square, like Seasons (like our Swensons), Kim Gary, Sushi King, Old Town, Papa Rich and the list goes on and on.
Angry Bird Activity Park
Since Legoland was not on the agenda for this trip, we decided to take Sophie to the Angry Bird Activity Park in Komtar JBCC, just next to City Square. While most of the blog reviews didn't seem too promising, we were not deterred by it since Sophie surprised us with how much she enjoyed The Little Big Club on our last visit.
The place isn't very big and while you pay RM75 per pax for adult and child, you only get to be in the park for 3 hours as they have 3 timeslots for the day, 10am-1pm, 2-5pm and 6-10pm.
Alexis very gamely agreed to accompany Sophie while I continued with my shopping and here are some photos he took while I shopped at Daiso (it's only RM5.30 here), Padini, and the sports wear shops.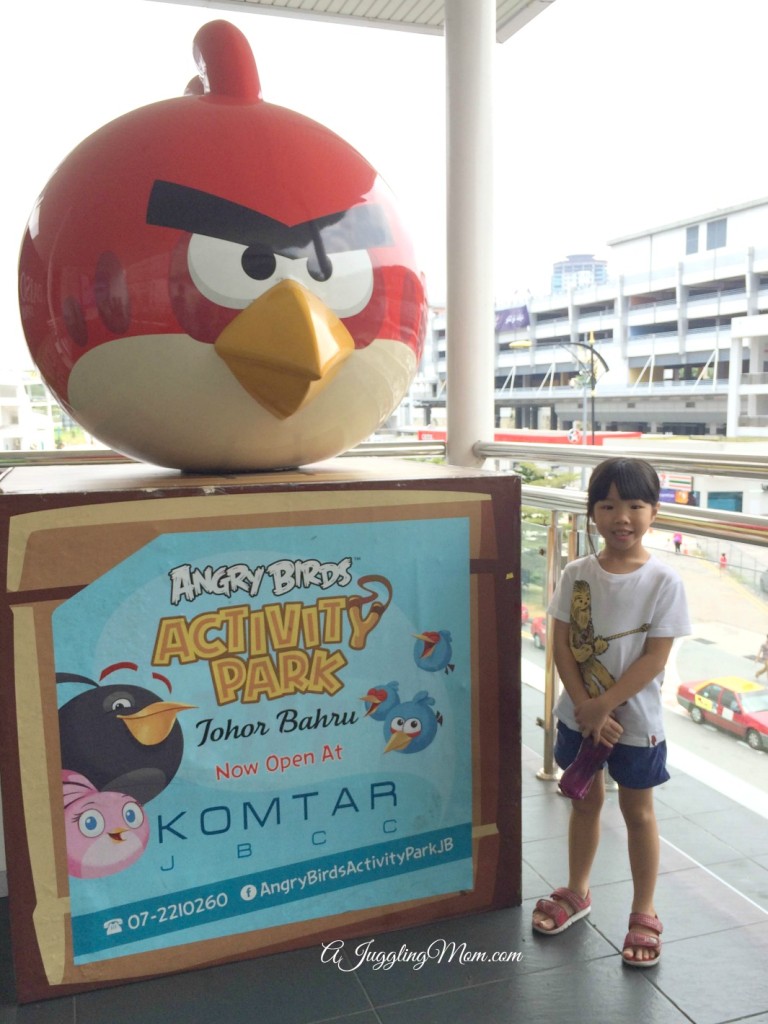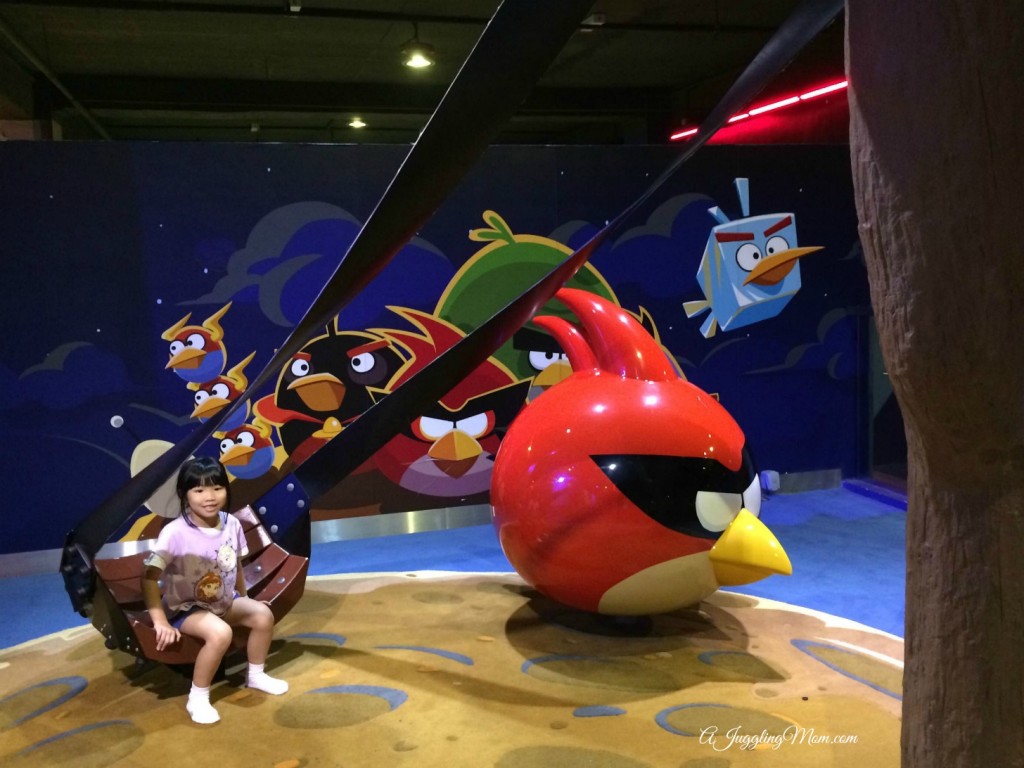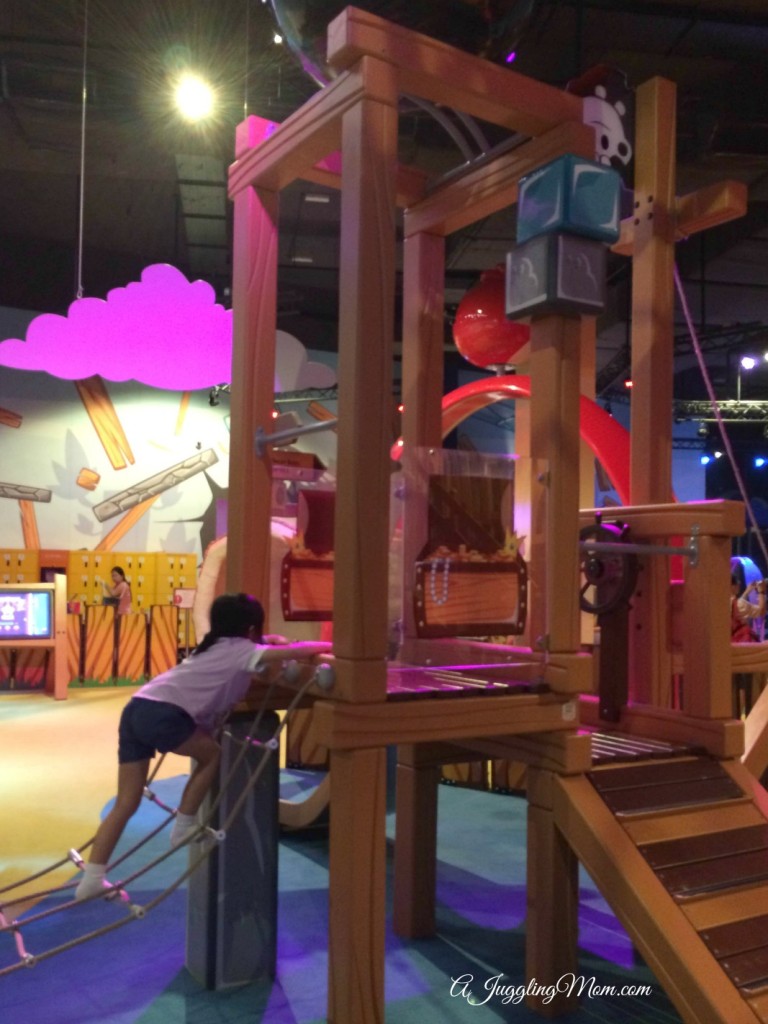 The main attractions are the trampoline and foam pit which Sophie went for again and again. She also rode the go kart but was terrified to try the drop zone.
But the poor thing got ill after 2 hours and was running a high fever, so we cut short our visit and headed back to the hotel for her to rest.
By evening, it started to pour. So I sent Alexis to buy dinner from IT Roo Cafe where they supposedly have the best chicken chop in Malaysia. And not just in JB but in Malaysia.
The cafe is at the junction of Jalan Dhoby and Jalan Pahang and you can't miss their shop.  We had both the grilled chicken chop and deep fried chicken chop that was accompanied by thick wedges of potatoes, cold slaw and mushroom gravy and both versions were super yummylicious, not too greasy and the batter was just nice too.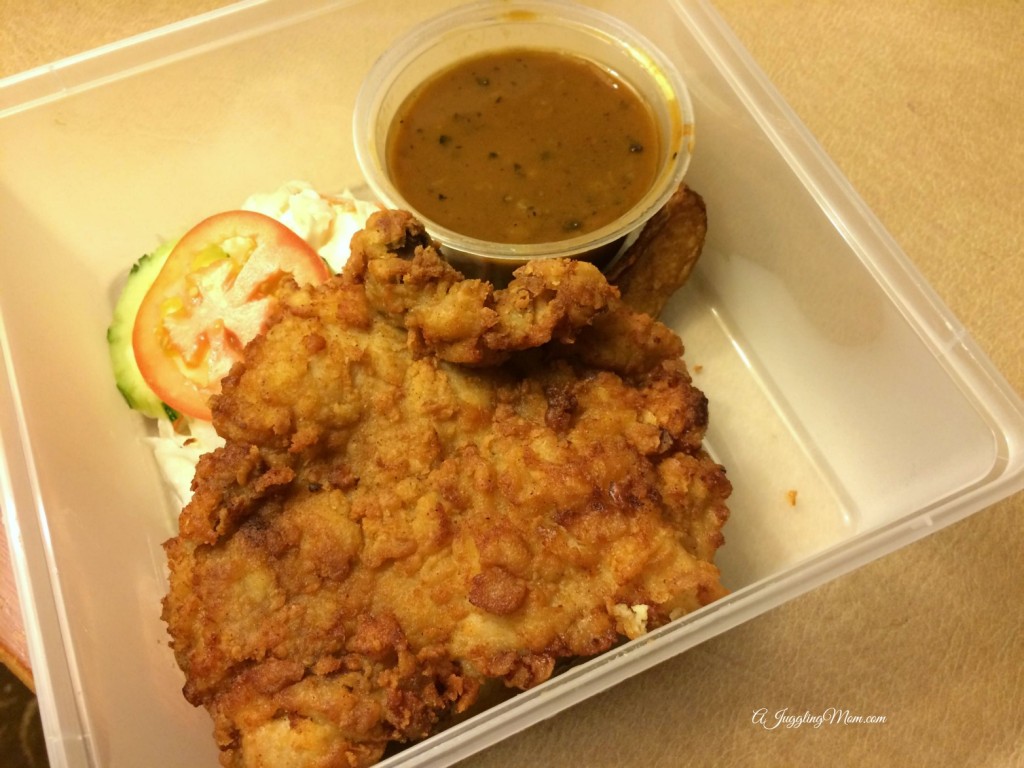 Poor Fifi, only had a soupy noodle and refused to touch any of it because she wanted to recover quickly so that she could go swimming the next day.
Here's the address for it and do note that they open at noon.
IT Roo Cafe
Address: 17, Jalan Dhoby, 80000 Johor Bahru, Johor, Malaysia
Opening Hours: 12-10pm
Besides shopping and checking out the awesome local food, we also went cafe hopping and checked out the street art in JB. If you're heading to JB, then don't miss these posts where I share some of my shopping finds and places to go cafe hopping across the causeway as well.
Tagged: family friendly, JB, Johor Bahru, Road trip