While many families were off to far and exotic travel destinations for the June school holidays, we decided to head somewhere much closer and went to Bintan for a beach holiday.
Escaping to Bintan for a beach holiday is a mere 60 minutes ferry ride from the Tanah Merah Ferry Terminal and the best part are the growing options of beach resorts you get to pick from.
Holiday Villa, Bintan
For this trip, we stayed at Holiday Villa Pantai Indah which opened a year ago and simply loved it because we had our very own private pool! #pooltimeanytime #pooltimeallday
For our family of 3, the one bedroom villa fitted us nicely. For larger families, they also offer 2 bedrooms option.
Here's tour of our villa.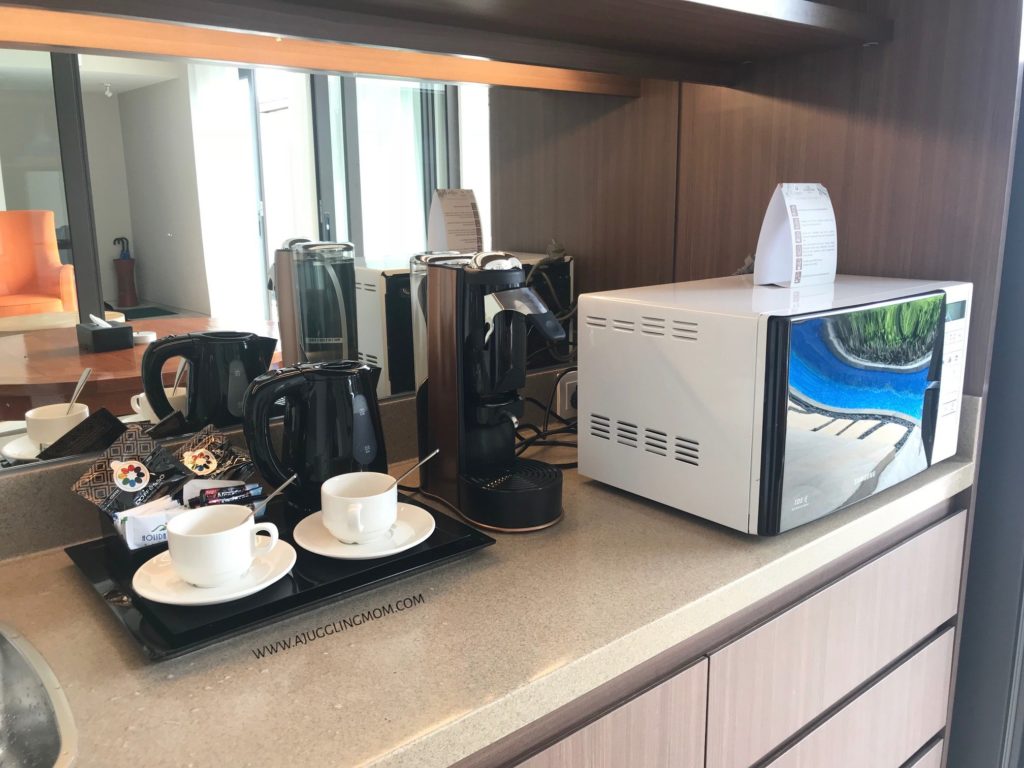 The pool measures 2.8 x 6.15m with a height of 1.4m. There are steps before entering the pool but pool safety is important especially if you're planning to go with younger kids.
The open air dining area was equipped with a microwave, coffee maker, kettle and regular sized fridge with an ice compartment. We brought along a bag full of cup noodles, snacks and even buns, to stuff ourselves as we heard about the limited choice of food within the resort.
The bathroom was huge and comes fitted with a shower and a bathtub. Love that they have double sinks, so we don't have to fight when brushing our teeth. This minimal and clean bathroom look is really calling out to me and I'm thinking of giving my own bathroom a do over with the same look.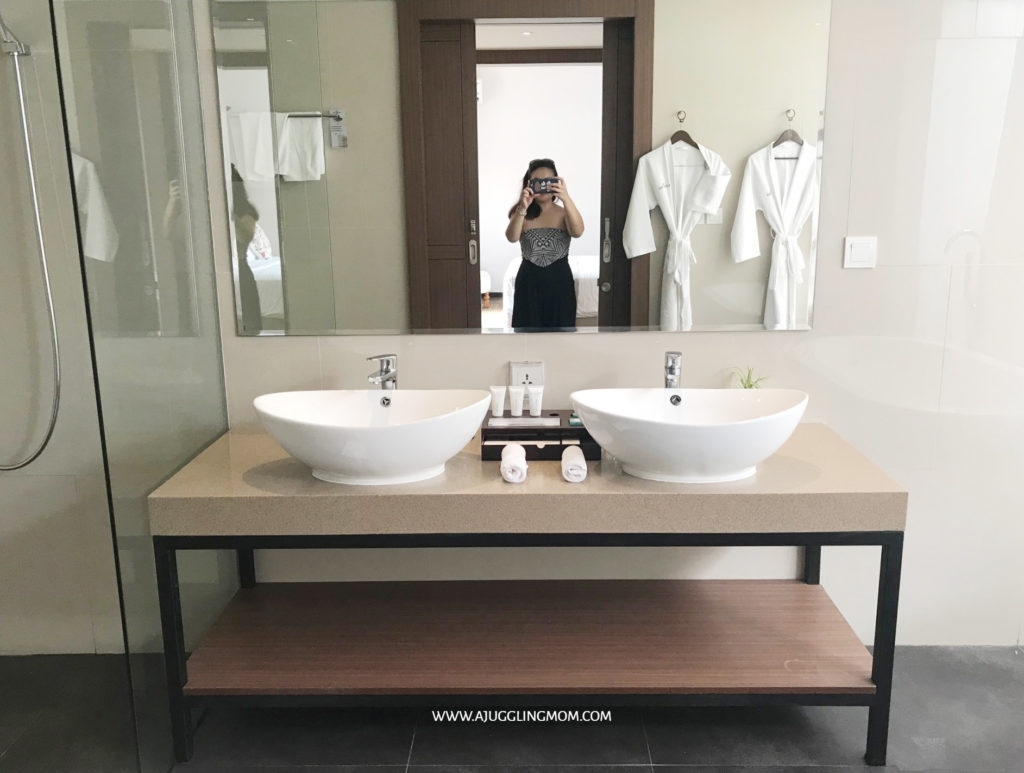 We enjoyed fantastic weather every day and were so glad that we brought along our floats instead of paying $10/hour for rental.
In fact, we brought along two floats and I'm glad there was no one to judge us when we balanced precariously on Sophie's aeroplane float, firing away with the water gun. And the best part was snagging the floats when they were on offer at Toys R Us at $15, a whooping 60% off! #gooddealmustshare
The mattress float was a hot commodity too and I got so tanned from floating around despite slathering sunblock on myself.
Needless to say, we were in the pool most of the time and soaked till we turned into prunes every day. #purebliss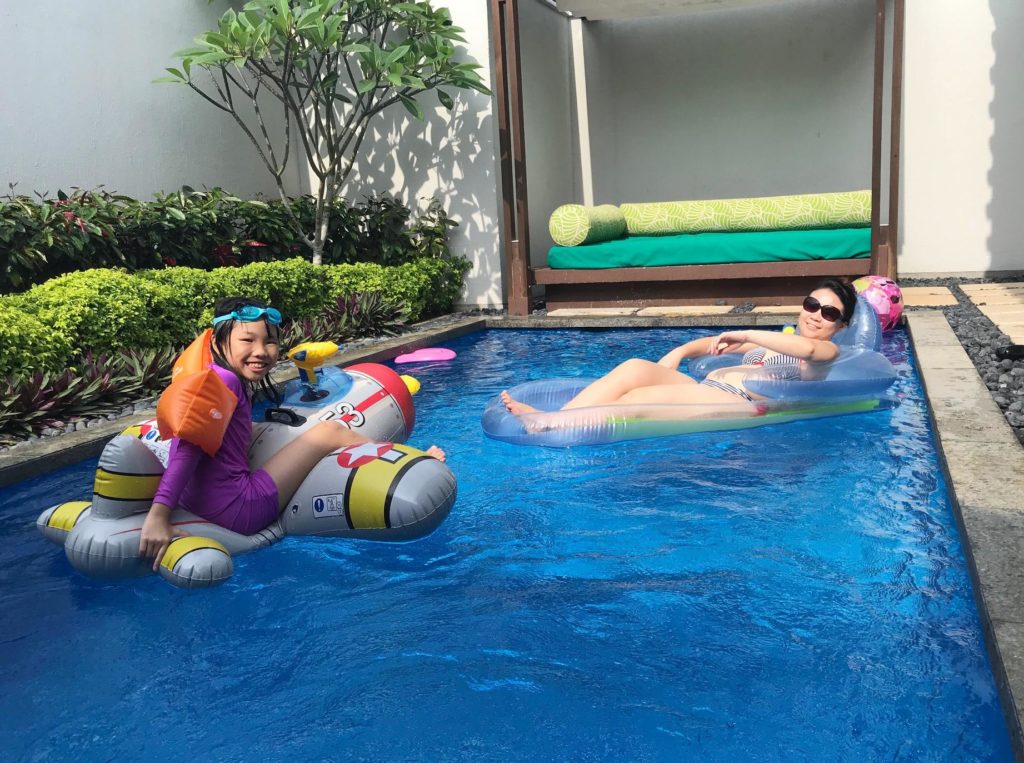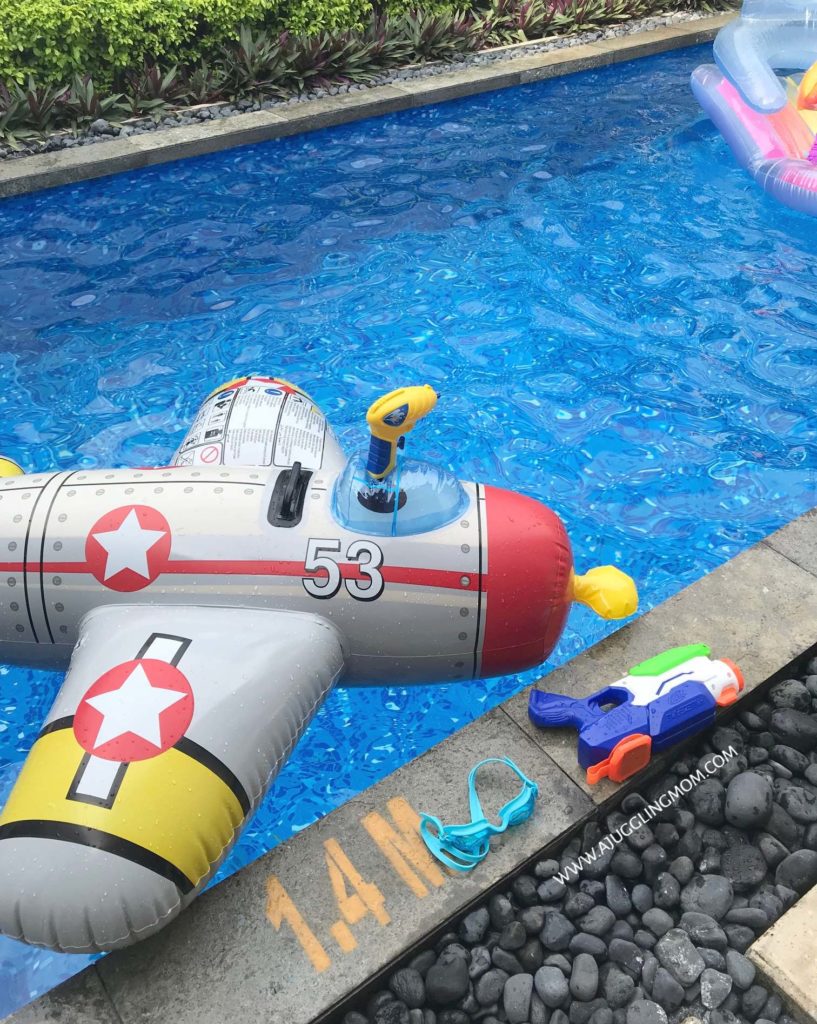 In the evenings, we were spoilt for choice as they have cable TV for so many cable channels, FOX, HBO, AXN, Nat Geo, Cartoon Network,etc… Sophie's only gripe was that Disney channel and Disney Junior was in Bahasa.
We binged on cable TV every night and Sophie was so thrilled to be on a winning streak when we played games like Rat A Tat Cat and Spot it which she brought along.
Even though we were not in Singapore when the momentous Trump-Kim summit took place, we followed the news closely on CNA and rejoiced when they signed on the denuclearisation agreement. One step closer to world peace.
Activities in Resorts
In comparison with the more established resorts, Holiday Villa had a limited list of activities. This could be intentional since most guests would be frolicking in their villas' private pool anyway. There's a spa within the resort that provides massage, facial, manicure and pedicure services, and you can even opt for a private in-room massage.
Their modest list of activities included archery, ATV, kayaking, stand up paddling, biking and trampoline.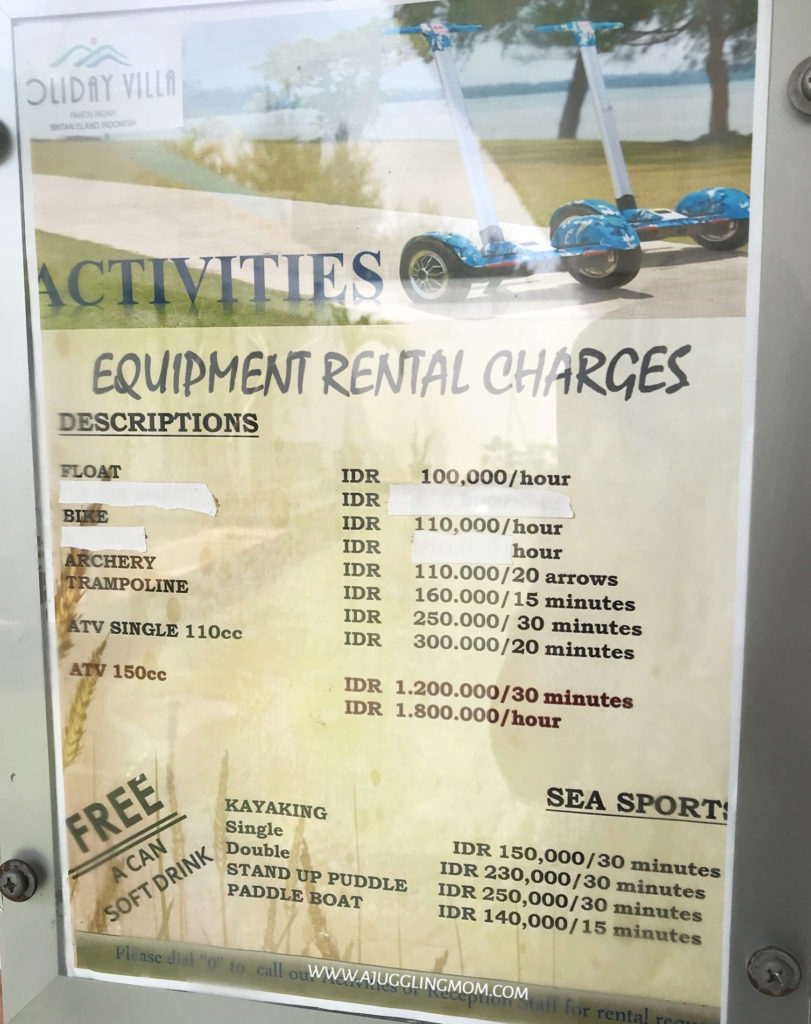 Alexis and Sophie went for the ATV 100cc where they were guided by a staff into a small jungle area and rode along the beach where they spotted monkeys.
The ATV ride was meant to be a single rider, but they made an exception if the kid is young like Sophie. We paid $30 for the activity and if you go for the 150cc ride, it's $120 for 30 minutes According to the staff, this one takes you on a more rugged terrain.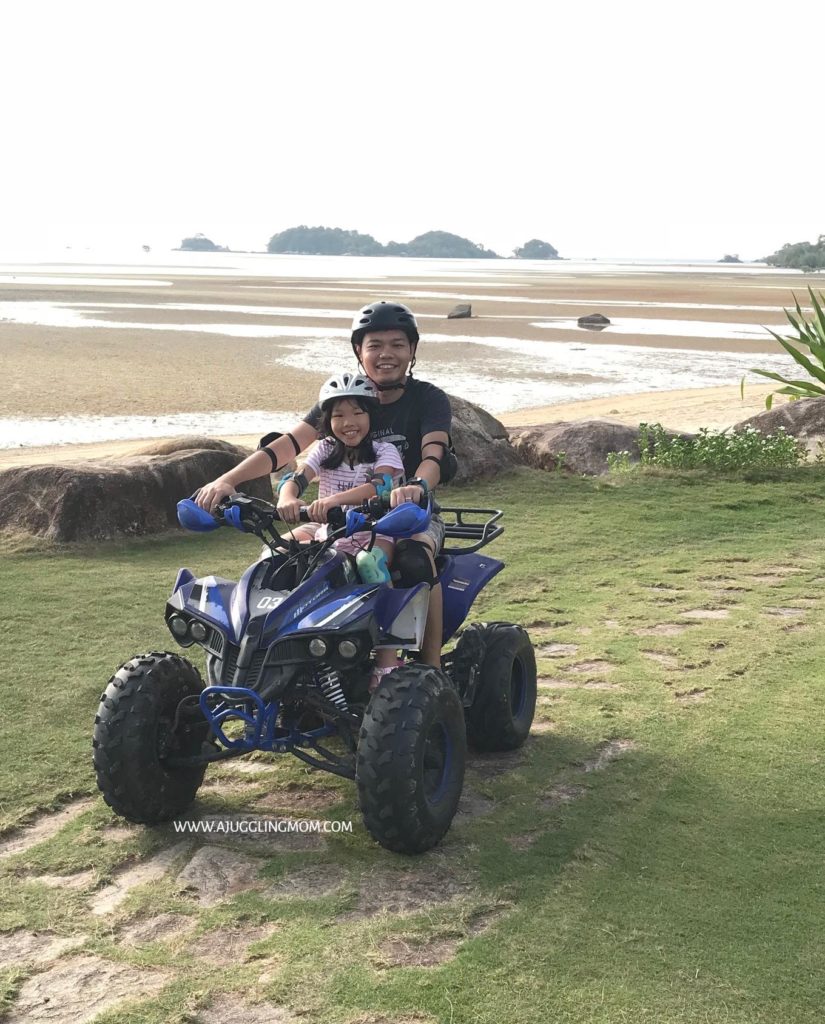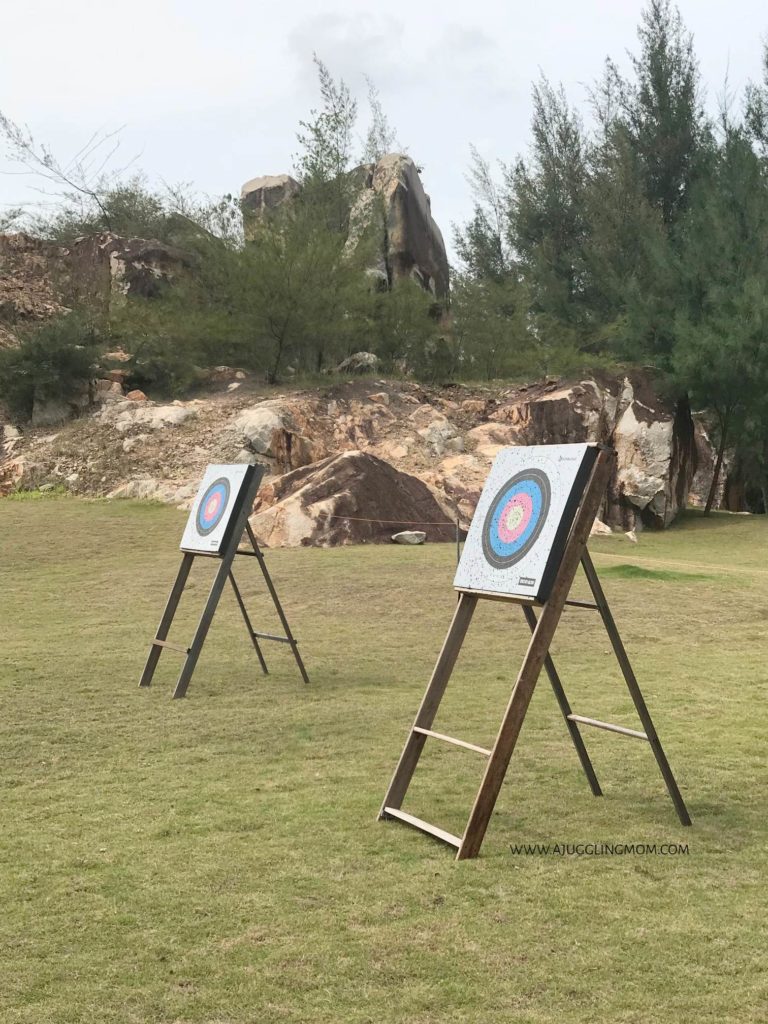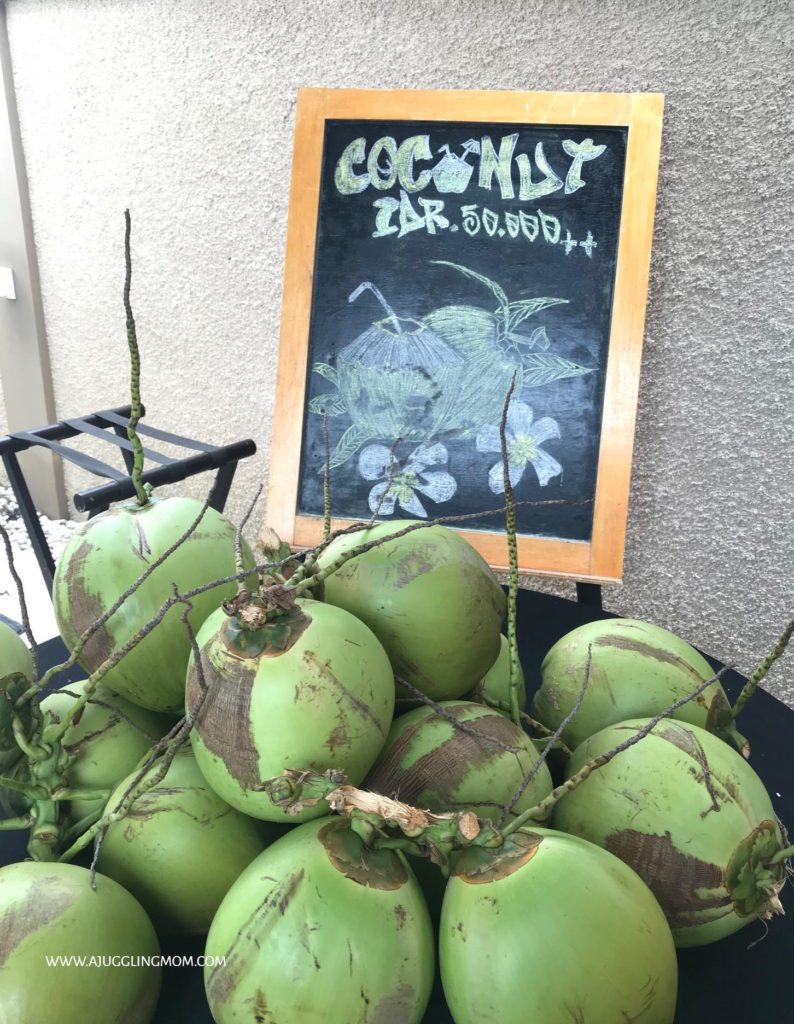 In the mornings, we also saw some guests kayaking when there was a high tide.
Alternatively, you can also head to other resorts like Bintan Lagoon Resort, Nirwana Resorts or Treasure Bay where non-staying guests can enjoy activities for a fee. The hotel can arrange for a taxi or you can book your own taxi.
READ ALSO: Our glamping experience in Canopi, Bintan
These were the prices charged for 2 way transport to Bintan Lagoon Resort ($30) , Nirwana Resorts ($30) by the hotel.
We explored Bintan Lagoon Resort and told Sophie that she was here 9 years ago, when she was still in my tummy during my babymoon 🙂 Precious memories.
Dining in the Resort
Our stay came with buffet breakfast at The Legenda Café and I highly recommend sitting outdoors where you get a welcome view of the beach.
Food standards definitely have room for improvement. We were expecting a wider spread as well as higher standards of food quality for a more premium resort.
The breakfast spread was decent with an egg cooking station, and staples such as cereal, pastries, noodles, etc. Asian options like mee soto, porridge, nasi lemak and roti prata were also available on different days.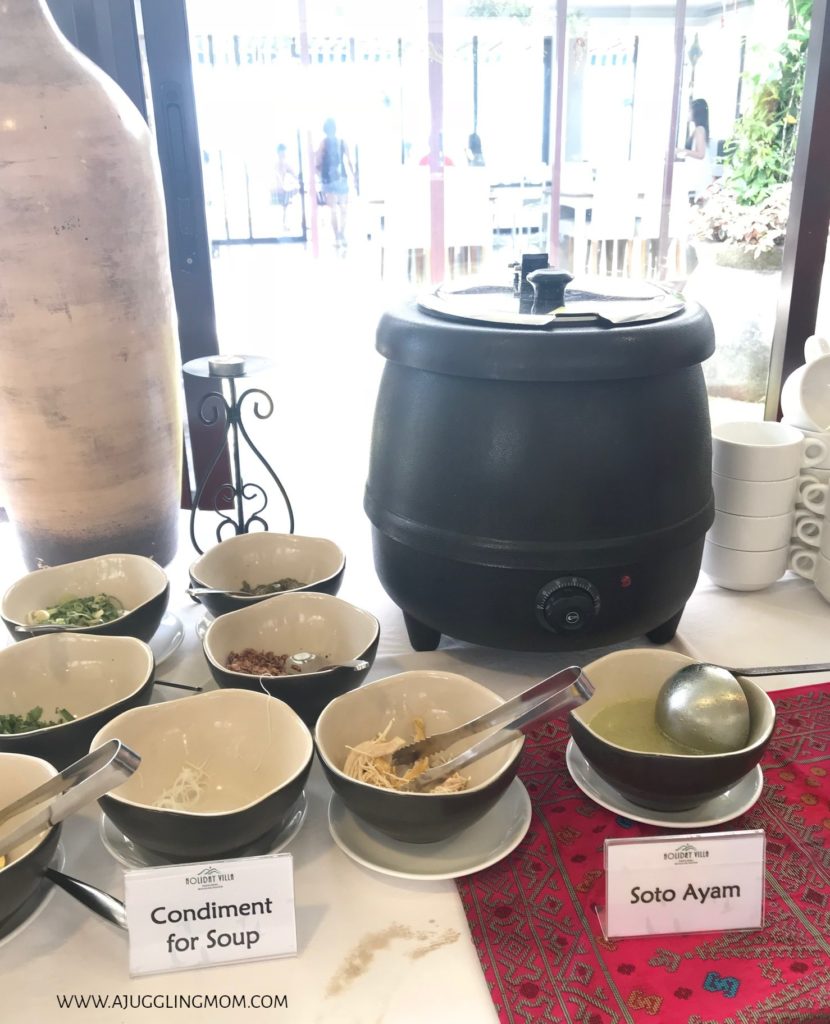 On one of the evenings, we also called for room service and ordered Ayam Penyat and Chicken burger. Between both choices, we felt that they do Asian dishes better and the chicken was nicely grilled though it was drier than I liked.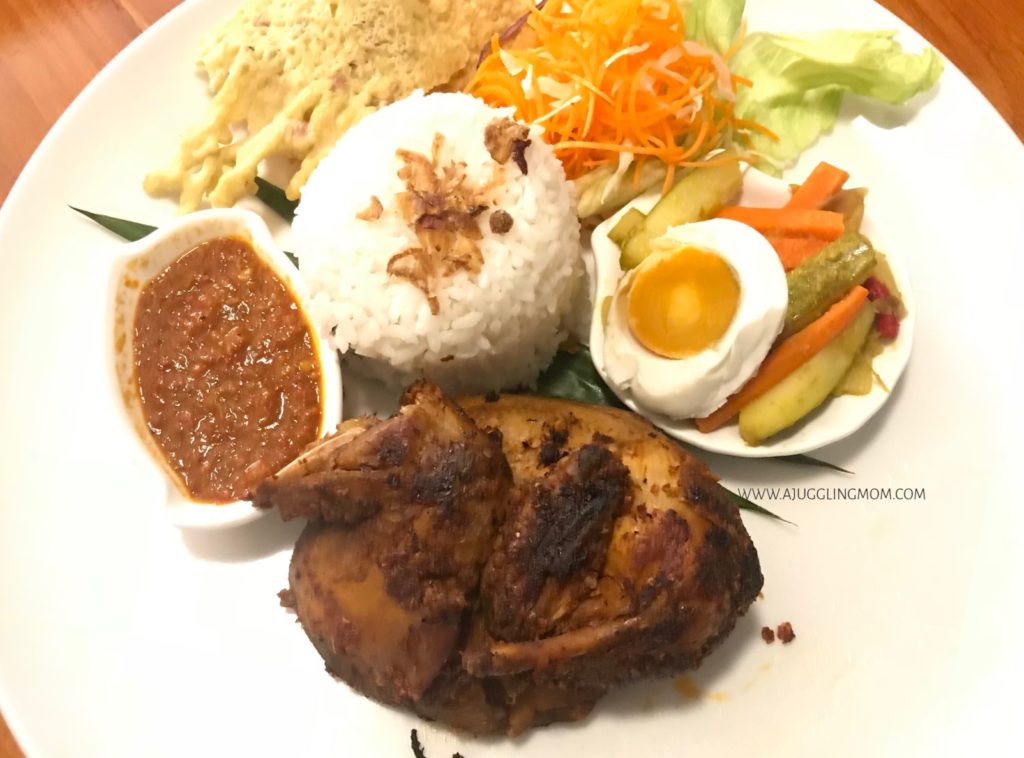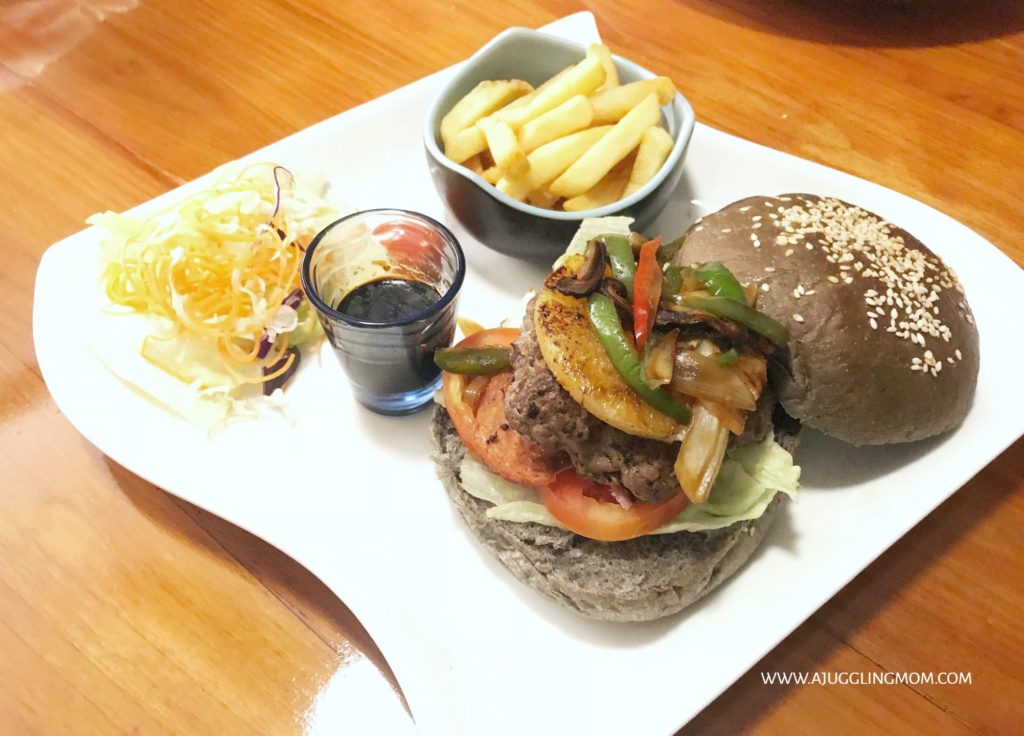 Dining outside the resort
We also had two meals at Warung Yeah which was highly raved on Trip Advisor for more meal options at a fraction of the price at the resorts. Judging from the crowds, they were certainly popular among locals and tourists alike and we enjoyed the food so much!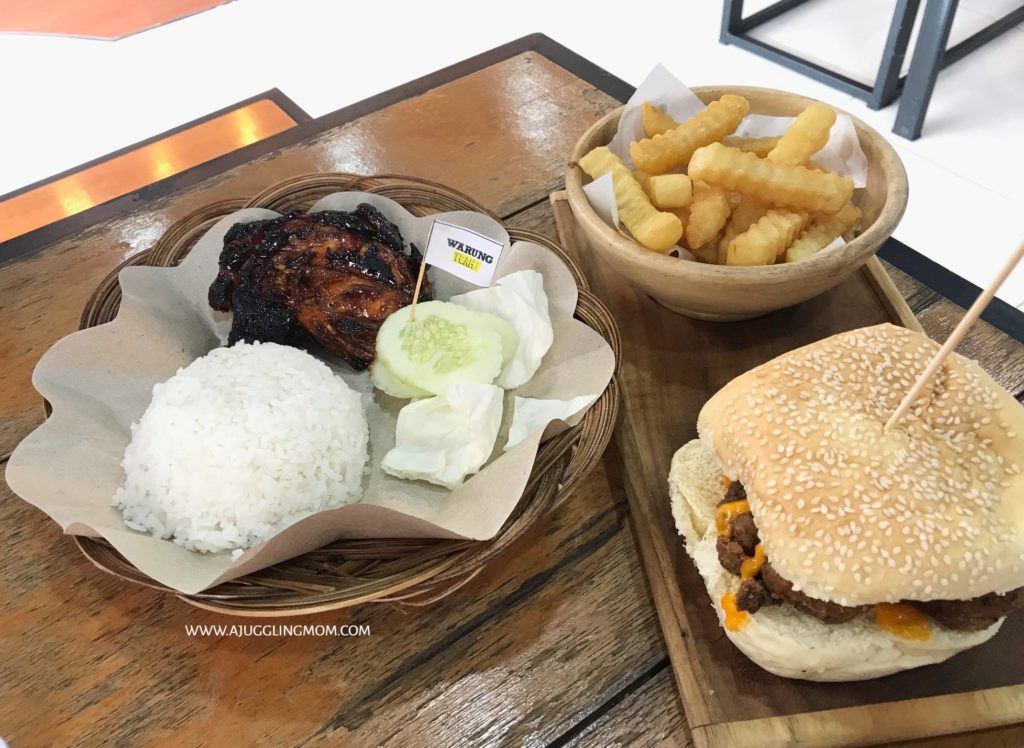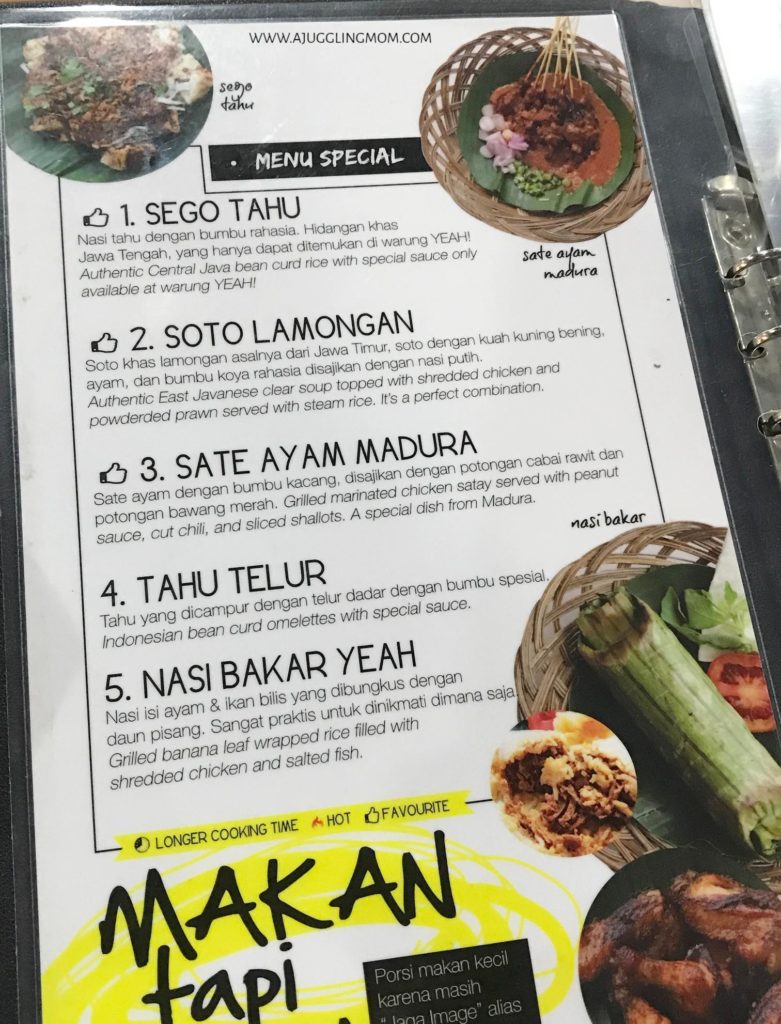 Our list of recommended dishes, tahu telur, ayam bakar (way better than ayam peyet), nasi bakar yeah and satay. Not to worry if you've got young kids, Sophie had mami mee goreng and chicken burger which were some of the non-spicy options.
We headed out to other resorts for our meals as we grew tired of cup noodles and had pizza and pasta at Dino Bistro in Nirwana Resort Hotel.
We also had dinner at Nelayan in Bintan Lagoon Resort which had a nice sea view. But the service was rather slow given that there were not more than 10 tables occupied. No complains about the food though and we went back with happy tummies.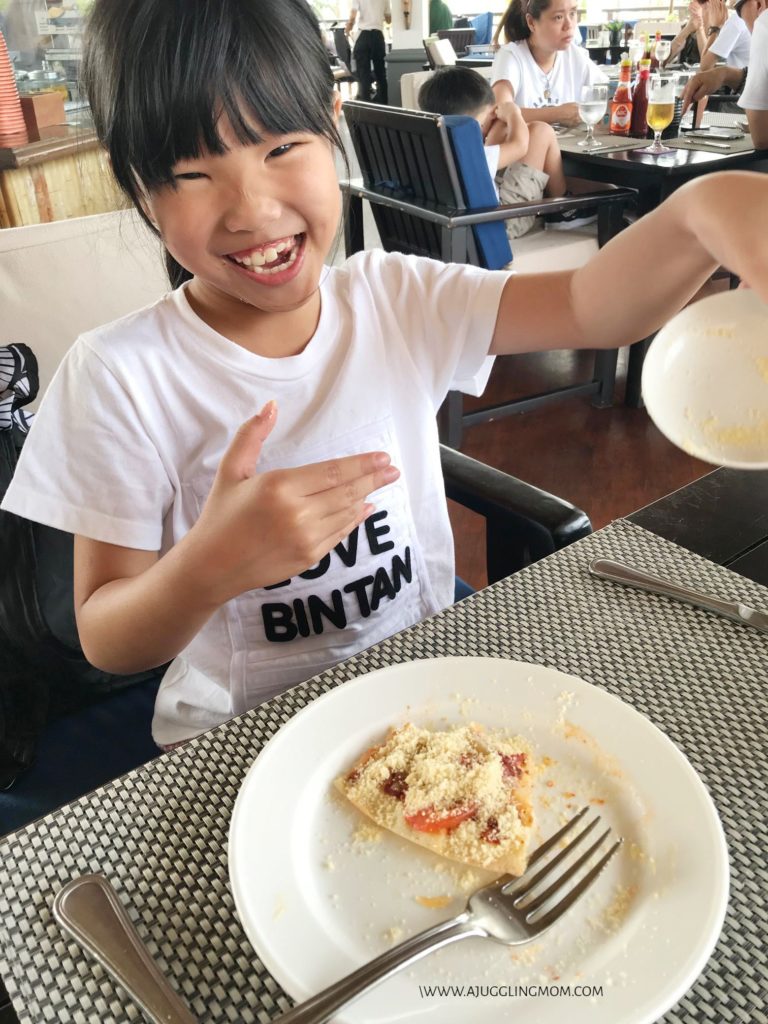 After spending such a relaxing 5 day in Bintan, we were so reluctant to head back to Singapore. It was funny how Sophie kept telling us that we must swim every single day and treasure the time we have the luxury of having the pool at our door step. I'm so looking forward to our next beach holiday where it will be rejuvenating as this one.
Holiday Villa certainly top on my list if we were to come back for another short getaway with the family. But if your family prefers more activities, then you've got to try Canopi for a fun glamping experience.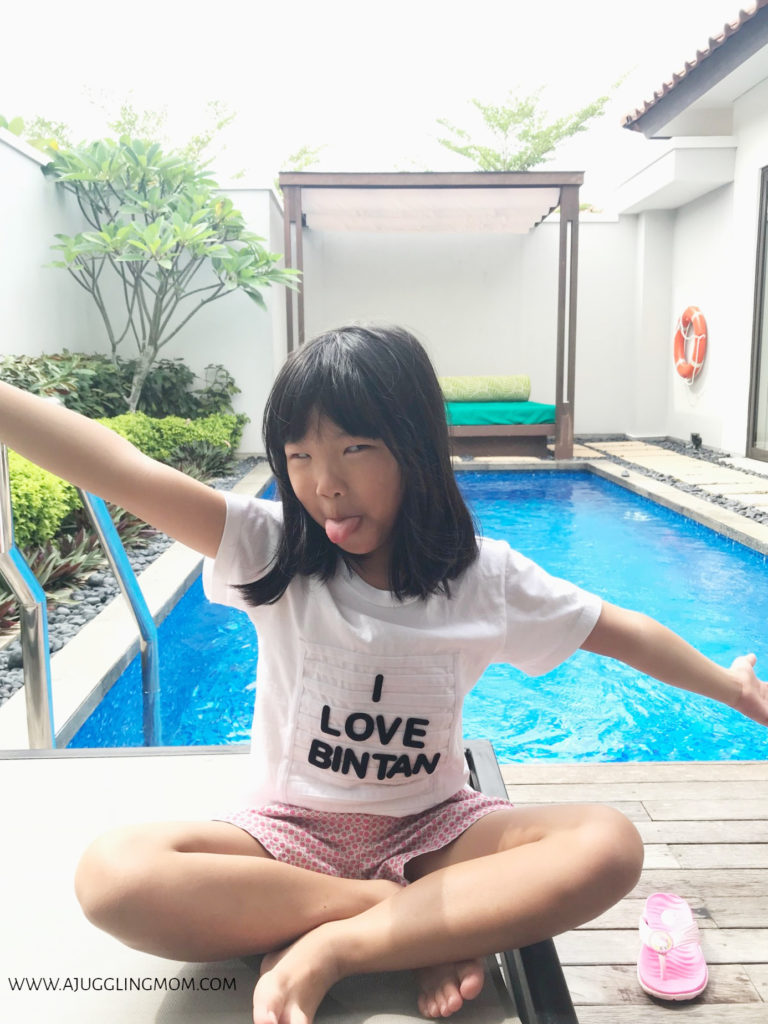 If you're looking for other family vacation ideas, don't miss these posts:
Enjoyed reading this post? Do like my Facebook page to get more family friendly travel updates. You can also follow me on Instagram (@ajugglingmom) for more travel and parenting posts. Follow us on all our travel adventure at #Taystraveldiary
Tagged: Bintan, family friendly, family friendly hotel, Indonesia, kids, review, travel