Part of our free and easy family holiday to Japan was a trip to Osaka for 4 days. This wasn't planned initially, else we would have flown straight into Osaka from Singapore instead of taking the JR from Tokyo to Osaka, wasting half a day on travelling. 
But we had no regrets with the addition to our itinerary as we had an amazing time in Osaka. It was a pity that we only had 2 full days in Osaka after factor in travelling time from Tokyo to Osaka and back. On hindsight, it would be ideal to have an additional day in Osaka since there's plenty to do in Osaka with kids. 
Taking the JR from Tokyo to Osaka
We were up by 8 on Day 2 and made our way to Tokyo train station to catch the JR to Osaka. We couldn't resist doing the touristy thing and bought a bento set after having a hard time deciding which to get.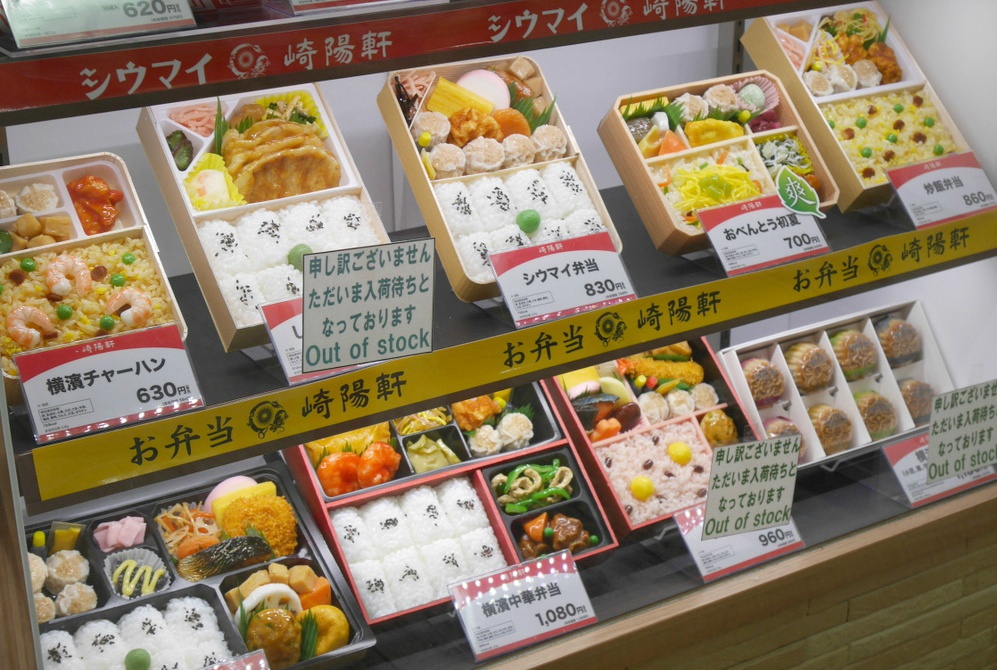 One thing I admire about the Japanese is their train efficiency and this should be the golden standard for every country, Singapore included. The train journey took 2.5 hours and I took the opportunity to finish the remainder of our itinerary while Sophie kept herself busy with a book and the iPad.
TIP: The trains are very punctual and leave on the dot. Do give yourselves ample time to get to the train station as the train station is huge and we needed to locate the correct entrance and platform to board the JR.
The JR has reserved and non reserve seats and if you're traveling with company, it's a good idea to reserve your seats in advance.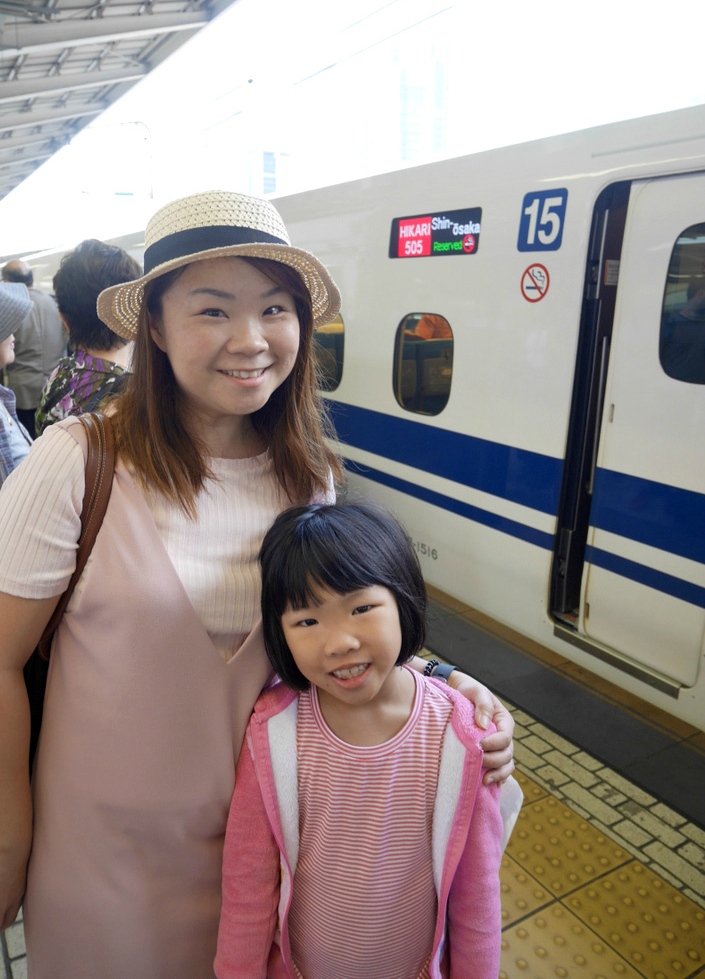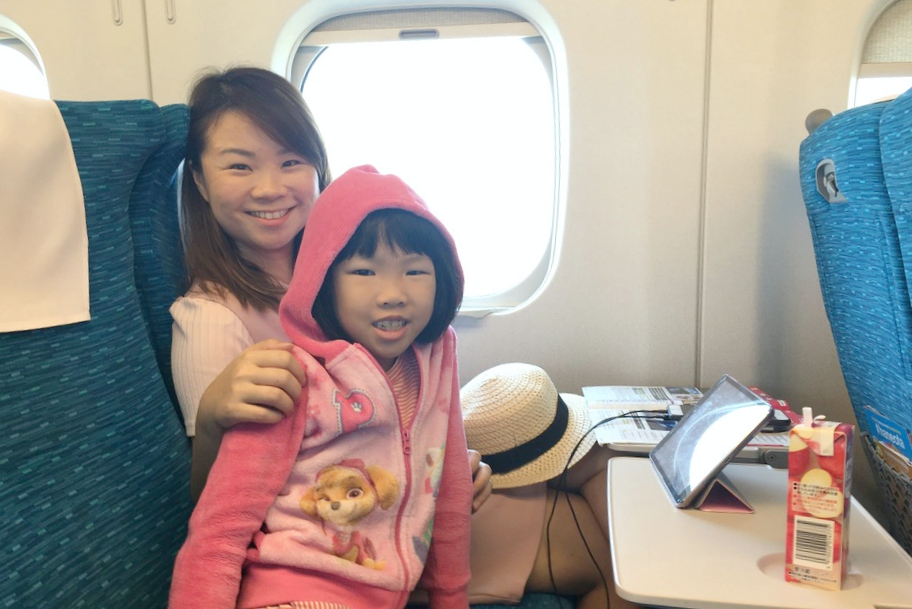 Osaka Castle
The Osaka castle is one of Japan's most significant and famous landmark. This historical building is a striking contrast to the modern city where it sits on and there is a charm seeing the beauty of past and present in the castle which dates back to 1583. During the war it miraculously survived the city wide air raids and continues to stand today.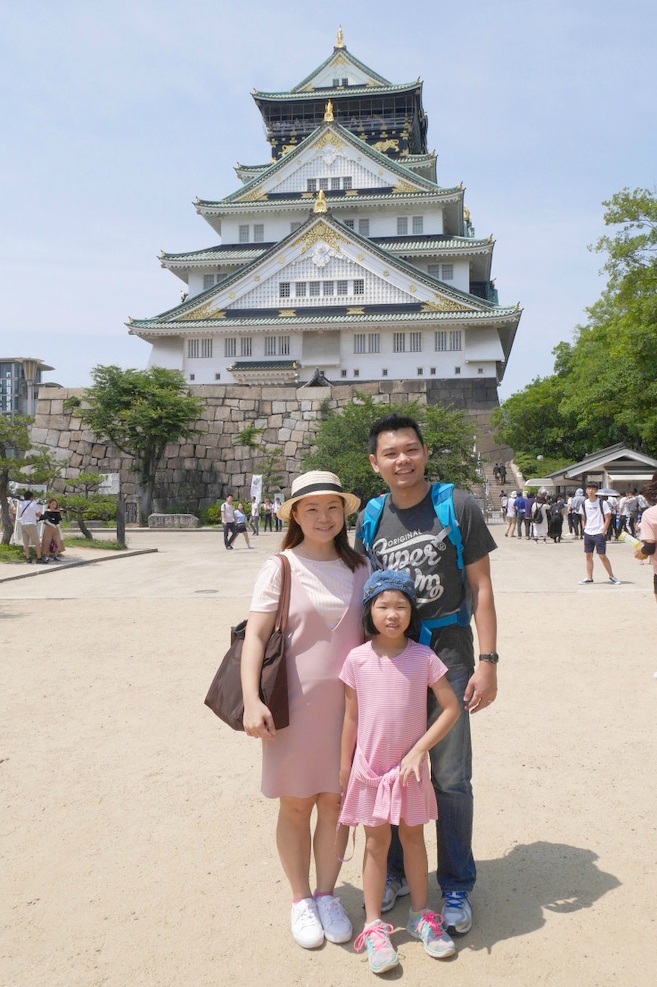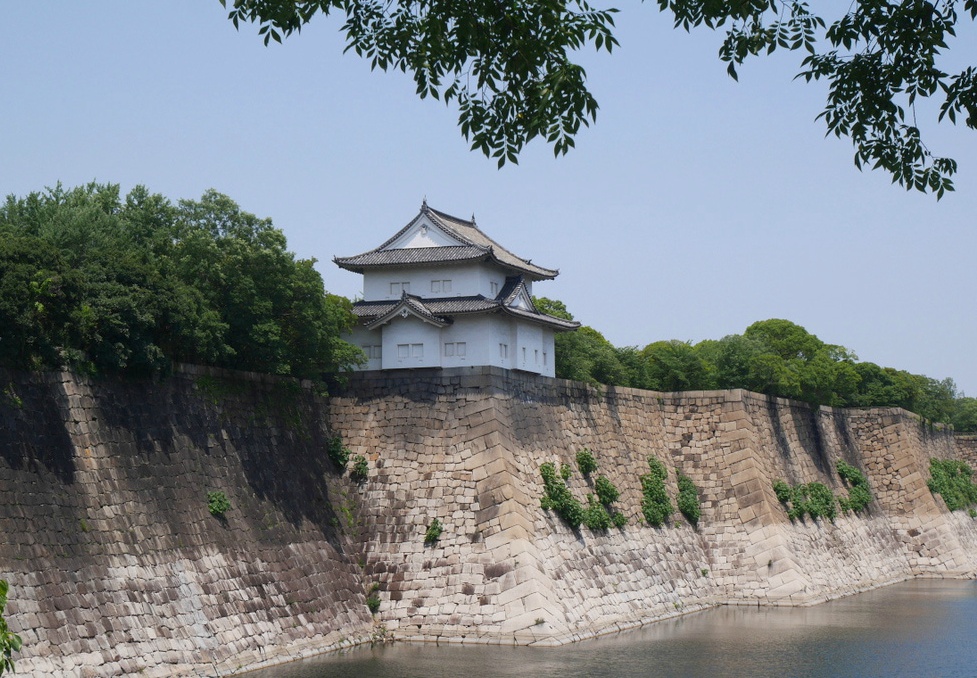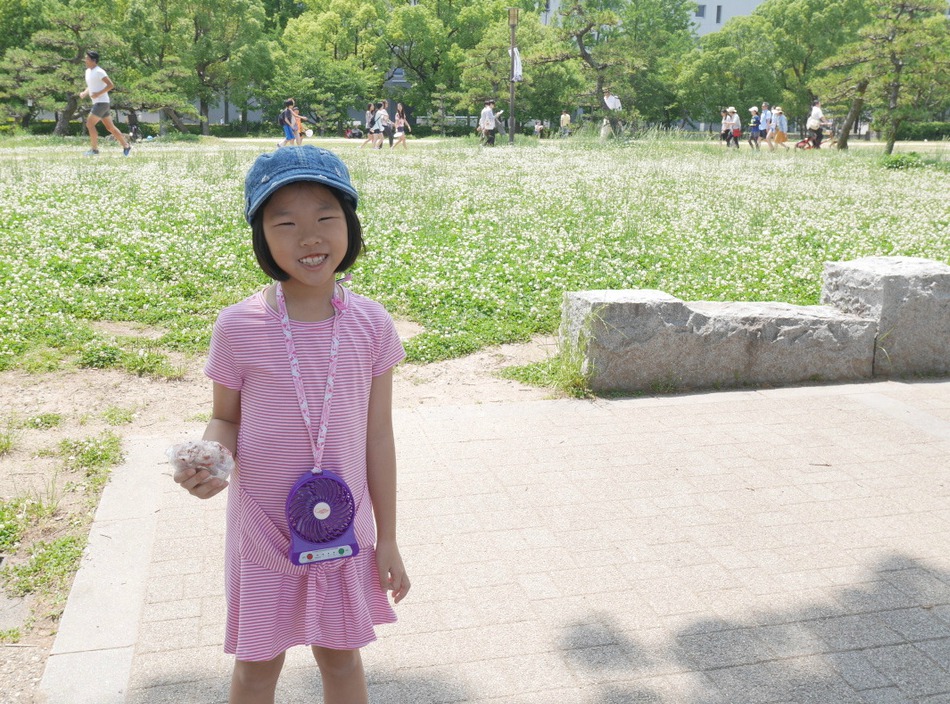 Highlights of Osaka Castle
While the highlight of the castle is the building, the Nishinomaru Garden, surrounding the castle also deserves a mention where locals can be seen cycling, jogging and having picnics in the tranquil nature.

Pay an entrance fee of 600 yen (children 15 years and below enter for free) to enter into the 8 storey castle tower. Take a lift or climb up to the 8th floor for a bird's eye view of Osaka Castle Park and Osaka Plain from the top of the castle.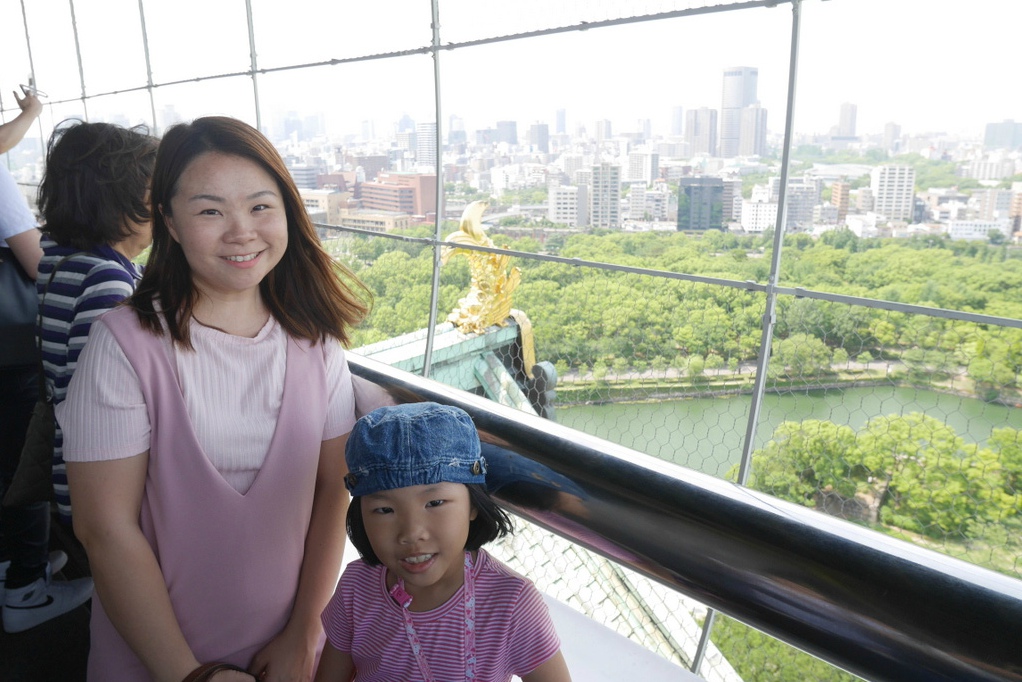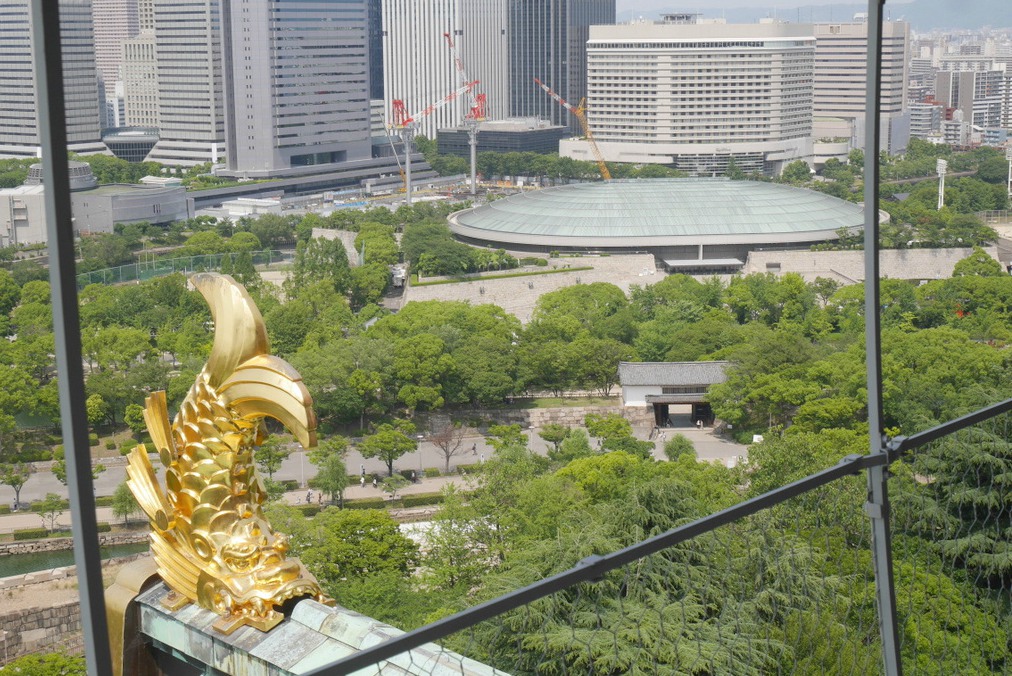 Audio guide rental in major languages are available on level 1

Inside the main castle tower is a museum where historical artifacts relating to the castle's history are preserved and displayed such as paintings, samurai armour and much more. 

Be awed by the full scale replica of the Golden Tea Room

Learn about the life of Hideyoshi Toyotomi, who built the Osaka Castle in miniature diorama

See a scale model of the original 16th century castle town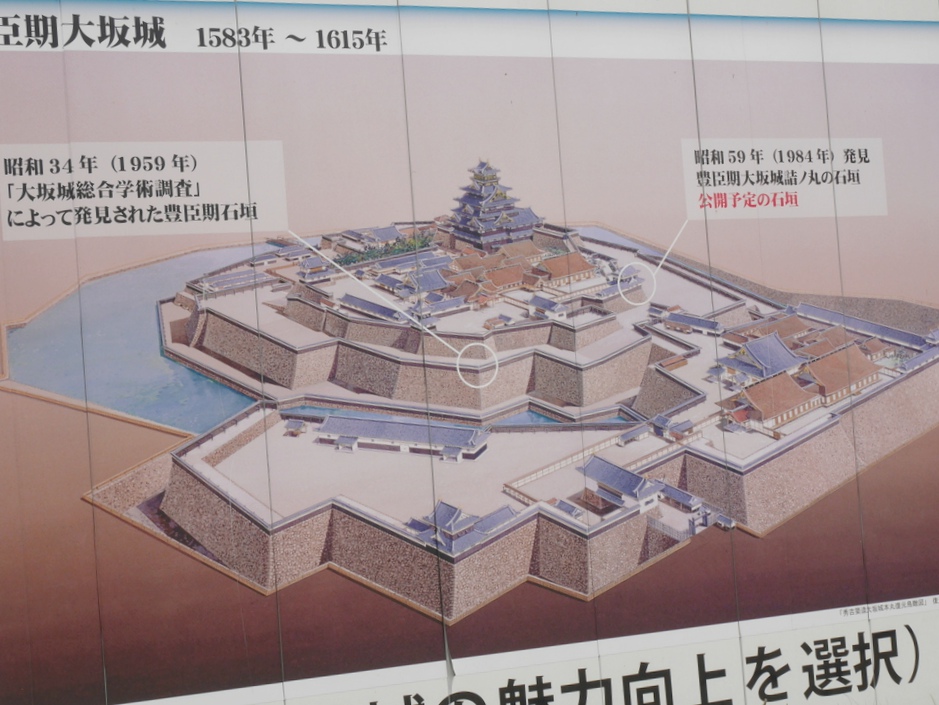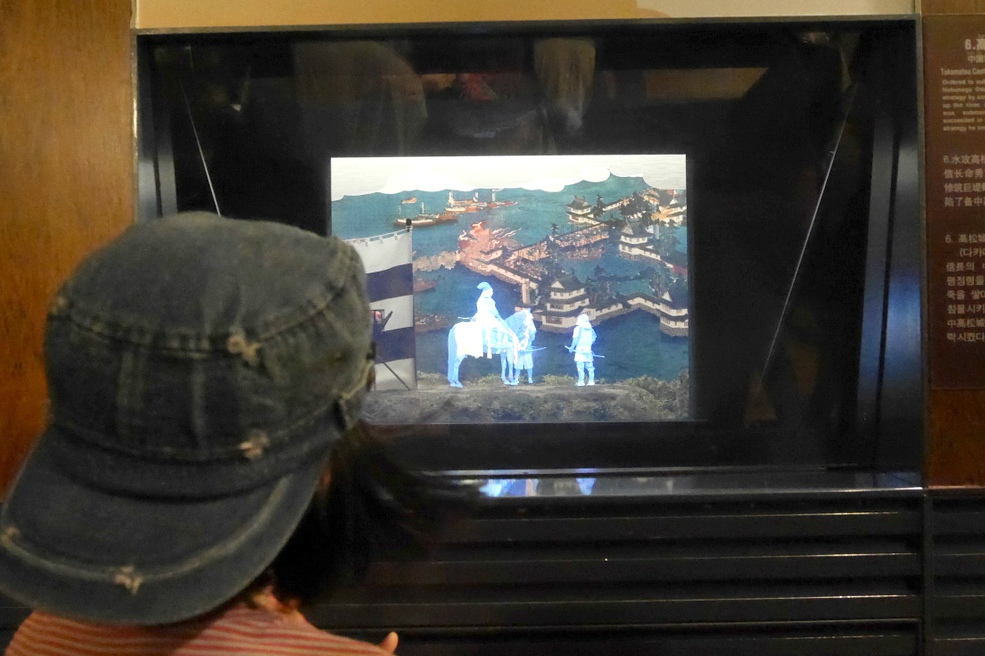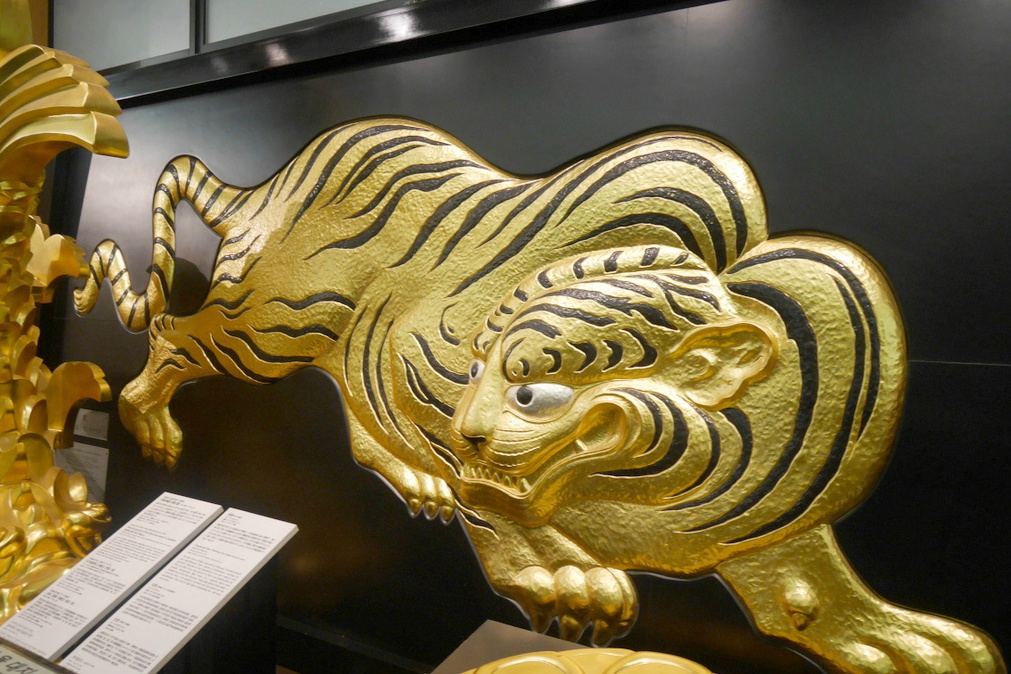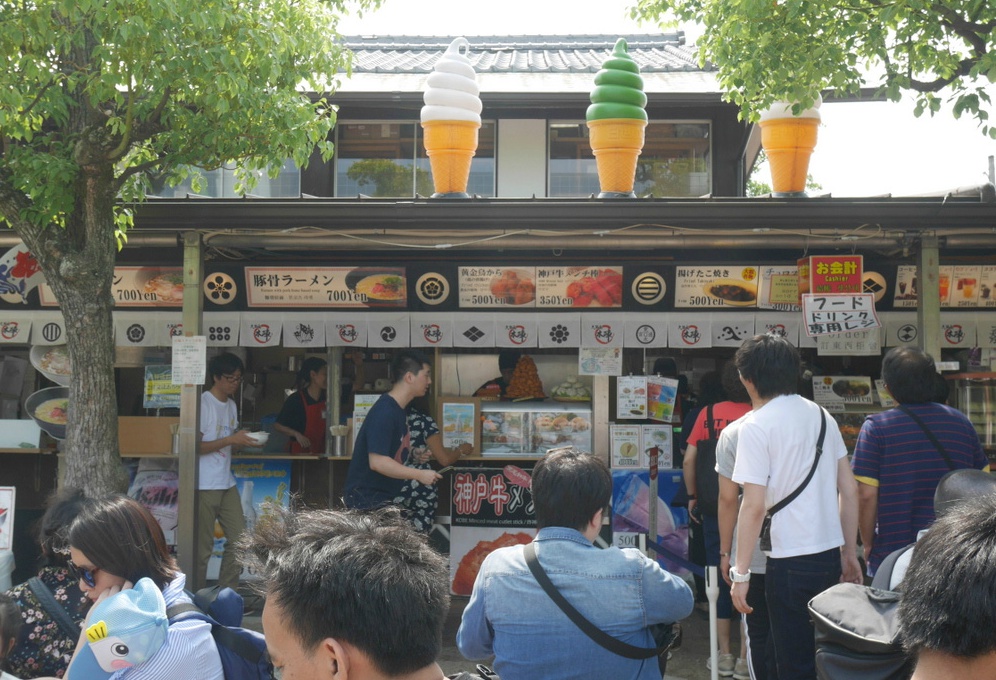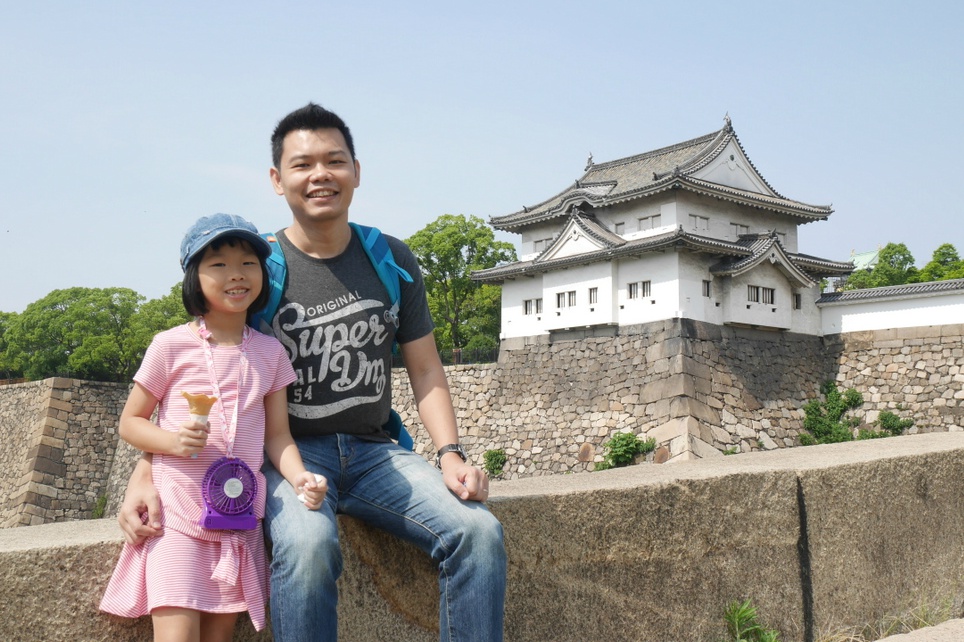 Take a break at the food kiosks after visiting the castle where they have takoyaki, ice cream, ramen, yakitori and many more options. Though matcha ice cream is a popular choice, Sophie highly recommends that you try the grape flavoured ice cream from the stall above. 

 

Catch street performances by buskers on weekends
We spent 2 hours at the Osaka Castle and its surrounding. But in my honest opinion, I felt that the entrance to castle tower can be skipped for those with younger kids since it may not interest kids very much them.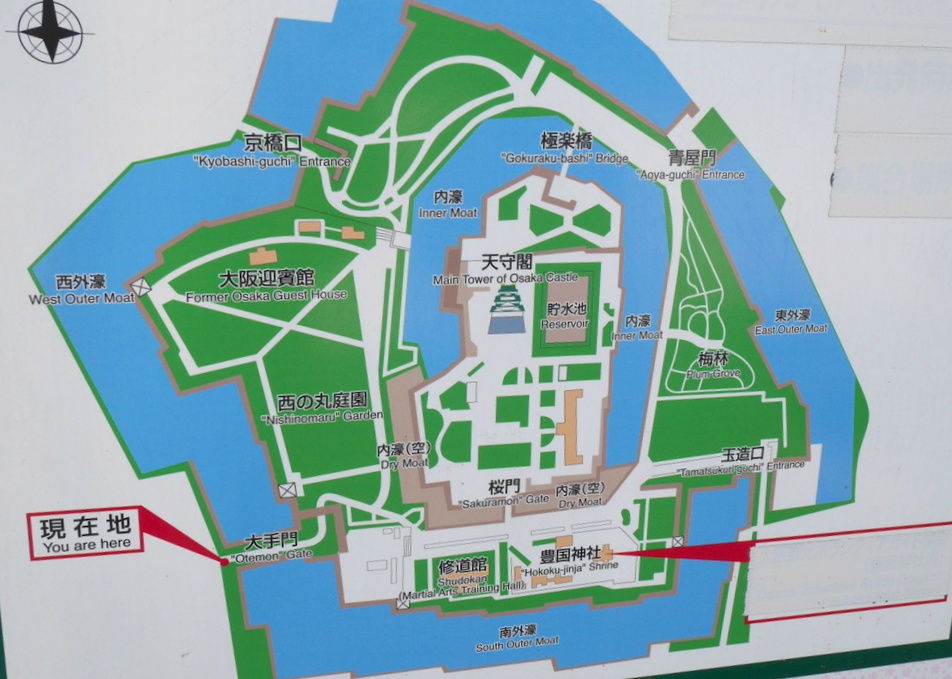 Getting to the Osaka Castle
The closest station is Tanimachi 4-chrome Station along the Tanimachi Subway Line and Chuo Subway Line.
The closest JR station to Osaka Castle is Osakajokoen Station on the JR Loop Line, a 10 minute, 160 yen ride from JR Osaka Station.
Kuromon Ichiba Market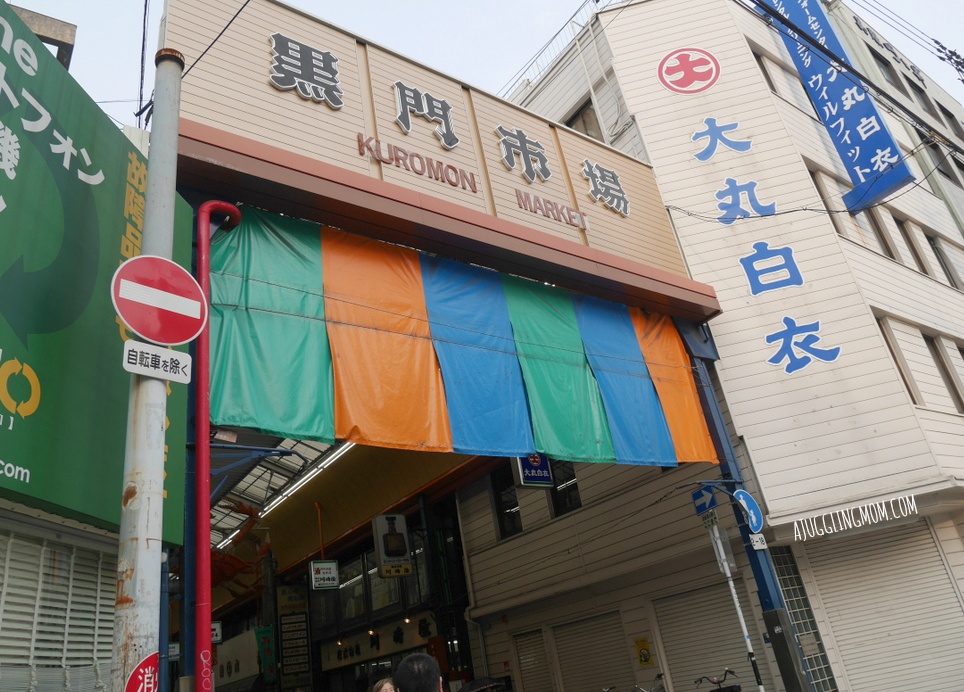 After the Osaka Castle,. we headed to Kuromon Ichiba Market (Black Gate Market) otherwise known as "Osaka' s Kitchen" by locals.
With more than 190 years of history and tradition, Kuromon Ichiba Market, is popular among locals as a fresh food market specialising in seafood. But tourists have been finding their way there as stalls serve up freshly cooked food right on the spot at prices you'll never find at restaurants.
We arrived there around half past 3 and was worried that the stalls may be closed. Thankfully most were still open and even Alexis who is usually not much of a foodie braved himself to try things like fresh uni and puffer fish sashimi!
We didn't know which stall to order from and simply ordered from one that has seats available. After selecting our items, we passed them to the stall holder to prepare them.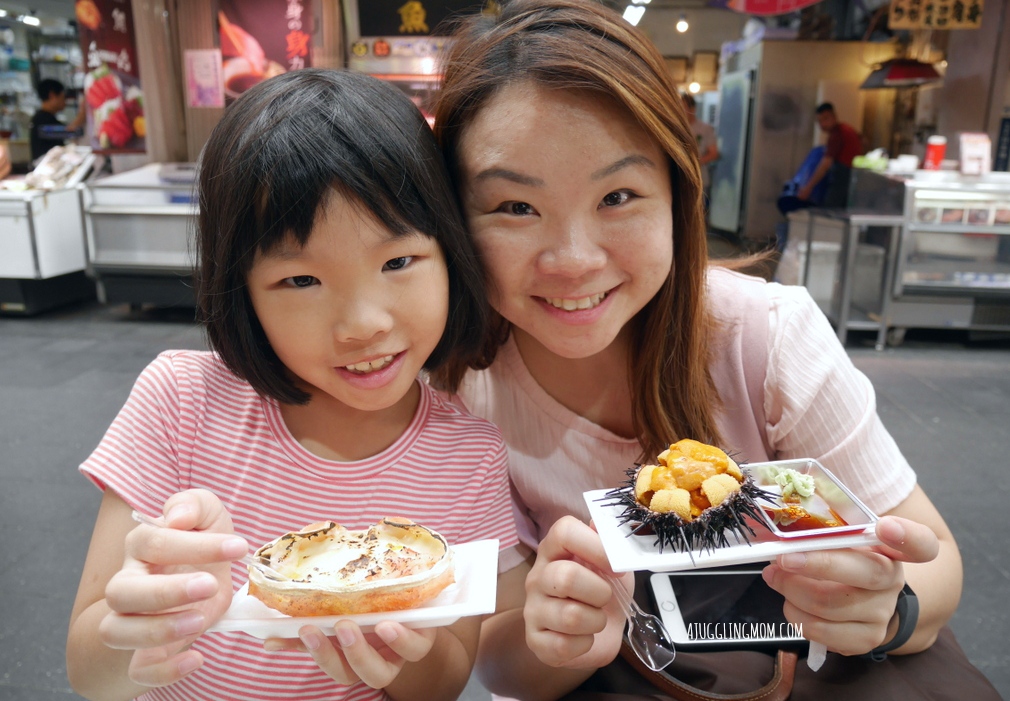 This is a must go for foodies and I'm glad Alexis and Sophie enjoyed the gastronomic experience where we feasted on grilled prawns and scallops, crab with macaroni and cheese which was Sophie's favourite and even tried uni . This was actually my first time having it and it has a smooth and custard-like texture with a briny ocean tasted and oh so fresh!
Next we had chilled snow crab legs which was so fleshy and sweet and Sophie announced that we have found ourselves a winning dish! I grabbed the opportunity and hinted to Alexis that there's plenty more snow crab dishes in Hokkaido and I think he's sold! Haha.
Yes we ate puffer fish and lived to tell the tale! Our plate of puffer fish sashimi was thinly sliced and had a slightly chewy and gelatinous texture. Taste wise, it was noting like salmon sashimi and tasted more like like cuttlefish to me. It was served with a red pepper sauce, soya sauce and chives which gave it more flavour.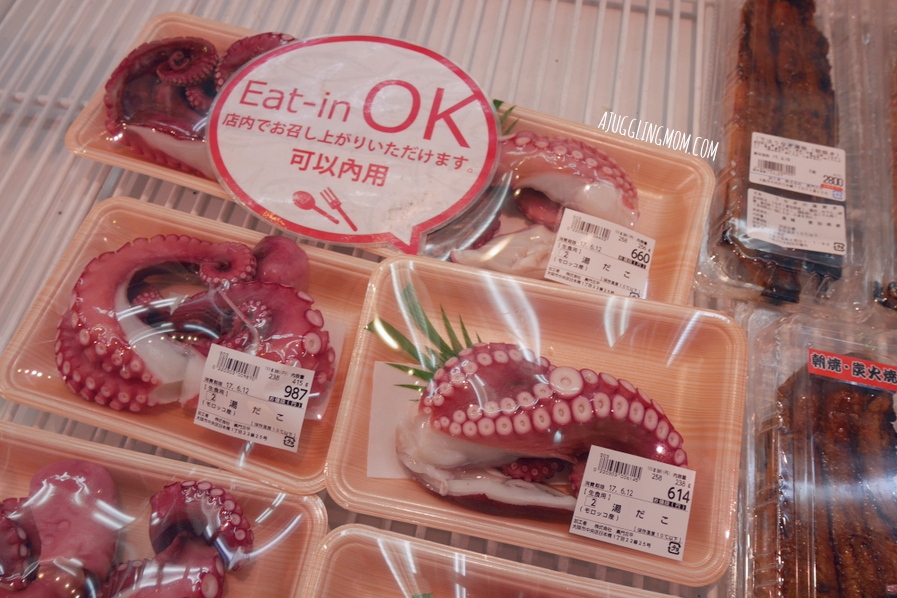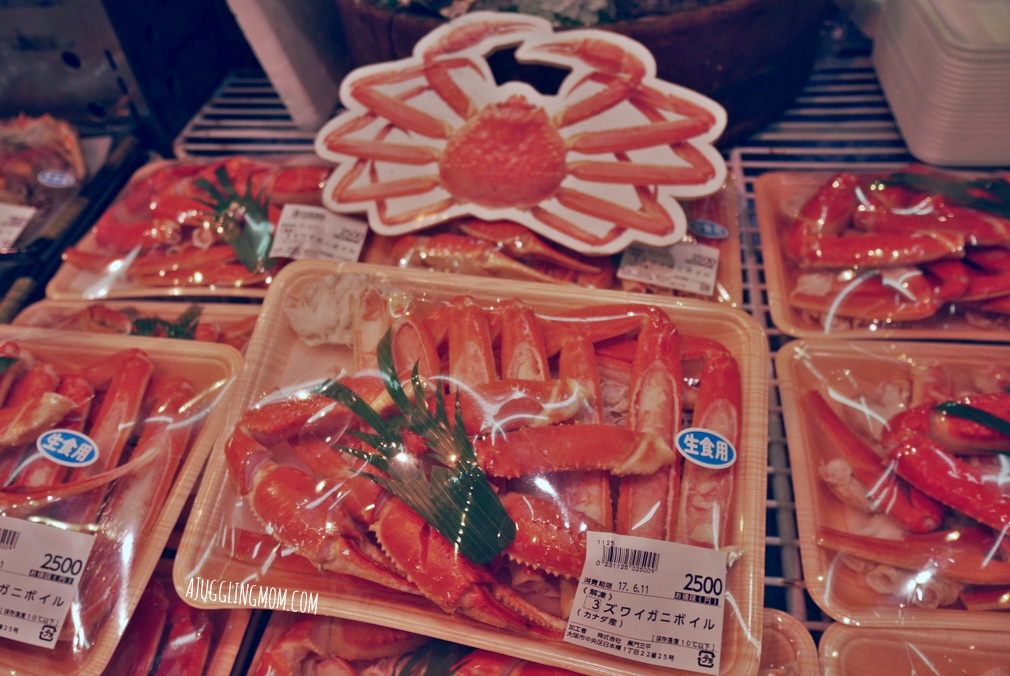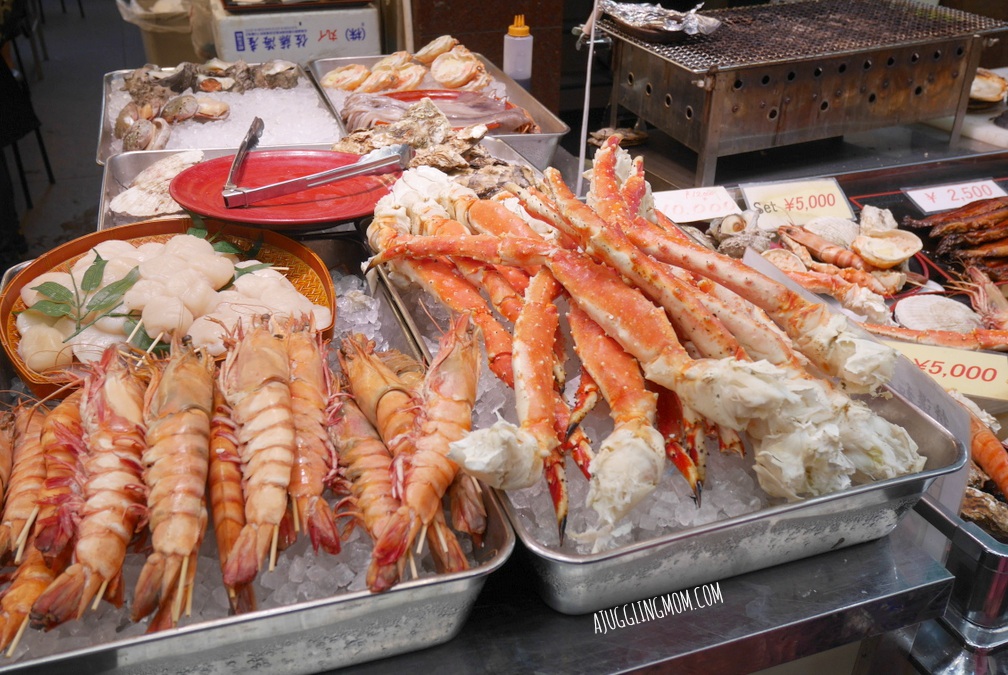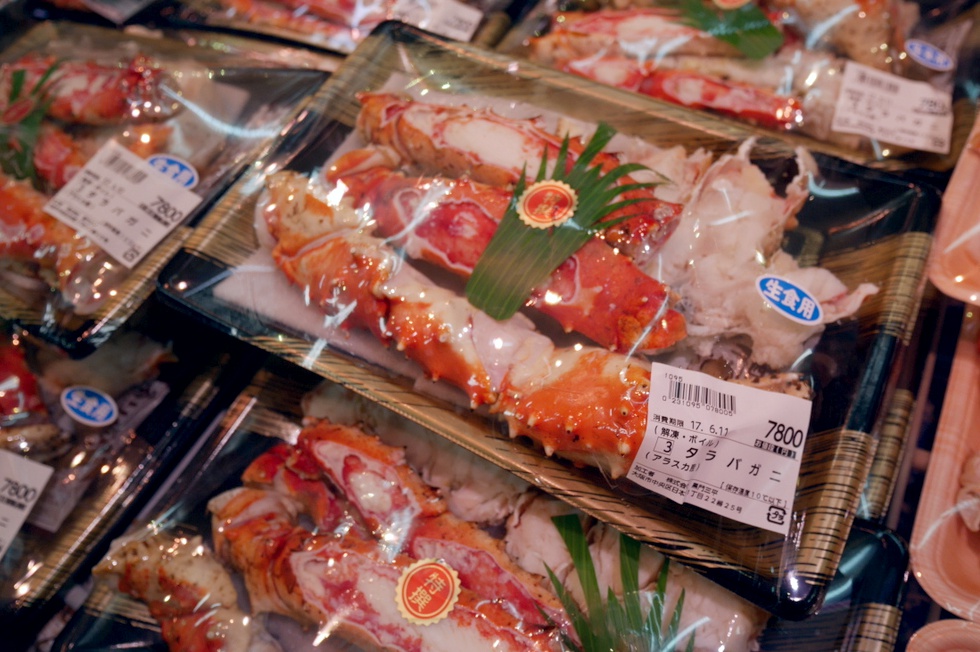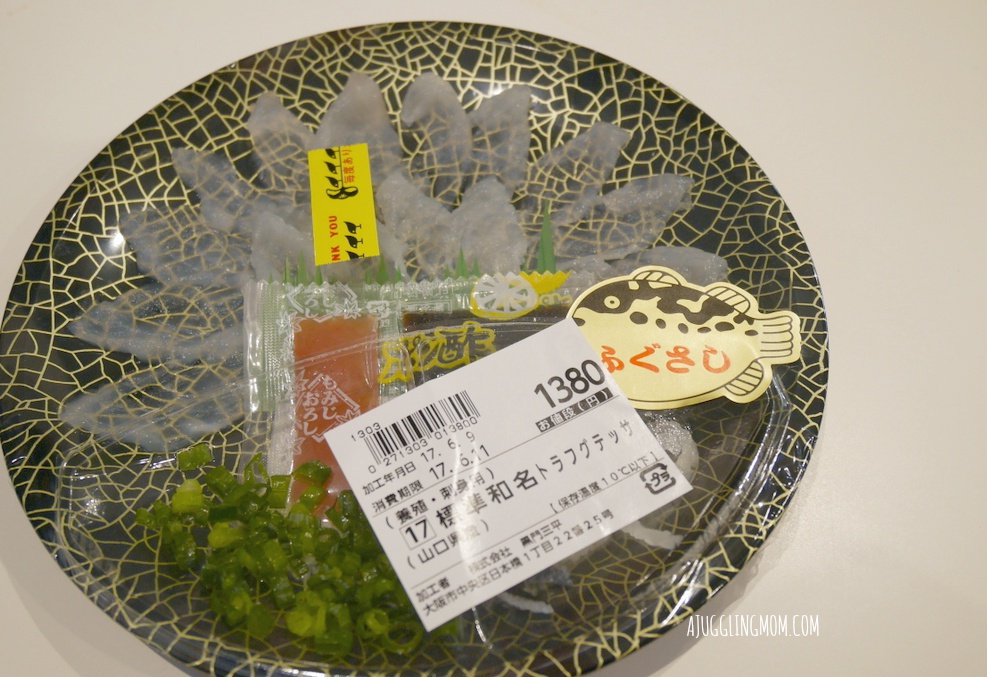 Other Must Eat in Kuromon Ichiba Market
While Furomon Ichiba Market had a wide offering of fresh and grilled seafood, you don't want to miss these must eat to have there.
Strawberry Diafuku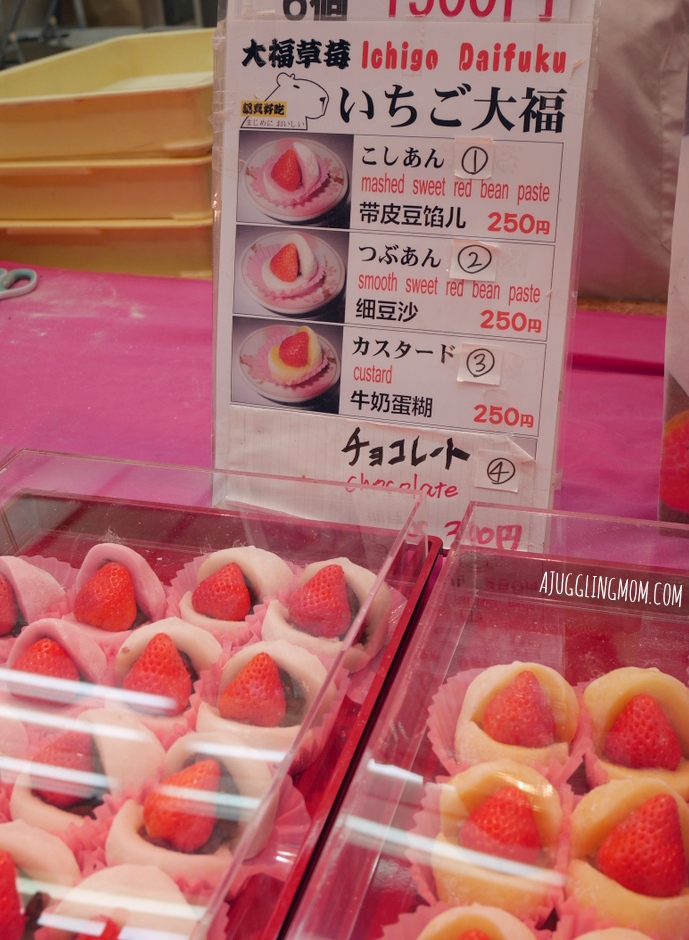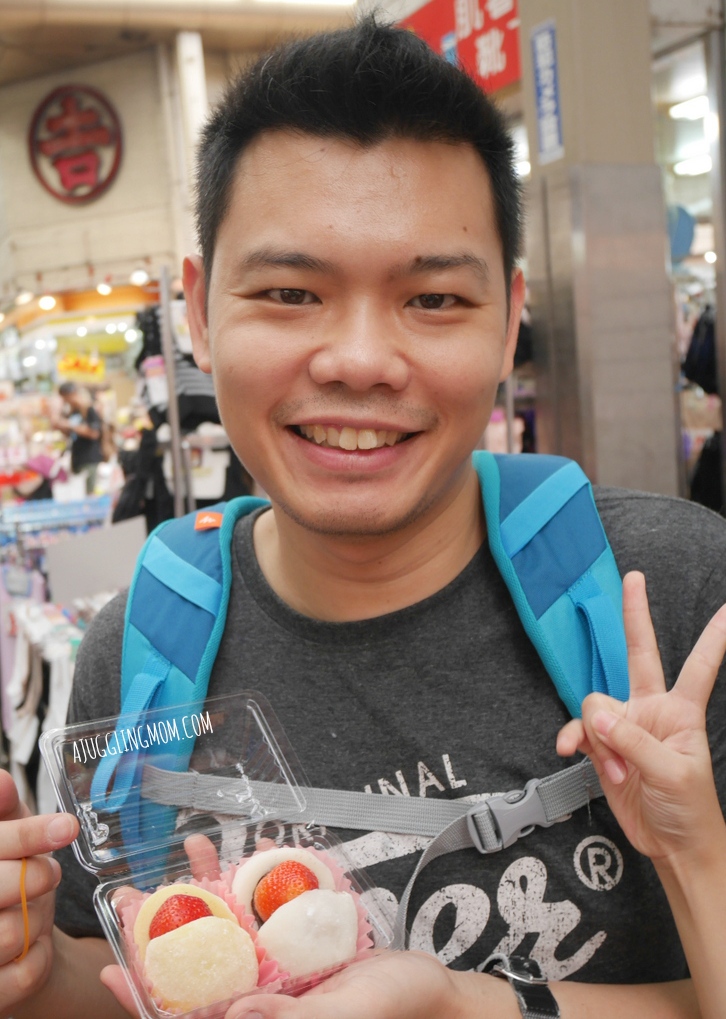 Daifuku, is a Japanese confection consisting of a small round mochi stuffed with sweet filling. At this stall, their strawberry daifuku comes in custard, red bean paste as well as chocolate.
Tuna
There were a number of tuna specialty stalls where they sold different parts of tuna from tuna belly, tuna cheek in the most intense deep red shade where they can be served up raw, or cooked.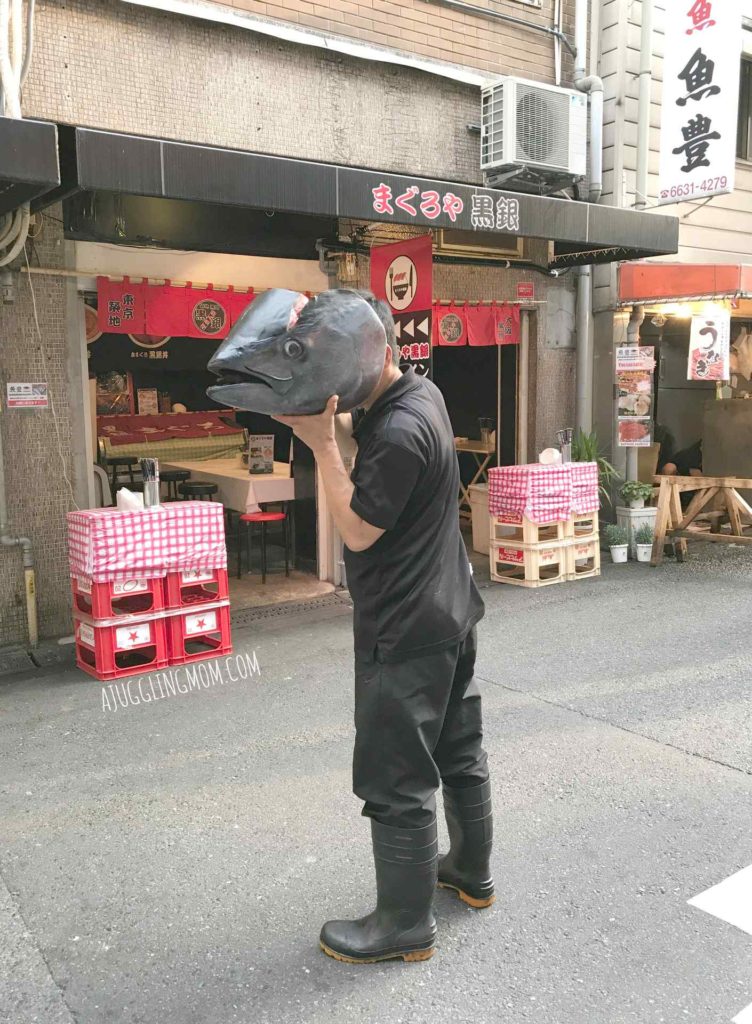 Wagyu Beef
You'll hardly imagine that wagyu beef can be found as  street food but I kid you not. I saw many queuing at a particuoar stall that's not far from where we bought our diafuku and prices were very reasonable. But we were too full from all that food that we didn't have it.
Baby Octopus
This was one item that I looked forward to try as there was a quail's egg into the baby octopus!
Tamago
Rolls and rolls of tamago is bound to be a kids' favourite.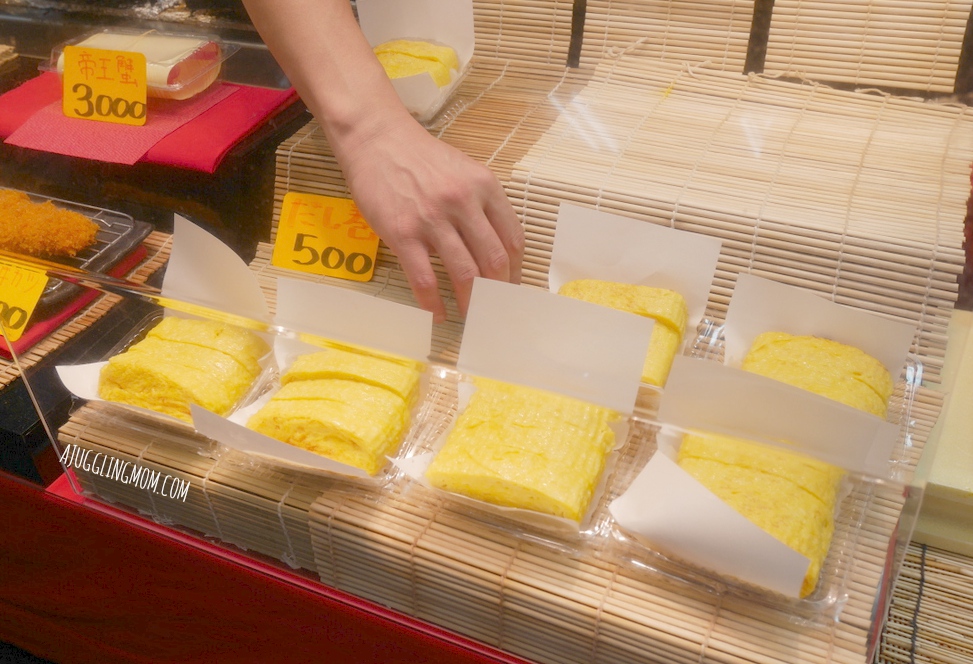 Fruits
I'm sure you've seen extortionately priced fruits from our local supermarkets. You can get honey dew, white strawberries, ad kyoho grapes at a fraction of those prices here at the market. Sophie loved the kyoho grapes and was pleasantly surprised by the jelly-like texture and was delighted that the grape can be removed effortlessly from the skin.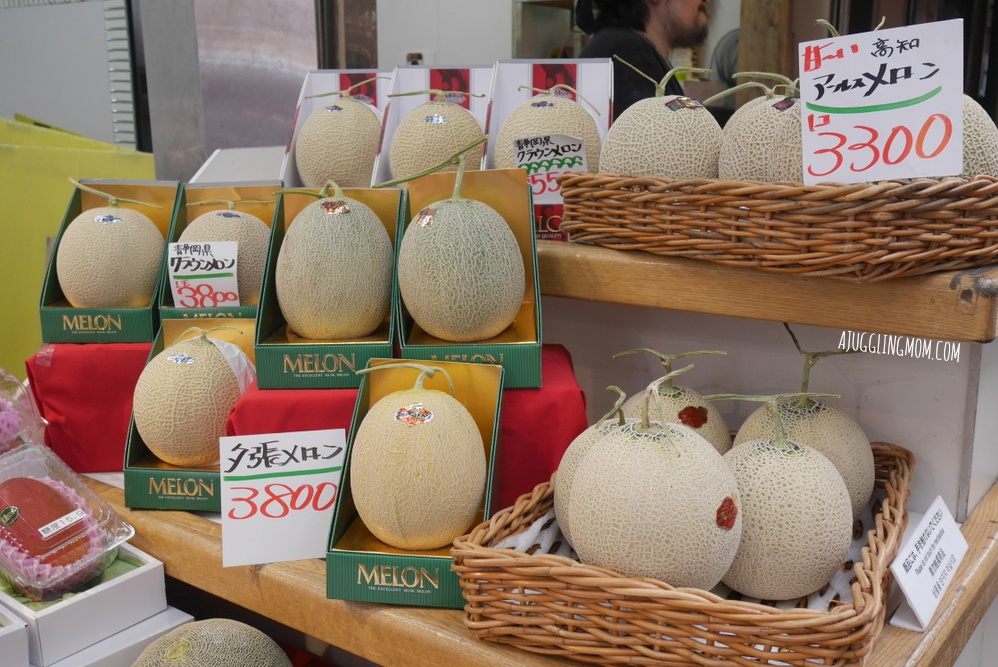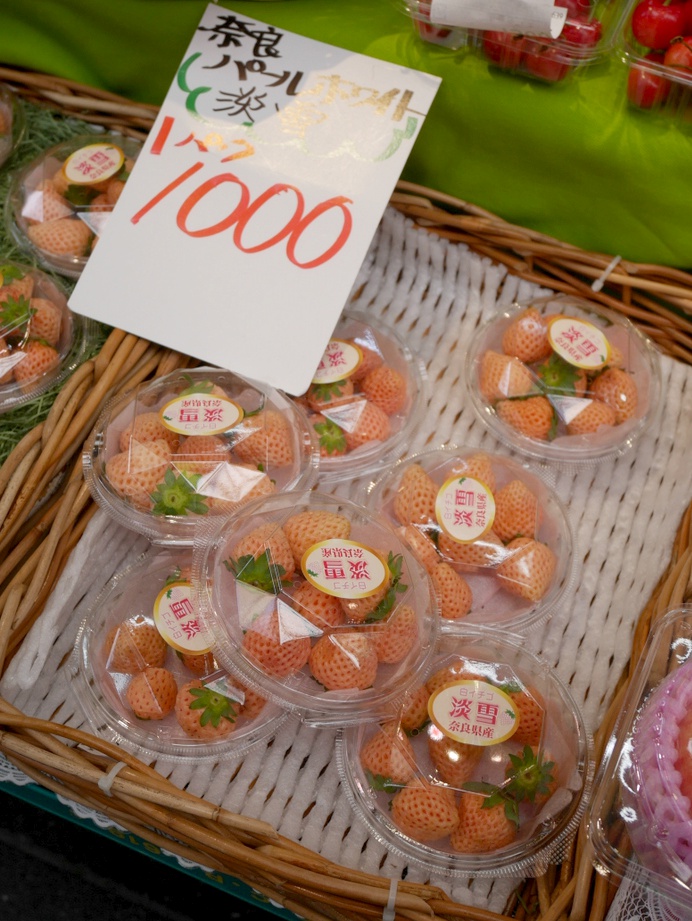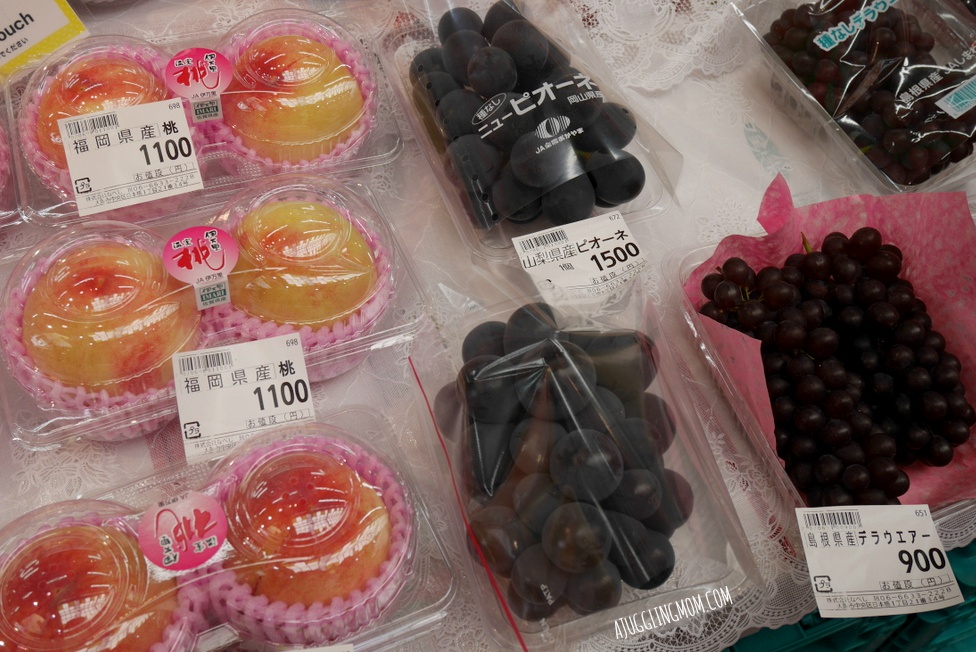 Besides food, you can also find mom and pop shops and of course some rather touristy ones like these that sold Yukata for kids and in the cutest Hello Kitty print!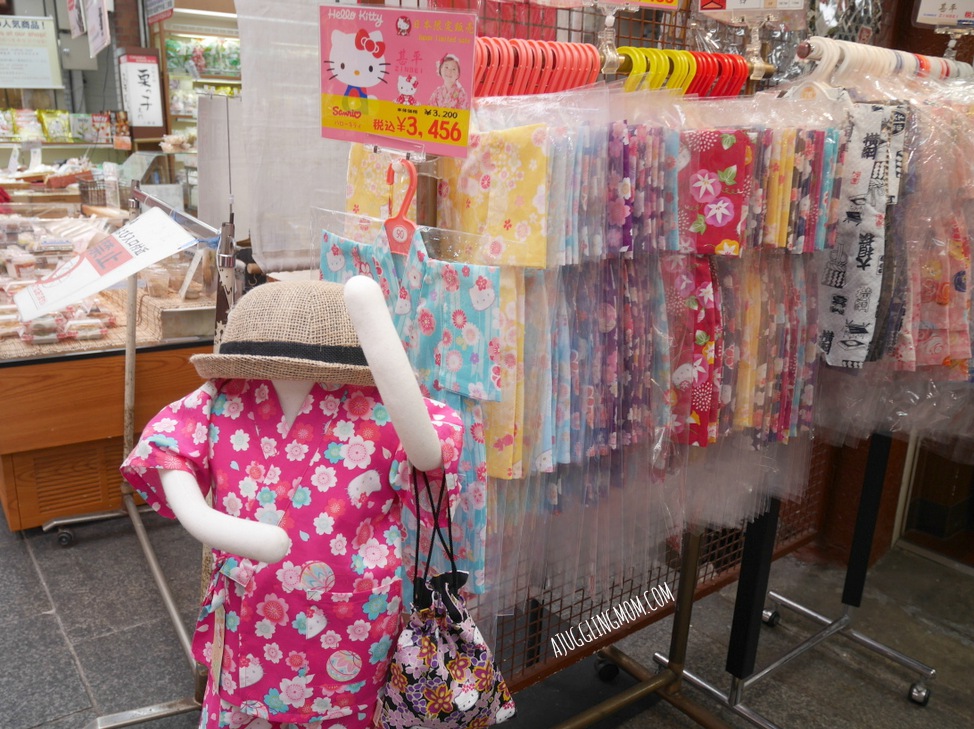 Getting to Furomon Ichiba Market 
Address: 2 542 0073, 2 Chome-4-1 Nipponbashi, Osaka Prefecture 542-0073, Japan
How to get to there:
The closet train station is Nippombashi Station. You'll get there in about 5  minutes.
It's also very close to Namba Station and is a 5 – 10 minute walk away.
Opening hours: Even though it's a market, most shops will be fully open by 10am and close at 5pm. When we left about 4, many stall holders were packing up for the day.
Onsen hotel in Osaka – Dormy Inn Shinsaibashi Hot Spring
Before I end this post, I wanted to share about our choice of accommodation in Osaka.  I researched on onsen (hot spring) hotels after reading about Madeline's experience and thought it would be cool to go to the hot spring every night. I shortlisted Dormy Inn Premium Namba and Dormy Inn Shinsaibashi and decided on the latter for it's proximity to Dontonburi. 
Dontonburi, is a popular street in Osaka that earned a reputation for being a gourmet heaven and is pretty much a MUST GO.
In addition, the hotel was also close to a few train stations that are within 10 mins walk. 
Our tiny room fitted a queen sized bed with very little walking space. As you can see from the photo, we barely had any room after settling our luggage.
But they do have more spacious rooms from what I see from their website which may be preferred if you've got more company.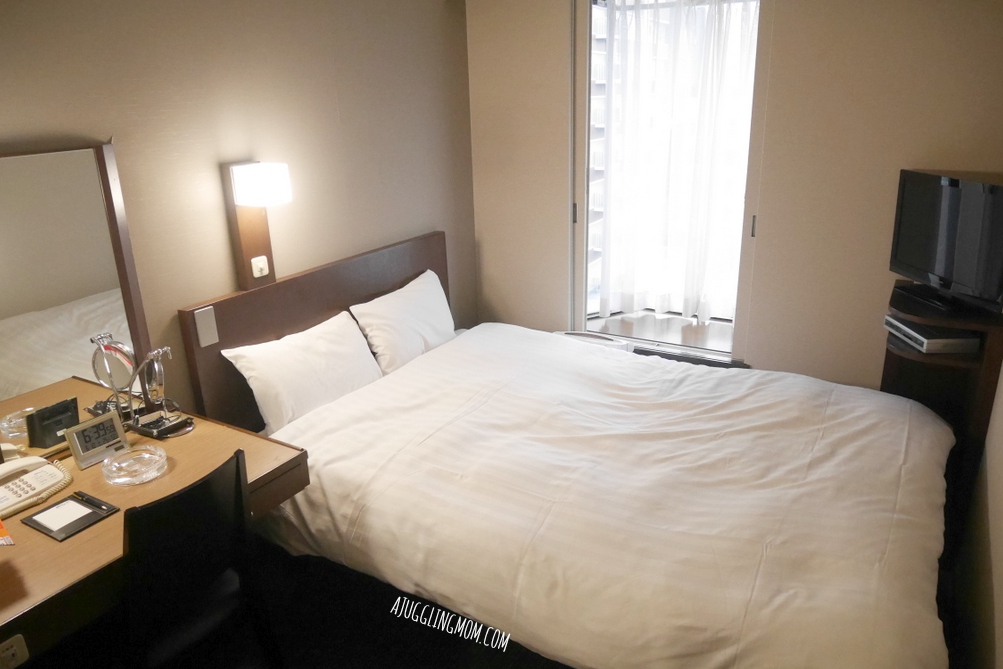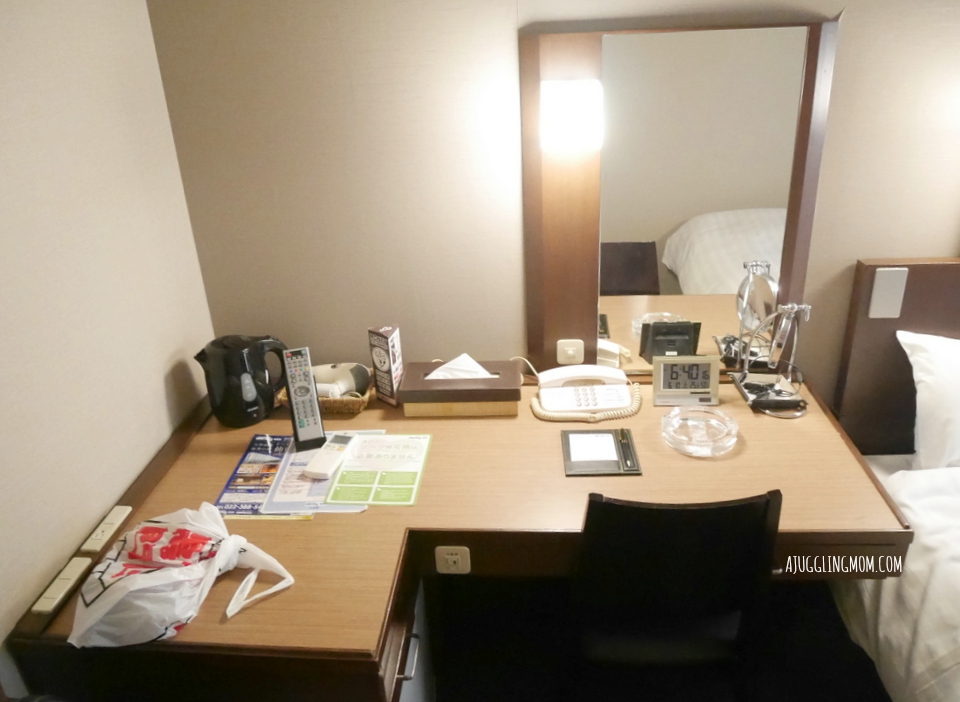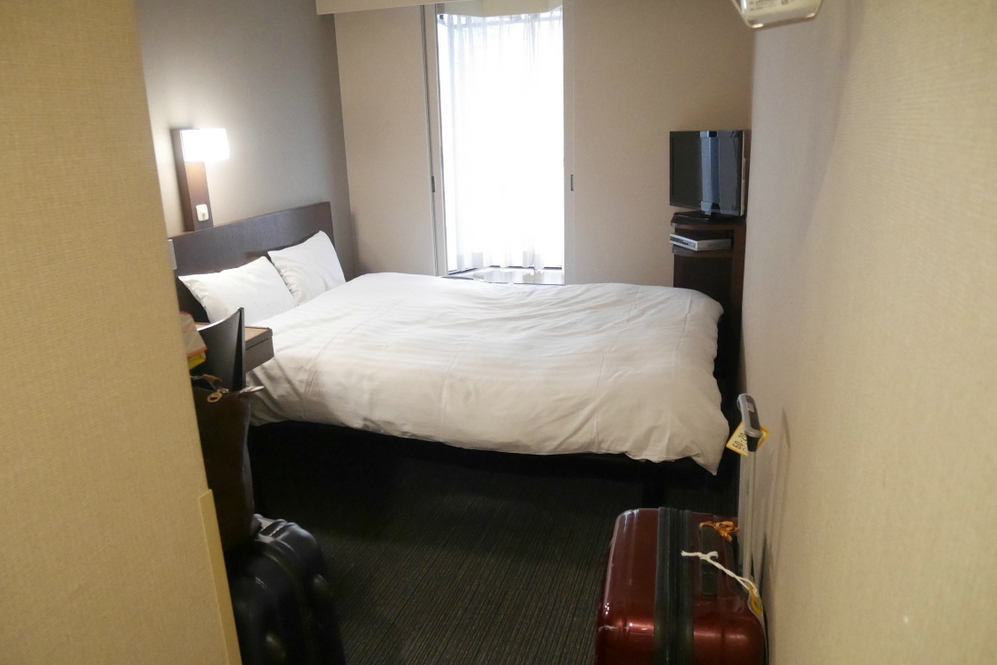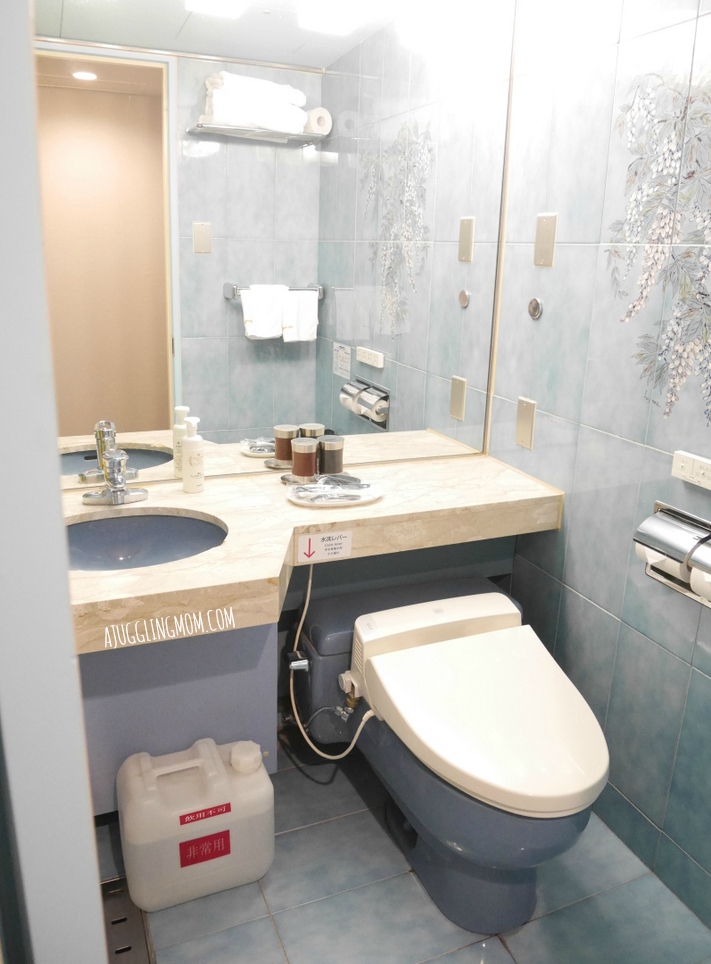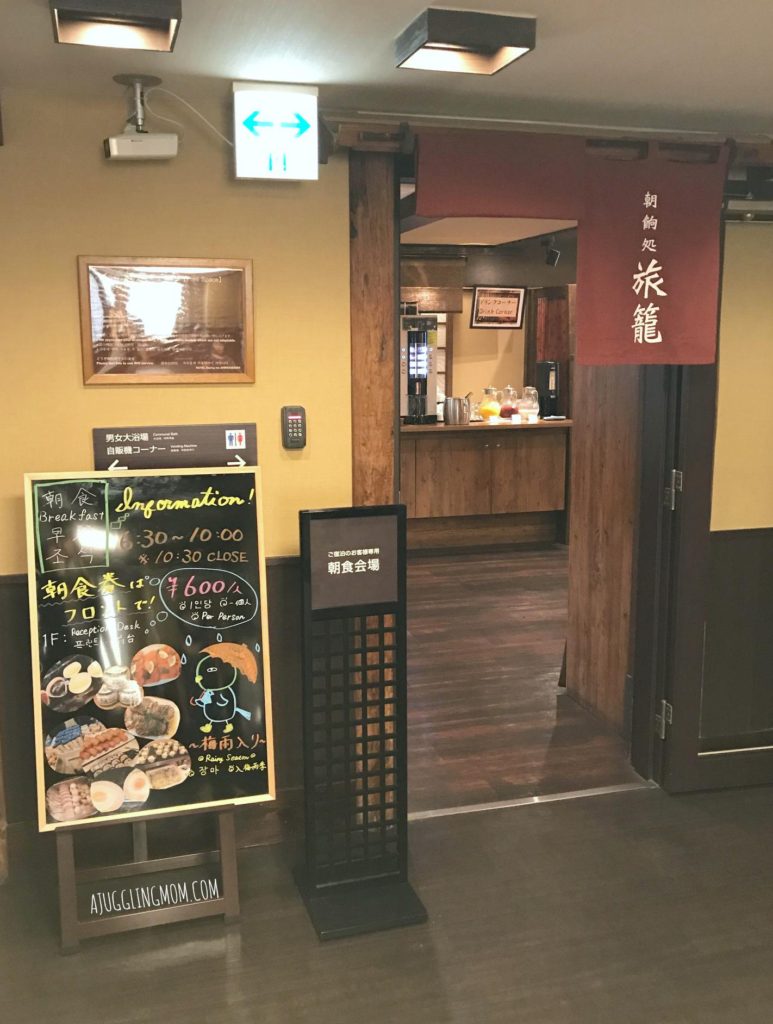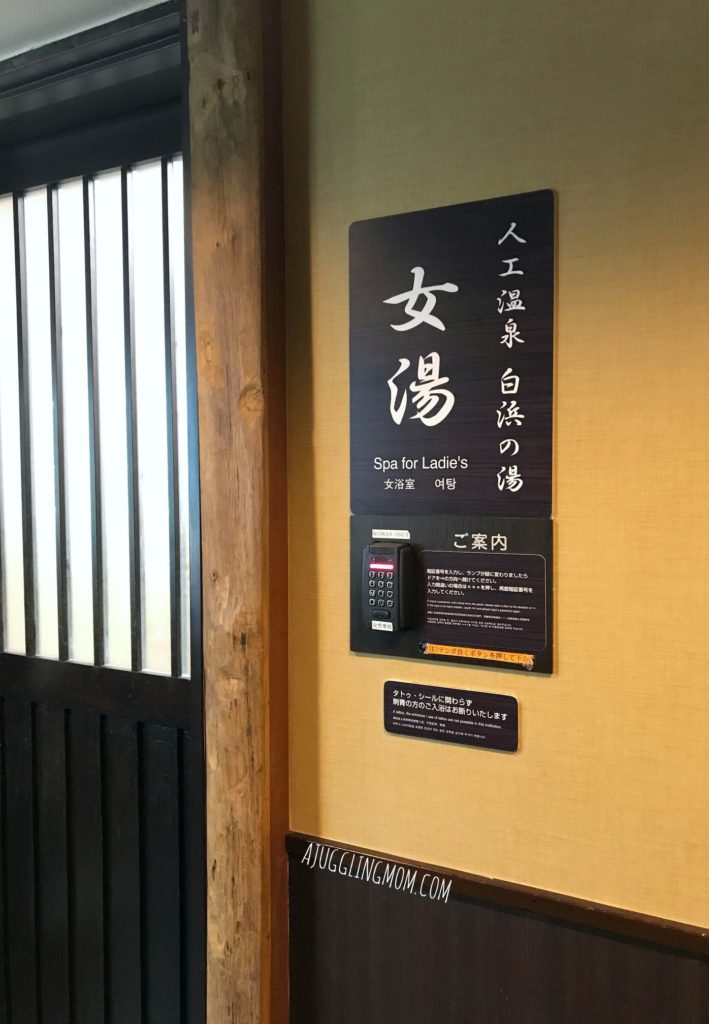 Our stay came with daily breakfast where they offered a spread of local Japanese breakfast. In the evenings, they even serve soba for supper, perfect after a relaxing soak in the onsen. 
No photos allowed in the onsen naturally but you can refer to the hotel's website for photos. According to Alexis, they have 3 pools in the male onsen. 
And if you're wondering, kids are welcome in the hot spring. On the first night, Sophie was terribly shy watching the ladies undress and learning that she had to do likewise before going for a dip. But all her inhibitions faded once she got into the hot bath and it was the prefect end to our days for 3 nights in a row.
Address
Japan, 〒542-0086 Ōsaka-fu, Ōsaka-shi, Chūō-ku, Nishishinsaibashi, 2 Chome−17-3′
Travelling to Japan soon?
More about our Japan holiday in the next post, on our amazing Universal Studio Japan experience and the most adorable Minion Town that just opened this year in April 22017.
If you're heading to Japan soon, don't miss my earlier Japan posts below.
Enjoyed reading this post? Do like my Facebook page to get more family friendly travel updates. You can also follow me on Twitter (@Susankoh) or Instagram (@ajugglingmom) for more travel and parenting posts. See all the places that we visited on our Japan holiday with the hashtag #TaysinJapan
Tagged: family holiday, family vacation, Japan, Osaka