We just got back from one of our most relaxing glamping vacation in Canopi, Bintan and oh how I miss waking up to this sight of the clear blue skies from our tent.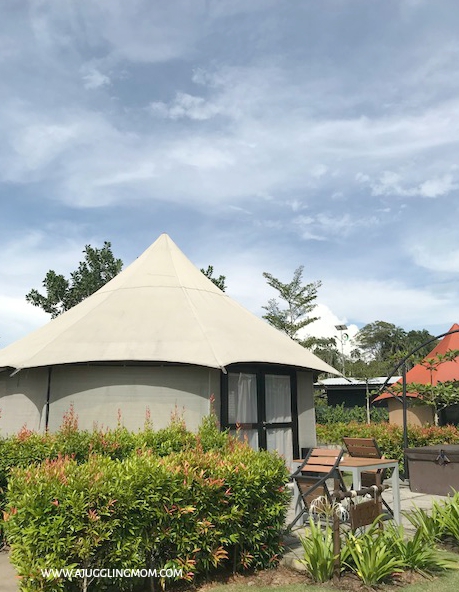 I've been recommending this unique experience to so many friends and no, this wasn't a sponsored or paid vacation. If you're looking for a chillax holiday that's not too far from home, then this is the perfect getaway for you.
This also marks our first time travelling with friends and it proved to be a wonderful decision. Sophie had a wonderful time with her friends who go way back from her kindy days and we parents enjoyed the company as well.
Ferry to Canopi
After a quick brunch at Killney within the Tanah Merah Ferry Terminal, we took the ferry over to Bintan and arrived there in 50 mins.
Thankfully, the journey was smooth sailing and not too choppy. Even then Sophie was feeling strange in her tummy but it all got better once we disembarked and got some fresh air. We were picked up by the shuttle service provided by Canopi and arrived at the resort in just 5 minutes.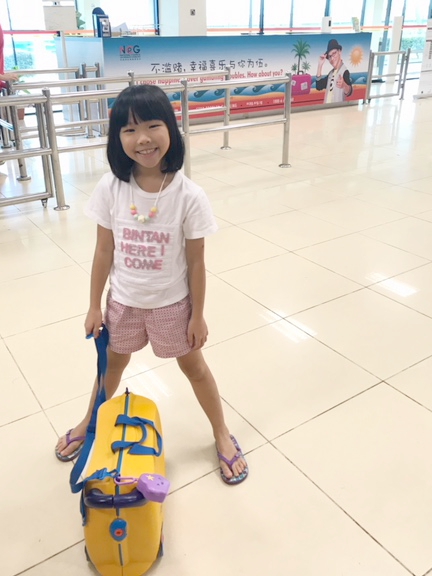 Rooms in Canopi
We booked the Lagoon View Deluxe Tent that came with a personal jacuzzi right outside our tent and paid S$477 for our 3D2N stay via Agoda. In case you're wondering, our tent was air-conditioned, that's why it's a glamping (aka glamorous camping) experience 🙂
I've seen many photos of the Safari tents but still I was pleasantly surprised once I step foot inside it. The room looked so cozy with the king sized 4-poster bed along with a day bed and we had very restful nights during our stay.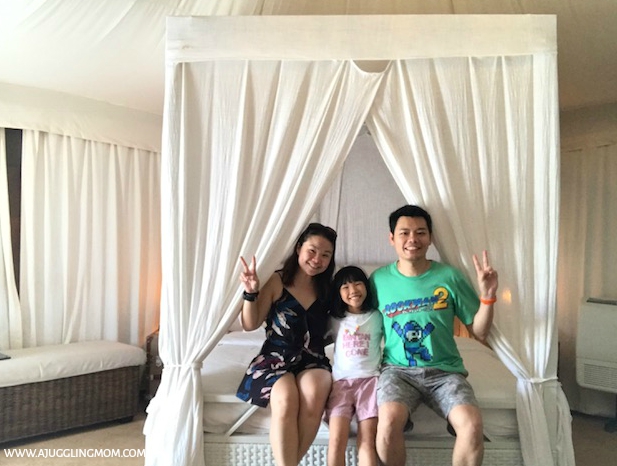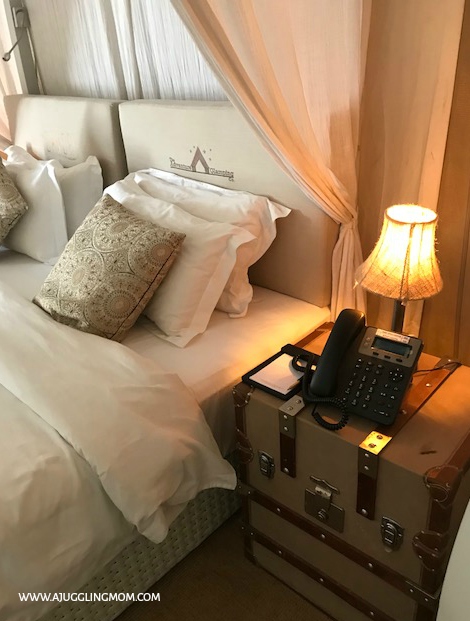 The basic amenities were all there and the room had a mini fridge which was cleverly disguised as an old fashioned trunk.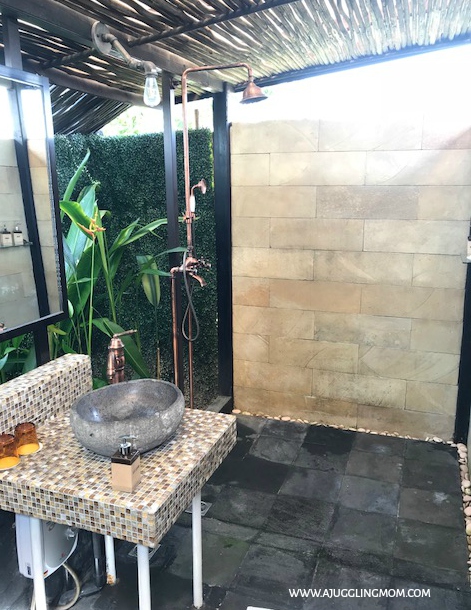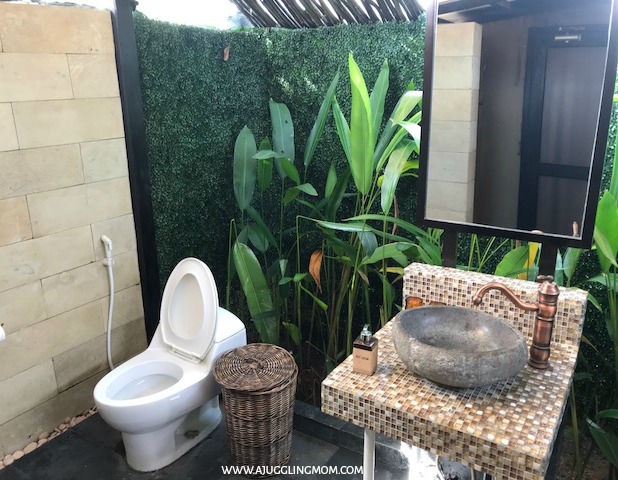 Since this is a glamping vacation after all, you get a taste of outdoor shower…. just kidding.
The bathroom is semi-outdoors and the walls are 2m high, blocking out any unwanted attention. But it can get chilly if you shower in the evenings even with heated water.
Activities in Canopi
The main highlight of Canopi is unmistakably the Azura blue lagoon which was breathtaking. Spanning 6.3 hectares, the saltwater crystal lagoon was such a welcoming sight once we entered the resort.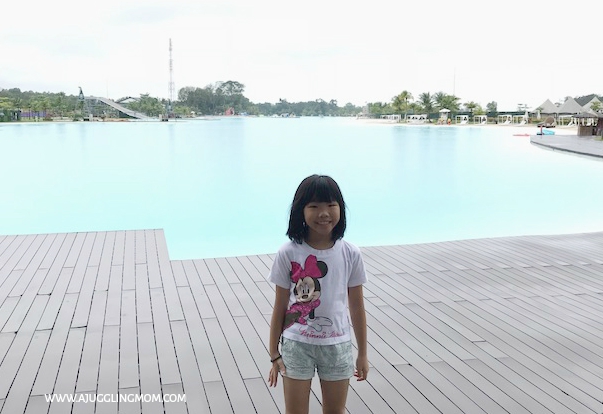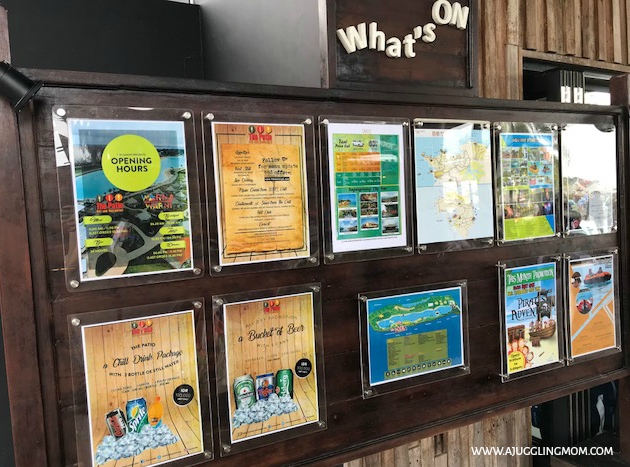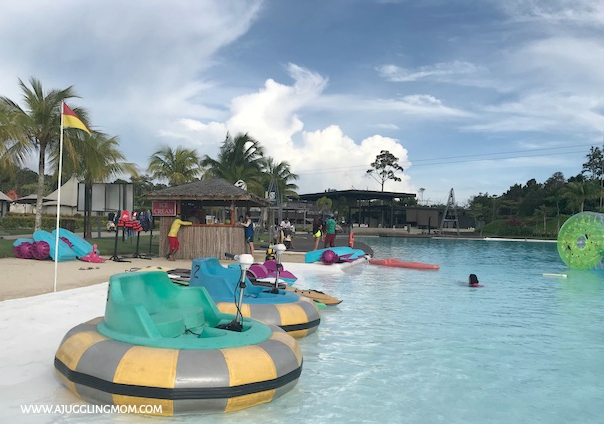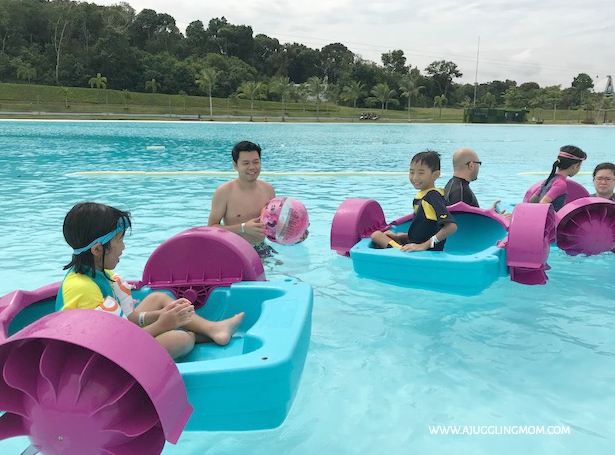 There's a whole lot of things you can do for both water and land activities. You can even head out of the resort if you're feeling adventurous. We did a mangrove firefly tour on the first night and it was a unique experience especially for the kids who saw fireflies for the first time.
We spent most of our time at the lagoon and honestly, we loved every single minute of it. The kids were contented to swim, play monkey in the pool and they also tried hand paddle boats and kayaking.
But the one activity that topped it all was the thrilling water slides at Slip and Slide.
We paid IDR 50.000 per person which is equivalent to S$5 for unlimited play on the slides and it was SO MUCH FUN!!!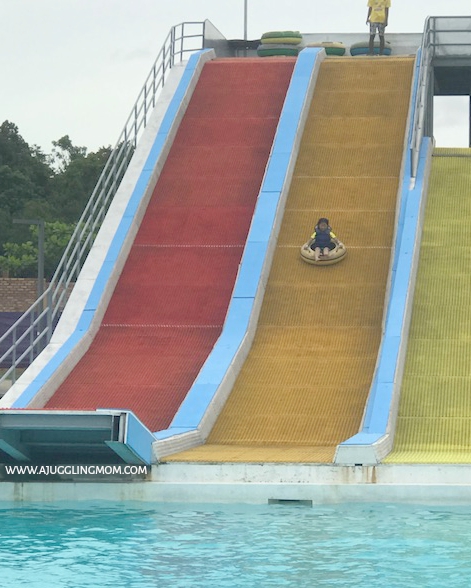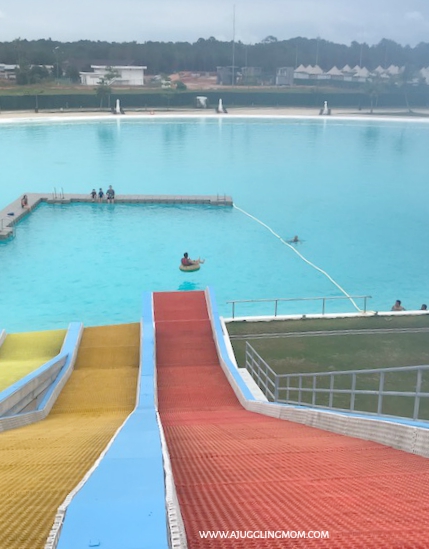 The 3-storey high water slides at Slip and Slide are a MUST try and we all gave it 5 stars. Even though I only managed to get two perfect landings where I didn't do a nose dive and landed head first into the water, I still went on it again and again until my legs ached from climbing up the stairs.
The pool was filled with our laughter and we had a belly ache from laughing at each other's missed landings, which embarrassing to say was really mostly mine.
The red slide on the extreme right was the most thrilling of it all as you can feel yourself being lifted off just as you hit the end of the slide before making a big splash into the pool.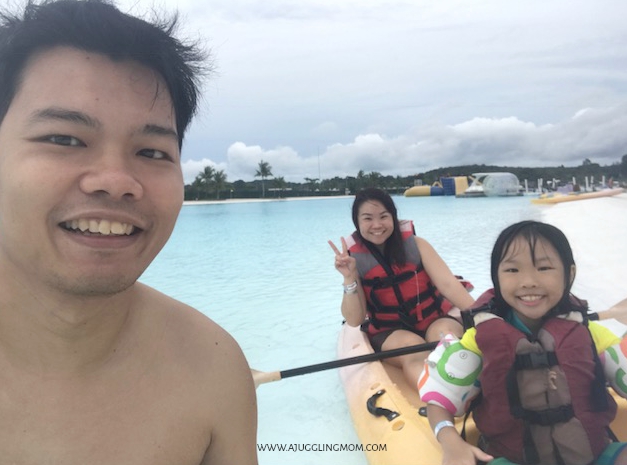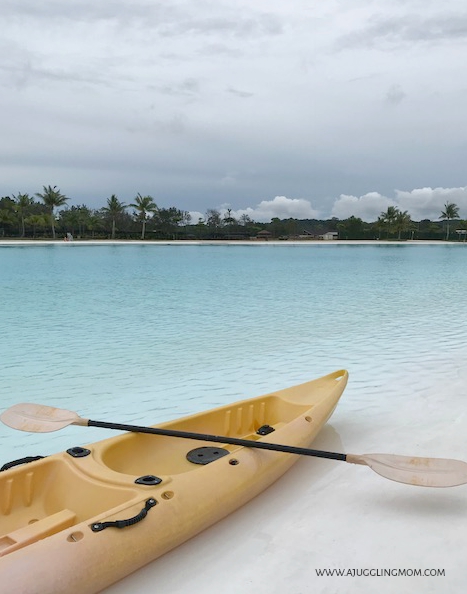 On the 2nd day, we hopped onto the buggy and made our way to Treasure Bay, an activity centre where guests of Canopi can try different water and land activities at a fee. It was the best decision as the kids discovered an indoor playground where they got to enjoy unlimited playtime for S$8 while it was pouring on the second morning.
The only downside was that it's not air-conditioned and even with a high ceiling and a few fans, the playground was pretty warm but that didn't bother the kids a single bit.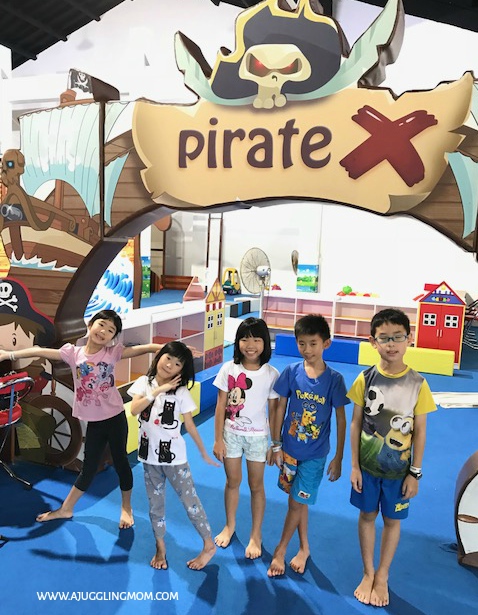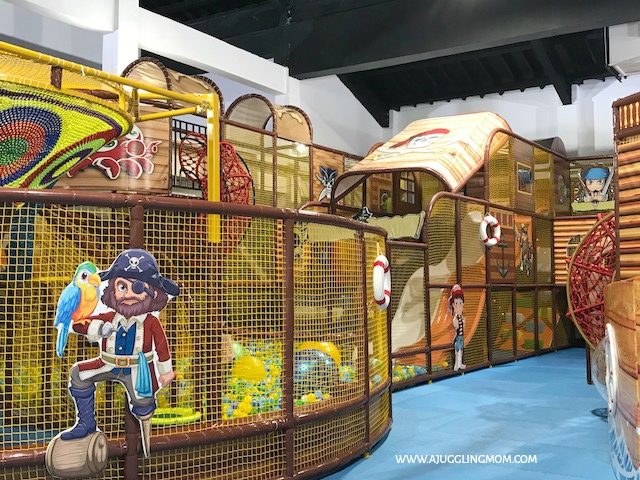 And can you guess what we adults did while the kids were having a ball of a time? We went for an hour of massage and it was bliss for everyone 🙂
If you're planning to go for massages, do check out the spa at Treasure Bay. We paid IDR280.000 for an hour of massage and it was pretty good. I heard that the spa at Canopi is not bad too.
On the last day, the kids returned for more indoor play after we checked out while some of us rented escooters just for kicks. No bike licence is needed as the escooters only go up to 20 km/hour.
Though I was initially apprehensive about riding it alone, I'm glad I went ahead with it anyway. It was so liberating to ride on one around the lagoon and have the cool breeze in your hair. A very fun experience especially if you've always secretly harboured dreams of riding a motorbike.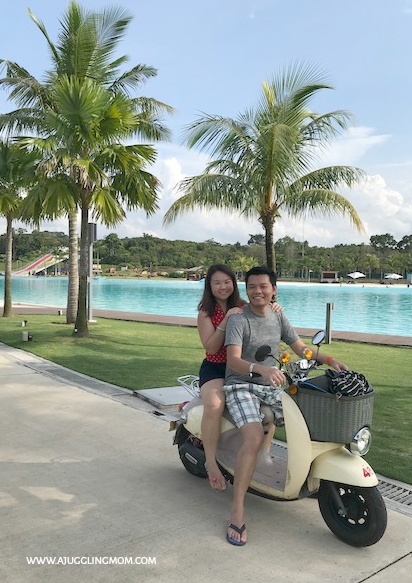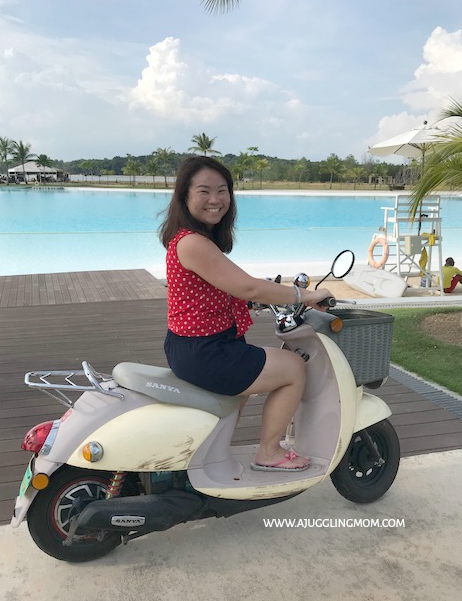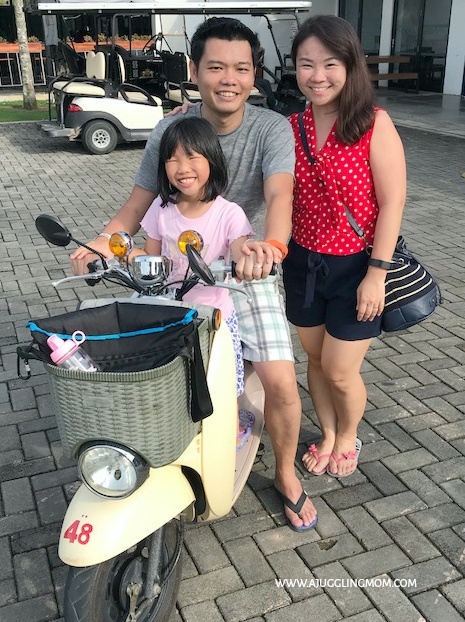 Food Choices at Canopi
In terms of food choices, the main restaurant, The Patio, wasn't all that shabby. Sure, prices are expensive where you can expect to pay around S$16-S$18 for a pizza and $12 for nasi goreng and mee goreng which are the average prices for dining options at a hotel , but the choices are pretty decent with both local and Western dishes.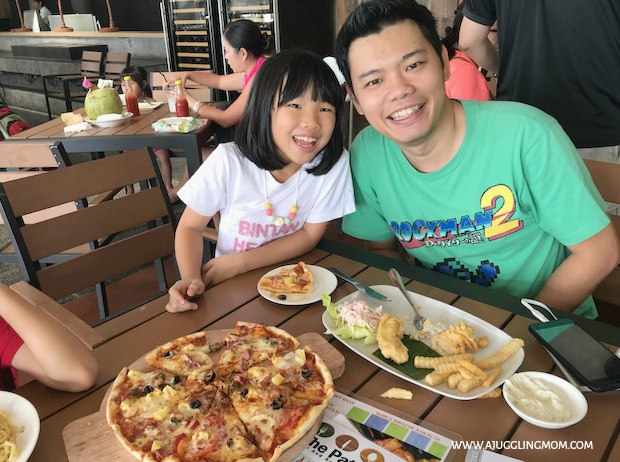 For breakfast, we headed to Warna Warni, another cafe within the resort grounds, where they have a playground outside the cafe. The breakfast spread consisted of the usual fare of eggs, pastries, porridge, noodles, french toast, cereal, fruits, etc.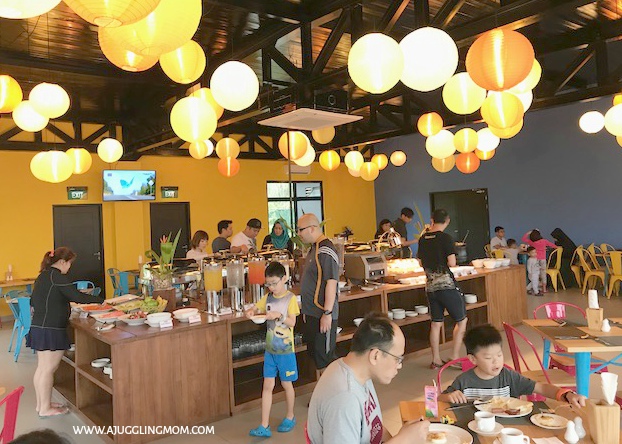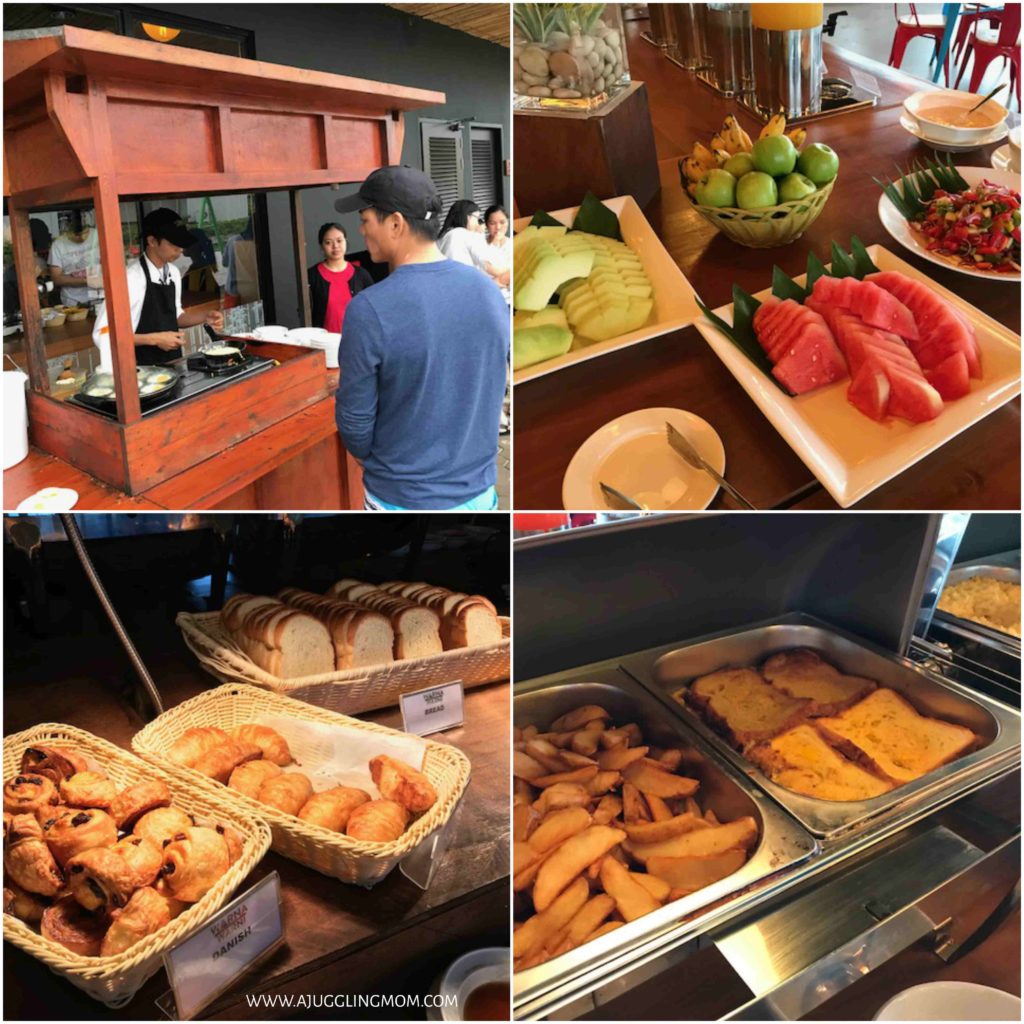 We also tried Hook On restaurant at Treasure Bay for dinner but I find their style of zi char quite different from ours and didn't fancy the food very much. We wanted to order crabs but the waitress said they only had small crabs so we gave it a pass. In the end, I only find their fried rice and grilled fish nice.
If you're feeling adventurous, you can also head out to the nearest hawker centre or go to the kelong for seafood.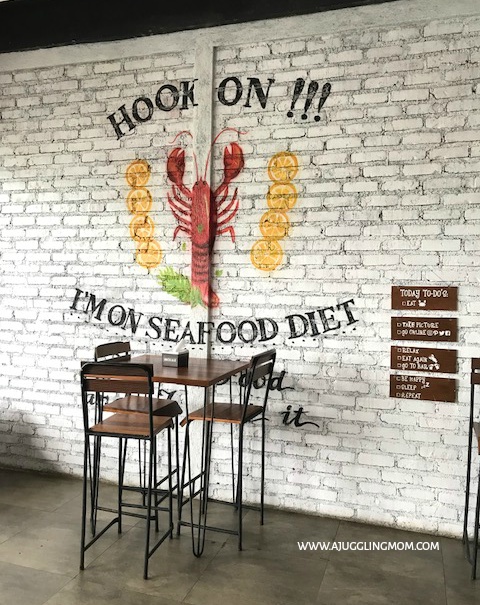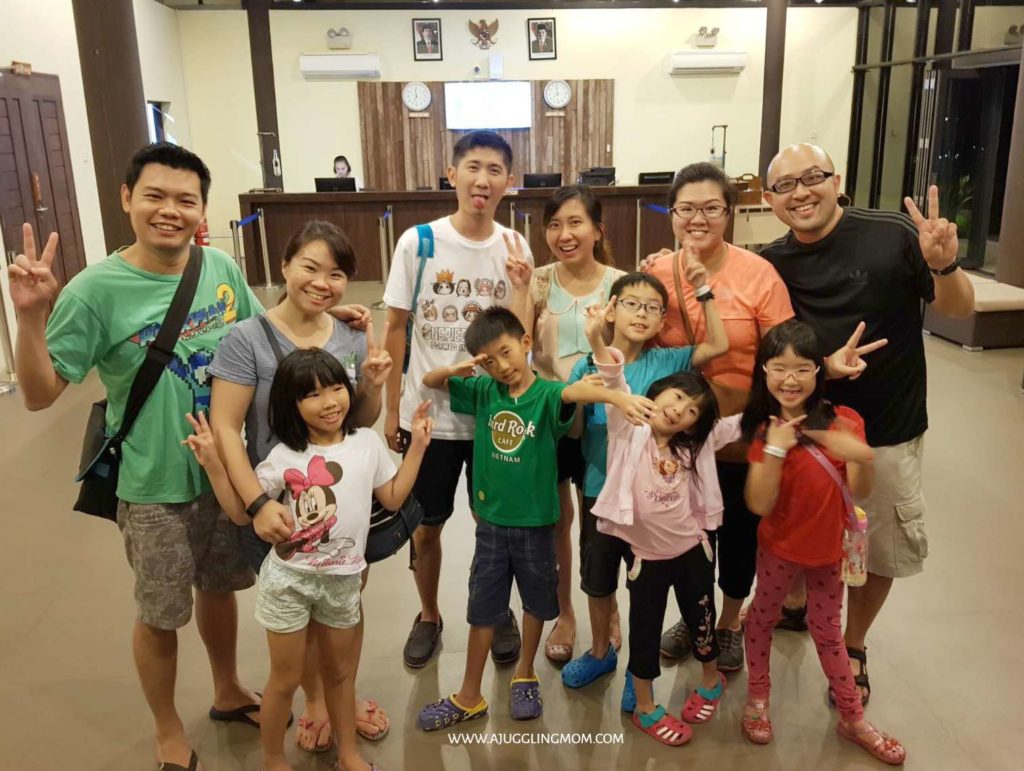 At the end of our 3D2N in Canopi, the kids were all so reluctant to leave and wanted us to plan another trip back soon. I'm pretty sure we all feel the same given that all 3 families enjoyed the glamping experience and had a rejuvenating holiday.
If you're thinking of a short getaway with kids, then look no further. Better still, round up a few families and book yourselves a getaway at the Canopi for a chillax holiday (#notsponsoredok)
If you're looking for other family vacation ideas, don't miss these posts:
Enjoyed reading this post? Do like my Facebook page to get more family friendly travel updates. You can also follow me on Instagram (@ajugglingmom) for more travel and parenting posts. Follow us on all our travel adventure at #Taystraveldiary
Tagged: Bintan, family friendly, family friendly hotel, Glamping, Indonesia, kids, review, travel