At the beginning of the year, I started on Project Life as a memory keeping project. The purpose of the project is another outlet for me to document my everyday life with photos and words since I like to go trigger happy on my camera. Besides, life is made up of all these little moments that can be so fleeting and I want to remember as much details as I can. If you're interested, you can read more about what Project Life is from my earlier post here.
It's been 50 weeks from the start of the year and I got to admit that it's actually a lot harder than it looks to keep up with weekly journalling especially on weeks when it passes by uneventfully and I don't have many photos to include in my spreads.
If you're like me, then read on to get some ideas on things you can include in your Project Life spread.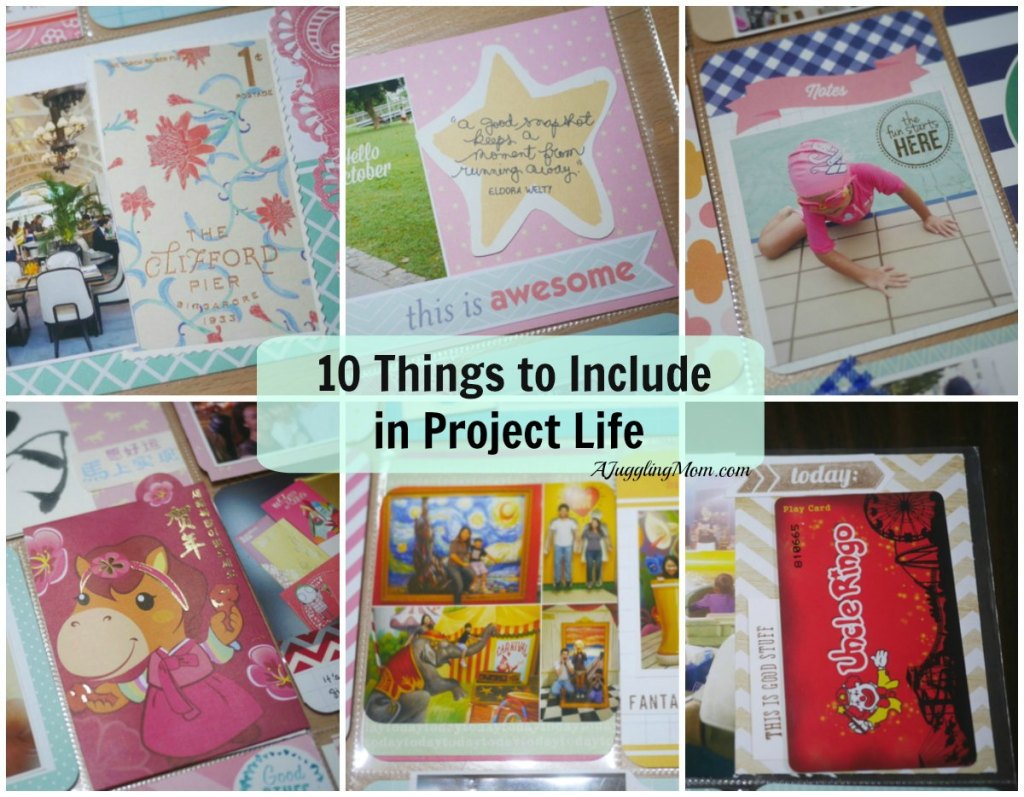 1. Business Cards
I'm a foodie at heart and it's not surprising to find tons of photos of food, cafes, restaurants, coffee joints in my album. I enjoy cafe hopping and visiting new eaterys in town. So whenever a place leaves me impressed, I always pick up a business card before I leave to include them in my album.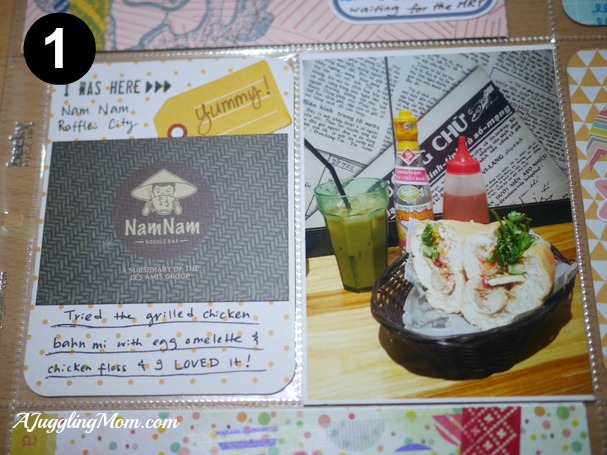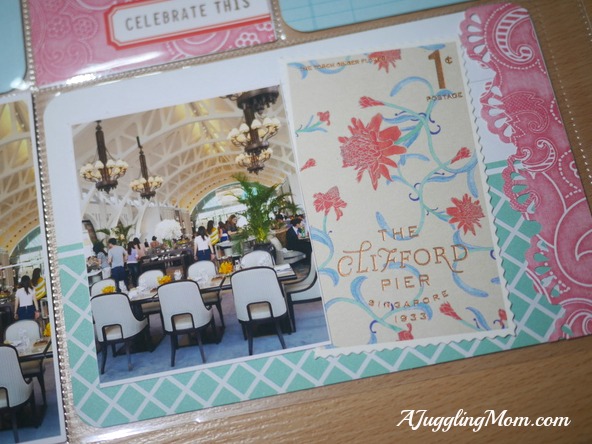 After all, I'm sure many of these businesses take pride in their business card design. The bonus is when they have beautifully designed and unique ones this one which resembles a stamp from The Clifford Pier.
2. Whatsapp messages
This was the first time that my hubby offered to cook dinner and of course I had to include it in my Project Life because how sweet is that?
You can also do the same with your Facebook status, a Tweet, or even SMSes too.
3. Your Child's Drawing 
My daughter is my number fan of my Project Life album and loves to see herself and all things associated with her, which are plentiful in my album if you haven't already noticed. So I've included some of her art pieces as a keepsake. She gets super excited and loves pointing them out to me as she recounts the story behind those drawings.
4. Ticket stubs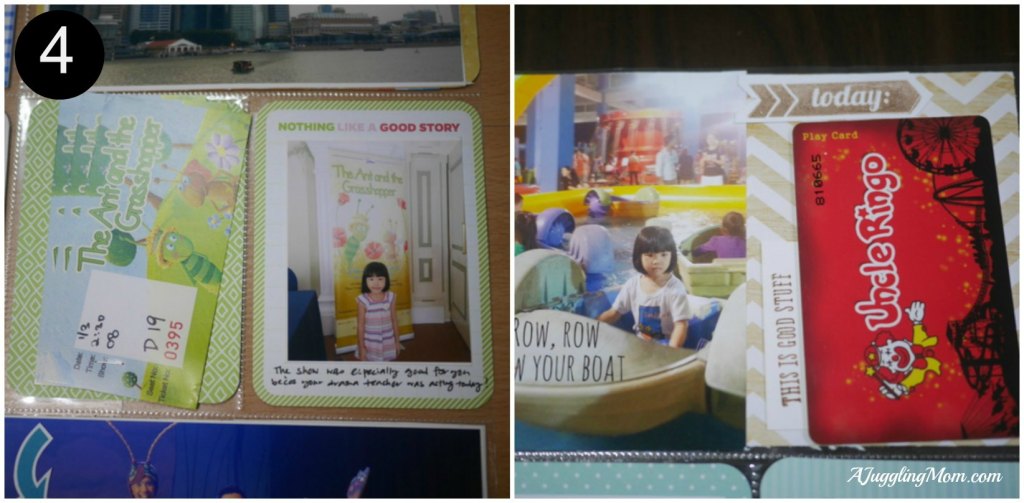 I like hoarding keeping my movie ticket stubs but it's a bummer that they usually fade with time unless you laminate them.
So instead, I keep my theater ticket stubs or attraction entrance tickets since we frequent these places quite often. I especially like this Uncle Ringo stored value card from the River Ang Bao this year. So nostalgic!
And of course boarding passes to remember our vacations overseas.
5. Packaging
Come across a fun packaging? Why not incorporate it in your Project Life album?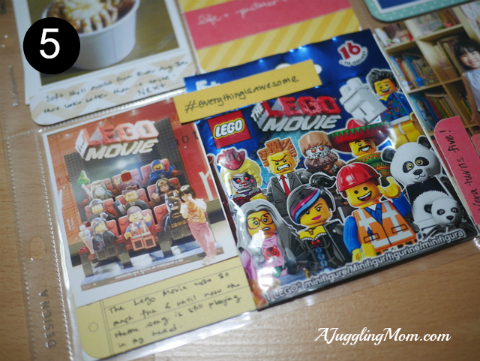 This Lego packaging of the Lego movie was a reminder of the fun movie we caught together and that was also how I got started on my humble Lego blind pack collection.
6. Traditions
Chinese New Year is all about traditions, so this one will be useful to bookmark. Think Chinese New Year and you'll think of red packets and that's what I included in my Chinese New Year spread.
And since it's the year of the horse, I also cut out the Chinese character for horse, 马, in my title page.
To add an oriental touch, I also included a Chinese knot ornament to jazz things up.
7. Stamping on photos
I used to stamp on my Project Life filler cards. But recently, I learnt a new technique to stamp directly on my photos and they really fill the spaces in the photos nicely.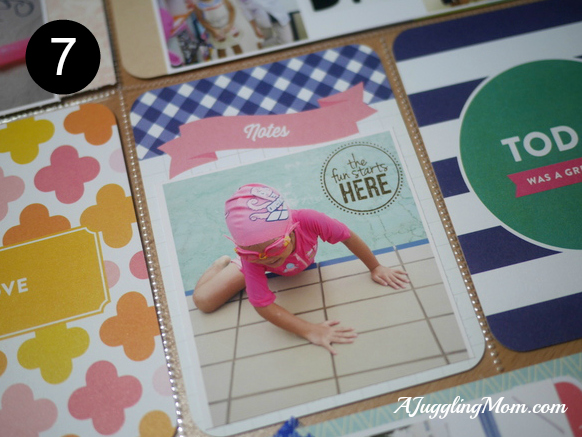 I have a soft spot for sentiment stamps and have bought quite a few from Technique Tuesdays, especially the ones from Allie Edwards. To get a clear impression, I recommend using the versafine stamp pad as it gives a very clear and crisp look.
8. Photo collages
The typical way to include photos is to print one photo for one journalling card.
But after seeing some other Project Lifers include photo collages, I thought it was a smart way to include more photos especially when you have events where you go trigger happy on your camera like holidays, birthdays, etc.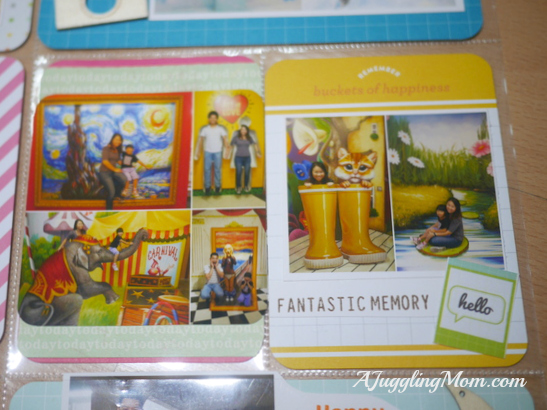 9. Stickers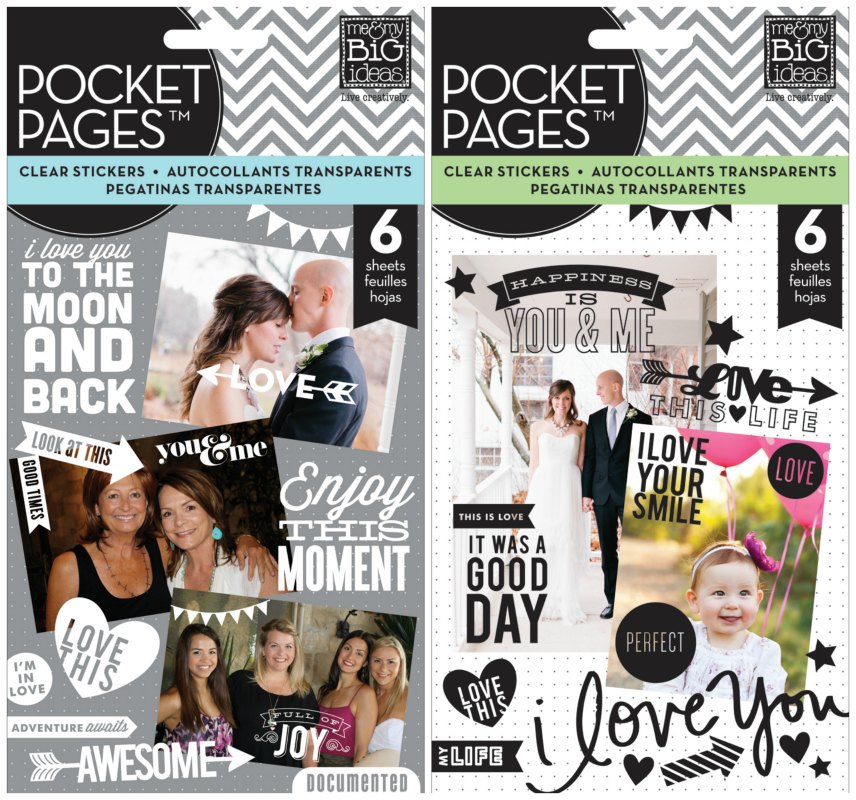 I discovered these me & my Big Ideas clear stickers from fellow Project Lifers and have been incorporating them to my photos recently. They come in white, black and even gold text that instantly add dimension to my pictures.
A pack is about $9.90 from the local scrapbook stores and you get a very good deal at US$3.49 if you buy them under the Add-On program from Amazon here . If you hit US$125, you'll even qualify for free shipping from Amazon but do check out the conditions for that.
Here are some samples of how I incorporated them in my spreads.
10.  Cut outs
Some of the Project Life filler cards have quotes that I like but it may be too big to include the whole card. So what I do is to trim the quote that I want to size and stick them to my 4X6 cards.  You can do the same for sentiments, quotes, or other shapes and sizes.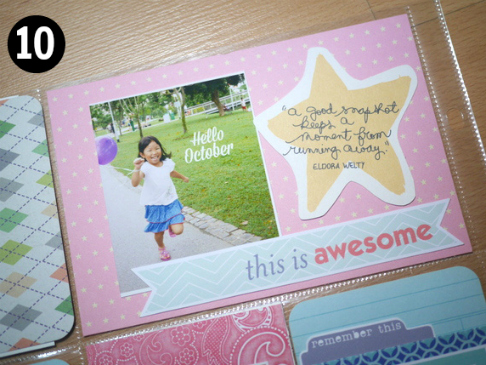 So there you go, my list of 10 interesting things to include in your project life spread. Which is your favoruite and what would you add to the list. I'll love to exchange ideas with you 🙂 You can view more of my Project Life spreads on my Instagram account at @Ajugglingmom.
We're just two more weeks away to the end of 2014. Hope you're catching up with your 2014 Project Life. I'm still at week 43 and hope to complete them in these two weeks. *Fingers crossed*.
Into memory making? Here are some other projects I did too
Tagged: Project Life, scrapbook, scrapbooking