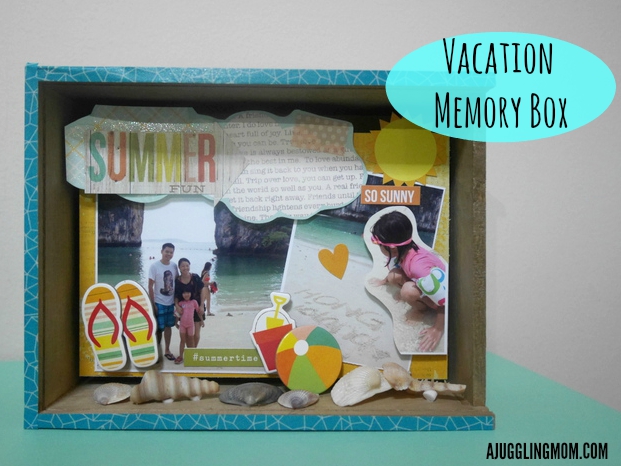 It's no secret that I enjoy travelling and being a memory keeper, I'm often guilty of returning home with all kinds of memorabilia from ticket stubs, maps, name cards of the places we dined at and also souvenirs and trinkets of all sorts. Sounds familiar to any of you?
Every trip, I often end up with literally hundred of photos because I'll be busy snapping photos. Some to scrapbook, some to blog and lots lots more for those precious memories down the road. And while I have these photos stored on my computer, on Facebook or this blog, I prefer doing something tangible about them so they don't just remain in digital format.
On my recent holiday to Krabi, the highlight of our trip was the visit to Hong Islands so I decided to make a unique vacation memory box with memories of our time there. And thanks to little Sophie, I was gifted with some sea shells which she picked up when we went snorkeling.
DIY Vacation Memory Box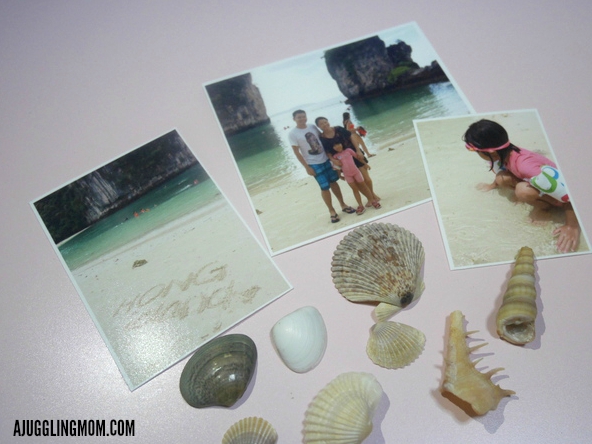 I printed three photos for this project and used a shadow box from Daiso. Did you know that of late Daiso has become a crafting heaven which they brought in so many craft items and at such affordable prices, I often buy things like that and keep them until I get struck with an idea.
The box comes with a transparent  cover that you can slide from the side but I left it out in this photo as it was too reflective. The cover was a great idea to keep dirt and dust out of the way especially if it's going to be a display piece.
Since this was going to be a beach scene, the Simple Stories Summer Vibe collection was prefect for this project and I used the chipboard stickers like the flip flops, sand pail and beach ball. Plus I really like how cheery the colours are. Totally reminds me of how wonderful Summer is 🙂
The word stickers are also from the same collection and how cute is the hashtag #summertime sticker too. The cloud cardstock was from another collection but I can't recall which one anymore.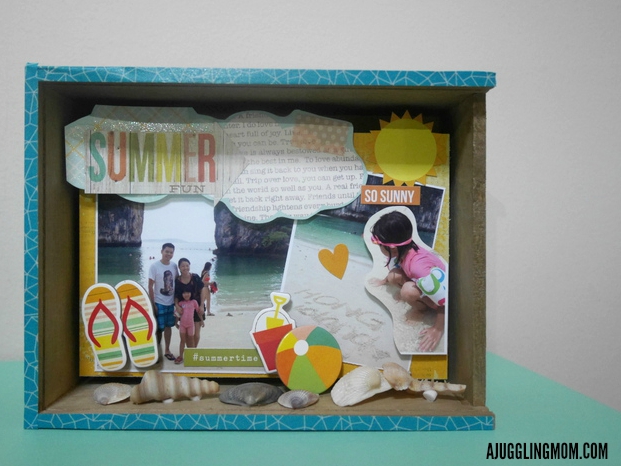 To accent the edges of the box, I used a marine coloured washi tape and just a splash of colour made so much difference. To hold the sea shells down, I used foam dots stickers from Diaso too and it was only on hindsight that I realised one at the corner was exposed 😛 That's what happens when I stay up to craft late at night.
I really like how this vacation memory box turned out and took me less than an hour to complete it.
If you liked this DIY project, here are some other vacation memory making ideas:
Tagged: crafting, creativity, Daiso, scrapbook