"It finally came down to this, where I had to pry her fingers from his hand and

tell her firmly that this man is my husband…"

 
As much as I am a mum, I also wear the hat of a wife and the same goes for my husband. But if you're like me and have been married for over a decade, you could do with a reminder every now and then, as well as our kids.
Recently, I made a deal with Sophie that Daddy and I will go on one overseas trip without her. Of course she wasn't happy to learn that she's been excluded from our plans. And to further rub salt to her wound, I added that we'll have two date nights in a month all in the name of nurturing our marriage.
At 9 years old, Sophie still plays lightbulb and insists that we hold her hand, giving Alexis and I limited opportunities to hold hands like we used to.
It was one of those days, when she squeezed between us and demanded that she holds Daddy's hand. I had to pry her fingers from his hand and tell her firmly that this man may be her daddy but he's also my husband.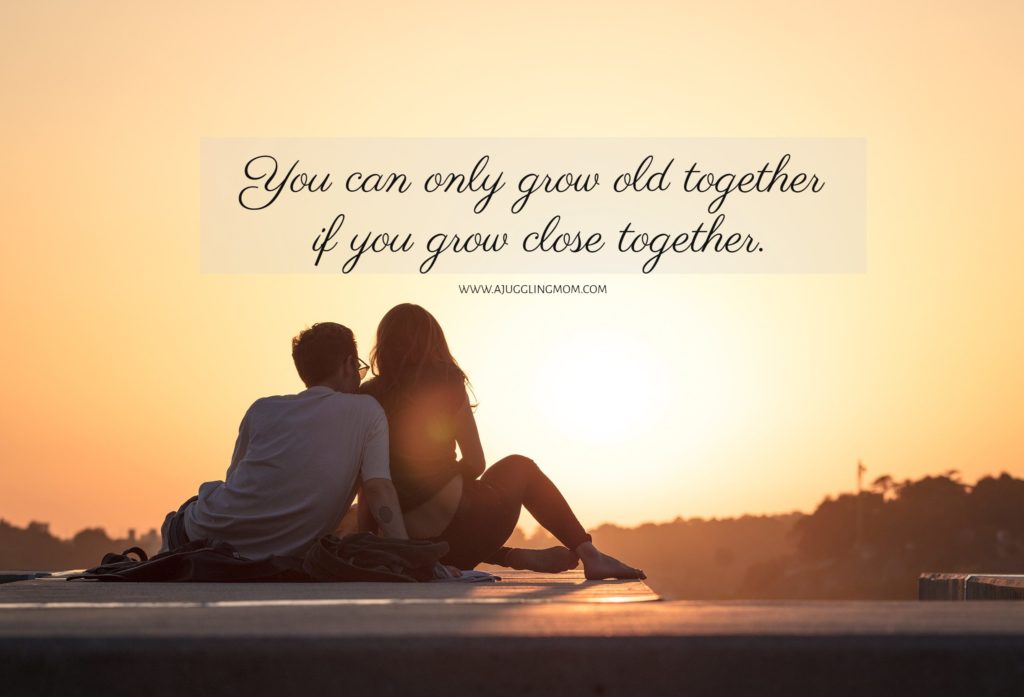 Like many couples, it's easy to allow the kids to overtake our marriage. After all, we have a responsibility to love them, care for them and raise them. And so often, this comes at the expense of our spouse who have been side lined while they watch us fuss about the kids while neglecting them.
In other cases, it could be time away from each other as a couple buries themselves in work, building a career and climbing the corporate ladder.
They are all not wrong in themselves, after all we've only got a window of opportunity to maximise our earning potential or care for the kids while they are young.
But in reality, I see couples who spend so little time together that they end up looking more like roommates living under the same roof than a couple who are committed to love and honour each other till death do them part.
Plan your dates
I'm a firm believer in making intentional plans for dates to happen. Frankly if left to my unromantic husband, we'll never go on any dates because Alexis would rather retreat into his man cave after he comes home from work than to plan an evening out. So he's really no different from most husbands, even though I often sing praises of him on my blog.
But I've realised that setting time aside for us may be what my husband needs as well, in order to remember that he's also my husband, my lover and not just a dad.
The greatest gift a dad can give his children is to love their mum.
And since we're on the topic of couple dates, here's a nearby get away you can plan for your next couple holiday to Bangkok.
Couple trip to Bangkok
Since this was a couple retreat, we booked ourselves into the Hua Chang Heritage Hotel, a luxurious boutique hotel that was elegantly alluring both in terms of ambience and design.
Besides its close proximity to 2 BTS stations (Siam and Ratchathewi station), the hotel is a short distance away from MBK Center, Siam Discover, Siam Centre and Siam Paragon. Despite it being in the centre of all the shopping action, a peaceful retreat awaits you once you step foot into the hotel lobby.

This boutique hotel was highly recommended by many friends and our stay there doesn't disappoint. To spice things up, we visited a couple of new places in Bangkok and here are our top 3 picks.
1. The Gardens of Dinsor Palace
The Gardens of Dinsor Palace is the perfect place to dine like royalty.  The two storey mansion was once the royal residence of a royal Princess and today, it houses a modern European dining concept, a café and a bakery.
But the star has to be the lovely garden setting with swams in the pond and even a pair of peacocks making every corner so instagrammable.

 Alexis ordered the Seared Scallop & Lemon Risotto (฿530) and I had the Pappardelle Lamb Ragout Pasta (฿360). While Alexis felt that his risotto dish could be more flavourful, I had nothing but praises for my dish with its well seasoned, tender pieces of lamb that melted in my mouth.

For such an exquisite experience with top notch service, we were surprised that prices were not exorbitant and costs a little more than what you would expect to pay at regular restaurants in the malls. In fact, we'll much rather dine here and enjoy this quiet and relaxed setting than go to any of Bangkok's sky bar for dinner. The Gardens open as early as 8am for breakfast and close at 11pm, making it ideal for any meal of the day.
We also hear that they are a popular venue in Bangkok for planning a proposal which goes to show that it checks the box for being a romantic spot!
The Gardens of Dinsor Palace
Address: Soi Chumbala Sukhumvit Road (between Soi 59 & 61) Wattana, Bangkok
2. Burger and Lobster
For a more indulgent meal, we ate at Burger and Lobster, a famous lobster rolls restaurant that hails from London.  Despite its steep prices, it had been highly rated by many food bloggers, so we had to try it for ourselves and see if it's all just a hype.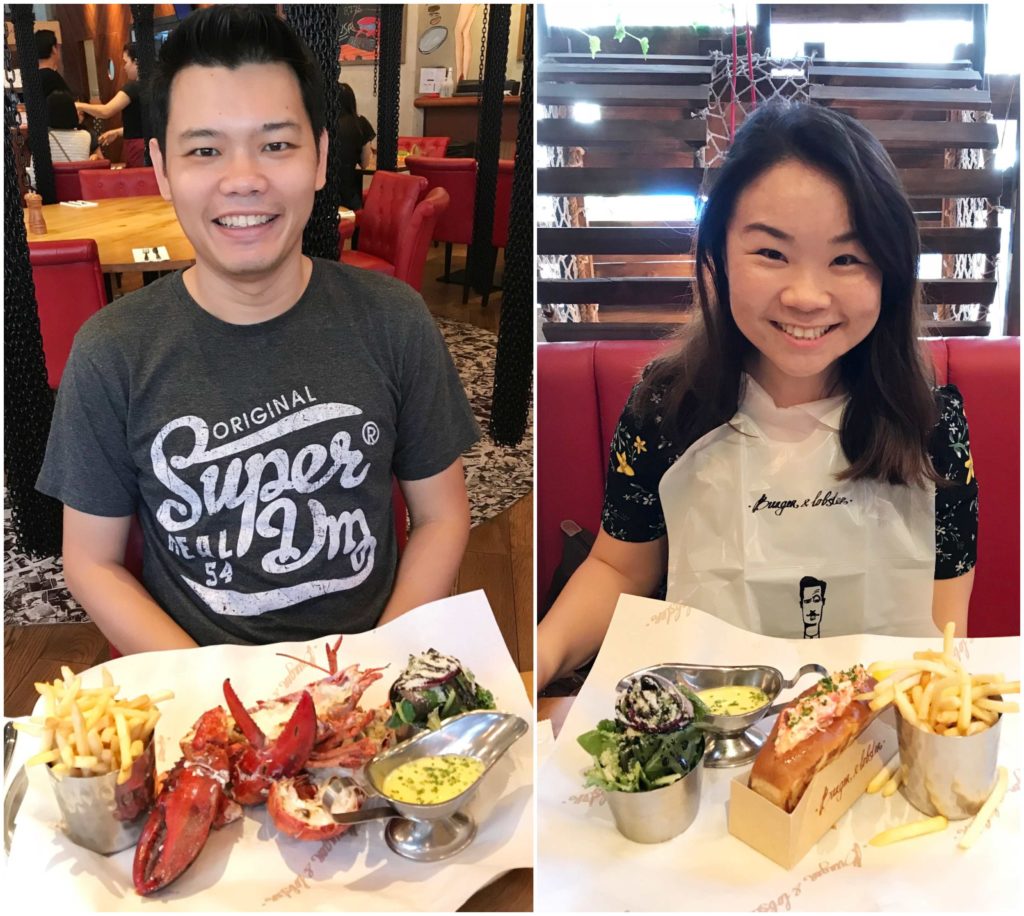 We ordered the B&L Thermidor (฿2100) which is a whole cooked lobster cooked in herbed velouté and mushroom sauce, topped with a cheesy crust and served with a salad and toasted garlic bread.
For the second dish, we had the original roll (฿1500) a B&L classic of chilled lobster meat dressed in smooth lemony Japanese mayo. if you want my honest opinion, we enjoyed the lobster roll more than the thermidor as we savoured the freshness and sweetness of the thick lobster chunks.The lemony dressing went very well with the lobster meat and toasted brioche roll and we were utterly satisfied with our meal.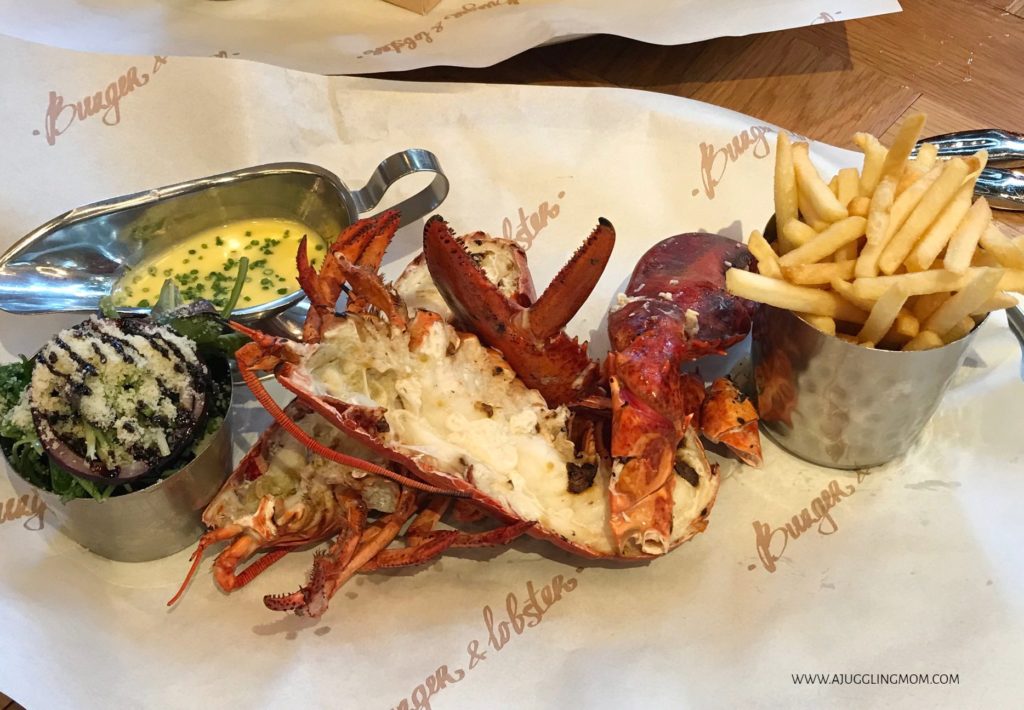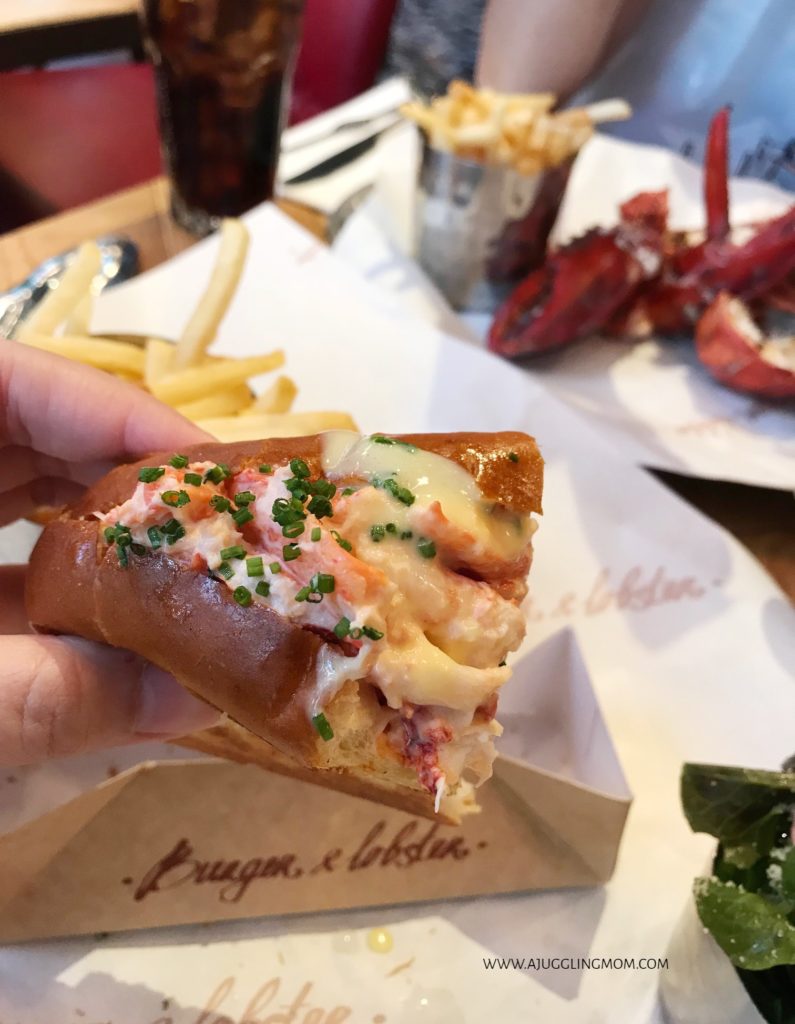 Alexis is hardly impressed by food, but Burgers and Lobster made it a very memorable dining experience for a seafood lover like him and for that it's worth every dollar.
Burger & Lobster
Address: Gaysorn Plaza, 999 Phloen Chit Rd, Khwaeng Lumphini, Khet Pathum Wan, Krung Thep Maha Nakhon 10330, Thailand, Bangkok
3. Chocolate Ville
After seeing tons of beautiful photographs of this theme-dining restaurant and themepark on Instagram, I had to persuade Alexis to go to Chocolate ville because:
this place was about 45 mins away from Bangkok city
its all about taking photos, photos and more photos
We planned on reaching around 4pm when they open their doors and to catch the golden hour to capture the best lighting for photos.  But we got stuck in the infamous Bangkok jam for our Grab ride and there were already hordes of people from tour groups.
Nevertheless, we didn't allow that to dampen our spirits and went round to explore this photogenic themepark.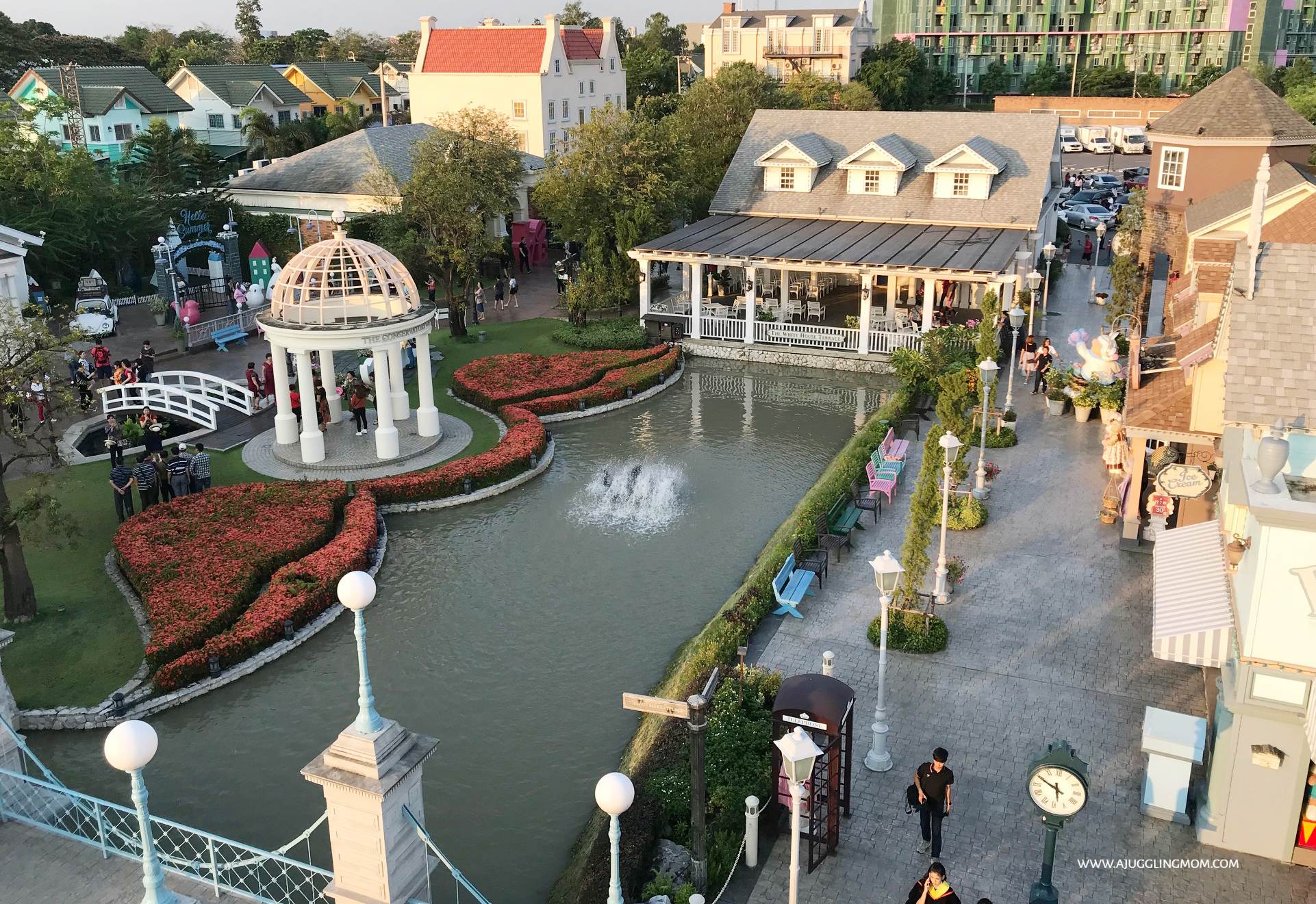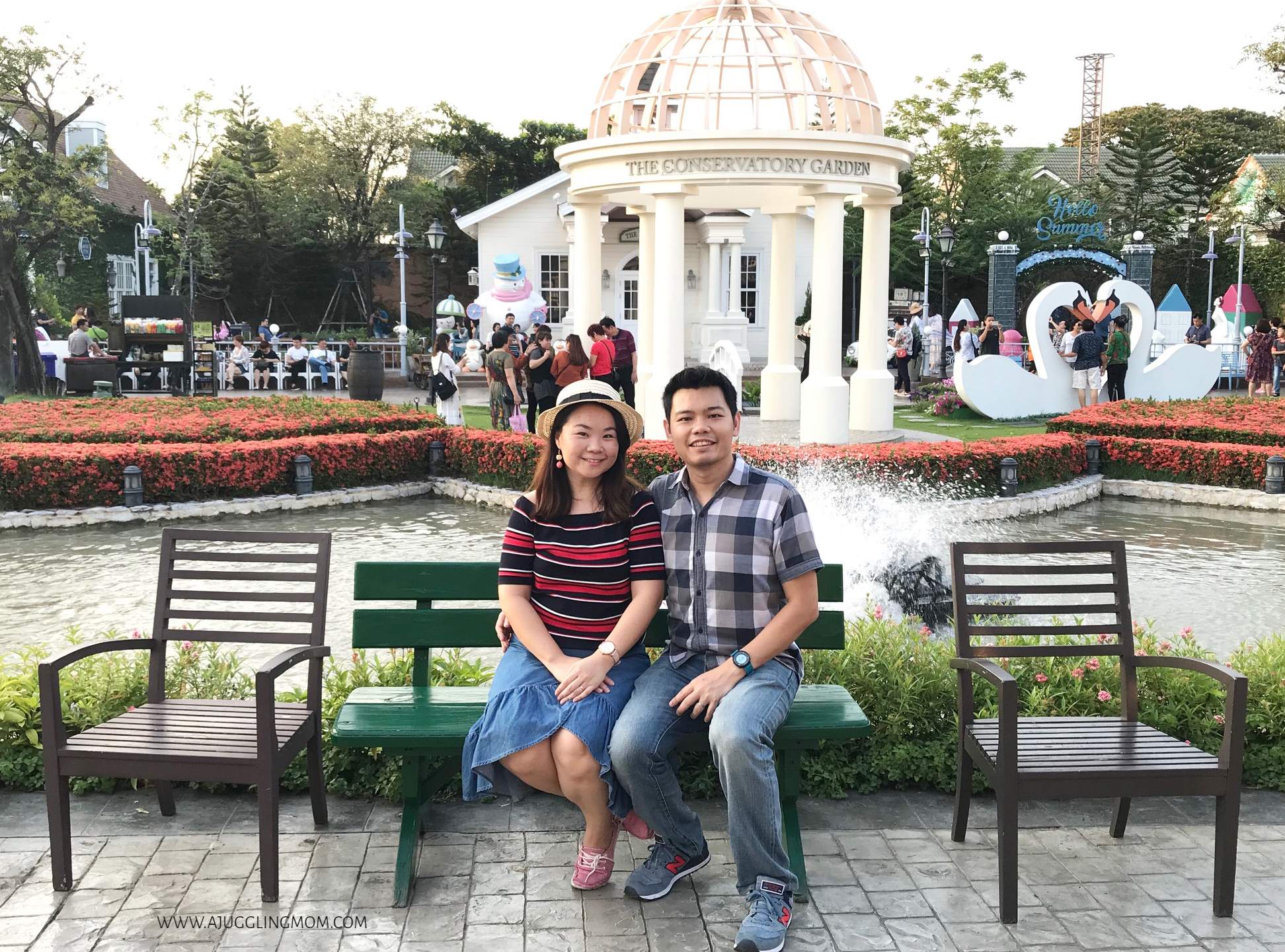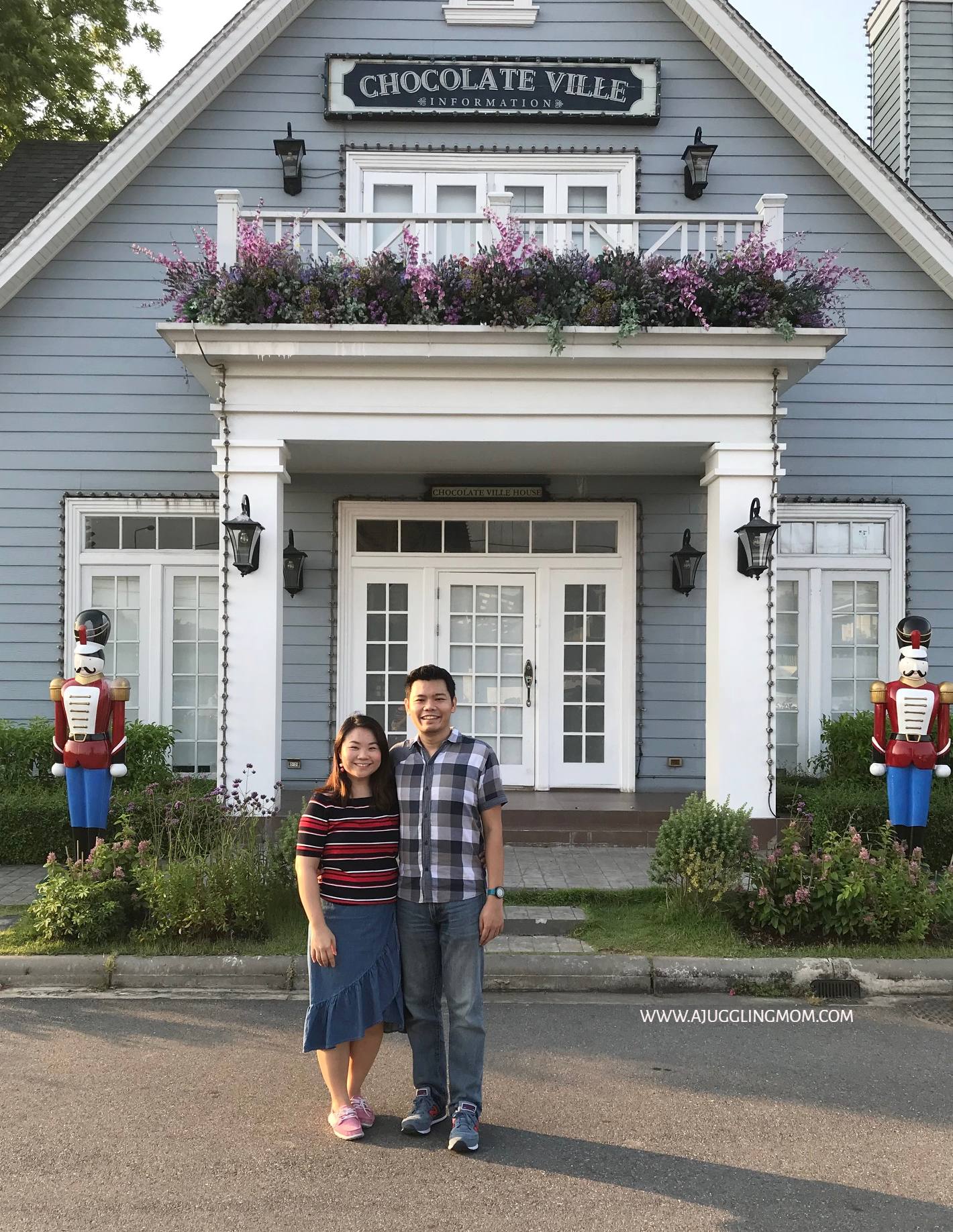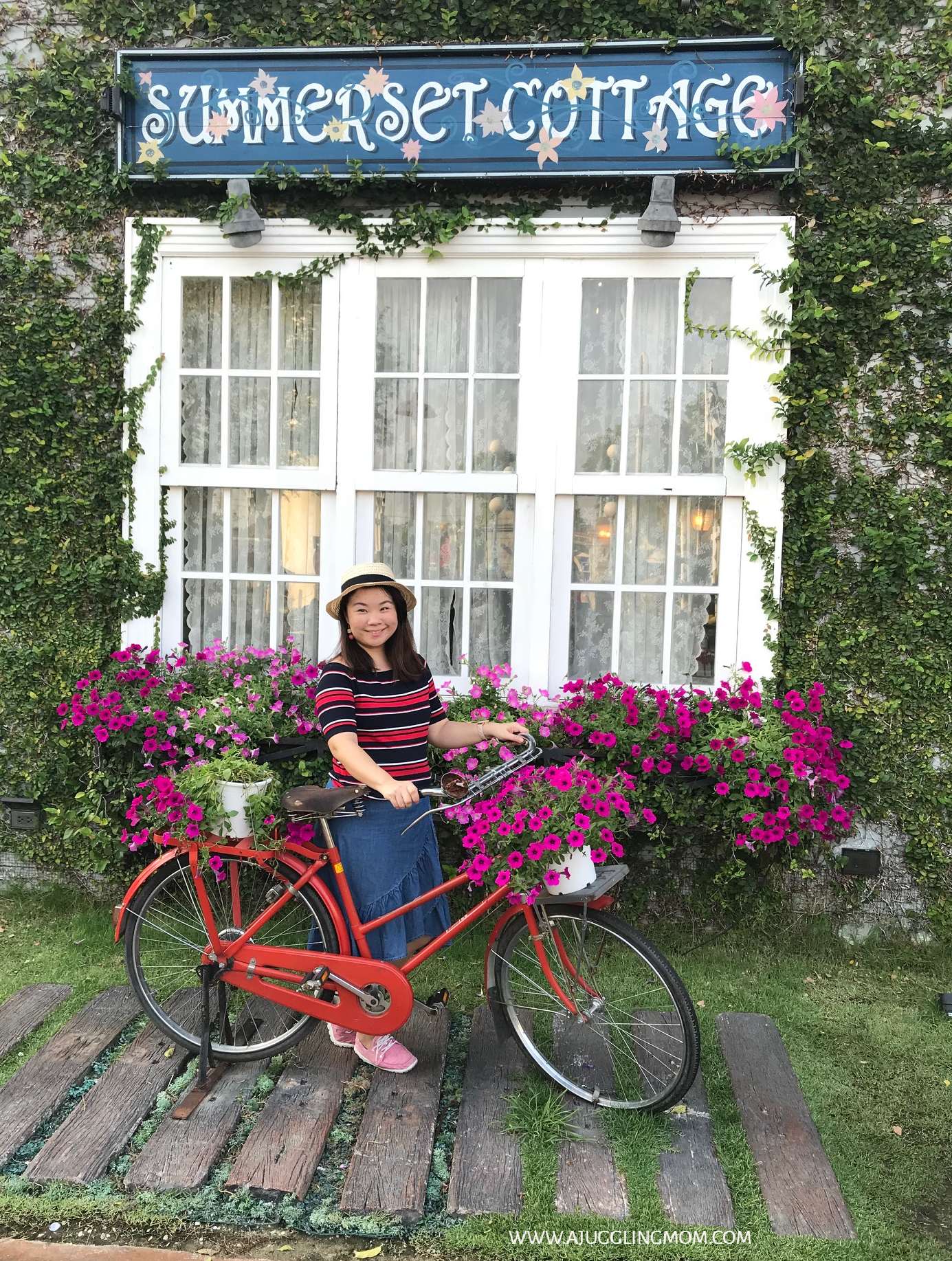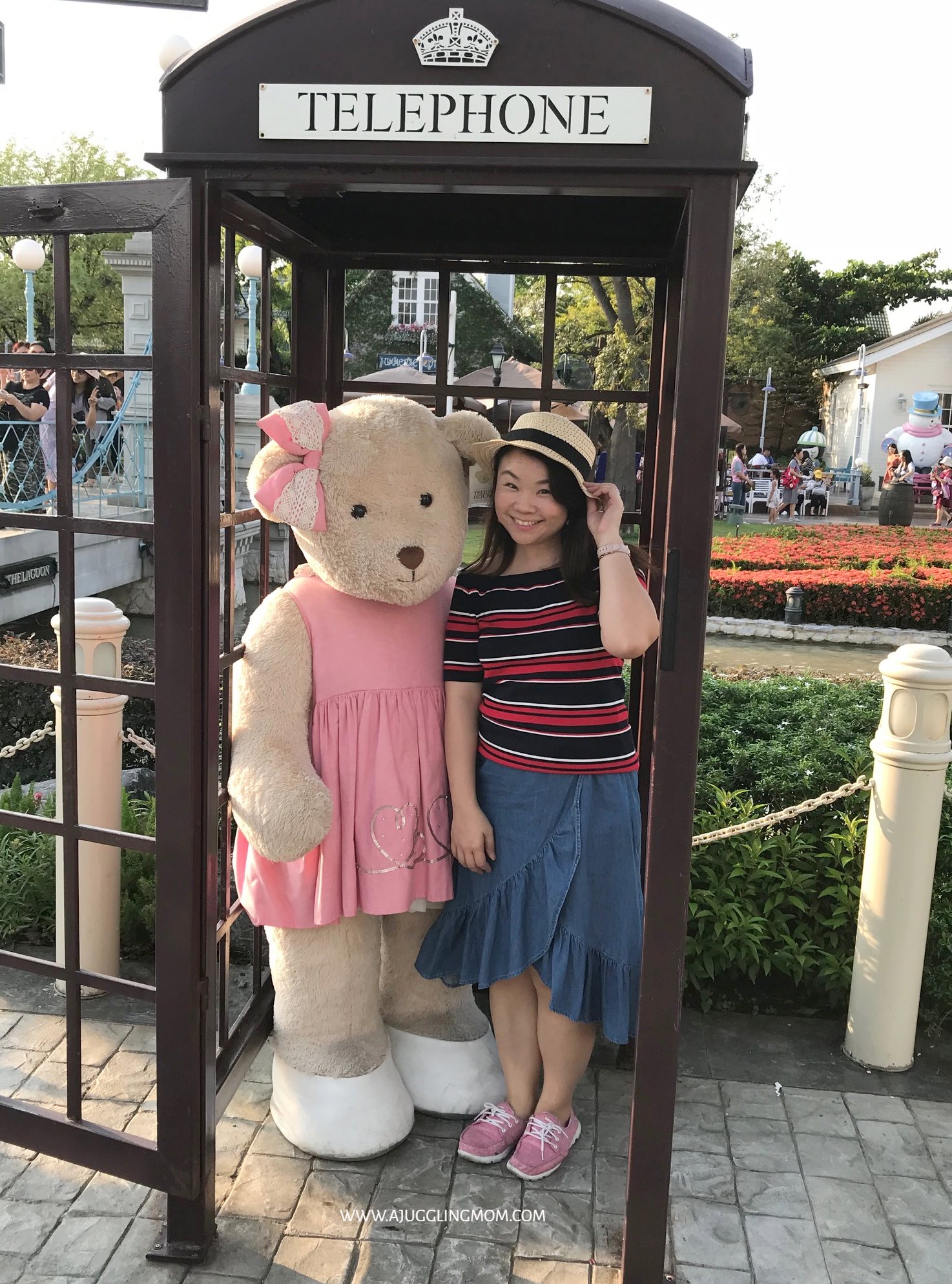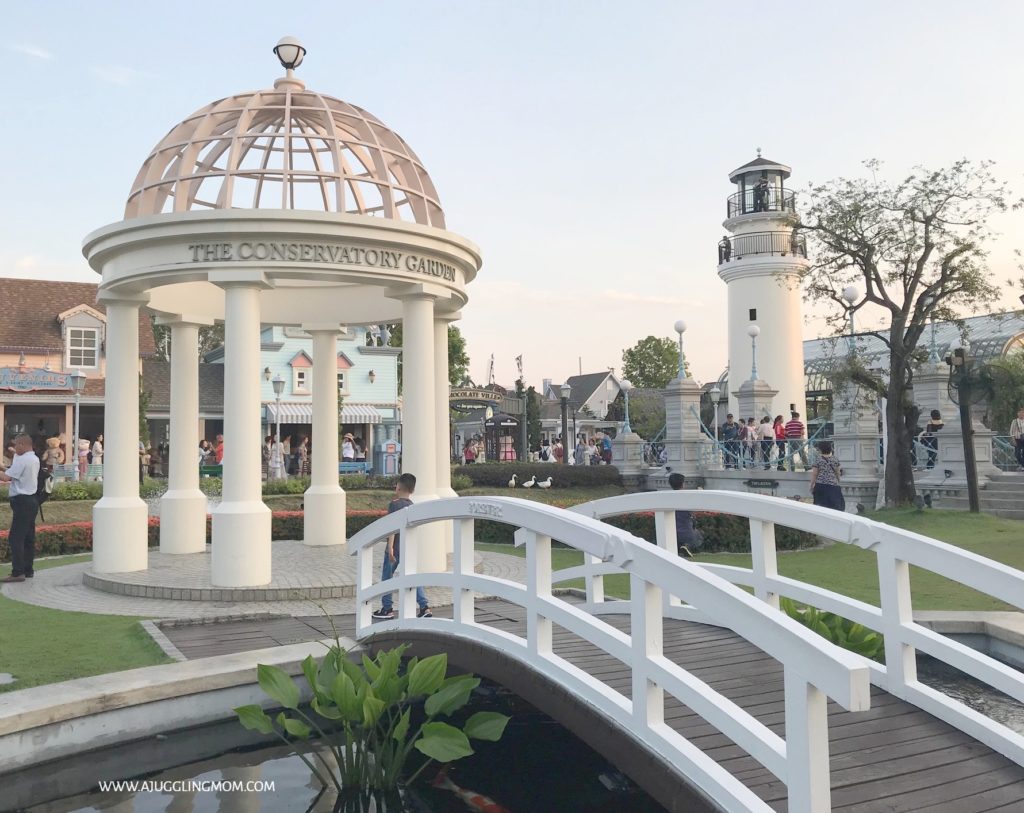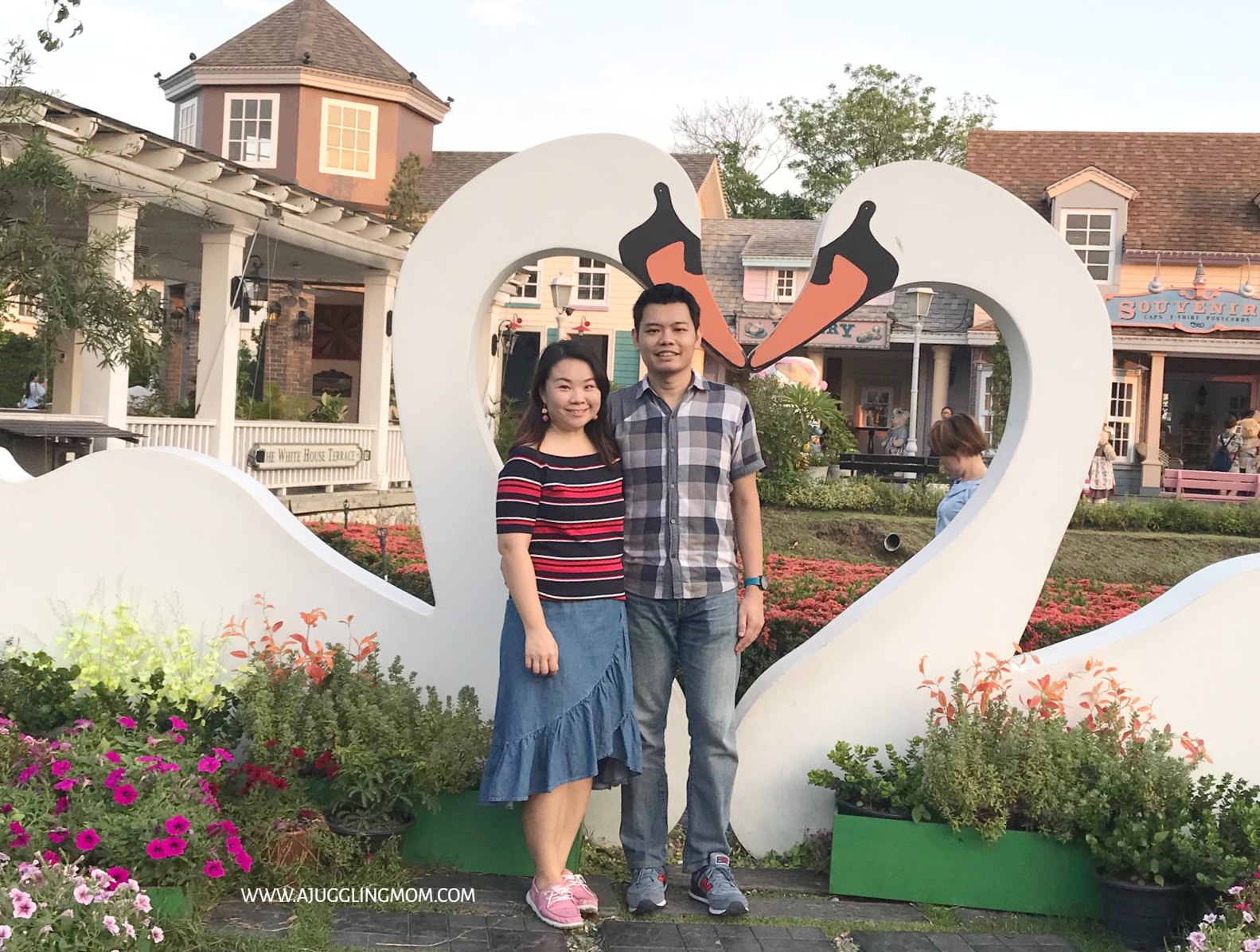 This place may not be everyone's cup of tea and some may find it too tacky, cheesy and touristy but if you enjoying taking photos, you'll be delighted to find many photo spots with picturesque settings.
Dining options are available and you get to pick from different outdoor seating areas to choose from. We heard that the food was not bad but we had a late lunch, so we gave it a pass.
You can see more photos of Chocolate Ville from Missuschewy's blog and Eat and Treat's blog.
Chocolate Ville
Address: 351, Khan Na Yao, Khet Khan Na Yao, Krung Thep Maha Nakhon 10230, Thailand
Being intentional about dating your spouse
Before the year ends, why not make plans to go on a couple date at least once a month? And you can take it one step further and start planning your couple getaway next year.
Fiercely protect your marriage and don't keep making excuses about not having time for date nights because if it's important, you'll carve out time for your partner.
It took us 6 years to finally go for this couple trip to Bangkok and while Sophie missed us like crazy for the first 2 days, it got better and she ended her video calls with us with a broad smile on her face after making us promise we'll get her a gift.
I was joking with some friends that I'm such a firm believer that couples should set aside time for each other and go on dates that I should look into offering baby sitting services. So you know who to call if you ever need a nanny for your upcoming date night.
Stumped for ideas? Here are some ideas for 100 great dates!
If you enjoyed this post, you may like these posts where I share about marriage and travel.
Enjoyed reading this post? Do like my Facebook page to get more sharing on parenting. You can also follow me on Instagram (@ajugglingmom) for parenting and fun places to go with your family
Tagged: attractions in bangkok, Bangkok, couple trip, Thailand