We're going on a holiday. But this time without Sophie.
Before I had a kid, I often wondered why parents bothered to bring their babies or toddlers holidays. After all, isn't it too indulging to bring kids when they can barley remember where they've gone? Then there's the worry of their food, safety and naps which if one did without can be a dangerous path to trend down on especially when it leads to melt downs and screaming fits for the kid (and even moms)! Something most people try to avoid on holidays.
But now that I'm a mom, I eat my words.

Sophie on her first flight to Penang
We've brought Sophie on all our holidays since she was 10 months. Her first was a road trip to KL. Then there her maiden flight to Penang, where we stayed to the Hard Rock hotel. Then another road trip to Malacca followed by two ferry rides to Bintan, Club Med.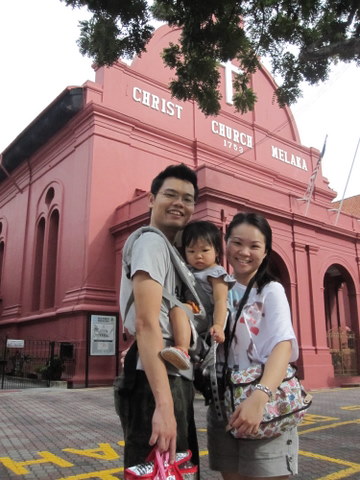 At Christ Church, Melaka
Although we've had a great time as a family, we both agree that we would enjoy ourselves 54.8% more if we didn't have to:
wake up before 8am and be back in the hotel before 10pm
pass up on chances to eat street food , usually fried, oily and so not child friendly
deal with a cranky baby when we forget it's her nap time
Say bye bye to massages (major bummer)
Just basically the chance to be spontaneous because holiday=a relaxed time, no? And for moms, you will agree that even on a holiday, we never stop "working" when there's a kid around so much so that we come home from a trip feeling like we need another holiday AFTER the holiday.
So for our up-coming holiday to Bangkok, we're leaving the guilt at home and leaving Sophie with my in-laws. It's wasn't an easy choice, especially for me.
But we are doing it simply because
marriage and romance should not be neglected after a baby
a refreshed and rejuvenated mom = Happy mom= Less complains, less nagging = Happy Family 🙂
I'm so looking forward to the massages. Period!
So go on, take time out as a couple for a holiday or do it simply for yourself. Your family will appreciate you for it (Read point 2 above).
Any stories to share about travelling without your kid and forgetting that you had one waiting for you at home after 5 days? Or are you planning one like me?