Two weekends ago, I took off to Bangkok on a girly trip with my colleagues. When you travel to Bangkok with a bunch of girls, you can be assured that there will be lots of shopping, eating and shopping on the itinerary.
While we had our fill of Thai street food, we also discovered a new gem in Siam – Siam Square One, where there were lots of cafes and restaurants in the mall. And the one that captured our hearts and tummy is the White Flower Factory restaurant.
White Flower Factory – Siam Square One
Situated on the 4th floor of Siam Square One, White Flower Factory is hard to miss with it's clean and modern deco with wooden tables adorned vases of white flowers. We came here expecting to find a western menu for late brunch and was surprised that they also served local Thai food.
And when in doubt, always choose Thai food when one is in Bangkok.
Later after some goggling work, I found out that this place is pretty famous with the locals and is the second outlet after White Flower Cafe & Bakery. In fact, one weekends, it's not surprising to see a queue for lunch and dinner.
The White Flower Factory is also famous for it's wide selection of deliciously decadent bakes and cakes. What you see below is a mere fraction of their cakes.
How I would love to sink my teeth into that lemon pie.

For appetizers, we had Crispy Cat Fish Flake Served with Spicy Mango Salad (165 baht). This was my first time trying this dish as it's not very common to find it back in Singapore and boy was I hooked right from the first mouthful.
The cat fish meat was fried to a nice crisp texture that was light and airy. And when paired with its accompanying tangy mango salad, it was an explosion of flavours.  I'm usually no fan of mango, let alone mango salad, but they managed to do it so well that I found myself going for another round and another round.
Another dish that we had was the Roasted Duck in Red Curry (195 baht). Somehow, the Thais have a way with their roast ducks and they always taste much better than back home. This was another mouthwatering dish where our taste buds was seduced by the intensity of the rich coconut in the red curry and the roast duck was tender and juicy.
We had a plate of greens and ordered a Stir Fried Morning Glory which is similar to kang kong. Nothing spectacular about this dish as it's simply seasoned with garlic, chili and soy sauce .
The winning dish for us was without a doubt their Fresh Noodle in Spicy Pork (145 baht), and it's no wonder it's the White Flower Factory signature dish. Looking suspiciously like kway chap when it was first served on our table, we wondered for a moment if we ordered it.
But when we took a spoonful of the soup,  the richness of the broth won us over. Though the soup was darker than what we anticipated, the kway chap was cooked to the right texture and glided smoothy while the stewed pork that was cooked to perfection and each tender piece melted in our mouths.
And before I forget, don't forget to squeeze in some lime and top it with green chili and fried shallots. The combination is like nothing I've tasted and oddly the sour and tangy lime complimented the dish well and gave it an extra omph and kick especially for someone like me who loves sour stuff!
This was our most satisfying dish and we even recommended this dish and restaurant to another group of friends who came the next day who sang praises of it.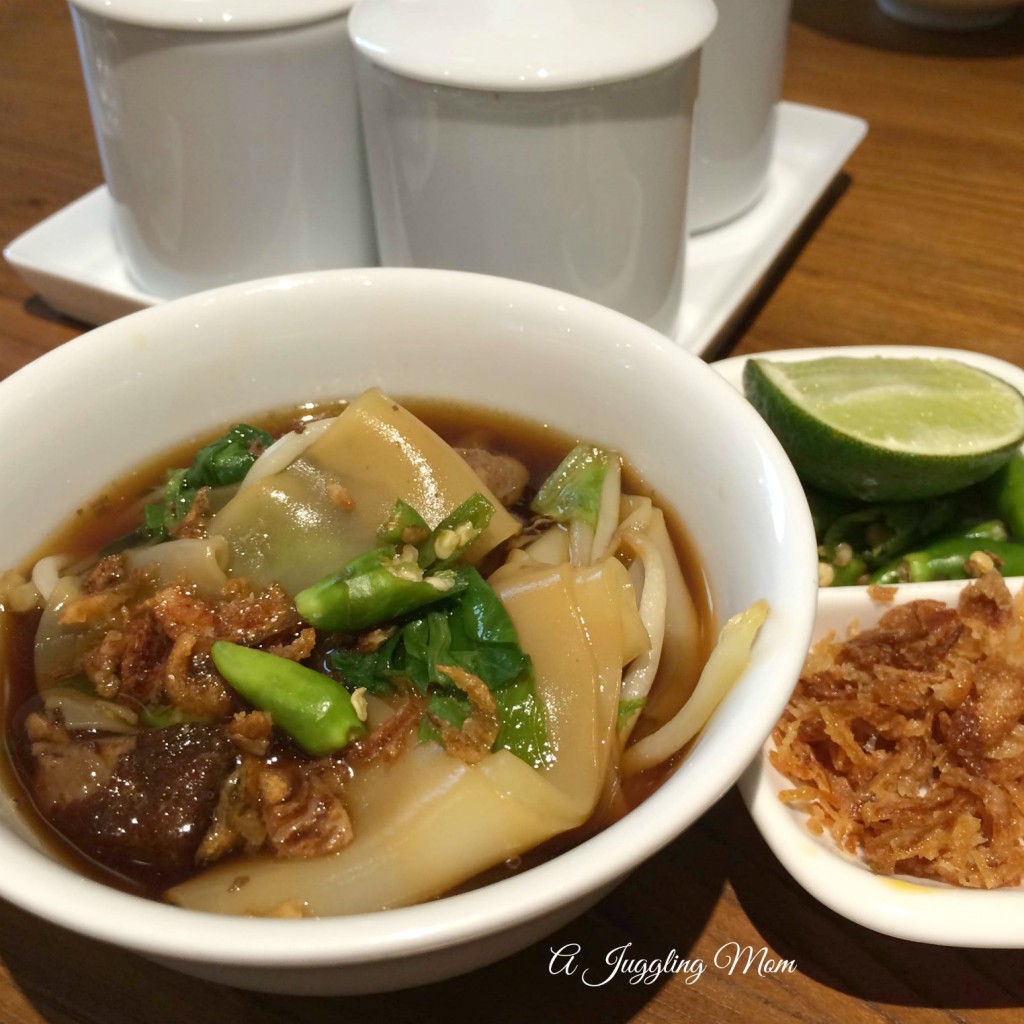 And for me, having a glass of iced Thai milk tea is an absolute must in Thailand and it was not disappointing as well.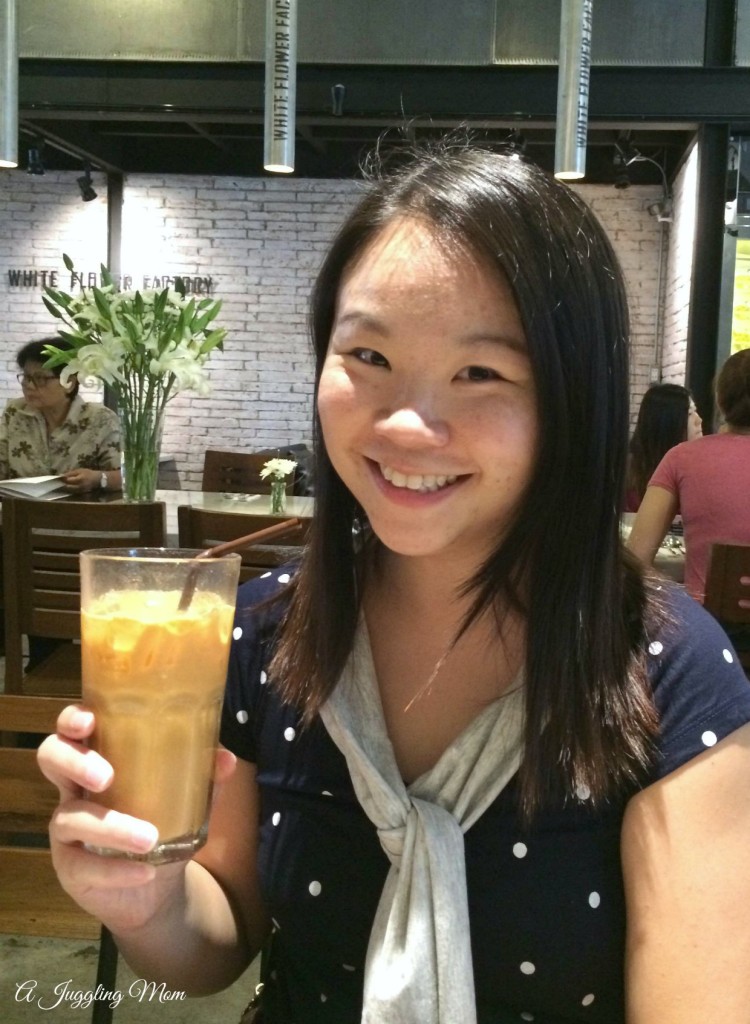 The White Flower Factory was one of the best places we ate on our trip. And like what I told my friends, if you see a place that frequented with lots of locals, you know you can't go wrong with the food. The four of us spent less than S$10 each on lunch inclusive of drinks and was greatly satisfied by our food choices.
Of course, it didn't hurt that it looked every bit instagram worthy too.
Don't miss this place the next time you're in Bangkok and do check out the many restaurants and cafes in Siam Square 1 too. I'll be writing more about the places we ate and shopped in my next post 🙂
White Flower Factory
Siam Square One 4th Floor
(Nearest BTS Siam)
Opening Hours: Daily 11am – 10pm
Tagged: Bangkok, Bangkok Cafes, Bangkok Restaurants, Bangkok Travel Guide, Thailand