I'm finally catching up my overdue Japan holiday blog posts. And on Day 3, we traveled from Osaka to Kyoto. I can't believe how I almost allowed my husband to strike Kyoto off our initial Japan itinerary as he wasn't keen and even tried convincing me that all the walking and scenery would be boring for Sophie.
It was a nice try on his part since we have visited Kyoto some 10 years and seeing shrines and bamboo forest was just not his cup of tea.
We worked out a compromise and I'm glad I managed to arm twist convinced him that we should at least do a day-trip to Kyoto.
As a city folk, I really looked forward to Kyoto as it's a welcome change from cities like Osaka and Tokyo. Being able to slow down our pace and take in the breathtaking scenery while enjoying the tranquillity is something not to be missed if you're heading to Japan.
Since we only have one day in Kyoto, I packed the day with these places of interest.
Fushimi Inari Shrine>Arashiyama district > Arashiyama Bamboo Grove and Togetsu-kyo Bridge> Kimono Forest
Fushimi Inari Shrine
We set off from Osaka and took the JR to Kyoto Station. From there, we took the JR Nara Line from Kyoto Station and arrived at Fushimi Inari Station after 2 stops.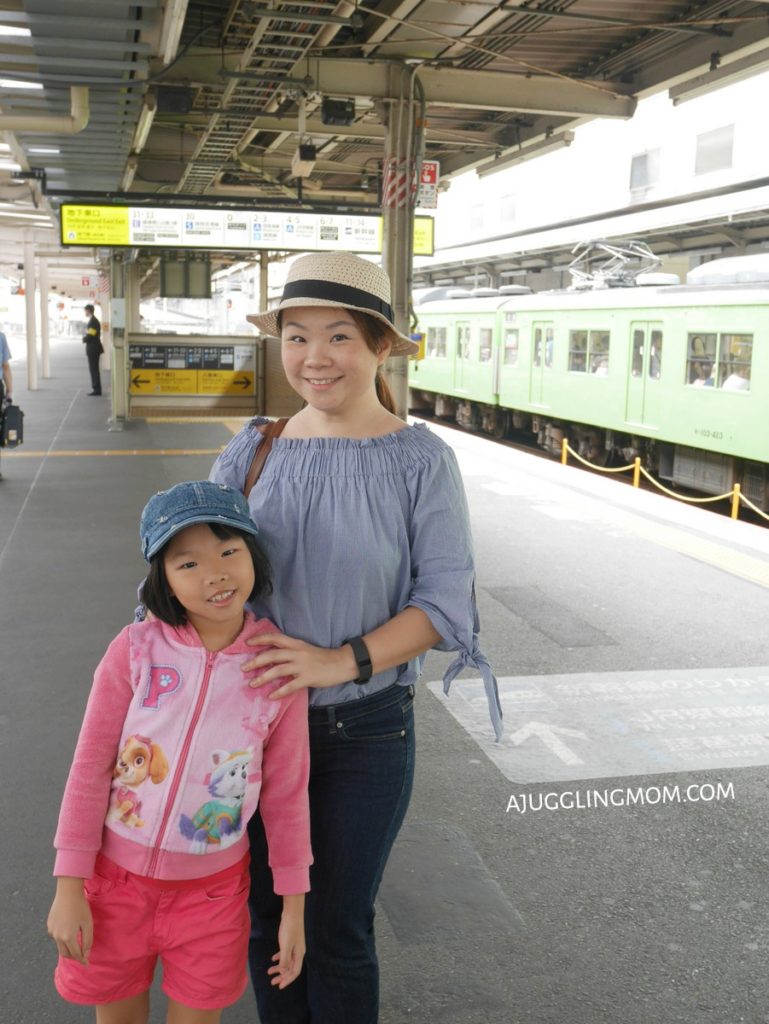 The iconic attraction at Fushimi Inari Shrine is the thousands of vermilion colored torii gates or Shinto Shrine gates that follow the mountain path behind the shrine. It's truly a sight to behold, but do be prepared for lots of walking and hiking which we prepped Sophie for and warned her that I didn't want to hear whining or complaints.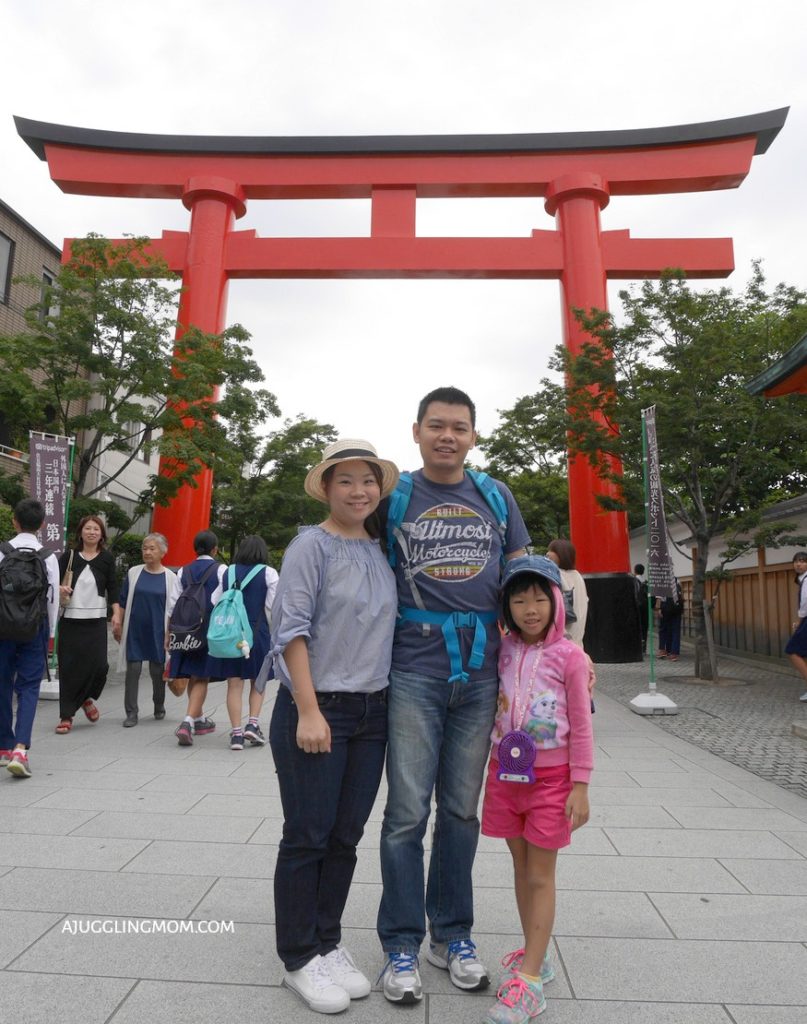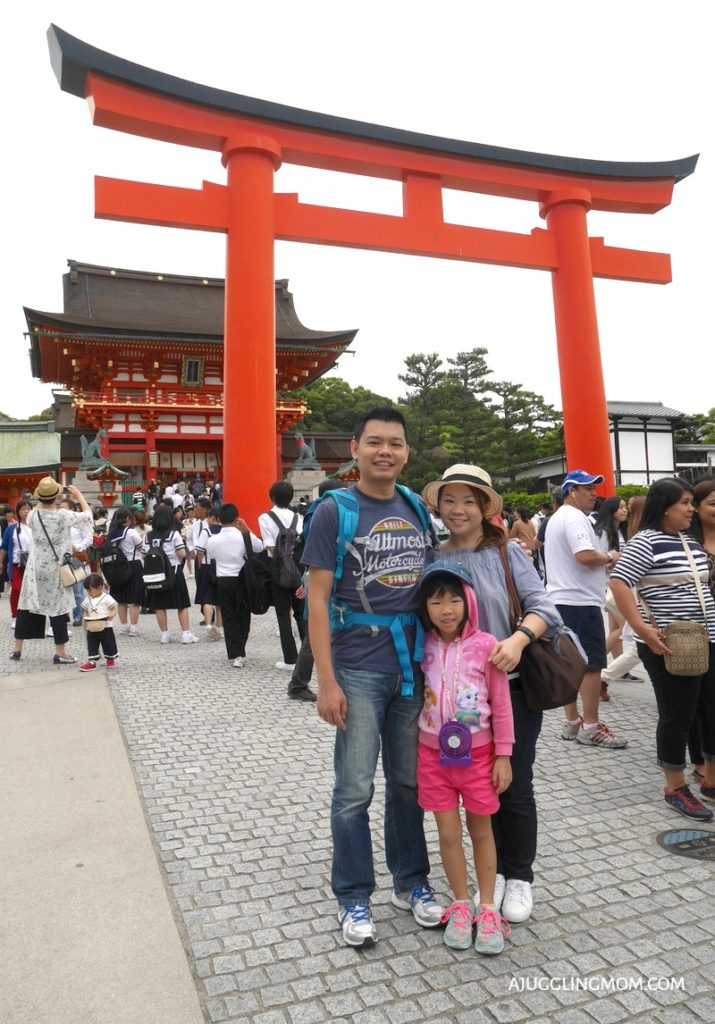 Fushimi Inari Shrine is one of the important shrines dedicated to Inari, the Shinto god of rice, sake and business prosperity. This shrine is the central location for some 40,000 Inari shrines throughout the entirety of Japan.
Fushimi Inari Shrine opens 24 hours a day and if you want to avoid the crowds, you should aim to reach before 9am or consider visiting later in the afternoon. When we arrived at 11am, it was already crowded with locals and tourists alike.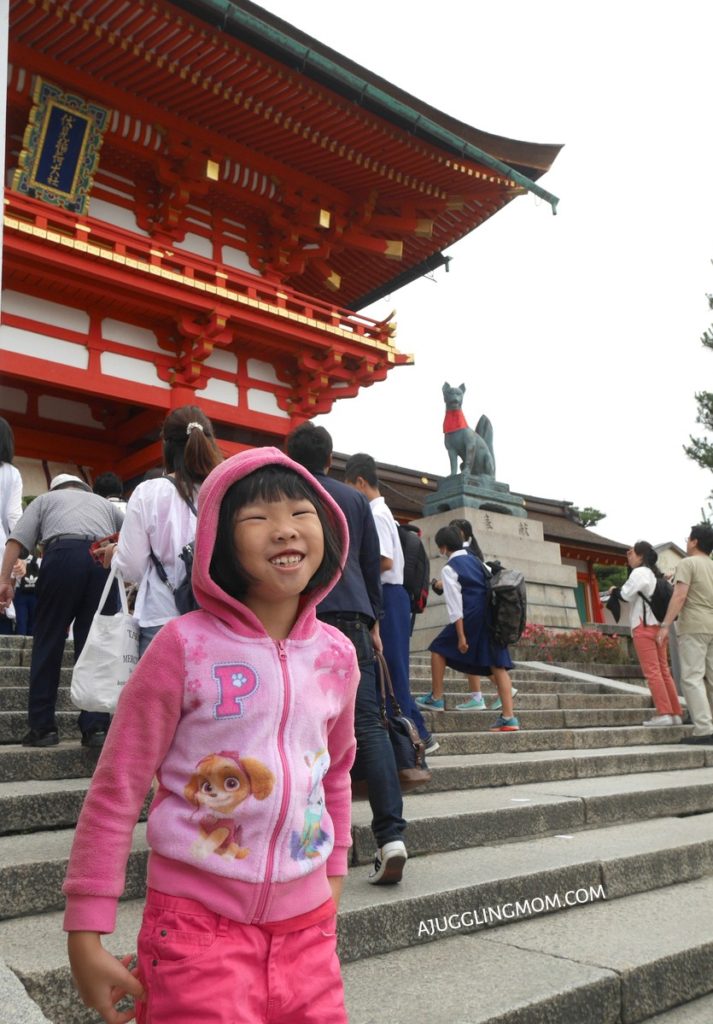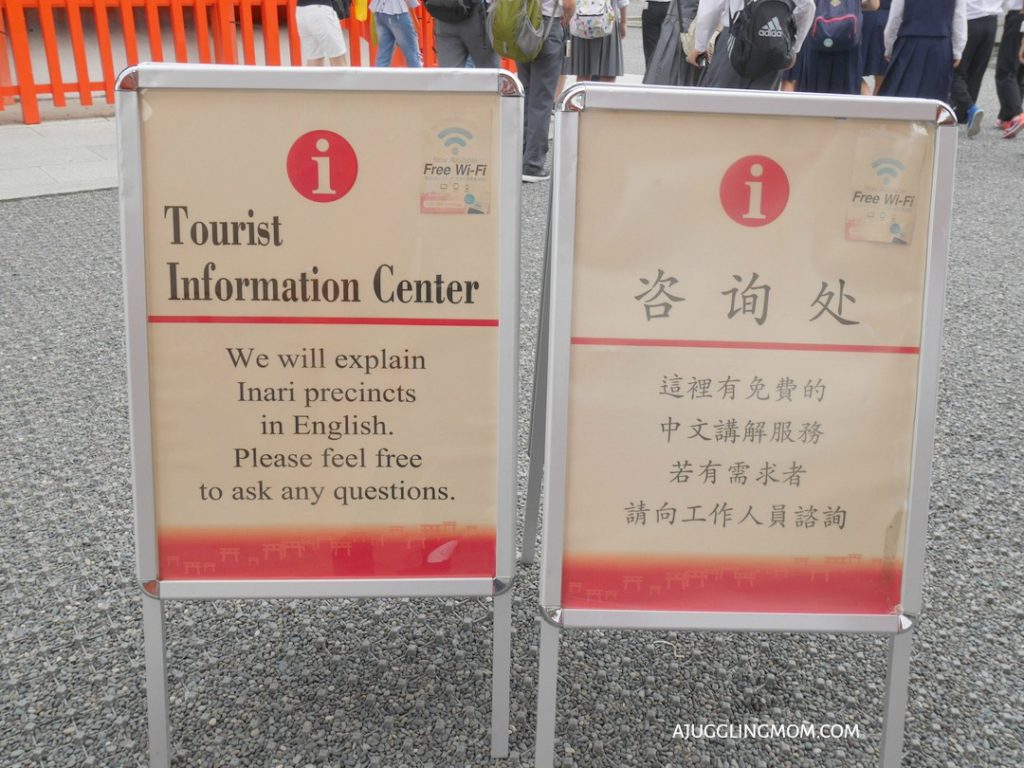 Hiking up Fushimi Inari Shrine 
The first part of the trail was very congested where everyone was elbow to elbow. Don't even bother to stop for any photos here because it will just be photo bombed left, right and centre. But as you continue making your way up the trail, you'll notice that the crowd slowly dissipates giving you much better photo opportunities. We climbed for 15-20 minutes and there was significantly lesser people.
It also helps to get camera ready at a spot and click away when you notice a golden window of photo opportunity.
The torii gates are donated by individuals or companies bearing inscriptions of the donor's name and their wish for health, wealth or happiness.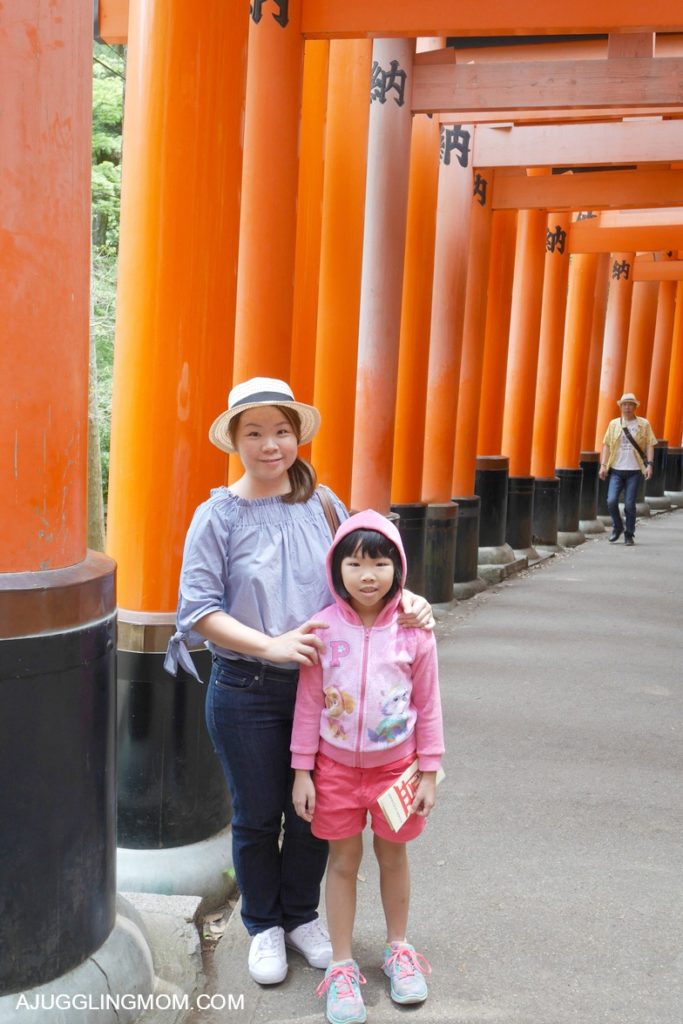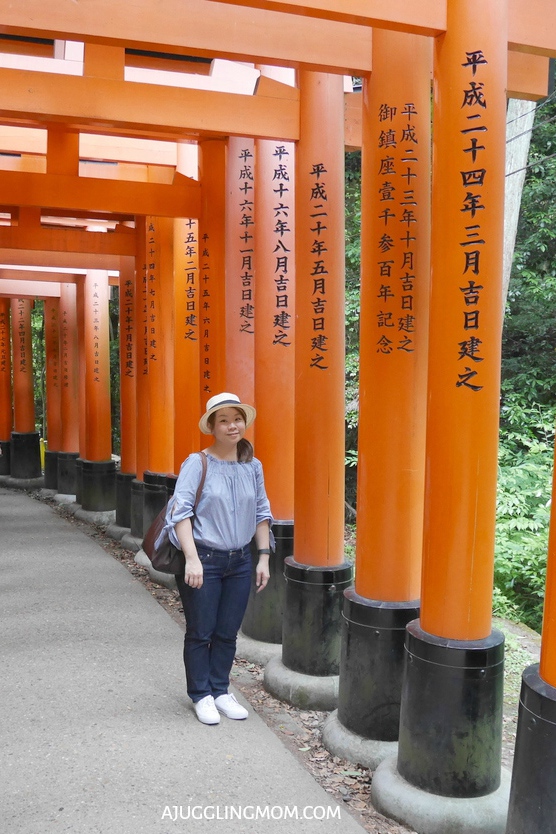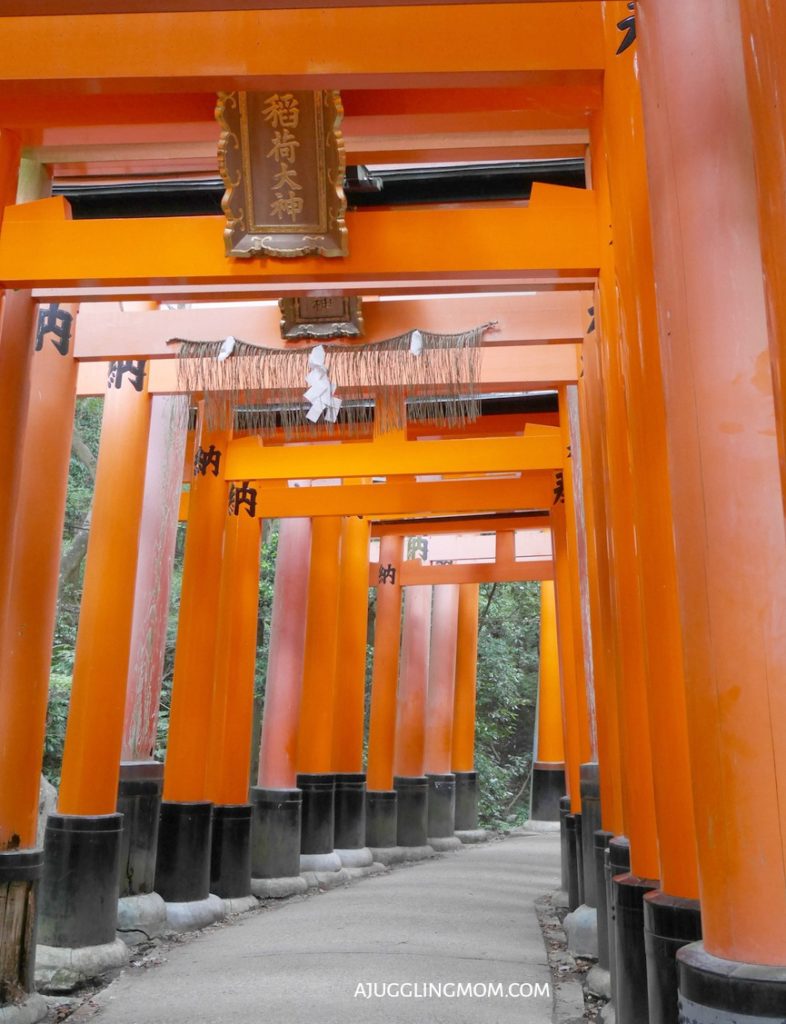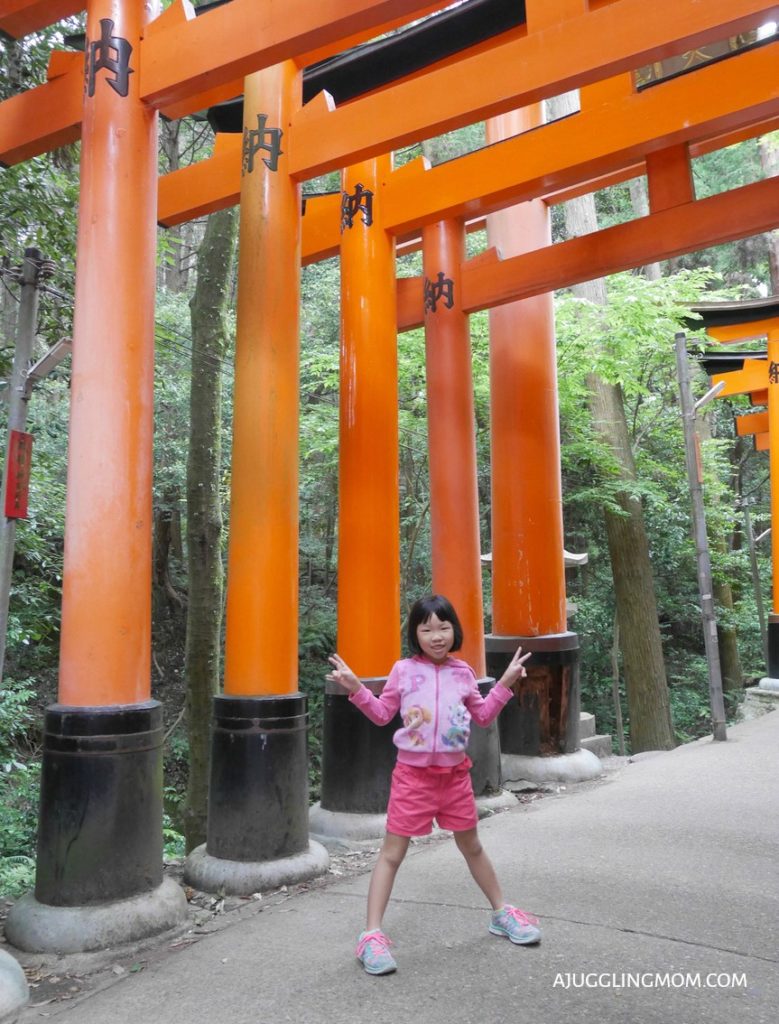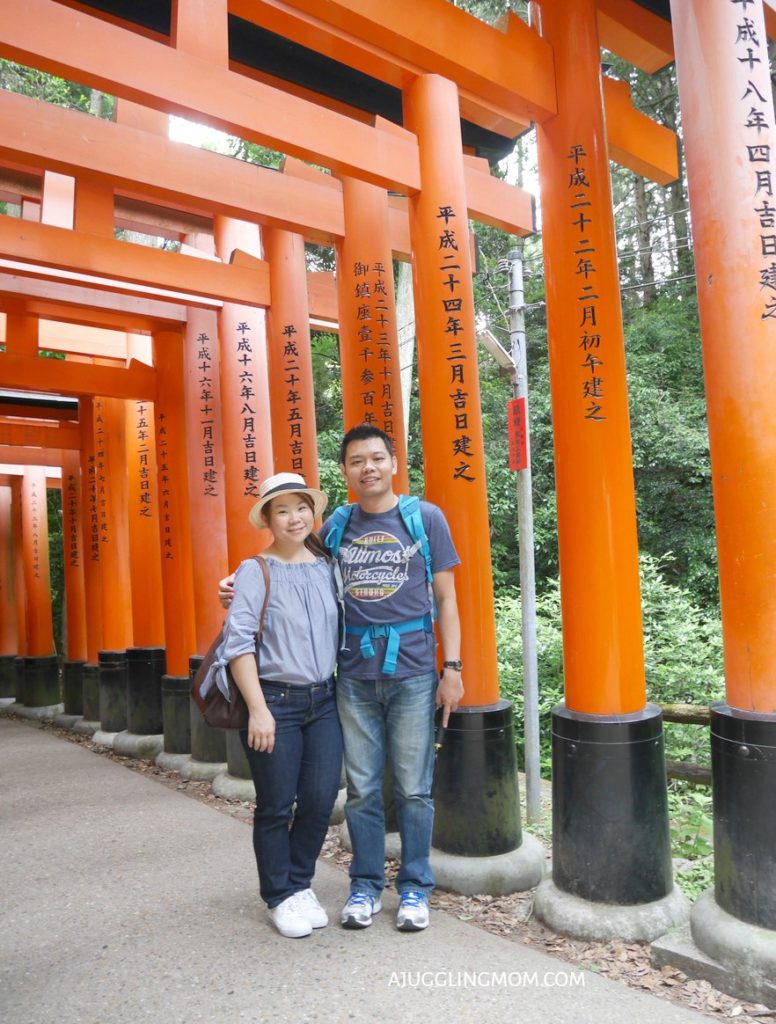 It's so nice to have Sophie as our personal photographer on this trip and she does take great shots, don't you think?
If you're up for it, you can try hiking all the way up to the summit which takes 3-4 hours and you'll be rewarded with a spectacular view of Kyoto City. We wanted to conserve our energy for the rest of the day and made our way down after half an hour. Thankfully, Summer is Japan has kinder weather than where temperatures are around 20 odd degrees, making the hike a rather pleasant one.
We wandered on the grounds of the shrine and found this are were prayers are inscribed on wooden plates along with rainbow coloured crane origami. Many were prayers for good exam grades and wishes for entrance to the university.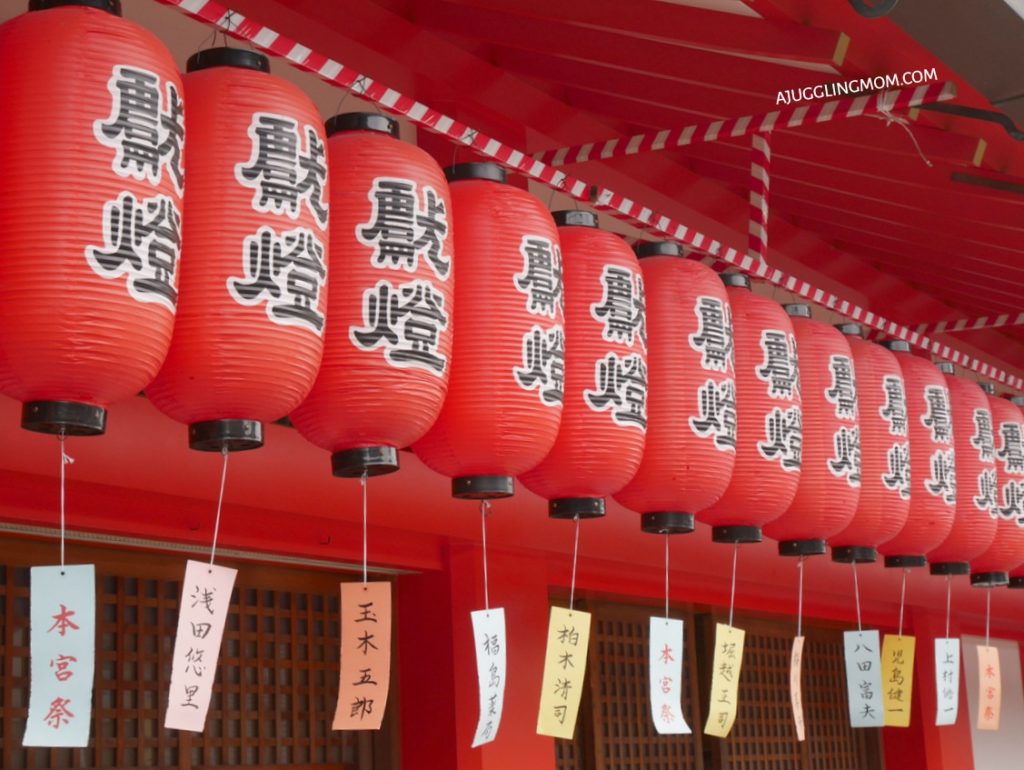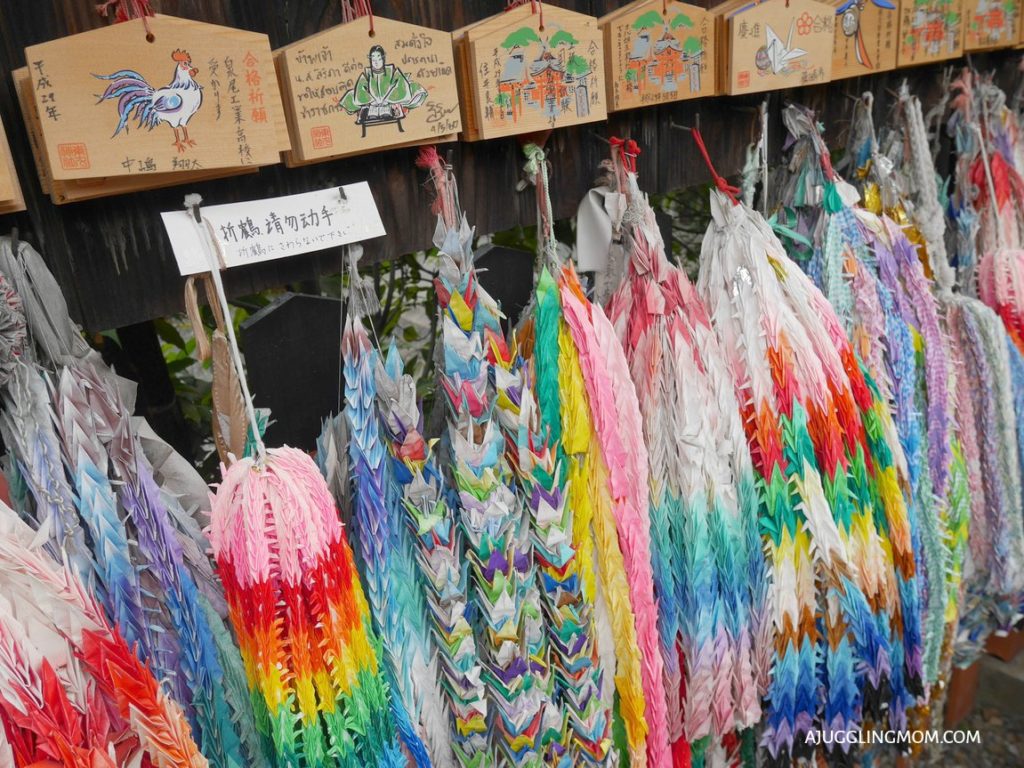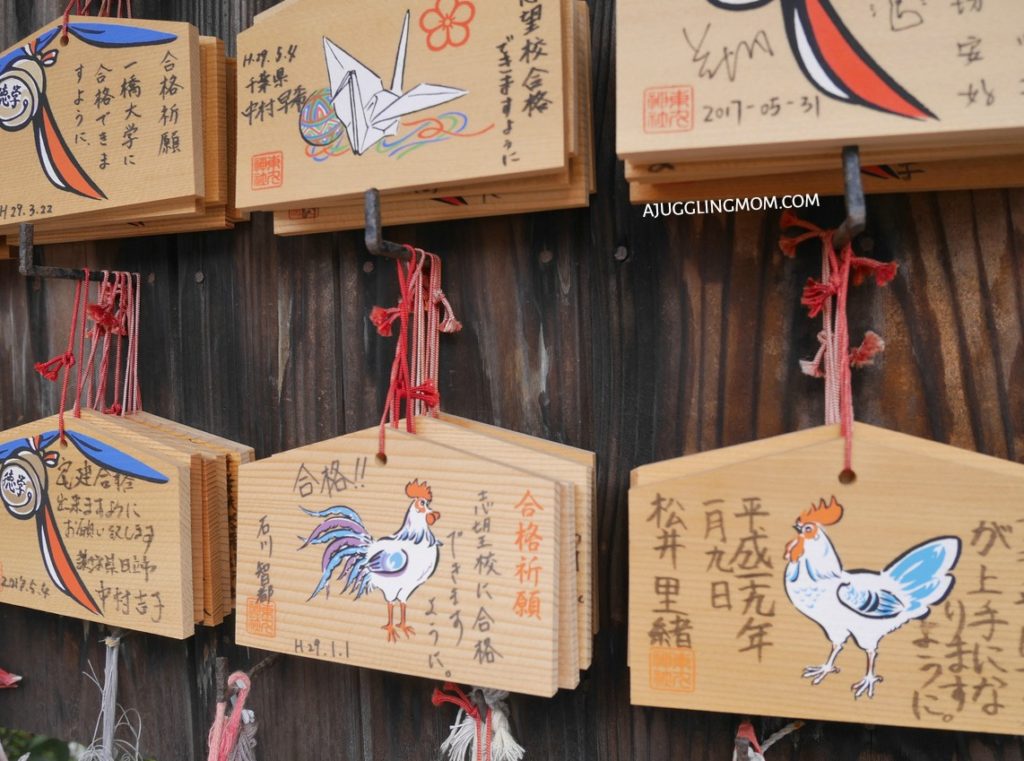 We took a right turn to exit the shrine and were instantly attracted by the smell of food. We followed our noses and sniffed out these stalls selling all kinds of street food from BBQ beef to roasted chestnuts, yakitori, mochi, hurricane potato and much more!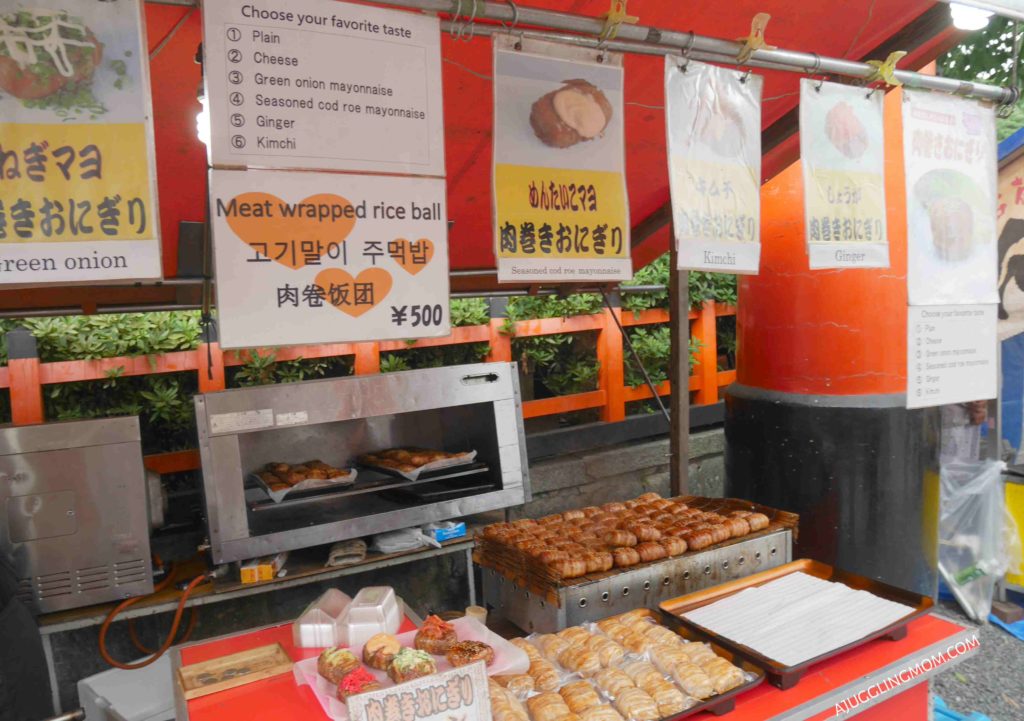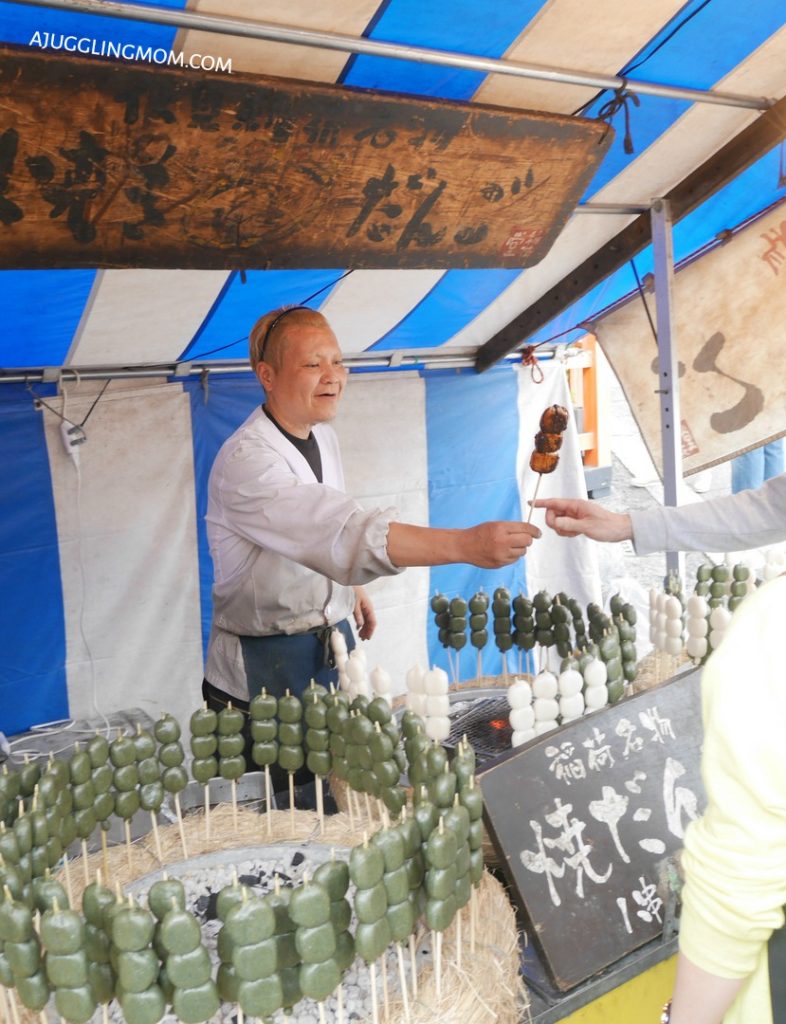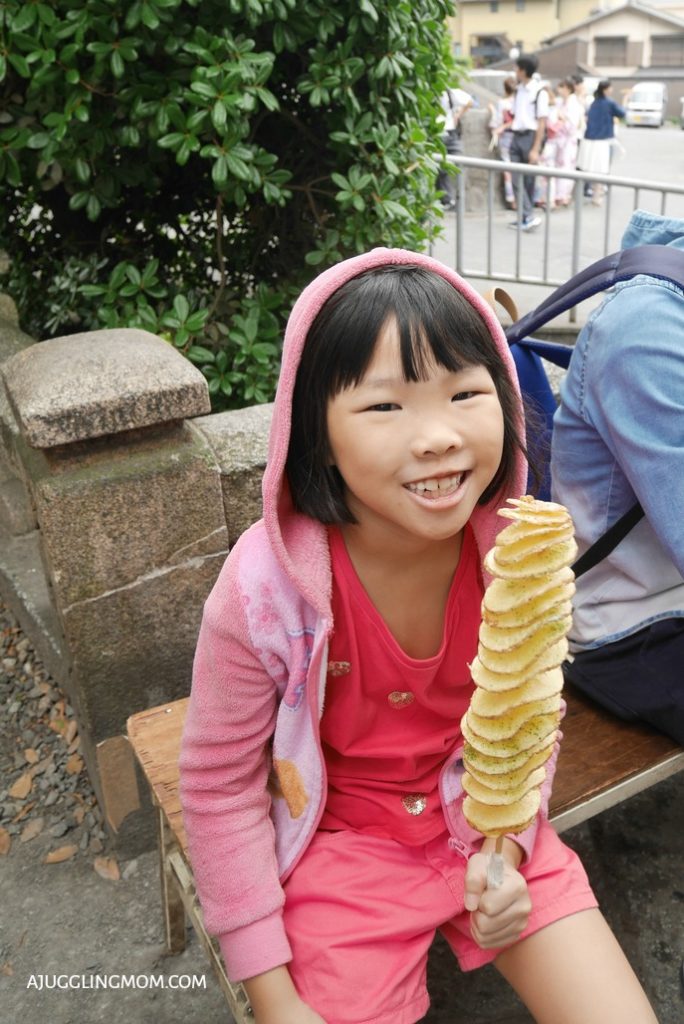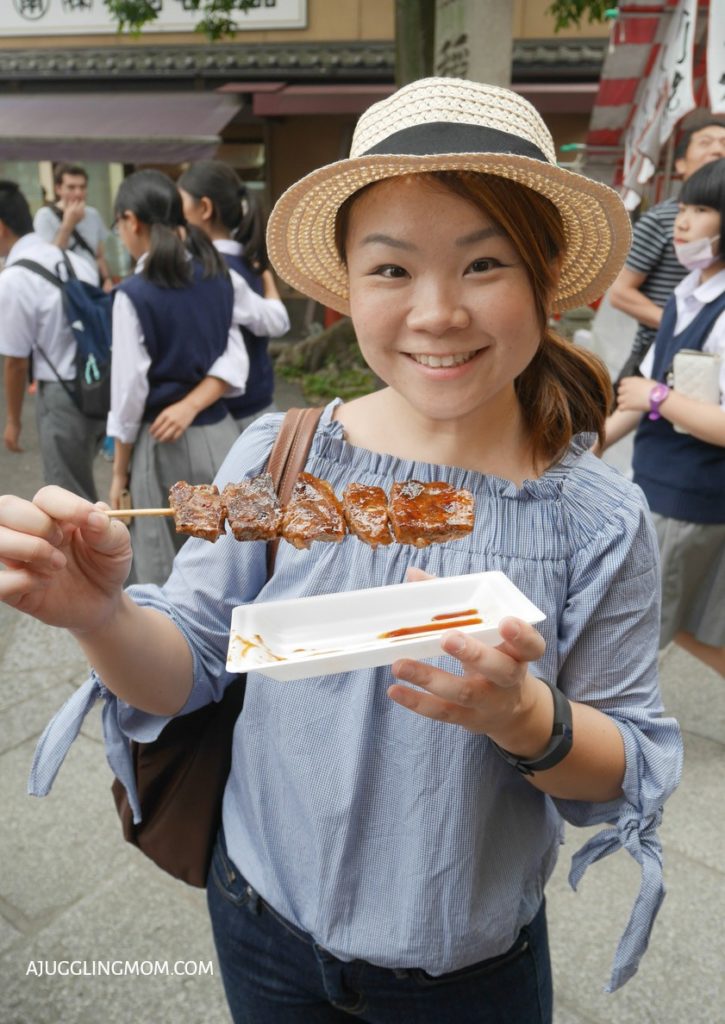 After spending about 1.5 hours at Fushimi Inari Shrine, we were off to Arashiyama district for one of the most Instagrammable place in the world, the Arashiyama Bamboo Grove.  You can read more about the places we visited in Kyoto in my next post.
Travelling to Japan soon?
If you're heading to Japan soon, don't miss my earlier Japan posts below.
Enjoyed reading this post? Do like my Facebook page to get more family friendly travel updates. You can also follow me on Twitter (@Susankoh) or Instagram (@ajugglingmom) for more travel and parenting posts. See all the places that we visited on our Japan holiday with the hashtag #TaysinJapan
Tagged: family holiday, family vacation, Japan, Kyoto