When we decided on squeezing in Kyoto for our Japan itinerary with a day trip from Osaka, a must visit was the Bamboo Grove in the Arashiyama district.
If you don't already know, the Bamboo Grove is Kyoto's most instagrammable spot and voted as one of the most amazing attractions not to be missed. As for my other half? He was less than impressed.
He may be my Instagram Husband but the mere thought of walking through bamboo forests, visiting shrines and temples was not what he had signed up for on this trip. And an Instagrammable Bamboo Grove? He wanted to roll his eyes at me and was skeptical if Sophie would even appreciate it.
However I beg to differ.
Sure, there are other kid-friendly attractions like the themeparks that will certainly appeal to my 8-year-old (and might I add even for my almost 40 year-old hubby), but the whole point about travelling with kids is to show them the beauty that is waiting for her to discover in another part of the world.
Nevertheless, hubby was happy to go along with what I've mapped out for our itinerary and that my friend is when the magic happened.
Getting to the Bamboo Grove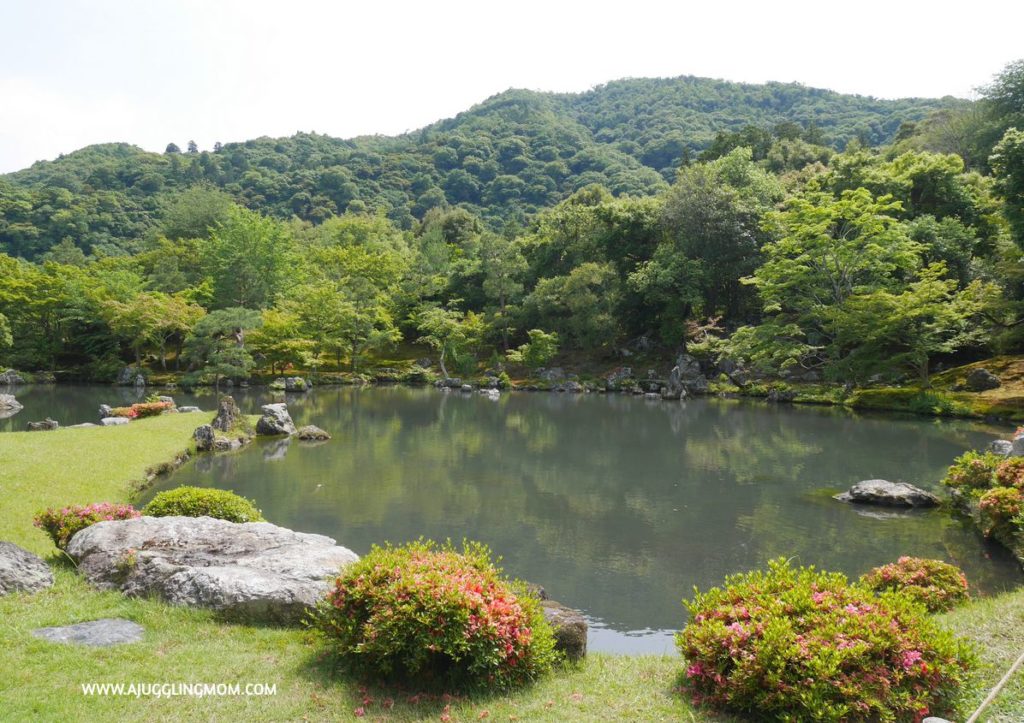 For us city folks, Kyoto was an amazing escape from the busyness of the city. It was a welcoming respite where one feels instantly rebalanced with the embrace of Mother Nature. 
Arashiyama is a popular district to enjoy what nature has to offer particularly during the cherry blossom. In Autumn, it's foliage transform the whole backdrop into a breathtaking picturesque scenery.
To get to the bamboo forest, we had to enter through the Tenryu-ji Temple, which is one of Kyoto's many UNESCO World Heritage Sites. We were initially expecting to make a quick exit from the garden and head directly to the bamboo forest. But we were captivated by the lovely scenery and lingered a little longer as we took in the tranquil sights of the garden that dates back to the 14th century.
We were stopped by 2 local university students who were dressed in kimonos and assisted them with a short survey. In return, they happily obliged with a photo and I think Sophie played a part in charming them too.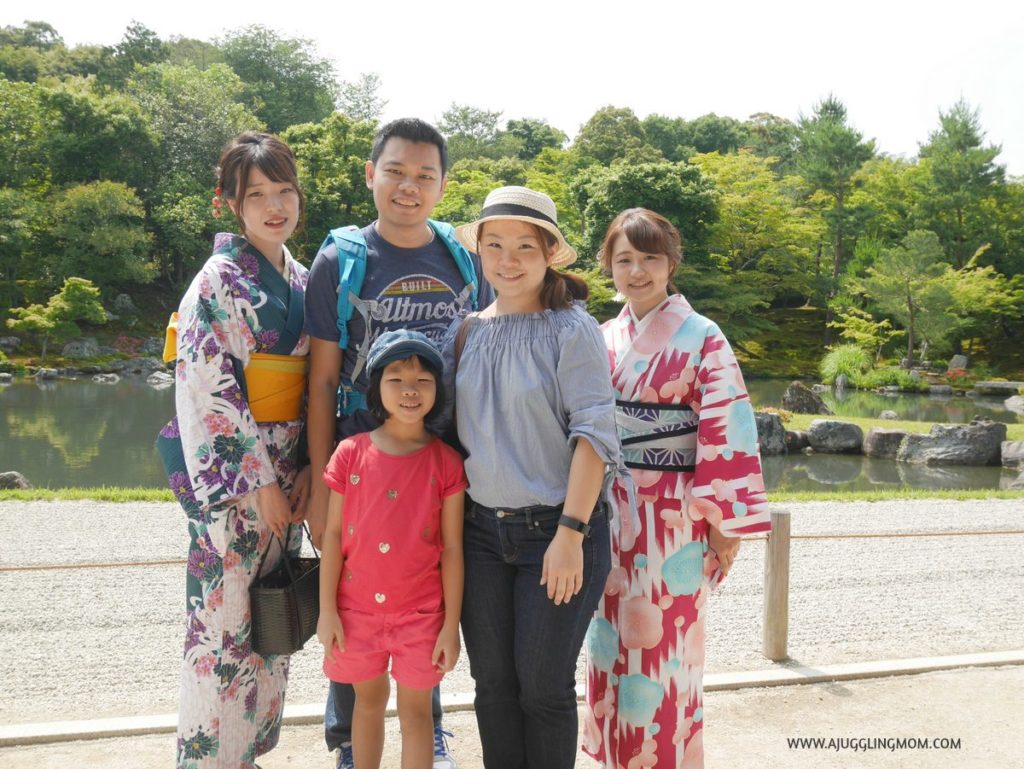 While there was lot of walking, Sophie welcomed the change in environment and we slowed down our usual hurried pace as we took in the sights. Along the path, we saw lots of beautiful blooms during Summer and Sophie was enchanted.
She observed and marveled at the flora beauty as she pointed out their names and attempted to read the Chinese character of the signages. She even asked for daddy's GoPro camera as they were too pretty not to be captured in a photo memory.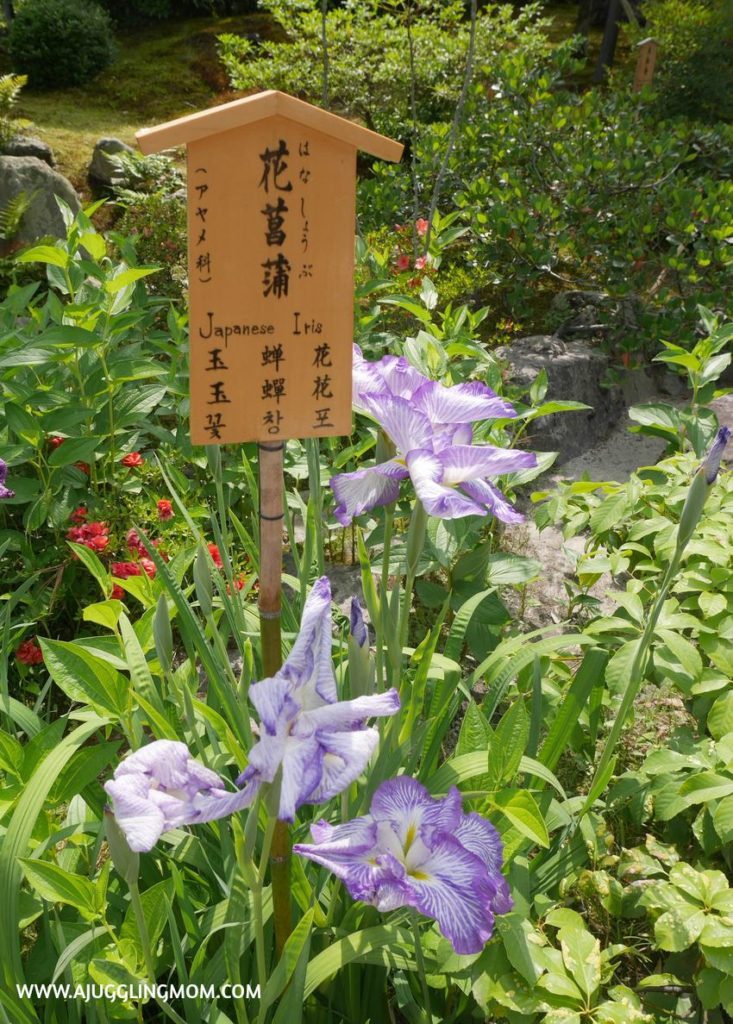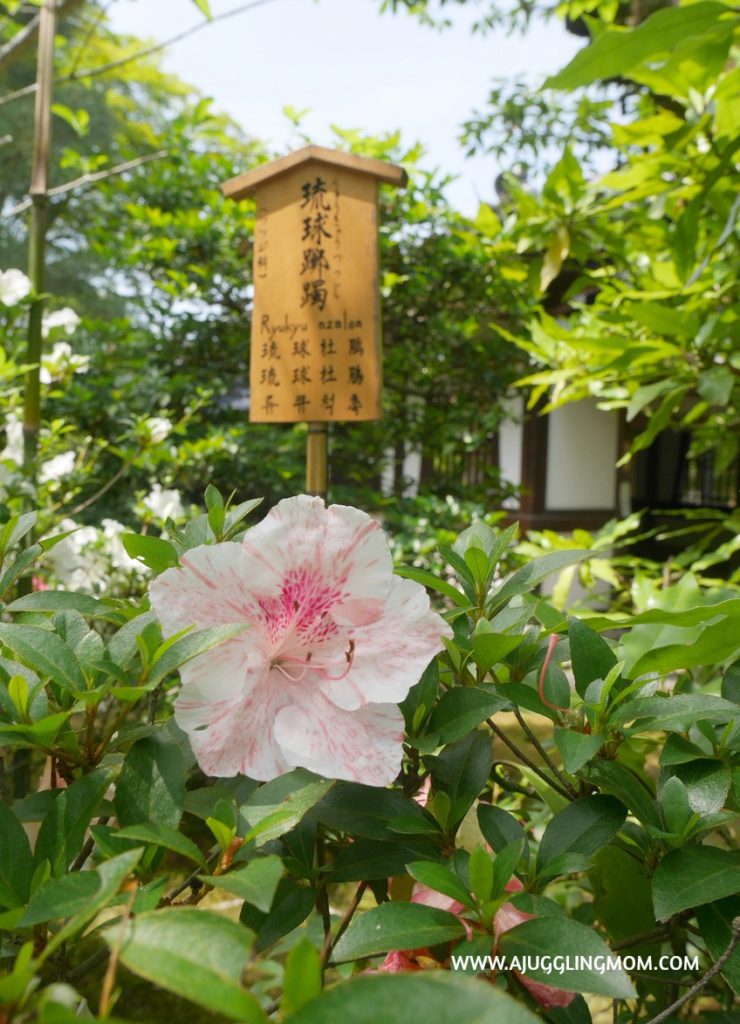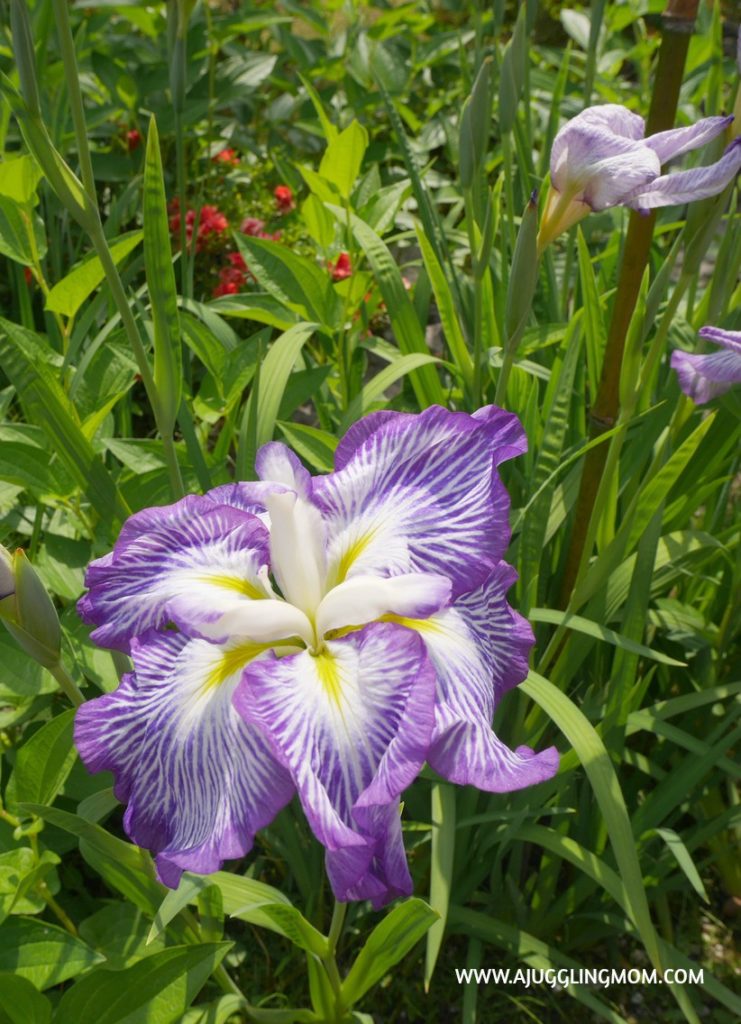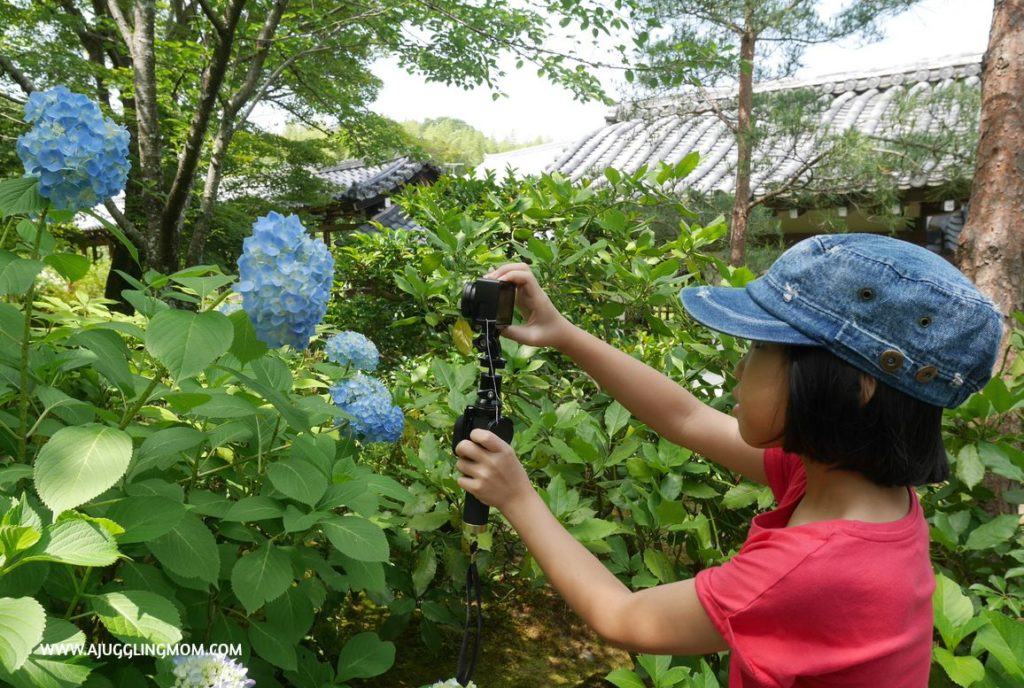 Arashiyama Bamboo Grove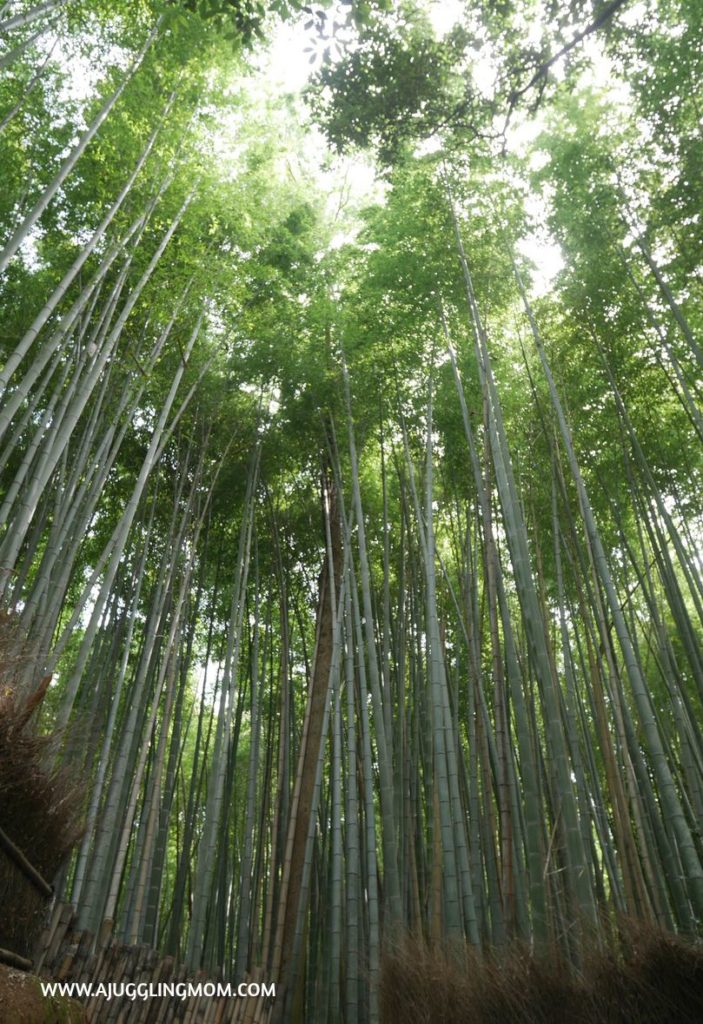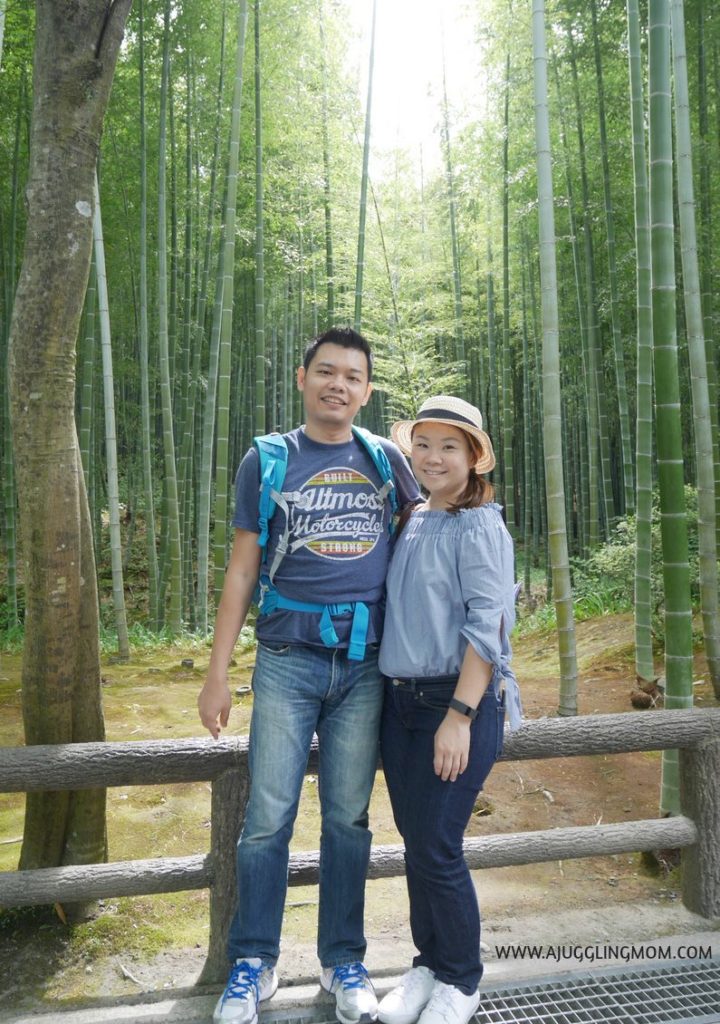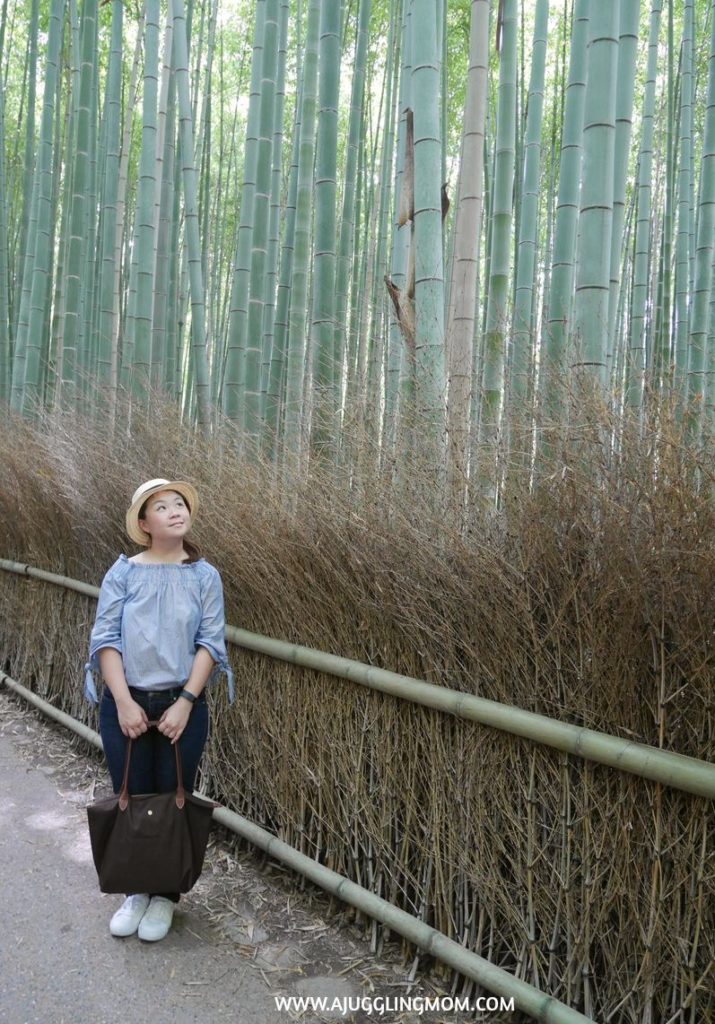 As we exited Tenryu-ji temple by the north gate, we caught sight of the Bamboo Grove.
Standing among these giant bamboo tree made me feel so so tiny. And as Sophie puts it so aptly, "Just wow".
It dawned on me that it was the best decision to stick to my guns to make it to the Bamboo Grove. It's one thing to read or watch what the Bamboo Forest. But to stand there and marvel at its towering beauty, it was simply out of this world and we felt so enveloped by nature. 
And when I turned to look at Sophie, her eyes were filled with wonder.
I imagined that if I could read her thoughts, it would be filled with so many questions waiting to be answered.
How tall are the bamboo trees?
Why do they grow so tall?
What do they look like in the different seasons?
To catch a glimpse of your child lighting up with wonder in their eyes, that's a priceless feeling that all parents desire to give our kids.
And that's why Sophie will always be welcome when we jet off on holidays despite the sacrifices we have to make to accommodate a more family friendly itinerary. After all, they wouldn't stick around with us on holidays forever.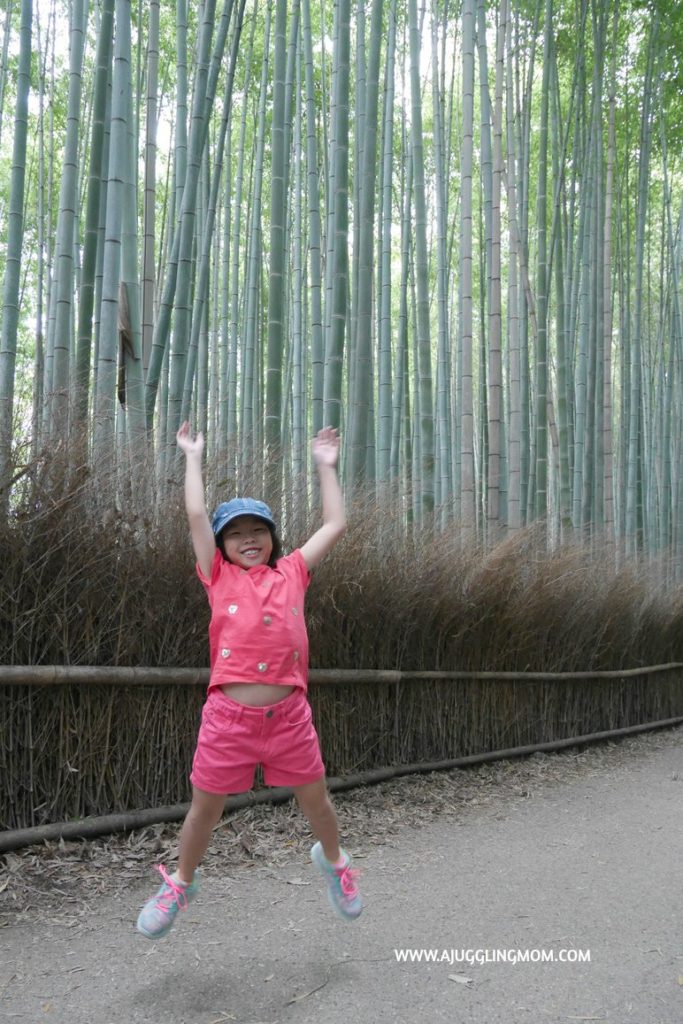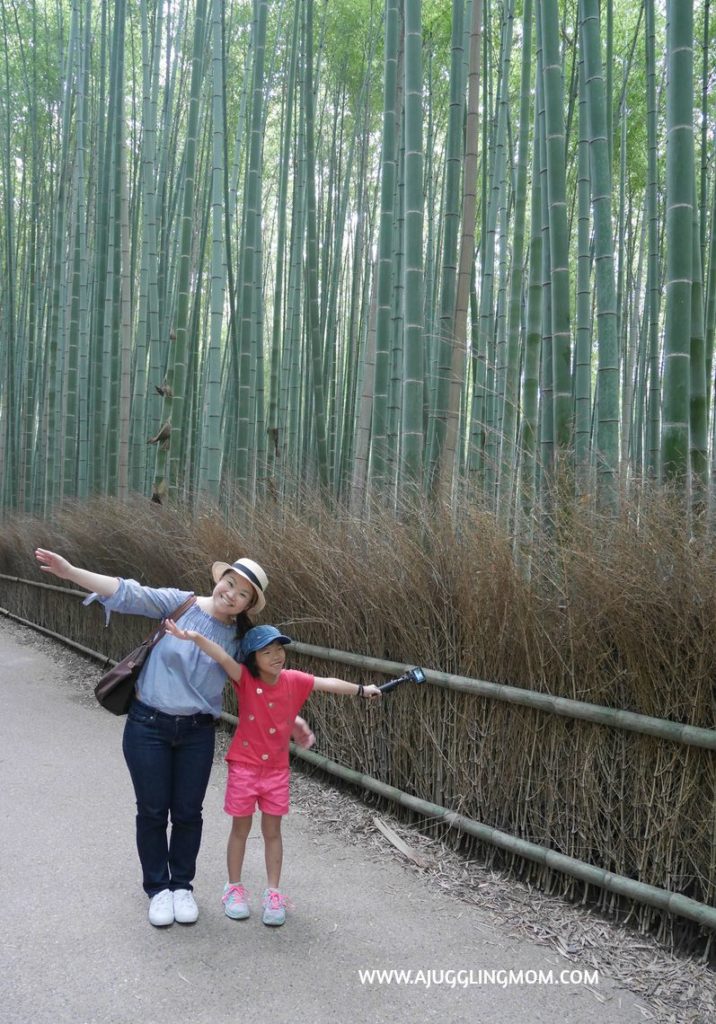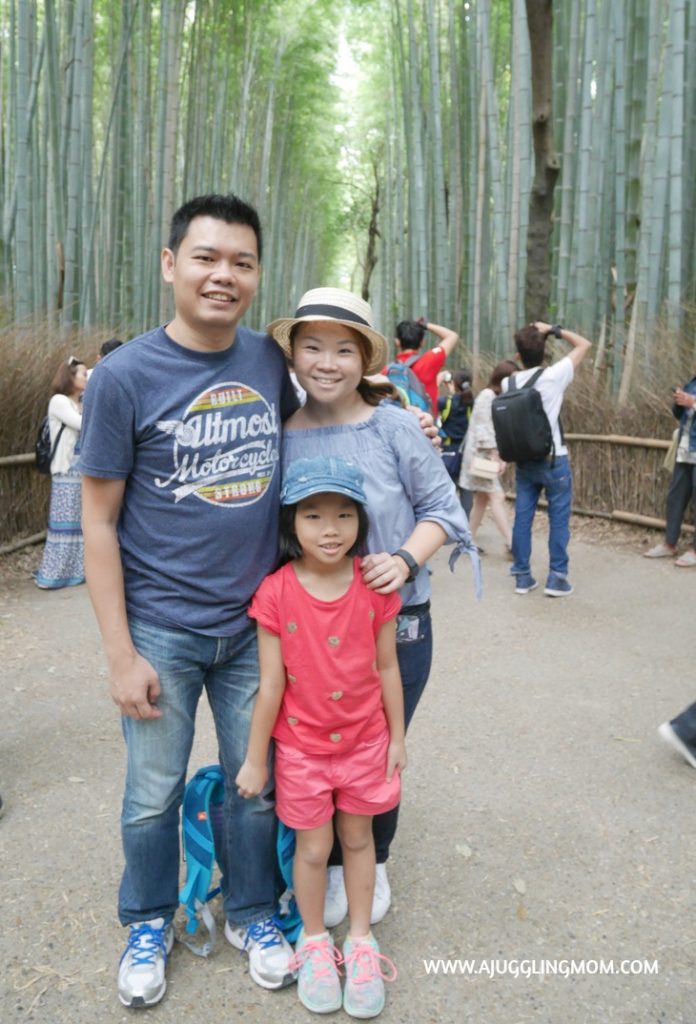 TIP: According to reviews Trip Advisor, some advised coming either early in the morning or late in the afternoon if you want to have a calm and peaceful experience in the bamboo grove.
As much as I wished to say it was a tranquil and peaceful experience like what is portrayed online, it was lined with huge crowds when we were there around noon on Sunday.
Kimono Forest in Kyoto
Since we are on the topic of forest, you don't want to miss the Kimono Forest.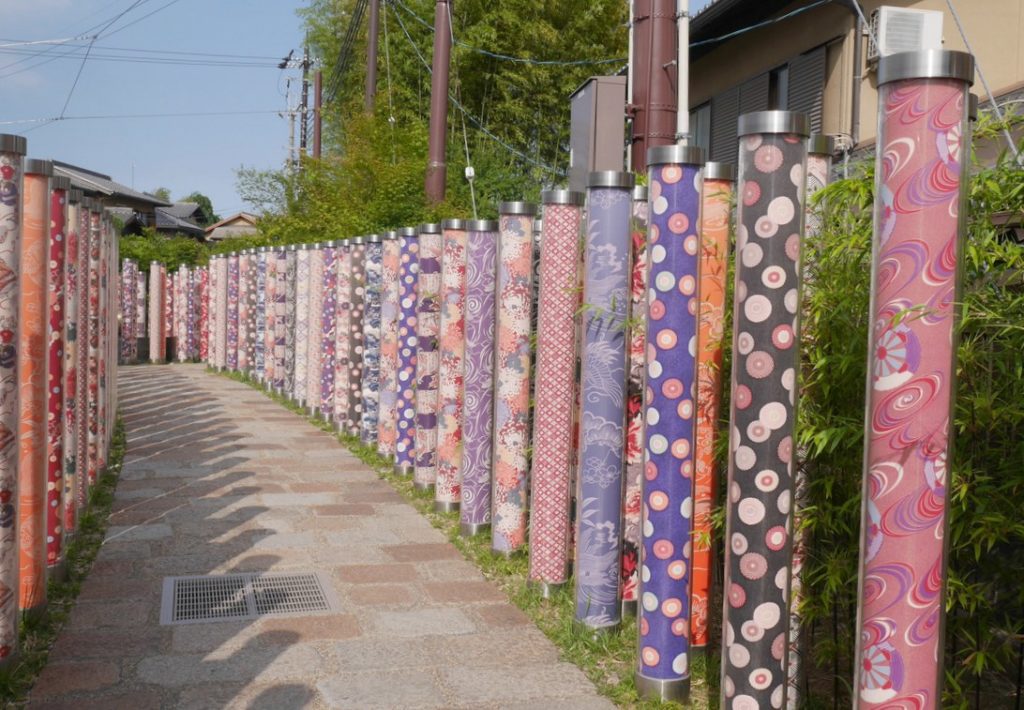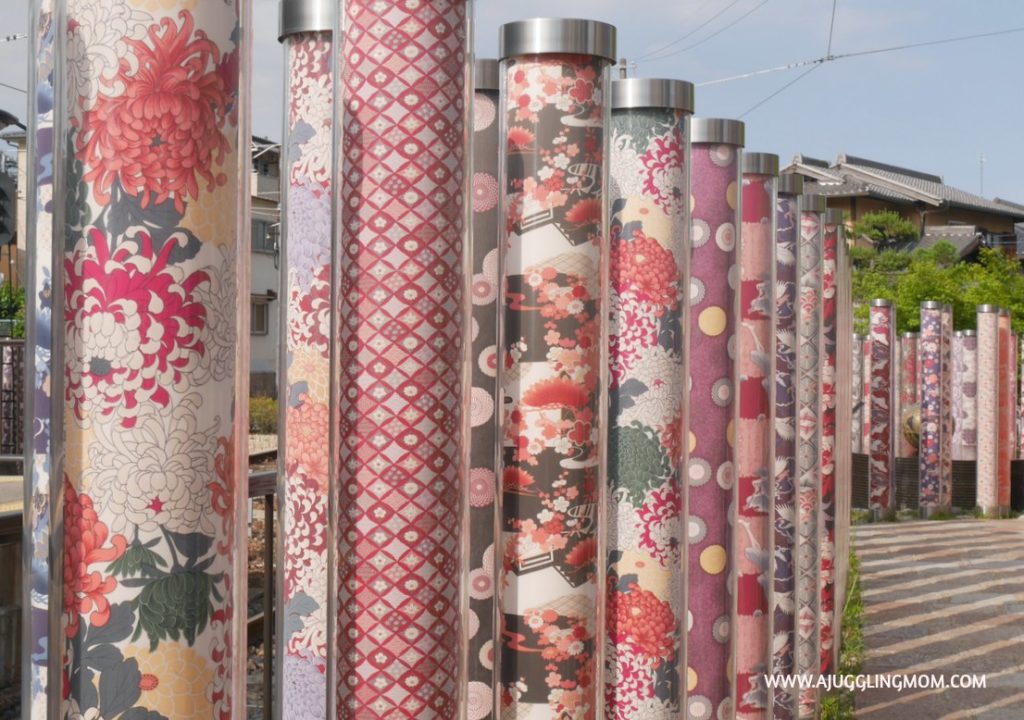 This lesser known forest is actually a man-made "forest"  marked with a footpath lined with 600 pillars that creates a dramatic entrance to the Randen Arashiyama Station.
Within the pillars, pieces of fabric dyed in the Kyo Yuzen style decorated each cylindrical pillar with a unique design. Each print was intricate and beautiful in their own way and they made a delightful backdrop for photos.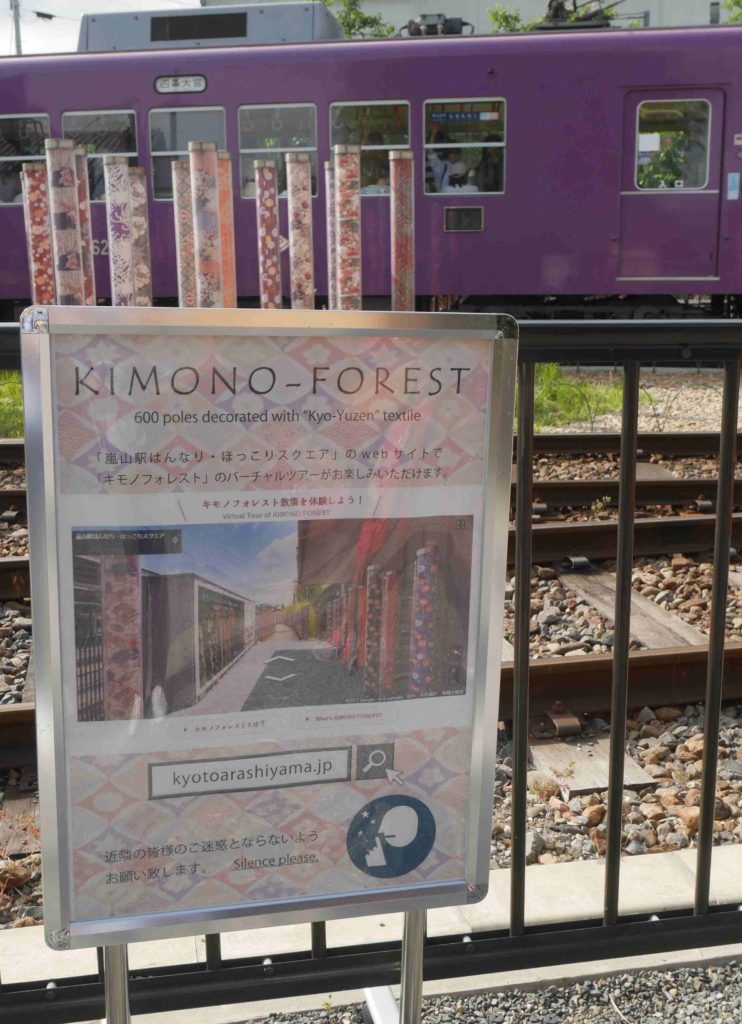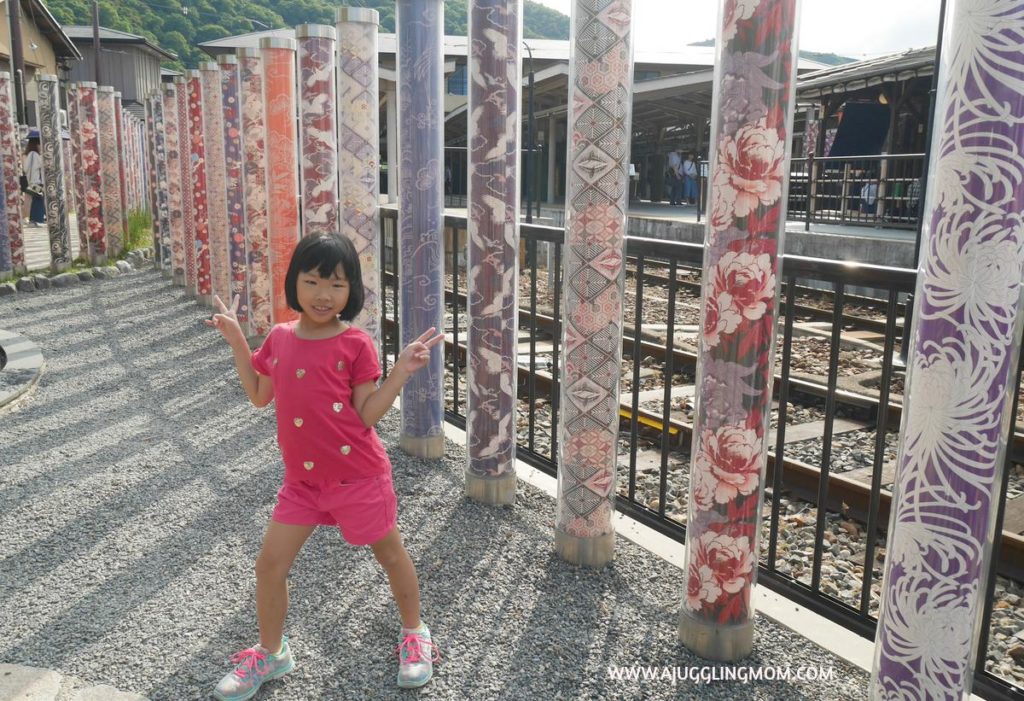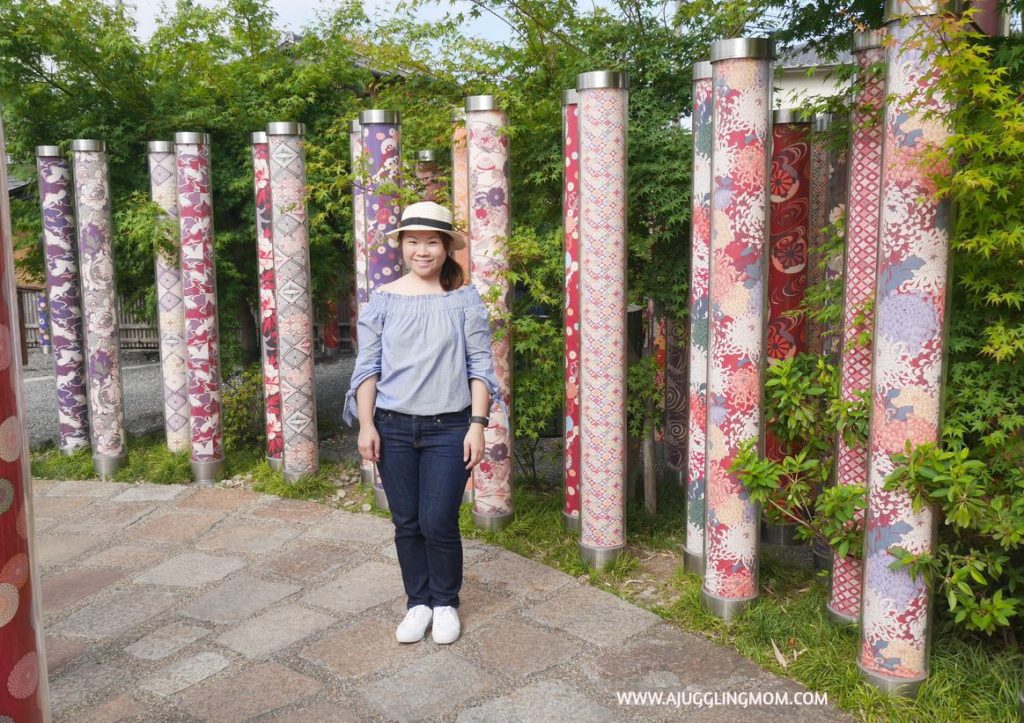 From the natural Bamboo Forest to a man made Kimono Forest, both attractions in Kyoto were captivating in their own right. 
Before we headed back to Osaka, we also stopped by the Togetsukyo Bridge, another well known landmark where you can spot folks on rented boats. Make sure, you linger a little longer here and take in the sights and sounds of nature.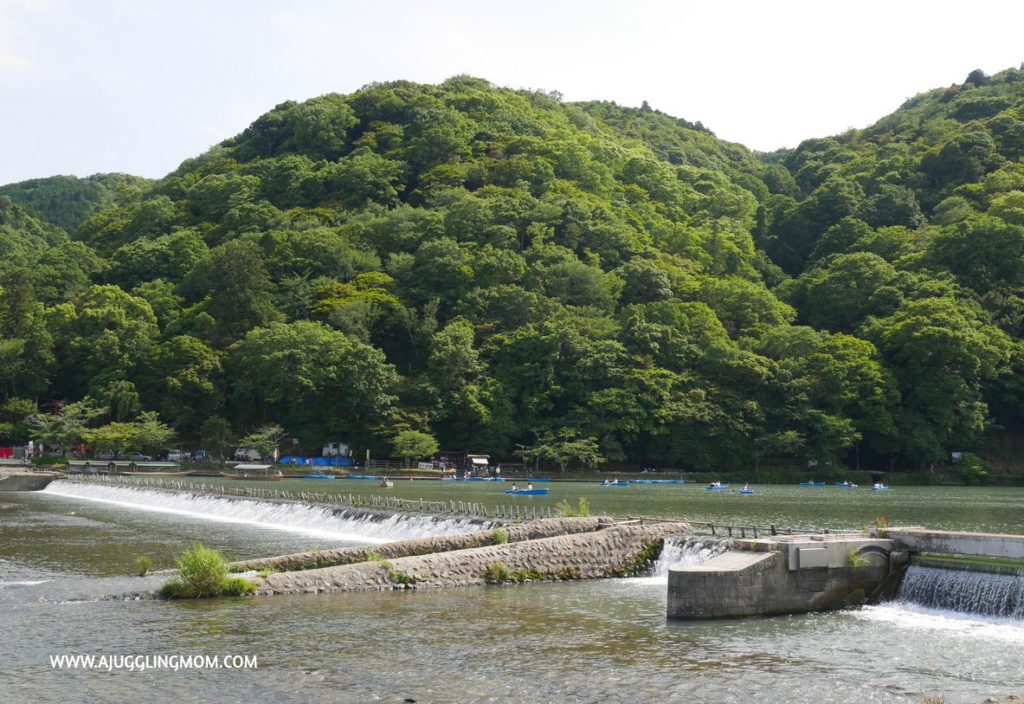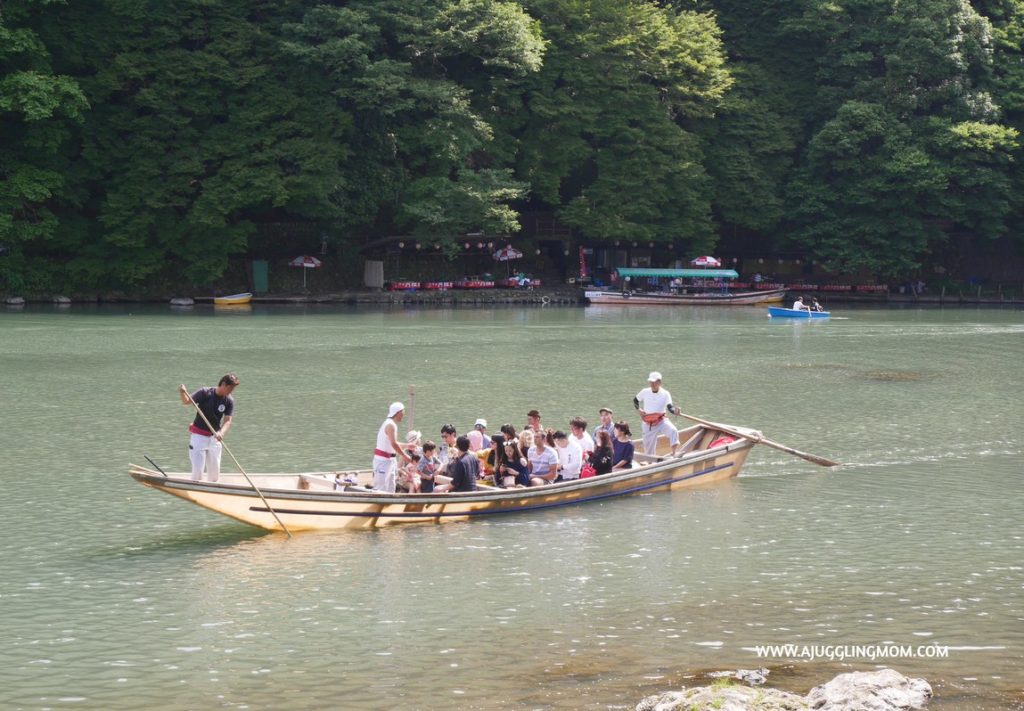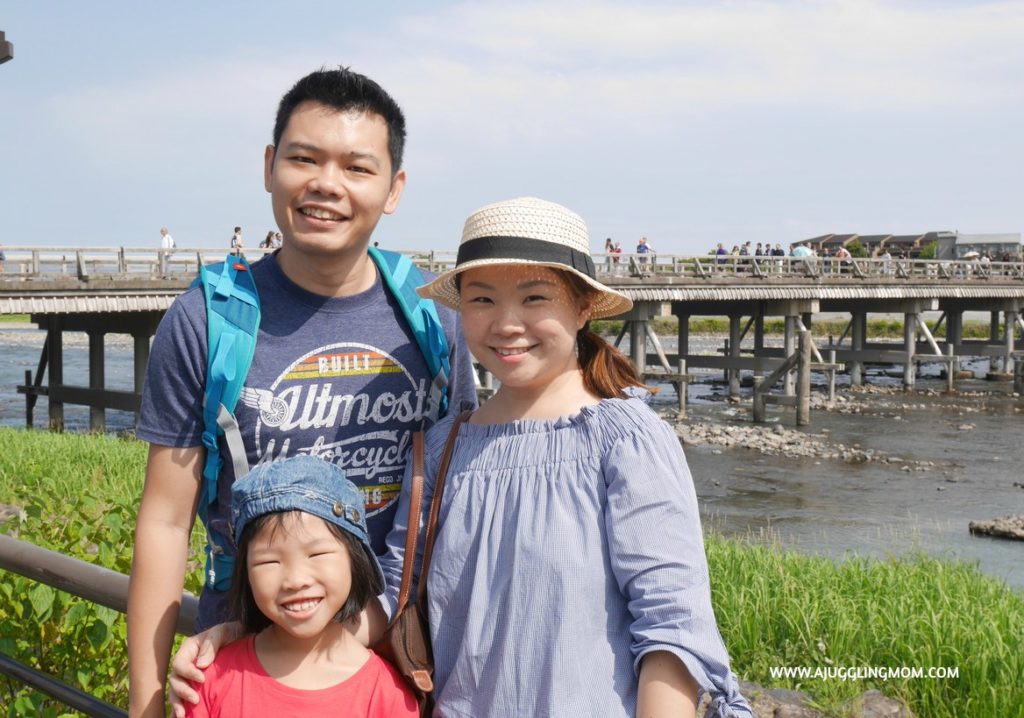 Travelling to Japan soon?
More about our Japan holiday in the next post, on our amazing Universal Studio Japan experience and the most adorable Minion Town that just opened this year in 2017.
If you're heading to Japan soon, don't miss my earlier Japan posts below.
Enjoyed reading this post? Do like my Facebook page to get more family friendly travel updates.
You can also follow me on Twitter (@Susankoh) or Instagram (@ajugglingmom) for more travel and parenting posts. See all the places that we visited on our Japan holiday with the hashtag #TaysinJapan
Tagged: family holiday, family vacation, Japan, Kyoto