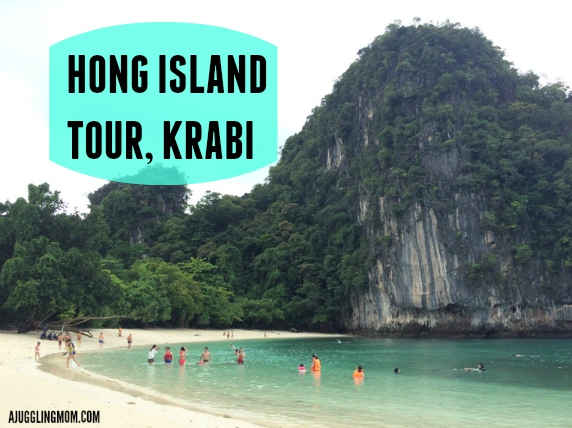 Following my first post on where we stayed during our 5 day vacation in Krabi, here's Part Two where n our virgin island hopping adventure.
Island hopping to Hong Islands
When you think of Krabi, the first MUST DO is no doubt island hopping. Before we left, I did a little research on the island tours available and there are so many options to choose from. There's Phi Phi island (made famous by the movie, The Beach), Maya beach, Railay Beach, the 4 islands and Hong islands.
We finally settled on Hong Islands as I heard that it's one of the most pristine islands of Krabi. And most importantly, you wouldn't get swamps of tourists like they do on Phi Phi and Maya islands. From the forums recommendations, we hunted down this company Barracudas Tour in Ao Nang and located it in a conspicuous corner, a mere 5 minutes from McDonalds.
Our final offer for a longtail boat tour to Hong Islands was 1,300 baht (S$52) for two adults and a child which included lunch, entrance to the National Park, drinking water and snorkeling  gear.
The next day, we were picked up from the hotel to Ao Nang Beach for the tour at 8:45am. The tour was slated to be from 9-3pm and we slapped on crazy amount of sun block as we didn't want to get roasted under the sun.
It's supposed to be the Monsoon season in Krabi (August) and we were very lucky that it didn't rain at all the day we were out!
After a 40 minutes boat ride on our longtail boat, we finally arrived at Hong Island Bay where we were welcomed by the spectacular limestone cliffs at the floating pier that led us to the beach. As we walked on, we came to a sheltered lagoon where the breath taking view completely wowed us and made us felt like we found paradise. The sand was so fine that Sophie's face lit up as she dug her toes in and wiggled them free again and again. Oh to see such pure joy warms my heart.
After dropping our belongings on a towel on the beach, we jumped right in with our snorkel and was thrilled to see school of fish swimming around us. Thankfully, we were not the only ones embarrassing ourselves silly with excitement as many tourists were also trying to spot them. What's even more amazing is that you didn't have to swim too deep to see the fishes and you can see them swimming nonchalently and carefreely around you.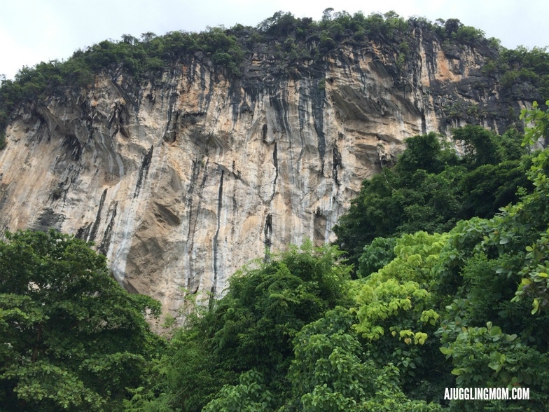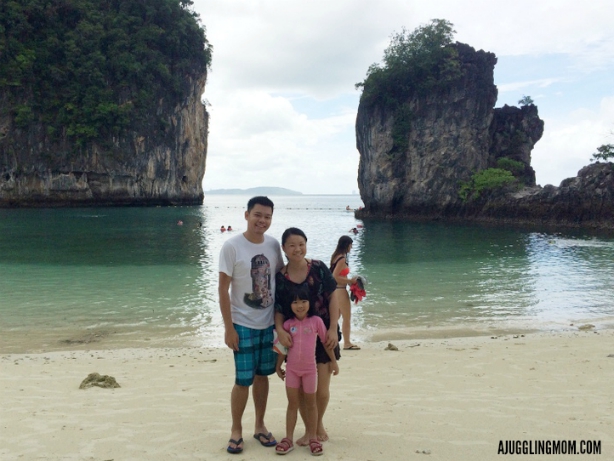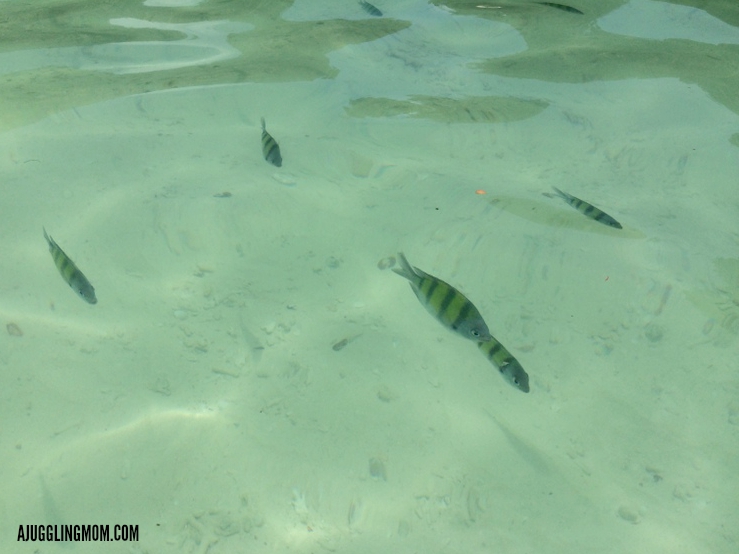 The water here is so clear that you can easily spot the fishes while swimming. There were easily 6,7 species of fishes and the most common species were these yellow and black strip fish above as well as silver fish but they didn't really turn up well in my photos. And the most incredible was seeing a flying fish leap out of the water that I actually shrieked when I saw it from the corner of my eye causing me to swallow some water!
It was a good idea to bring along Sophie's arm float as she could float around in the lagoon safely with no danger of currents to worry about. Plus the water here is relatively shallow, so it's safe for younger kids to explore freely too.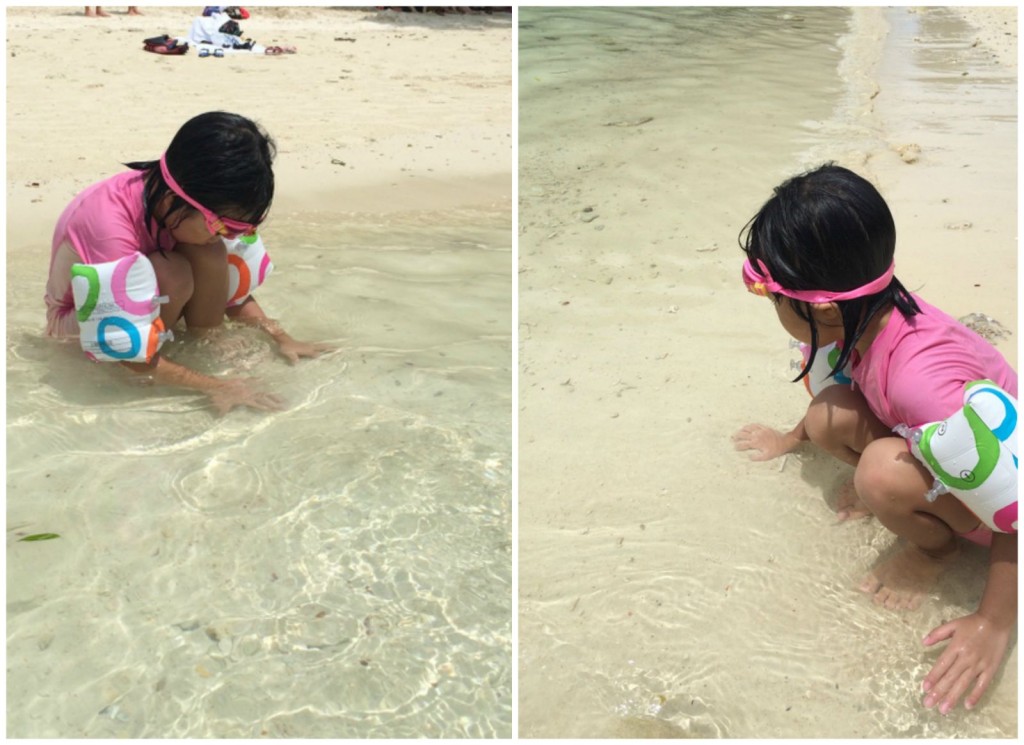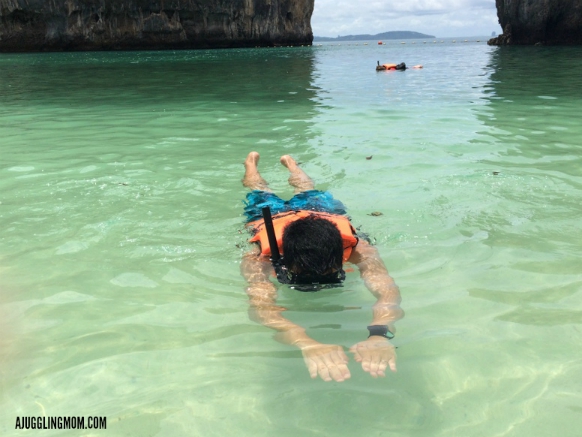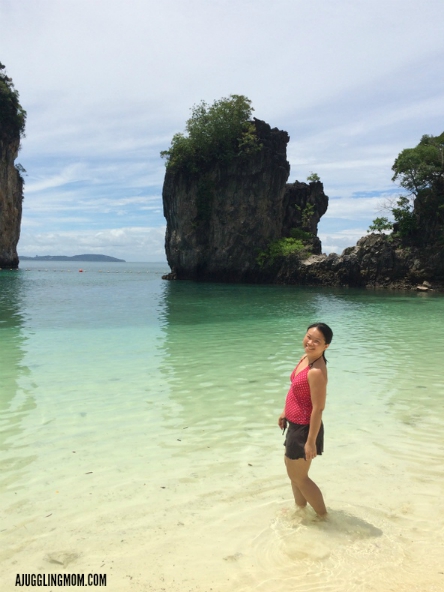 At our next destination, Pak Bia island, we spent about 50 minutes there and had our lunch by the beach.
Lunch was a simple fare with plain rice,  stir fried veg, chicken drumlets and stir fried chicken with onions. I was initially worried that Sophie might have problems with the food but she woofed it all down as we took in the sights of the calm waters and clear blue sky before us.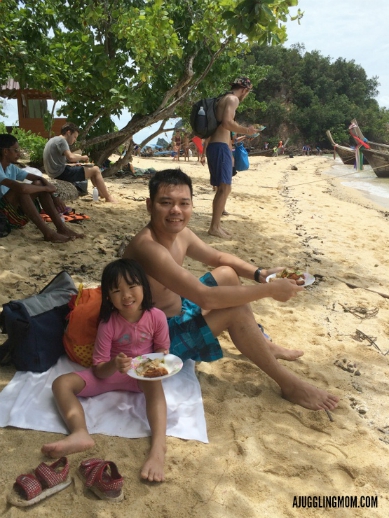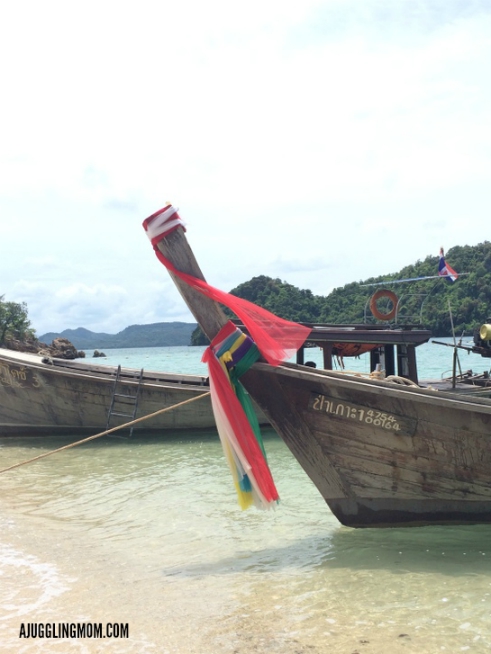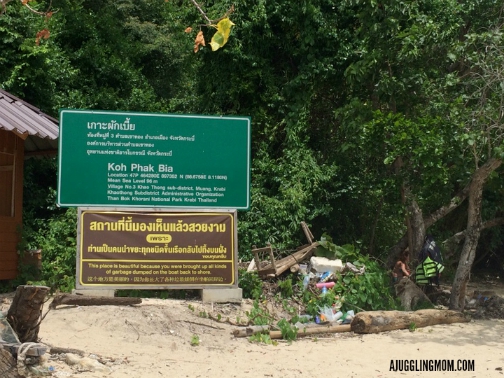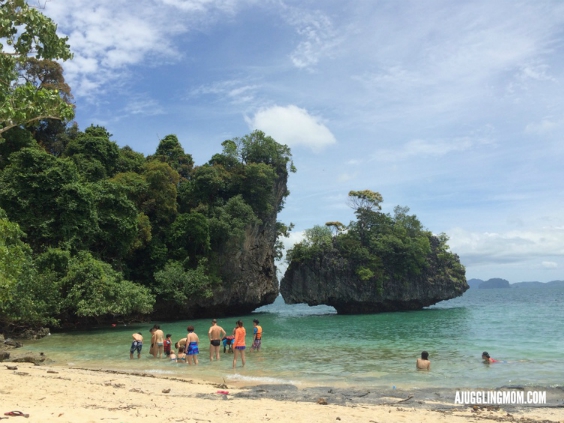 It wasn't much to do here and we were tired from all the swimming earlier so we just hung around the beach until we noticed this swing made from a branch. Sophie was initially reluctant to get on it as she was worried that it will give away.
But after seeing a few kids having so much fun, she went on it but quickly asked to be carried down once mummy was done taking photos. Haha, not as brave as I thought she'll be.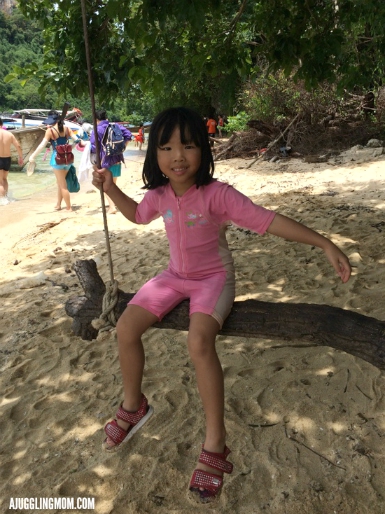 The last spot were were taken was Lading Island and according to the guide, it's also call it Paradise Island. In the past, tourist were not allowed on Lading island as it was a swallow nest collectors camp with people living there but now they have opened it up.
And while it's termed Paradise Island and had the loveliest emerald hue water, I still preferred the first Hong's Island Bay where it has a much cleaner beach. But it didn't deter us from going swimming again. I swam out to check out the coral reef but it's not as spectacular as I imagined but I did see many fishes.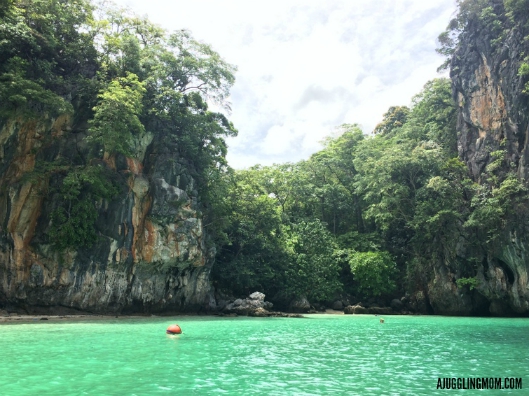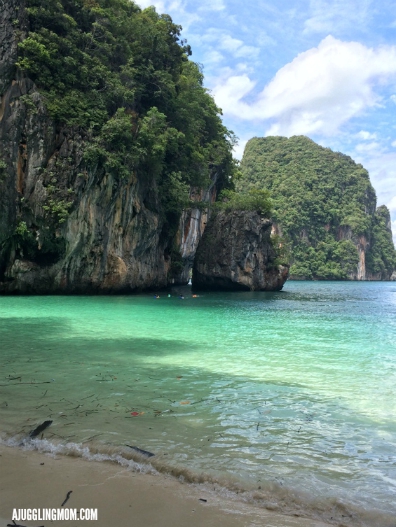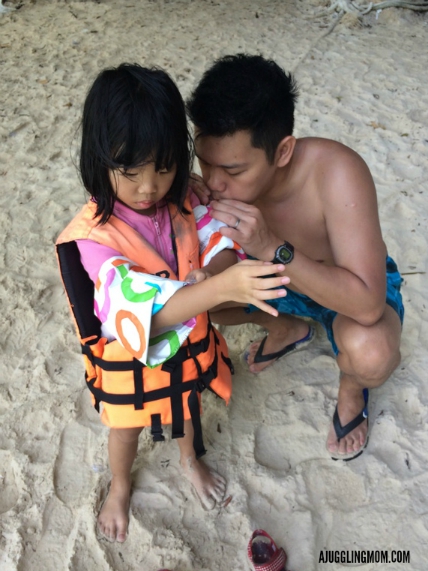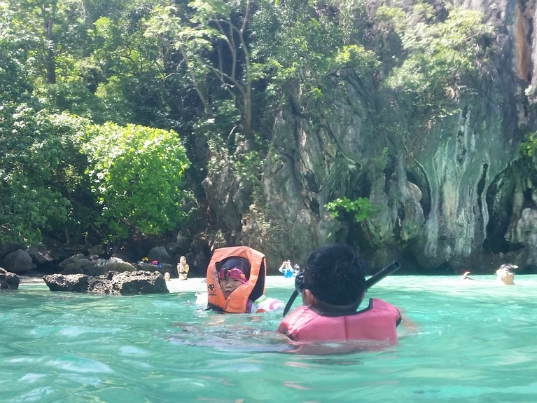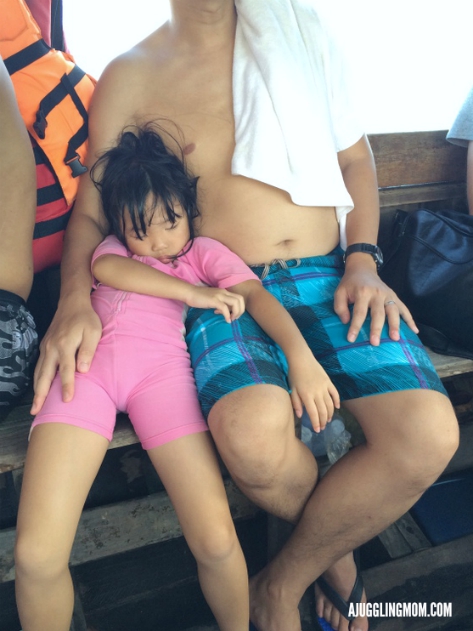 After being under the sun for 6 hours, Sophie was knocked out on the way back. I'm glad that we went ahead with the island tour even though we had our initial reservations on how suitable it would be for Sophie. Turns out our worries were unfound as she enjoyed it so much and she even said, "You know, this is the first time I swim in the sea!" which I think is a first for us too!
And of course, we can finally tick it off our check list as we missed going for any island tours the last time we went to Phukett which was a real pity. I've always heard that Krabi's beaches are the best and now I know why.
If you're planning to go island hopping, don't forget to pack these essentials along.
Sunblock (A MUST)
Swim wear
Goggles and floats
Towel or mat
Waterproof pouch for mobile phones
Snacks and waterbottle
That's pretty much what we did on Day 2 in Krabi. Do stay tuned for Part 3, where I'll share about our elephant trekking experience and all the noteworthy places we ate in Krabi!
Krabi Part 1 – Our stay at Holiday Inn Resort Krabi
Krabi Part 2 – Hong Islands Tour
Krabi Part 3 – Krabi Part 3- Elephant Trekking Tour
Krabi and Ao Nang food guide for families
Tagged: family holiday, Krabi, Thailand, travel