October was a month of adjustment for me where I returned to work. After being home with Sophie for more than a year and a half, it's back to being a juggling mum and finding that elusive balance between family and work like so many working mothers in Singapore.
Just like how my career break wasn't an anticipated move, the decision to return to work was equally unplanned. But here I am 4 weeks into my job, doing something I am so familiar with as I transit from being a SAHM to a FTWM.
Returning to Work as a Stay Home Mum
While I enjoyed every moment as a stay home mum, spending more time with Sophie in her important pre-teen years, a part of me yearned for more beyond the walls of my home.
At the start of the year, I took on some freelance work and also volunteered in Sophie's school, with Angel Hearts and also in church. I really couldn't ask for more because these part-time work kept me meaningfully occupied while ensuring I kept my marketing skills relevant.
And the best part is having pockets of time to meet my friends, especially other SAHMs when our kids were in school. But there was a growing restlessness that I wanted to do more instead of shelving my skills and experience away for fear that they would be regarded as being out-dated or irrelevant.
My initial plan was to return to work next year after the parent volunteer mums prepped me about the long school hours once Sophie hits Primary 5. With extra lessons on top of CCA and other school activities, I'll see less of her and don't even get me started on Primary 6 when the school will run at full steam for the PSLE.
So I committed my heart's desire to God and asked Him to pave the way for both me and Alexis's job search. To open doors that are in His will and to trust in the waiting. With the fourth quarter of the year was approaching and a slowing economy, I tempered my expectations and hoped for the best.
Out of the blue, an ex-colleague shared a job opportunity and it was perfect because it was a contract role which would allow me to ease back to work gradually.
The First Step is Always the Hardest
You would have expected me to jump up in delight and seized the opportunity in an instant, but instead, my first response was that of doubt. I second guessed my decision to go back to work and doubt stood in the way of me saying yes.
Doubts if I was up for the job after being out of action for some time.
Doubts if I was able to cope with the demands of the job and the unknowns that came along.
Uncertainties if I'll be laden with mum guilt especially when Oct is the final year exams for Sophie.
Fears if I can do this whole juggling mum act all over again and not feel mum's guilt.
But God knows me better than I do and He sent people my way to encourage me to go for it.
Cast all your anxiety on him because he cares for you. 1 Peter 5:7
Fear Gives Way to Faith
I didn't want fears to stand between me and what God has clearly provided. And as I loosen my grip of fear and surrendered them to God, I asked for a double portion of faith.
Faith to believe that I'll do well where He has planted me and that I will not just survive but thrive. That I will thrive well as a working mum, capable of balancing work and family with understanding boss and colleagues as well as back home with a supportive family. That I don't have to feel burdened with working mum's guilt because I can be my best both in and out of the home.
Trust in the Lord with all your heart and lean not on your own understanding, in all your ways acknowledge Him and He will direct your paths.Proverbs 3:5-6
There is a peace that comes from being in the will of God and giving up my rights to control my life to someone who knows best. At the same time, I will remember that I have chosen this path for myself and to be thankful for this contract role.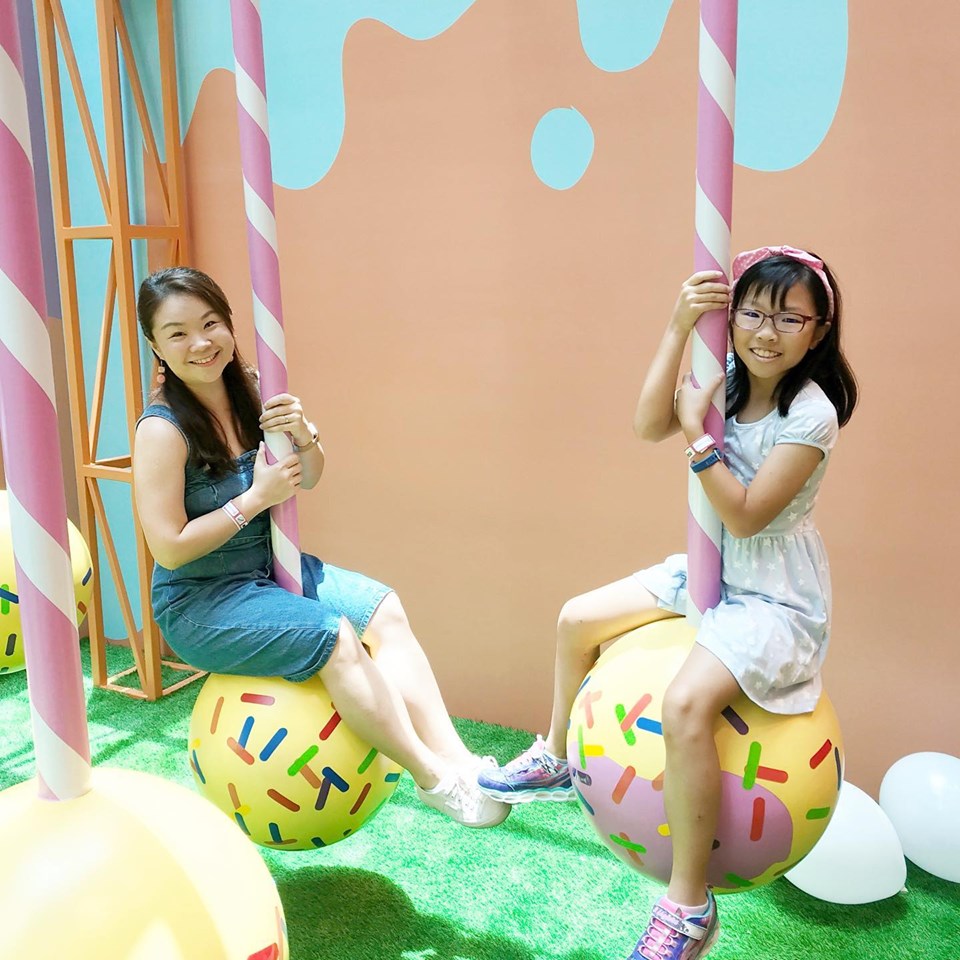 In fact when Sophie asked if I liked going back to work last week, I told her that I did without having to feel mum's guilt because now we both have stories to exchange at bedtime.
More importantly, I want to remember that work can be a form of worship but it doesn't define my worth. My identity is so much more than a job, a title, and even possessions which will never be enough of. I don't want to forget this sweet spot where I'm in right now where I am contented.
Work can be a form of worship but it doesn't define our worth.
I was hesitant to share this story of how I rejoined the work force. After all, it wasn't too long ago that I wrote about how SAHMs should never regret our decision to choose our family. However,  life is never about staying still in one spot. Life ebbs and flows and we have to be ready to readjust our sails when the winds of life take us on a different course if we want to keep thriving instead of sink under the waves of change.
And after having the privilege of being a SAHM, I am more aware of my life choices and I don't believe that working mums must subscribe to a life of struggle and be burdened with mum's guilt. Make our choices well and don't regret our decisions be it staying home or returning to work. If we always wake up in the morning feeling torn by our decisions, we will never be able to be our best for ourselves and our family. 
If you are facing a situation that requires a leap of faith to go from fearful to faith filled, I hope that you find courage to change your situation. To be able to look beyond what lies before you and see what the future holds for you when you make that decision to be brave for yourself. If you need an extra dose of courage, drop me a message and I'll be happy to pray for you too.
If you enjoyed this post, you may like these posts where I share my heart about parenting and mtherhood
Enjoyed reading this post? Do like my Facebook page to get more sharing on parenting. You can also follow me on  Instagram (@ajugglingmom) for travel and fun places to go with your family.
Tagged: tips for working mums, work life balance