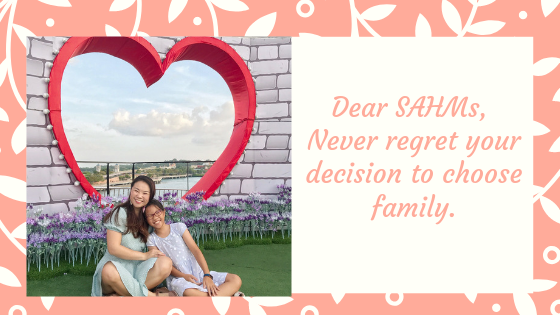 They say that time flies by when you're having a good time and I can't agree more. I counted the months I've been a stay home mum, and it's been a grand 17 months.
It certainly doesn't feel that long.
2018 was a sabbatical year of rest where I focused on both physical and emotional healing after two surgeries. Once I came out of the woods in March this year, I dabbled with freelance work from home which gave me the flexibility of time so that I can be home with Sophie
I'm often met with choruses like,
"You're so lucky to be home with your child."

"I wish I can stop work like you."

"If only my husband will allow me to stop working."
I know that not everyone gets to have a choice to stop working and it's something that I never take for granted. Or perhaps for you, it was more of not having a choice.
Kids who kept getting sick. Parents or in-laws who can't help with the kids. Long waiting list for infantcare or childcare centres. Spouses who preferred you to be the main caregiver for the children.
Even though stay home mums are the envy of many working women, there is also a lot we had to give up to be home with our kids.
What Stay Home Mums Give Up
We gave up security.
The financial security of having two paychecks, not worrying about savings or having to tighten our purse strings. Going from dual income to single income means that we have to be extra prudent with our money so that we can still save and provide for ourselves, our kids an our parents.
The security of the future because in this day and age, no one is ever indispensable in the workplace. Whenever there are news about retrenchment, economy slowing down and recession, I say a prayer for my husband as the sole breadwinner.
We gave up advancements.
When I chose to stop work, I know that this move will be be a dent to my career advancement. While my peers were climbing up the corporate ladder, I took myself out of the rat race altogether.
We gave up community.
Ask any stay home mum, and most will tell you that it can be lonely being at home with the kids. Even though I make time to meet up with friends when my daughter is in school, the only voices I hear in a good part of the day are mine and my kid.
No regrets as a Stay Home Mum
But despite it all, I never have any regrets being a stay home mum because I know I am only needed for a season. My child will get older and her day will get busier and longer in school. And by then I will know that it's time for me to return to the workforce.
I believe that money can be earned later, but there is only a window of time when our kids are most open to us before they hit their teens. A time when they are looking for a safe zone in their parents and I want to be around when she's searching for answers. I want to be around when she needs comfort.
I'll raise both hands up and admit that I don't qualify as a domestic goddess. In fact, my mum would shake her head at me since I'm no where near her standard of what it means to be a traditional housewife. But cooking and cleaning is not what I signed up for. The house meets decent living standards but it is no magazine styled home. Meals are simple as I'm just not into cooking anything fancy.
In fact, I had to correct my grandma when she said that Sophie is going to be an A- student with me coaching her. I may coach her, but her exam results is all on her.
Dear mamas, I know there are days that get you down. Day when you feel defeated seeing all the toys on the floor staring back at you, the mountain of laundry to tackle, kids rolling around on the floor because you said no.
But all these will pass.
If you've made a choice to be a stay home mum, embrace that choice and all that comes with it. Never regret your decision to choose family. The kids will only be young for a while and before you know it, they have outgrown your lap.
You don't have to be a perfect mum, just be a present mum. You are exactly where you need to be in this motherhood journey now.
If you enjoyed this post, you may like these posts where I share my heart about parenting.
Enjoyed reading this post? Do like my Facebook page to get more parenting posts updates. You can also follow me Instagram @ajugglingmom for more parenting and motherhood posts
Tagged: motherhood, Parenting, positive parenting