Whenever we visit a country, we like to explore places that are unique to that place. As a city that celebrates and embraces their street art culture, we couldn't pass up the chance to check out Melbourne street art and laneways. Never mind that it's not exactly the most child friendly itinerary we have in mind, after all this creative expression of art is something that we don't get very much back home in our pristine clean city.
Armed with this street art map, we headed to Degraves Street, after our half day Puffing Billy Adventure. Now that's a more suitable family friendly attraction and if you missed it earlier, you can read here.
Anyway back to Degraves Street, this is an iconic little laneway between Finders Street and Flinders Lane where people flock there for alfresco dining and coffee and I sure could do with a cup of coffee.
Exploring Melbourne Street Art and Laneways
These street art sure adds colour to the vibrant streets of Melbourne, where every nook and corner turns into a visual kaleidescope of creative and colourful expression by these artists. If you're keen to discover more of these street art, Union Lane, Caledonian Lane and Hosier Lane are where you  want to head to. Alternatively, you can even join a Street Art Tour like the one from Melbourne Street Tours.
We passed by Centre Place and it's an interesting laneway littered with many hole in the wall cafes that sells everything from sandwiches to soup to coffee, pastries and savoury delights.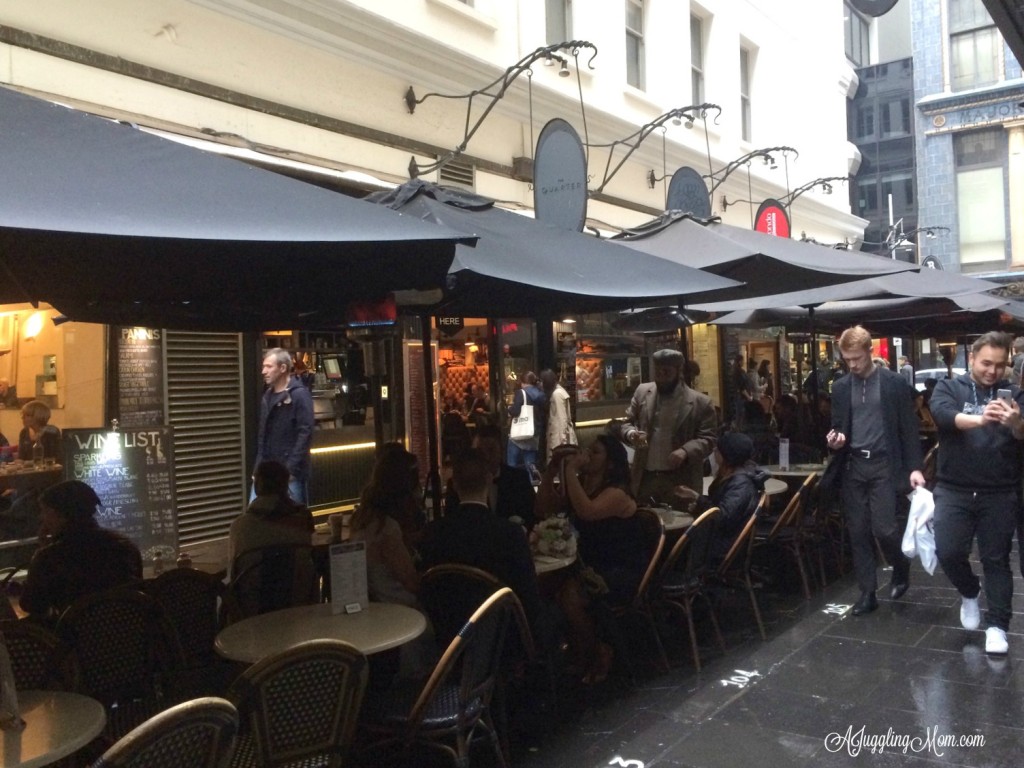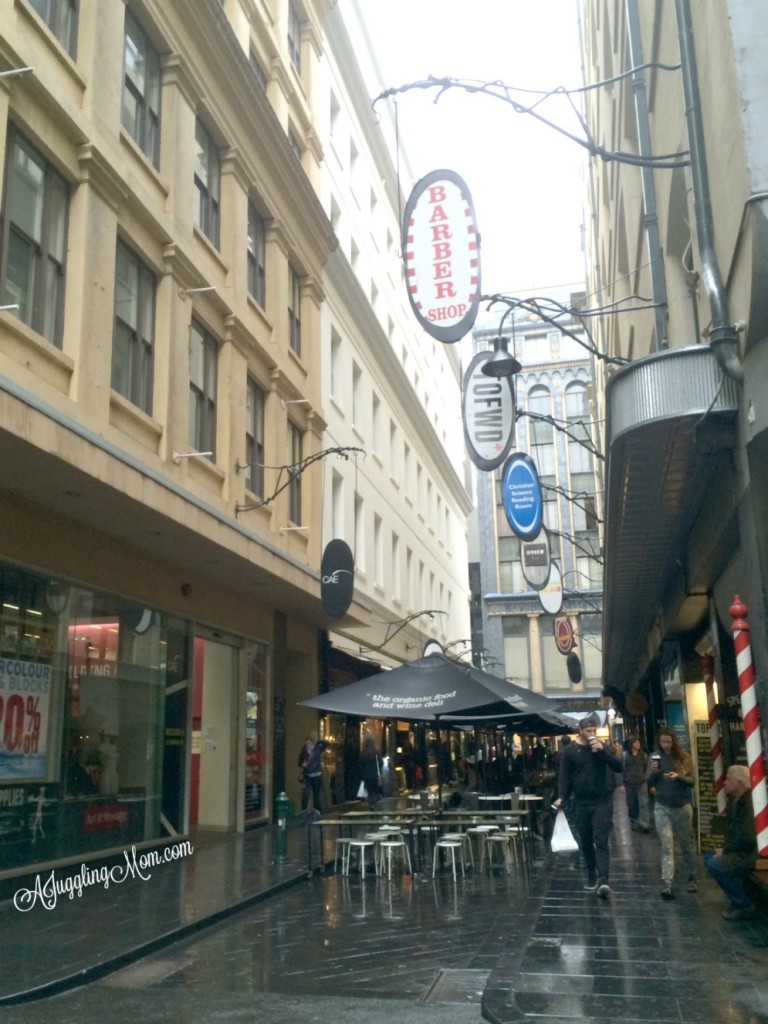 We settled on Little Cupcakes along Degraves Street so that Sophie can get her sweet tooth satisfied as I settled down for a coffee. I have to admit that I would much rather sit along one of those alfresco cafe to people watch especially in the nice cool winter.
But alas winter in Melbourne turned out to be a wet affair and the rain made it impossible to sit outdoors without getting my hair wet.
At least,  we managed to get the best seat in the cafe which allowed us to peek out from the shop and slowly watch the world go by while I sipped on my coffee with these 2.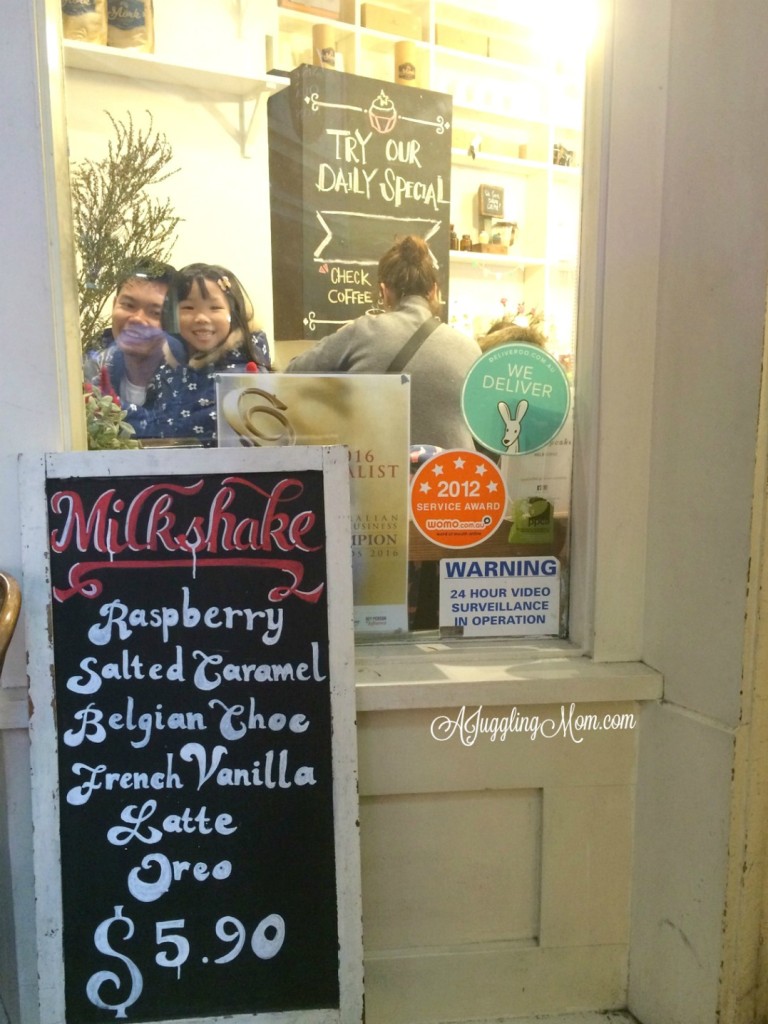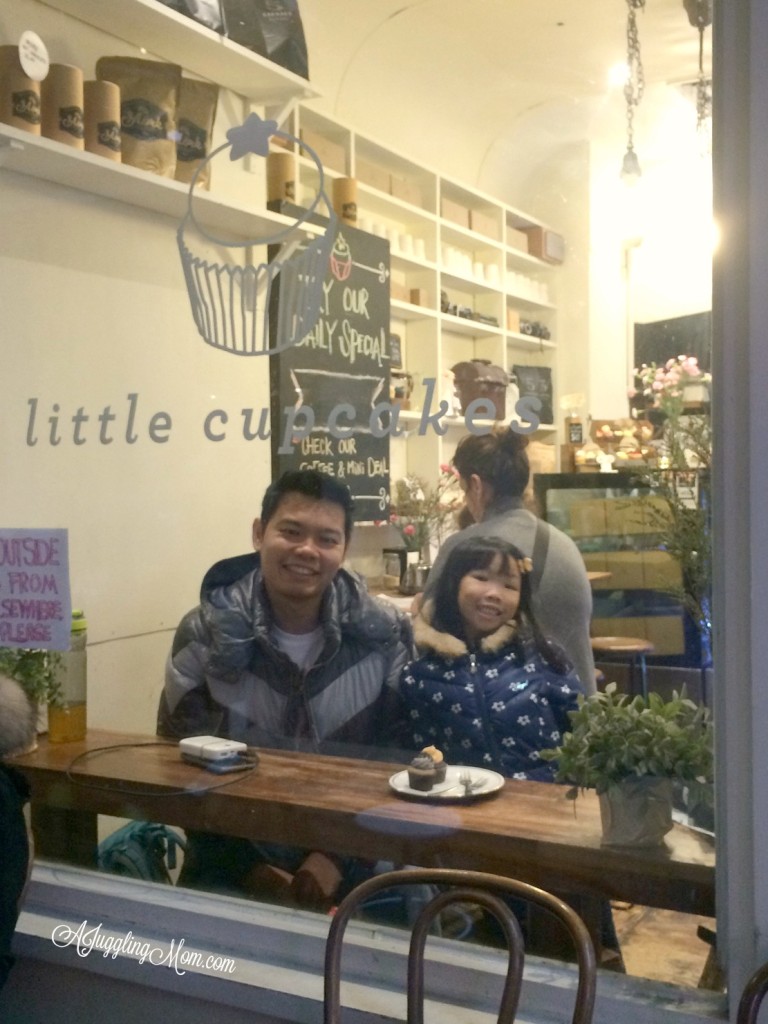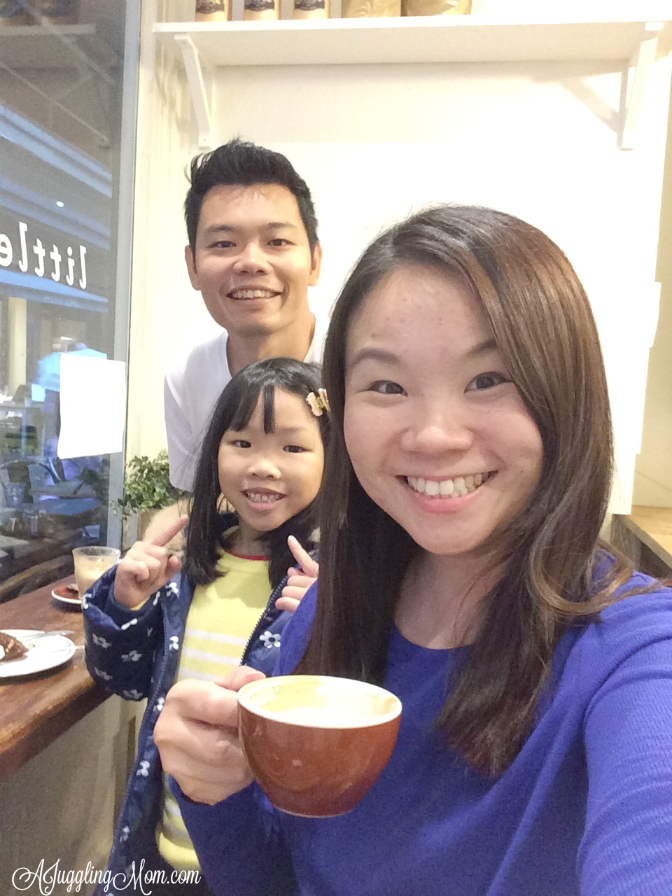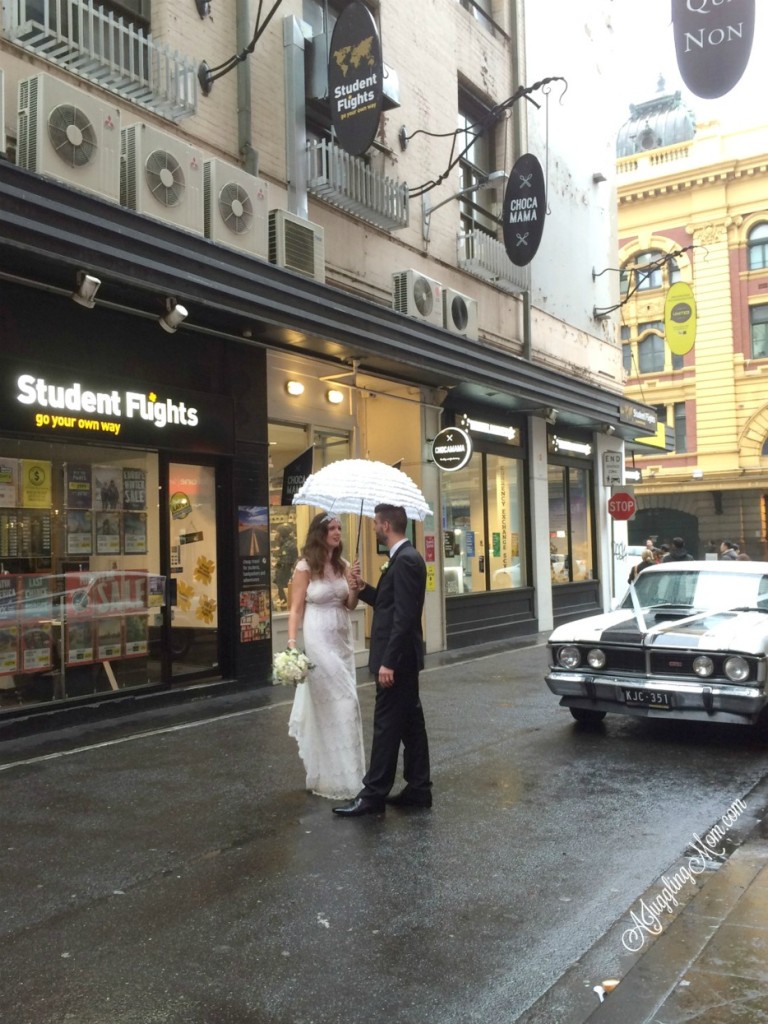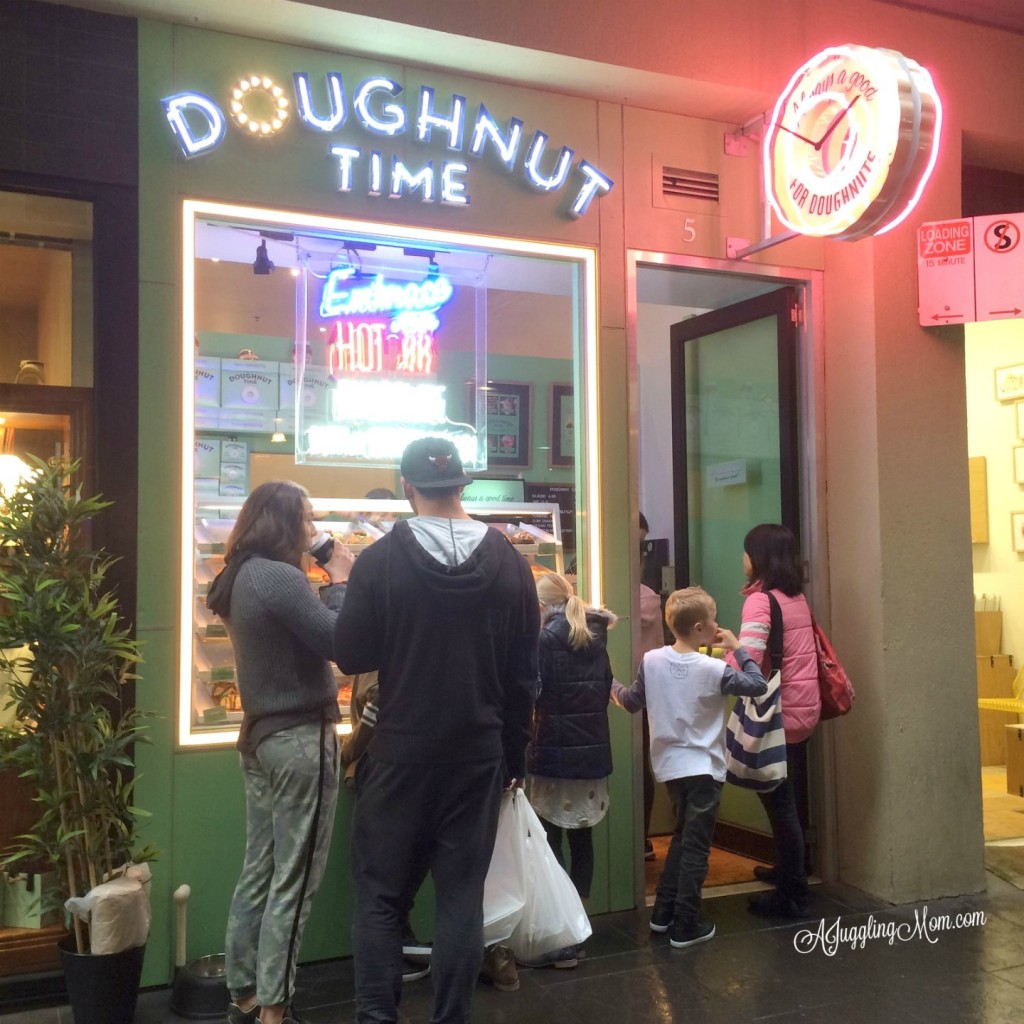 We spotted a couple taking their wedding photo and went to check out the fuss across the street at Doughnut Time where a snaking queue formed shortly after I took this photo.
Turns out that they serve a assortment of decadent handmade doughnuts that are very popular with the locals. But at $6 each, we just had to give these sugary treats a miss.
Accommodation in Melbourne
Since I had some questions on where we stayed, I thought I might as well add more details about it on the blog so that I can use it for my reference in future too.
We stayed at Citadines at Bourke Street, which is a service apartment in the heart of the CBD. We liked it because of it's centralised and convenient location where the tram station (Bourke Street) is right at our door step and the train station (Parliament) is just 5 minutes away.  Food is never an issue as there are restaurants, cafes and fast food outlets at every corner we turn.
We booked the Studio Deluxe and had a queen sized bed which was comfortable for the 3 of us. While we didn't get much of a view being on the 6th floor and faced the back of another apartment (I think), it hardly bothered us since we were out most of the time. For privacy, the living room and the bedroom are separated with a privacy screen.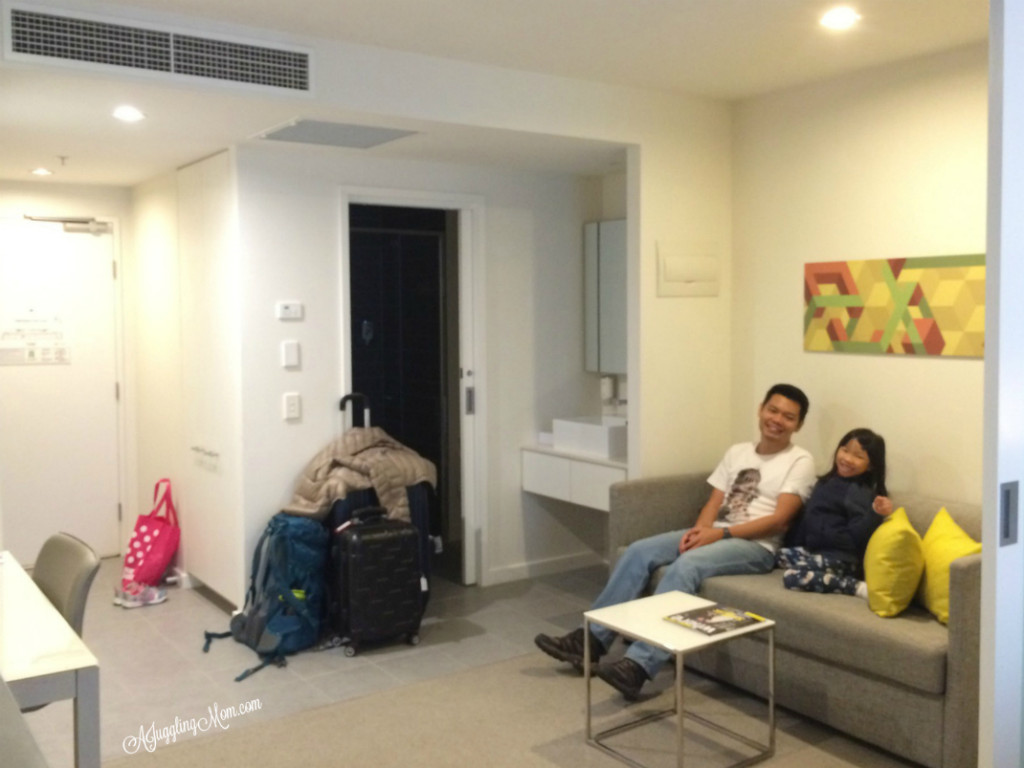 The kitchen is equipped with the necessary appliances for those planning to cook their meals but that was not in my holiday plans though the microwave was handy for heating up breakfast in the morning.

The living room had a three seater couch and most of the time we laid our jackets there to air. The toilet was also a comfortable size (No bathtubs here) .
They also have facilities like the gym, a lap pool, sauna and yes complimentary WIFI too 🙂
Overall we liked the spacious rooms and had a very comfortable stay. My only complain was that I wished they had firmer pillows.
You can check out their website for more photos and reviews here.
This concludes Day 3 of our 9 days free and easy Melbourne trip. Hit the links below for our first 2 days and do check back for the rest of our trip.
Day 1- Queen Victoria Market and Wedding Anniversary Dinner at Rare Steakhouse Uptown
Day 2- Puffing Billy Steam Train at Belgrave
Day 4- Weekend at St Kilda and Luna Park
I'll be sharing more about the rest of our free and easy itinerary on the blog soon.
Don't miss our Gold Coast adventures in Australia too. You can read more about where we went here.
Enjoyed reading this Post? Do like my Facebook page to get travelling updates. You can also follow me on Twitter (@Susankoh) or Instagram (@ajugglingmom) for more travel and parenting posts.
Tagged: Australia, family friendly activities, family friendly hotel, family vacation, Laneways, Melbourne with family, service apartment in Melbourne, Street Art, travel, where to stay in Melbourne