Ever since I saw Madeline shared about her Puffing Billy experience with her kids, I made a mental note of it because it looked like such a fun family activity for the family in Melbourne.
The Puffing Billy is a century-old steam train which still runs on its original mountain track. And the highlight of the train ride is where we get to dangle our legs out of the open sided carriage as it chugs through the forest and fern gullies of the Dandenong Ranges.
Getting to the Puffing Billy 
The journey there however was far from exciting as we had to take a long train ride on the metro from the Parliament station to Belgrave, that's a whole 70 minutes of train ride just for 30 minutes on the Pufffing Billy. Yipe, that's taking train to take the train.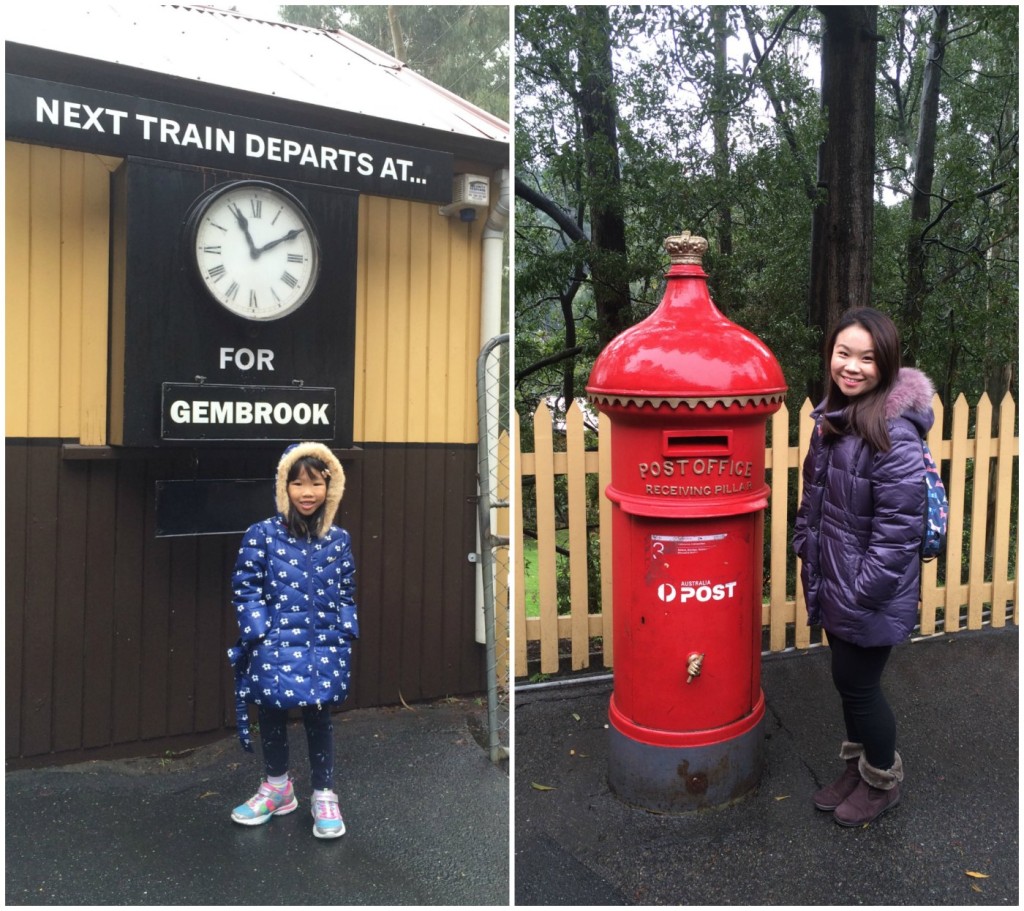 There are several options that you can choose, from a 30 minutes train ride to the next stop, Menzies Creek or to Emerald or to Lakeside which will take 3 hours. But after reading some reviews on Trip Advisor that one train ride to Menzies Creek will suffice for the experience we did that. Plus the cold wet weather in winter would also mean that a picnic is out of the question for us.
We were advised to arrive at the ticketing counter at least an hour in advance to get tickets as online sales  to Menzies Creek is not available. Thankfully, we got there half an hour before the second train departed at 11:10am and it was a lot less crowded than the third train.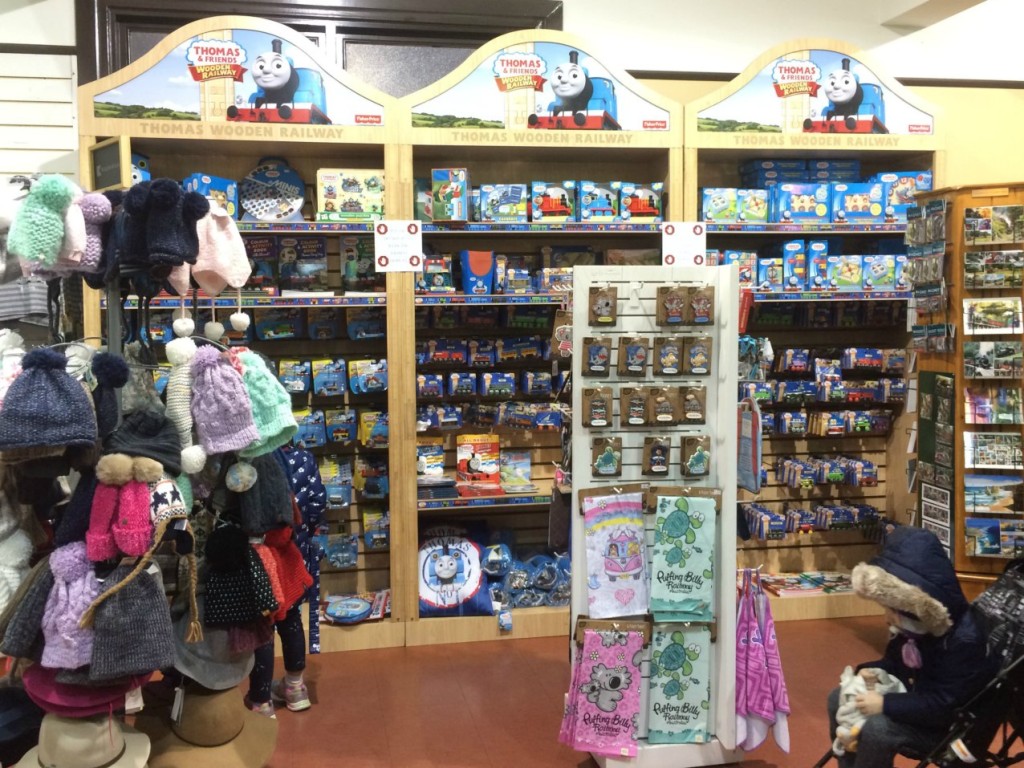 Instagram Tips
It's all free seating on a first come, first serve basis. But for some IG worthy photos, my suggestion is to secure your seats at the right as it departs from Belgrave station so that you'll be able to get a shot of the rest of the train as it makes a turn.
Don"t forget to get a photo at the head of the train like what we did too.
Sophie was apprehensive about sitting with her legs out of the open window and she's a bit of a stickler for rules too. So she was there for a whole 5 minutes before she decided that she's lived on the edge enough and got daddy to take her down. But admittedly it was getting chilly when it started to rain.
She was still in good spirits nevertheless did want to get left out when we took our selfie and had her own selfie moment too.
The train puffed through the forest, fern gullies and farmlands of the Dandenon Ranges and it such a fun experience watching the cloud of steam rise to the top of the forest each time the train puffed. But do be warned that you may get some soot on your clothes if you sit too close to the front.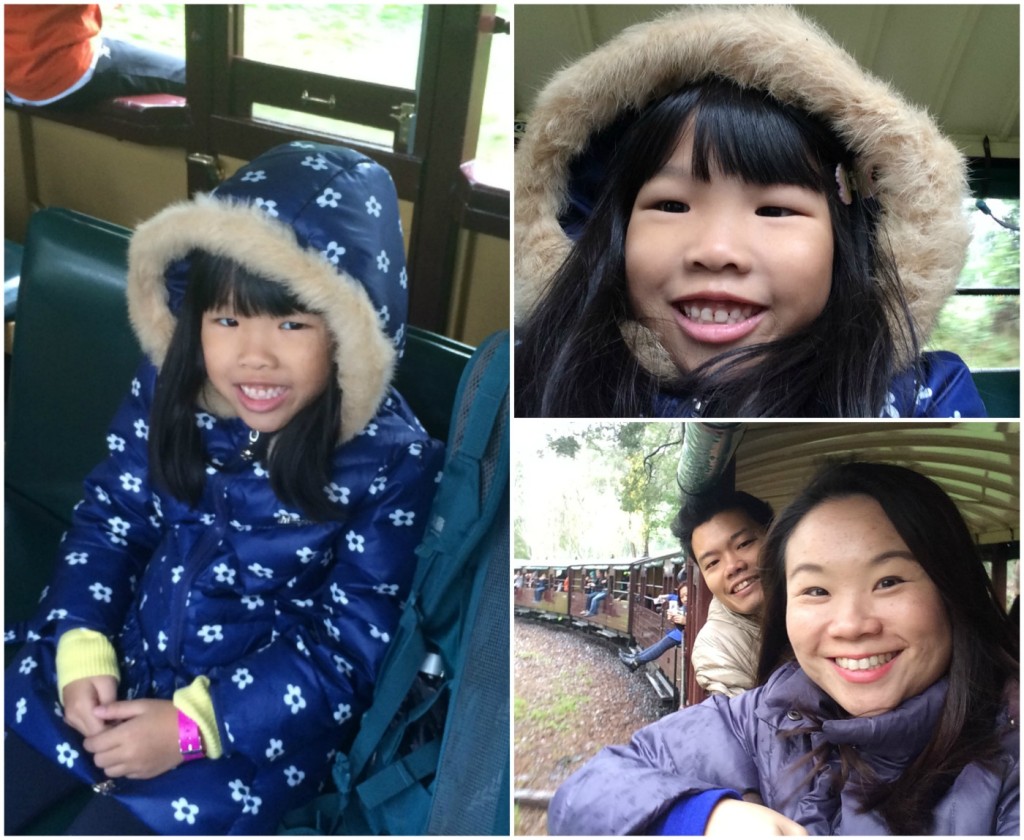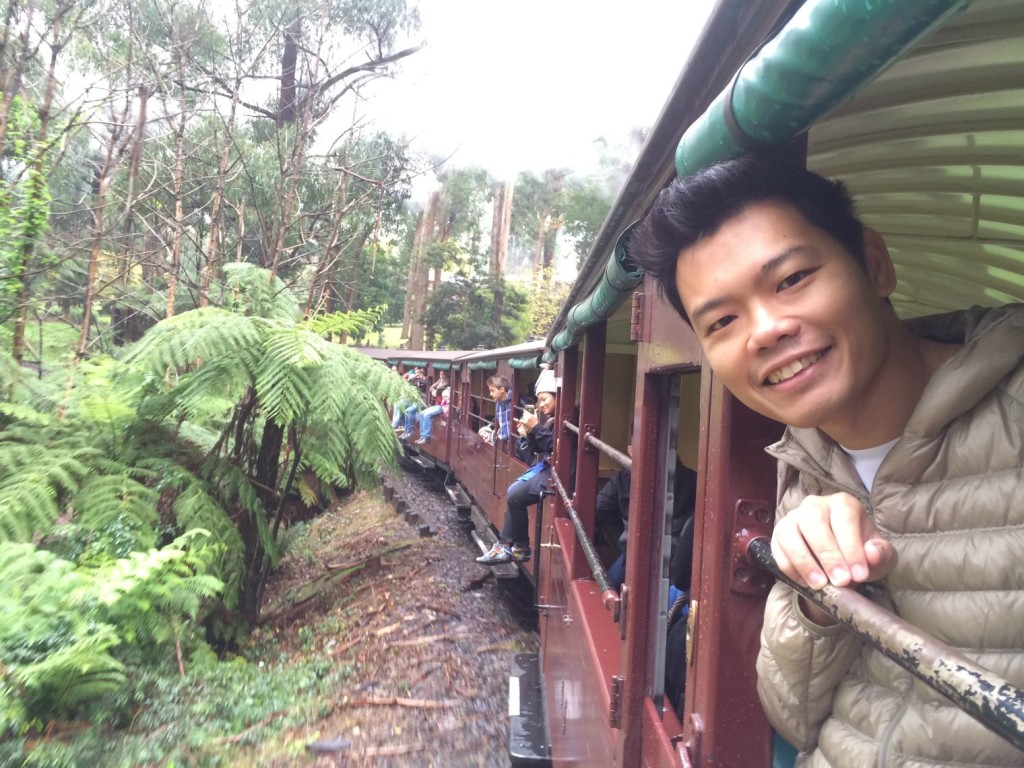 After half an hour, we arrived to the second station at Menzies Creek and hopped off to snap a few photos. We initially bought a one way ticket but we were clueless on how we were going to make it back to the city so with some quick thinking, we asked a volunteer if we could hop on the train that was returning to Belgrave and made it by the skin of our teeth!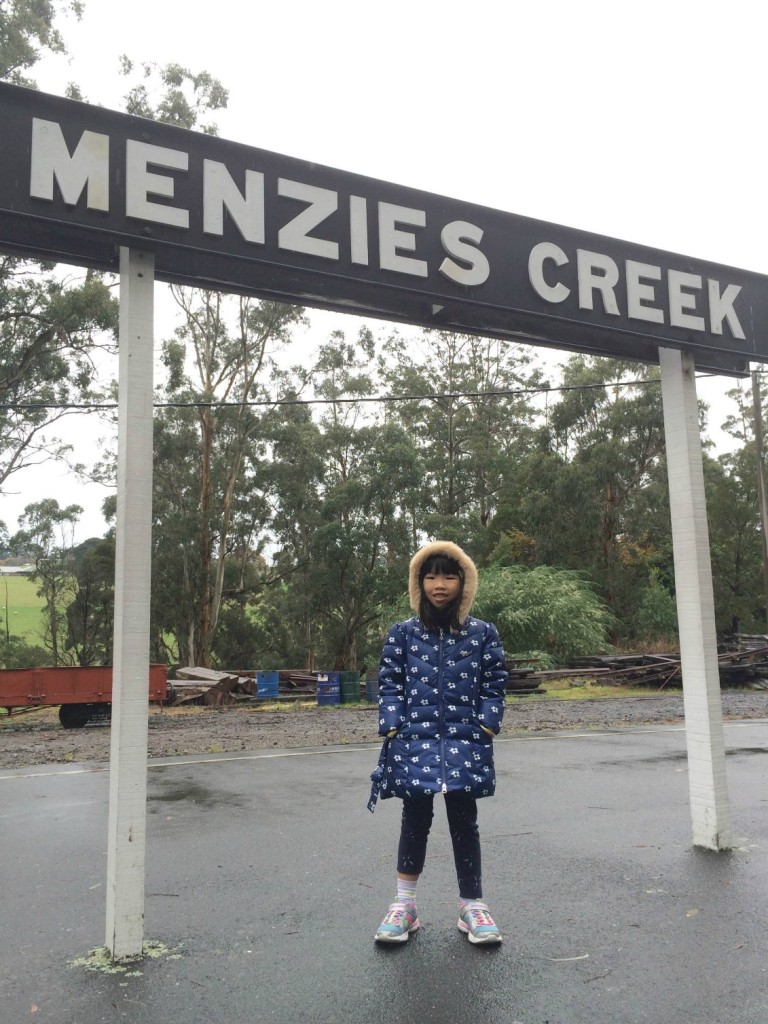 So in all, we spent about 4 hours for this little train adventure of ours; close to 2.5 hours for our journey there and 30 minutes both ways plus factoring in waiting time in between.
Alexis didn't seem to think the long journey justified the experience of the Puffing Billy. But  where can you still take a century old steam train in this day and age? The beauty of which is that it's all maintained by a dedicated and tireless group of more than 850 volunteers everyday except Christmas.
And for little Thomas the Tank Engine fans, you'll be pleased to know that come every spring and autumn, they have Day Out with Thomas where you'll see Thomas in action! You've got to check out the adorable photos of the blue tank engine on their website here.
You can check out their ticketing details for Puffing Billy at their website here or visit their FaceBook page for more updates.
Hit the links below for the rest of our Melbourne trip 🙂
Day 1- Queen Victoria Market and Wedding Anniversary Dinner at Rare Steakhouse Uptown
Day 3- Melbourne Street Art and Laneways
Day 4- Weekend at St Kilda and Luna Park
I'll be sharing more about the rest of our free and easy itinerary on the blog soon.
Don't miss our Gold Coast adventures in Australia too. You can read more about where we went here.
Enjoyed reading this Post? Do like my Facebook page to get travelling updates. You can also follow me on Twitter (@Susankoh) or Instagram (@ajugglingmom) for more travel and parenting posts.
Tagged: Australia, family friendly activities, family vacation, Melbourne with family, Puffing Billy, travel