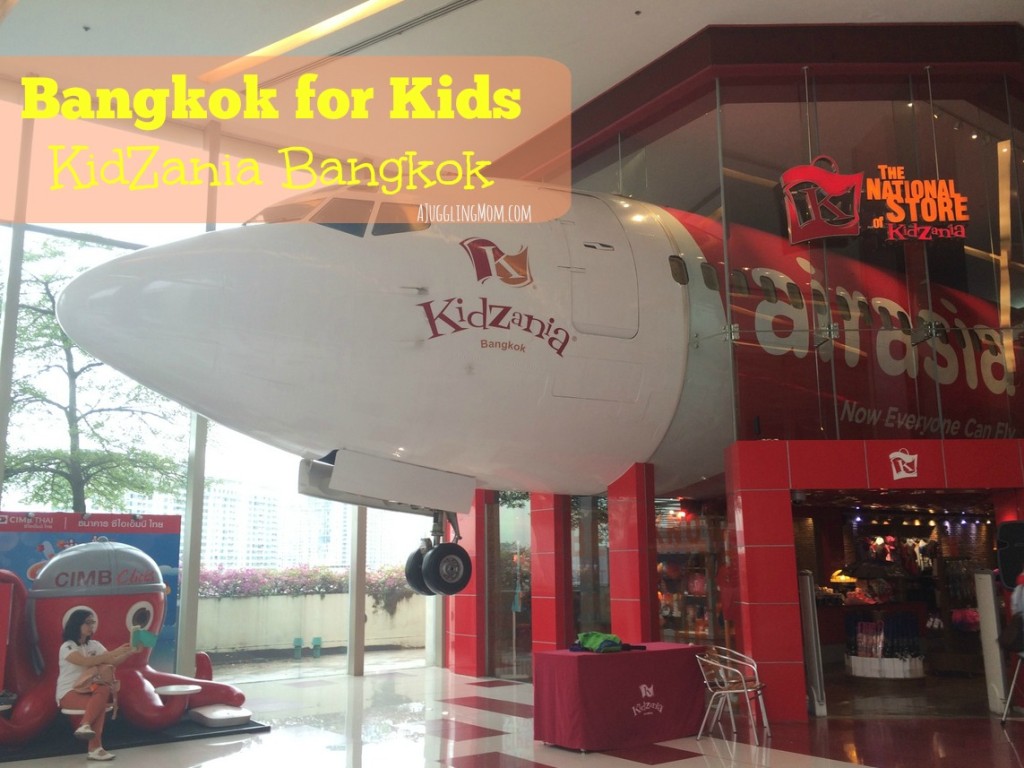 Have you heard the latest news?
KidZania Singapore has finally announced their latest airline partner yesterday and they are scheduled to open in April 2016! We've been eagerly anticipating it's opening for a long time and it's finally happening soon!
Well in case, you're not familiar with KidZania,. they are an interactive indoor edutainment centre where kids can experience the world of adults in a kid sized city. Here children get to take on jobs like daddy and mummy and are inspired to pursue their dreams through diverse role-playing activities where they can earn a salary and learn some useful life skills like money management, taking instructions and working with others.
We took Sophie to KidZania in Bangkok last October, so here's a review of what KidZania offers and what you can expect from Kidzania Singapore too!
KidZania Bangkok
If you're planning to take your kids to KidZania, do book your tickets online to enjoy a 15% discount. Silly us only found out about the offer a day before our visit and they had at least two days of advance purchase to to enjoy discounts though I don't see it on their website now. But in any case, this was something I discovered too late so I don't want you to miss this offer like me.
Since we took Sophie to Babyboss in Taipei before ( yikes, i didn't even blog about that leg of our Taiwan trip yet!), she still has fond memories of the experience and the concept of it even though it was 3 years ago. This goes to show how much of an impression it left on her and what a great immersion experience it will be for kids when there is hands-on interactive play.
KidZania is located on the 5th level of  Siam Paragon, that is connect to the Siam station by BTS. At Siam Paragon, you'lll also find Siam Ocean World , another key attraction if you're going to Bangkok with kids.
Doors open at 10am on weekdays and 10.30am on weekends and public holidays and I recommend you to go early as it may get crowded especially during weekends, term breaks and of course their local holidays.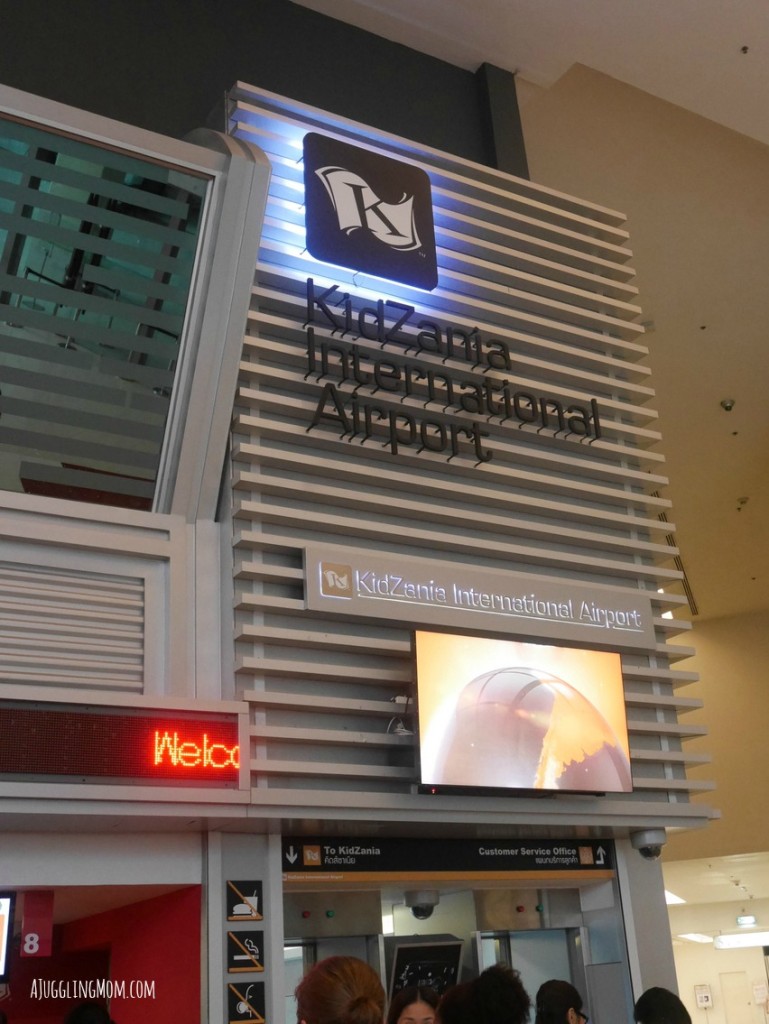 According to their website, there are more than 80 activities and trades that kids can experience. Before we entered, we tried to set Sophie's expectation right that we may only be able to cover 5 -6 jobs since we were planning to stay for 5 hours and there was a school excursion the day we went.
We learnt a couple of lessons from our last visit to Babyboss in Taiwan and got Sophie to decisively join the queue once she decided what she wanted to do while one of us went to check out the rest of the city.
But before we got started, we need to visit the bank to cash out her cheque where she received 50 KidZo, which is the currency kids will earn and use to pay for services or buy things in KidZania.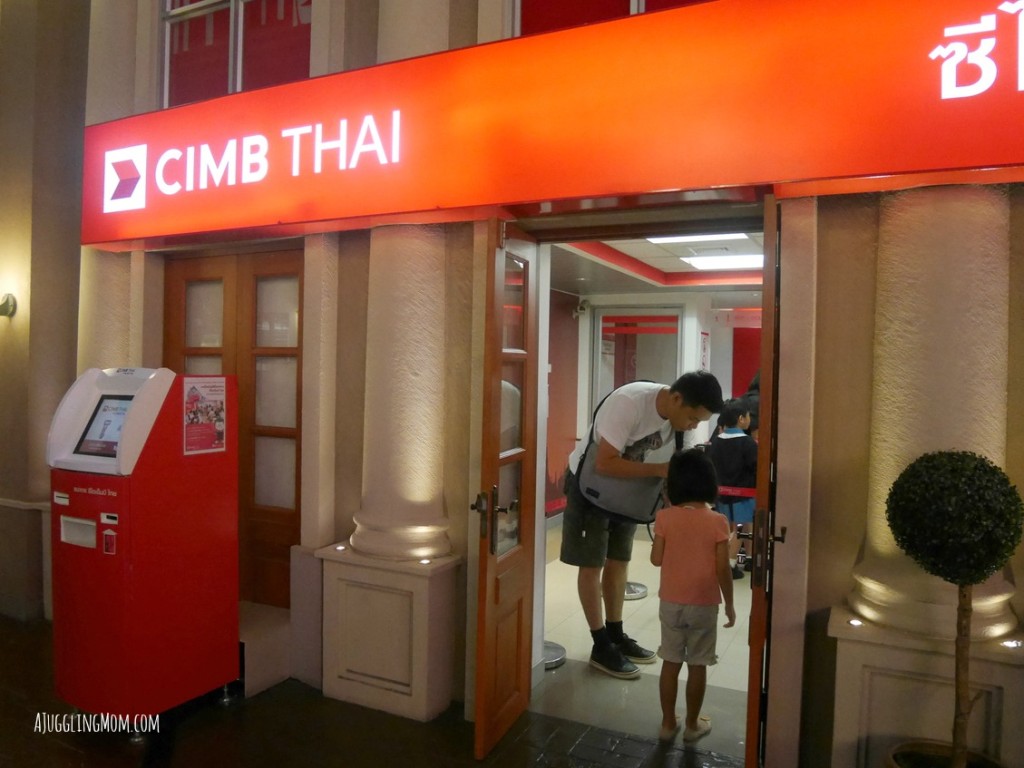 The first stop – the Fire Station!
After putting on their fire fighter uniform, these little fire fighters had to attended a briefing to understand what their duties entailed. Of course, you don't have to worry about the language barrier as KidZania gets lots of overseas tourists and there'll always be staff to find out if any kids need translation.
Once the briefing is over, they get to hop on the fire engine that will take them to the site that needs their quick thinking to extinguish the fire. This usually causes a commotion as the fire engine really travels round KidZania operated by a adult and lots of kids will follow behind too.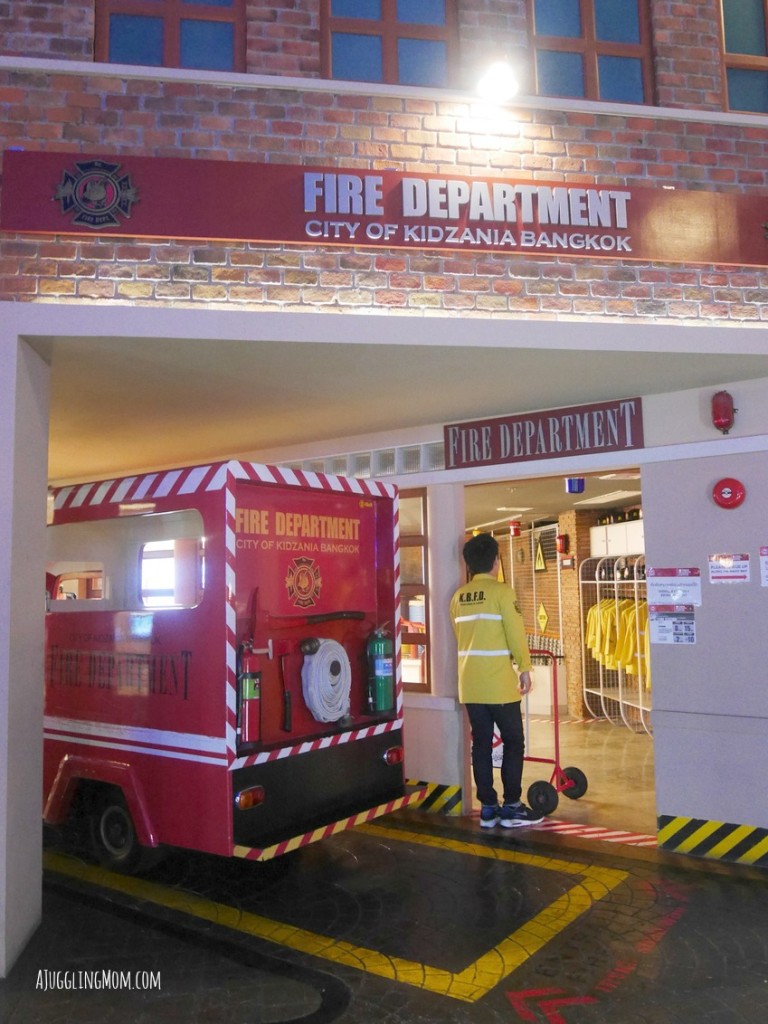 After the task is accomplished, Sophie got her first KidZo for a job well done!
Along the way, we spotted the cutest construction workers…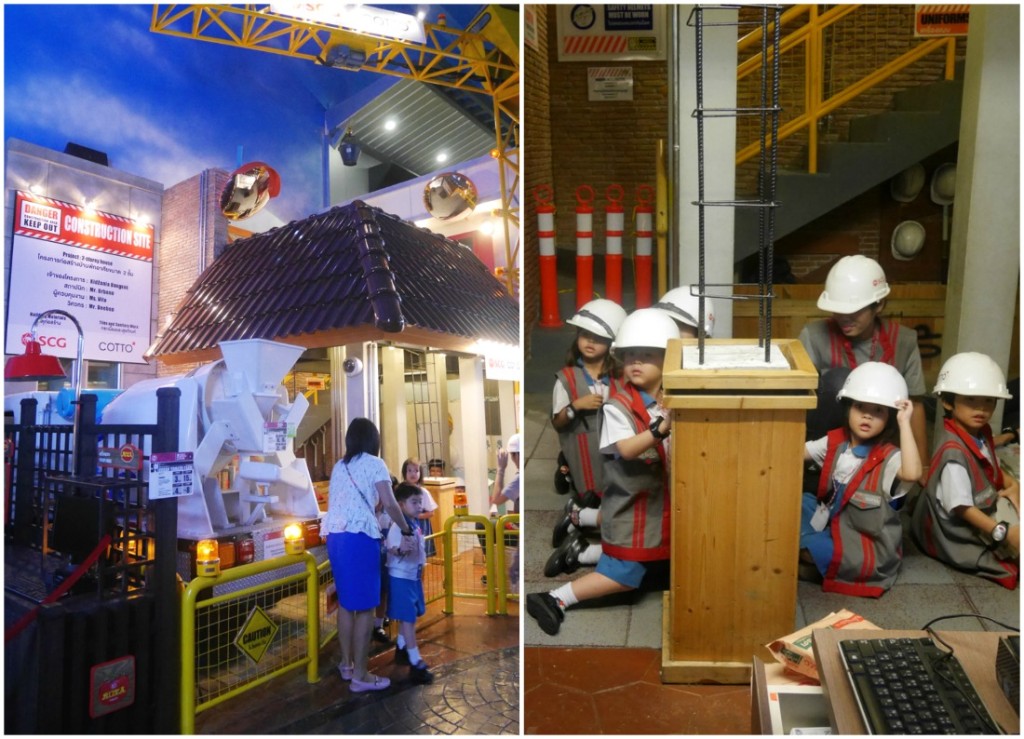 and adorable little chefs in the making…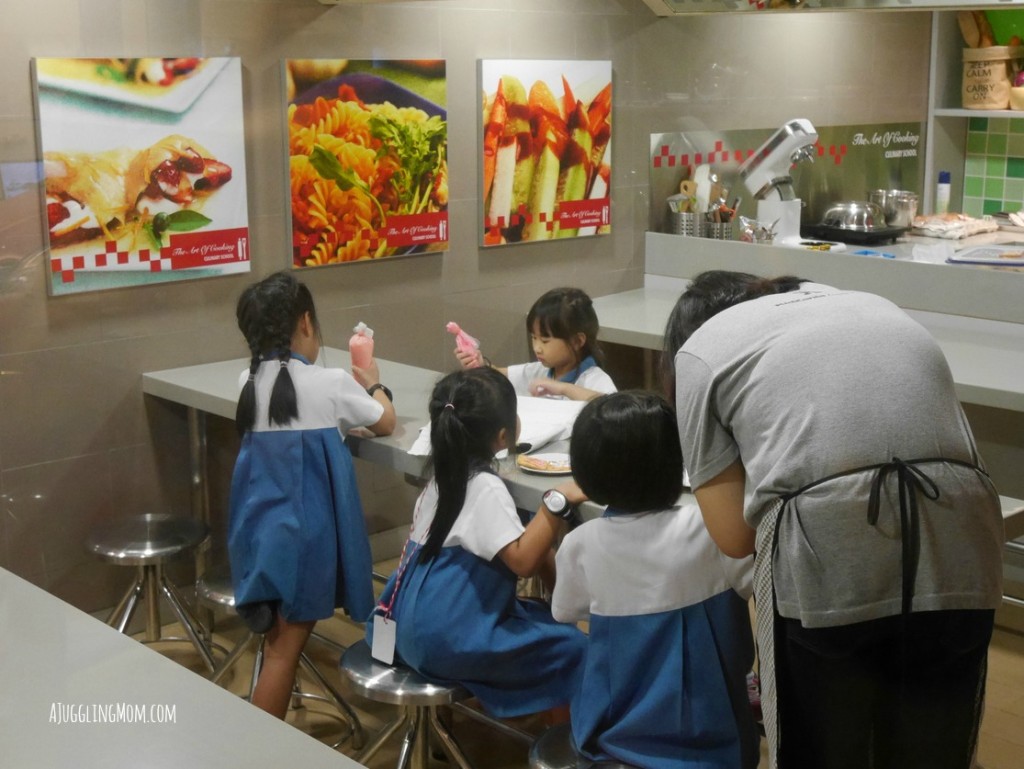 The pilot and flight attendant were really popular jobs and there was always a snaking queue for it! So if your kids are keen on these openings, do make a beeline for them the moment the themepark opens.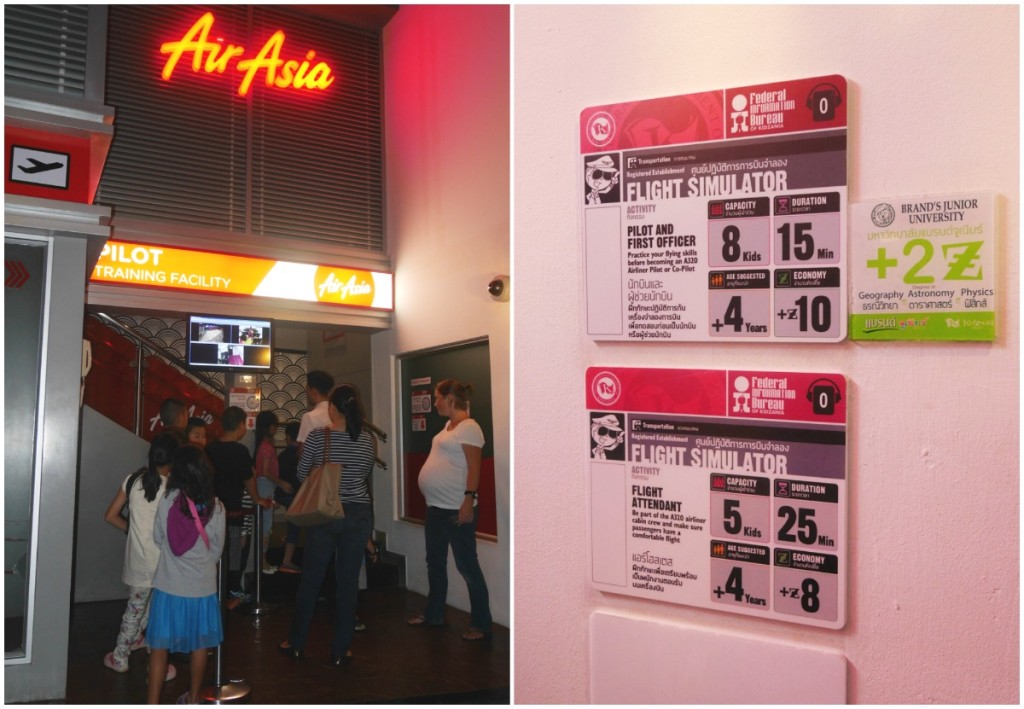 On level two, we spotted a few bottling and assembly line for Meiji (our favourite brand of milk), coca cola, some peanuts brand which I forgot.
Since there were already a few boys in the line for the Meiji Milk Factory, I got Sophie to join them  so that they can quickly hit 8 kids and start the activity.
To find out if a certain activity is suitable for your child, you can check out the information like recommended age, duration required for the task, amount of KidZo that can be earned and the numbr of kids they take in for the activity.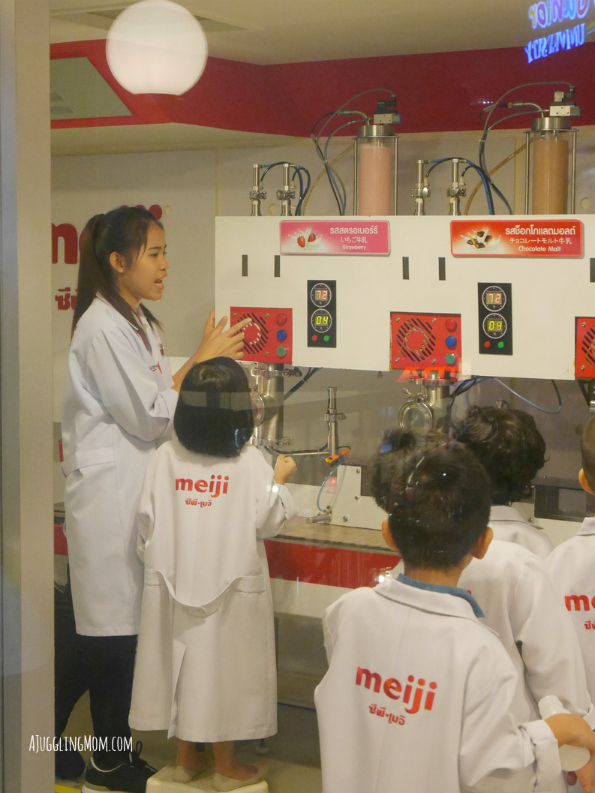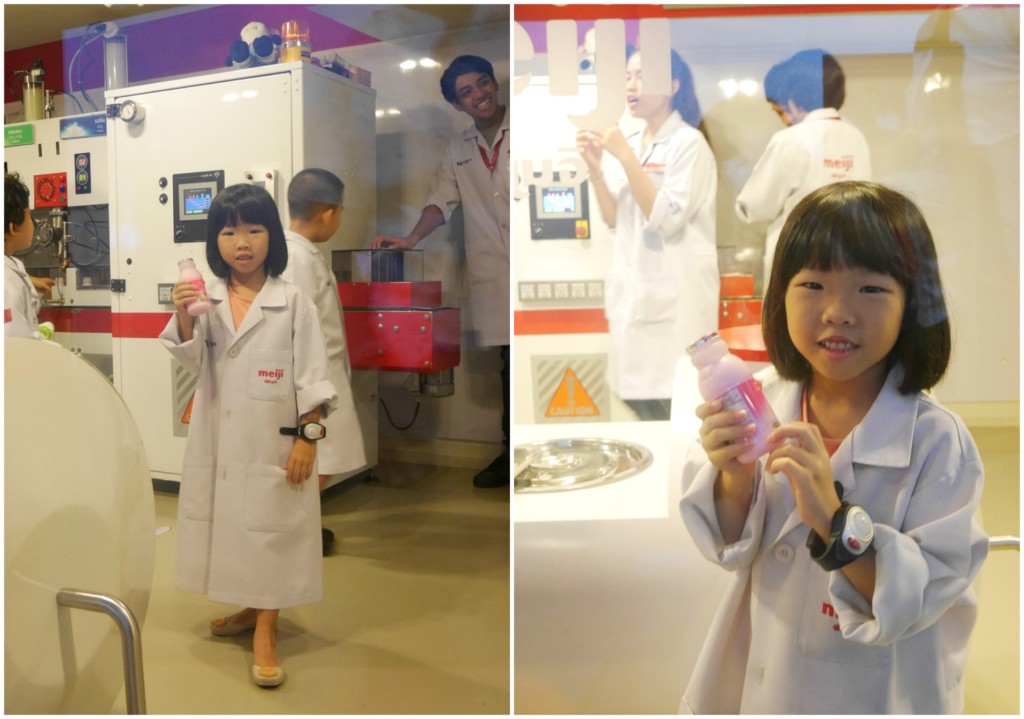 The bottling plant is really functional where kids can learn the process of how milk is bottled and the nutritional value it contains. For such a task, the staff emphasized the importance of having clean hands while they carried out their role.
See how proud Sophie was of her very own bottled strawberry milk that she got to take back. And while she gets to earn Kidzo in some other activity, she had to pay 10 Kidzo for this task as she gets to take back her own product.
Along the way, we spotted this amusing scene where the little detectives were trying to find the perpetrator of a crime scene and look how the officer was trying to get the detectives to identify him.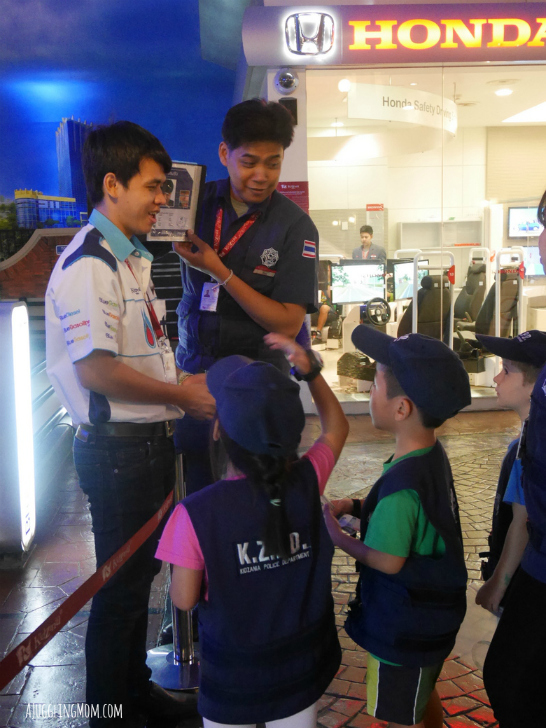 The next establishment that caught Sophie's eye was the vet clinic which she particularly liked as she learnt about the ins and outs of being a vet. The staff was very patient too and gave each child a chance to perform check-ups for the (stuffed) cat according to a simple check-list on a card.
As I peered inside, I noticed how realistic the vet clinic was and they even had an assortment of pets.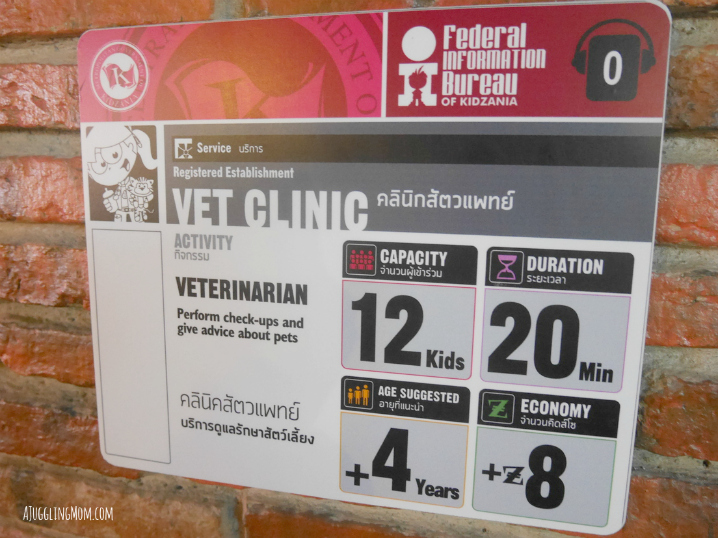 They even have a 2-storey hospital that housed the doctors, nurses, surgeons and nannies for babies! Plus parents can observe their children from these spy camera within the hospital.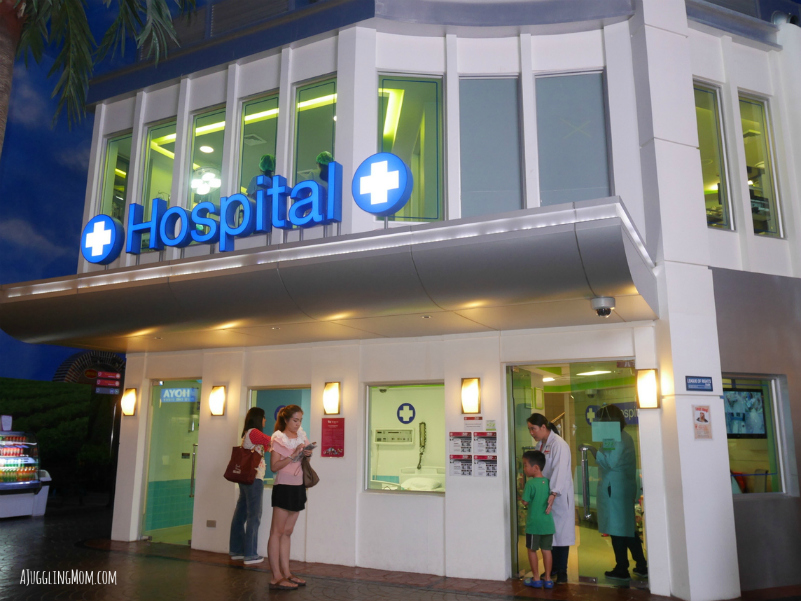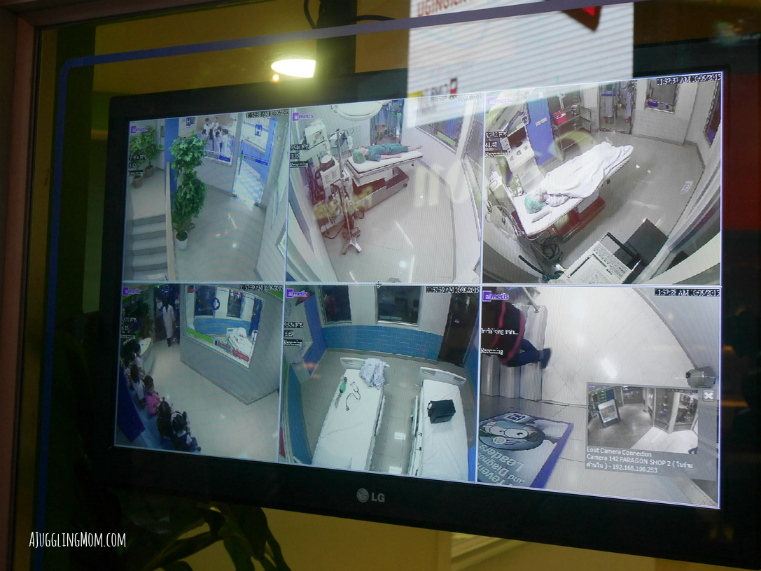 We still remembered that Sophie wanted to be a dentist the last time she was in Baby Boss but missed the opportunity so we went looking for it. Frankly, I don't mind if she decides she wants to be a dentist in the future too 😛
Besides learning about what it takes to be a dentist, kids will also learn about basic dental care, the proper way to brush their teeth, flossing, which I thought made it more interesting as these are knowledge that kids can use everyday.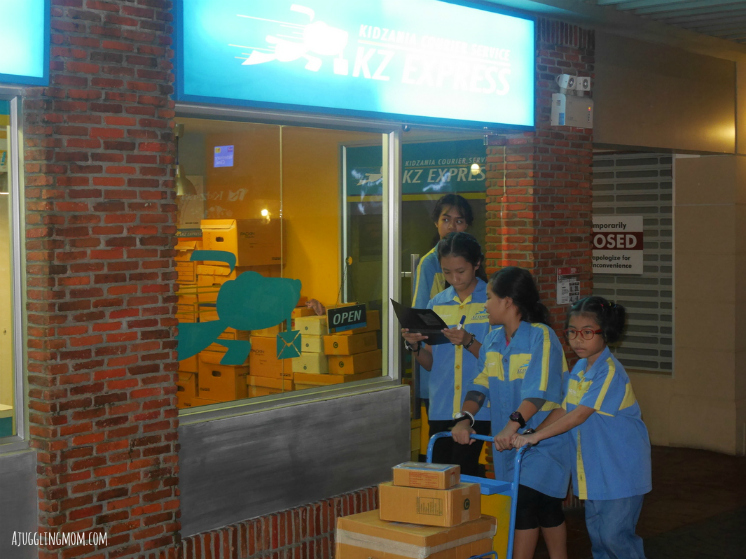 The last occupation that Sophie did was a Gas Station attendant, something which she is very familiar as Daddy always has to make a pit stop there for.fuel.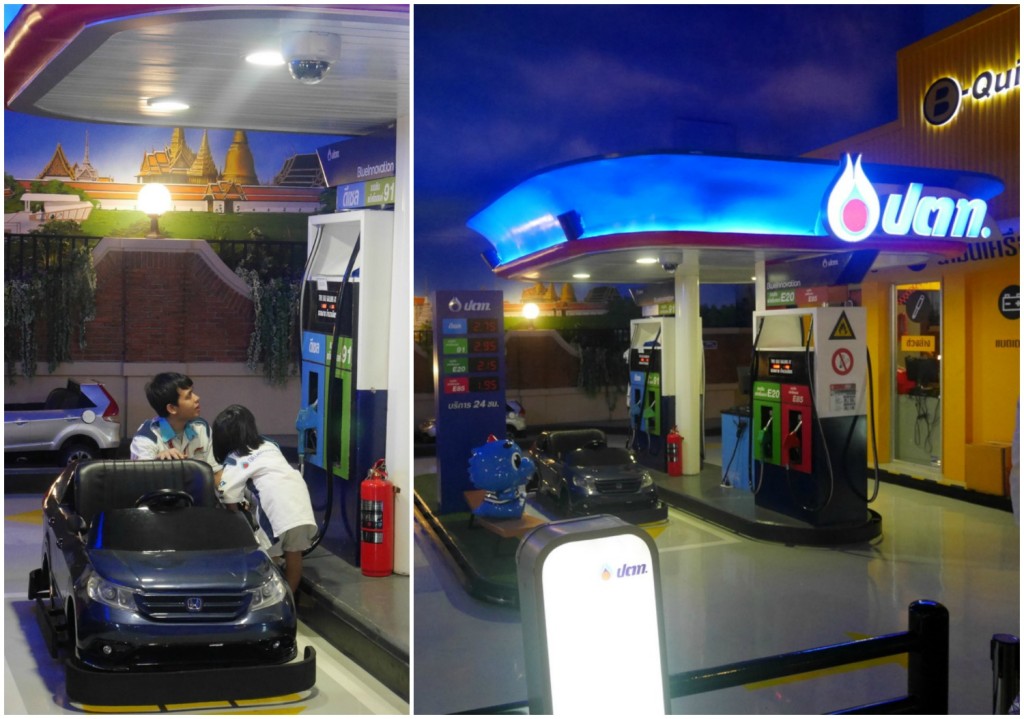 Dining options
If you're hungry, there are also restaurants and cafes within KidZania like the Amazon Café, McDonalds, Oishi Japanese Shop, City Square Cafeteria, as well as different food carts.
Alternatively, kids can take part in activities where they get to prepare their meals and enjoy them for example at the Oishi Japanese Shop, where they learn to make sushi, treats from the culinary school or Meiji milk that you see above.
Our take on KidZania Bangkok
I feel that the best age to get the most of the KidZania experience is 5 years old  and above where the child is able to understand simple instructions and is confident of being on their own since parents are not allowed to accompany them for their activity.
But that said, Sophie did go to Baby Boss when she was younger at 4 years old and she had a blast there! Kids from 2 years old have to buy a ticket but it's probably better spent at the Safari World.
In all, it was a fun and educational interactive experience for Sophie although she did struggle to understand them due to their Thai accent and we had to cut short our visit as she wasn't well that afternoon and later even threw up in the night 🙁
Looking forward to KidZania Singapore 
Imagine Sophie's delight when I told her that KidZania is opening in Singapore. And what makes it unique is that out of all the 22 KidZania cities located worldwide, KidZania Singapore will be the only KidZania to showcase the an actual life-size decommissioned Boeing 737 within its City.
Role-playing is a timeless and universal part of everyone's childhood and that's really the attraction of KidZania where kids learn by experiencing different professions, how a city works, financial literacy, living in a community and how to work both independently and as a team, as well as actual life skills.
Sophie obviously  can't wait to go to KidZania and even asked if I can plan a playdate for her and her friends so that they can have, in her words, "the best day ever"!
Heading to Bangkok soon? Don't miss these posts too
Tagged: Bangkok, Bangkok Travel Guide, family friendly, family friendly activity, Kidzania