For those of you who know me, I'm a self declared travel Nazi who plans my holiday itinerary to the smallest details. I simply loathe the idea of waking up late and not knowing what to do, where to go and then feel like I've wasted a good holiday. So for the 5-day trip, it was packed with places to visit, malls to shop at and food to try.
Since I've made plans to buy party packs for Sophie's birthday celebration, it was needless to say that a shopping trip to Chinatown is top on the list.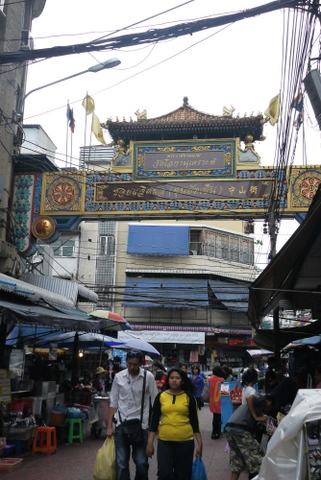 You know you're in Chinatown when you see this sign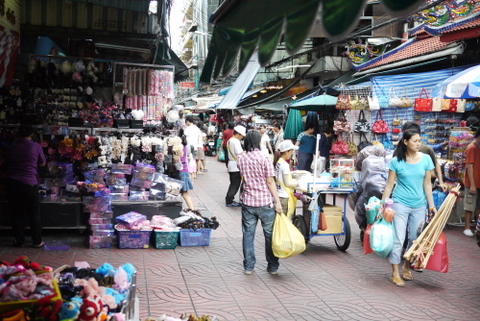 Stores with all their wares spilling onto the roads
A wide variety of kids toys can be found in these shops.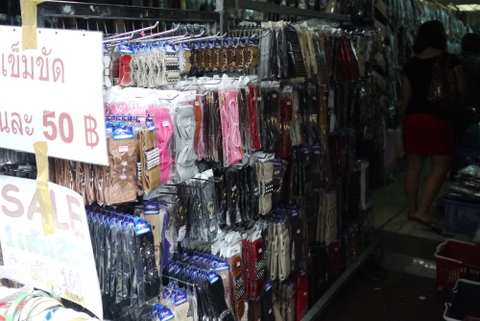 A shop that only sells belts. Some cost as little as 20 bhat= S$0.80! I bought 5 for $18.
If you're wondering what you can buy from Chinatown, the shops offerings range from accessories, to stationary to kids toys, bags, bedding, fabric, jewellery and of course carts that sells food and drinks.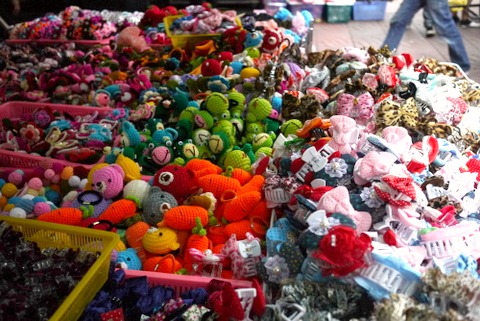 It's acceptable to bargain when shopping in Chinatown but I'm really lousy at haggling. Based on my research, some people have mentioned that the shops here open as early as 8am if you want to get better deals. Not sure how true it is, but things here are relatively cheaper than the malls. But do prepared to spend a few hours here if you want to explore and shop. We were there for about 3-4 hours and these were my Day 1's purchases.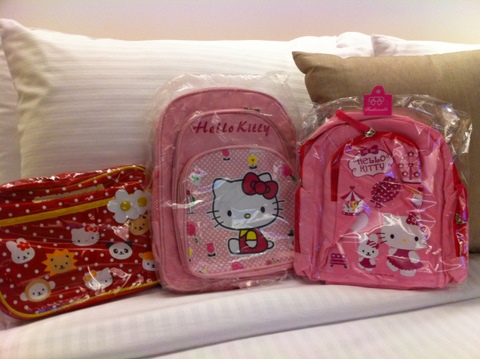 New Hello Kitty bags for Sophie.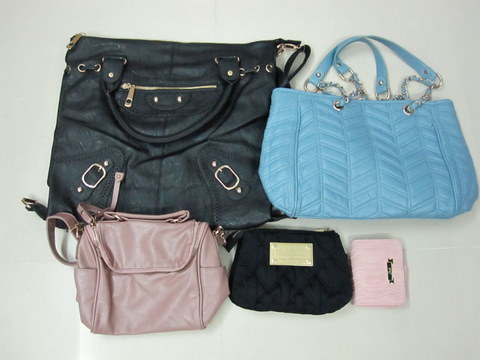 Loving my new bags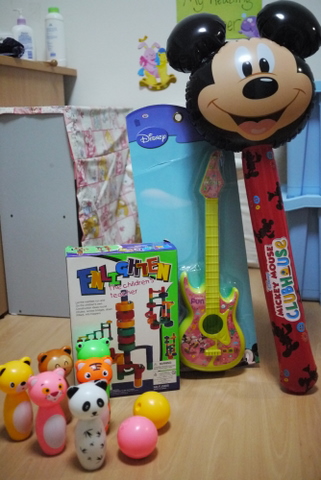 Assorted toys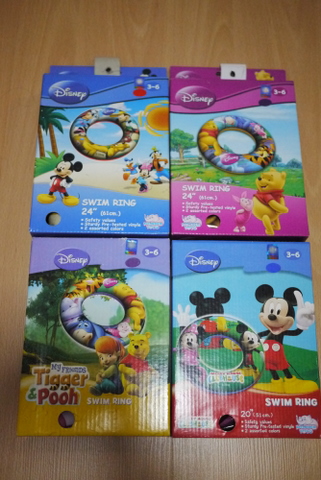 Disney swimming floats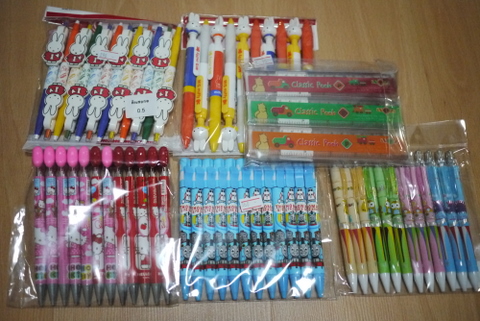 Assorted character stationary. Even have Miffy!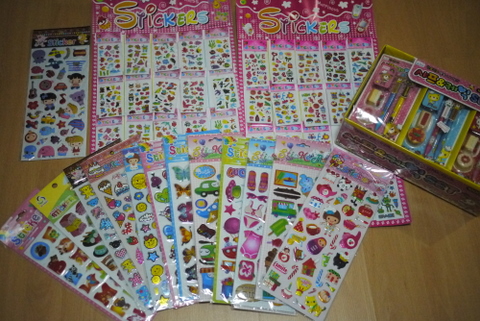 Stationary sets for Sophie's party packs

Stickers – Using them as Sophie's reward for potty training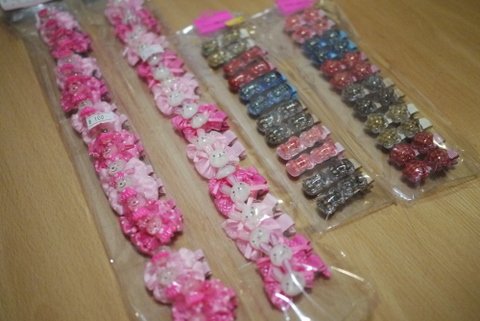 Hair clips. A row of 12 cost 100 bhat= S$4!
And no visit to Chinatown would be complete if you didn't end it with seafood from the much raved about T&K seafood. To spot the shop, you just got to look out for their staff who don bright green polo shirts.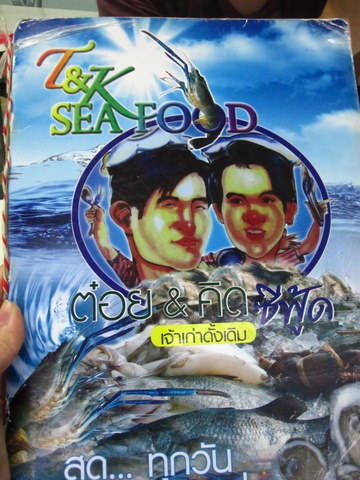 The brothers who are owners of the restaurant. Doesn't the brother on the right look like Jackey Cheung in this picture?
And if there's one thing you cant miss trying in Chinatown, Bangkok, it's got to be their shark's fin soup. So we ordered a bowl which was served in a claypot (300 bhat). I know I shouldn't be so proud to contribute to a fast vanishing species…. so moving on..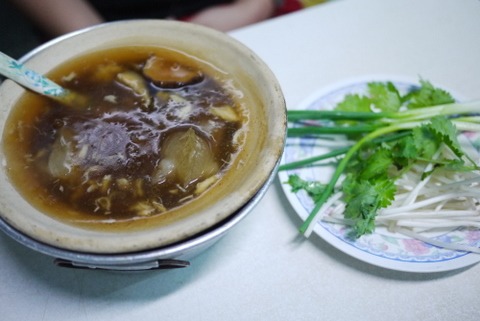 Feeling adventurous, we ordered steamed crabs in fresh milk. To our surprise the combination was very tasty, where the fresh milk was slightly creamy and very yummy (300 bhat).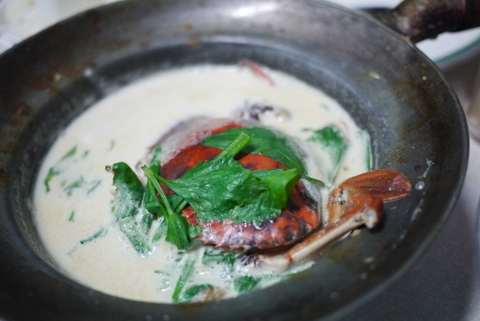 We also had oyster omelet (100 bhat), fish cake (100 bhat) and grilled prawns (150 bhat).
I loved the grilled prawns which had a slightly burnt smokey taste without over doing it. The sauces that accompanied the grilled prawns gave an extra zing and complemented the dish perfectly. I candidly called it the trinity sauce. Each sauce offered a different taste from spicy to zingy and the brown one was a little odd.
In total we spent 970 bhat = S$40 for our dinner. T&K is indeed a very price friendly place for dinner if you want to enjoy localized seafood (although when we were there we only saw tourists). Seats are plentiful as you can choose to seat outside their store or inside their 3 story shop which is air conditioned.
It's a place I'm sure to come back for more seafood in future!
T&K Seafood
49-51 Soi Phadung Dao
Chinatown, Bangkok
Tel: 02 223 4519
Opens from 6:00pm – 2:00am.
More on Bangkok
Tagged: Bangkok, Bangkok Restaurants, Bangkok Travel Guide, Chinatown, shopping, Thailand