Being a National Day baby, I always tell Sophie how incredibly blessed she is to have the whole nation celebrate her special day with fireworks. And this year, we certainly spared no expenses to make it a grand one to mark our 50th year of independence with lots of festivities around the celebration.
Since this is such a momentous year, I decided to start a new birthday tradition and make a time capsule for Sophie's 6th birthday. After all this is our Golden Jubilee and so much of our Nation's history has been brought up and it's extra meaningful to include some of these into our time capsule as well.
Making a checklist for our Time Capsule
Here's a list of some of the 10 items that are going into our time capsule to remember the year 2015 and one when Sophie turned 6.
1. Front page of the newspapers on Sophie's birthday
The 9th of August  is an extra significant date for Singapore as we mark our Golden Jubilee. On this date, the Straits Times republished the news from 1965 with the headline "Singapore is out" declaring our separation from Malaysia to be an independent nation that changed the course of our future as a country.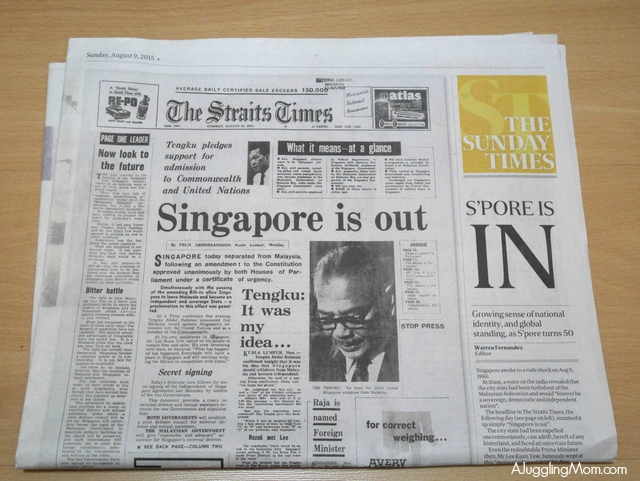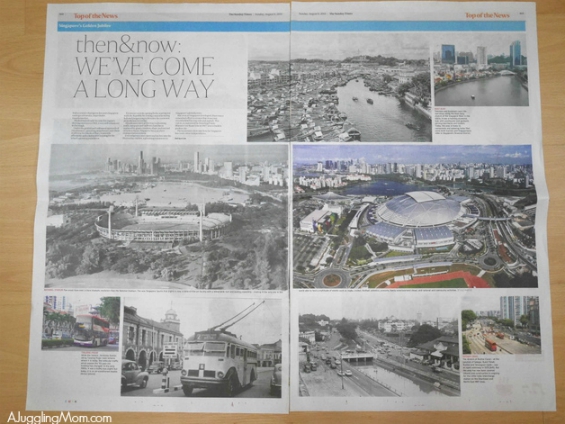 I also cut out another page from the papers on the transformation of Singapore over the years. Would be interesting to revisit these places in 10, 20 years to see the transformation.
2. A mini album of birthday interview questions 
I made this mini album with a few Project Life cards from the Becky Higgins Daydreamer edition. I simply adore how sweet the illustrations are especially the cover with the words, Never Grow Up!
Sophie filling up the questions I wrote for her that includes her height and weight to see how much she's grown and some of her favourite things.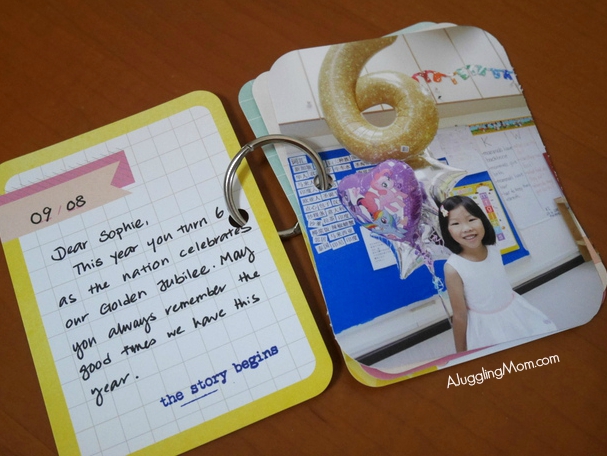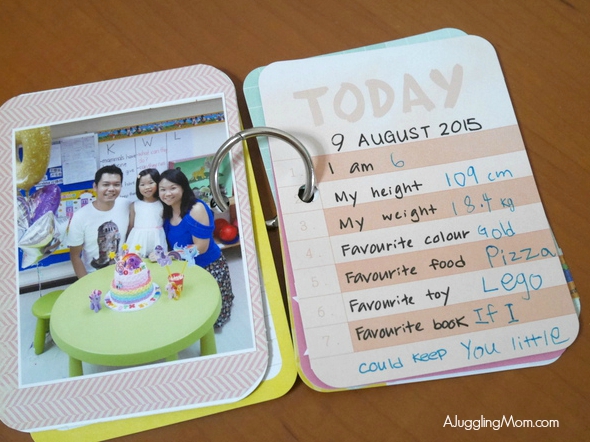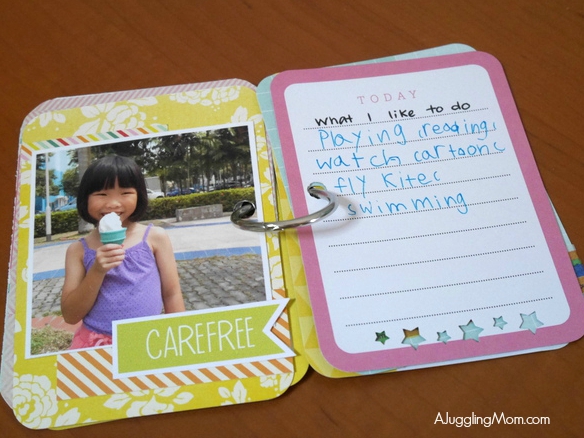 You can easily google or head over to Pinterest for birthday interview questions if you're stuck for ideas.
3. Photograph of our family
This was taken on our recent staycation over the long Jubilee weekend.
Sophie requested for a staycation and we headed to the far east over to Village Hotel Changi and even got adventurous and took a bum boat to Pulau Ubin. What a great way to discover a different side of Singapore to get a glimpse of what our early Kampong days look like.
I intend to include the deflated My Little Pony and number 6 balloon to remember the birthday theme that she choose for her 6th birthday.
But boy are these balloons going strong! So I'll probably wait another 2 weeks or so to include them in.
5. Birthday card 
I used to pen letters to Sophie on the blog like this one last year. But as she grows older, these personal notes to her are better kept off the blog for our privacy as I do want to record her quirks and funny habits for memory sake.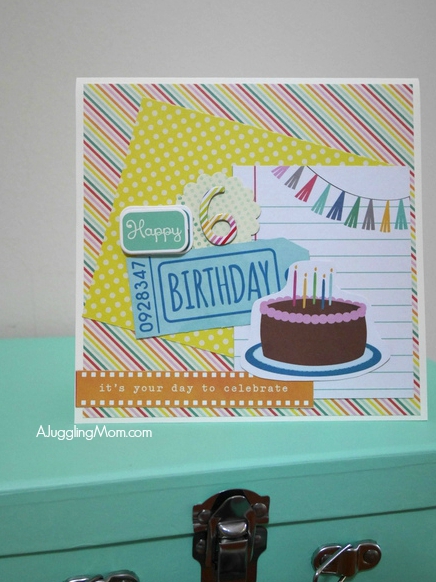 This year, I  made her a card too and this is definitely going into the time capsule too.
6. Special keepsake from 2015
Since I'm no stamp or coin collector, I didn't think I would go out and buy a special edition of either that are issued this year.
But being such a big Hello Kitty fan, we'll be including this limited edition SG50 Hello Kitty from MacDonalds into the time capsule! Let's see if she still likes Hello Kitty by the time she's 16!
7. Sophie's artwork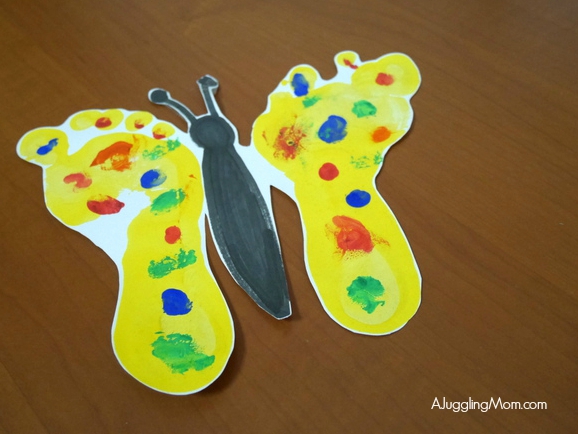 This is a 2-in-1 piece that I added into the time capsule as it is an artwork done by Sophie and at the same time has her hand prints so we can see how much she's grown over the years.
8. EZ Link card
Since this is the last year that she'll be using the pre-schooler's EZ link card, I thought it would be nice to include it into the time capsule when the year ends.
A reminder that she'll be going to Primary one and needs to start paying for child fare. 😛
9. Travel memories of 2015
This year, instead of travelling out the country, we mostly did staycations as a family.
But very glad that we'll be jetting off for more holidays in the second half of the year to Krabi (Today in fact!) and to Bangkok in October where I'll add those photos in!
I certainly hope we'll have a longer and further one maybe in November before we gear up for the new school term for Sophie.
10. Toy of the year
I'm including this inside as I'm mighty proud of the story behind how Sophie learnt the Rubik's Cube from papa when I traveled without them and Daddy had to take over. Plus it's really not easy to master it and I'm glad it's Daddy who taught Sophie how to do it.
I reckon, we'll be adding in some more things before we wrap up 2015. It was fun putting this time capsule together and we intend to open this when Sophie turns 16. That's a grand 10 years later because she says she can't wait so long till she's 21 years old.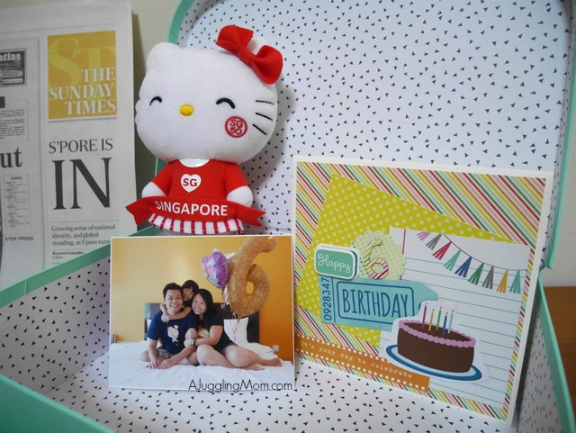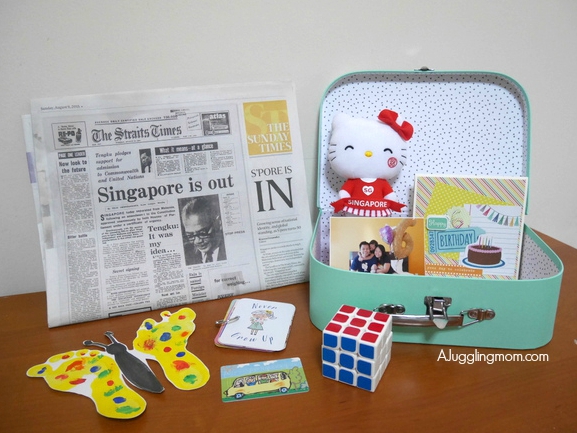 Do you also have a birthday tradition in your family that meaningful and brings joy for the whole family too? I'll love to hear from you 🙂
Looking for more ideas for your time capsule, do check out these links too.
Tagged: Birthdays, Project Life, scrapbook, scrapbooking