As the nation celebrated our Golden Jubilee last weekend, my little national baby had her own coming of age as she turned 6 years old on 9 August.
We initially contemplated travelling over the long weekend when we learnt that 7 August was declared a public holiday. But we eventually decided against it as this was a significant year to celebrate our country's 50th year of independence and settled on a staycation right at home.
But before the long weekend, we kicked off the birthday celebration with a mini party in Sophie's childcare centre, the very last one before she graduates from being a pre-schooler and gets promoted to primary school.
The theme she chose this year was My Little Pony, Friendship is Magic!
My Little Pony Birthday Party
When it comes to cartoon cakes, there's always so many choices available. But I noticed that none of the local bakeries like Bengawan Solo,  Prima Deli or Swensons does My Little Pony designs (or am I missing something?).
So I asked for recommendations on my Facebook page a reader, Adeline pointed me to Baker's Heart.
Cake from Baker's Heart
And I couldn't be happier at my choice. Look at the gorgeous looking two tiered cake. *gushes* >.<
I was so blown away by the vibrant colours and the cake looked as good as the sample photos they sent me. My request for Sophie's cake was to have it in rainbow colours and they recommended going with rainbow coloured rosettes on the bottom layer and pink gradients on the top layer.
Even her name and the wordings were all in candylicious rainbow colours and all her friends oohh and ahhh at the cake too. And the extra details with the rainbow and stars made it look even more magical.
Just in case  you're wondering, this is a 1.5kg cake and feeds 30 pax just nice with a few coming back for second and third helpings.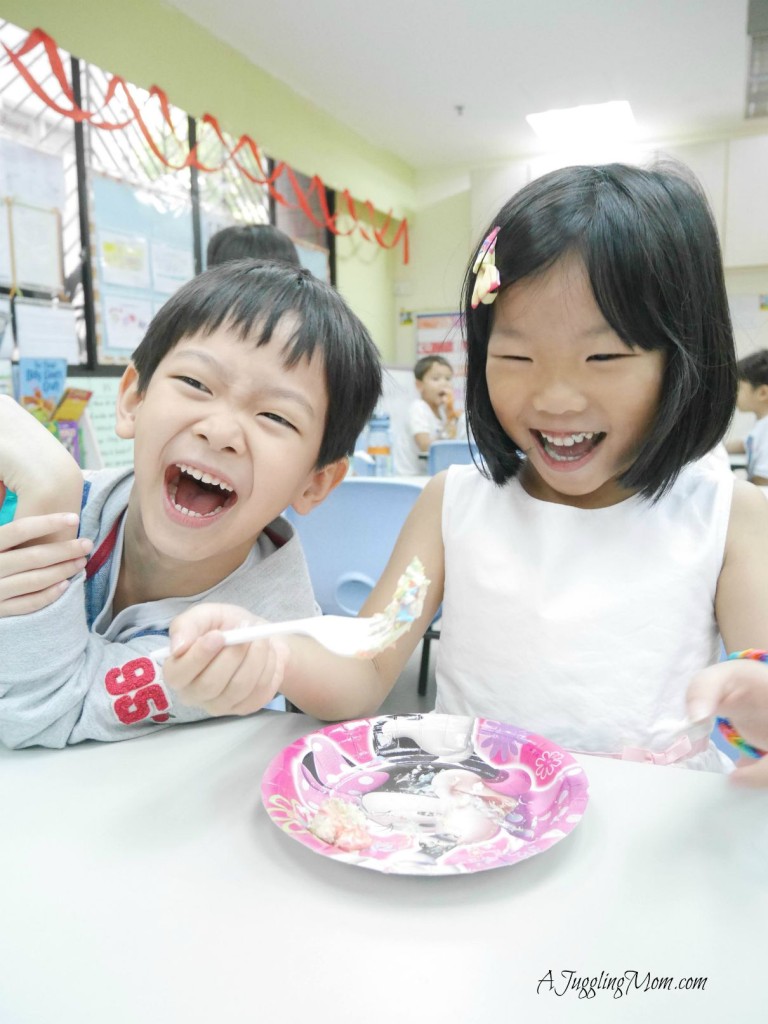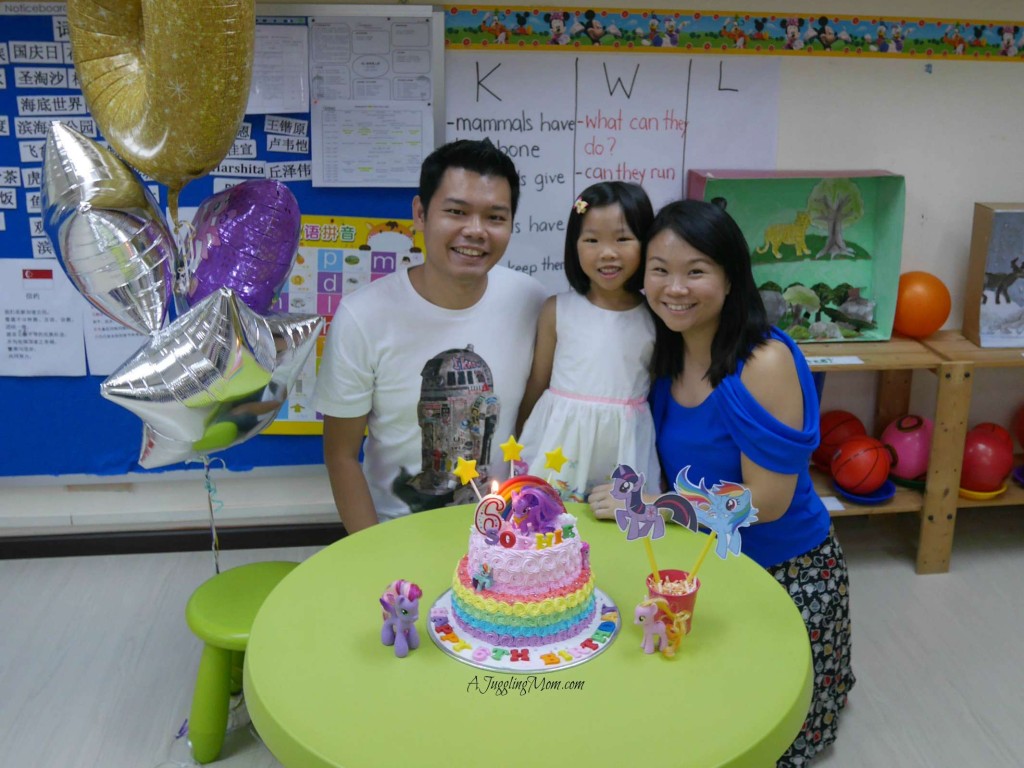 Since I don't get the chance to throw a party, I decided to make a simple centrepiece with a little pink bucket and added photo props of My Little Pony characters like Rainbow Dash and Twilight Sparkle which I printed off from here. To dress up the table, I even brought along a couple more figurines as decoration. That's how many My Little Ponies we had.
Notice that big ass number 6 balloon in the photos?
The story behind it is hilarious and I thought I should journal it down. I got some helium balloons for the mini celebration and saw that the party shop had a number 6 in golden glitter print. Because my 6 year old favourite colour is golden, I thought she'll like a surprise and got it.
But little did I know the balloon measured almost 90cm in height and it was too late to change my mind as they filled it with helium. Imagine the stares I received as I took the MRT over to her childcare 😛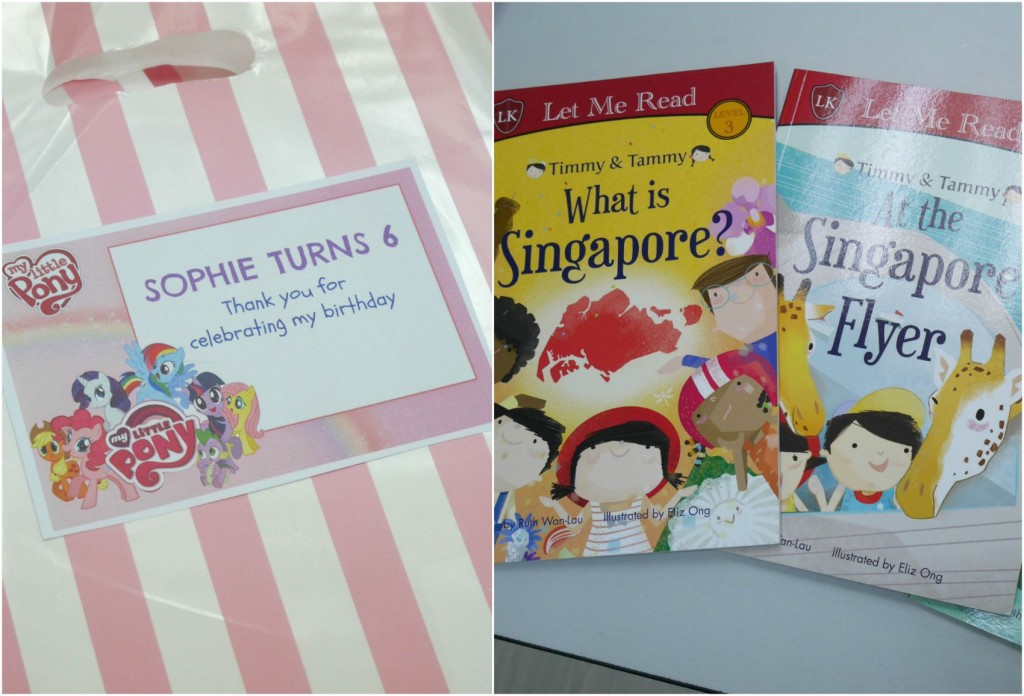 For goodie bags, I decided to keep it neutral since she had more boys in her class and got books from the Timmy and Tammy series that's close to home as we're celebrating our Golden Jubilee. One of the titles is the newly released, What is Singapore.
Magic Show by Tricky Patrick
To celebrate Friendship is MAGIC,  the tagline of My Little Pony, I surprised the kids with a magic show.
I got in touch with Tricky Patrick who was recommended to me by 2 friends who have watched his show. I must say he definitely delivered when he guaranteed the kids will laugh otherwise he'll tear up the cheque.
Initially I arranged with him to perform the magic show for the older kids in the CC but later thought the younger ones in PG and N1 would also enjoy it and he very readily obliged.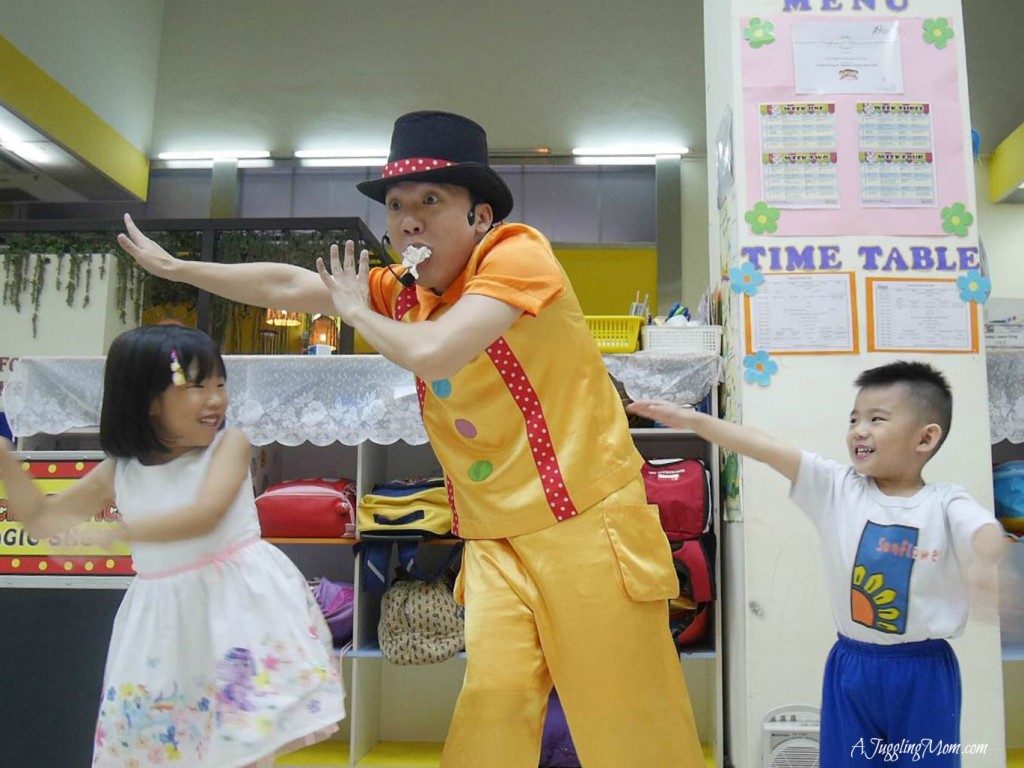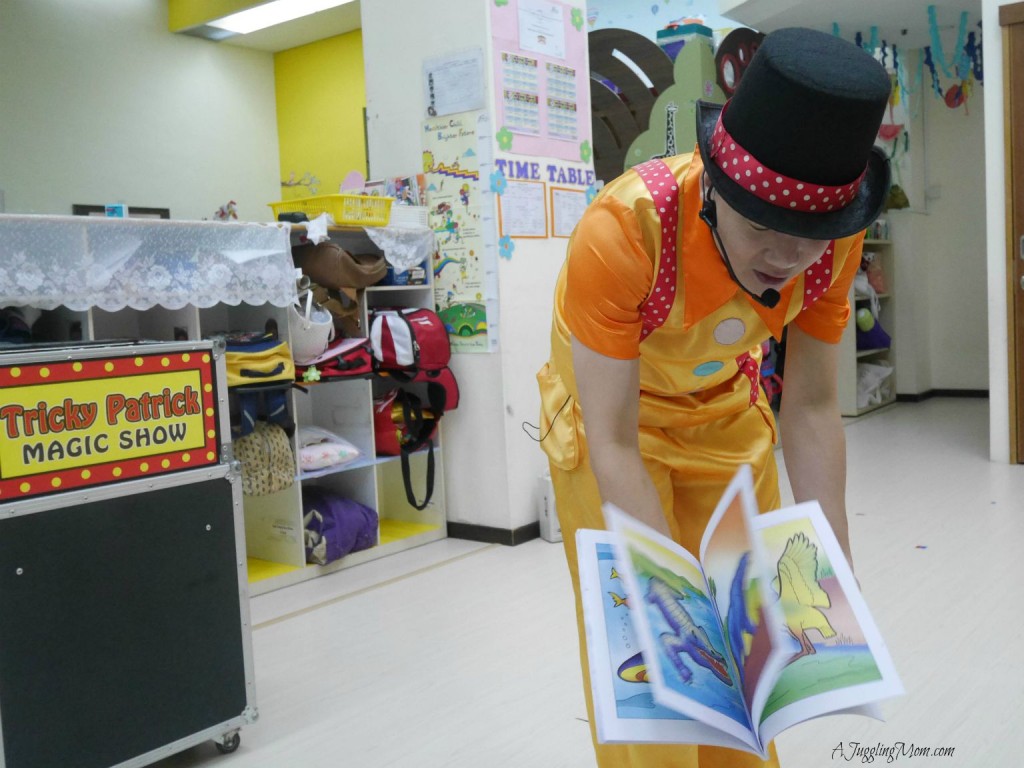 His show was not only entertaining and funny, it was also very interactive and lively as he got a few kids along with Sophie to participate in the magic show. And from the way that he interacted with the kids, you can see that he's got lots of experience, 15 years in fact and he's now a full-time magician living his dream to being cheer and laughter to kids and adults 🙂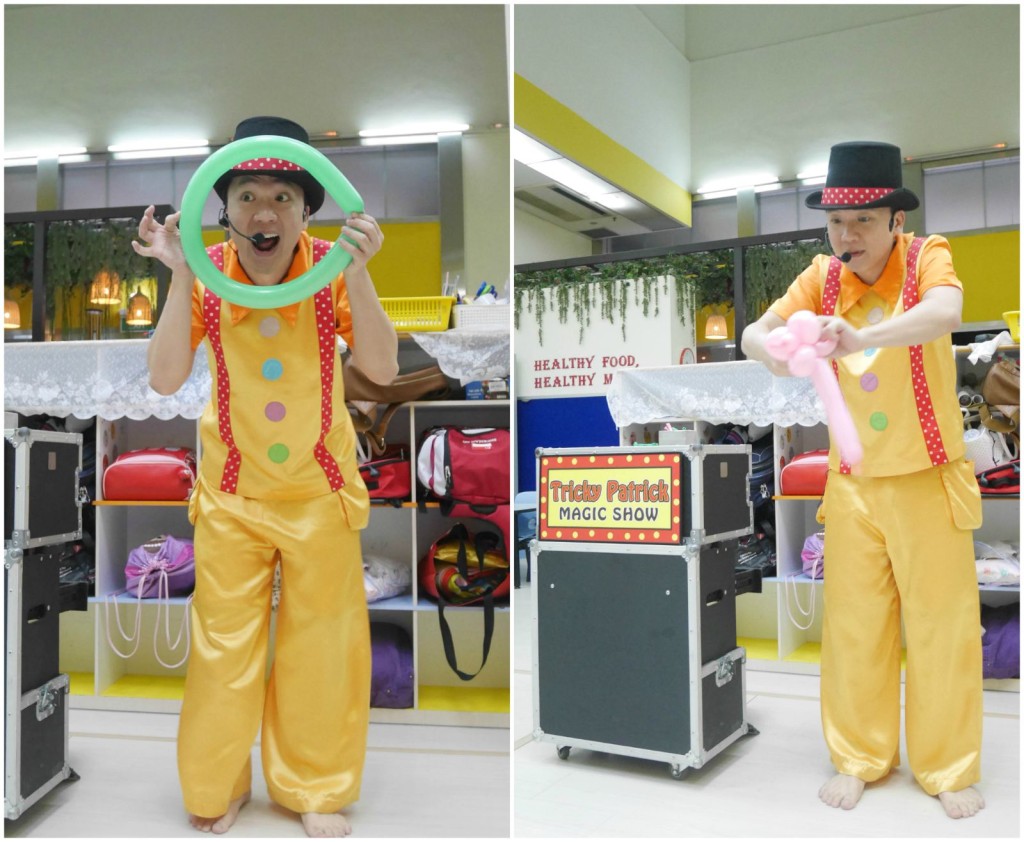 The kids enjoyed every minute of the show and there was never a dull moment as he wowed the little audiences and adults alike with his amazing magic tricks which had the kids literally for more.
Their ecstatic faces during the show says it all!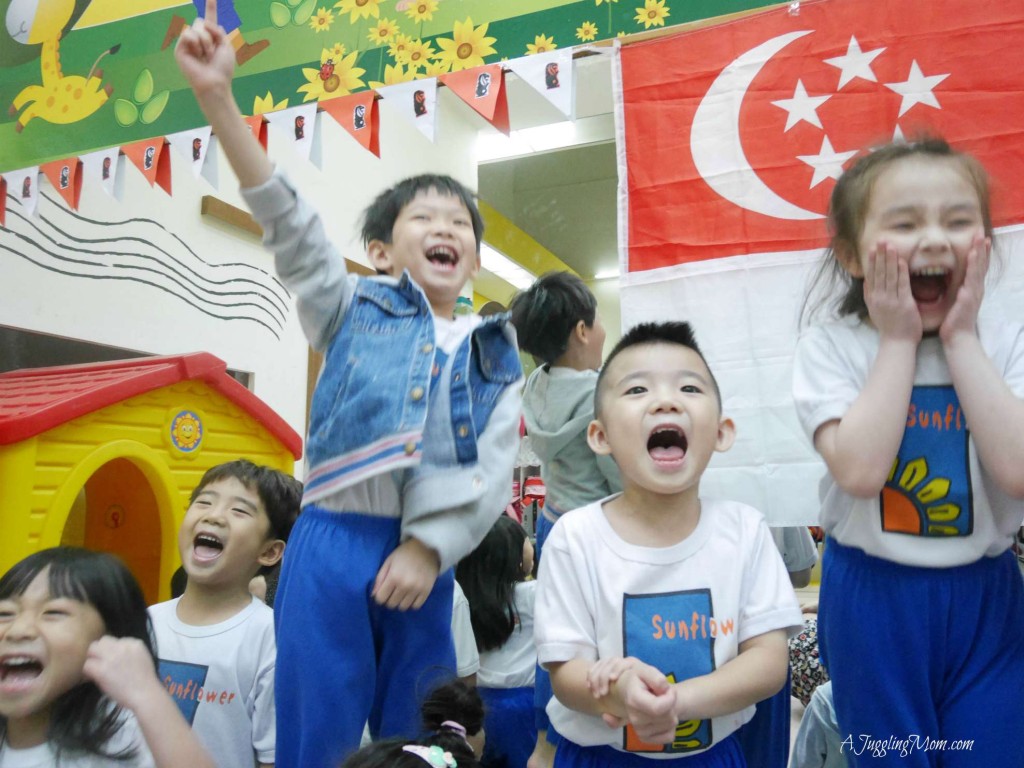 At the end of the performance, the kids all surrounded him trying to get him to reveal his tricks but a good magician never lets the cat out of the bag.
That evening, I got a few messages from some parents as their kids were all going on and on about Tricky Patrick and asking their parents to please invite him for their birthday. So I guess you can call it a success!
Exclusive birthday package for fans and friends of A Juggling Mom
Tricky Special has very generously offered all fans and friends of A Juggling Mom a $50 discount from his packages. All you have to do is quote "AJM50off" to enjoy this exclusive offer!
Do place your bookings early as he's really sought after and you may check out his website too.
Happy 6th Birthday Sophie and may you stay sweet as sugar!
.
Tagged: Birthday, Birthday cake, Birthday party, Magic show, My Little Pony