Two girly trips to Bangkok in less than 4 fours months. I joked that my stars must have been aligned for me to be so lucky to do these get away for a well deserved vacation where I can shop to my hearts content without worrying that I was boring the hubby or kid and having all the tom yum goong I want since they don't take spicy food.
The first trip with the girls in my team was over the Labour Day weekend in May and just 2 weeks ago, I was away for yet another holiday in Bangkok without the hubby or Sophie. After all, it was for my department retreat and it wasn't appropriate for them to hang around.
Such girly trips are very very rare I assure you, and after I Skyped with Sophie one night because she was in tears, my colleagues commented that I'm so lucky to have such a hands-on spouse to take care of Sophie single-handedly while I'm away and I couldn't agree more.
So for today's post, Alexis FINALLY agreed to guest post ( throws confetti in the air) on my blog on a Dad's survival guide when mum is away.


Daddy takes over when mum's away
When Susan told me that she was going on a holiday with her colleagues to Bangkok, I thought it was good for her to get away. I don't mind shopping with her, but I know she'll much rather be shopping with girlfriends. Besides four days alone with Sophie means I get to spend more precious time with her exclusively.
Teaching a new life skill
We've been meaning to get a bicycle for Sophie now that she's turning six this year. With mummy around, she'll always more cautious and thinks too much when I try to introduce a new sport to Sophie. But when I'm in charge, we get to be more ga-rang.
A bicycle is a bicycle, so we picked out one from Giant, something I know that my wife will frown upon since she doesn't think highly of the quality of bikes here. The next day, I brought Sophie to try her new ride at the void deck and in less than 5 attempts, she mastered it!
The key is allowing her to fall and pick herself up. In short- letting go, which mummy will have more difficulty doing so since she's more protective. But our kids are more resilient than we imagine and I'm proud that I got to teach Sophie to cycle.
Planning our time together
To keep Sophie occupied during our time together, I planned a few activities. The first was a surprise to the Underwater World at Sentosa. The place is nothing to rave about given how old it is compared to the SEA Aquarium in RWS but Sophie didn't complained and enjoyed the dolphin show.
We had a bit of an adventure and even get caught in the rain. But a little rain never hurts anyone, though I know my wife will think otherwise.
And on Saturday, we went to catch the National Day Preview at the Floating Platform and even bumped into a friend and their family. My wife would be so proud that we got dressed for the occasion in our red and white attire.
Keeping connected via Skype
Sophie missed mummy terribly on the first day and even cried because she couldn't get to sleep. Thankfully, we are now so well connected and managed to Skyped with Susan.
On the second day, Sophie was much better without mummy and even wrote this note to her mama.
Geek talk with my kid
With Susan, her idea of spending time with Sophie is usually crafting, painting or drawing. But with me, we had a more fun time with Lego.
This time though, Sophie got introduced to something new – the Rubik's Cube. I ordered two of them and tried to teach Sophie the basic moves from YouTube videos I've watched but she hasn't caught on them yet. Nevertheless, it has given me opportunities to share my interests with her.
A grateful mum
So there you have it, my hubby's survival guide of how he did solo-parenting when I was away. He did confess that they did watch TV and lots of it. But I'm not really complaining since I know he did put in effort to plan and spend a meaningful weekend with Sophie while I was miles away.
In fact, he's such a hands-on dad that I have no worries leaving Sophie with him at all. And I know that Sophie always enjoys the fun time she has with daddy to pen this note of appreciation for her daddy dearest 🙂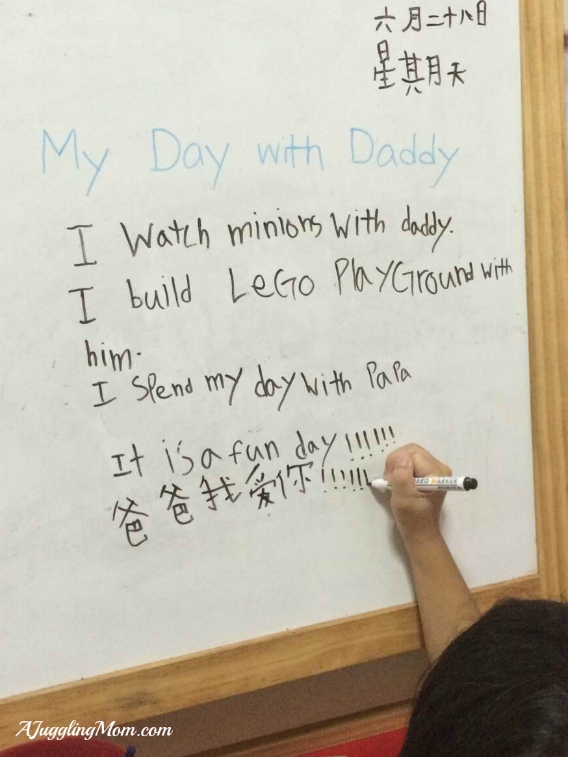 So to my hubby, thanks for allowing me to take time off my mothering duties to go for these holidays with the girls. I have full confidence that you'll do a great job at taking care of Sophie alone and you've proven yourself not just once but twice 🙂 The time that you spent with Sophie will certainly be cherished by her and you'll always be the best daddy for her in the whole wide world!
Tagged: Dads for life