After spending two days in Cing Jing, the next leg of our Taiwan free and easy Summer adventure was to the easten part of Taiwan to Hua Lian 花莲, where we did a road trip to Taroko Gorge 太鲁阁. Taroko Gorge is Hua Lian's main attraction and according to friends who have been there, they were all captivated and left spell bound by the spectacular scenery.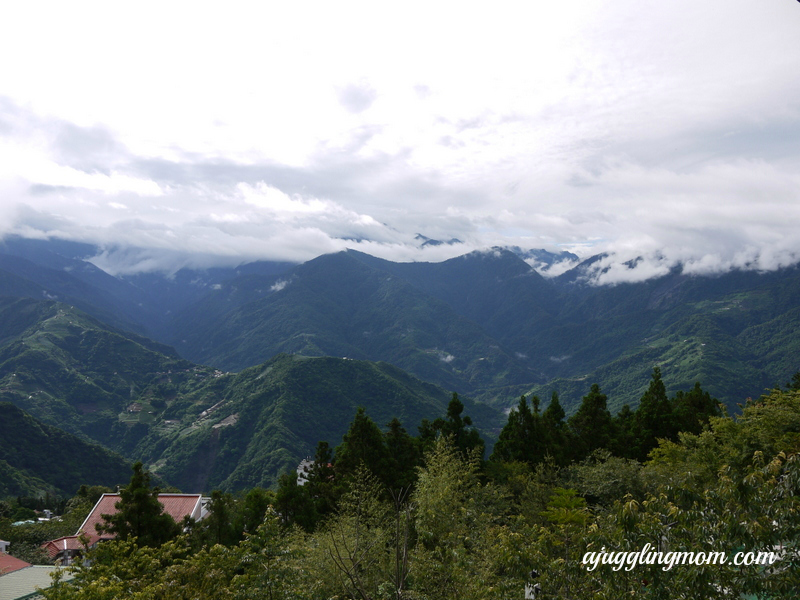 Bidding good bye to the picturesque view in Cing Jing
Being city folks, I was looking forward to this part of our trip as we'll have plenty of opportunities to get close to nature and we spent two days in Hua Lian. On the first day,  we got up bright and early and had our breakfast at our minsu before heading off at 9am, where we were picked up by our friendly cab driver, Mr Zhen. He is the husband of 古小姐, whom we booked for this roadtrip and understand that this is their family business where husband, wife and son, ferry customers between Cing Jing and Hua Lian and vice versa. Taroko National Park is famous for its marble gorge. You can find out more information on the park from this website.
Before setting off, Mr Zheng warned us that the journey up to He Huan Shan 合歡山 will be steep and winding, so we were advised to arm ourselves with a jacket and let him know if we feel unwell along the way, especially for Sophie.
The stops that we covered in Taroko National Park were -> Wu Ling (武嶺) -> He Huan Shan (合歡山) -> Dayuling (大禹嶺) -> Bi Lu Shen Mu  (碧綠神木) -> Intertek (天祥) -> Yue Fei Pavilion (岳飞亭) –> Mother Bridge (慈母橋) -> Swallow trail (燕子口) -> Changchun Temple (長春祠) -> Shakagang Trail (砂卡礑步道) -> Chishingtan Beach (七星潭). The estimated journey was 7 hours
Bright smiles from everyone as we climbed up the mountains to be greeted with this amazing view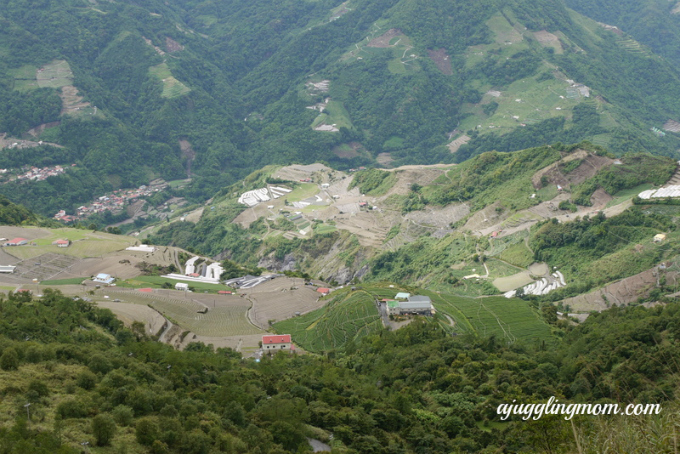 Tea plantations and organic farms on the mountains
The drive up He Huan Shan 合歡山 was indeed windy. Thankfully, our cab driver Mr Zhen is a very seasoned driver with his daily commute up and down the mountains and knows the roads like the back of his hand. Sophie was a strong trooper and wasn't too affected by the altitude although she was quite uncomfortable towards the top.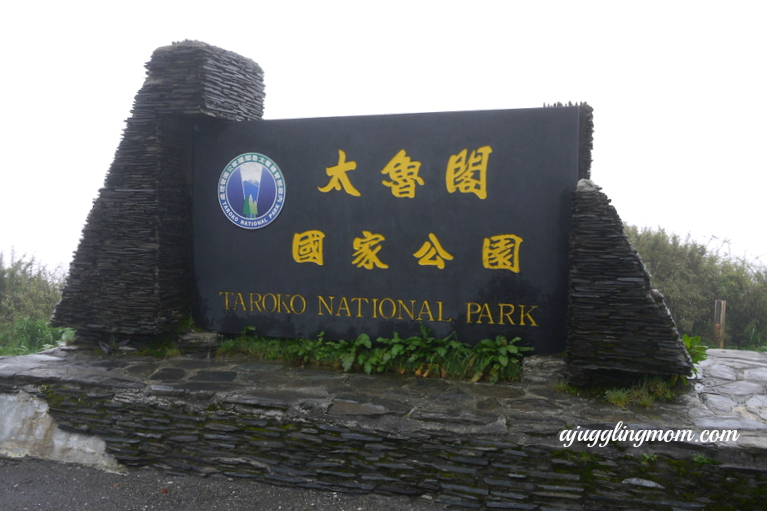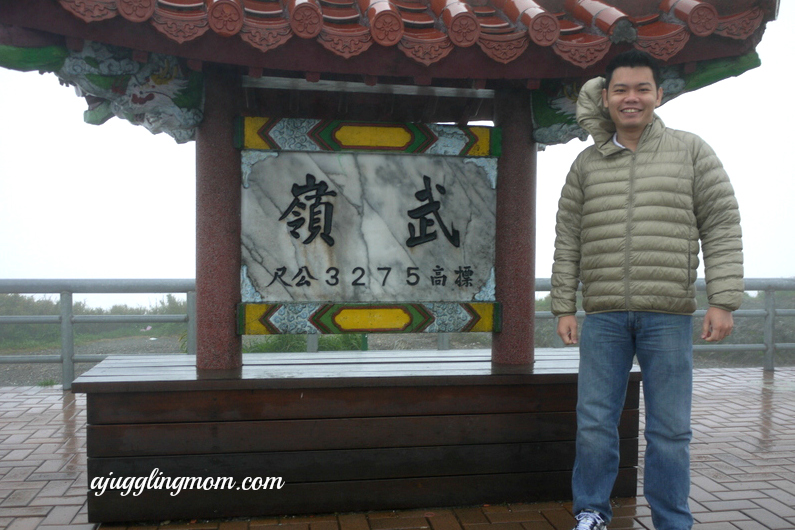 Our first pit stop, 武嶺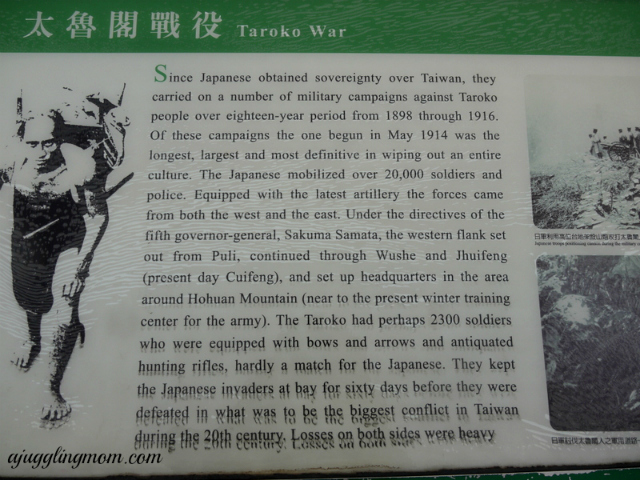 A quick history lesson on the Japanese invasion to Taiwan during the 20th century
We continued to climb higher up the mountains and it got colder and more foggy. In fact, the temperature dropped to 8 degrees when we were at the peak of He Huan Shan.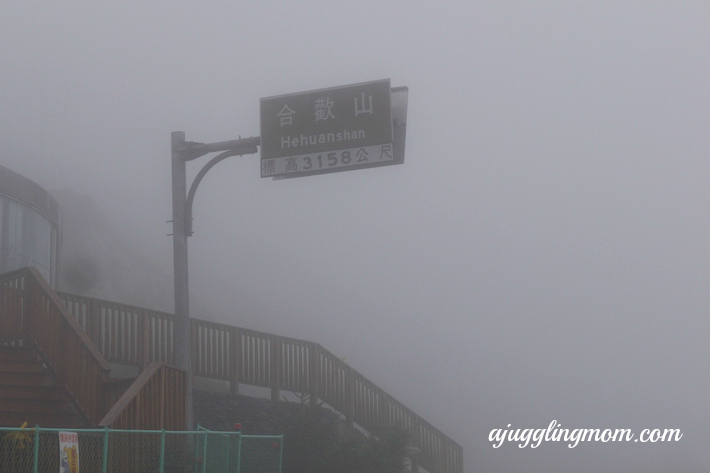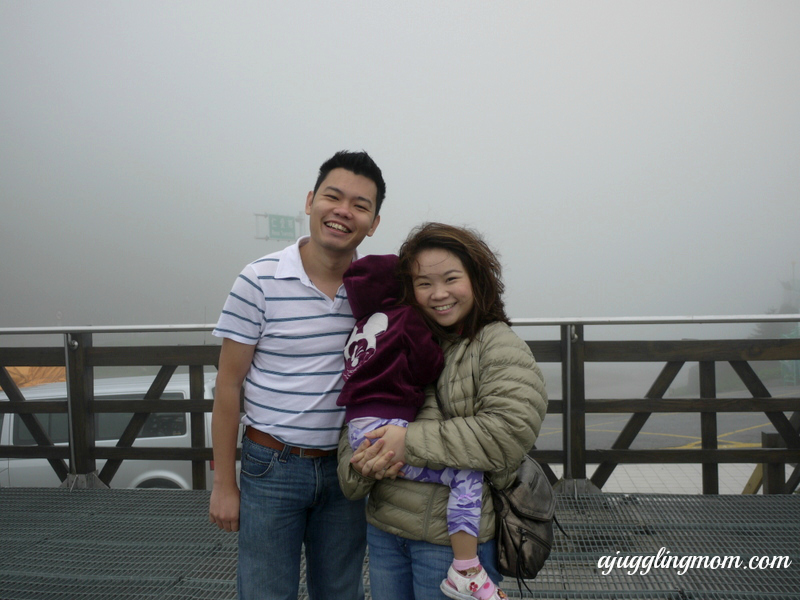 Messy hair from the strong winds. Don't forget your jackets!
After a quick toilet break and some photos, we ran back to the cab to seek shelter from the strong winds. Not long after, we stopped for lunch at the Central Cross-Island Highway. I forgot the name of the shop where we ate but they served peach honey coffee! Before you give me that strange look, you got to try it for yourself because it was one of the best coffee I've tasted. This was the olny place that we can stop for food, so if you don't intend to eat here, you better pack some food or snacks for the long journey.
After fueling up, we walked to the grand old looking Bi Lu Shen Mu which is a famous sacred tree. But I've forgotten the tale of how it got its name.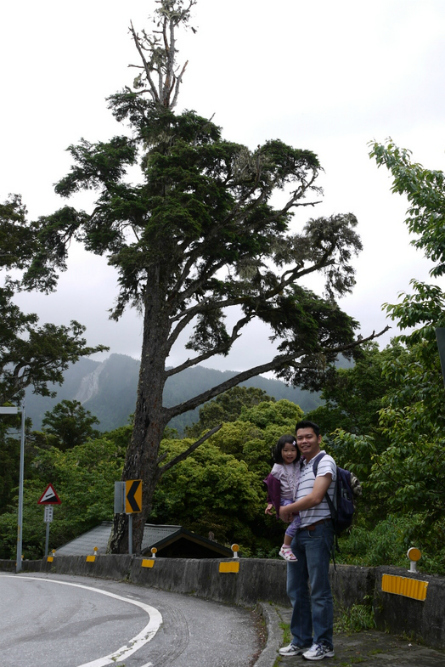 After setting off shortly, we got stalled by this sight where the rocks fell onto the road just minutes before we drove by.I was so thankful for God's protection over us. It's quite common to see rock slides happening especially since Taiwan experiences strong typhoons and torrent rain.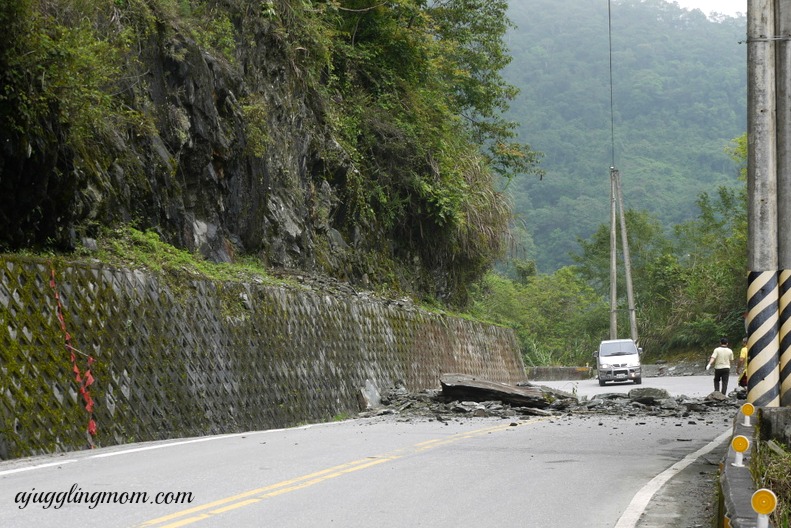 While waiting for the rocks to be cleared, we got out of the cab for a breather and the air was indeed extra refreshing when you're high up in the mountains.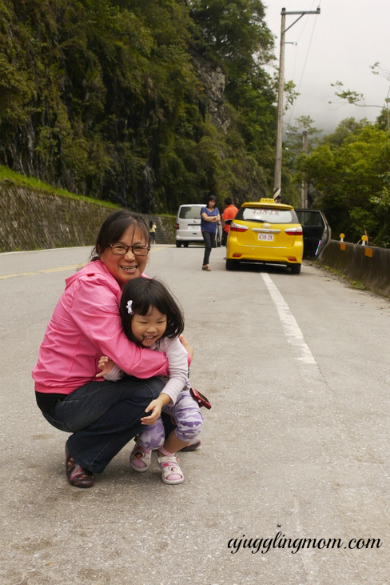 Our cab driver, 古小姐, trying to get a hug from a cheeky Sophie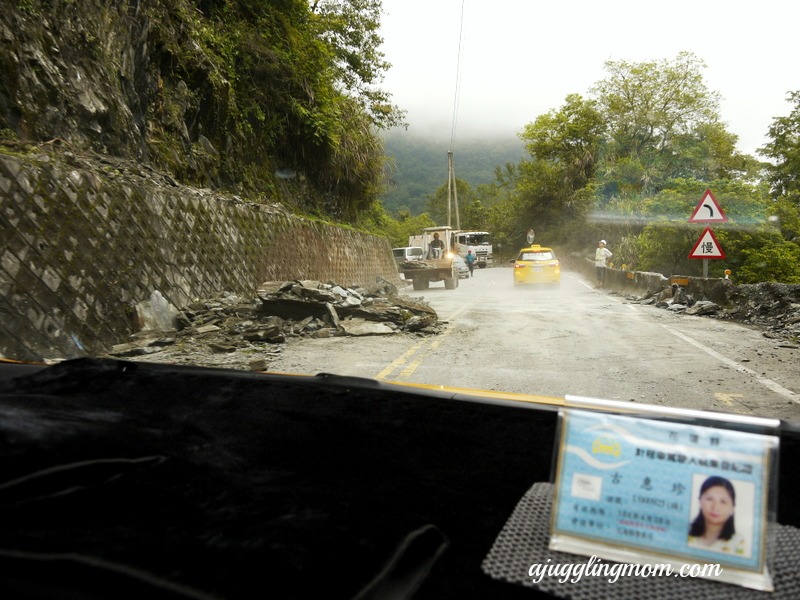 Just imagine if we traveled any faster and we may have been hurt by the falling rocks. Onward we go!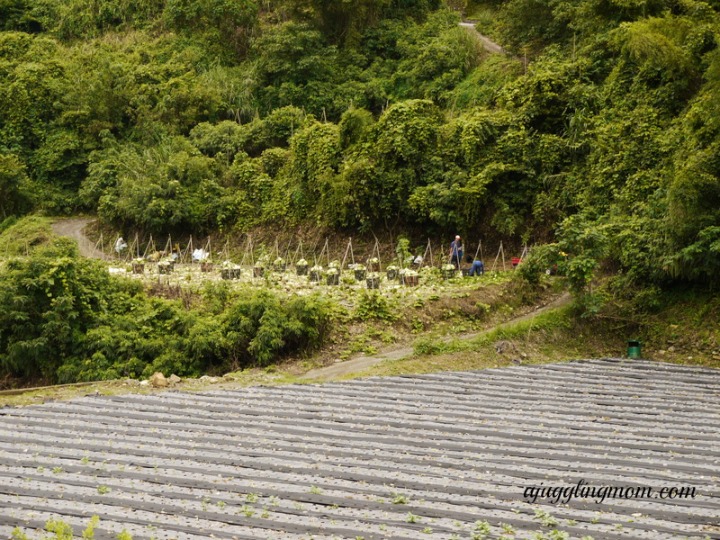 One of the many organic farms 有机农场 we saw along the way. Organic farms are gaining popularity in Taiwan with more being concerned about their health and sustainable farming.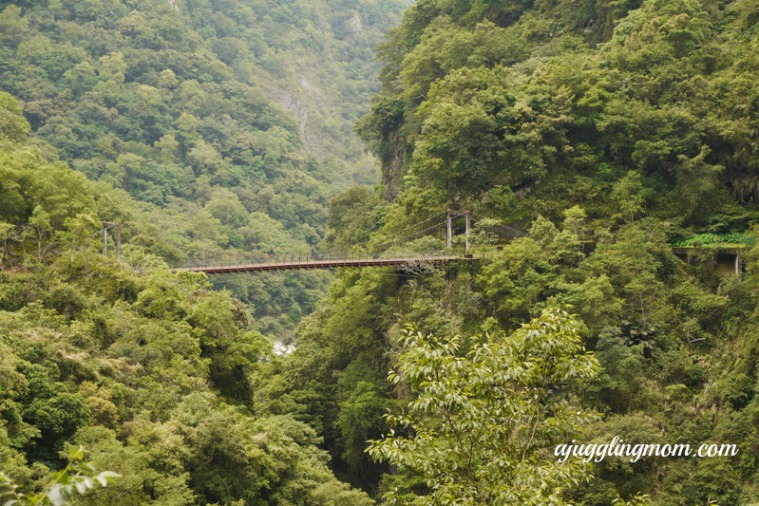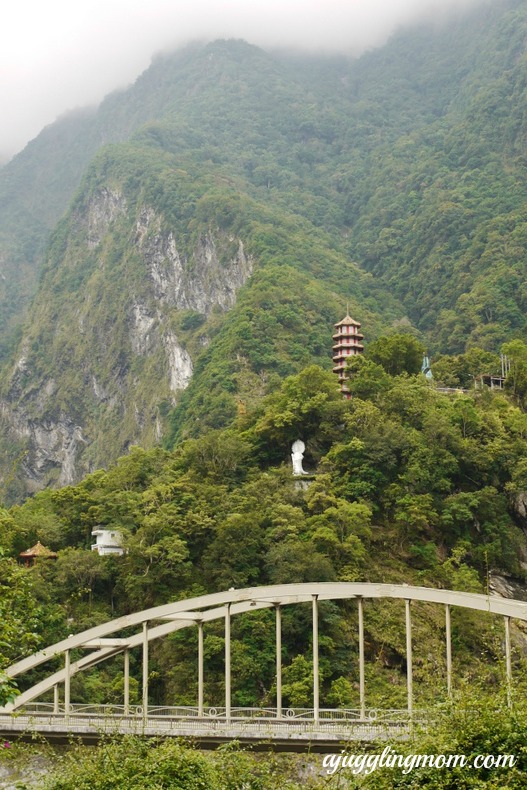 Cheung Tak Temple on top with the world's tallest golden statue of Buddha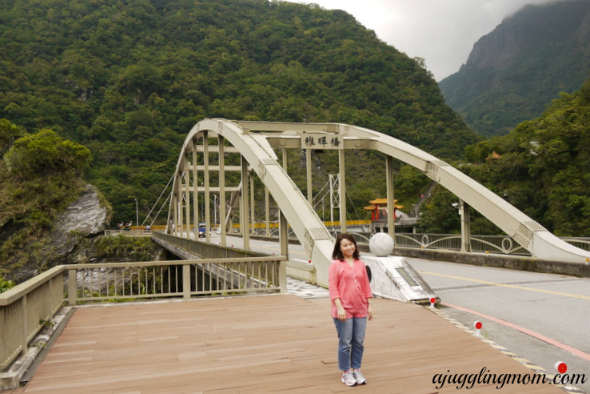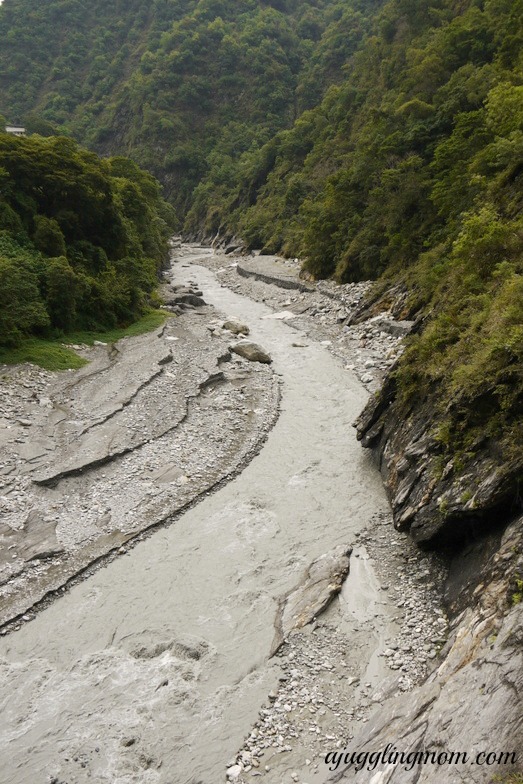 The waters that flowed through the gorge was greyish that day unlike the clear blue that I so often see from others photos. Not sure if it had anything to do with the rainy weather that we had that day.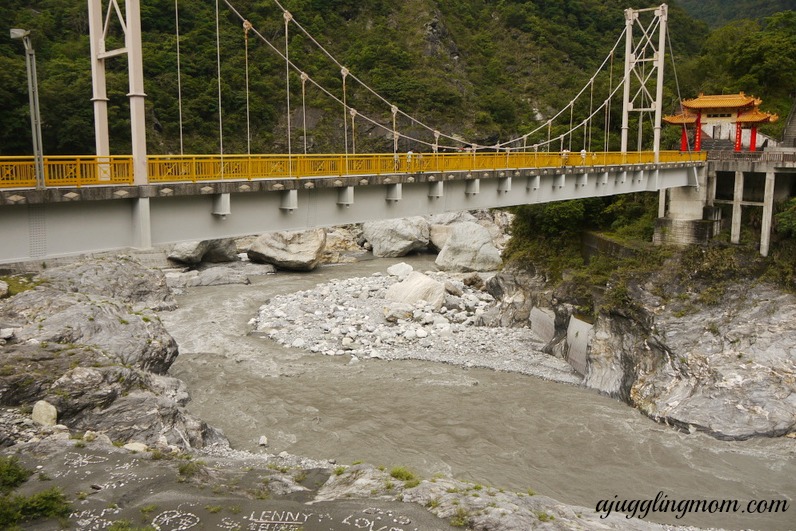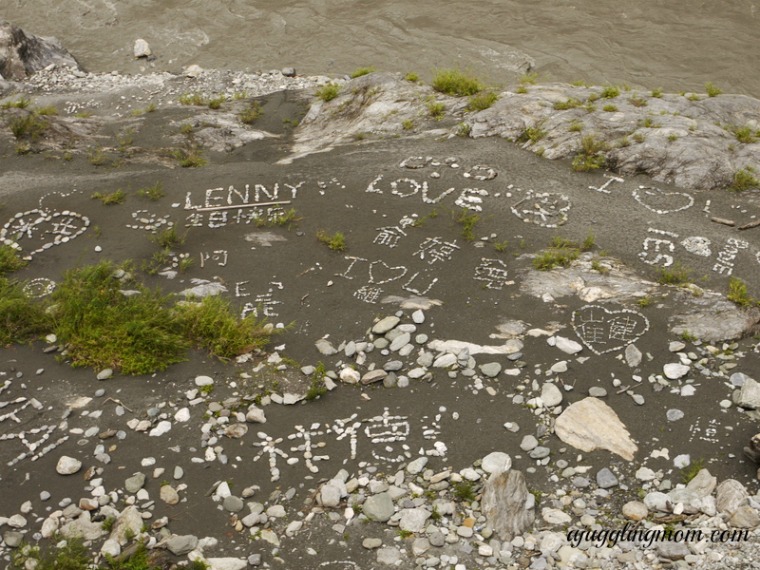 Declaration of love and markings of names formed by white pebbles against the grey sand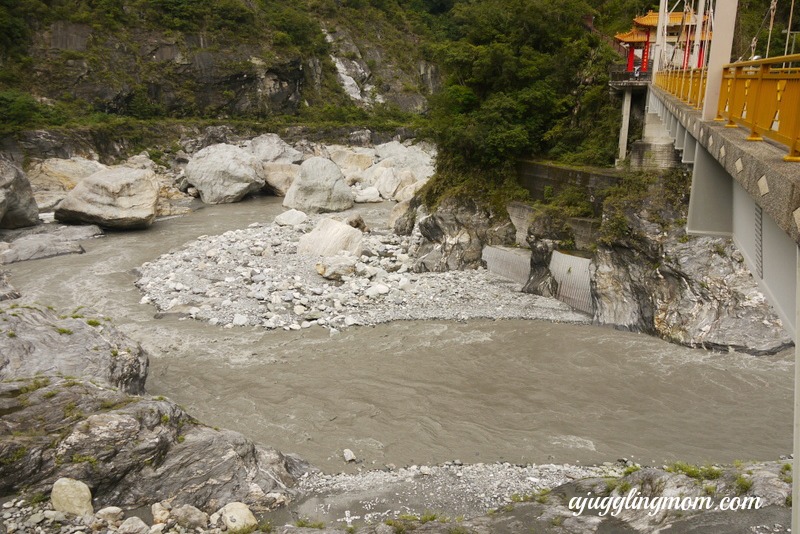 Since many of the trails were either closed or too dangerous for a wet day (it rained on and off), our cab driver suggested that we go on a short hike at the Lu Shui Trail. She estimated that it would take us no more than an hour and armed us with insect propellant and a torch light.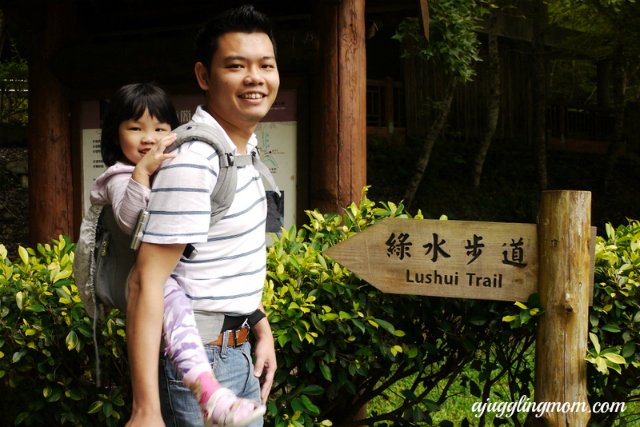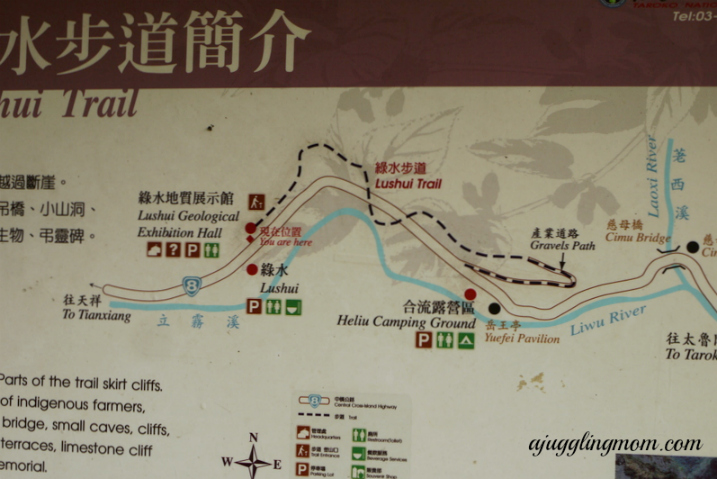 Initially I was quite hesitant but since Alexis was so game for it we just went for it. I hope I don't regret it….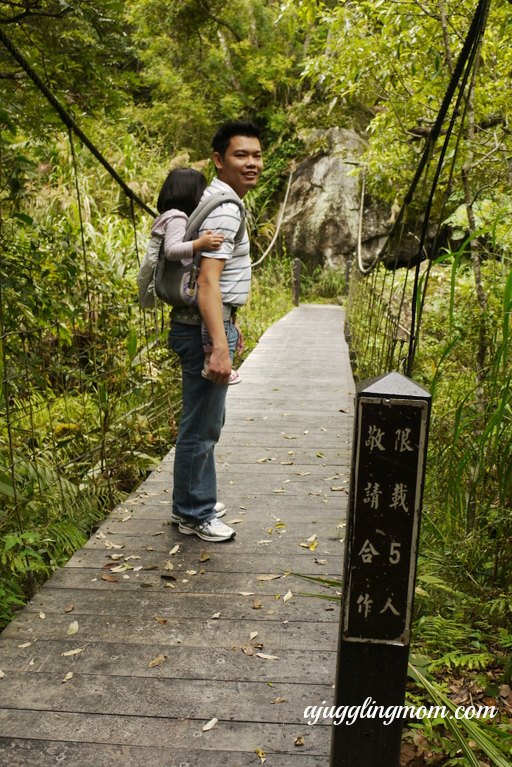 At the entrance of the trail…erm looks like a very adventurous trail alright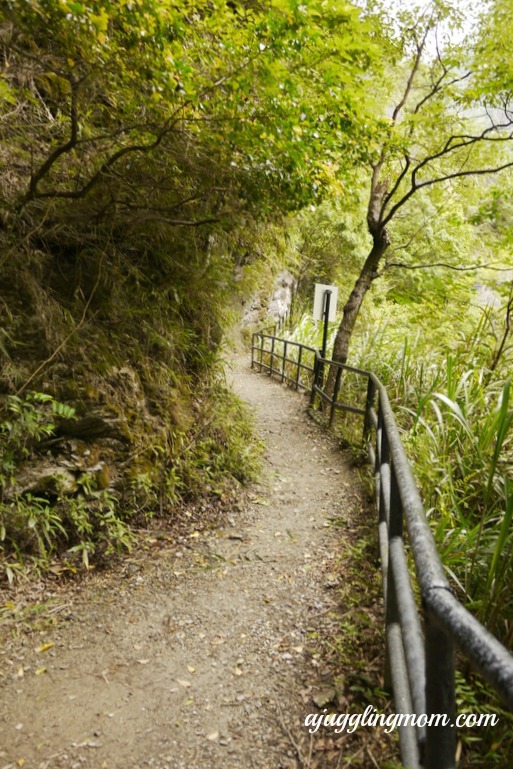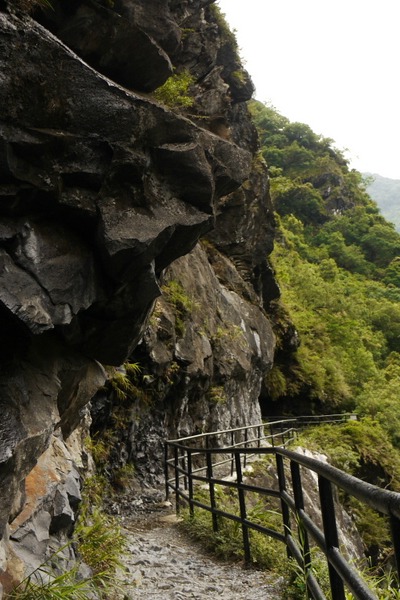 We had to watch our steps and duck our heads when we walked near the edge of the overhanging rocks. Thankfully, I'm short and have little navigating through the trail.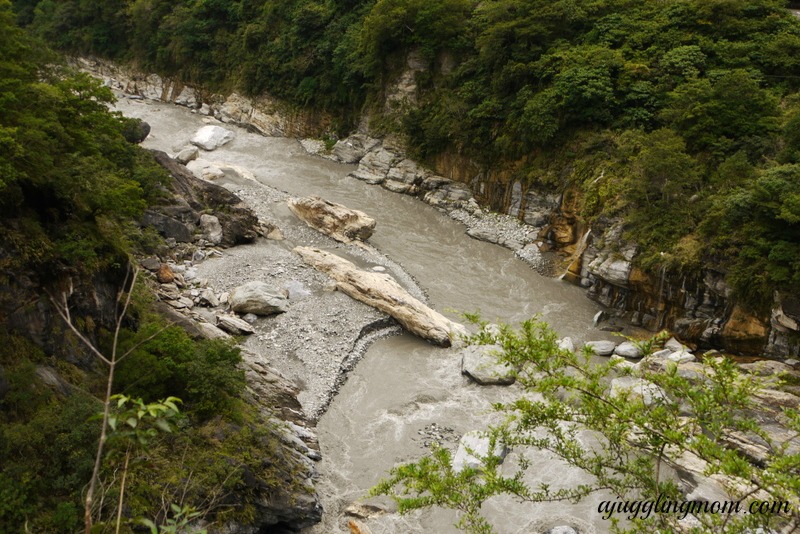 Below us was the Lui Shui terrace where it used to be the home of the Taroko settlement and is now a major attraction in the Taroko National Park. We exited the trail after 40 minutes as there was honestly not much to see, so I wouldn't recommend it at all 😛 
We arrived at Yue Fei Pavilion (岳飞亭) that was built in remembrance of the hero, Yue Fei.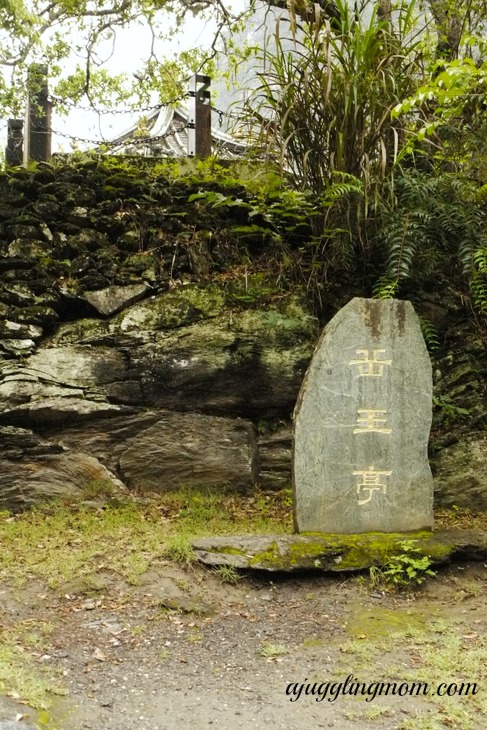 At the end of the bridge is a suspension bridge to one of the park's Ecological Protection Entry but entry is not allowed without a pass.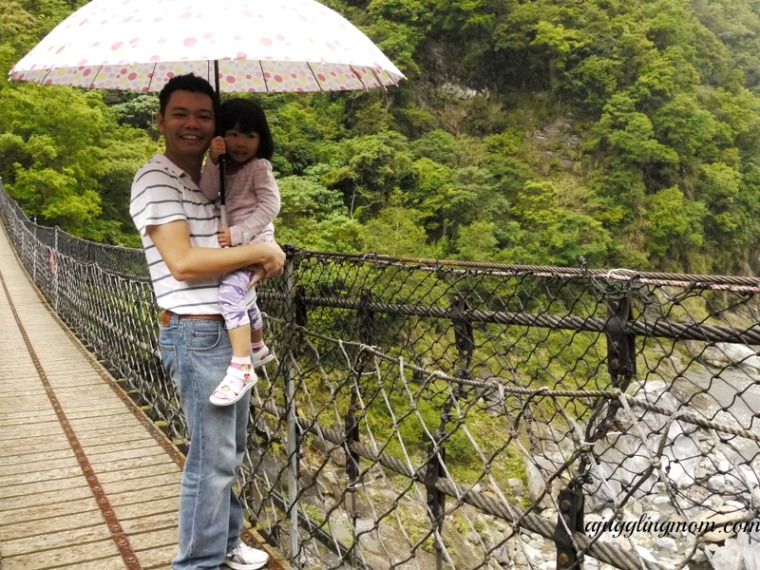 Sophie and daddy looking so 甜蜜蜜 sharing an umbrella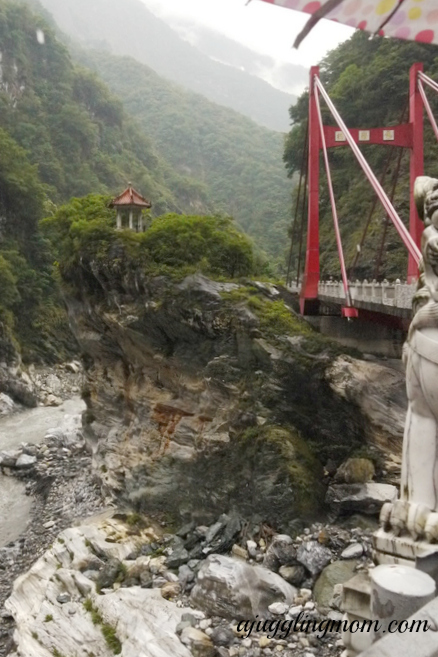 Another highlight on the roadtrip is this red bridge is called the Motherly Devotion Bridge, 慈母橋.
According to Mrs Gu, the bridge was built in honor of a mother's devotion. She pointed out that there was a part protruding out under the bridge that resembles a frog with a crown. Do you see it?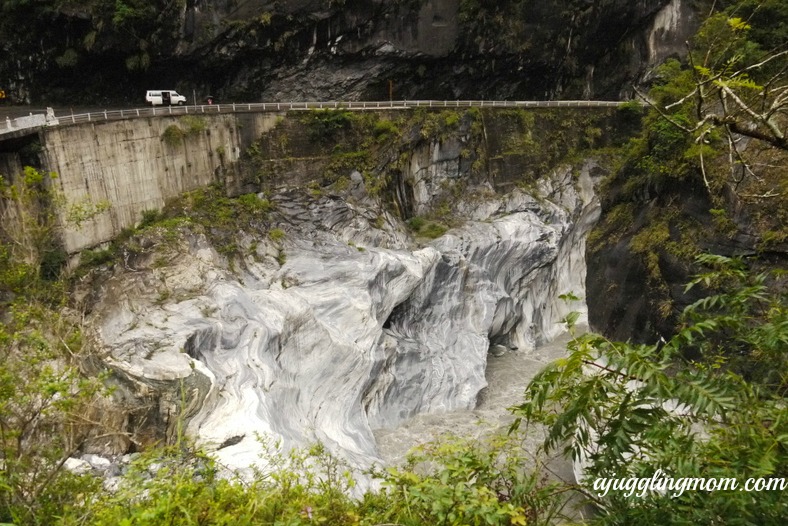 Below the bridge was the marbled walls that bore a beautiful patterns that were all naturally formed. Yet another reminder to me at how beautiful the works of God's handiwork are 🙂
Mrs Gu brought us to the Leader Village Taroko to have a quick glimpse of the area that was once home to the Taroko aboriginals. For those keen, you can even stay in the hotel here that is run by the aboriginals. As we were already behind schedule, we quickly departed and headed to Swallow Grotto.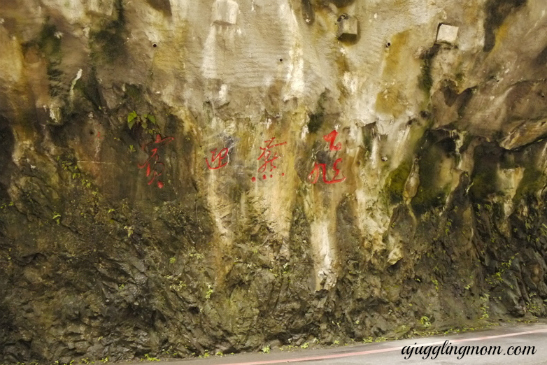 Before we reached Swallow Grotto, 燕子口, we had to rent helmets. This was meant to protect ourselves from falling rocks or any injuries as the pathways can be quite dark. Mrs Gu dropped us at the entrance and armed us with torch lights as we were recommended to walk to the other end and try to spot the swallows.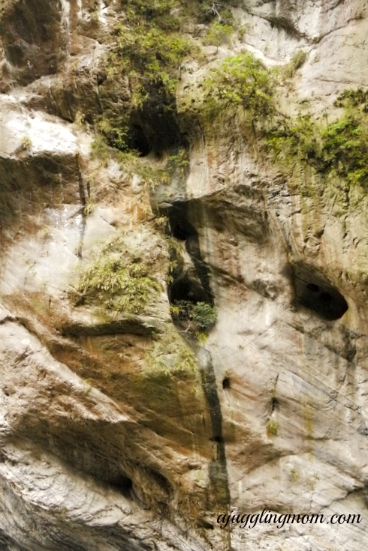 Can you see the little holes along the sides of the cliffs? These are the swallows nest and Sophie was thrilled to spot the flock of swallows flying about.
Sophie dozed off in the cool wet weather
By now, we have already been on the roads for 8 hours and couldn't wait to get to Cing Jing. But our car soon came to a stand still when we saw a jam due to road works. It was a snaking queue and took us another half an hour to get pass.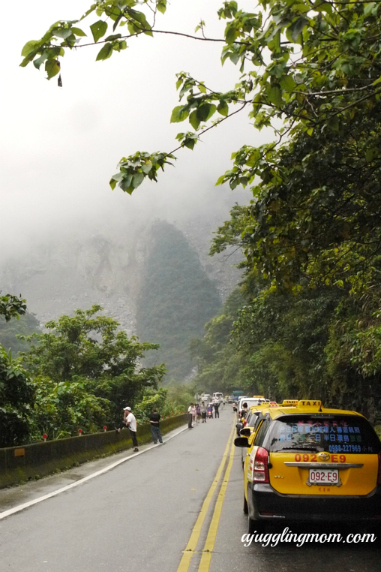 Major road works due to the falling rocks on one side of the cliff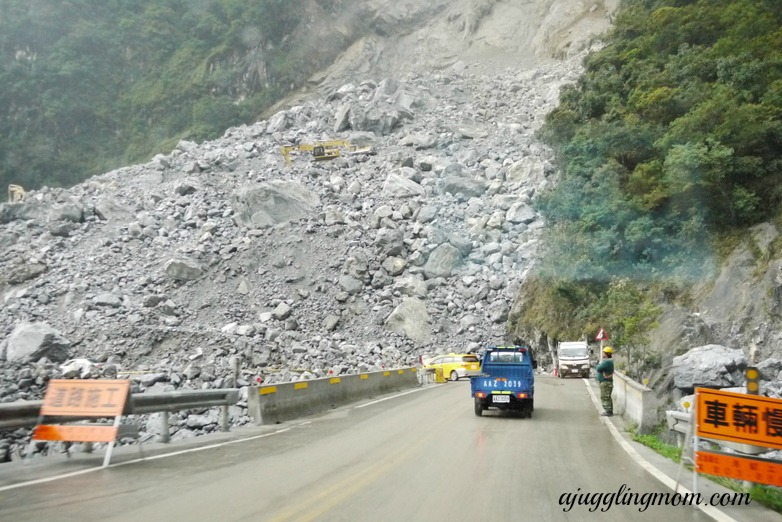 We finally got to the end of our Hua Lian road trip and one can never claim to have been to the Taroko Gorge if you didn't take a photo at this rock at it's entrance/ exit (depending on which way you started your journey from).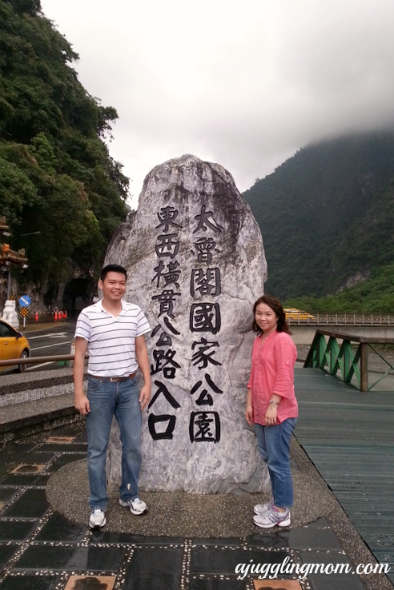 We finally arrived at Hua Lian where we were treated to another view- the view of the Pacific Ocean from Chishingtan Beach, 七星潭. The beach is worth a mention as its shores is not your typical sandy shore but a pebbled one.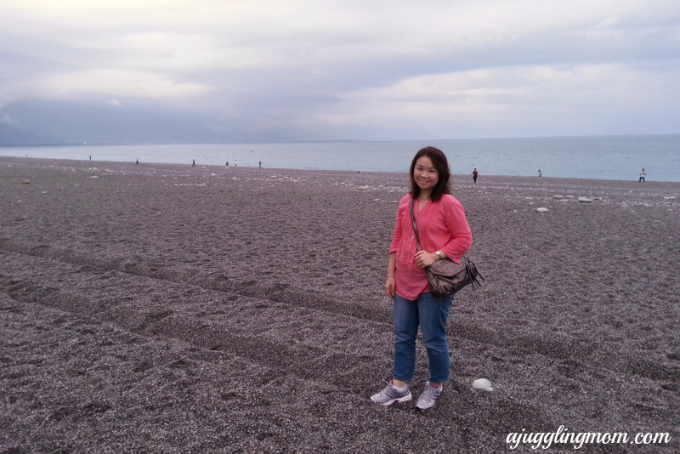 Sophie got busy filling a paper bag with pebbles and took them back to the minsu as a memento for making it to the end of our day's road trip. Needless to say, we were exhausted and retreated early for the night before our whale watching adventure the next day.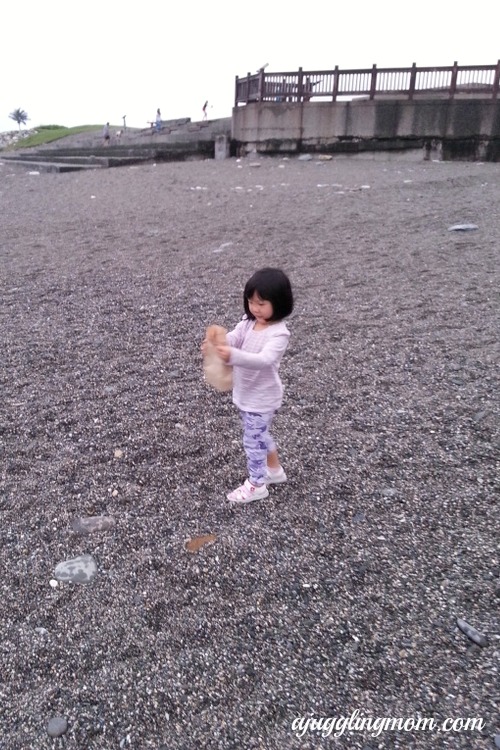 More of our Taiwan adventures:
Tagged: beach, family friendly, family holiday, free and easy, Hua Lian, Taiwan