As parents, we sometimes feel like it's necessary to take our kids out to have fun at theme parks, indoor playgrounds, the movies and it can be a costly affair especially when you have  more kids. But I've learnt that kids hardly bother about where they go as long as they are out having fun with friends.
And in this aspect, I'm really thankful that we have so many fun for free options in Singapore. From parks and gardens, beaches and playgrounds including water playgrounds conveniently located within shopping malls.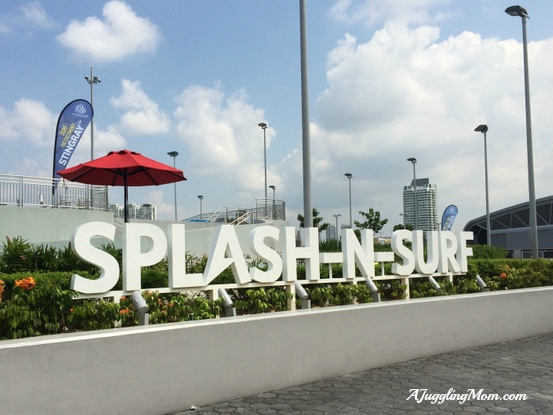 Splash-N-Surf Water Playground, Kallang Wave Mall
Sophie's childcare centre recently took all the kids for an excursion to the Splash-N-Surf water playground at Kallang Wave Mall. The children were so excited because on regular days, they don't get many opportunities to be outdoors as the cc is within the CBD area. It's not ideal since kids love to be outdoors within nature, running around so they do get to go out for short walks.
With such scorching hot weather these days, all of them were looking forward to some splashing fun.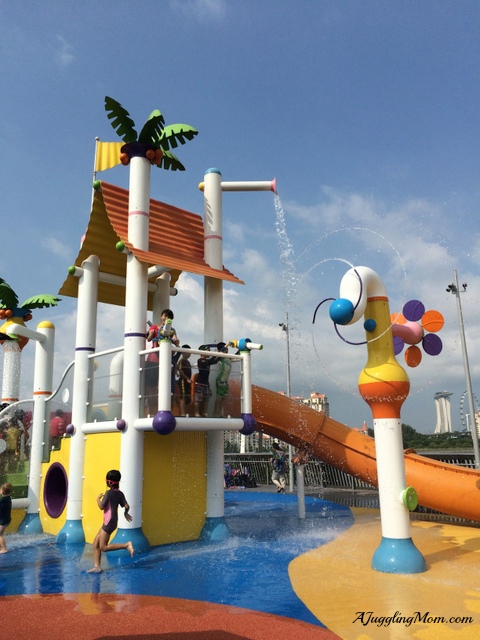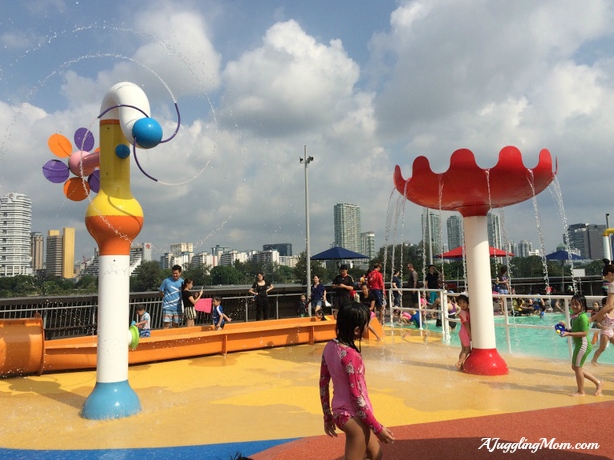 Splash-N- Surf water playground is one of the latest water playground conveniently located on level 3 of Kallang Wave Mall. Unlike the other water playgrounds that we've been to, this one is pretty sizable with two areas.
On one side, is a mini pool with a depth of 0.6m. The height is just nice for my six-year-old. But then again, she's vertically challenged like mummy, so for the average four to five-year-olds, this is a very comfortable depth for them.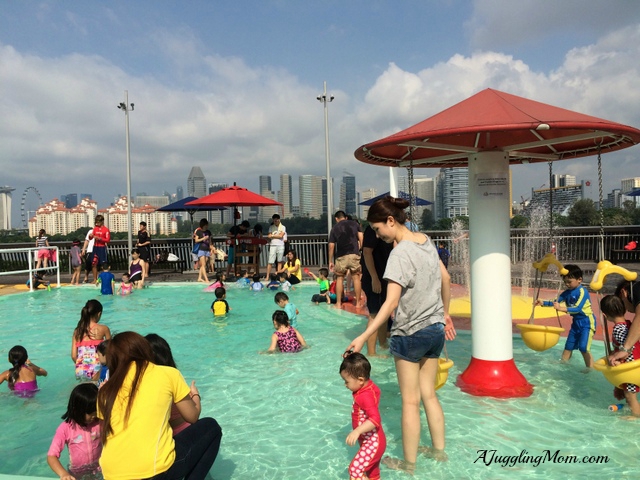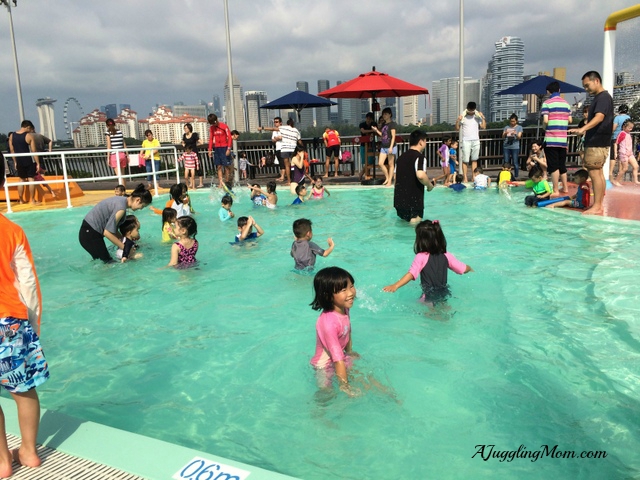 What's assuring is that there is a life-guard on duty to keep a look out for the kids, because when they start to have fun, they tend to forget about safety rules.
Little toddlers below 2 years old can also swing around in these bucket seats.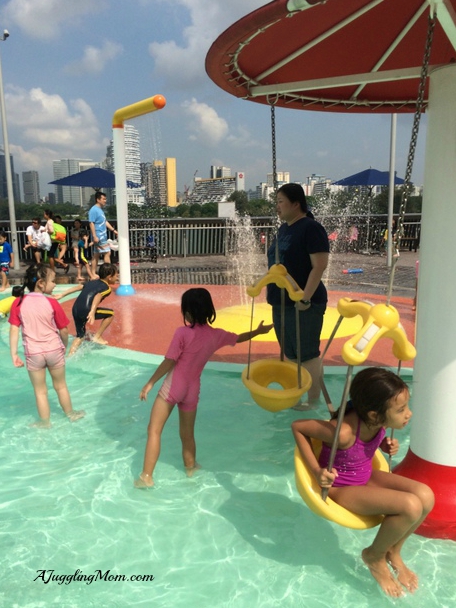 On the other side, is a two storeys playground with slides, water buckets and water sprays. Hubby saw the photos and said this could easily give playgrounds like Port of Lost Wonder a run for it's money and I fully agree.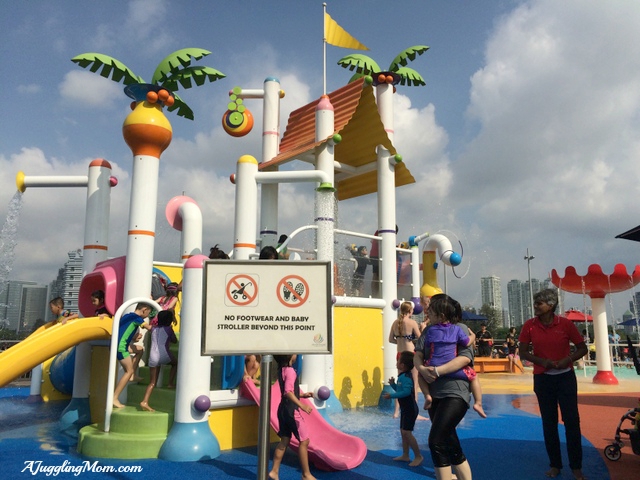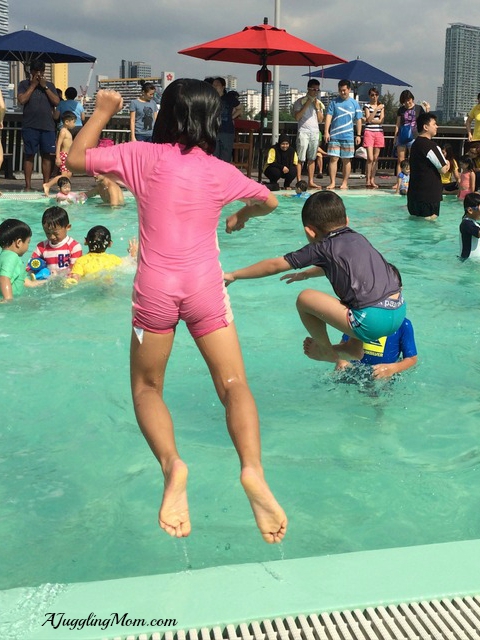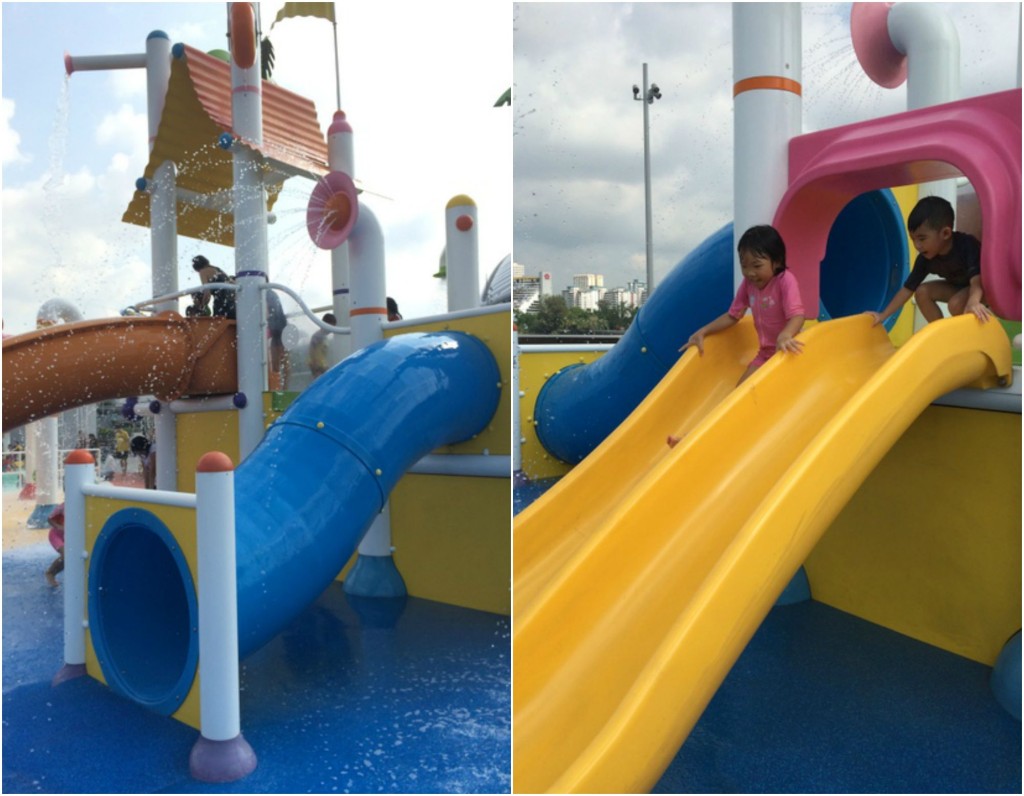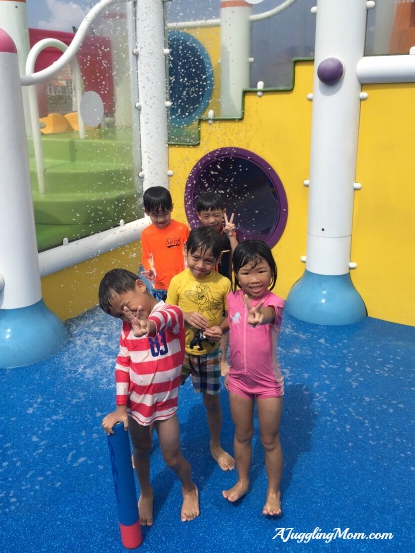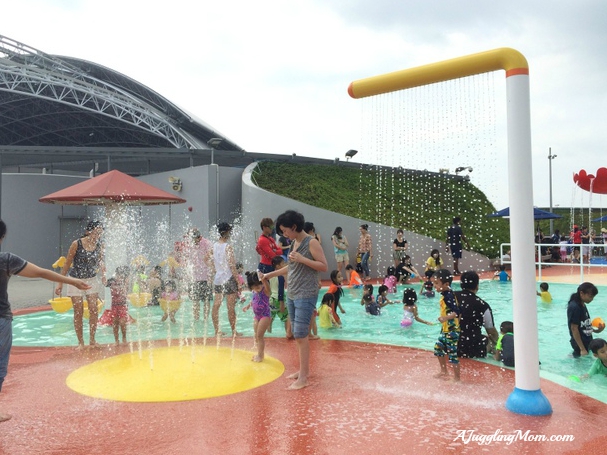 Of course for parents who like to take this time to sit back and relax, there are benches around to do so. Otherwise, it's perfectly fine to join in the fun with the kids in your swimwear too. I even saw a couple of hot mums in their bikinis joining their kids too!
We didn't manage to check out the Lazy River beside the water playground but it looks a little too small for adults. Do note that there is an admission charge for the lazy river (S$2)  and you're required to get your tickets at the OCBC Aquatic Centre (Level 1) Information Counter​.
For a water playground that doesn't charge anything, I'm pretty impressed at how spacious this playground is, delighting both the young and younger tots. And I'm sure parents will appreciate that they have very thoughtfully provide bathing facilities, changing rooms and lockers all conveniently just a stone's throw away.
But if waterplay is not your kids's cup of tea, they can head to the playground at the far end.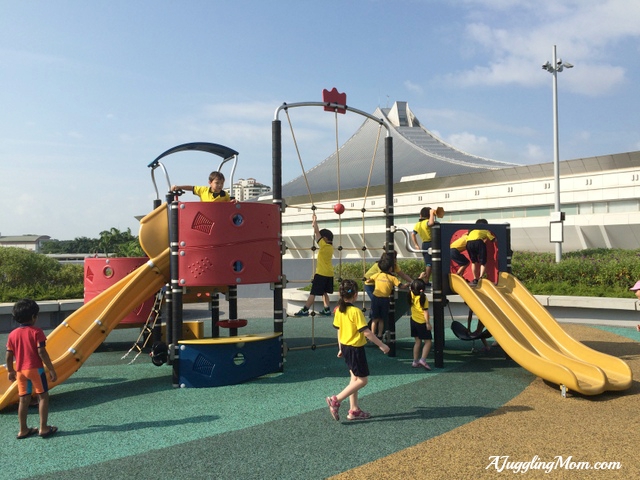 Some tips to enjoy your day at Splash-N-Surf
Remember your sunscreen / sunblock and do remember to drink lots of water!
Shower and lockers facilities are available at the Splash-N-Surf
Proper swinwear attire is required.
Not related to the pool, but mums you'll be happy to know that there's a NTUC and Diaso within the mall 🙂
Kallang Wave Mall
1 Stadium Place
Singapore 397628
Nearest MRT: Stadium MRT station
Opening hours: 8am – 10pm, daily
Do check out these other waterplaygrounds in Singapore that we've reviewed too
– Wildlife Theme Rooftop Water Playground, Tampines one
– Waterplayground, 112 Katong
– Port of Lost Wonder, Sentosa
Tagged: family friendly, family friendly activity, Singapore, Water playground