Over the long New Year's weekend, we went to two shopping centers and was pleasantly surprised to find children's playground in the mall. I get to do my shopping and Sophie gets her share of running and climbing around, perfect combo! I really appreciate how child friendly Singapore is becoming these days.
313 Orchard- Level 5, Sky Terrace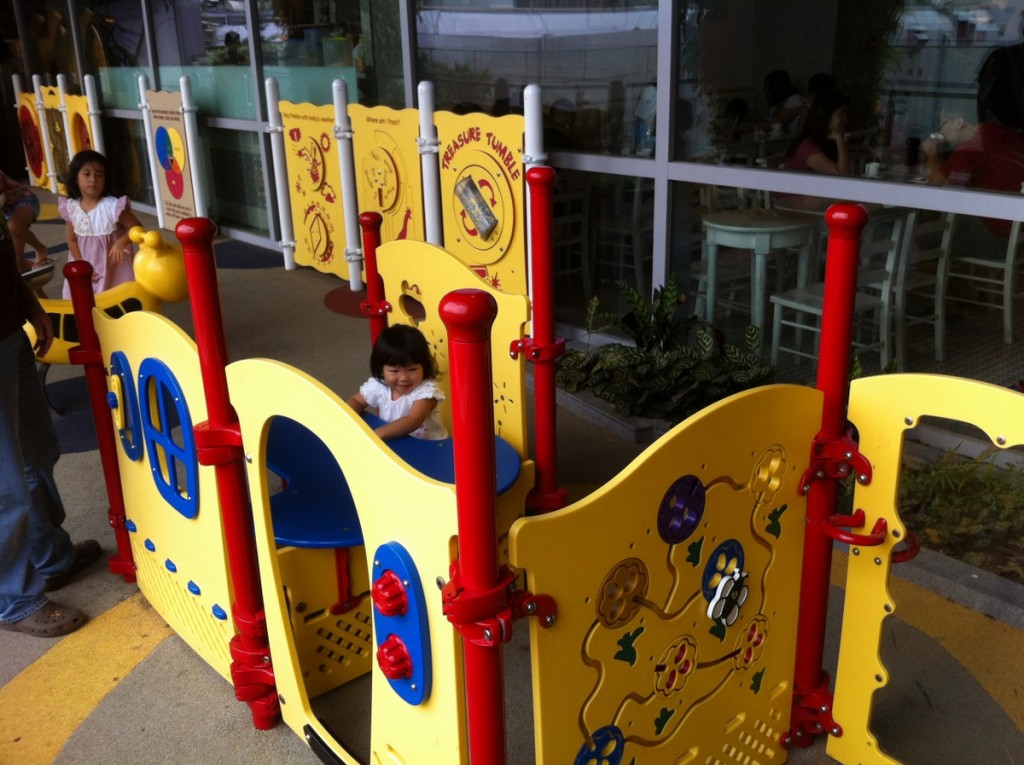 I have been to 313 Orchard countless times but never knew they had a playground in the mall.
For a mall that doesn't have any children related shops, I'm impressed that that they even have changing/nursing rooms catered for parents with young kids. And mind you, their changing rooms are one of the more spacious ones I've come across where you can even find a hot water dispenser and microwave in it.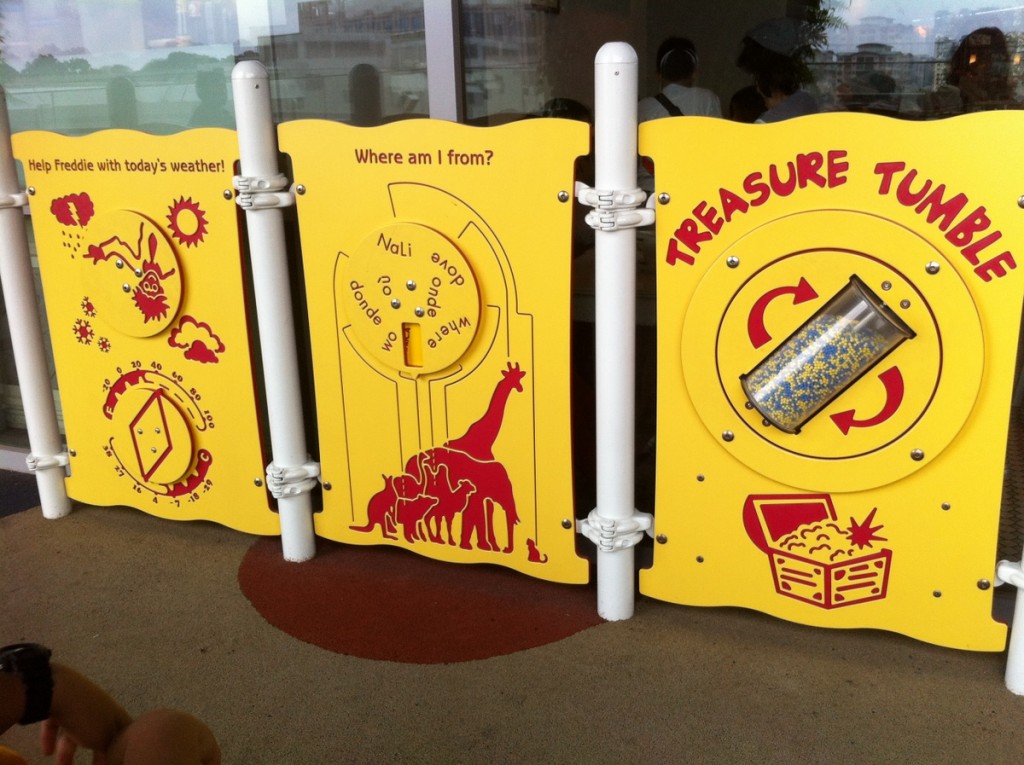 In case you're wondering where the children's playground is, it's inconspicuously hidden behind Toast Box. While there are no slides and swings here, kids can still have a fun time running around or have some quiet playing time at these learning  stations.
One of the more challenging game was this machine, called the Neos Wall with 4 columns, that looked like mega huge amplifiers that could blow you off the roof. There are different game to choose from and involves hitting the rings on the columns to score points.
This is something that that older kids or hey, adults would enjoy. Sophie also chipped in by hitting the rings that were closest to the ground.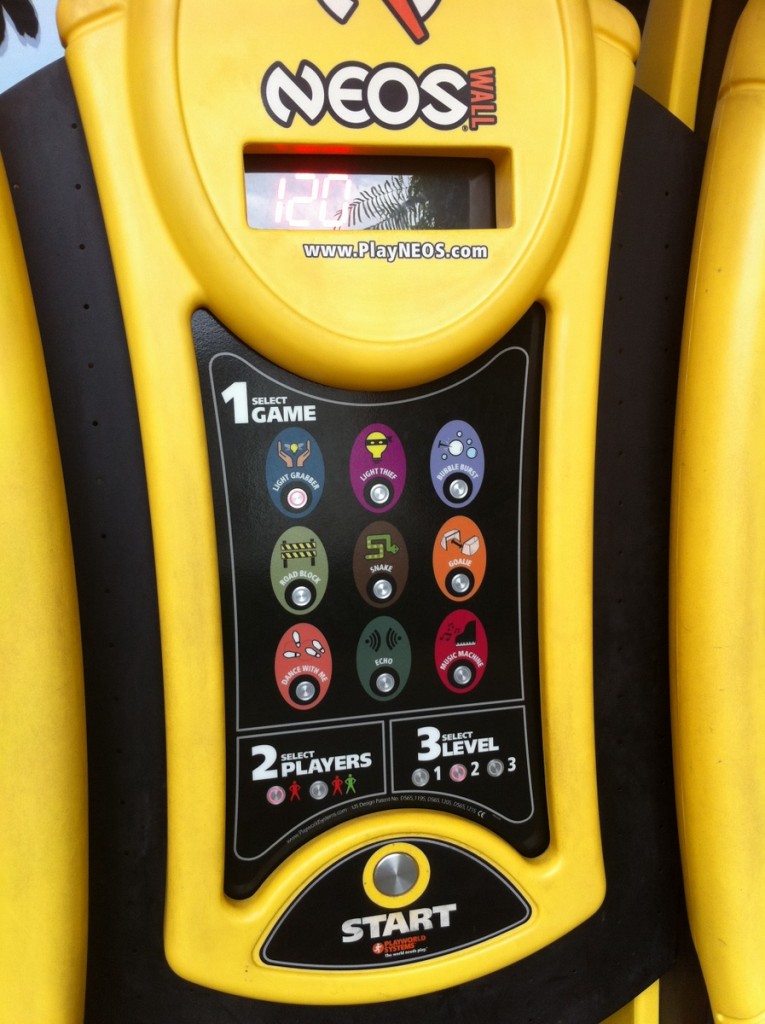 Single play or multi-play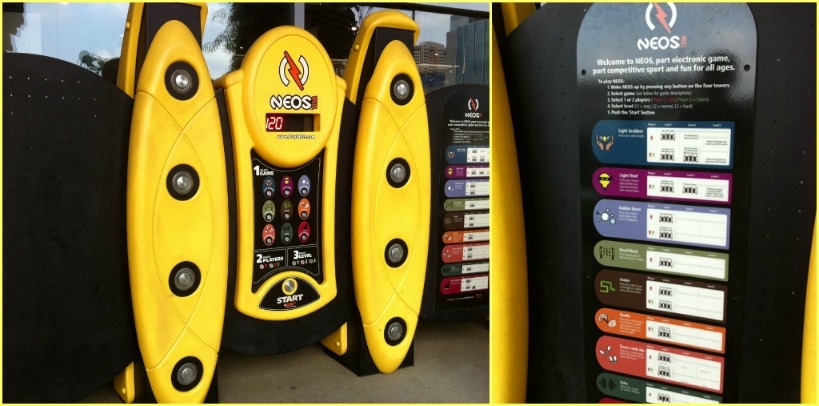 I12 Katong, Level 4, Roof top
Katong Mall has been undergone a revamp and reopened as I12 Katong, a play on it's address 112 Katong. Personally, I find the name kinda cheesy. I "1" "2" xx at Katong .. 😛
Anyway, back to the playground. Instead of your typical playground structures, the roof top children's playground is actually a water play area. Seems like there are more of these water playground after Sembawang Shopping Mall and Nex.
 Plus points:
Lots of open space for the kids to run around.
The material used for the ground absorbs the water well, so that the surrounding area is not wet.
Minus points:
Toilet and changing area are located at the other end of the building.
No dry playing area. So for kids who didn't bring a change of clothes, sorry to disappoint you 🙁
By the way, that was what happened to Sophie. When one can only see and not join in the fun, that's tough for a kid. We promised to take her back another time and yes we'll remember to bring towel and change of clothes the next time.
Have you discovered any new playgrounds lately? If you do check out these playgrounds I mentioned, do let me know what you think of them.
Tagged: child friendly, family friendly, indoor playground, nursing room, shopping mall