After being away for two girly holidays with my colleagues in Bangkok, it's finally time for a family holiday. And our travel destination-Krabi, Thailand!
I've never been much of a beach vacation traveler and would rather head to cities like Taipei and Hong Kong where there is never a shortage of activities and places to visit. But after we had family holidays to Bali and Phuket last year and the year before, I'm pretty much a convert and like how we can simply kick back and take it easy.
It was the Monsoon season in Krabi (August) when we visited so we were prepared for some rain and even had wet weather plans like our coloring books, games and books. But thankfully, we had fantastic weather on the days that we were out island hopping and elephant trekking, which I will share about in my next post.
But first a post on where we stayed for our family vacation in Krabi.
Airport to Hotel
Due to the lack of flight on Air Asia to Krabi, we took the 3pm flight and arrived in Krabi at 3:45pm after a 1 hour 45 minutes flight ( Singapore is one hour ahead of Thailand). From the airport, it took us another half an hour to get to our hotel at Holiday Inn Resort Krabi in Ao Nang which you can easily book at the airport for a fixed fee of 600 bhat to Ao Nang.
For those wondering where to stay in Krabi, there are basically two options. If you prefer to be near the beach and intend to do some island hopping, then I'll recommend staying in Ao Nang. But if you prefer to do more shopping and plan to go to the night markets for shopping and street food, then stay at Krabi Town which is about half an hour drive from Ao Nang.
Stay at Holiday Inn Resort Krabi, Ao Nang Beach
For us, we opted for Holiday Inn Resort Krabi in Ao Nang and couldn't ask for a more family friendly hotel as kids get to stay and eat for free.
Situated off the more crowded stretch of Ao Nang, it takes about 10 -15 minutes to walk to the main Ao Nang Beach stretch and a mere 5 minutes by Tuk Tuk (Thailand local taxi service mainly targeted at tourists). Right beside of the resort was the Ao Nang beach front with a pharmacy, 24-hour Family Mart, some eateries and shops conveniently located next door.
Accommodation
Check in was prompt and we were ushered to our room, the Premier Garden View room on level 3 (the top level of the hotel) which gave us a vantage point as it overlooked the rest of the resort. Our room was very spacious with a king size bed and the high ceiling made it extra roomy.
The deco had a rustic feel with bare cement screed walls and flooring, accompanied by clean and understated wooden furnishing.
I always like my room  bright and airy, and here we had lots of natural lighting with glass panel sliding doors from the hotel room to the balcony.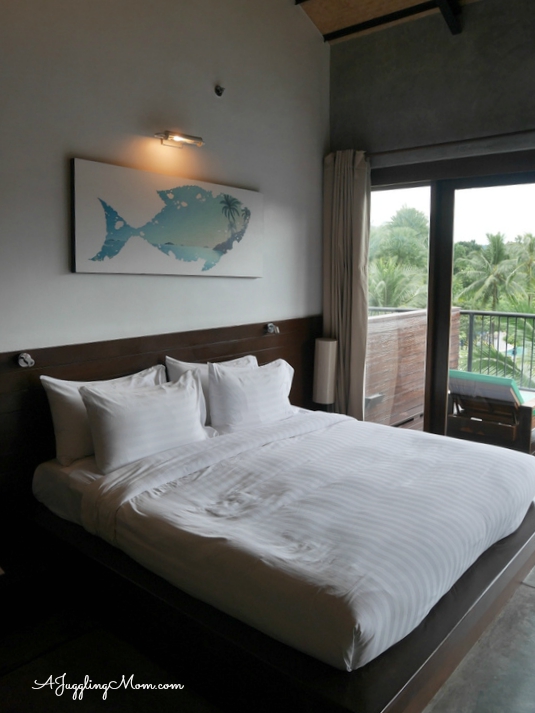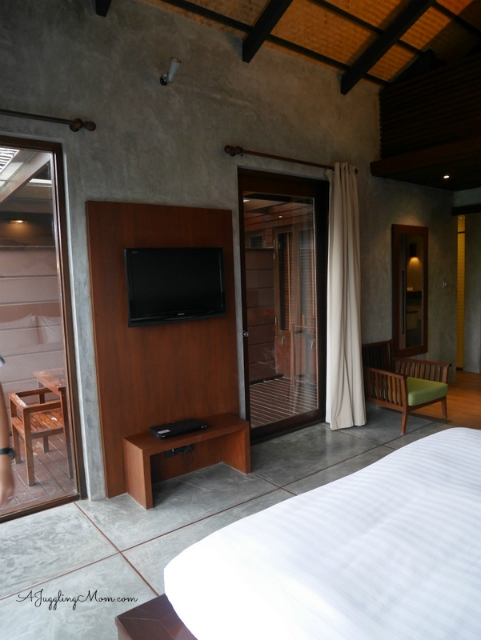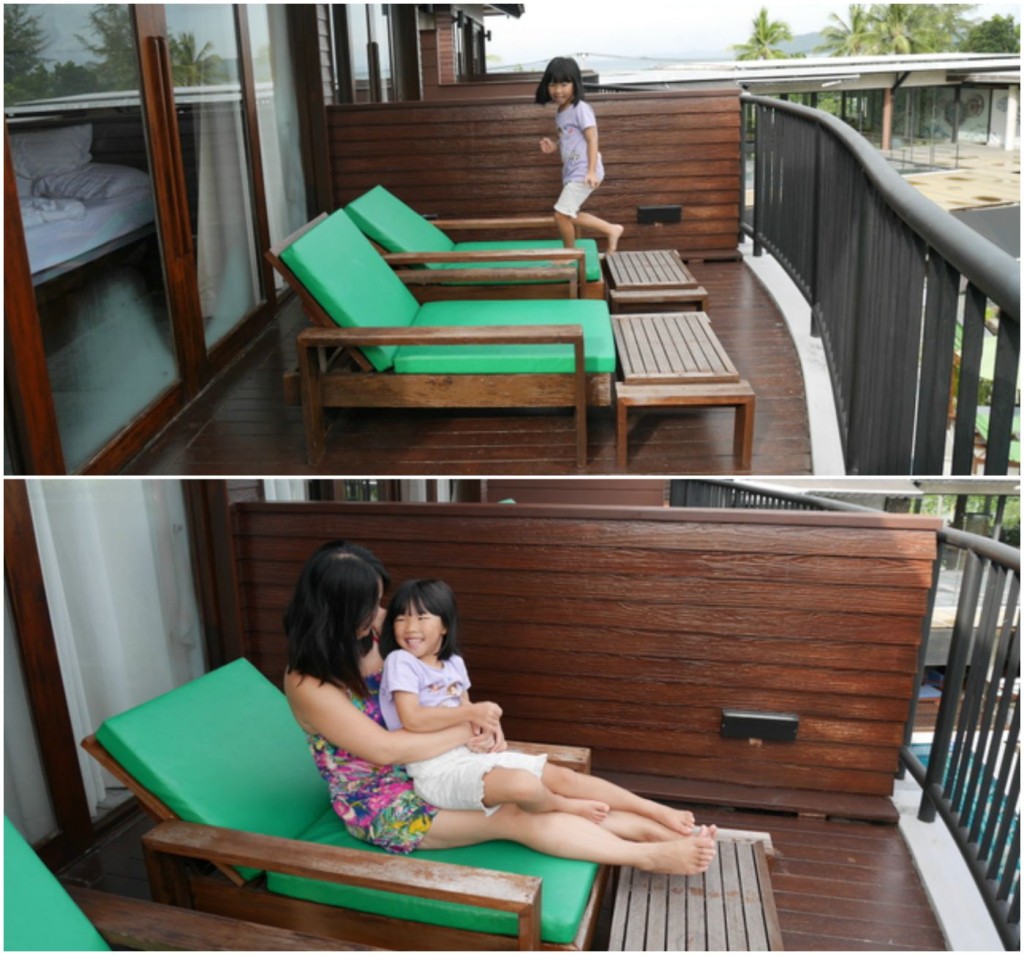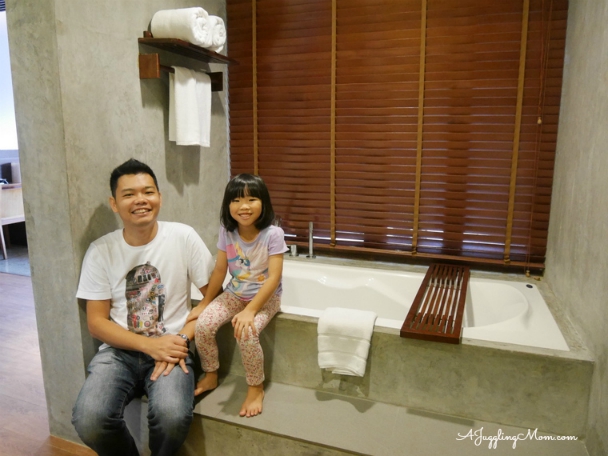 These two were giggling when they checked out the bathroom. And when I entered, I saw them already posing beside the bathtub >.< They sure know mummy well.
Just beside the bath tub is a separate standing shower area as well.
If you're going with kids, you may want to check out out their family suite which is in the newer wing that was renovated back in 2013.
Too bad, we didn't get a chance to stay in it as it was so popular and were all fully booked. The room at this wing faces the main pool as well as the kids pool area which you can see from the photos below.
Swimming Pools
Speaking of pools, there are 3 pools on the hotel grounds but we were most impressed by the kids pool that had 4 slides! Now that's raising the bar to please their little guests!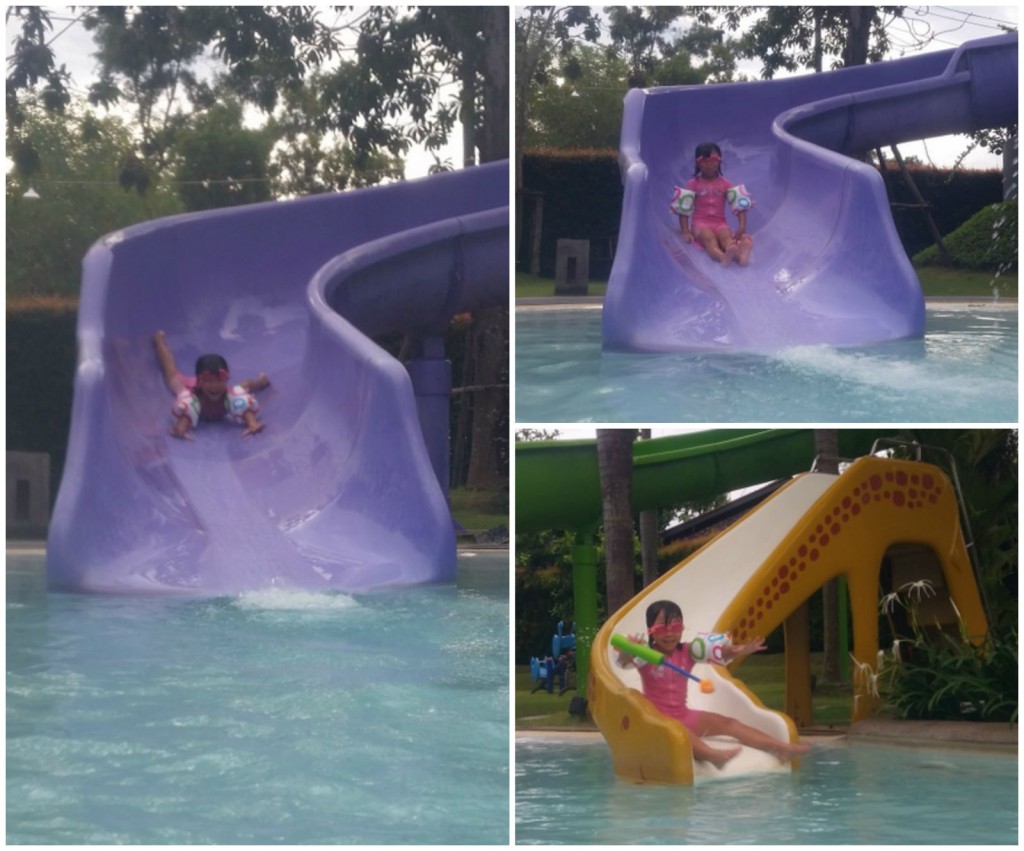 Going by the shrills of delight as the kids zoom down the water slides,  I bet it must have been super fun and Sophie even attempted a few stunts as she slid down her knees.
Too bad, adults are not allowed on the slides so for me, it's off to the Island Bar for a piña colda! #mykindofholiday
Beside the pool, there was also a playground and a trampoline for kids to bounce around and expend their boundless energy, while parents can relax by the pool.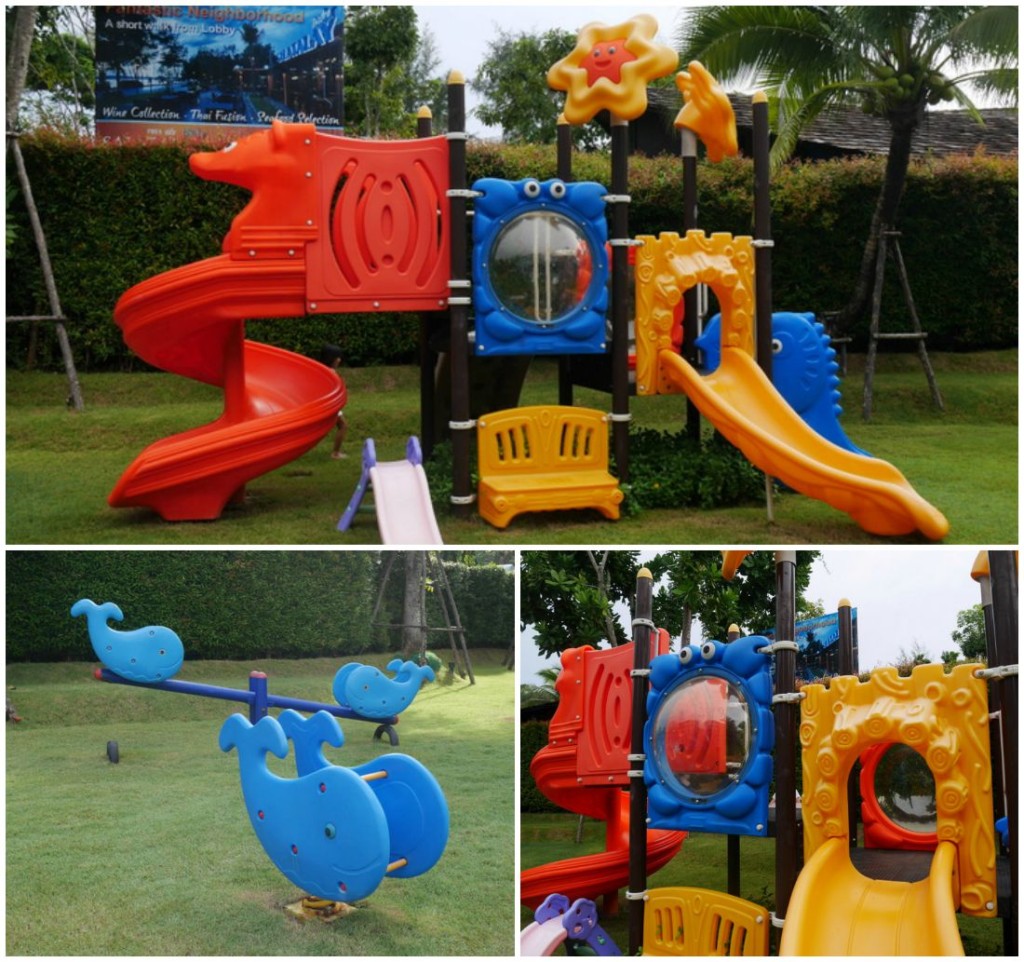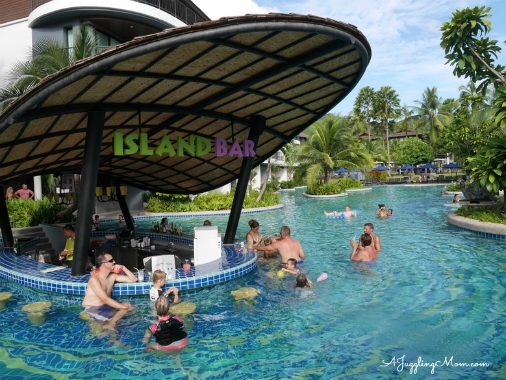 Kids and Teens Club
The main draw for staying at the Holiday Inn is their Kids Club. Besides daily program for the kids, they can also watch movies, read or simply have fun with the many toy options available.
And yes, they even have a mini playground within the Kids Club too! You can imagine how hard it was for me to get Sophie out of the kids club to head out for meals.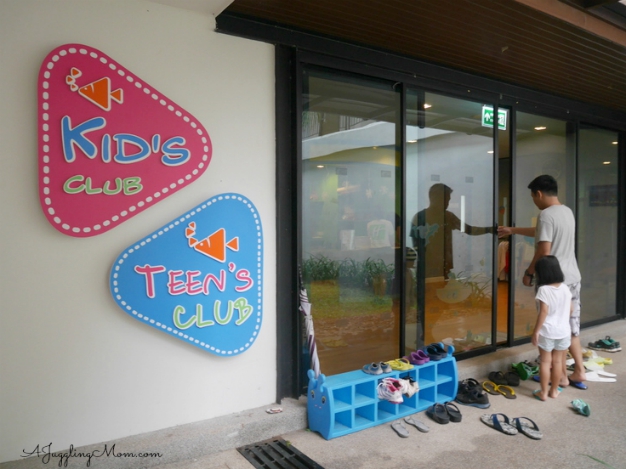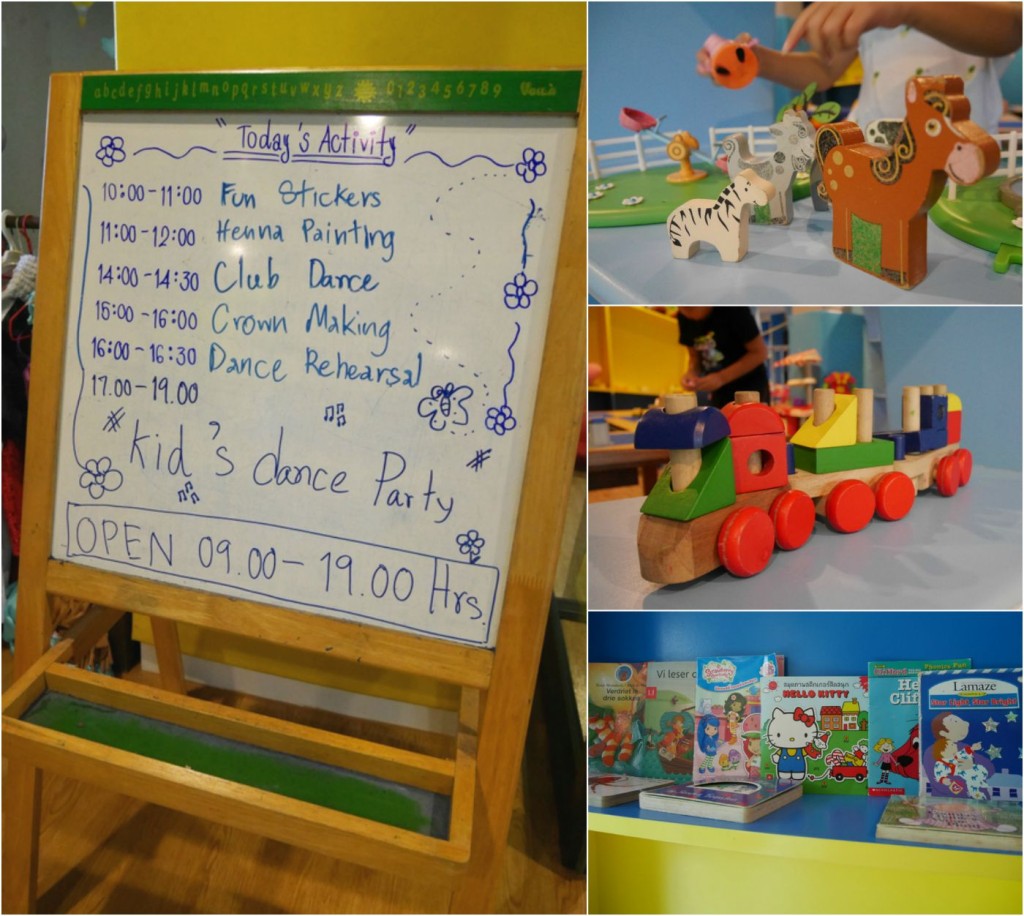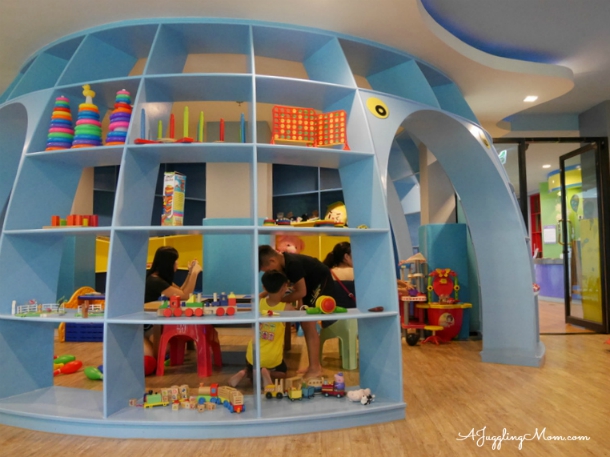 But my only grouse is that while there are staff at the Kids Club, we find that they didn't make much effort to engage the children.  Or maybe it's because they didn't see the need to since most of the parents were around with their kids. But still I would have liked if they carried out the activity that was stated on the program and interacted with the kids instead of leaving them to their own device.
Dining Options
We had our daily breakfast at InnAsia Restaurant, the main resturant at Holiday Inn on level 2. It boasts a view of the Ao Nang Beach infront of the hotel.  I would say that the offering is pretty decent with both Asian and Western choices, so no complains there.
In fact, hubby said we're eating more fruits that we usually do, so that's a BIG plus point 🙂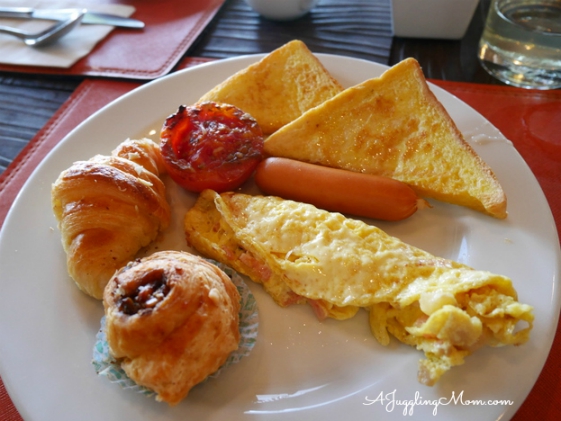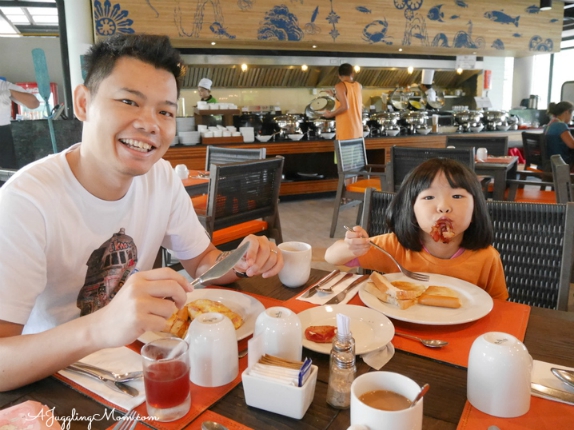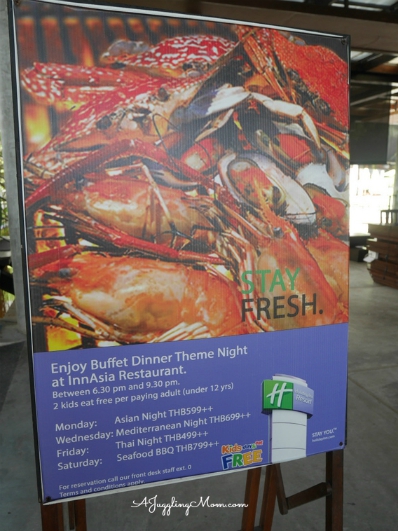 InnAsia also offers themed dining on selected nights and we choose to dine in for their Thai Night on Friday evening. We were hoping to catch the sunset from the restaurant but somehow it was disappointing as Krabi just doesn't have spectacular sunsets like they do in Bali.
We had local dishes like Thai seafood salad, green curry with beef, deep fried fish with sweet chili sauce, stir fried chicken with cashew nut, mango salad, and many much more. But I was wondering where's the authentic Thai desserts like mango sticky rice or red ruby?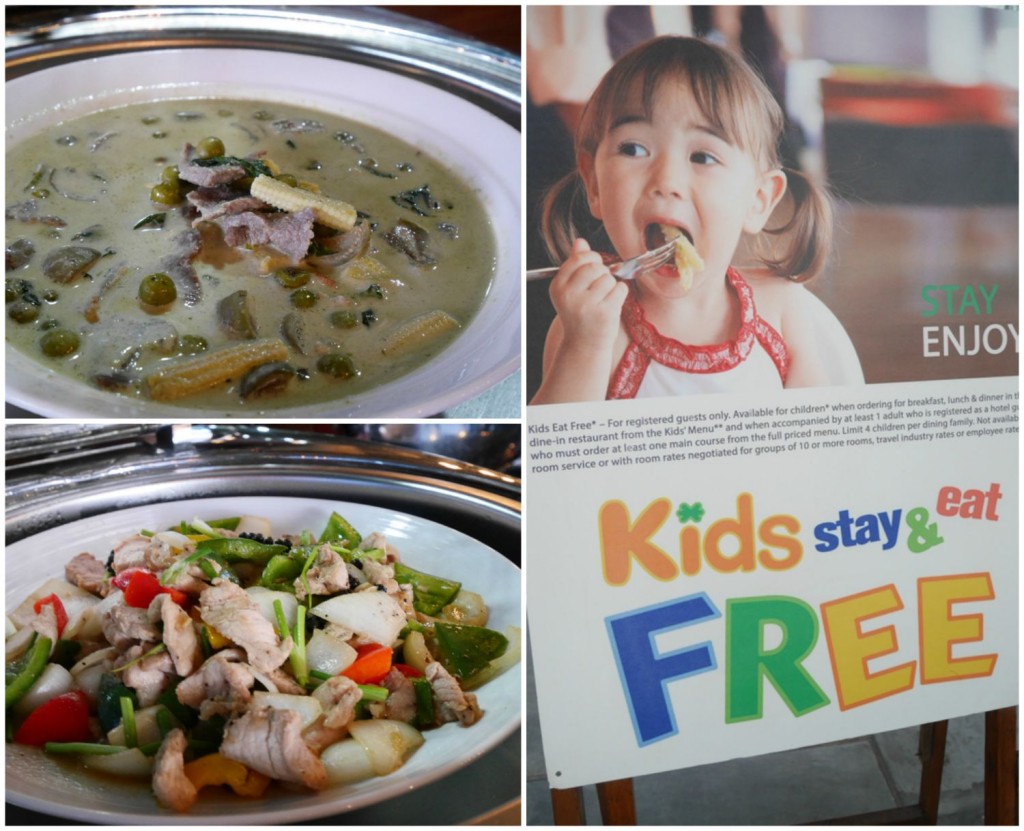 We felt totally rejuvenated about our 4 nights here at Holiday Inn Resort Krabi. But of course, we did more than just enjoy the hotel's facilities as we discovered that Krabi was quite a family friendly travel destination. I'll be sharing more about the activities we did and food we ate in another post, so do look out for that!
Thanks Holiday Inn Resort Krabi for our wonderful stay!
Holiday Inn Resort Krabi Ao Nang Beach
123 Moo3 Ao Nang Beach Muang,
Krabi 81000 Thailand
E-mail: info@holidayinnkrabi.com
Heading to Krabi soon? Don't miss these post about our Krabi trip too.
If you enjoyed reading this post, do like my Facebook page to get more family friendly travel updates. You can also follow me on Instagram for more travel and parenting posts.
* A Juggling Mom received a complimentary stay at Holiday Inn Resort Krabi to write this review. No monetary compensation was received. All opinions are honest and are my own..
Tagged: family holiday, Holiday Inn, Krabi, Thailand, travel