I'm really not good at keeping up with my holiday posts so continuing on our Krabi vacation, we headed for elephant trekking the next day after our island hopping adventure to Hong Islands.
Actually as I was writing this post, I was in two minds about sharing our elephant ride experience because some of the things I saw was really unsettling. Later my friends shared about the disturbing truth behind this seemingly touristy activity in Thailand and it made me feel guilty for doing it especially since we love these gentle giants.
So I'm changing the focus of this post on how you can support a more sustainable elephant tourism industry.
Why you shouldn't be riding elephants
Like many tourists to Thailand, going for an elephant ride seems like a must do activity. Every corner we turned in Krabi offered elephant trekking yours and we booked our elephant trekking tour along with our island hopping adventure. Before we set off for the elephant ride, we were entertained by an elephant show.
The guide introduced the little fella to us and it charmed us by curtsying, playing with the hula hoop and even balanced on its hind legs and fore legs. At one point, it even played or rather made noises on a harmonica!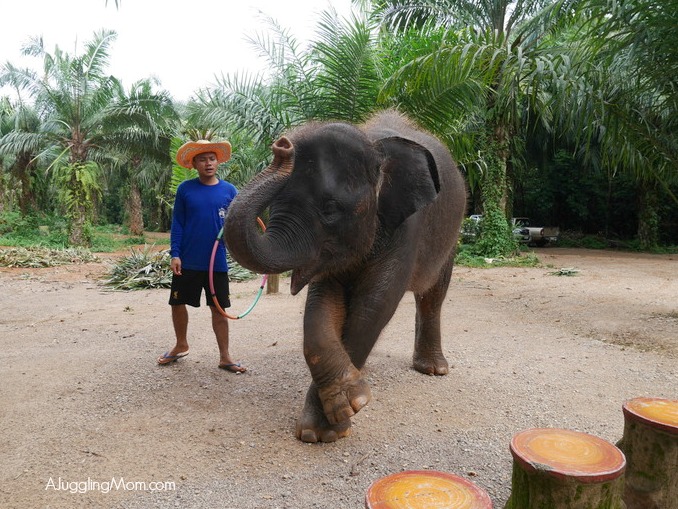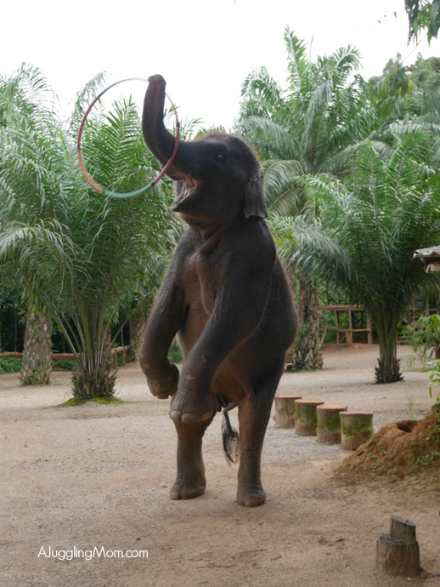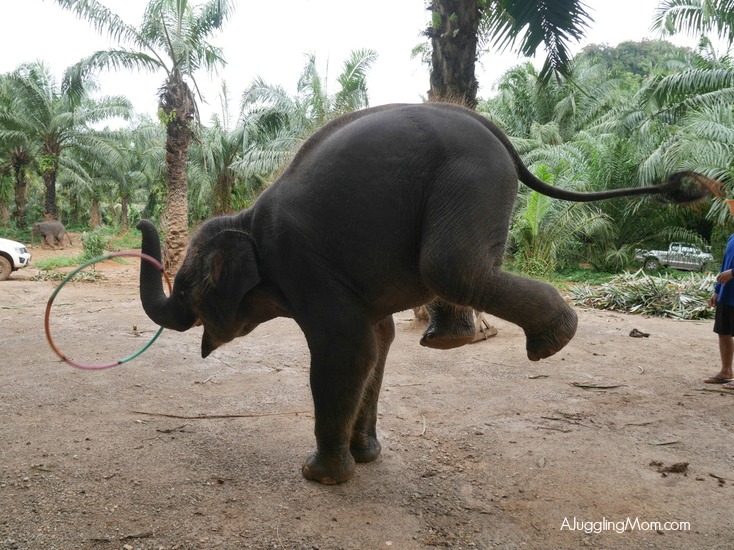 While all these seemed impressive to us tourists, one can only imagine the kind of training the elephants have to go through and this might even mean abuse in some cases to get them to obey.
Photographer Brent Lewin won an award for capturing this haunting image of the torture which I wished I never seen. But not knowing the truth will only leave me ignorant of the problem and I hope that others will be made aware of this problem and not support the elephant tourism blindly, causing them more bodily and emotional harm.
Mistreatment of elephants
During our elephant trekking, we sat on a metal chair that was strapped on the back of the elephant. But little did I know that their spines are not made to support the weight of humans  and that riding on them can cause serious long-term harm and spinal injuries. And the chair that's attached to it's back?
The contraption rubs on the elephant's back, causing blisters that can get infected along with wear and tear on the elephant's feet 🙁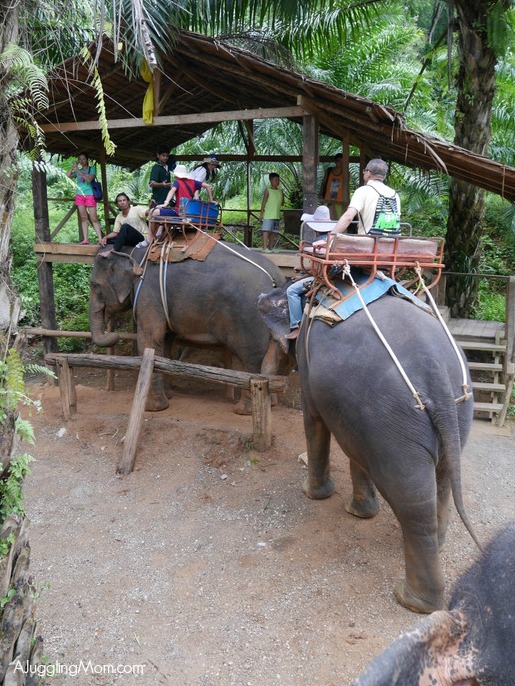 And if that's not enough to make you think twice, I actually witnessed the guides using a bullhook like the one in the photo below to pull the elephant's ear to direct them so that they will not steer off course. Can you imagine the pain that is being inflicted on these elephants just so they would submit 🙁
The guide for our elephant was not so cruel and only used a wooden stick, but it's not hard to imagine that the elephant might have received beatings just to tame it too.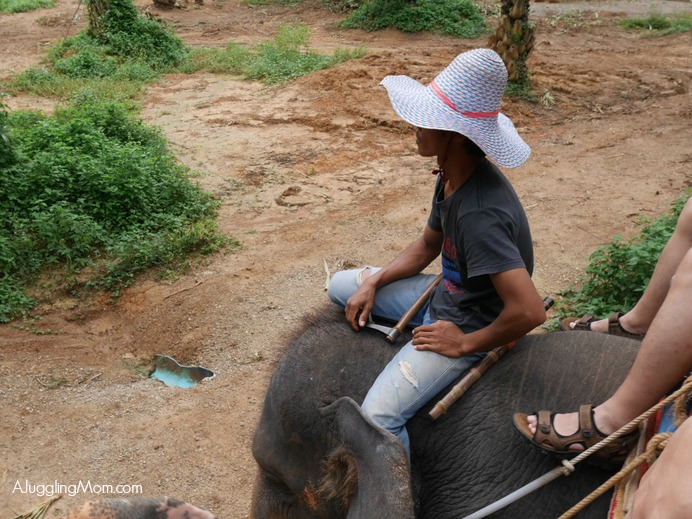 The truth about elephant training
Later as I read up more about elephant training, I was horrified that elephants have to go through rigorous and abusive training known as the Phajaan in Thailand, or more colloquially ''the crush', because of the way it crushes the elephants spirit and forces them to be submissive.
The young elephants are taken away from their mothers by force and held in confined cages where they are tortured and beaten constantly for an extended period with bullhooks, bamboo stick and even cattle prods. They are often starved, sleep deprived and mentally and physically tortured and abused for many days until they learn to submit.
During the trek, there was a baby elephant that came along and it was chained to it's mother. We had to navigate a very steep and muddy terrain and it was clearly a very daunting task for the little fella because it lost it's balance a few times and even fell while trying to keep up.
And as you can guess, when it went the wrong way, the guide would prod it with a bullhook to keep it moving.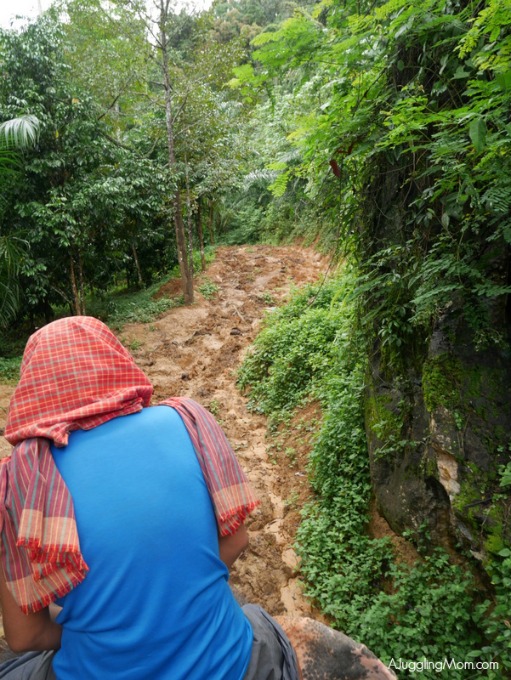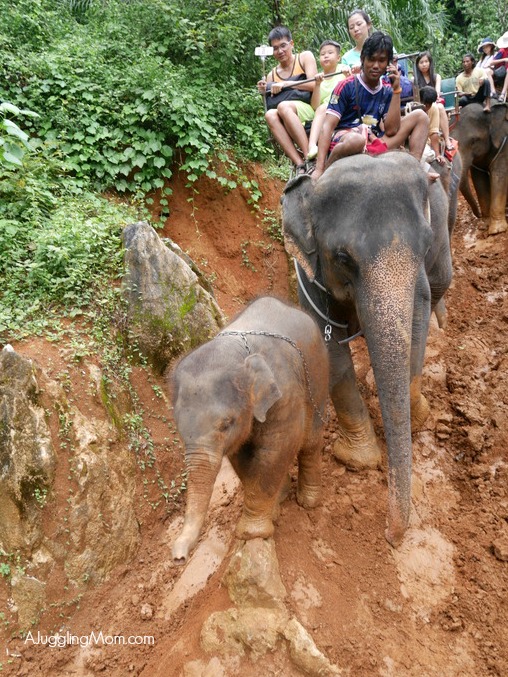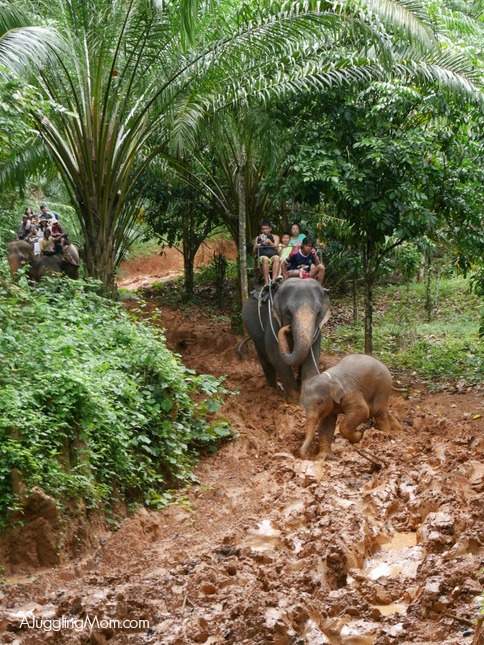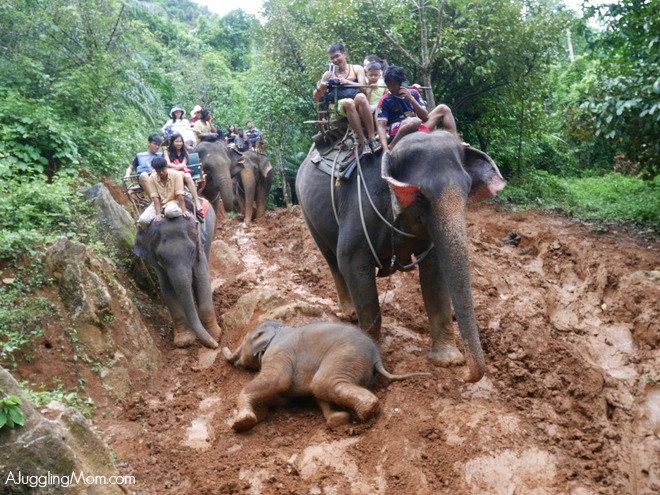 Truth is, I'm not proud to say that we rode the elephants in Krabi and wished that we could have chosen a more elephant friendly way of interacting with them. And I hope that this post about what I've learnt from my experience will make you think twice about adding this to your bucket list when you visit Thailand.
There are now elephant nature parks which allows people to get close with the elephants by bathing them, feeding them or growing and harvesting food for them.
Make an informed decision and support these sustainable elephant centres which  promote ethical interactions with elephants. 

I hope this gives you a fresh perspective of elephant trekking tours and let's do our part to protect these gentle giants.
I promise that there'll be a final post on the places we dined at in Krabi. So stay tuned for that 🙂
Krabi Part 1 – Our stay at Holiday Inn Resort Krabi
Krabi Part 3 – Krabi Part 3- Elephant Trekking Tour
Krabi and Ao Nang food guide for families
Tagged: family friendly activity, family holiday, Krabi, Thailand