I may be a juggling mum, but I'm certainly no super mum.  Like a huge majority of Singaporean women, I choose to be a full-time working mum and promptly returned to work after my maternity ended after four months. But if you ask me, the title "working mum" is kind of redundant since all mums are working mums.

Unlike most parents who leave their child in the care of their parents, Sophie went to infant care at a mere four months. We weighed our options very carefully then as we didn't live with or near our parents and we didn't want to have a live-in help or nanny. We could have gotten my in laws to take care of her on weekdays but couldn't bear to only see her on weekends. 
It wasn't easy initially and boy I can't even remember how many sleepless nights I had when I questioned if I made the right decision to continue work especially when Sophie  falls ill or when I see her cry and was reluctant to follow the caregivers in the infant care. I remember the times when I beat myself up emotionally, thinking if I'm a horrible and heartless mother for leaving my baby in the hands of strangers. But I've seen friends and colleagues who've gone before me in their journey and their kids certainly thrived with no emotional scars, in case your wondering. And today, when I see how Sophie has blossomed to an independent, sociable and sensible pre-schooler, it makes me feel heartened that she's turned out better than what we prayed for and expected.

Being a working mum certainly has its challenges and the one that tops the list for me is not having enough time in a day. So here's a sneak into my after work hours as a full time working mum and some tips on how I manage it without losing my joy.
Tips to keep your joy as a Working Mum

Be fully present
Once I knock off from work, I'm 100% devoted to being a mum. I'm thankful that I've supportive bosses and colleagues who understand that so they never make demands that I have to put in extra hours unless its close to product launches.
You know what they say about quality time being more important than quantity time and for working mums it's so true because otherwise, we'll always be beating ourselves up about the lack of time spent with our kids. Screen time is kept to a minimum so that we spend good quality time together. And maybe because Sophie is a girl, we enjoy spending time before bedtime telling each others how our day went, reading books or even playing games when we feel up to it. But I'll be totally honest and also say that we do use the TV and iPad as a nanny at times especially when we have chores to do or when we ourselves just want a mental break on exhausting days.
 
Train your kids to be independent
With no help at home, Sophie is naturally trained to pick up after herself. When she was younger, we'll give her little rewards like stickers as an incentive when she keeps her toys, folds the laundry and takes her dishes to the kitchen.
As she gets older, she's learnt that she has a responsibility to help around the house. Of course, I'll still reward her with praises and appreciation and she's come to learn that she needs to do so without expecting anything in return. So it's not surprising to hear her reminding us to keep our shoes on the shoe rack after we come home. 
Manage your expectations
I used to strive to do everything perfectly as a mum and had a problem letting go. But when you only have that many hours in a day, I've learnt that I need to let go if I want to keep my sanity and my joy. So that means, closing an eye to the unfolded and unironed laundry, the times when I can't cook dinner for the family, the mess at home and yes even the dirt at home. I could get hung up about all these things and stay up late into the night to finish the chores and start the whole routine again the next day, but I know I'll also feel very miserable and start to loathe it all. So my mantra is simply to do what's necessary and be happy. After all, we can do a lot of things but not everything.
Besides, when I get stressed over all these, my husband hears no end of complaining and which husband appreciates that? So for him, his mantra is, a happy wife, a happy life 🙂
Have me-time
I know it's crazy to even think that working mums even have any time for me-time. But it is absolutely crucial to find time for myself to recharge. My me-time used to be in the evenings when I go jogging after putting Sophie to bed. It was both a good form of exercise and also a time to clear my mind. I've been slacking in that area and should really get back on track again.
This year, I've started a new hobby with Project Life and it's so therapeutic to look back at my life in photos and pen down the memories behind them. Plus it's a way of recording life so that nothing slips by and a reminder for me to cherish every moment. if you're keen to learn more about, you can read this post here.
So there you have it, some of my sanity tips for working mums. It's not easy being a working mum and I know that the person who makes it possible is my dearest hubby who is ever supportive of my decision. He's every bit the modern husband and daddy in the 21st century who is not afraid to roll up his sleeves to do his part in parenting but also to chip in around the house. And while, he shakes his head when I tell him I still have hopes to be a domestic goddess, I know he's glad that I'm working to bring in the dough for the family so that we can enjoy our family holidays and have my own shopping money and savings. That's why, I always tell Sophie that in future, she must find a man like daddy!
~~~~~~~~~~~~~~~~~~~~~~~~~~~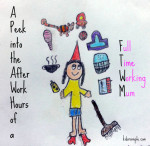 This is a blog train hosted by Kids R Simple on "A Peek into the After Work Hours of a FTWM". Read about how the other 20 FTWMs handle their kids and household everyday from 1 June to 22 June. The aim is to give other working mums motivation, ideas and support to deal with the everyday demands of juggling work and family while keeping sane. We will be happy to hear your story, tips and even an encouraging word will make our day! Share your thoughts in the comments!
Next up is Winnie.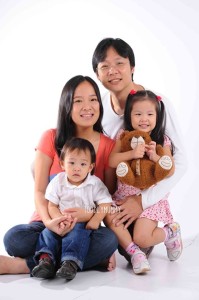 Otherwise known as Toddly Mummy who is a born-again drama-mama and creative extraordinaire. She has never considered herself to have much talent in those areas. However, she has learnt that motherhood makes one discover talents one never expects one to have. A full-time-working mum, she spends evenings home learning and reading with her kids. On her blog, Toddly Mummy shares her thoughts on parenting, fun moments of home learning sessions and outdoor adventures, as well as her family's favourite foods.
Link up for Motivational Mondays
Do link up every Monday on what motivates you to be better be it a fitness goal, parenting, marriage, blogging etc. Share your recent post and encourage someone. Don't forget to grab my badge and include it in your post after you have linked up and leave me a comment too.
I host Motivational Monday every week and I hope that you can join me every Monday. Have a great week ahead!
Note: Highlight the code & press Ctrl + C buttons to copy.
<div align="center"><a href="http://ajugglingmom.com/category/motivational-monday/" title="www.ajugglingmom.com"><img src="http://i1264.photobucket.com/albums/jj499/Susan_koh/MM-1.jpg" alt="www.ajugglingmom.com" style="border:none;" /></a></div>
'); // ]]>
Tagged: Project Life, tips for working mums, work life balance, working mum