When we were planning for our Hong Kong trip, we were in two minds if we wanted to go to Ocean Park. Because if you thought that Disneyland is crowded, Ocean Park is way, way worse with horrifying crowds from bus loads of tourists from you know where.
But Alexis being just a theme park junkie couldn't pass up the chance to take on more roller coasters since the ones at Disneyland the day before were way too mild for him. So it's off to Ocean Park we went.
From our hotel, we took the MTR to Admiralty station and took the direct bus 629 there. As we turned into Ocean Park's entrance, I noticed that they were going to have a new MTR station and it looks maybe 90% ready. In future, going to Ocean Park will be so much more convenient!
For those wondering if there's anything to do at Ocean Park, there's actually lots to see and do with a marine park, amusement park, oceanarium and animal theme park all rolled into one over 226 acres.
While it may be a dated attraction, they have done well to rejuvenate the place with new attractions, rides and shows. I don't think I'll say this, but Ocean Park does have a charm of its own, except for the crowd of course.
Getting the most of our day at Ocean Park
To avoid the queues, we bought our tickets online and just had to proceed to the entrance to get our e-tickets scanned. Anotner fantastic tip I got from the staff on my last trip was to either take the 'Ocean Express' funicular railway system or the cable car to get to the Summit and slowly make your way down. That way you'll avoid the crazy crowd who tend to head to the nearest attractions like the aquarium and the giant panda exhibition for an hour or two.
Weekdays will no doubt be less crowded but Alexis was there on a working trip so we could only go over the weekends. But do avoid the public holidays as you'll be in for a really human jam within the park.
Of course, don't forget to grab a map and listing of the show times. Since we didn't managed to cover the entire park on our last visit 2 years ago, we decided to be more selective and skip the ones that didn't make an impression the last round.
After exiting from the Ocean Express, we headed to the Polar Adventure for our North Pole Encounter. While Alexis made a dash for the Arctic Blaster roller coaster and all the other thrill rides before the crowd starts pouring in, Sophie and I went to look for the cute penguins!
It's a good idea to pack along a sweater even though the weather was hot as it was freezing into the penguin enclosure. We were lucky to catch the feeding time for the seals and sea lions.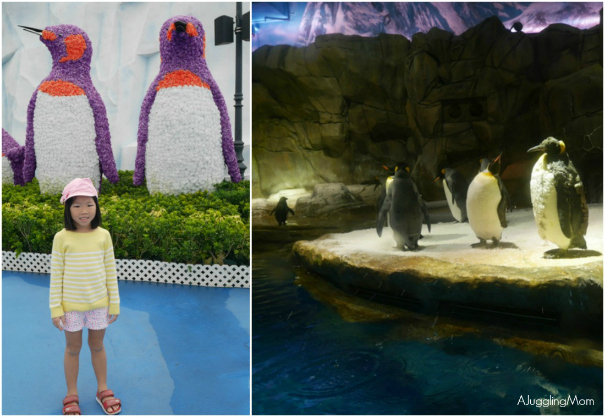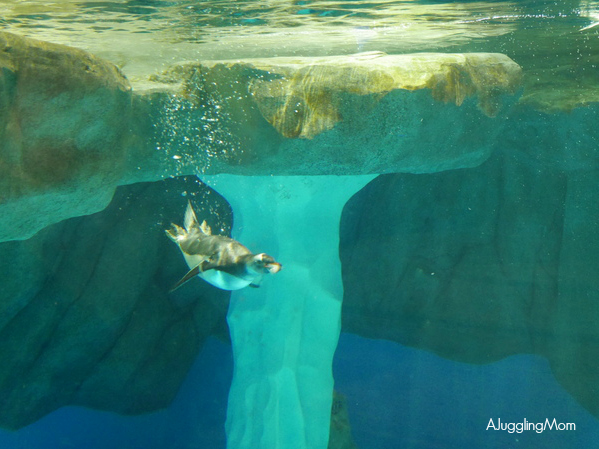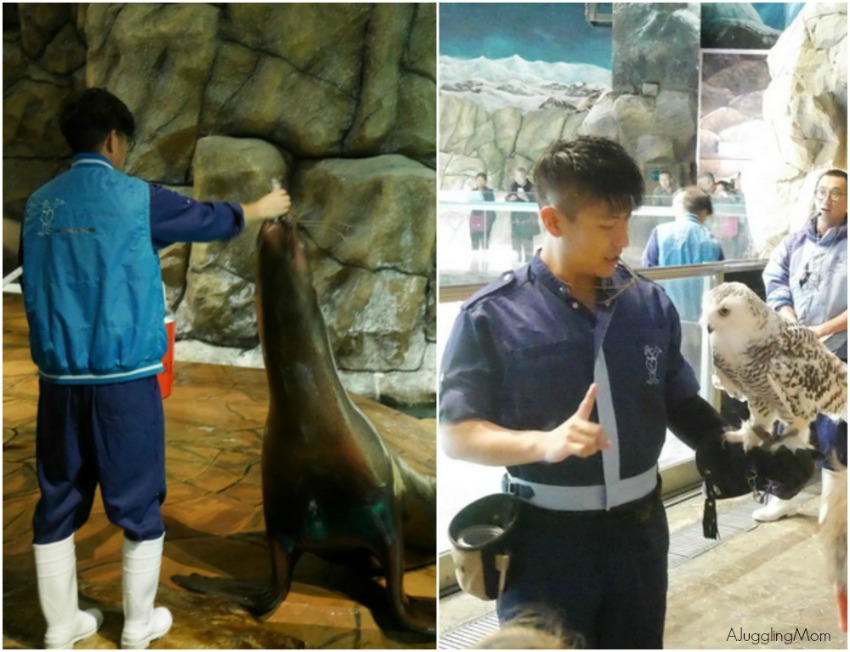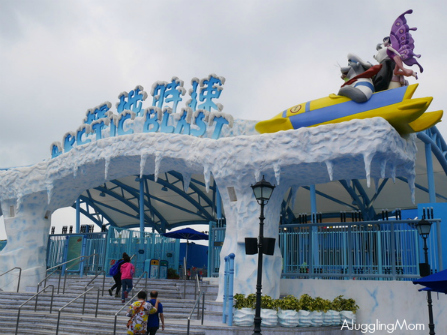 I didn't get a chance to take the Arctic Blaster the last time, so this time I made myself do it and I think one roller coaster is quite enough for me.
But Alexis? He went on the Hair Raiser which is the fastest roller coaster in Hong Kong as well as Dragon, which has two giant loops up on Thrill Mountain as well as the Mine Train at Adventure Land.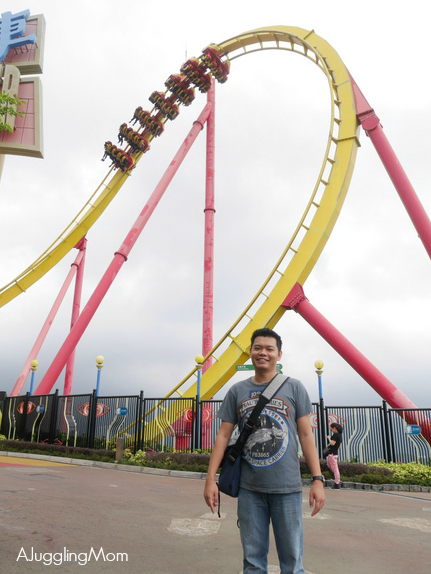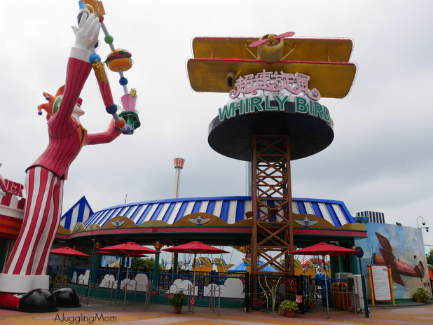 We didn't take the other thrill rides as Sophie was too young for that, but we did spend some time at the game stall, which was just an expensive affair at $10 a game 😛
But surprise, surprise, it was my lucky throw that scored her a mini soft toy. So small that she couldn't care much for it and wanted to play some more. But I told her, we're better off buying a soft toy from the shop than playing the game since we weren't feeling lucky that day.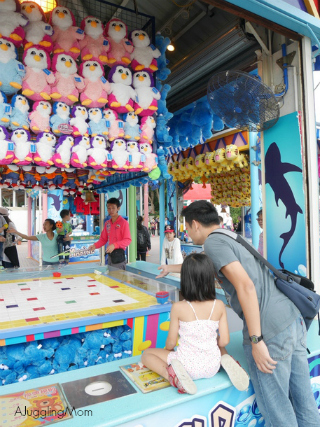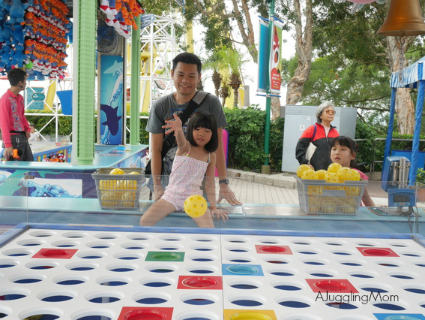 This time, we skipped the Adventure Land since Sophie couldn't take the water flume ride and went to catch the dolphin show at the Ocean Theatre. Try to make it for the first show at 11.30am because the tour groups will usually not reach the summit until 12pm. We didn't get much problem getting a seat for the show even after arriving 10 mins into the show. But for the later shows in the afternoon, you may have to get there at least 10-15 minutes in advance to get a seat.
While the format of the show wasn't quite what I remembered from 2 years ago, with a ocean conversation message, it was nevertheless an enjoyable show especially for my little Dolphin fan.
We liked the Marine World and spend quite a bit of time at the Sea Jelly Spectacular and Shark Mystique. At Shark Mystique, we got to see different species of sharks and learnt interesting facts about them.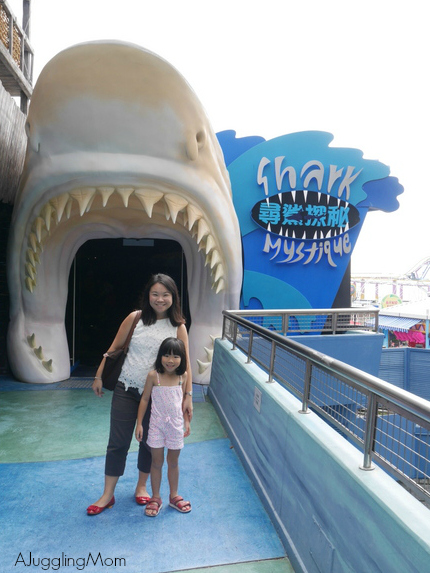 Along the way, there are snippets of facts and information of the marine life and Sophie was glad to be able to read them and gain new knowledge too.
The sea jelly exhibit was really mesmerising for me and we took time to slowly admire them. Don't you think it's so therapeutic and serene watching them float in the tank? And of course, another reason is to hide in the air conditioned area before braving the crowds again.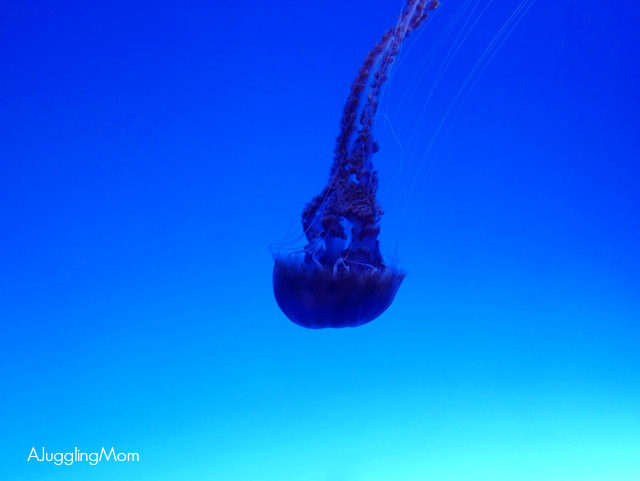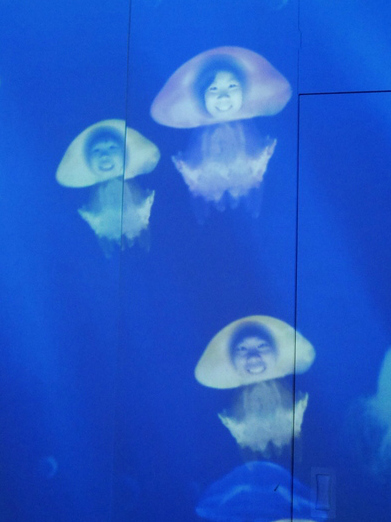 If you're pressed for time, I'll say skip the Chinese Sturgeon exhibits.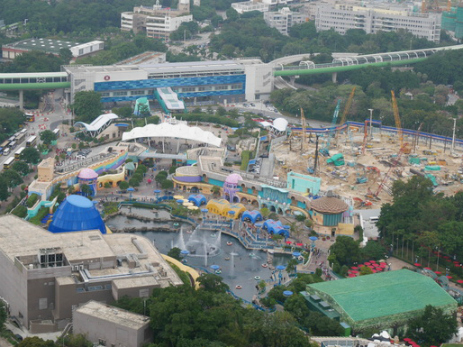 On our way down from the cable car, you can see the new MTR station still being constructed.
Another section of the park that we enjoyed was the Old Hong Kong Street where they recreated the olden streets of Hong Kong. The main ride was the Sea Life carousel and they even had a very interesting parent and child seat!
Lots of photos opportunity at every corner and even Sophie asked for an #ootd photo? Talk about being a blogger's child.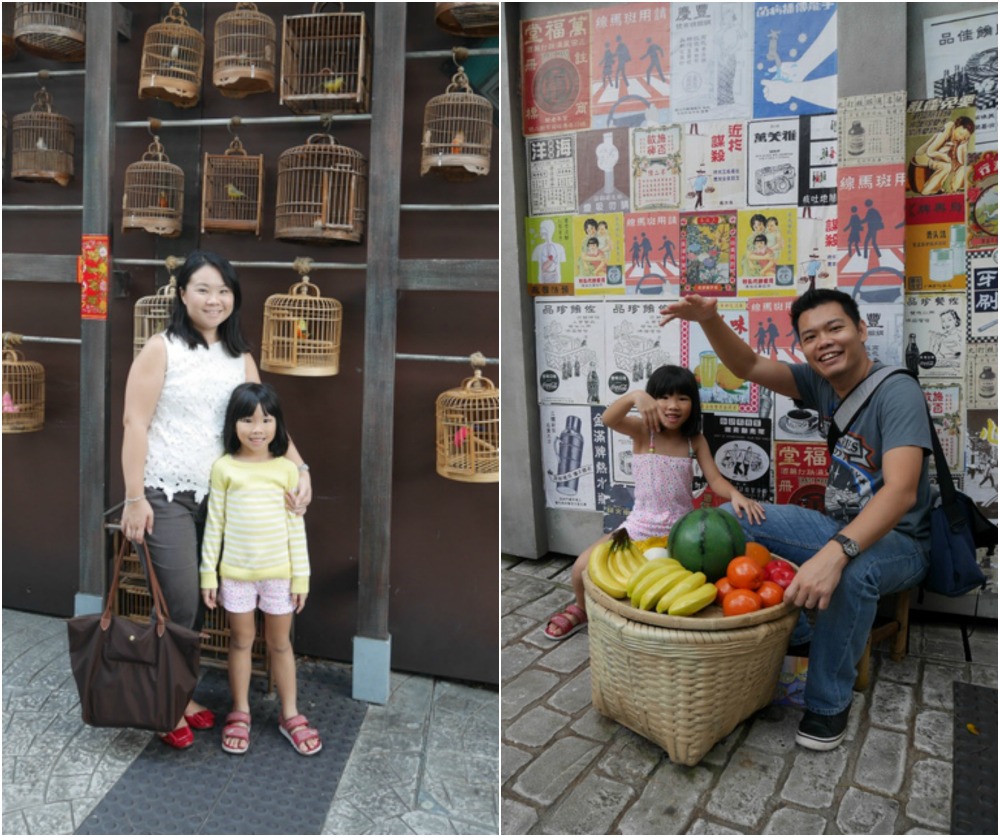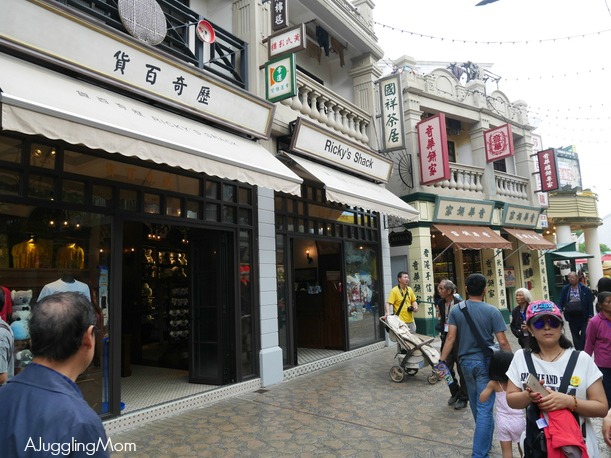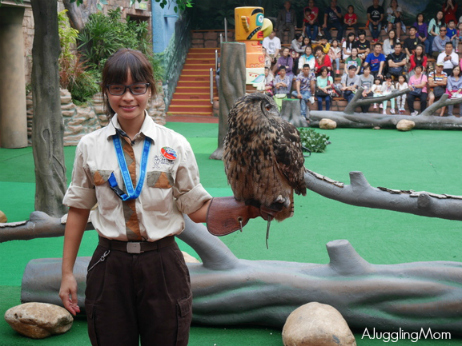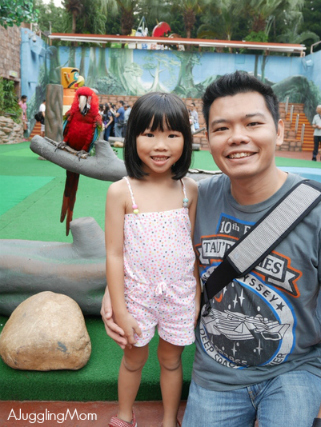 Over at the Whiskers Harbour, we caught 2 shows and one was at the Amazing Bird Theatre where we saw different species of birds from owls, eagles, parrots and macaws. As the theatre is rather small, do go early to get a seat and don't miss the photo taking opportunity at the end too.
Sophie was off to play at the playground you see below. Funny how she didn't care much for the rides at all and preferred to just run around at the playground while we were happy to take a break from running around the whole time.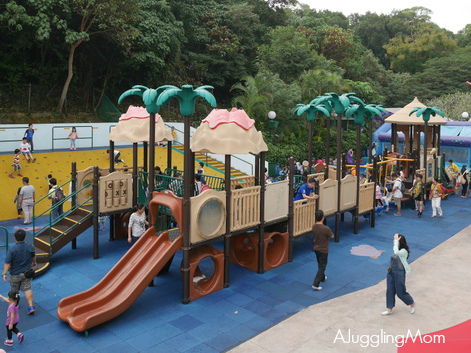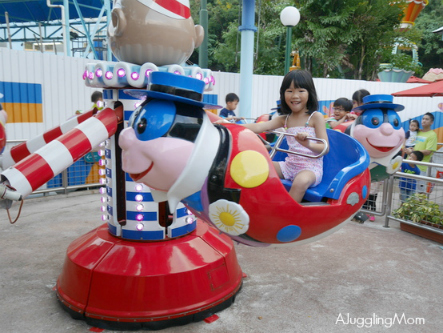 We wanted to hang around for the last show, Symbio, a musical and lights show in the evening and went to the Grand Aquarium and Goldfish Pavilion. But you know after what we have in the SEA Aquarium, not many aquariums will impress you anymore 😛
While Symbio was pretty impressive with projection on it's 360 water screen, Sophie didn't like the loud music and sudden burst of fire effects one bit. But she must be so tired too after so much walking. And thankfully, she's much older now and don't need us to carry her any more. So mummy rewarded her with a small toy and souvenir from Ocean Park.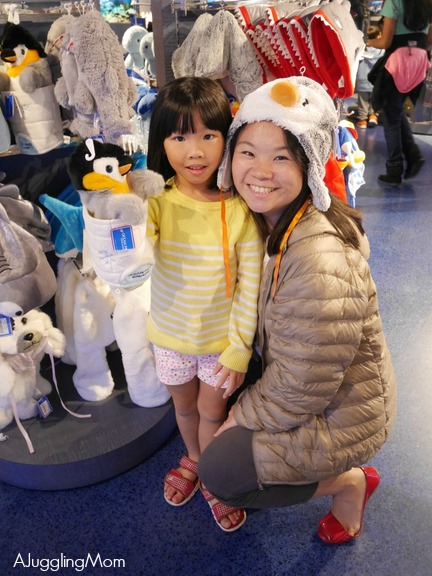 It's a pity, we were there too early before any of the Christmas deco went up. And I'm sure they would have special performances and themed activities to add to the festive mood. The last time we went, they were celebrating Halloween and the park had pumpkins and all kinds of western and asian ghosts and goblins.
Hopefully the next time we return to Ocean Park, Sophie will be tall enough to go on the thrill rides with Daddy. Overall, it was an enjoyable day and definitely a family friendly attraction not to be missed in Hong Kong that's suited for the whole family.
Here's more of my Hong Kong trip
Enjoyed reading this Post? Do like my Facebook page to get travelling updates. You can also follow me on Twitter (@Susankoh) or Instagram (@ajugglingmom) for more travel and parenting posts.
Tagged: family friendly activity, Hong Kong, School holidays, themepark