It's been a week since I returned from Hong Kong and boy am I missing the food. We ate so much, in fact a little too much and on one night, my tummy actually felt like it was going to burst. Talk about over indulgences.
Friends have been asking for recommendations on where to eat in Hong Kong since I posted so many mouth-watering photos of the food I ate on FaceBook from dim sum to cheesy pork neck instant noodles. So here's my list of the places I ate.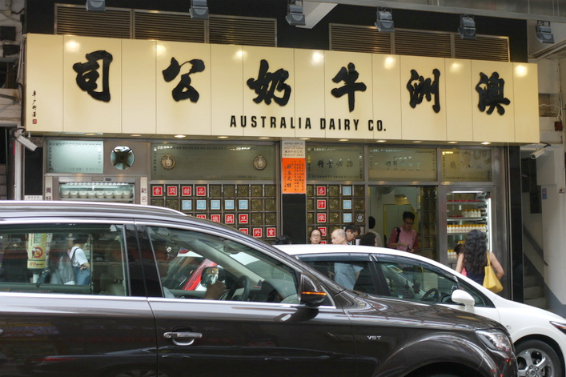 Australia Dairy Company 澳洲牛奶公司
If there is one place that you cannot miss eating in Hong Kong, it has got to be Australia Dairy Company. Never mind if its a tad over rated and that the queues are too long. This char chan teng only has one outlet in Jordan and lucky for us, our hotel was just a few streets away. Despite the long queue, it moved very fast and we were inside the cafe in less than half an hour, all thanks to the efficiency of the staff.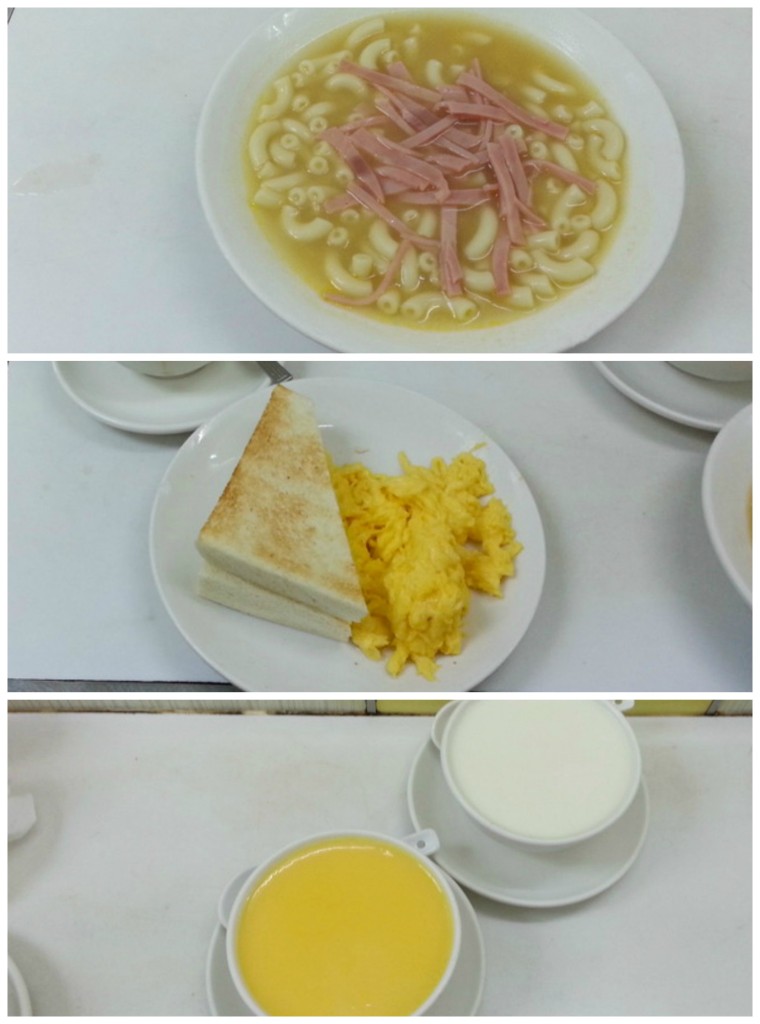 I would recommend their breakfast set at HKD28 ( S$4.50) which consist of their famous scrambled eggs with buttered toast, macaroni soup with ham and a hot beverage.
Although the egg was a little oily and salty, it was perfect sandwiched between two slices of buttered thick toast and was honestly the best eggs I've had. One word, egg-cellent!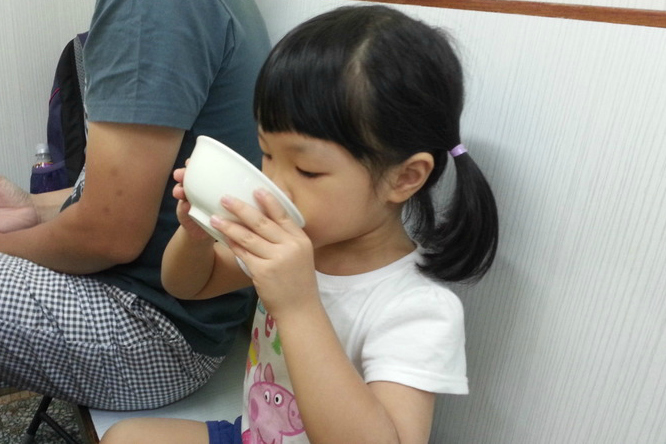 Sophie slurped up the whole bowl of macaroni soup. Goes to show how much she loved it
We also ordered the egg white milk pudding  and steam milk with ginger sauce. I loved the egg white pudding and it was wasn't too sweet with a very smooth consistency. The steam milk with ginger sauce was a little too rich and Alexis gave up on it half way. In fact, we liked the food so much that we were back on the last day before we flew back home.
Australia Dairy Company 澳洲牛奶公司
G/F, 47-49 Parkes Street, Jordan, Hong Kong (MTR Jordan Exit C2)
佐敦白加士街47-49號地下
Opening Hours: 7:30am – 11:00pm (Closed Thursdays)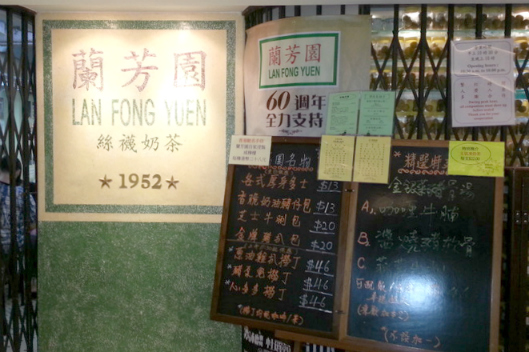 Lan Fong Yuen 蘭芳園
When in Hong Kong, the one drink that I always look forward to is their cold milk tea. And on the first night, we chanced upon their latest branch despite be ticked away in a little corner of Tsim Tsa Tsui, in Woodhouse. The shop certainly has a very nostalgic flavour to it.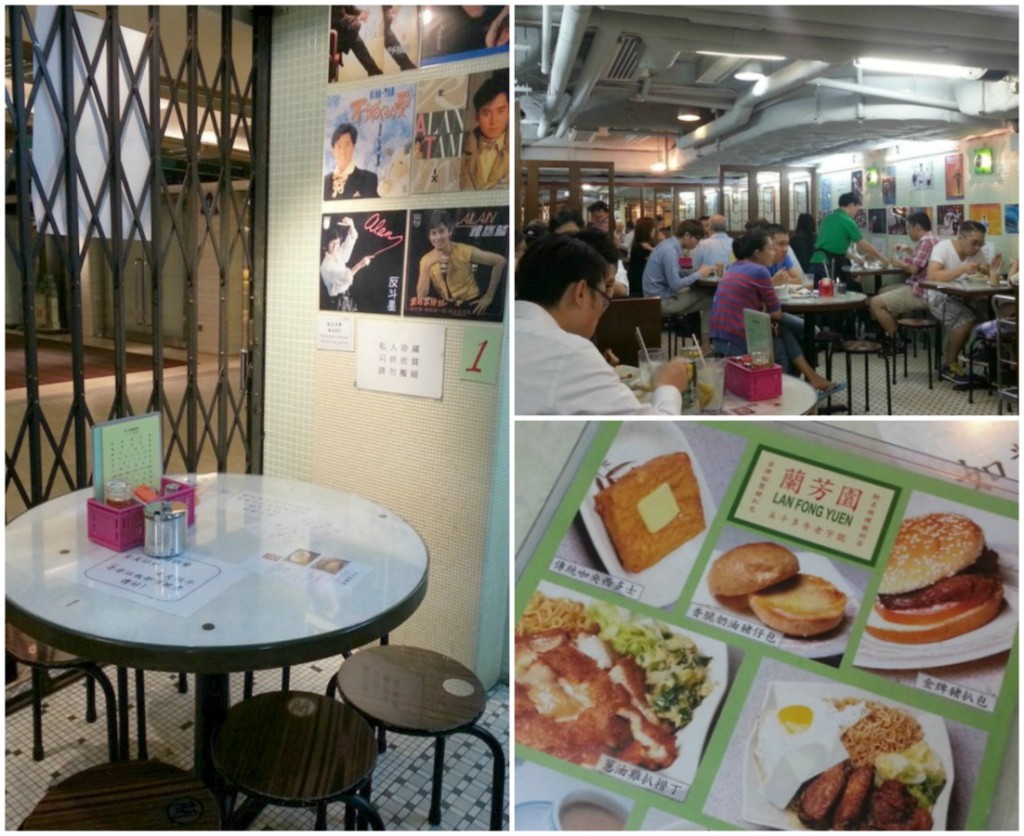 Lan Fong Yuen is said to be the originator of the silk stocking milk tea when they started out in 1952, so if you love your milk tea, this is the place to go! But actually when we ordered their milk tea, we didn't know how good their milk tea was until we told a sip and were quickly won over.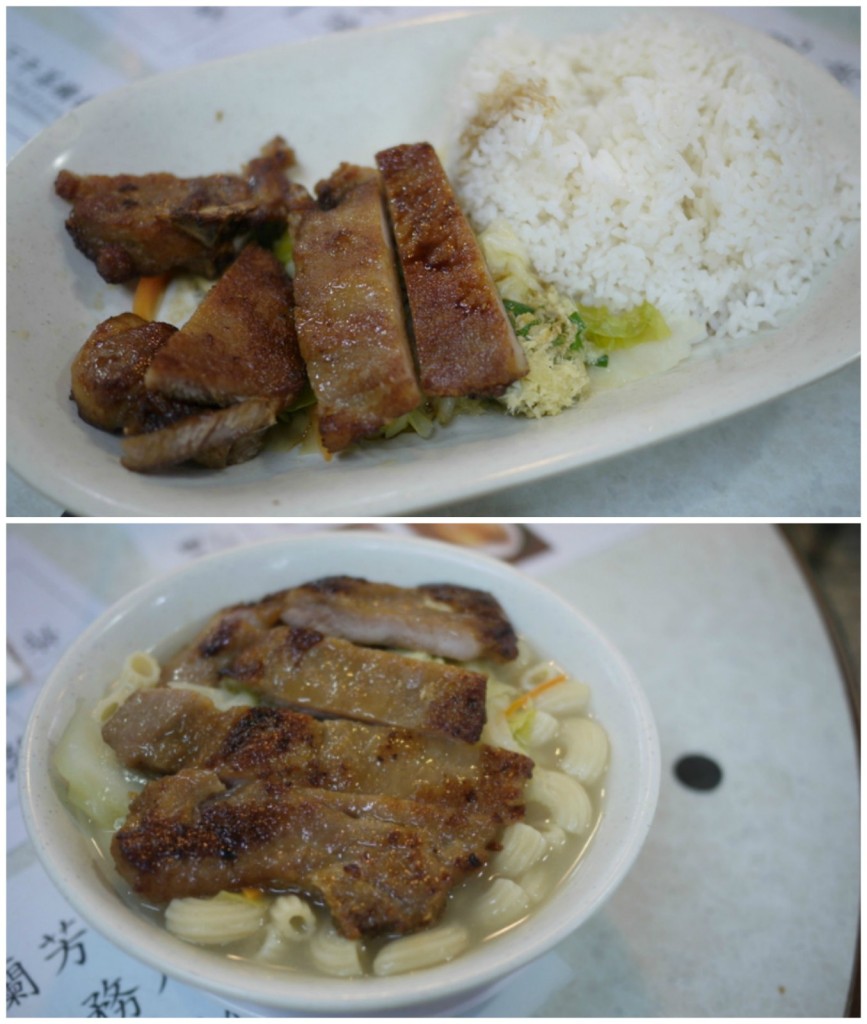 We didn't know what was good and ordered the safest things, pork chop rice and chicken chop macaroni with soup. The food was quite good but I heard they are also famous for their pork chop buns.
Lan Fong Yuen 蘭芳園
26, LG, Chung King Mansion (Woodhouse),
36-44 Nathan Road, Tsim Sha Tsui
Opening Hours: 10:00am-10:00am (Mondays-Sundays)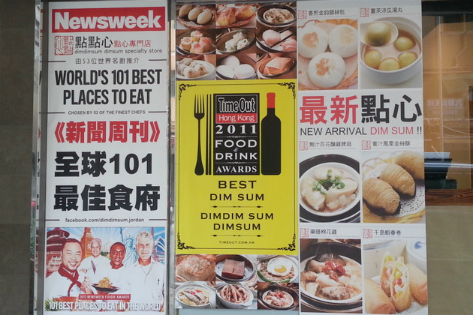 DimDim Sum
If there is one must eat food in Hong Kong, it's got to be Dim Sum. And if you're looking for a new place for dim sum then I'll recommend, DimDim Sum for good dim sum without the long queues like at Tim Ho Wan. Have I also mentioned that DimDim Sum was also voted as Best Dim Sum in Time Out  2011.
Some items that stood out for us were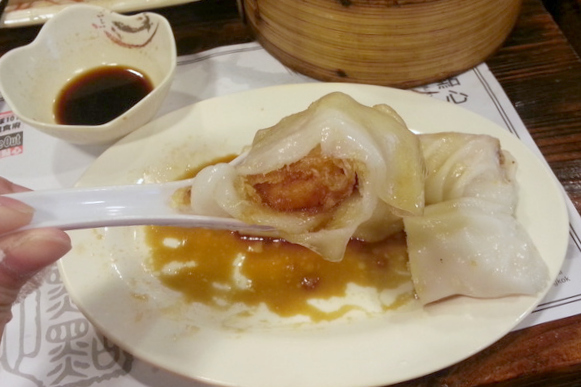 Rice paper roll with prawn where the prawn was fried till crispy on the inside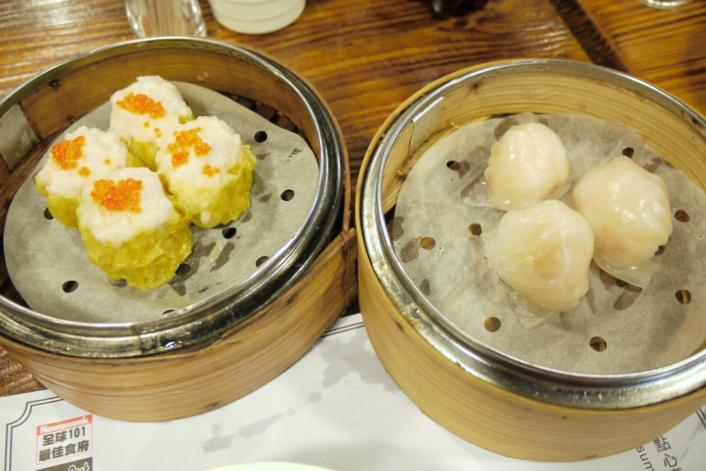 Siew Mai with crab roe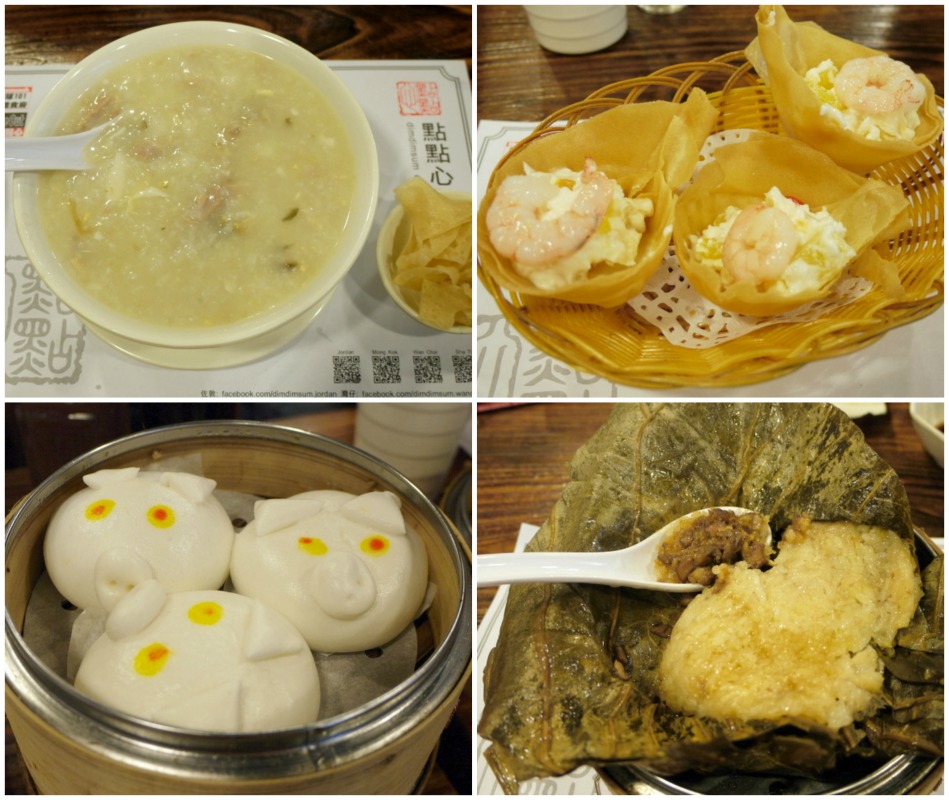 Piggie shaped lian rong bao (for Sophie) and century egg porridge with salted egg yolk
I've heard that the have some pretty unique specialties but didn't try them. They are are fried stuffed eggplant, stuffed king oyster mushroom in abalone sauce and teamed fish maw and chicken in chinese medicine. If you're're feeling adventurous, you can also try their pig's blood with XO sauce or steamed tripe with black pepper sauce.
DimDim Sum
21-23 Man Ying Street, Jordan, Kowloon
Opening Hours: 10.30am-1:00am (Mondays to Sundays)
Mong Kok, 通菜街112號
Opening Hours: 11.00am-2:00am (Mondays to Sundays)
7 Tin Lok Ln, Bowrington
Opening Hours: 10.00am-12:00am (Mondays to Sundays)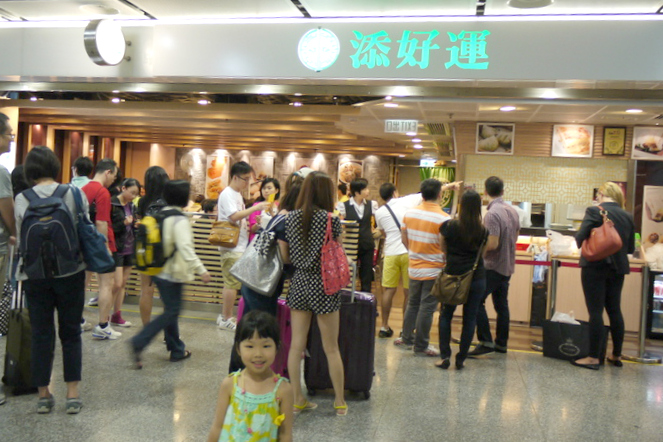 Tim Ho Wan  添好運
When in Hong Kong, we couldn't leave without eating at  the original Tim Ho Wan and went to the outlet at Hong Kong Station. Most people think that the shop is in IFC, so we had difficulty looking for it in the mall directory until we were pointed to the right direction by their concierge.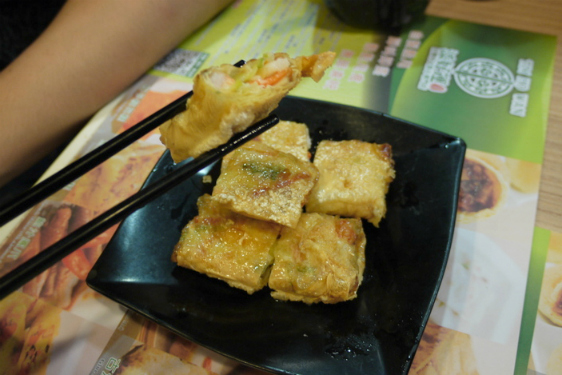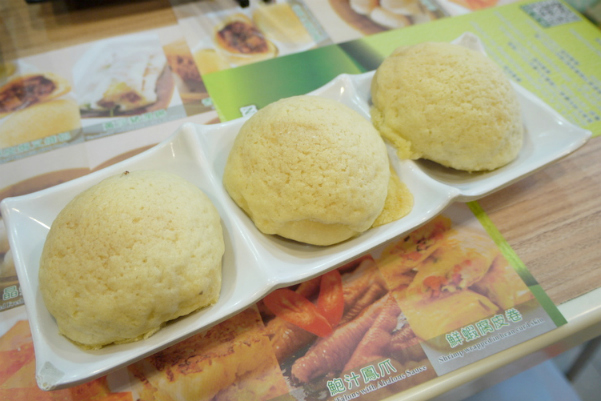 Since we were not very hungry, we didn't want to over order and just ordered their famous Baked Bun with BBQ pork, Steamed Egg Cake, Fried Beancurd Skin and Tonic Medlar & Osmanthus Cake. But the two items that will see me returning for more are the Baked Bun with BBQ pork, Steamed Egg Cake and I'm not alone in my verdict.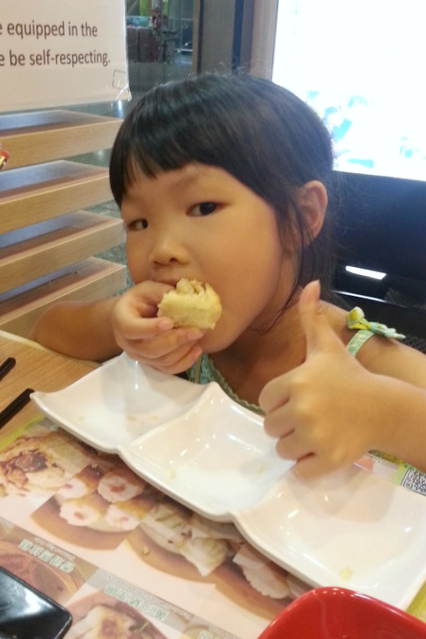 Sophie giving a thumbs up for her char siew bao!
I'll definitely be heading over to Tim Ho Wan in Plaza Singapura or Toa Payoh for my char siew bao fix soon.
Tim Ho Wan 添好運
Hong Kong Station Podium Level 1, IFC Mall,
Central Opening hours: 9am-9pm daily
And here's Part 2 of my Foodie Guide to Hong Kong!
What are some of your favourite or must go places for food in Hong Kong? Do share so that I can add on the list for my next trip!
Tagged: best hong kong cafes, cha chan teng, dim sum, Hong Kong, Hong Kong cafes, overseas, places to eat in Hong Kong, travel