The months of October and November were the holiday season for us as we jetted off to Bangkok, Penang and Hong Kong. Even though we joked that we needed to go on more holidays before Sophie starts Primary One next year, some of these vacations were unplanned so we're truly thankful to have been able to enjoy this little indulgence.
I have so much to write about each holiday and I've decided to write about our most recent vacation to Hong Kong starting from where else but my most favorite-est place on earth- Disneyland!
Since we were going on the third week of November, I was hoping that the theme park will be decked out in Christmas lights. Imagine my delight when I saw the Christmas decorations from the entrance! Disneyland feels extra magical during my favourite time of the year!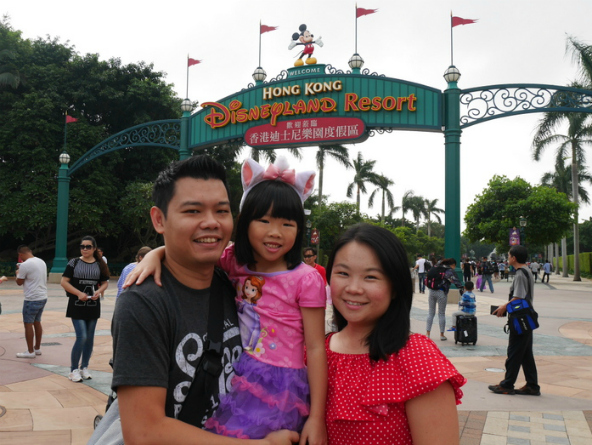 Phototaking with Mascots
Like most guests, we joined the snaking queues to have our photos taken with the characters once Disneyland opened its gates. And while it's expected that everyone wants a photo with Mickey and Minnie, the queue was moving very slowly and we abandoned the idea and instead joined the one for Donald and Daisy since we didn't get a photo with them.
Now, I'm going to let you in on a secret which allowed us to take photos of the other characters without joining the rest of the queue. This is gold especially if you're not keen to wait in line for them.
Usually the characters will go for a short break in between the photo session and they will ajourned to the exit that's located next to City Hall, that's where you rent your strollers from. They will be accompanied by staff and I got Sophie to just walk alongside them as they made their way to the changing room while I snapped away. The characters will usually not stop for photos but they may still interact with the kids in their path, so that's how we still got photos with Duffy, Mickey and Minnie!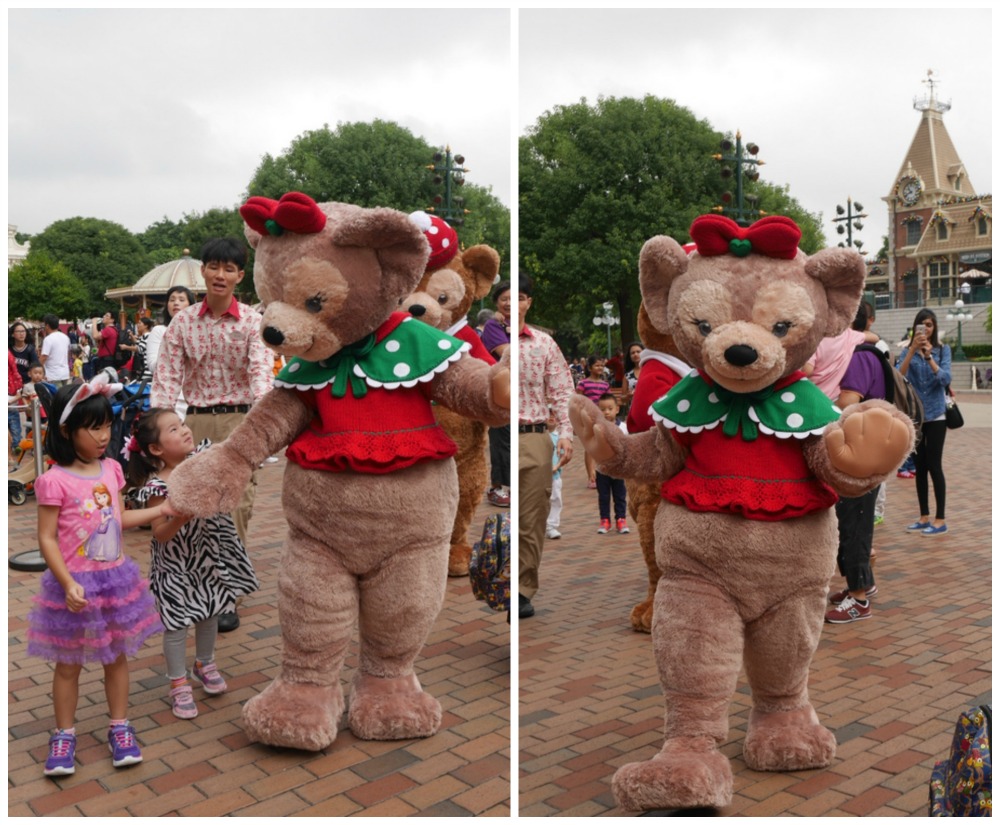 And of course, here's the photo with Donald and Daisy Duck. Can you feel the Christmas spirit in the air just looking at them all dressed for the holiday season? While the wait might have taken about 15 mins, the time that they took to 'interact' with the guests with high fives and hugs made us feel all so worthwhile. And the staff who helped us take the photos on my camera was fantastic too as they kept snapping away unlike some other places where they just take a miserly one shot.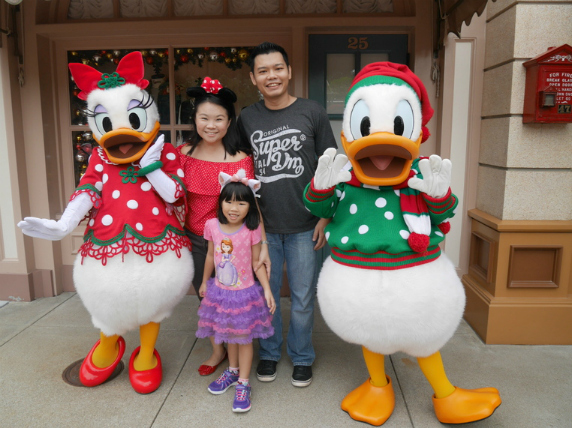 The prime time to see the characters is really just after they opened and if you walk down the main street, you'll also see Pluto, Goofy as well as the Princesses. But no Princess Elsa was in sight.
Usually, what we do is to grab the map and grab the fastpass. In this case, Hong Kong Disneyland only offered 2 fastpass for The Many Adventures of Winnie the Pooh and Space Mountain. The latter of course is not for the faint hearted.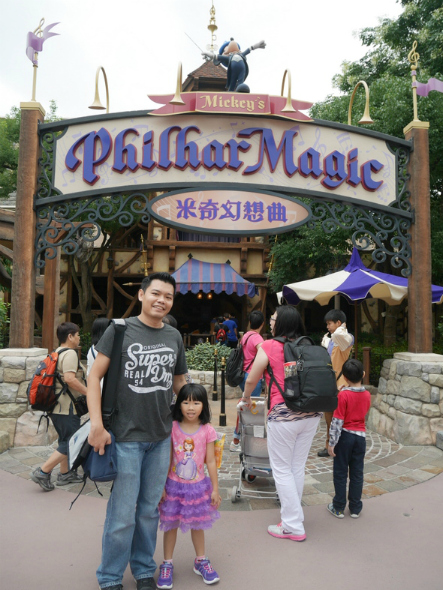 Among all the Disney movies, Toy Story remains a well loved one in the family and I find this area super photogenic. There are so many photo spots and it's amusing to imagine what it feels like to be toy-sized like in Honey I shrank the kids. How cute is the ice stick bench and playing card.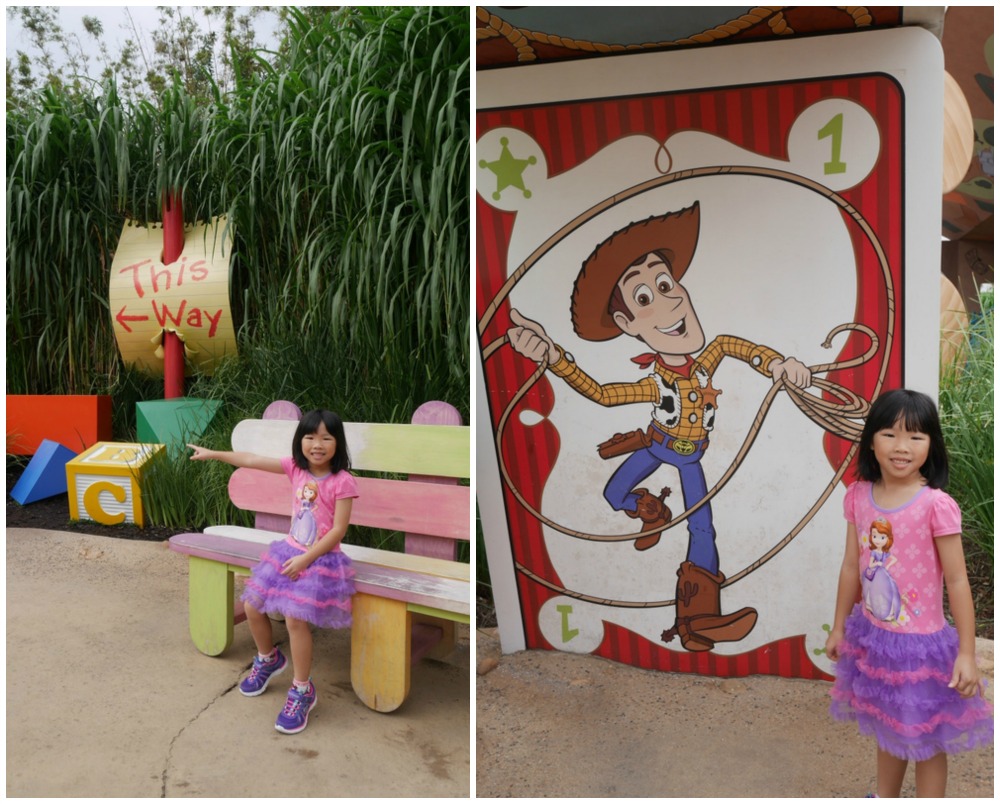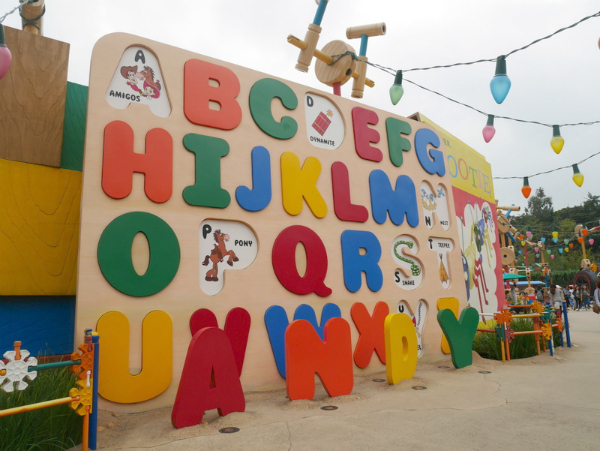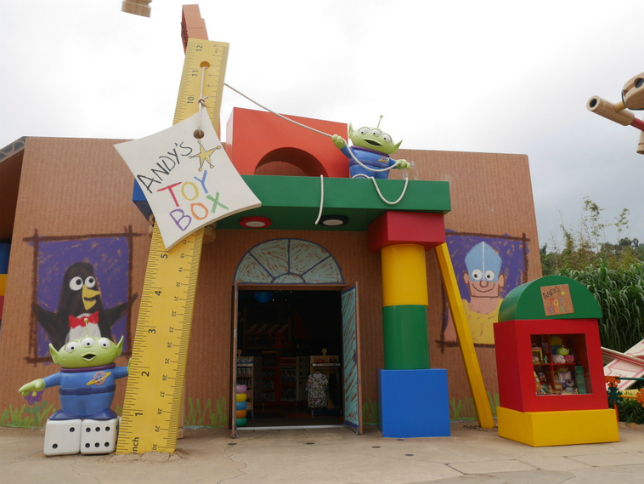 Sophie  doesn't remember much about her first visit to Hong Kong Disneyland 2 years ago when she was just 4. But one thing she did recall was going on the slinky ride and initially we read that it was closed for maintenance. She was over the moon when she found it operational and her wide smile says it all 🙂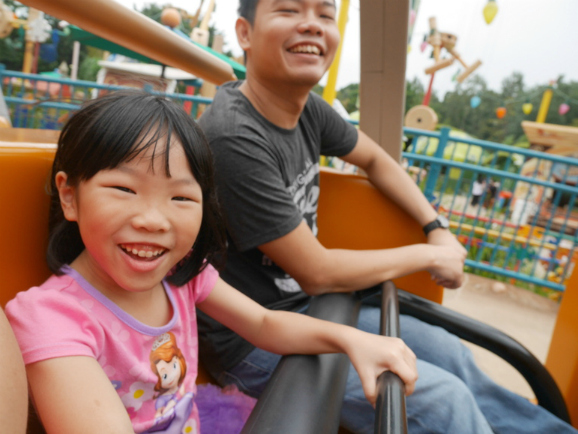 One ride she hated though was the Toy Soldier Parachute Drop and I regretted telling her that she was afraid to take the ride the last time. Turns out, she still hated it and almost burst into tears when it descended with sudden jerks.
Actually the tears came rolling but only after we got down as she was too nervous and worried to cry on the ride though I could see anxiety written all over her face and she was so mad that I didn't give her a choice to skip the ride. Feeling bad, I offered to get her ice cream to make myself feel less guilty.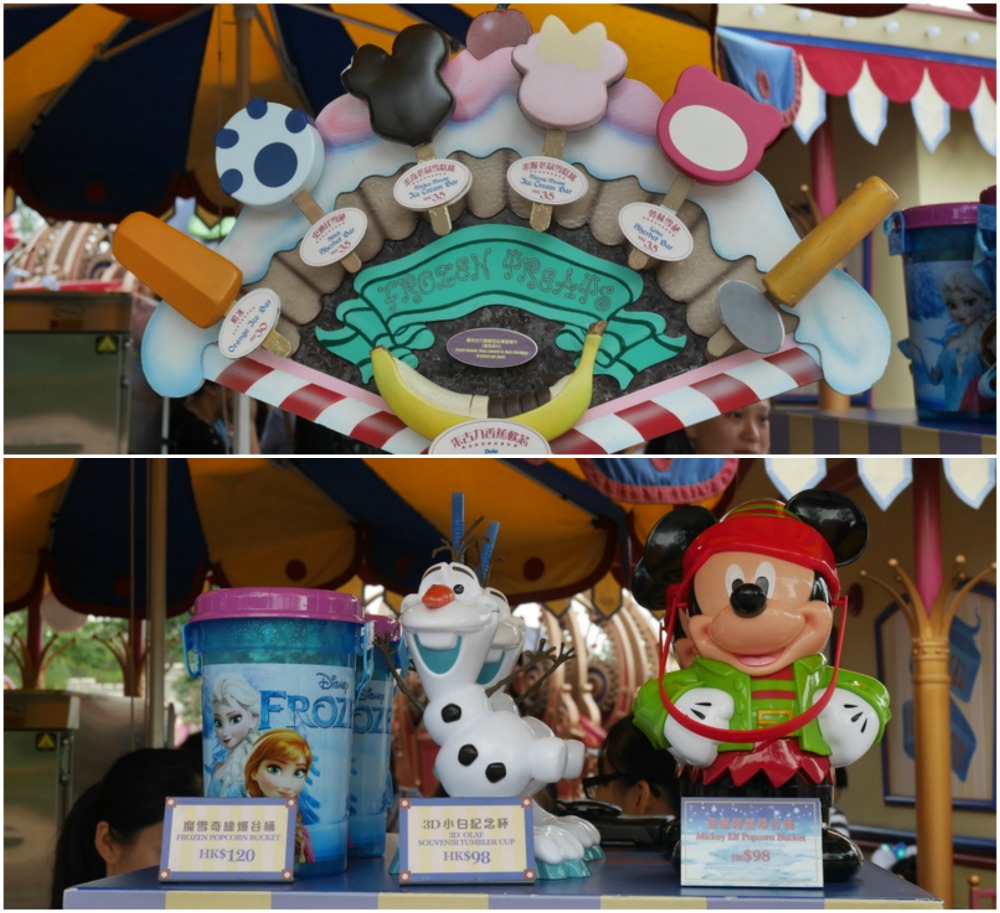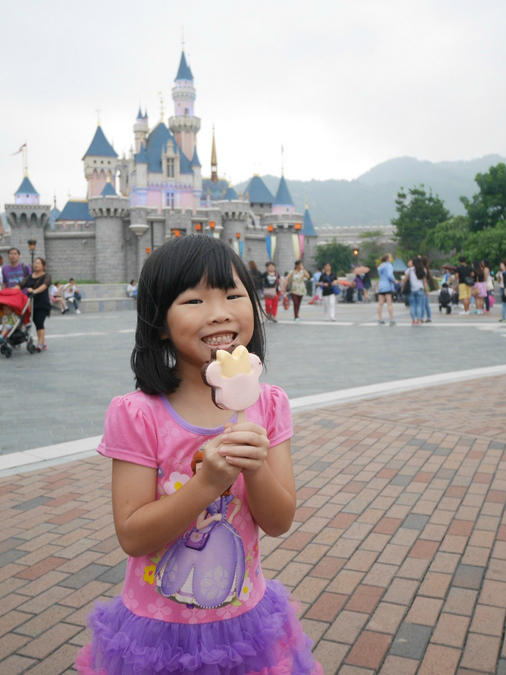 And of course, we indulged her with the prettiest ice cream to pacify her. Another must have in Disneyland is of course their huge turkey leg!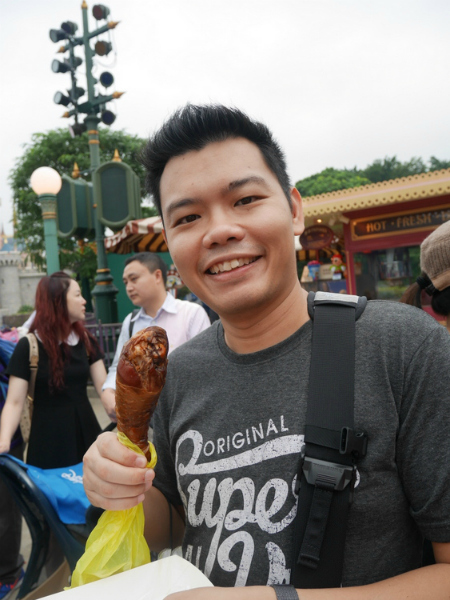 Unfortunately, by mid afternoon, it started to pour and the Flight of Fantasy Parade was replaced with Rainy Day Express where some of the characters drove by in their sheltered carriage. We were not the only ones disappointed but decided not to let the rain dampen our spirits and headed for the indoor rides and shows.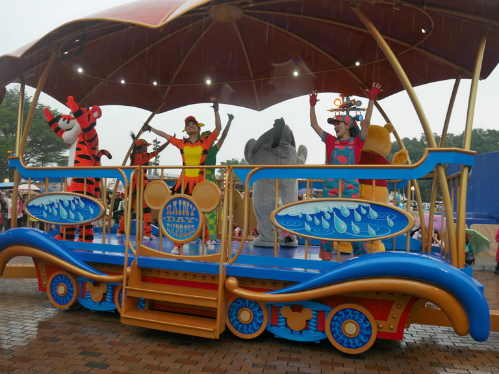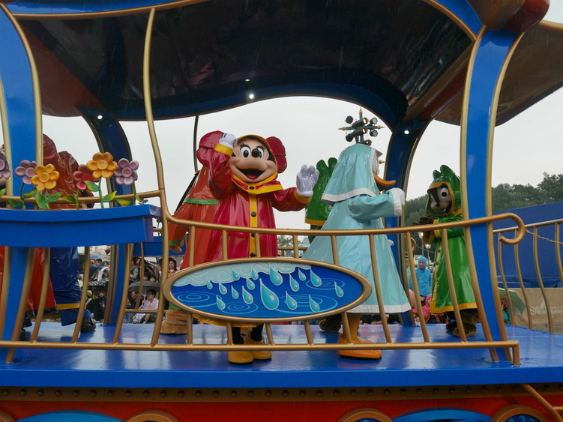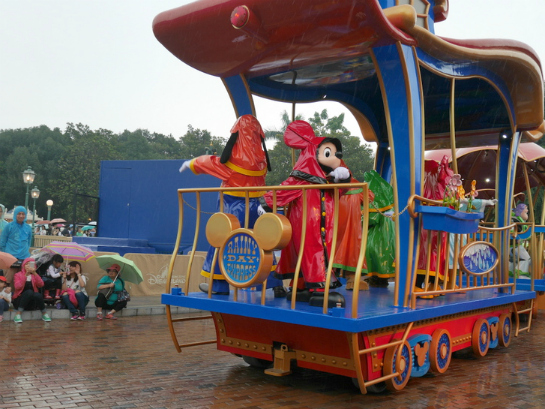 Since we didn't get to watch any of the shows the last time, we made sure to check the timing of the Lion King Musical and were glad to finally watch it! The performance was fantastic and I was very impressed by the scale of the musical from singers, dancers, acrobats and even fire eaters! Do go early to get a good seat.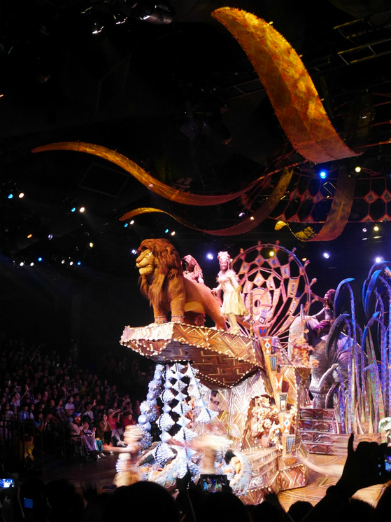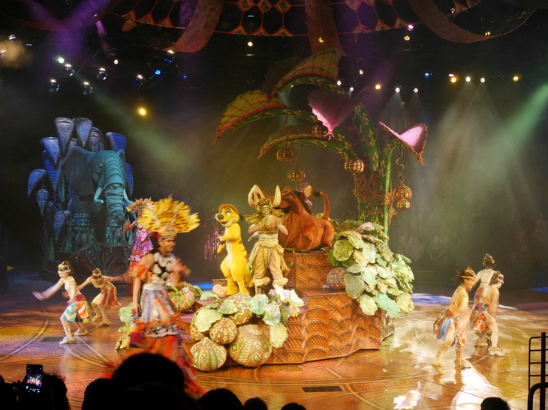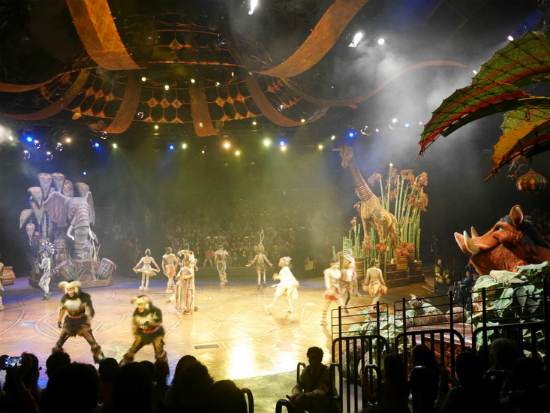 For Christmas, they were staging a new show, Mickey and the Wondrous Book. But we didn't get a chance to watch it as they were having a media preview that day 🙁
The rain kept us from the outdoor rides here so we went on the Buzz Lightyear Astro Blasters and it was so enjoyable even for us adults! In fact, I think we both had as much fun if not more fun than Sophie fighting to see who topped the charts in our quest to blast the ailens.
We made it on Oriton with our raincoats on and thankfully there was no danger of lighting. So do pack your raincoats especially if you're going during year end when you can expect more rain.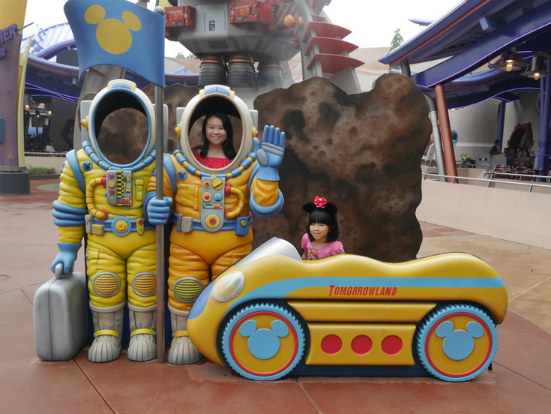 We took shelter in It's a Small Small World and as expected everyone was hiding from the rain as well and the queue was snaking. But it's one of those ride that you never get tired of as it just makes you feel like a child in a wonderland.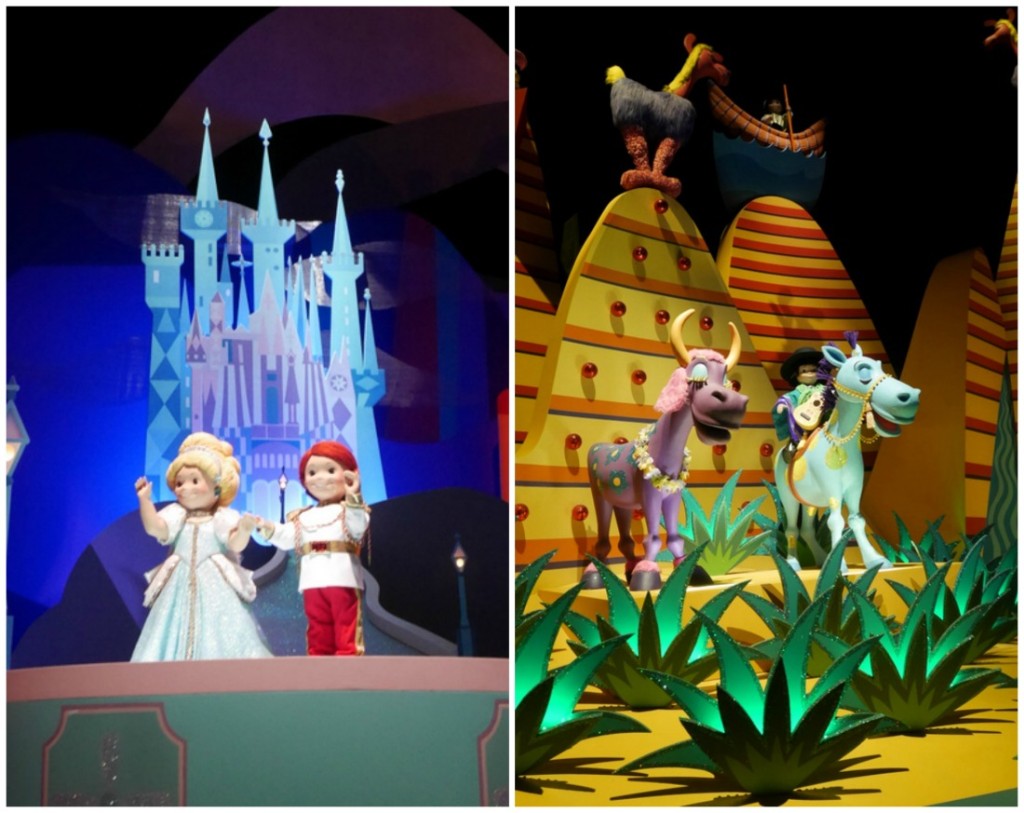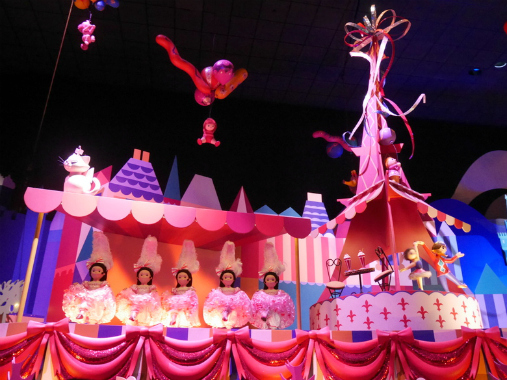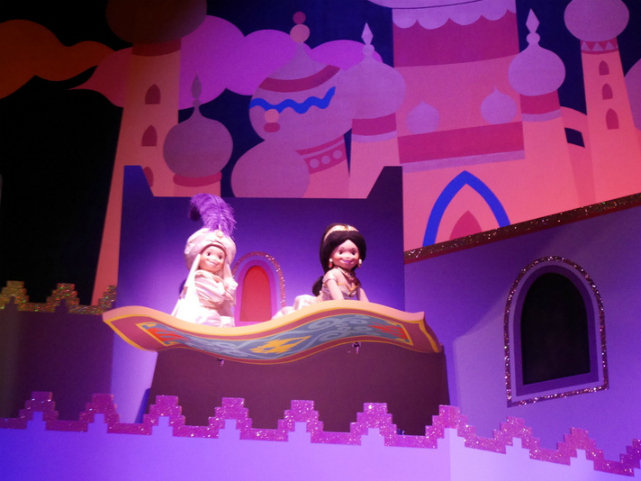 Dining in Disneyland
The last time, we had our dinner at Plaza Inn that served Chinese food. I remembered that meal was quite expensive and this time we opted to dine at the Royal Banquet Hall where they offered international cuisine at more friendly prices and the restaurant looked enchanting with all the princesses and their prince.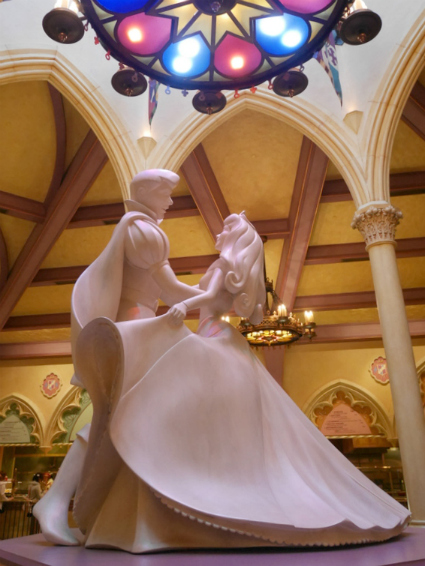 There's Japanese food like sushi, ramen, Italian options like pizza and pasta as well as Chinese cuisine like dim sum and many others too. Besides the Mickey shaped pizza, they also had mickey shaped sushi too which is super cute!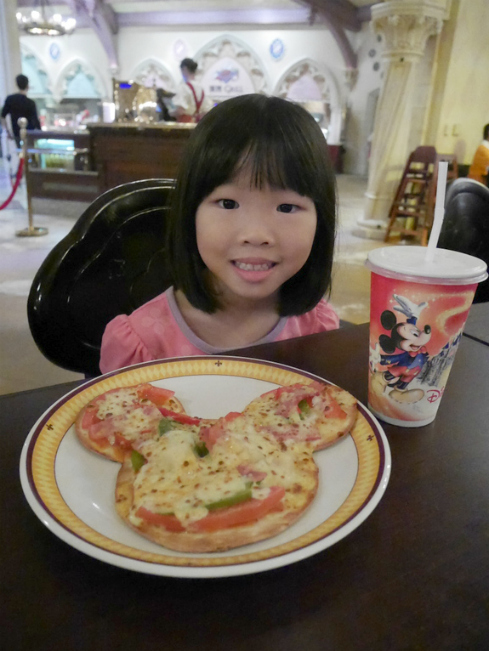 Since there was some time to spare before the night parade,  "Disney Paints the Sky" we wandered into the shops to check out their special Christmas merchandise.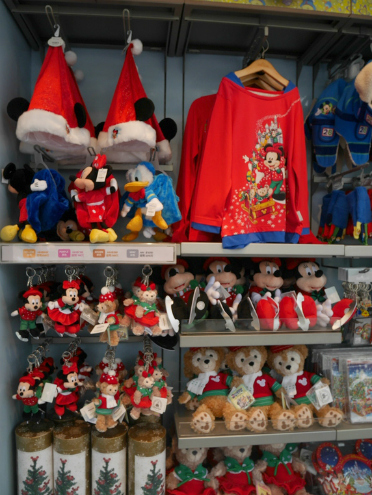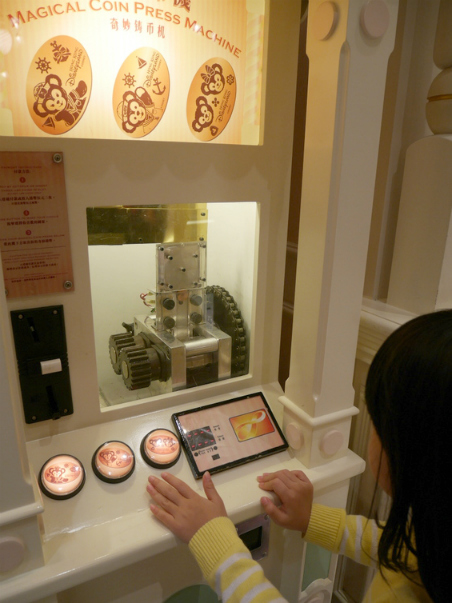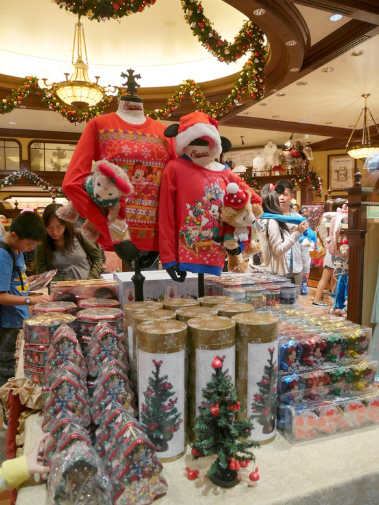 We didn't go crazy shopping there and only bought Sophie a toy, a Buzz Lightyear toy gun while I chose an Olaf Christmas ornament that's going up on the Christmas tree. Of course, I later cave and got her an Olaf Tsum Tsum at the Disney shop at the airport because she behaved well on the last leg of our trip when I was alone with her.
Frozen Christmas Tree Light Up
This Christmas there is a new Christmas Tree light up on the Main street by Queen Elsa and Princess Anna. A must watch for all Frozen fans! The buildings along Main Street was projected with snowfall and snowflakes as Queen Elsa sang and made her way to light up the tree with her sister.
We didn't managed to get a good spot as everyone was standing and it seems that a  good spot to watch this is somewhere near the huge Christmas tree right at the entrance.
Disney Paints the Sky Night Parade
Shortly after that, we went to secure a seat with a good view for the night parade. This was pretty new too and it gave us a second chance to catch the parade since we missed the one in the afternoon due to the rain.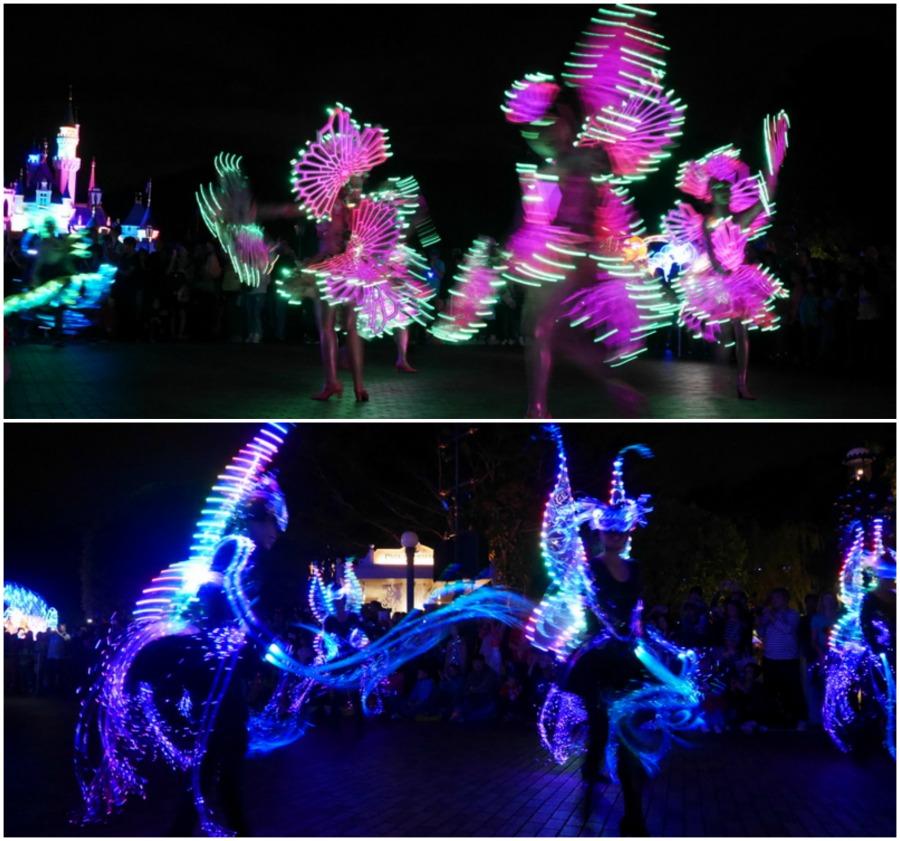 And the night doesn't end at Disneyland without the fireworks. It's certainly the highlight of the day and the best way to end a wonderful day at Disneyland! While it was tempting to capture it on camera, the best way is really to just sit back and enjoy the fireworks as they shimmer and glitter to all the classic tunes from Disney movies in the company of your loved one 🙂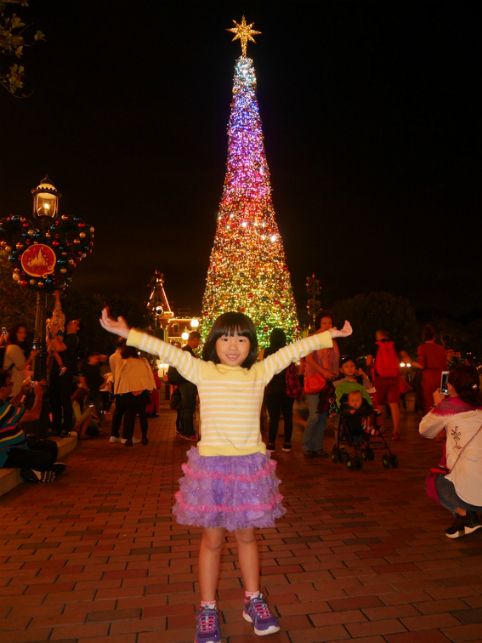 Thanks for a wonderful and magical time Disneyland! We promise to come back real soon!
If you're heading to Hong Kong, don't miss my foodie guide here and here and I promise to blog about the other places we went on this trip soon 🙂
Enjoyed reading this Post? Do like my Facebook page to get travelling updates. You can also follow me on Twitter (@Susankoh) or Instagram (@ajugglingmom) for more travel and parenting posts.
Tagged: christmas, Disney, Disneyland, family friendly activity, Hong Kong, School holidays, themepark