Before Sophie entered Primary One, we contemplated giving her bedroom a makeover as we expected her needs to change as she gets older. Eventually we decided to hold off the changes until we had a better idea of what she needed when primary school started.
Plus I think a little part of me was hoping and wishing that my little girl wouldn't grow up so quickly. I mean how is it that she's already in Primary School when it seems like it was just yesterday that she was a toddler.
Bedroom for a Pre-schooler
This was how her room looked like at the end of last year where her books were kept mainly in a 4 by 2 Kallax shelving unit from IKEA. We added 2 pink doors and 2 storage boxes as they helped to keep items like stationery, craft materials and accessories out of sight, leaving the rest open for her books.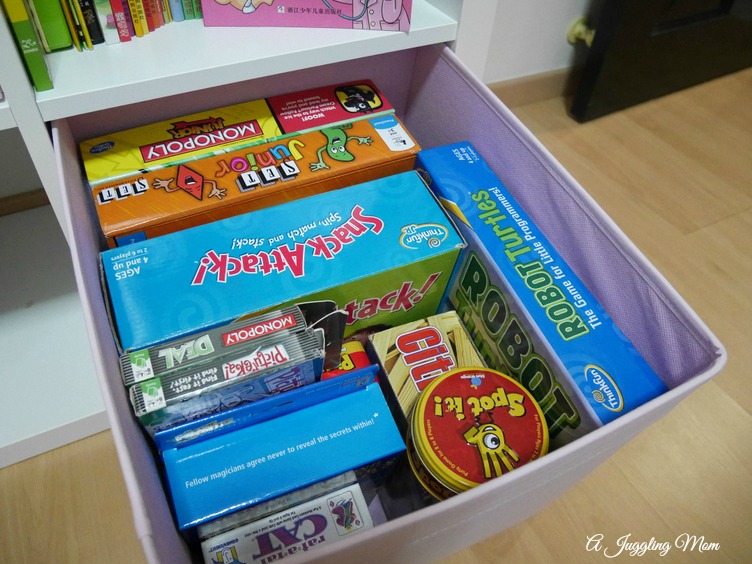 On the other side of the room was her study table, a lack side table and plastic stool from IKEA. They were sufficient for her as a pre-schooler, but we knew we had to replace that when she enters Primary One.
KALLAX Shelving Unit $99 | DRÖNA storage box $4.90 | KALLAX Insert with door $15
Transiting to a Big Girl's Bedroom
When the June School Holidays came, we relooked at Sophie's bedroom and concluded that her current storage space was not enough. And when things get messy, it's hard for Sophie to remember where she keeps her things and you know it, she'll come running to me and use my mummy powers to find her lost items.
So, the first thing on the list was a bigger book shelf. Since we cleared some of our books away, we decided to shift our existing BILLY book case from the study room and paired it with 2 new sets of OXBERG doors.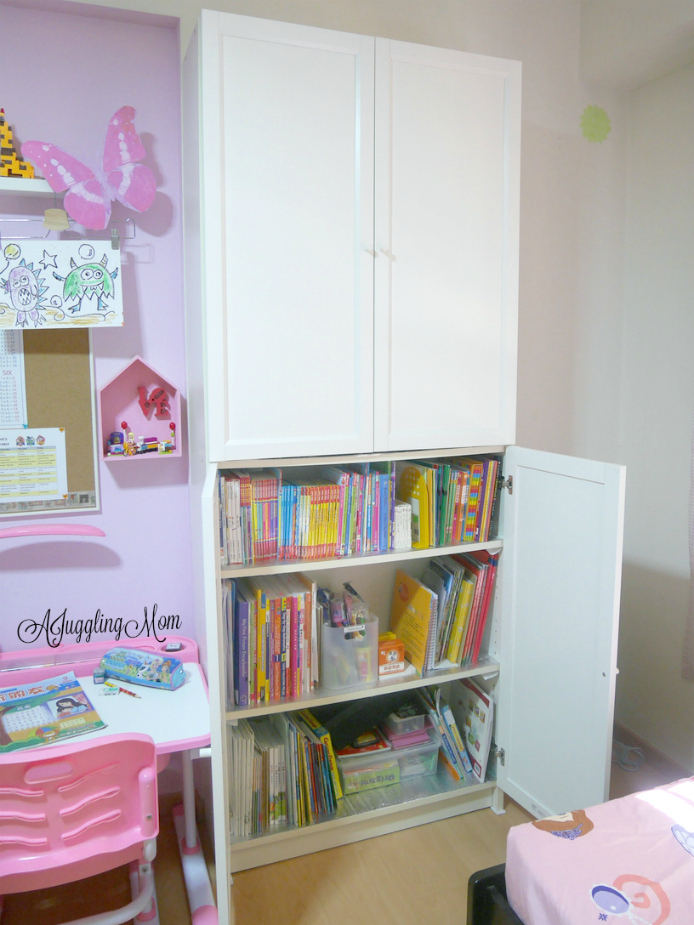 The beauty about the Billy Series is that there are so many options to choose from depending on what you're looking for and the shelves are fully adjustable to your needs. If you prefer to keep things out of sight, you can opt for doors like mine. Else there are also options like glass doors to show off your displays.
Moving on to Sophie's study area, we got her an ergonomic study table from an online store which can grow with her over the years. It comes with a matching chair and we added a study lamp as well.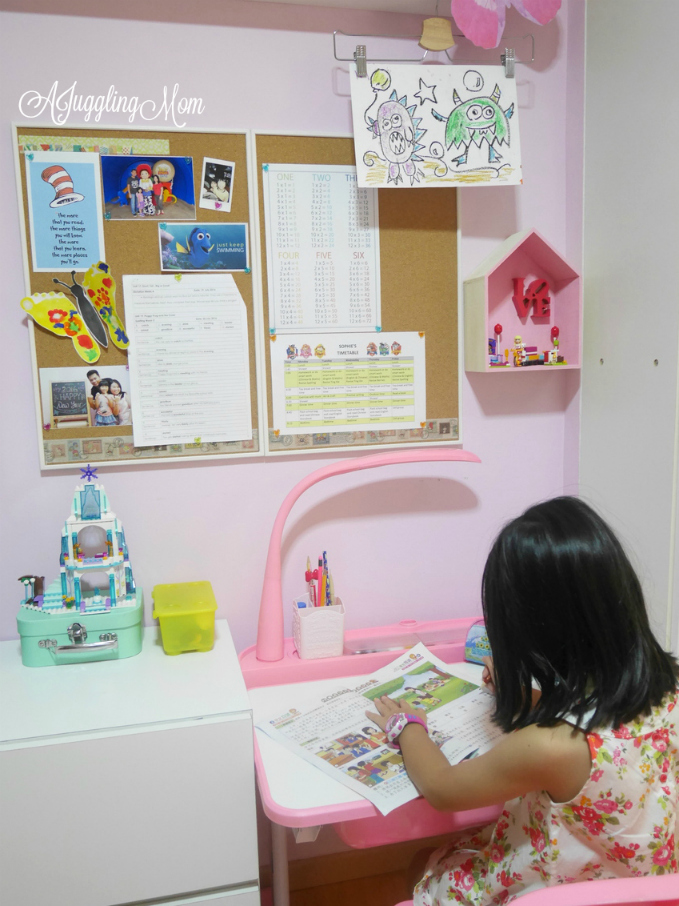 To teach Sophie how to be more organised, we put up 2 VAGGIS cork boards above her study table which aids her to pack her school bag independently according to the timetable. It's also useful for putting up notices like spelling lists, letters from school and motivational quotes.
We used permanent clear mounting tape from 3M to put these up since it's likely that she'll need them for a while.
The cork boards have been useful as Sophie learns visually, so seeing what she needs to do is a great visual cue instead of mummy nagging at her. I recently put up the times table to get her started on her multiplication as she's going to learn it in Term 3. Yes, I can hardly believe that she'll be learning them in Primary 1 when I used to learn this in Primary 2 or 3!


We used the BUMERANG hanger to display her art piece on the photo ledge. Whoever said that hangers must have singular uses for clothes? I like this way of displaying her art pieces as I can always swap or replace with a new piece anytime.
Bag Storage Ideas
To give Sophie  a dedicated area for her bags and library books, the LERBERG ladder shelf came to the rescue. We choose one with 4 tiers and the open shelves make it easy for Sophie to put her bags away once she's home.
On the second tier, we placed a plastic basket for her library books and this encourages her to grab a book to read whenever she's free. If you notice, the bottom shelf starts out larger and gets narrower toward the top, so do be careful not to place heavy items on the top.
We decided on this ladder shelf as it fitted nicely even in a tight squeeze, fully maximising the space we have on this side of the wall where there's an indent.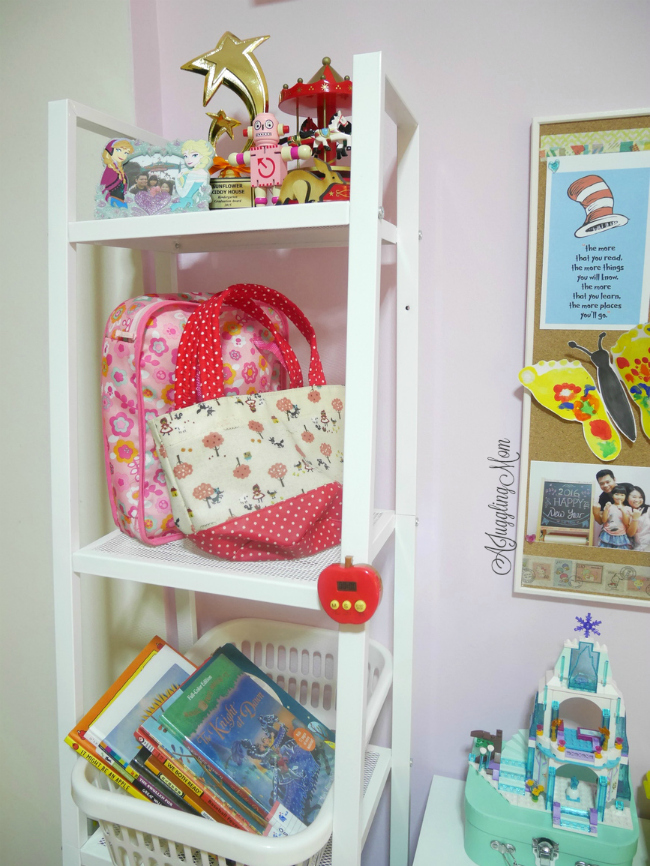 The RASKOG trolley was another addition to Sophie's room and we placed it beside her bed so that her alarm clock, storybooks, lotions and creams are all within an arm's reach. You know how it is when kids try to delay bedtime when night falls.
With the RASKOG, it makes it easy for her to wind down for the night as she settles into her night time routine of reading her bedtime story, setting her alarm and applying her lotion and setting them all beside her before bedtime. We even affix luminous stars on the sides so that she can see the trolley when it's dark.
This is one trolley that is highly raved by many crafters but honestly it's super versatile and I've seen it being used in the kitchen, craft room, toilet, and nursery. The possibilities are simply endless.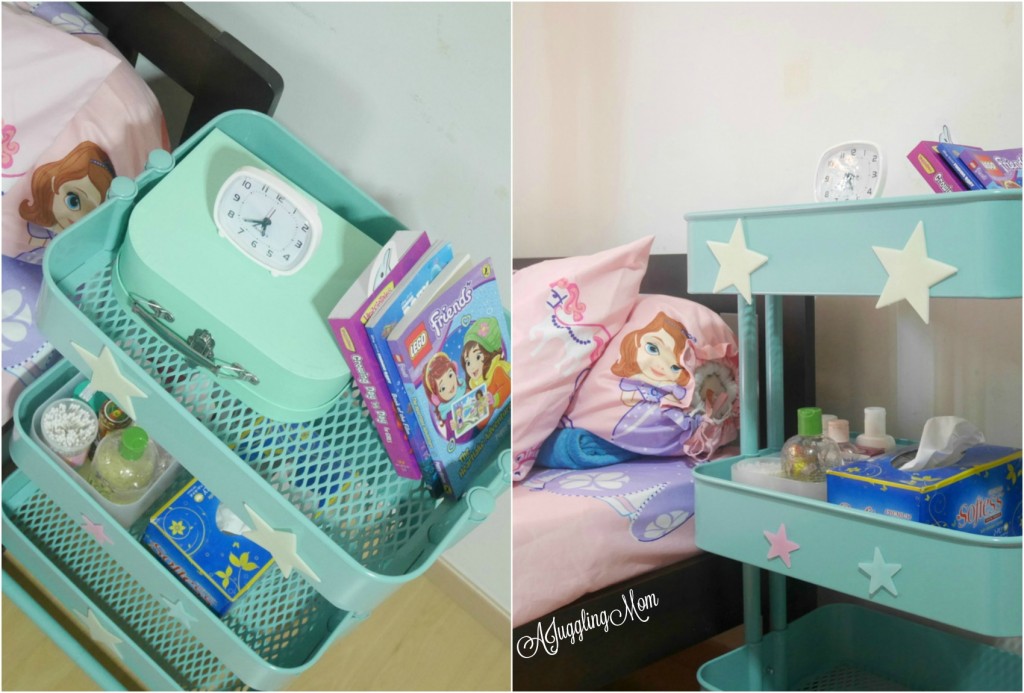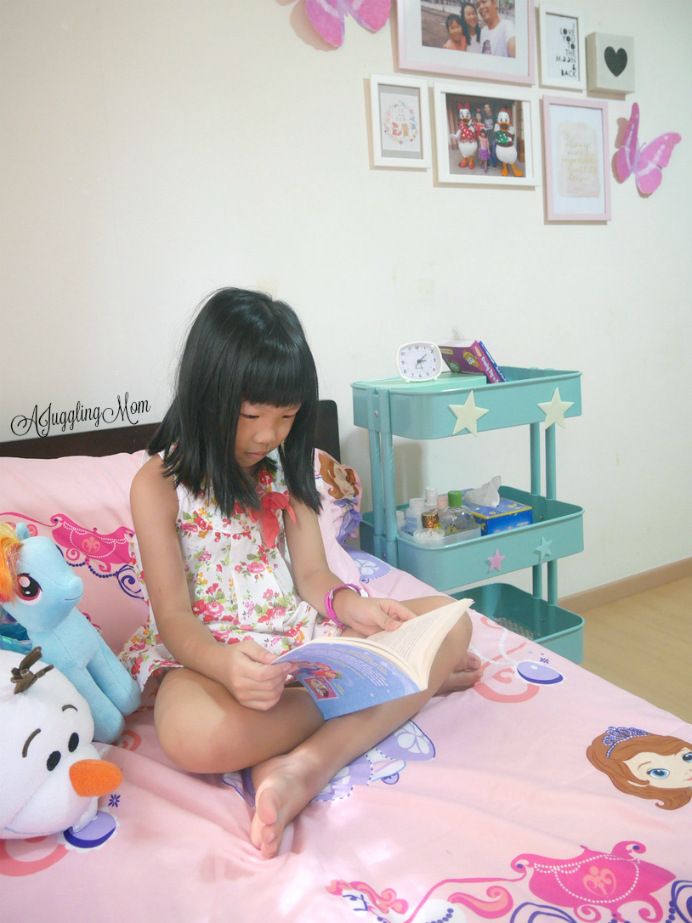 The finishing touch to her room is a photo gallery wall on the opposite side of her room. I always liked the idea of a photo gallery but wasn't brave enough to attempt one. But I'm so glad I went ahead with it as it adds a cozy and personalised touch to Sophie's space.
We hung up a couple of photos and quotes framed with an assortment of FISKBO photo frames in different sizes and colours. These were hung up using picture hanging strips from 3M which claims that they will not damage my walls and a set of 4 can hold up to 7.2kg.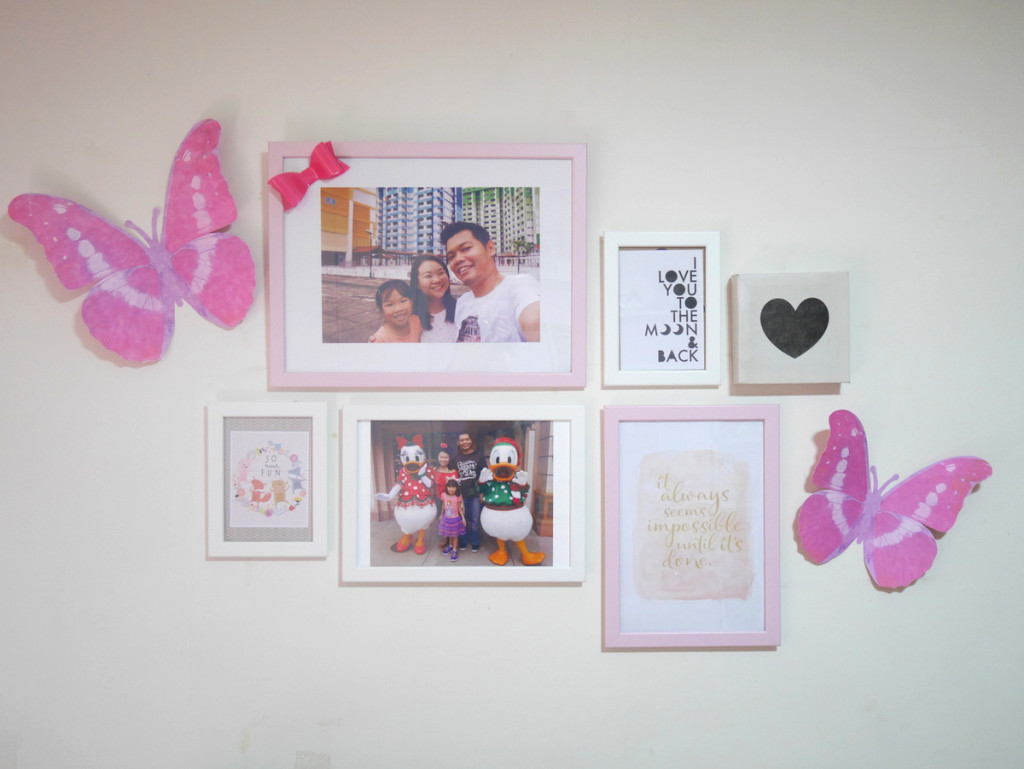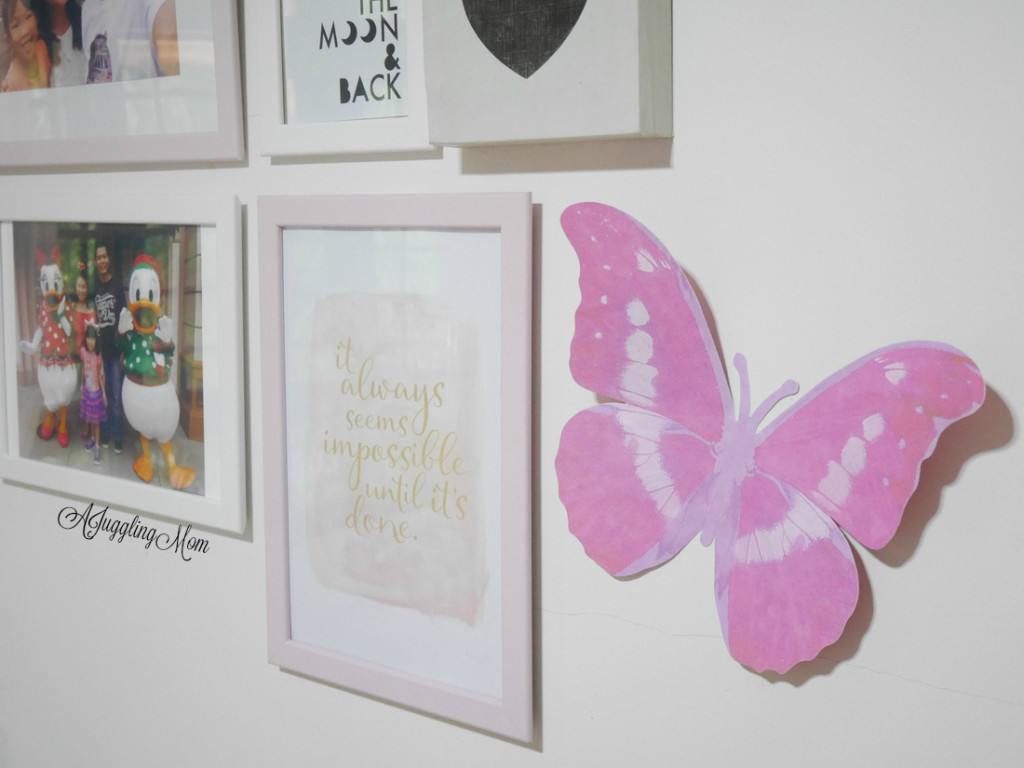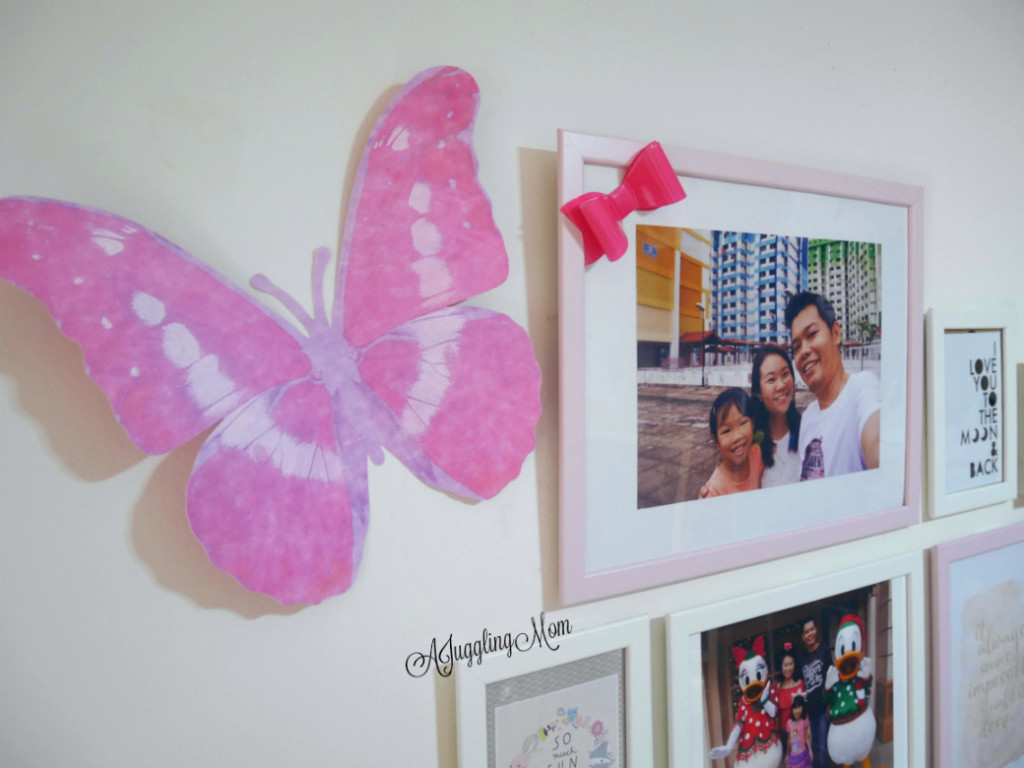 I need not tell you how much I loved the pink frames and even added a pink bow from the KRUSIDULLER series which I picked up from the paper decoration section. Hubby thinks I was trying to "Hello Kitty" the frame, which I kinda agree.
Another item I used to decorate Sophie's room was the KÄRESTA paper butterflies that you see above. You can gently fold it's wings up for a pop of 3D effect and it was just the perfect finishing touch to her girly big girl's bedroom.
Sophie adores her new big girl bedroom for the new school term and she's so thrilled to have a huge bookcase for her growing collection of books, books and more books. The new additions in the room certainly helps in keeping her belongings more organised and she knows the importance of having a "home" for all things.
For now, her MÅLA easel with a whiteboard on one side and a blackboard on the other is still staying in the bedroom as we use it for her learning. It's probably one item that has been with her over these years and we hate to see it go because that would mean my baby girl is all grown up.
While I know it wouldn't be long before this room changes again, maybe with K-pop posters and lyrics of pop songs instead of Dr Seuss quotes, but for now, I like how Sophie's big girl bedroom looks. Who knew that this room makeover would get me all sentimental over my baby girl.
Before I end the post, I wanted to add that you should never allow your child to climb onto furniture like the BILLY or LERBERG shelf which I featured above. Actually, never allow your child to climb on any furniture for that matter as there is undoubtedly definitely a risk of them tipping over to cause injuries. We always get Sophie to ask for assistance when she needs to take anything from the top of the bookcase or shelves and she understands the consequences of not doing so.
This is my second post written for IKEA and here's the first one on an IKEA hack if you missed it 🙂
For more bedroom deco ideas – Decorating a Little Girl's Room
* This is a sponsored post written in collaboration with IKEA, however all ideas and opinions expressed here are my own.
Read our other posts here
Enjoyed reading this post? Do like my Facebook page to get more parenting updates. You can also follow me on Twitter (@Susankoh) or Instagram (@ajugglingmom) for more parenting and travel posts.
Tagged: Children's bedroom, children's room, home deco, ikea, interior design, Sponsored post