Last year after Sophie turned five years old, she very confidently told us that she was going to start sleeping on her own to prove that she's now a big girl.
We heaped praises, encouraged, hoped and waited. And then waited some more.
But from then till now, which is almost 10 months, she's probably only clocked 10 times when she's slept on her own. #missionfail
Not willing to give up, we tried again this year with promises of new toys if she manages to overcome her fear and sleep on her own. And the icing on the cake is a newly decorated room which we promised her since last year.
So here's a peek into little Sophie's bedroom.
Hanging on the entrance of her bedroom door is a wooden name frame which was made when I was pregnant with her. As you can tell, I was so looking forward to share my love of all things pink and girly with Sophie even before she was born.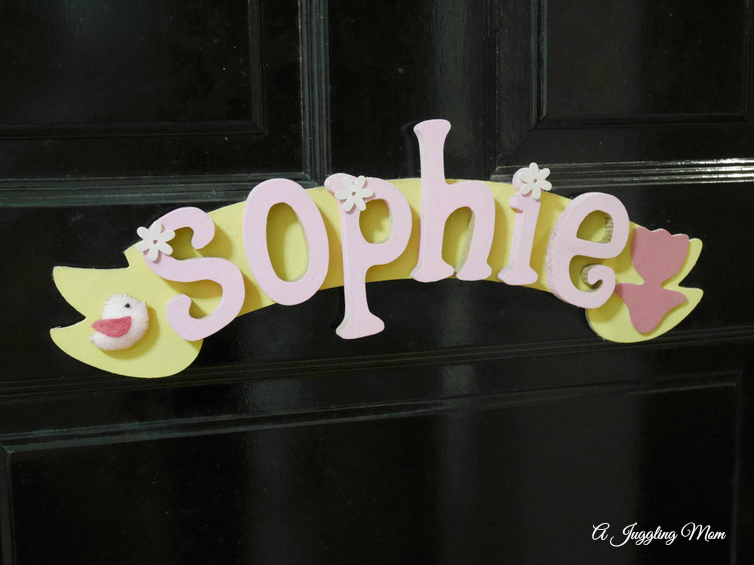 Practical Storage Solutions for Kids Room
We have two Expedit shelves from IKEA in the living room and they proved to be a gem for storing away Sophie's toys and what not so that my hall doesn't look like a childcare centre. So we figured that we should get the same for her bedroom since her books and toys were spilling out from their existing shelves.
But since the Expedit shelves have been discontinued, we went with the Kallax. And guess what? They now have pink doors and storage boxes! In fact, they even have the Kallax in the sweetest shade of baby pink! Super love them and I think I may just get them for myself the next time I go back to IKEA.
We decided on the 4 by 2 configuration with two doors and two storage boxes so that some things can be kept out of sight.
The poster above is also from IKEA and it caught my eye because Sophie is quite a traveller having visited 5 countries at a mere age of 5.
This is what's behind one of the doors of her Kallax, where it stores her craft items, perler beads, rainbow looms. And the other side is where she stores her stationary, stickers, exercise books.
On both ends of the shelf are her story books- one side for English books and the another for Chinese books.
We recently packed away a lot of books that she's outgrown, so now there's space for more books. She has another tall shelf (not in photo) which are mostly activity books.
A friend shared that having books displayed encourages her child to pick them up to read and I quite like the idea and starting doing it too.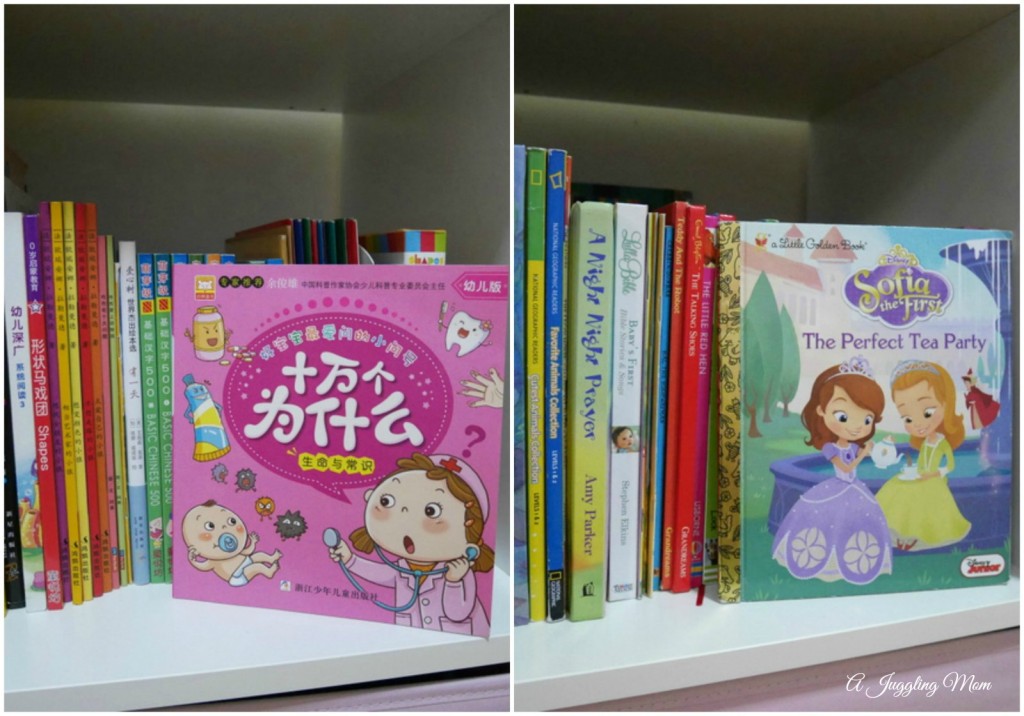 Inside the storage boxes are her games- board games, card games and much more in addition to those in the living room.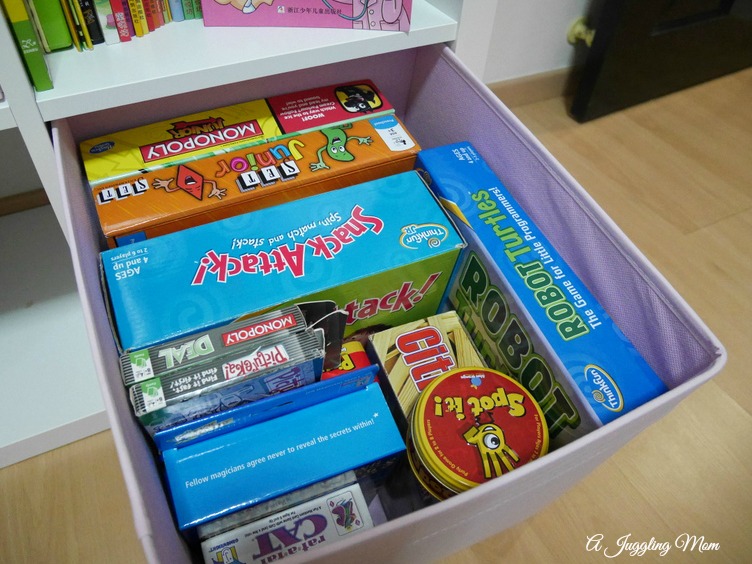 Her sleeping area where she has her favourite toys to accompany her to dreamland. As she has sensitive skin, I ensure that her moisturiser is kept close by so that she remembers to apply them before sleeping.
And of course, a little ladybug night lamp to chase the monsters away that her yiyi bought from Amazon last Christmas.  She was amazed at how her ceiling lit up with a full night sky projection complete with the moon and stars and some nights, we'll just lie in bed and imagine ourselves under a blanket of stars.
Just right beside her bed is where her study table is. She's using the IKEA Lack table but we've just ordered an ergo table to prepare for when she goes primary school next year.
Another buy from IKEA that I always rave about is this dual whiteboard cum chalkboard. It's great for learning, writing, doodling, scribbling and learning spelling. #SoSingaporean
And on the side, I hung this pocket holder to hold her flashcards from her Berries class. After all, out of sight, out of mind. So having this allows me to use it as a learning aid.
Showing your kid's personalty
In a book I read called Wonder Walls, it showed how people dressed up the walls of their homes to show their personality and who they are.
So an idea went off and that's how we ended up displaying this Sofia the First dress, Sophie's favorite Disney princess … for now. Besides, I doubt she's going to wear it again since she complains it makes her feel so itchy.
The ledge also holds some other decorative pieces like this shadow box which has her My Little Ponies, craft that she did and our zinged up wall clock from IKEA with a little help from my silhoutte cameo. After all it is her little Disney Princess corner there 🙂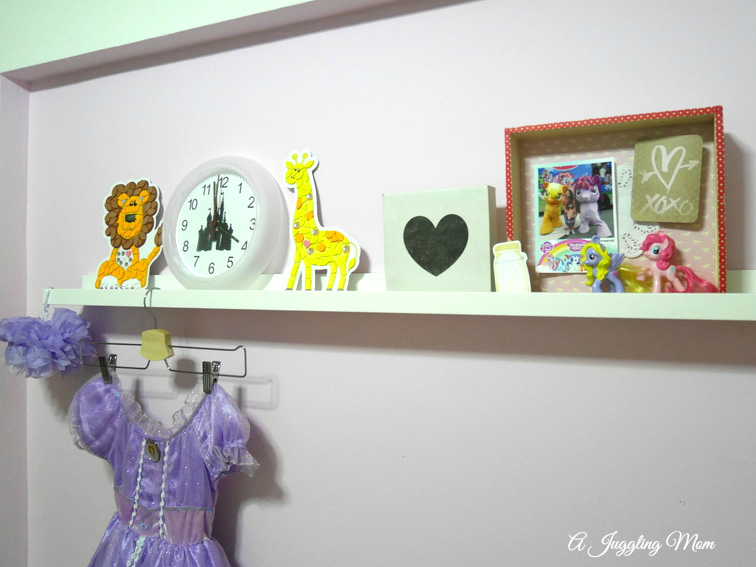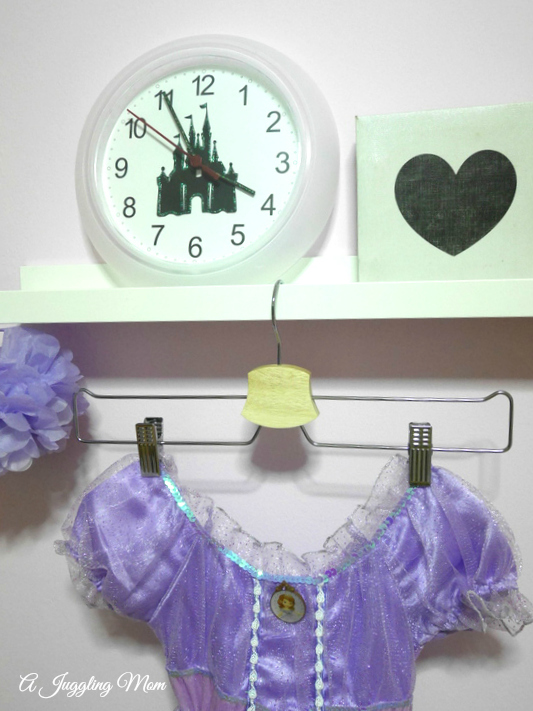 So that's the end of our little tour of Sophie's room.
I must admit that I did lots of pinning around on Pinterest before we revamped her room. And if you're looking for some inspirations too, I did the hard work and you can check out my Pinterest board here.
I think I'll go tinker about on Pinterest for more ideas and add more details to her room in time to come.
_____________________________________________________________________________________
Next up on the Small Spaces blog train is Candice. Candice is a PTWM to a pair of Crouching Tiger and Hidden Dragon (tiger tyke and dragon daughter) and wife to a loving husband, Candice keeps a journal of their every-other-day happenings at MissusTay.com.
This post is part of the Small Spaces blog train, which is hosted by Mum in the Making. Click the button for a look at more small spaces!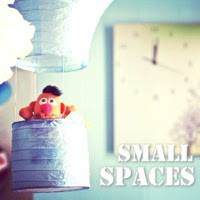 Tagged: girls, home deco, kid's room