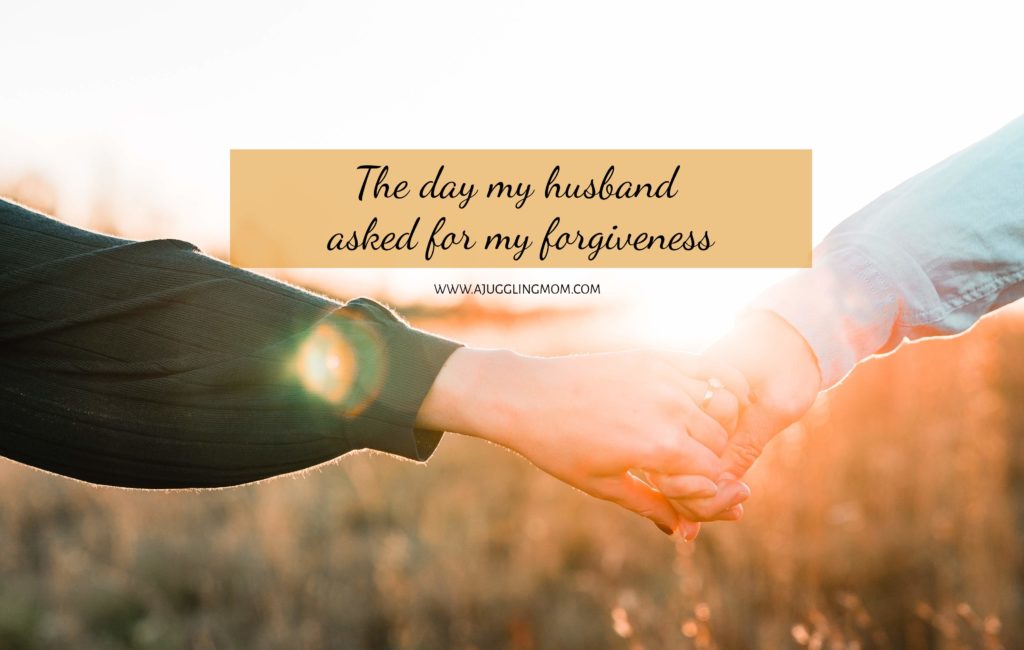 Elton John was right when he penned the song, sorry seems to be the hardest word. I may not come across as being stubborn but Alexis would tell you otherwise especially when it's crystal clear that I'm at fault and yet refuse to budge and apologise.
Like every married couple, Alexis and I have our share of disagreements and quarrels. We've gone through the full spectrum of conflicts from petty squabbles to epic fights where chairs where flung and even broke.
Till this day, Sophie remembers the incident like it happened yesterday and told me she was terrified when I hurled a chair across the room which broke just inches away from her. She tells me that she never wants to see me turn into a monster when I get mad and I felt so ashamed that my daughter had to witness my outrage.
I know we're not supposed to fight in front of our kids and I'm not proud of it. However, I'm thankful that we've moved on from that angry period in our lives where every quarrel was a potential eruption of tempers.
When opposites cause sparks
Relationship experts say that opposites attract but at the same time, it's a recipe for sparks and friction too. When a couple quarrels, the wife always hopes that her husband will break the tension by giving her a firm embrace and say, "Let's not fight anymore because I love you and care about us." Yea, that only happens in Korean drama ladies…
With my clearly too logical, right brain husband, emotions are thrown out of the window and he'll be happy to prove me wrong like a lawyer interrogating the accused. When we're in the middle of an argument, he wouldn't back down until I concede defeat and I always wondered in those moments just why did I even marry such a heartless man. #truestory
The day my husband asked for my forgiveness
On the other hand, Alexis has little problem apologising when he makes a mistake and often hints that I should learn from him.
But last Sunday I was taken aback when he held my hand, looked me in the eye and asked for my forgiveness.
He said he was sorry for
Not being attentive to my feelings
Not placing my needs above his
For failing to be patient as he ought to
Wanting to be right and win all the time
Venting his frustration on me when he's had a hard day at work
Not giving me more affirmation for my new SAHM role
I was taken aback by his list of "confession" . In my head I was thinking, "Wow I never knew that Alexis would even considered these things significant enough to apologise for. And that's how most of us would think, isn't it?
In Songs of Solomon 2:15, the Shulammite says,
"Catch for us the foxes, the little foxes that ruin the vineyards, our vineyards that are in bloom."
And these are precisely the "little foxes" that have the potential to ruin a marriage, like
an unkind word
a snappy response
giving each other the silent treatment
taking each other for granted
Over time, the accumulated hurts and disappointment festers and slowly develops into resentment, bitterness and even anger towards our spouse.
A good marriage is made up of two good forgivers
After Alexis asked for forgiveness, it was my turn to humble myself to seek his forgiveness. The pastor who led the time of repentance and reconciliation between husbands and wives at the prayer meeting, ended with a renewal of marriage vows as we turned to God to help us keep our lifelong commitment to each other.
It was a touching sight to see so many couples holding hands and rededicating their love, some with their children beside them.
Marriage is the union of two imperfect people who have learnt how to forgive
and not to give up on each other.
Asking for forgiveness and extending forgiveness is never easy especially when trust has been destroyed and faith has been lost. It's tempting to get mad, get even and  perhaps even seek revenge.
But we have a God who is in the business of restoring marriages and He has shown us the perfect example of grace. Grace that is undeserving, which we received so freely from Him, so that we can extend that same grace to our spouse.
"Love is patient, love is kind. It does not envy, it does not boast, it is not proud.
It does not dishonor others, it is not self-seeking, it is not easily angered, it keeps no record of wrongs.
Love does not delight in evil but rejoices with the truth. It always protects, always trusts, always hopes, always perseveres. Love never fails."  1 Corinthians 13:4-8
Be reconciled and restore your marriage 
What are the little foxes in your marriage today? It's easy to sweep them under the carpet but one day these issues, like a ticking time bomb will eventually blow up and lost trust may be too late to salvage.
In fact, don't even minimise the seemingly small "offences" and endeavor to right every wrong quickly. Humble yourself, ask for forgiveness and remember to wipe the wrongdoings from your memory and keep no records of wrong. Remember your marriage vows and don't forget that your marriage is worth protecting and fighting for.
If you enjoyed this post, you may like these posts where I share my heart about marriage and relationship.
Enjoyed reading this post? Do like my Facebook page to get more sharing on parenting. You can also follow me on Twitter (@Susankoh) or Instagram (@ajugglingmom) for parenting and fun places to go with your family.
Tagged: Christian marriage, love, Marriage, relationship