Last week, I shared this craft idea where it received more than 100 likes. Surely something this well-liked deserves to be up on the blog for future reference.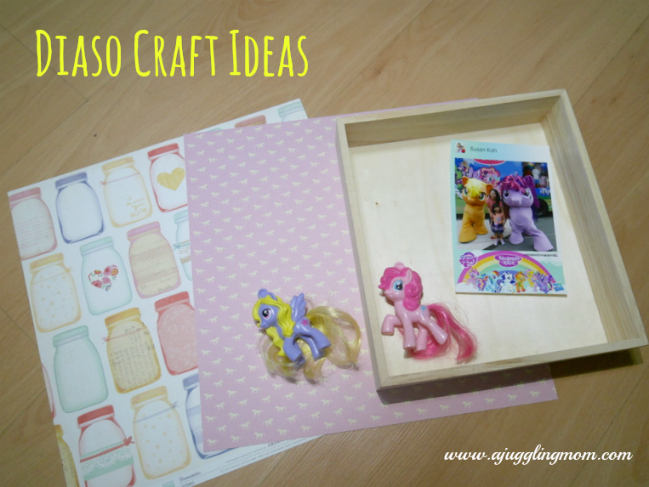 The idea is simply a shadow box that I bought from Daiso, a Japanese concept shop where everything is S$2 flat. It's my shopping heaven because everything seems like a bargain and to me, a great find from Daiso deserves to be shared. It's my kinda heaven and my hubby's nightmare…In fact when I tell Sophie I'm going to my favourite shop, she'll ask, "Is it Daiso?"
Back to my Daiso craft… I picked up this wooden shadow box from the Chinatown outlet. And before I go further, I must add that this wooden box is such a steal at a mere $2 because if you were to buy a similar one from Spotlight, or any of the local craft shops, it would easily cost $6-8.
What I did with the shadow box was to cover the base with a piece of background paper. Here I used a craft paper with a horse design since the theme was My Little Pony. Next I stuck a photo to the base of the box and added two of Sophie's My Little Pony figurines with blue tack (These were from MacDonalds Happy Meal by the way).
To jazz up the rest of the box, I also added one of my Project Life cards with foam dots to give it more dimension. And since I have a signature doily style when I scrapbook, I included one of it behind the photo for a nice dainty hint of lace.
To top it all off, I cut out a mason jar from one of my pattern paper as an embellishment and made a washi tape banner (because everything looks nicer with washi tape).
So there you have it a personalized shadow box. This can be doubled up as a display for your child's  favourite toy like what Justina did here or simply a photoframe. In fact I've even seen how someone used a few of these shadow boxes and turned them into a doll house for her daughert's lalalooopsy dolls. There are plenty of shadow box ideas on Pinterest, which by the way, you can follow my board here.
But the best part – I only spent $2 on this craft project. How awesome right? Perhaps I should consider having a new segment on the blog for Daiso craft ideas. What do you think. If you'll like to have more craft ideas from items you can buy from Daiso, do give this post a like.
If you do pop into any Daiso and see these shadow boxes, do share the outlets that still carry them as they are no longer found in the outlets that I've been too.
Liking up with
Tagged: Handmade