This March School Holidays, there were so many activities at the shopping malls. Since Sophie is in the childcare, she didn't have any school holidays officially. But since she liked My Little Pony so much, I thought it wouldn't hurt to make her ponteng school again since the teachers did say that this week like a term break for them and only did revision work.
So it was off to City Square Mall for our mother and daughter date!
My Little Pony Party Surprise 'Live' On Stage
The My Little Pony song and dance performance proved to be such a draw that crowds started to form an hour before the show started. Thankfully, we managed to squeeze in with the rest of the My Little Pony little fans.
I thought that the mall was pretty organised and the MC reminded the kids not to stand up during the show, which can be quite a common sight when they get excited.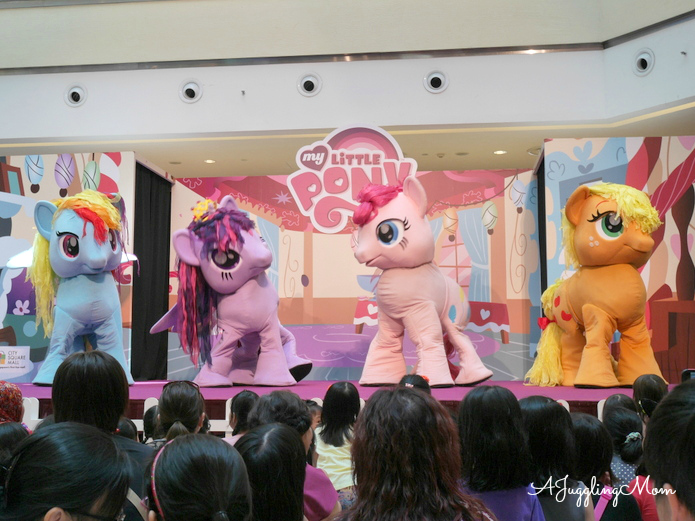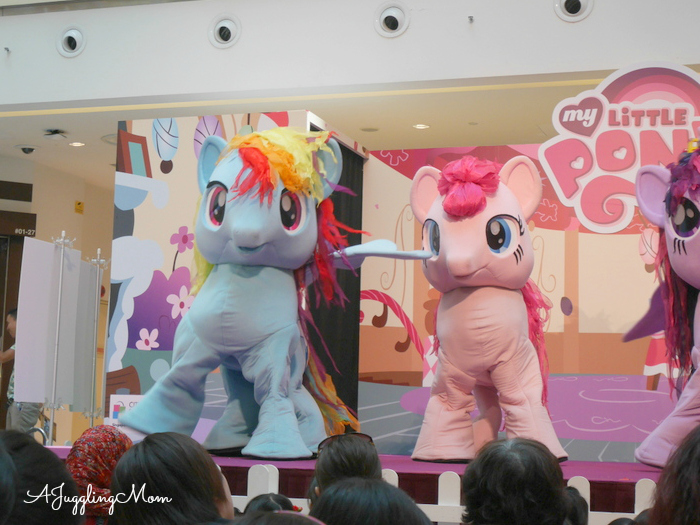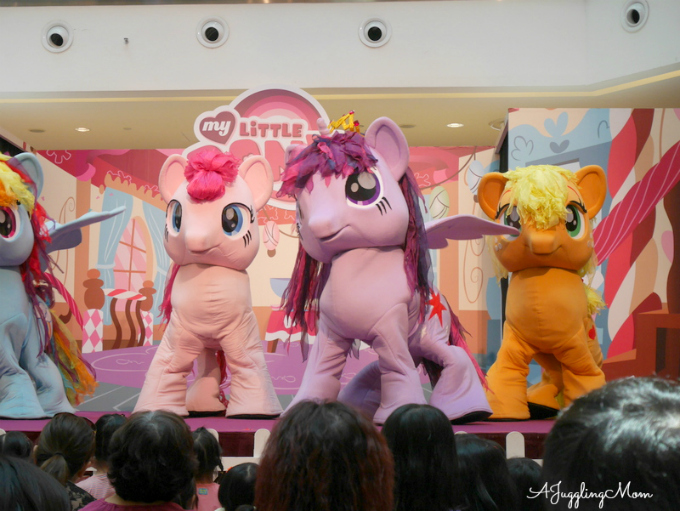 Here's a little snippet of the song and dance performance. Very catchy tunes that made me humming to this tune for days.
Unlike some other shows we've been to, the My Little Pony one was really entertaining for the kids because they sang and danced with three songs in total and lasted for about half an hour. When it ended Sophie was a little disappointed that it came to the end.
As we didn't have time to shop before the show, we didn't get the chance for a photo opportunity with the My Little Pony which requires a minimum spend of $50 at the mall.
Outside of the mall, there were photo opportunities with the characters from My Little Pony with Pinkie Pie's SugarCube Sweet Shoppe. And yes, she's all dressed for the occasion too with her My Little Pony t-shirt from H&M!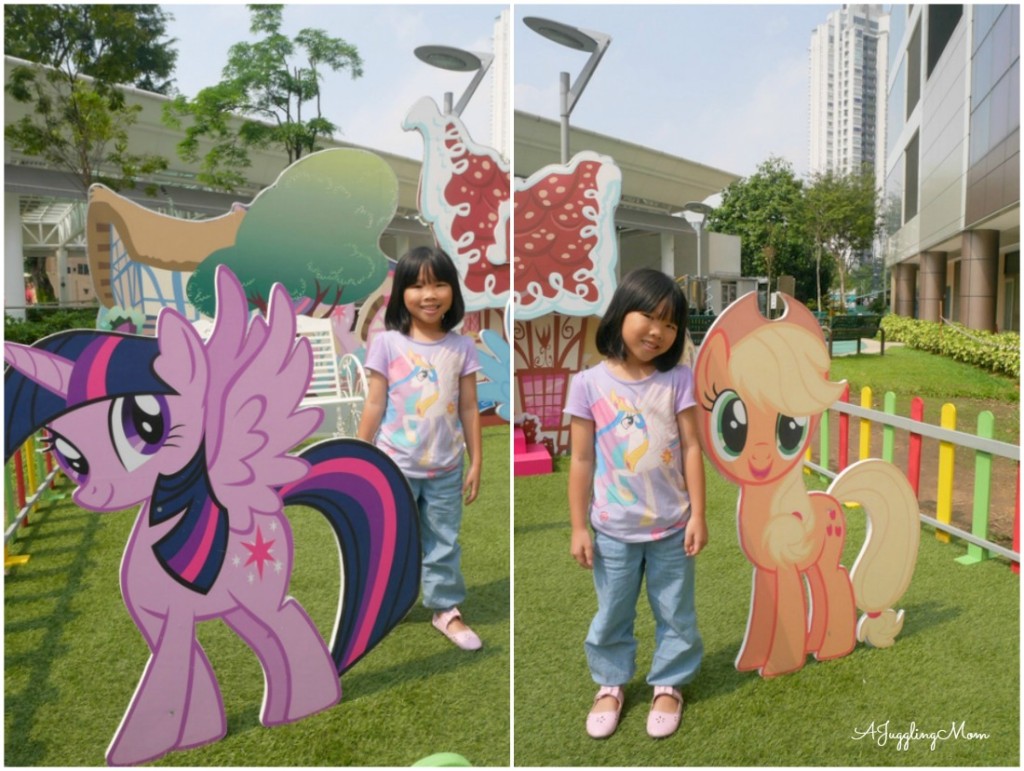 Interaction with Live Ponies 
Besides photo opportunities, we also noticed ponies. yes, real life ponies that were brought in from Gallop Stable! For a package price of $15, you will be able to go on a pony ride, hand feed the ponies and even take a photo with them to capture the moment. I doubt these ponies can take the weight of adults, so it's strictly for adults.
I wished I can say that Sophie had the opportunity to ride them but we had to rush for our Cinderella show and it was another popular highlight of the mall that had a long queue.
But you'll be glad to know that the pony ride will still be available after the March School Holidays, every week at City Square Mall and ends on 12 April
– – – – – – -– – – – – –  GIVEAWAY FOR A JUGGLING MOM READERS – – – – – – – – – – – – – –
Thanks to City Square Mall, 3 readers will get to win an interaction package which allows you to go on a pony ride, hand feed the ponies and even take a photo with them to capture the moment.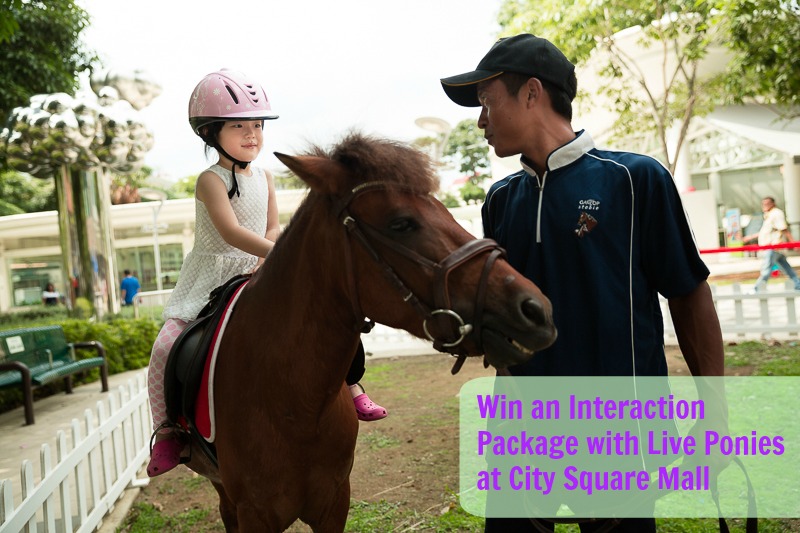 Dates: 28-29 March, 4-5 April, 11-12 April
Time: 1pm – 8pm
Venue: Level 1 City Green, City Square Mall
To take part in the giveaway, you need to complete these two steps:
1. LIKE  City Square Mall Facebook page
2. LIKE & SHARE my Facebook post and TAG two friends who you think will like to have the opportunity to interact with the ponies. (Please ensure your profile is not set to private, otherwise I'm unable to PM you).
Both steps must be done to qualify for a chance in the giveaway. Giveaway ends on 26 March 2015, 11:59pm and will be announced on the blog and Facebook page on 27 March. Good luck!

Congrats to the 3 lucky winners Ace Serene, Rebecca Chan, Michelle Ng!
Please note:
This giveaway is only open to readers residing in Singapore
Winners must respond within 24 hours, otherwise a new winner will be drawn
Winner will notified of their package collection via email
* A Juggling Mom was given a complimentary interaction package to write this post. No monetary compensation was received. All opinions are honest and are my own
Tagged: giveaway, Hasbro, Holidays, My Little Pony