At 7 years old, Sophie is at an age where she's outgrown picture books. In fact, she's grown to be such an avid reader that she's now progressed to chapter books at Primary One.
Some of the series that she currently enjoys are The Magic Treehouse, Rainbow Magic and she's also into local titles like Amos Lee and Sherlock Sam especially after the authors came to visit her school recently.
Usually I'll raise an eyebrow when she picks out a picture book. But when she selected this book, It might be an apple, from the library, I knew that we were going to have so much fun with it.
We borrowed this book from Pasir Ris library, which by the way looks so refreshing after renovation.
I really like their open concept at the children section where the layout makes it to inviting for little hands to grab a book and get lost in stories of adventure, mysteries and fairy tales as they park themselves by the window where there's plenty of natural lighting.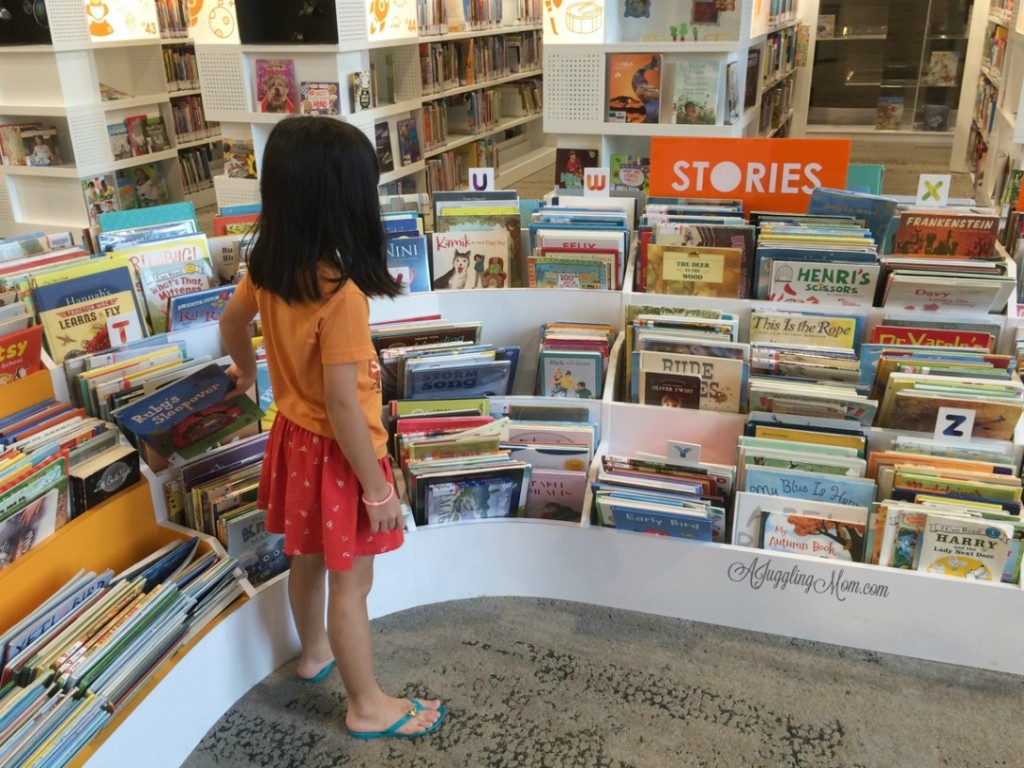 Synopsis of the book 
A young boy comes home from school and finds an apple on the table. But wait, is it really JUST an apple?
He thinks it's might also be an apple. Or maybe a fish rolled up to look like an apple.
Perhaps it may even wish t be something else, like a pear, a mailbox or even a plane.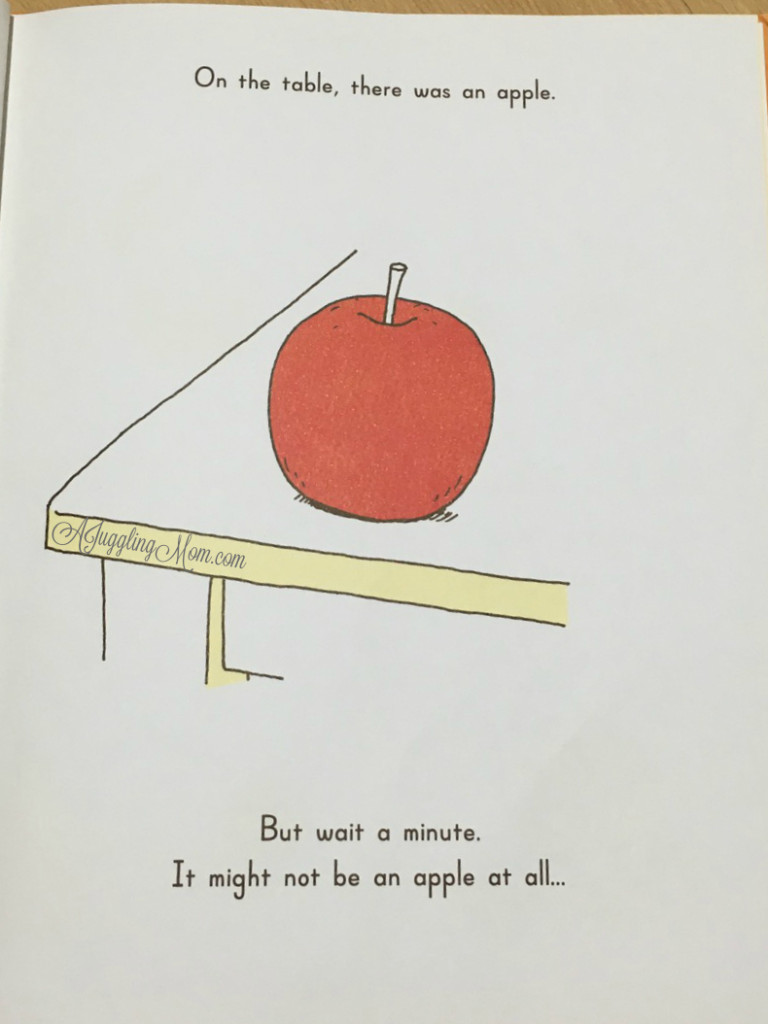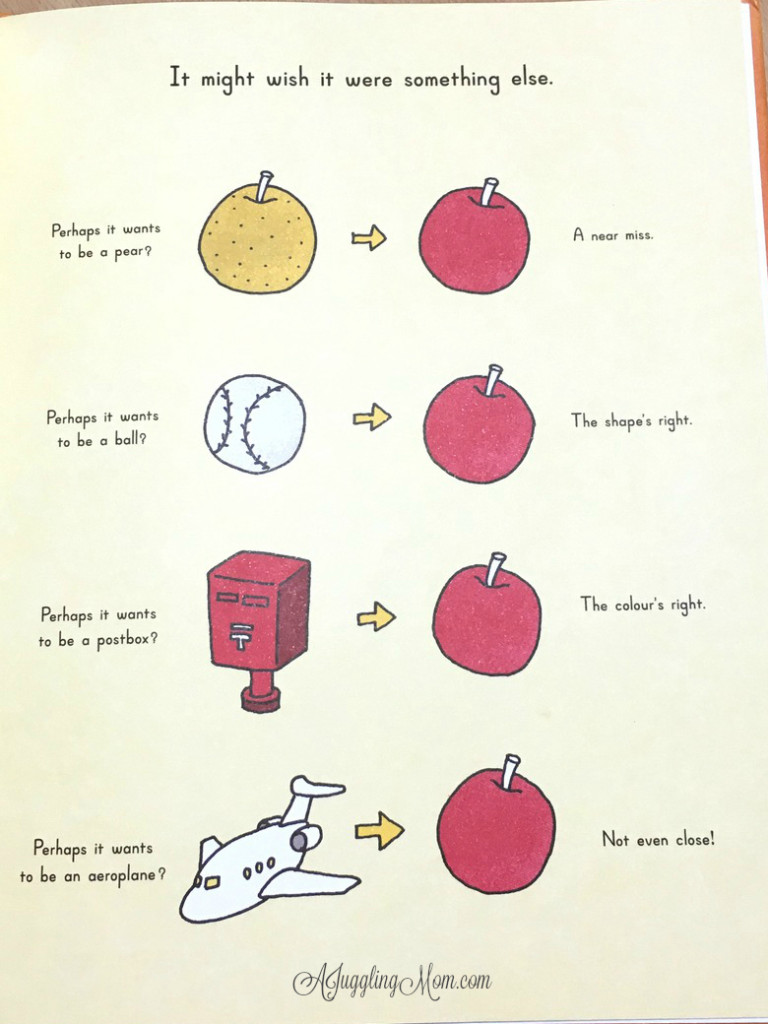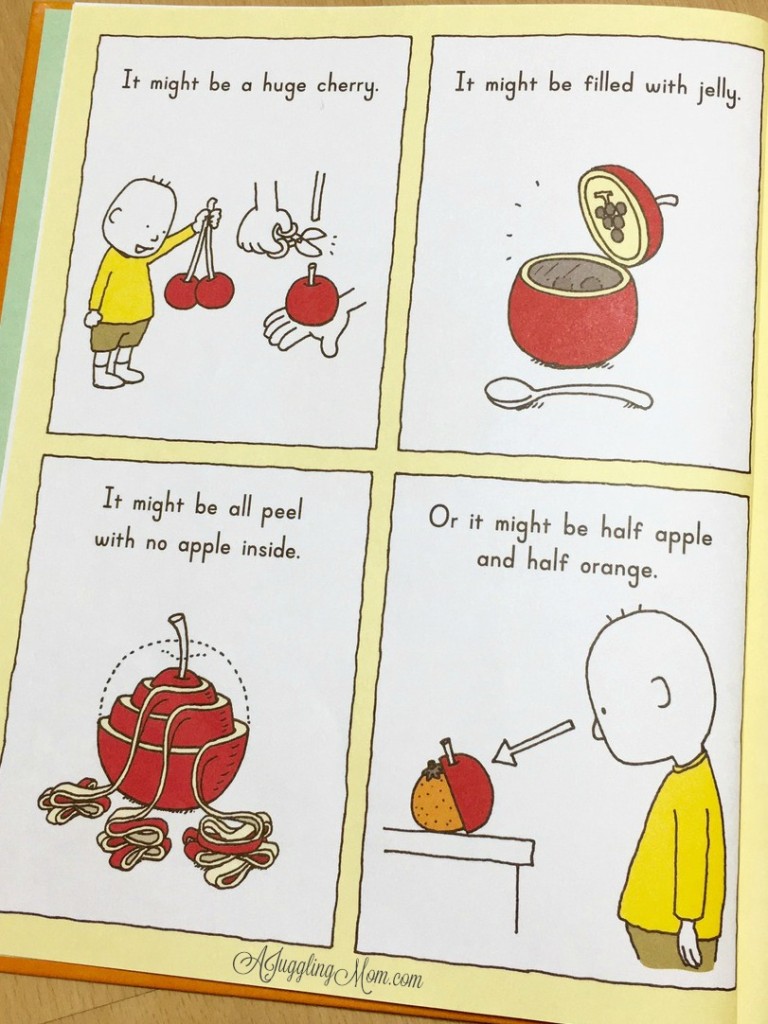 And wait, have we even explored the possibilities of where it came from and how did it appear on the table?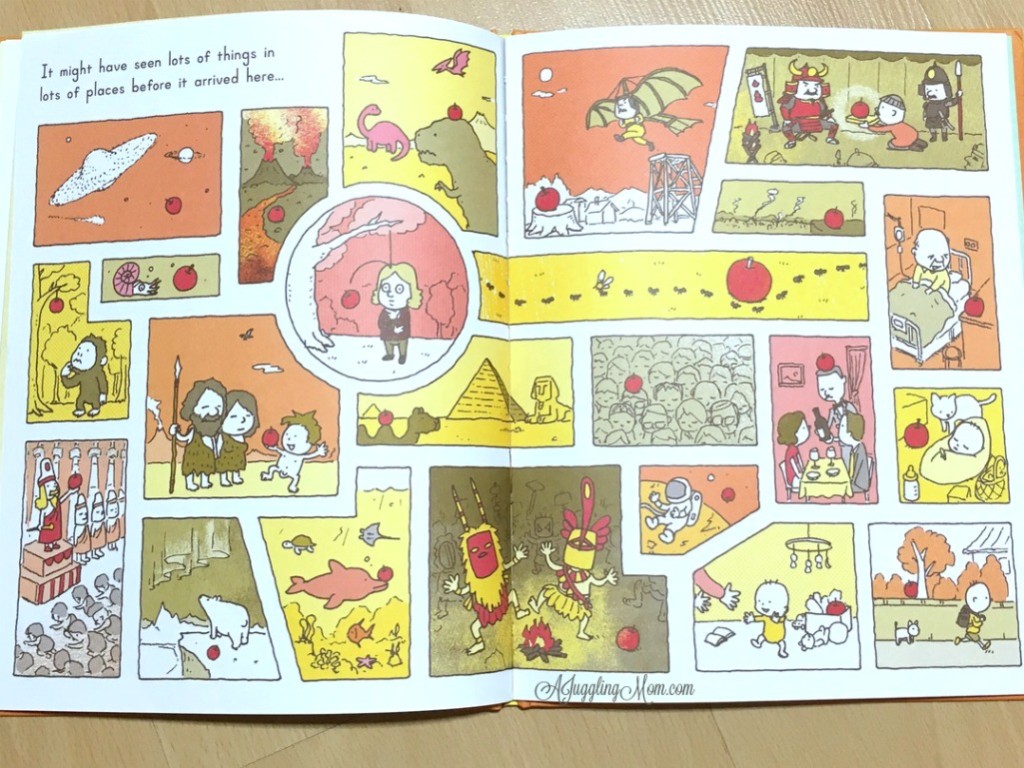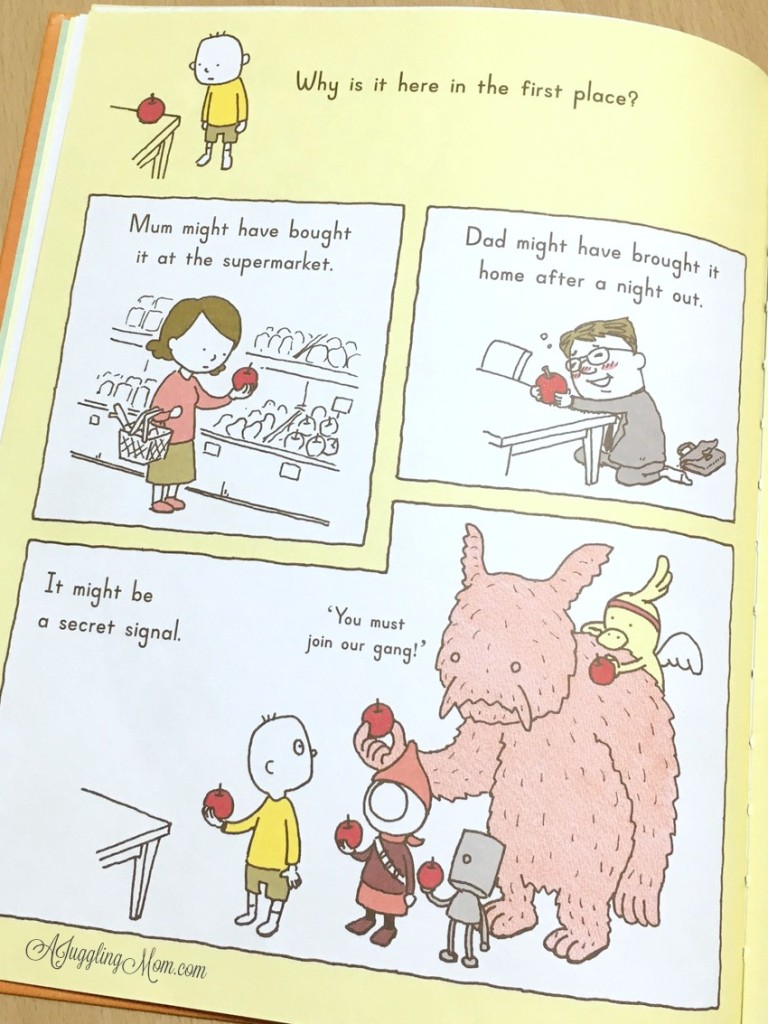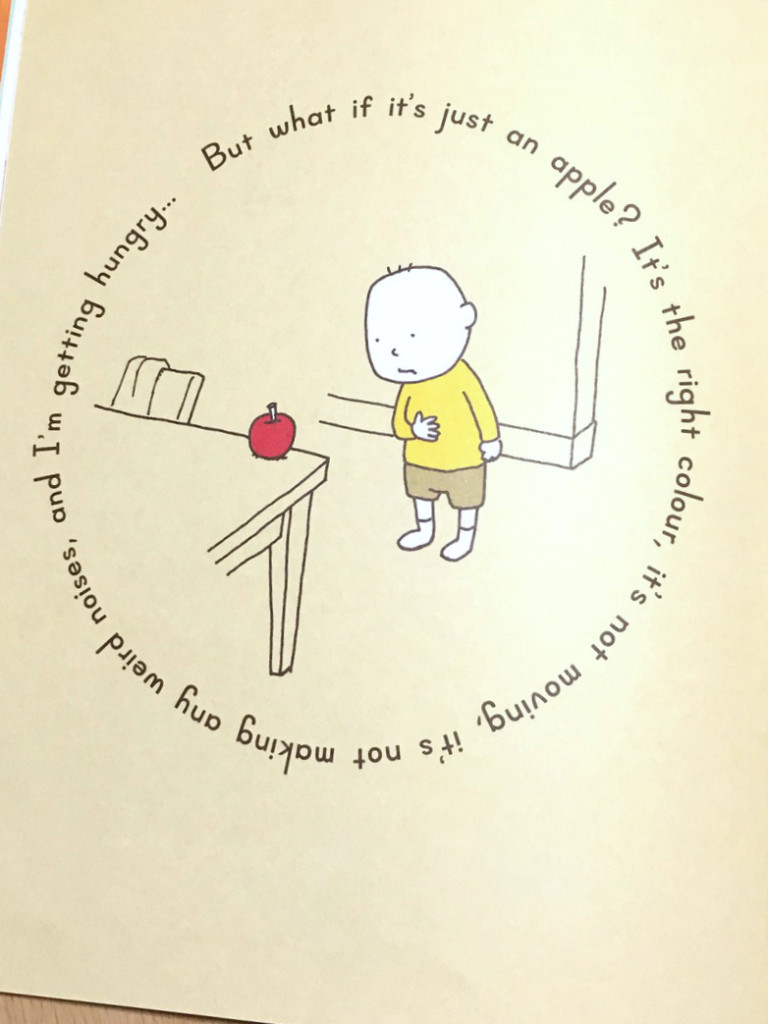 It might be an apple is a delightful read for both Sophie and myself and our minds just went into overdrive as we tried to catch up with the wild imagination of the boy in the book as he conjured up up all kinds of possibilities of what this apple. Because some of his ideas are so out there, you never quite know what to expect which certainly keeps things fresh and exciting.

Creative thinking at its best
We are always encouraging our kids to think creatively, think out of the box and this book checks all those boxes.
In this book, the author very cleverly gets children to consider the countless possibilities of what an apple that's sitting on the table could be. Of course there are lots of absurd and utterly whacky ideas that the boy comes up with and your child will be taught how to question and not just accept things at face value. To cover all grounds and consider all possibilities with an open mind without dismissing them so quickly.
Lately I've been reading about how children slowly lose their sense of wonder and ability to apply Divergent Thinking, i.e., a theory by Sir Kenneth Robinson to consider multiple solutions to a problem, which you can understand from here, as you are challenged to explore the possibilities of what you can do with paperclips.
As children grow older as they are taught to be more pragmatic and their imagination like a candle is being snuff out by adults who dish them with the realities of life which can sometimes be too harsh for them to handle.
It might be an apple is just the kind of book that both parent and child will benefit from as we encourage curiosity in a child, guide them with the skills for critical thinking and divergent thinking to see things in a different light with multiple possibilities.These are skills that will go far in subjects like Science and I hope Maths too.
But more importantly, these will be invaluable life skills that will be with them for a lifetime and truly make them a class of their own 🙂
Tagged: creative thinking, critical thinking, learning, primary school