When I heard that there was going to be a My Little Pony run this year, I was ecstatic because I knew that Sophie would look forward to it. She's been a fan of the ponies and even had her 6th birthday to the My Little Pony theme last year.
I'm still learning the name of the ponies and would often get correct by her when I mistake Rarity for for Twilight Sparkle. Seriously, how many purple ponies are there?

Since this was Sophie's second run after the Cold Storage run last year, we decided to take it up a notch and signed up for the 1km Pony Kids Run.
If you're a fan of My Little Pony, chances are you probably must have been at Sentosa last Sunday for the My Little Pony Friendship run at Palawan Beach too. The weather was glorious last Sunday as Mr. Golden Sun gave us a healthy glowing tan after spending a few hour at the run and and the post race carnival.
In case you're wondering, there was a good mix of families, youngsters and yes even bronies who turned up at the race.
Bronies is a term affectionately reserved for male My Little Pony fans and they certainly were not closet fans as they donned tutus over their shorts and some came in multi-coloured knee high socks!
While others like Irene and her daughter, who came all dressed up like their favourite ponies! Super chio right?
We really liked the overall carnival feel of the whole race where there were plenty of photo opportunities before and after the race as well as activities post race. Everyone was there for a fun run with their friends or family. Some had coloured hair extensions, My Little Pony hairclips, rainbow coloured tutus and some even brought their plushies along.
Before we were flagged off for our parent and child race, the MC even told us to give high fives and hugs to our kids and there was even a surprise appearance by Pinkie Pie! Too bad we were too far behind and could only catch a glimpse.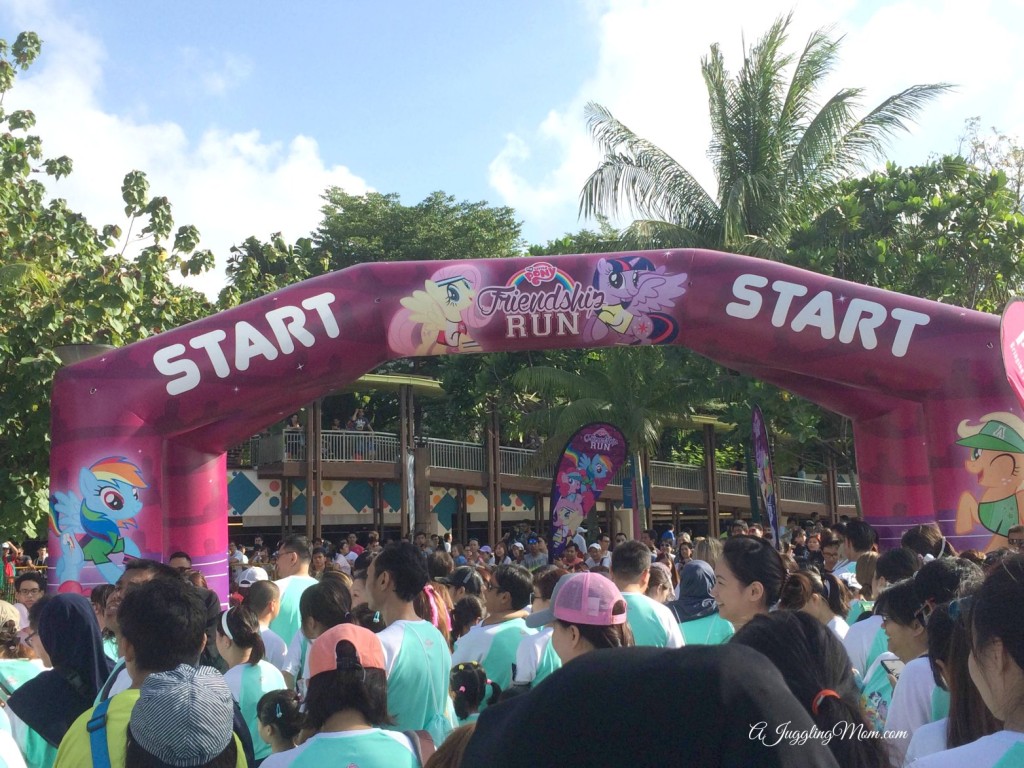 When we started to run, I heard some parents encouraging their little ones to keep going or to stop and take a breather if they were too tired. And hearing these along the way made me grin from ear to ear because we all know that it's not about how you start but finish the race that matters and in this case, the kids certainly were learning tenacity and finishing strong.
At one point after we made a U-turn and were headed for an up-slope, Sophie started to slow down and wanted to stop. But with some nudging and cheering from mama, she picked up her pace and crossed the finishing line like a winner!
Here's us with our gorgeous My Little Pony medals!
If you missed the My Little Pony Friendship Run this year then do look out for it when it returns next year!
Tagged: exercise, family friendly, family friendly activity, fitness, My Little Pony, running