A couple of weekends ago, I was at the Health and You exhibition at Suntec and had my BMI measured. It was shocking to know that my BMI was in the moderate risk category, which means I'm at moderate risk of developing cardiovascular diseases (such as heart attack) and diabetes according to the HPB.
I was recommended to lose 8kg in order to be in the healthy BMI range. Yes, you heard it right, 8kg! I know that I needed to lose weight but I wasn't aware that I had to lose that much weight.
Now with a target in mind, I've decided to be more diligent in the area of exercise and also make changes to my diet. As a working mum without any help, we usually eat out most of the times because honestly who has energy after a day's work. And don't forget the washing and cleaning to do after that. Of course, there's no denying that I'm often guilty of making unhealthy food choices and am eating more than I should. Sometimes I wished I didn't have so much fat genes in me, as I often joke that I get fat just from breathing!
But enough of excuses. Here's a couple of things to get me started on my weight loss journey.
1. Set a goal to exercise 2-3 times a week.
For effective weight loss, I'm doing both cardiovascular exercise such as jogging, running and stairs climbing and also starting on weights. It's often a misconception that ladies will bulk up if they start doing weights. But weights are one of the ways to keep your metabolism rate up  and burns the fats throughout the day.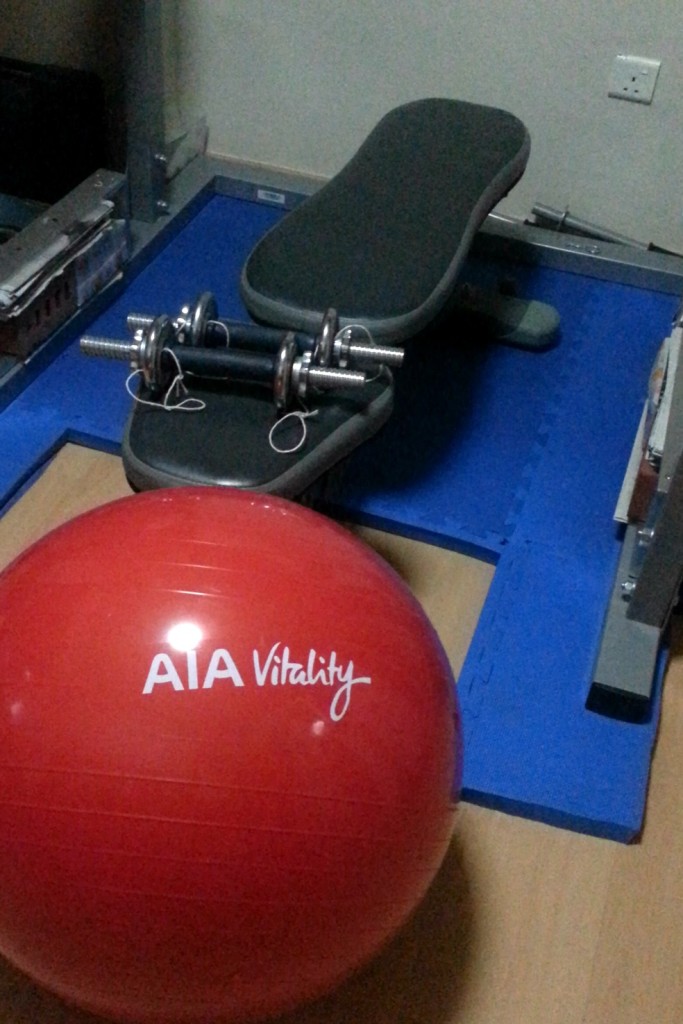 Home gym finally up
With the home gym finally up, I am determined to make it work for me better. Besides youtube videos to give me inspiration, another avenue I've turned for inspiration is surprise, surprise Pinterest!
Sure, Pinterest has lots of motivational posters and quotes. But what I really found useful are suggested exercise that I can do.
In fact, I've also created a few boards on Motivation and Fitness on my Pinterest to get me moving. Do follow my boards to get some inspiration too.
2. Get more sleep
In an average week, I only get about 5-6 hours of sleep. I know it's way too little and the dark circles around my eye is proof that I've been sleep deprived, not uncommon for most mums. But one reason, I'm often up so late is because I'm on the computer, be it FB, web surfing or writing my blog.
Having insufficient sleep is one sure way to sabotage any weight loss plans since the body often craves for sugary food to keep awake. I know that on mornings when I don't enough sleep, I end up being so hungry in the morning that I want to have a big breakfast and have way too much coffee. So now, I'm going to have a Cinderella rule and sleep no later than 12.
But at the end of the day, it's not just about the weight as I really want to get healthier too. So in part two, I'm sharing how I'm making changes to my diet too.
Here's a quote that I love and want to share with you. Remember, there are no short cuts and definitely  no cheating when it comes to being healthy.
Do link up every Monday with my Motivational Mondays post. Don't forget to grab my badge and include it in your post after you have linked up and leave me a comment too. I will be hosting Motivational Monday every week and I hope that you can join me every Monday. Have a great week ahead!
Note: Highlight the code & press Ctrl + C buttons to copy.
<div align="center"><a href="http://ajugglingmom.com/2012/08/motivational-monday-linky-party-cook-for-family-initiative " title="www.ajugglingmom.com"><img src="http://i1264.photobucket.com/albums/jj499/Susan_koh/MM-1.jpg" alt="www.ajugglingmom.com" style="border:none;" /></a></div>
'); // ]]>
Tagged: diet, exercise, health, healthy lifestyle