One of my New Year resolution for 2016 is to get healthier and fitter. I know it's such a typical and expected New Year resolution that everyone makes after all the pigging out and feasting over the year end holiday season. But unlike the past few years where I've had little success keeping to it, I'm darn proud to say that this year is totally different and I'm making progress.
Not only have I started on regular home workouts which are very do-able for mums, I also joined the gym and got started on my personal training. And 2 weekends ago, I completed my first 10km run and survived it!
Honestly, I don't think I'm the running kind and would usually clock 2,3 km on average for my runs. So when my group of mummy friends choi-ed me to join them to take on the 10km run, I was hesitant if I could do it. But they have been such a supportive bunch and encouraged me to get out of my comfort zone and just do it, so I gamely signed up with them for the NTUC 350Run.
Training for my first 10km
To prep myself for the run, I started to incorporate running to my weekly workouts and would aim to hit 5km. I would usually run in the late evening after work around my estate once I get home so that I don't have a chance to gives any excuses. Morning runs on weekends are so much tougher as they are the only rare chances that I get to sleep in these days.
In fact, I even hit the gym to run when I was on my holiday and Alexis was so surprised at my discipline and determination. But part of my was just so scared I have to end up walking the last 2,3 km of the run.
3 weeks prior the run, I was running twice a week but so far I only managed to clock 7km once and I started to wonder why I even signed up in the first place >.<
So the goal that I set for my simple, just finish the run and not be too far behind my friends since we made a pact to go for breakfast after that.
On the day of the run, I jumped out of bed at 4.30am as I had a nightmare that my cab driver took me to the wrong place! Talk about nerves I tell you. Thankfully, I managed to go back to sleep and arrived at the F1 pit on time.
I wasn't used to run so early in the morning (The flag off was 6.30am) and I was getting butterflies in my stomach. But once the run started, it was literally no turning back.
To run 10km, I had to pace myself to ensure that I could last the whole way. I turned on my run tracker and it gave me a good gauge of how fast I was going which was helpful as there signage for the distance clocked were not placed at every km.
There were moments in the run when my ankles and knees started to hurt and I had to slowed down. But once it felt better, I was off again. After the 6km mark, I alternated between walking and running but the toughest part was pushing myself mentally to finish strong.
When I finished the run, I was mighty proud of myself and my timing of 1hr and 16 mins was also much better that I expected. In fact, all of us finished before 8am and we had our breakfast as planned 🙂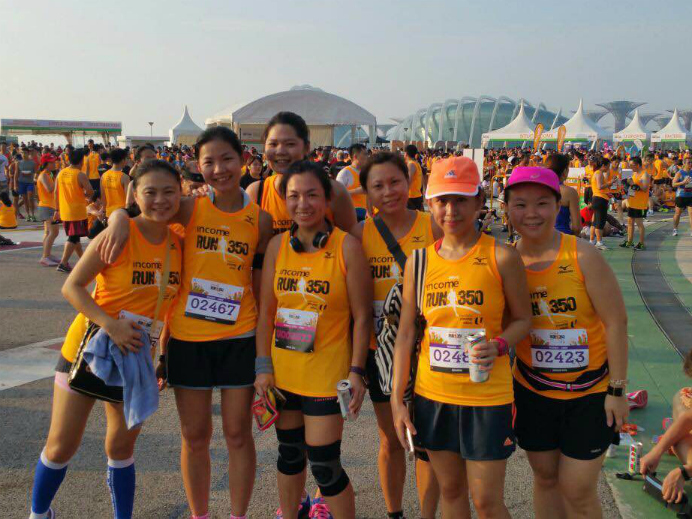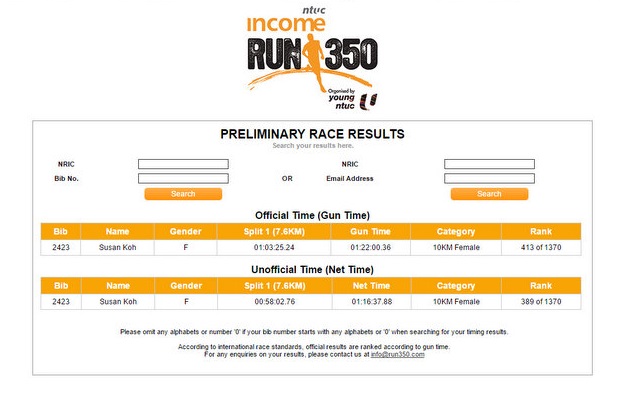 After the race, my knees hurt for a few days but I recovered well enough to start exercising again. And that was perhaps the biggest testament of a better fitness level and I was even looking forward to my workouts as it's become so much a part of my lifestyle now.
So what's next?
This weekend, I'll be running in the Music Run by AIA at Sentosa together with Alexis and now 5km sounds like a breeze. We did the run together last year and it was such a fun party run along Palawan beach where we ran to different genre of music at the various zones like pop, rock, hip rock, etc. You can read more about our experience here.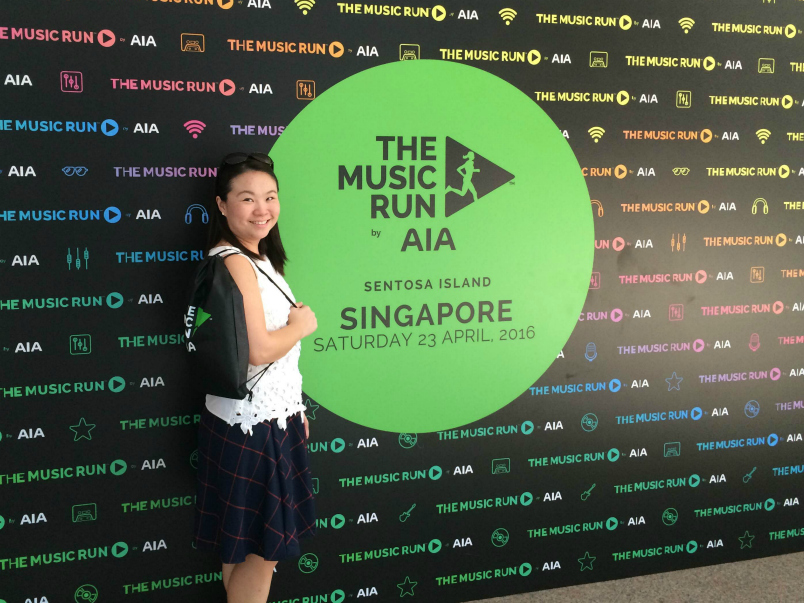 My friends are already making plans to join another race this year and this time we're looking at a 15km run! Perhaps, one day, I may even attempt a half marathon.
Some day, some day…
Tagged: exercise, fitness, New Year Resolutions, running