The other day when I passed by the Sistic counter, a brochure caught my eye. NANTA's going to be performing here in Singapore  next month in September 2012.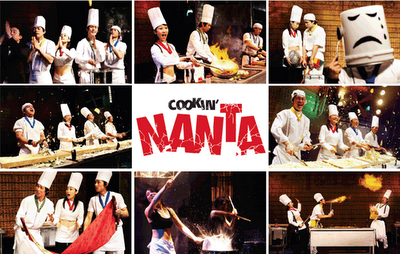 Source: http://koreamedicalhub.blogspot.sg
 If you're considering to catch it, then you really ought to.
Nanta is one of Korea's most popular shows that has made it to one of the top ten things to see in Seoul by the Korea Tourism Organization. And that's exactly what I did when I was in Jeju, South Korea last October.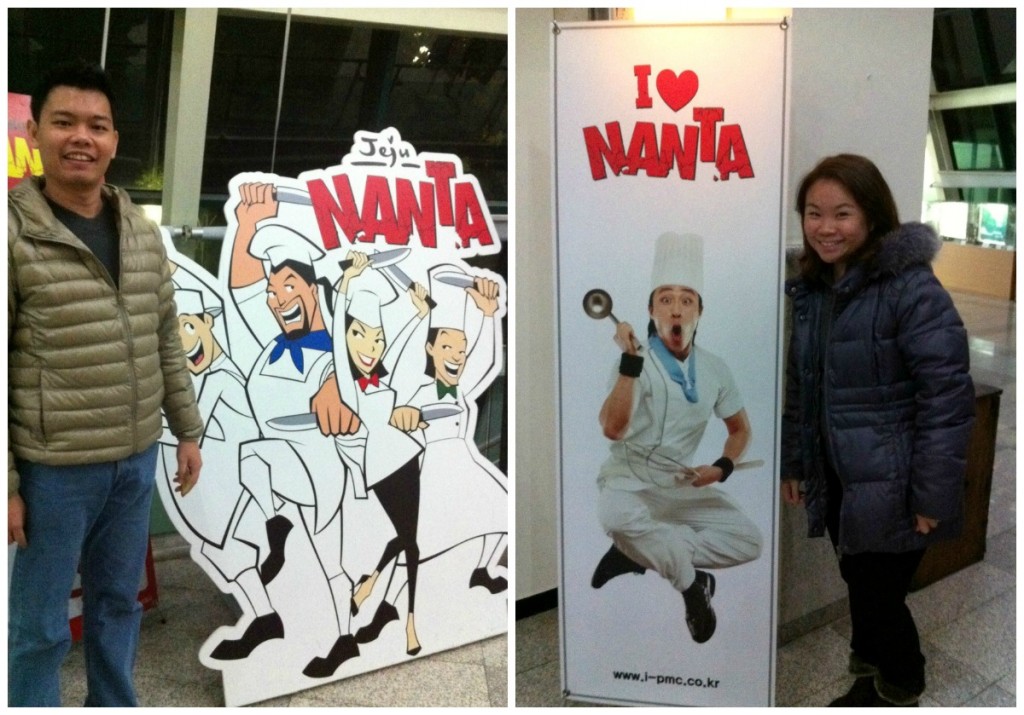 It's recipe for success is how the highly-energetic cast have thrilled audiences with their non-verbal comedic performance combining cooking, dancing, acrobats and music. Never mind the fact that the characters don't speak any English as the plot is simple and easy to follow.
A very brief synopsis of the show.
The mean restaurant owner hires his nephew and gets his staff to teach him to cook while having to prepare for a wedding banquet by 6pm. Everyone is frantic as the clock is ticking away and the wedding guests are waiting. In the midst of the chaotic chopping,  cooking  and flying kitchen utensils, romance is also brewing between the chefs. Expect lots of high energy in the kitchen as they rush to meet this impossible deadline.
And have I also mentioned that it's a very engaging and interactive show where the cast literally comes round to pull up unsuspecting audiences to be a part of this performance. There you have been forewarned! But  if you're spared, then you'll probably be left in stitches as you watching your fellow audience take part in a cooking challenge.
If you still don't take my word for it, check out all the other positive reviews on Trip Advisor. 
The show left such an impression on me that I gave them the props in my review on Trip Advisor too.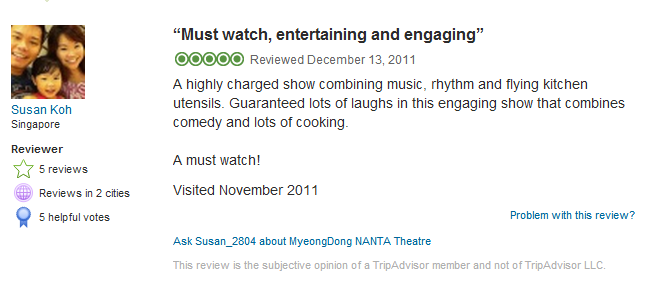 Cookin' Nanta is suitable for both the young and old and this is one cooking show that you wouldn't want to miss! 
*A Juggling Mom was not compensated for this review. All opinions expressed here are my own.
Tagged: Korea, performance, South Korea