Alexis is totally spoiling me these days with staycations for my birthday.  But unlike last year, where we took Sophie along for our stay at the Shangri-La Rasa Sentosa, he whisked me off to W Hotel at Sentosa Cove sans Sophie for an early celebration.
W is the only hotel tucked away in a more exclusive corner of Sentosa in Sentosa Cove. Set in lush greenery and coastal setting, you feel so much away from home and here I didn't see many China tourists which I'm sure is a pretty common sights at the other hotels in Sentosa.
Known for it's hip and contemporary art elements, you see many of such artistic designs around W hotel lobby.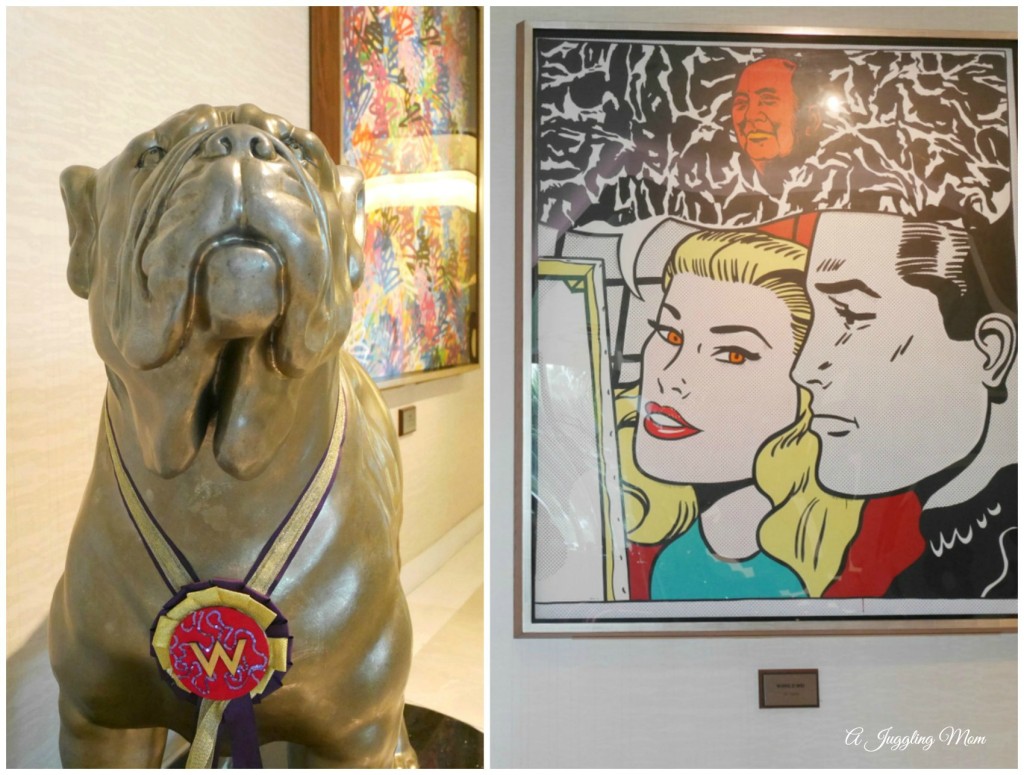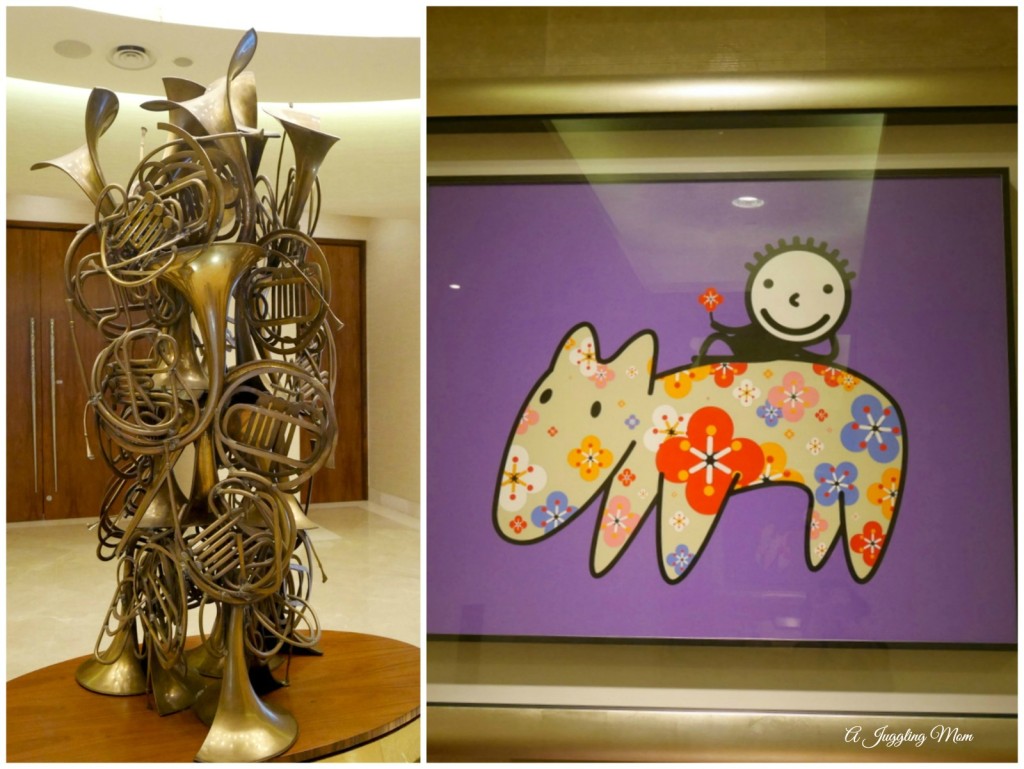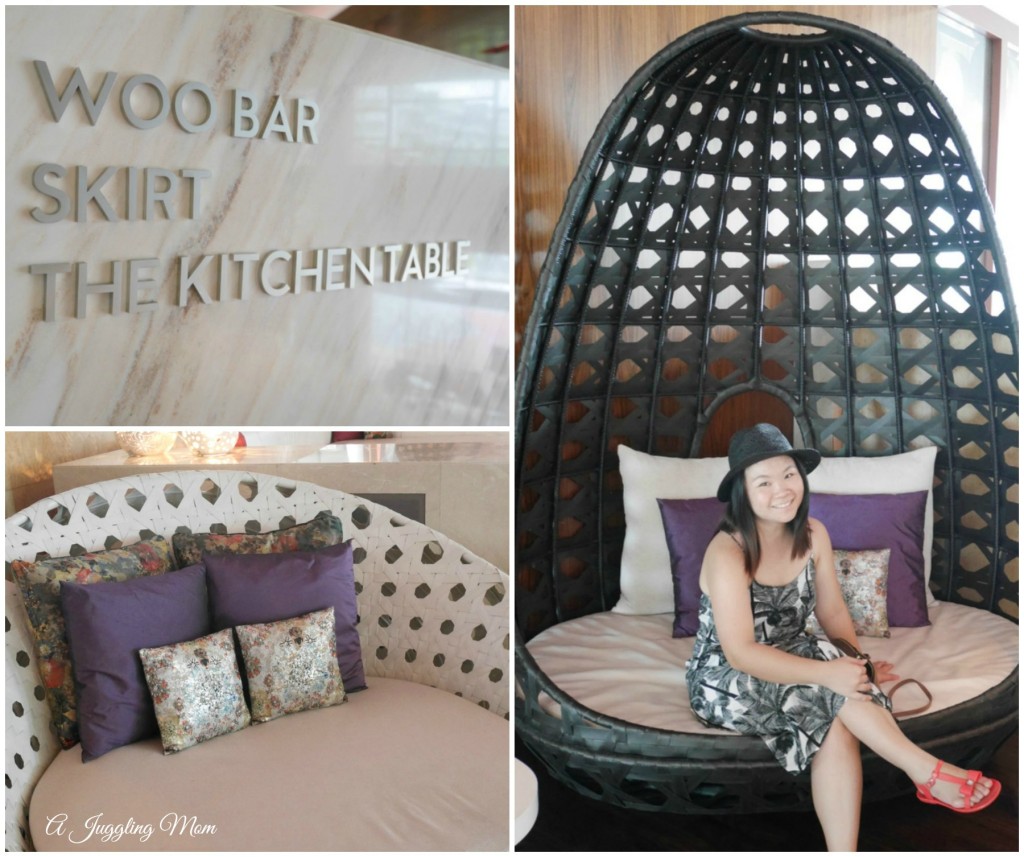 The Yatch show was happening the weekend we were there, so we walked out to check out the yatches at the ONE°15 Marina Club. Some of the yatches were pretty spectacular and no wonder this part of Sentosa is a playground for the rich and famous.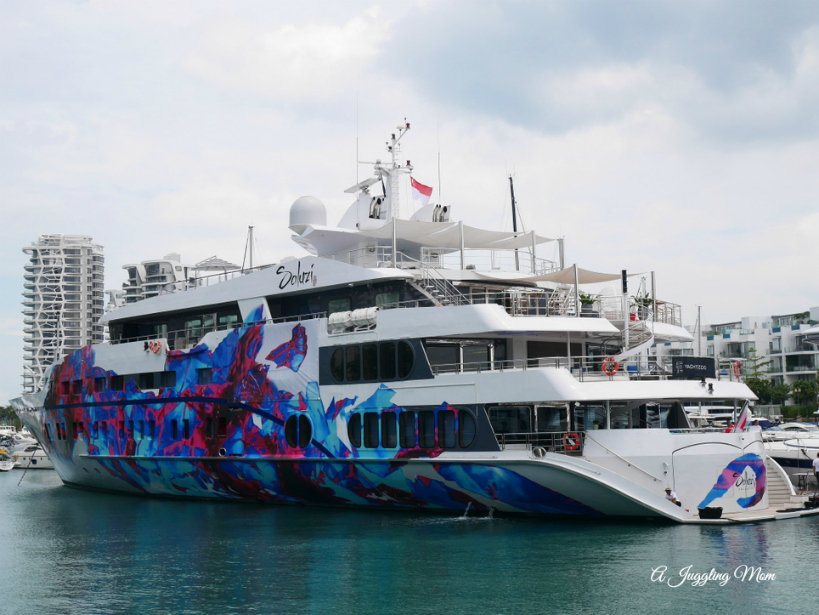 More waiting continued as we couldn't check in any earlier before 3pm. So we headed to Woo bar for a drink. The hotel was nice to offer the birthday girl a complimentary drink and it was definitely pina colda for me. But by the time we checked in at 3pm, the skies opened up and poured 🙁 There goes our plans to hit the pool to sunbathe.
I love how W Hotel name their rooms that go by Wonderful, Fabulous, Spectacular and for our two days one night stay, Alexis booked the Marvelous Suite. Don't you just love the sound of it already. Here's how marvelous the room looked.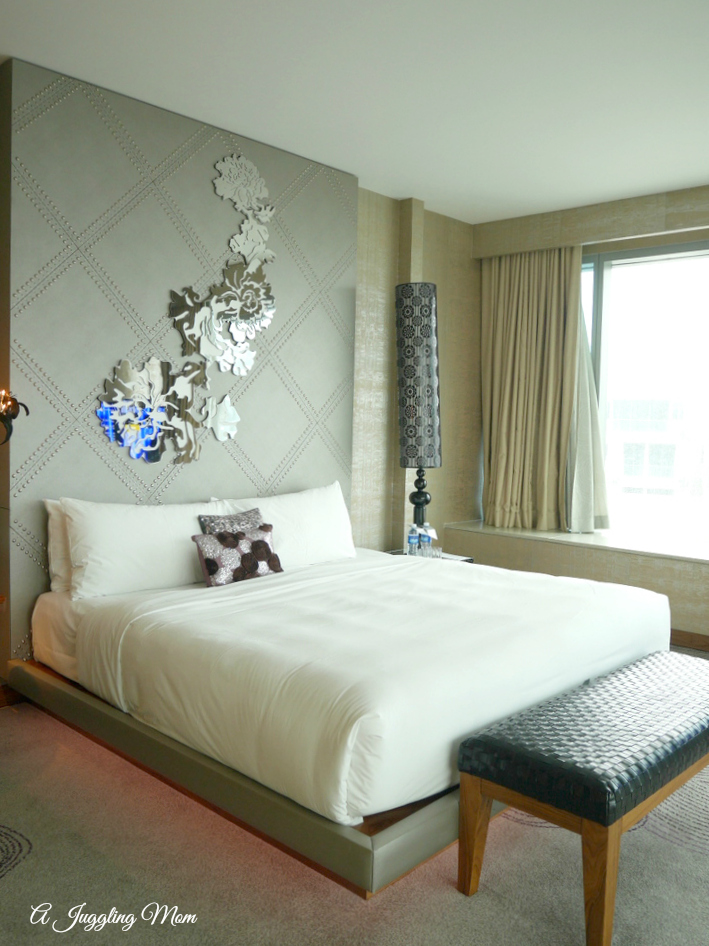 The room was brightly lit by it's floor to ceiling glass panels and opposite was my neighbour which enjoy ed this awesome marina view. Just look at their high life mode of transport.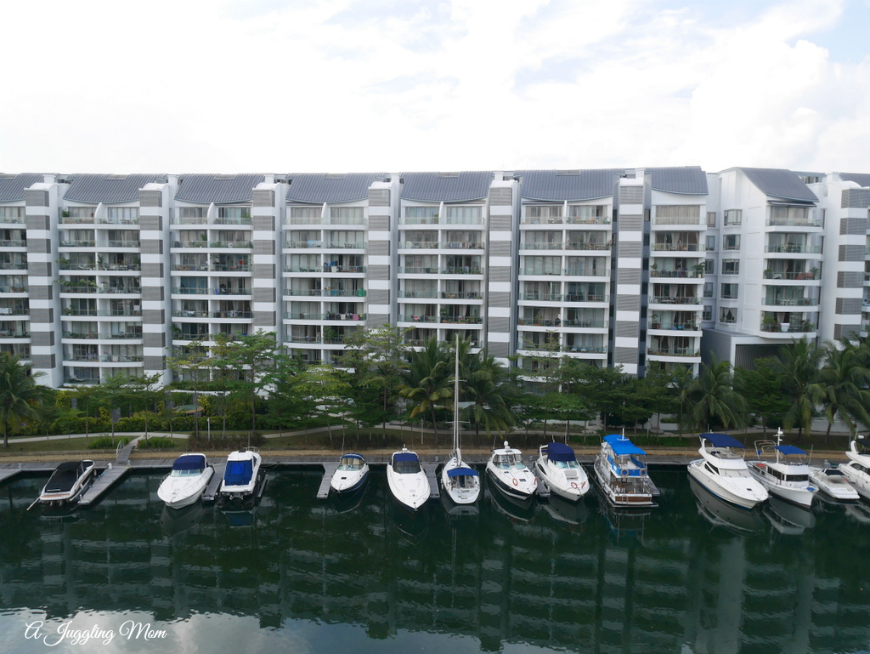 Since the rain left us high and dry, the next best alternative we had was the hot tub, I meant Jacuzzi bathtub. They also have a rainforest shower and another shower for the back of your body for an invigorating and rejuvenating shower.
And since we were already staying at W Hotel,  we couldn't pass up the chance to dine at Skirt in W hotel that is famous for their premium and mid range priced meats where the hotel age their meats in-house.
While their service was impeccable and attentive, their steaks were no longer as value for money as they just increased their prices a few weeks ago.
So their signature 200gram skirt steak is priced at $68, a  $20 increase from $48. I noticed that even their sides doubled in price. Granted that the restaurant had great ambiance, I'll much rather head to Mortons for steak with a more generous portion.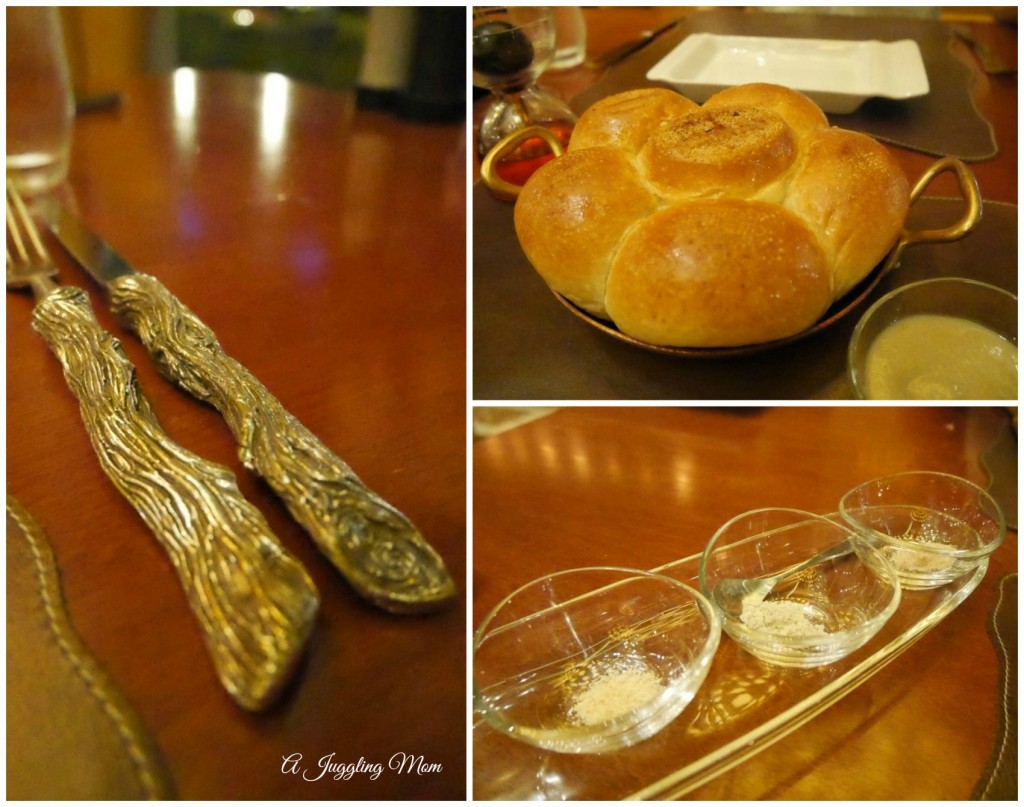 When my dish was set before me, I was like "hmm, that's it?" A pretty unimpressive 125gram of Black Angus Australian Tenderloin which I found rather dry for my liking and I have only myself to blame as I made a wrong choice to have it medium well.
Of course, the ever optimistic hubby of mine reminded me that the greatest pleasure is not to have a lot of something good but to have a bit of something good so that my diet doesn't go down the drain.
His toothfish was a much better choice that evening and the meat tasted as if it was just freshly caught and oozed of fresh sweetness.
We had a really nice dinner that evening with no interrupted  conversations and I told hubby that we should get back to regular dates again. By the way, this restaurant makes a great date night choice has a no child under 8 years old policy. But do come dressed for it as there is a dress code so that means no tees, no berm and no flip flops.
Breakfast was pretty unmemorable at the Kitchen Table and I found it lacking in variety. Didn't help that we were tucked at a corner of the restaurant and it was hard to get the attention of the service staff. So I'll say that you'll be better off with more choices at the restuartants at Quayside Isle which is just a stone's throw away.
We did managed to hit the pool the next day after breakfast and it's so much quieter after the crowds from yesterday's yatch show left.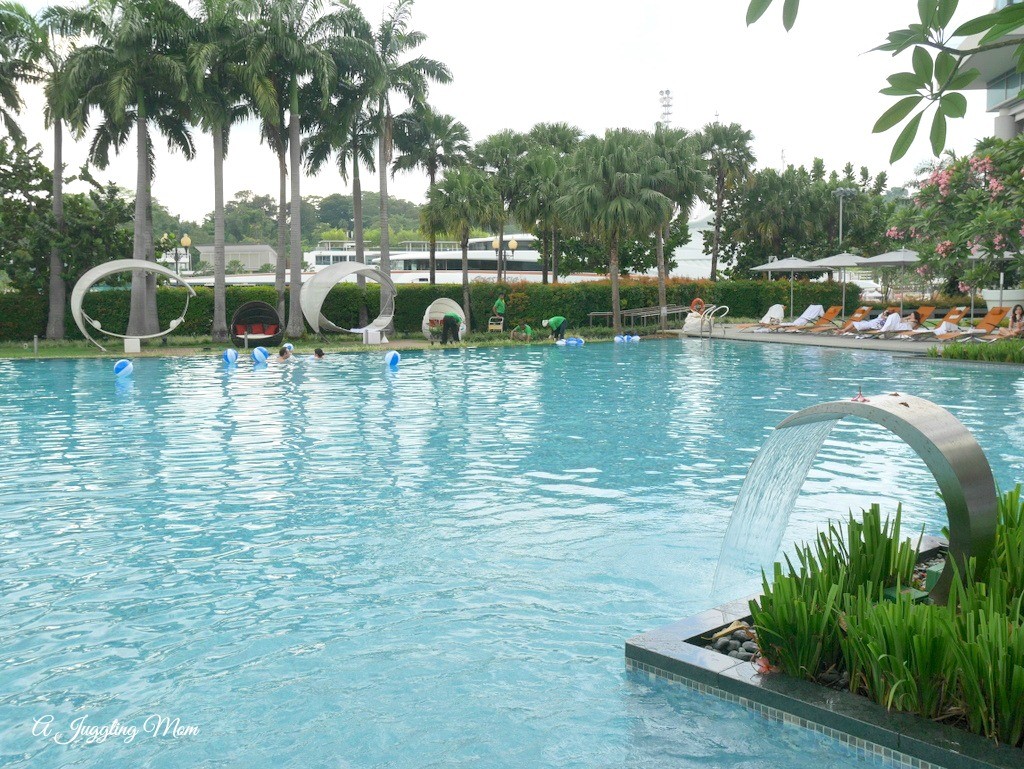 These W floats proved to be a pretty good float and as you can see Alexis found a jacuzzi spot and used them as neck support.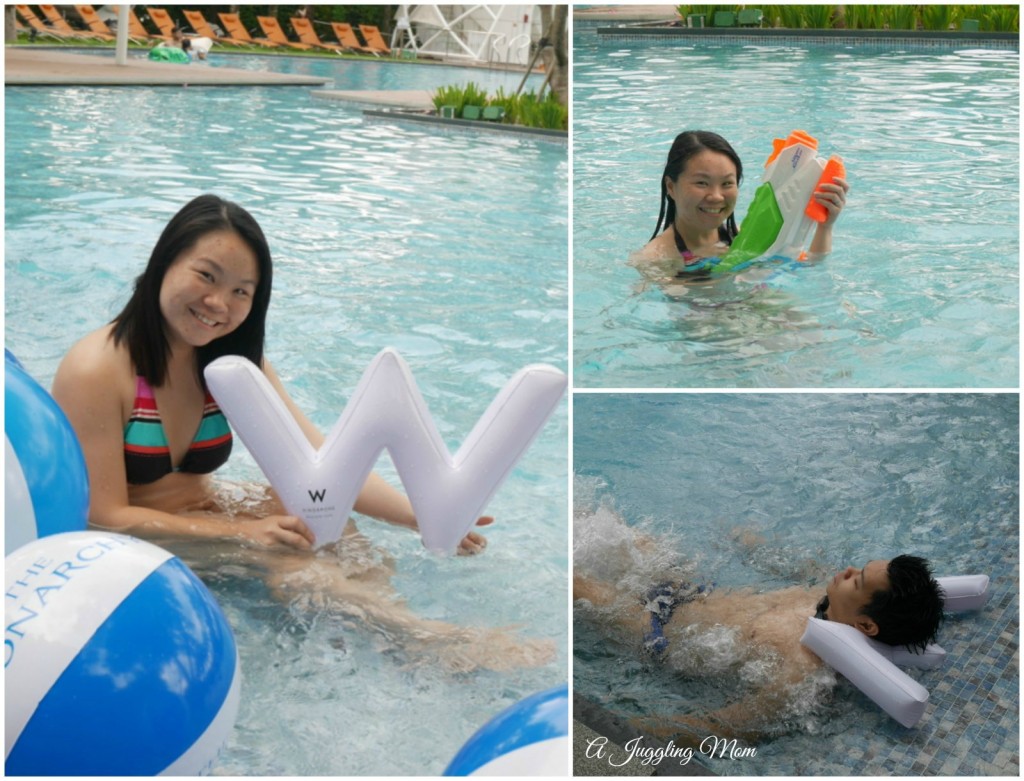 To be very honest, I don't think the hotel is that suitable as a family staycation hotel when there are more fitting options like Hard Rock, Festive Hotel and of course Shangri-La Rasa Resort on Sentosa island.  But we did see a few families around and some kids at the kiddy pool. However, if you're looking for a more exclusive hotel, then this fits the bill.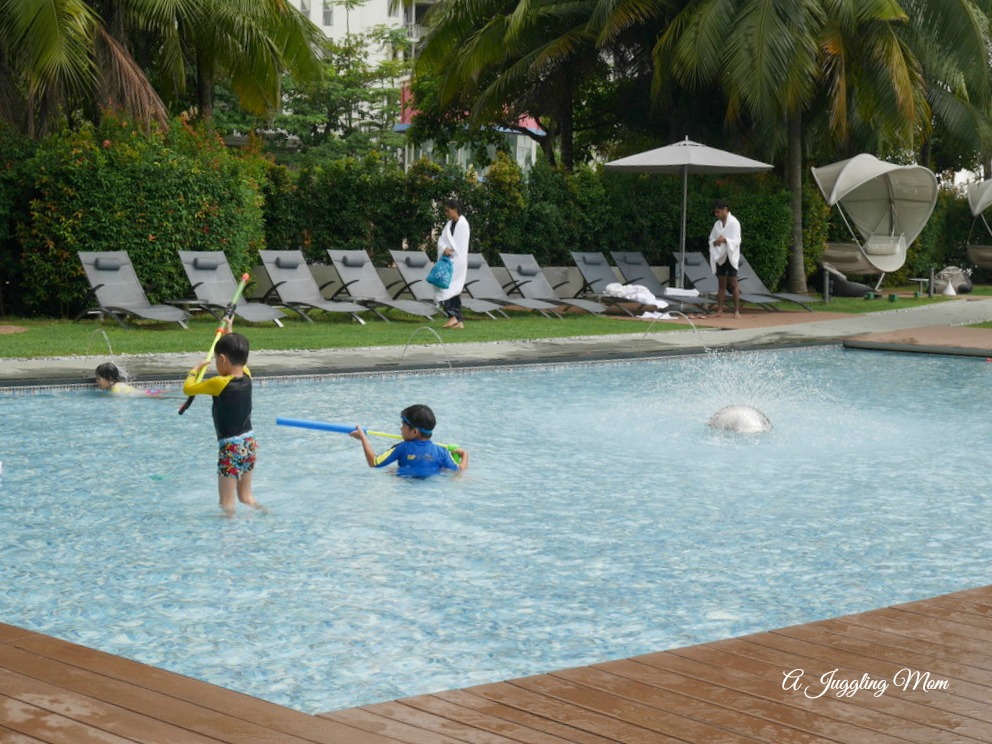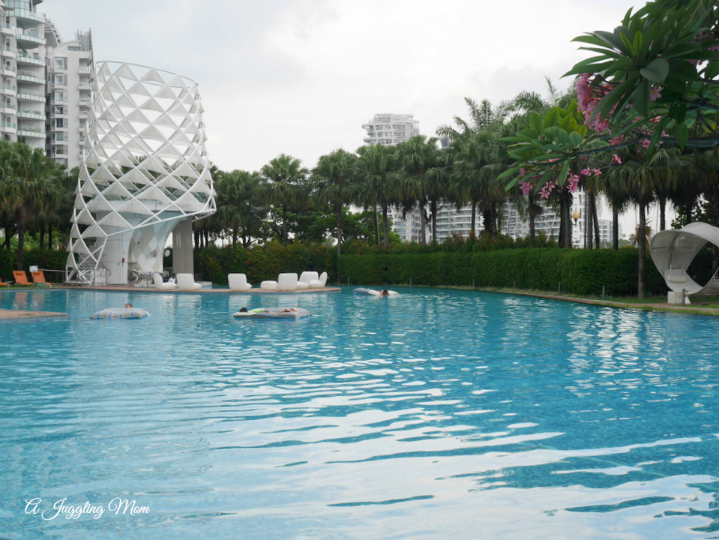 It's been two years since Alexis and I went on a holiday on our own and I do miss spending time alone with him as a couple. Sure I do enjoy our family time especially when we travel with Sophie, who's such a joy to be with. But all mums should have time out to be excused from mummy duties and have others, in this case, the hubby to fuss over 🙂
And the best part is that after this staycation with Alexis, I'll be headed to Bangkok for a girl trip with my colleagues tomorrow for 4 days. So it's more daddy and daughter bonding for Alexis and Sophie but I'm confident he'll do a excellent job like he always does and I will not have to worry at all.
Thank you from a grateful wife
So to my dear husband, thank you so much for arranging this staycation just for the two of us. Thank you for appreciating what I do day in, day out, juggling work and family and trying my best to be a good role model for Sophie and bringing her up well.
And while most days, my identity is focused on being a mum, you never fail to remind me that I'm an individual myself and to find time to do what I enjoy. Thank you for turning an intentional blind eye to my growing craft room that has more supplies than completed projects.
And thank you most of all for showing me that life is what we make of it and that simplicity in life makes us more appreciative of what we're blessed with. *Muah*
Tagged: Birthday, Sentosa, Sentosa Cove, Staycation